Want to avoid some extra costs and save a few bucks while traveling in your RV? Read my 9 tips to eat on a budget while traveling.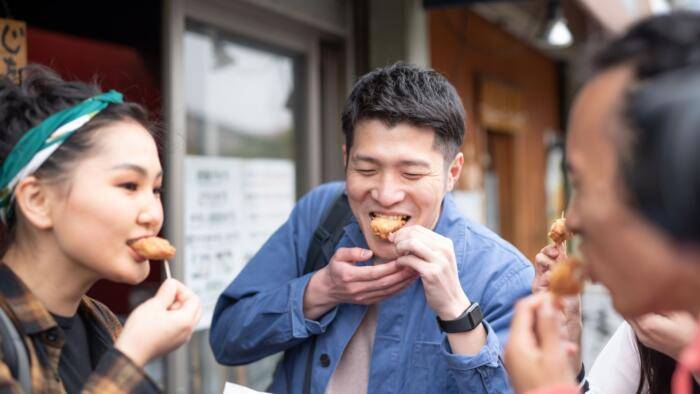 Top 9 Tips to Eat On a Budget While Traveling
The first bite of a delicious croissant in Paris, real Italian gelato, or the best Indian daal of your life are some of the best events that remain etched in our memories for a long time.
Traveling and trying different cuisines is often the most common reason why many travelers love to explore the world. However, travels can range from being budget-friendly to out-of-this-world expensive if you don't invest some time in planning, at least when it comes to food. Have you noticed that too?
Although on vacation, it seems somehow impossible to dine well and eat cheaply, in reality, it's not really like that. Wondering how to do it? Stay with us and read our 9 tips to eat on a budget while traveling.
How to Create a Food Budget?
It's no secret that the food budget usually comes right after the lodging budget. To be honest, we think that's true because it's crucial to put your vacation money where it matters most. Calculating your budget is very easy; all you have to do is take your weekly grocery spending and plan to spend about $2 more per person per day.
In this way, you will ensure enough money on decent and quality meals, and in addition, you will have enough room for convenience food or fast food.
The Average Cost of Food per Day While Traveling
However, before we start with 9 tips to eat on a budget while traveling, let us tell you a few things about the average cost of food per day. So, let's do the math.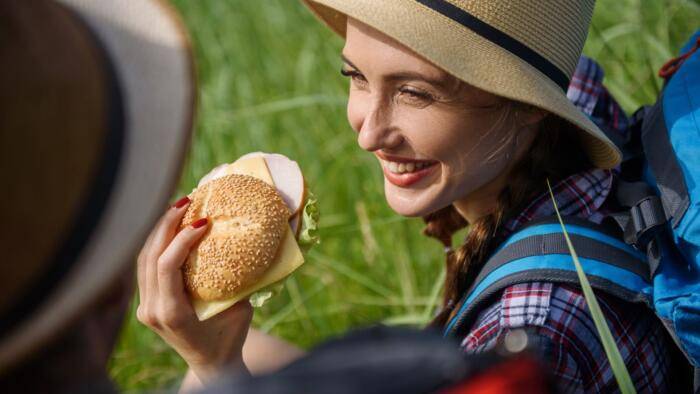 According to research conducted on 35 families, you can expect to spend an average of $21.04 per person per day. However, that number can be greatly influenced, and with good planning, you can expect to spend around $7.50 per person per day.
We must emphasize that none of these families spent less than $5.50 per person per day, but some managed to spend as much as $75 per person per day.
The average cost of food for a four-member family is somewhere around $130 per day, but as we said, you can definitely have vacation meals on a budget, if you're ready to make concessions and if you're willing to compromise, and if you aren't set on eating out for each meal.
Read below what we found out about domestic vs. international food prices per person.
If you want to visit an average European country, food will cost you, on average, as much as $50 a day if you eat in restaurants only in the evening. Let's say you're going to Hawaii; as far as food goes, you need to consider setting aside about $60 for food just for the food stands. We recommend that you do not visit sit-down restaurants in Hawaii because meal prices are quite high.
As for domestic travel and food prices, prices vary by location, so larger cities will always be more expensive options. What we especially like are the meal portions in the US, which are usually very generous and usually cost between $5 – $10 per person at a fast food restaurant, food truck, or diner.
In addition, many restaurants will be happy to split your meal or at least add an extra plate, because in most cases, one meal is quite enough for two, which in our opinion is a great option for couples.
Top 9 Budget Friendly (And Life-Changing) Tips
Tip No. 1: Grab Some Groceries and Cook Simple Meals to Take Away
Truth be told, this works best on car trips but can be adapted to plane use if you're careful.
What particularly catches our attention is the fact that most people don't think about going shopping. Namely, they usually decide to eat the food of poor quality and poor nutritional composition and waste money on all kinds of sandwiches or salad provisions that can last two days.
Instead, we recommend you simply go to the store and buy everything you need to have a quality meal and avoid various digestive problems. Diarrhea and vomiting are among the most unpleasant travel companions.
The best thing you can do is shop like you are at home, which really means no fast food just because it's cheaper and packaged in bite sizes.
Tip No. 2: Venture outside the Tourist Areas
We assume that most of us are not fans of staying in a noisy restaurant full of tourists. If you are one of them, we recommend you try to find places that offer food outside the tourist-heavy city centers.
Namely, neighborhood restaurants mostly serve less expensive and tasty food, but they also provide a refreshing change of atmosphere.
Tip No. 3: Talk to the Locals
Did you know that most people who travel usually don't go outside the hotel bar? This is sometimes a little scary because tourist destinations are full of healthy and affordable small-town restaurants.
Unfortunately, most of such quality and budget-friendly restaurants are buried on some back street and barely registered on Yelp or Google. So, ask around! Try talking to the guy at the gas station counter or someone who runs a business in the mall, we believe you will only get the best recommendations, as they know where to get cheap meals while traveling.
Tip No. 4: Eat Light & Share
Consider sharing food with the people. So, if you want to dine within your budget, just order smart; it's a really good way to save money on food while you travel.
Tip No. 5: Always Carry Backup
Most travelers usually carry an emergency kit in their bag. However, hardly anyone considers the emergency meal. We recommend that you always bring something to snack on, such as fruit, nuts, or the simplest baguette.
With a good snacking strategy, you won't be hungry, and you'll avoid unexpected expenses when hunger strikes at the most inconvenient moments. To be honest, this is our best food budget travel hack!
Tip No. 6: Rent A Place with a Kitchen
Truth be told, cooking some of your own meals is a great way to eat within your budget on vacation. Our all-time favorite is the chicken salad sandwich. It is easy to prepare, and you can take it with you everywhere.
Tip No. 7: Tax-Free Home Cooking
Have you ever heard of tax-free home cooking? All you have to do is sign up for the peer-to-peer dining program, and soon you can expect to be invited to a totally free dinner. Can it get more budget-friendly than this? We doubt it!
Tip No. 8: Never Trust an Airport
It is rare that an airport restaurant, although there are exceptions, offers tasty and high-quality food. If you have a long layover, we recommend doing your research before deciding where to eat, preferably looking for clean and simple food, and remember it never hurts to bring backup.
Tip No. 9: Best Travel Accessories for Eating On a Budget While Traveling: Apps for Coupons
Did you know that various coupon websites offer restaurant deals? Consider it a great opportunity as you can save a good amount of money by using this type of coupon. Additionally, keep in mind that you can also use some free travel apps to get cheap food at your doorstep.
Final Thoughts
That would be it, these were our 9 tips to eat on a budget while traveling. We hope you'll use some of them the next time you venture out on an adventure. Please let us know in the section below if you have any questions.