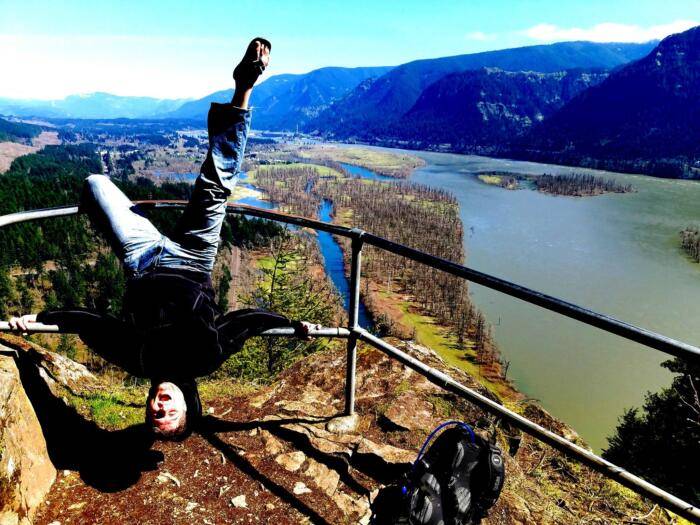 Thanks for visiting me! Let's Help You Be A Better Traveler! 
Why hello internet friend, I'm AOWANDERS & this is my travel blog where you'll find tips on how to travel full time by RV.  Use seasonal jobs to pursue your globetrotting dreams like I did for over a decade. Which I like to playfully call, "traveling with training wheels," because you get a job, housing, and built-in travel friends while living in iconic vacation destinations around the world.  Places like National Parks, Ski Resorts, Summer Resorts, Remote Fishing Villages, Gateway Towns, and even Cruise Ships.   Don't want the job or the boss, don't worry I'll even show you how to make money while traveling with your laptop.
My only goal is to help you pursue your travel dreams & save money at it.  Because when I started traveling, there wasn't an internet, and the only thing close to that was beach bums & hippies.  Whose guidance was grounded in urban myths & folklore as they pointed me toward the woods and the waves.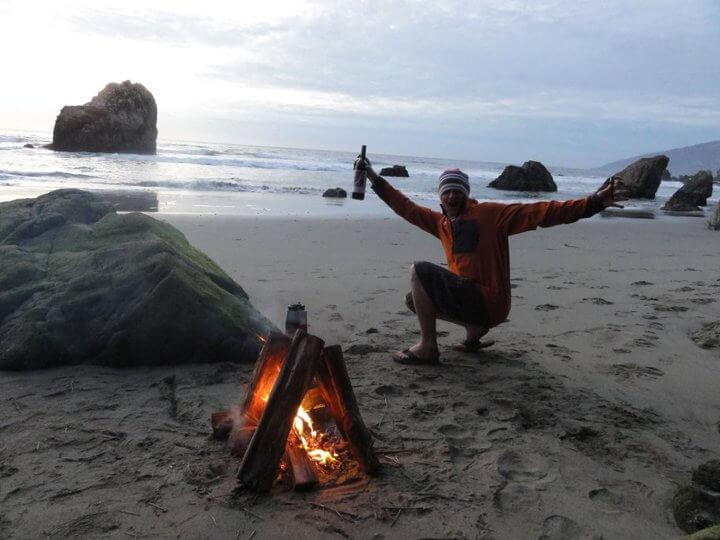 Since 1998 I've been overcoming travel hurdles one after another.  You can read about those accidental adventures & outright comical mishaps in my digital diary.
For now, let's focus on you & how to answer all of your travel-related questions.  Whether you're trying to figure out how to save, plan, or even afford your trip, don't worry. You're not alone.  I've been helping travelers like yourself for years, and you can find all the answers to your questions right here.
So get comfortable.  Bookmark this site & share it with your friends because you're about to become an expert in long-term travel
I'll teach you how to build your credit score & save money for travel at the same time.
Where to find the best travel deals.
What travel memberships to join and which to avoid.
How to stay safe and healthy with affordable travel insurance.
Where to get affordable Insurance for Remote Workers
How to plan for your big trip and maximize your time.
What style camper to buy for full-time living & traveling.
What is the best state to claim residency as a full-time RVer.
How to live on sailboat and travel the world.
The easiest way to save on flights, lodging & entertainment.
How to negotiate everything.
How to travel as a family with kids or as a senior finally reaping the rewards of your retirement.
What life on the road is really like with full transparency.
Where to get the right travel gear for you.
Where to find and how to get inspired to travel.
You'll even find guest blog articles that offer travel advice. on topics like traveling as a solo female and more.
So you can stop being overwhelmed & frustrated searching the internet for answers.  Everything you need to know about travel you'll find right here on this top travel blog.
Ready to Pack A Bag? Join The Crew! Subscribers Get First Access To All The Travel Things!!
[convertkit form=4976251]
A Sample Of My Travel Story ~ From Deadend Job In The Suburbs To Globetrotting Travel Writer
Imagine a world where the horizon stretches out like a canvas of endless possibility, where every step forward is a leap of faith into the uncharted territory of the undiscovered. A place where the unknown beckons you with a serenade composition of adventure, where every decision you make takes you on a journey of self-discovery. This was the world I yearned for, the world I set out to find when I left behind the safety of "suburbia capital of America" in 1998, armed with nothing but a sense of adventure and a thirst for the unknown.
So when I embarked on a solo road trip to Los Angeles with a travel resume that only consisted of weekend family trips, I had no idea the door I was about to open or the world I was about to discover.
The landscape of the West unfolded before me like a tapestry of humbling beauty. Pristine beaches, towering mountains, winding roads, and endless discovery were my companions on this journey as I navigated my new world without the convenience of the internet. I was like a sailor lost at sea, searching for a guiding star to show me the way.
But, like a wave relentlessly pounding the shoreline, I continued on my journey, making every rookie travel mistake there was for over a decade.  Learning and growing with each stumble, but despite the challenges and setbacks I faced, I learned one undeniable fact over a decade of failure, "The real adventure begins when plans go to shit, and eventually, by sheer dumb luck, everything has a way of working out!"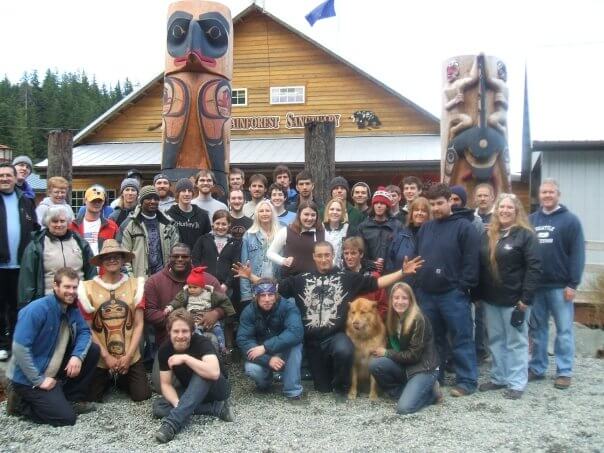 Because even that travel network of beach bums & hippies who had me chasing ghosts, folklore & urban myths finally showed me the pot of gold at the end of the rainbow in 2008. When I finally figured out how to be a full-time traveler with no money & no resources by working on a zipline course in Alaska.
It was like discovering a treasure trove of secrets waiting to be unlocked aboard an abandoned ship in the Bermuda Triangle.  Those wandering gypsies introduced me to what I like to call "traveling with training wheels."  Because there's no way you can fail when you get free lodging, a paycheck, travel buddies & a playground to explore.
That magical summer in Alaska hooked me to the world of travel like a key to a locked door.
A door that opened up a world full of adventure, discovery, and endless possibilities. A door that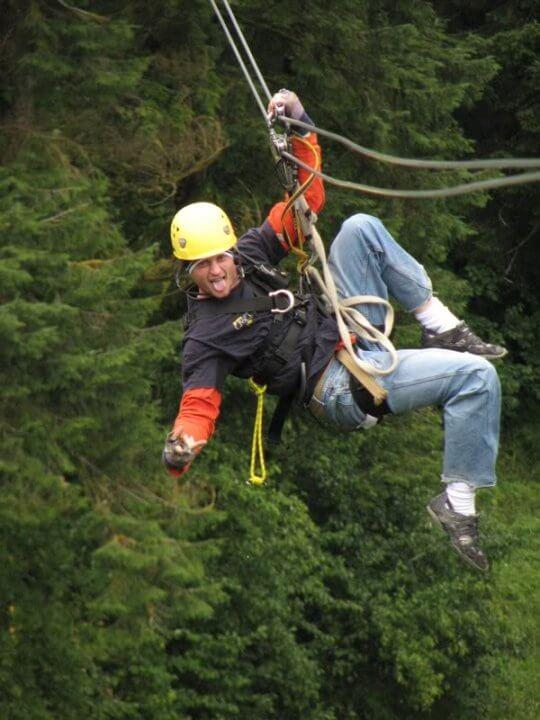 slammed shut on disappointment & despair.  A door that leads me here to show you how to live in one of the seven wonders of the world for less than $8/day.  How to get paid to live, play & explore some of the most iconic vacation destinations around the globe.  How to find $800/day restaurant jobs slinging burgers & beers. How to only work five months out of the year so you can play for the other seven.
So with over two decades of long-term travel experience, I plan to arm you with an arsenal of comedic entertainment or, at the very least, weaponize you to achieve your travel dreams.
Because "Once upon a time," I was a tourist in my own hometown, wandering through life without truly exploring the world beyond the borders of Minnesota. But when a spark ignites within you, and the distant fantasy of travel becomes a burning desire, you answer the call.
Despite having no travel friends, mentors, or guidance and refusing to give up on your dream, no matter how impossible it seems. It was like a seed that had been planted in the fertile soil of possibility, and I was determined to grow into something beautiful. The idea of getting on a plane was as foreign to me as the languages I would soon learn to speak, but I didn't let that stop me. With each step forward, I gained more courage and confidence, and my dream of slow travel became a reality. Now, with over two decades of long-term travel experience under my belt, I want to share my knowledge and passion with you. I want to inspire you to plant your own seed of possibility and arm you with the tools and resources you need to make your travel dreams come true. So let's embark on this journey together and see where it takes us.
WHY THIS TRAVEL BLOG
My goal is to be the most transparent travel resource on the internet.  With content, advice, and reports that will help you be a better traveler.
What You'll Learn Here:
Universal travel tips to apply to any destination. 

Crystal-clear spending reports to help you create your travel budgets.

Thorough reviews of products, memberships & deals so you can avoid wasting time & money.
Validated site recommendations to give you more resources when trip planning.
A community of support & inspiration to give you that safety net you won't find anywhere else.
Because what sets me apart from most other travel-related websites is that I pay my own way, and I don't accept any sponsorships.  I write every word & have personally visited every hotel, hostel, restaurant, and area attraction you find on this site.
Every recommendation or referring link you find on AOWANDERS is here because it's what I use for my day-to-day travels.  I only recommend what I use because after traveling for 25 years, if it's beneficial to me, it's going to come in handy for you.
This website is about budget travel & how to navigate the world as a frugal traveler.  I sleep in tents, dorms, campers, sailboats, budget hotels & whatever cost-friendly accommodations I can find.  I eat from street vendors, ride buses, and share costs with strangers because I'd rather spend my money on experiences instead of avoidable expenses.
So dive in!  Learn what you need and send me a digital postcard from the road to [email protected]
I look forward to answering your questions, reading your emails and watching you grow as a globetrotter.
Sincerely,
AOWANDERS
Ready to Pack A Bag? Join The Crew! Subscribers Get First Access To All The Travel Things!!
[convertkit form=4976251]
Some helpful links to my most popular resources
83 Ways I Have Paid For My Travels Since 1998 -No other travel blogger will ever have a list like this because they think your searching for frugal saving ideas instead of how to actually be your own boss with a source of income you can find anywhere in the world.
How To Save $20,000 in 83 days–  This is how I saved $20,000 in under 3 months workin for a temp agency at a manufacturer job in suburbia capital of America
Cheap RV Rentals  Sometimes this page takes a second to load, but it will find all the cheap RV rentals in your area.  Such an amazing resource where ever you are in the country.
Cheap Flights  Another cool partnership I have forged over the years is with Skyscanner.  Through the help of their tech team my website can find the cheapest flight to where you are standing anywhere in the world!! How cool is that?!!?
My Passion for Ski Towns  Most travel bloggers don't really let their personality onto their website.  They want to appeal to as many as possible while delivering generic tips and advcie.  You will never find that here.
Homeless to Globetrotter  Like I said most won't go far below the surface in allowing you to discover their personalities.  You'll find me all over this website.  Sometimes its too much sometimes its not enough, but hey thats me ~ AOWANDERS