Foot Hills State Forest ~ Spider Lake Trails
Quick Reference Table of Contents
Searching for a free campsite I found myself inching my way down a dirt road in the Foot Hills State Forest looking for the Spider Lake Trails Recreational Area.  Following a tip from a friend of friend I'd heard there were free campsites, and a network of ATV trails connected to the SOO line trail system combining for thousands of miles of off road adventurous fun. 

Relying on google maps satellite view it appeared there was a turnaround spot for my oversized RV/Travel Trailer rig, but I was pressing forward on faith alone.  Not something I recommend when towing a 30 foot travel trailer, but as I rounded the corner of this minimum maintenance road there it was.  A wide open clearing with a massive brush pile pushed into one corner of this over grown weed dirt "parking lot".  My savior from making a crucial travel trailer mistake.  Know before you go.  With a sigh of relief I pulled in, parked and let out a silent thank you to the universe for rewarding my curiosity.  Thankful I didn't have to entertain the ordeal of backing up the travel trailer with no spotter for over 2 miles.  From here, Kota(my beagle) and I set off on foot to see what else was down this road in the Spider Lake Trail Recreational Area rather than chance our luck in my mini semi.
Spider Lake Trails Free Camping
To my surprise we found a boat landing with plenty of turnaround space, a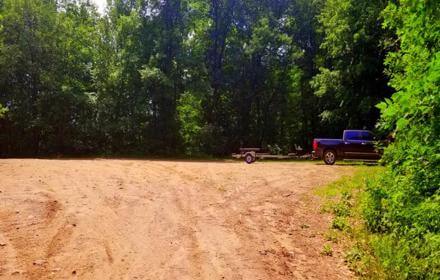 dock and even a makeshift campsite next to a sign that clearly stated no camping!  Exploring further down this minimum maintenance road, which was in perfect condition by the way, we came across one "Y" in the road after another.  With Pandora playing in the background we continued on always choosing the option to the right to avoid another curiosity adventure mishap of getting lost.  We came across a family campsite with a fire ring and picnic table that was occupied.  Occupied with two trucks, a boat, strewn inflatables and a 40 foot 5th wheel. 
Logging this into memory we continued on deeper into the Spider Lake Trails Recreational Area.  As we rounded a corner we met a pot belly silver haired man bobber fishing from shore.  While I noticed another campsite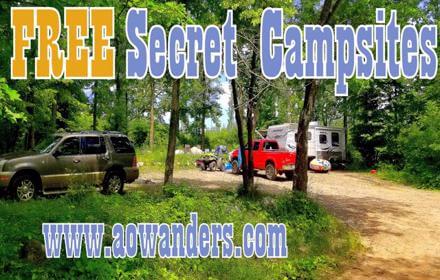 with a fire ring, picnic table and pit toilet.  Kota noticed the Sunfish this man was taking off his hook and adding to his catch for the day in the 5 gallon bucket he was using for a seat in the hot sun.  He landed two more Sunfish while we briefly chatted about Foot Hills State Forest, Spider Lakes Trails, SOO Line ATV trail and his not so secret fishing hole.  Concerned we were intruding on this gentleman's fishing, a genuine Minnesota past time, we pressed on armed with information that there were hundreds of free campsites for travel trailers,   5th wheels and RVs further down the road. 
Chaperoned by a swarming herd of mosquitos and horseflies we came upon a massive free campsite that could accommodate 3 or 4 campers.  Or in this case two truck campers, one pull behind camper and six ATVs.  Just beyond this Spider Lake Trail free campsite was the entry point to the vast network of endless miles of ATV fun.  Standing in the middle of the 4-way intersection of this backcountry ATV haven I secretly wished I owned an ATV to spend the day exploring all that the Spider Lake Trail system had to offer.  Instead, for how peaceful and perfect this place was I had to regrettably admit to myself it wasn't for me.  Not today; not this trip.
Free Boondocking for Campers, Campervans, Large RVs, Travel Trailers & 5th Wheels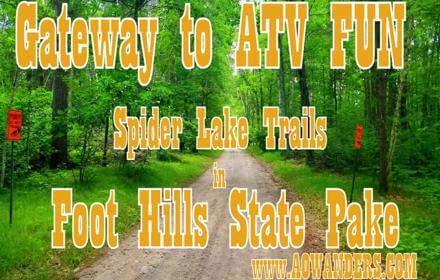 Although there was no signage that limited the length of the stay there was also no Verizon cell service here at the West Entrance.  Sporadically here and there I found one bar of coverage to play Pandora along this road hike, but wasn't strong enough to open up an online map of the Foot Hills State Forest,  the Spider Lake Trail system or even the MN DNR website. 
This was wild free camping for ATV enthusiast, RV boondockers, local fisherman or anyone else not looking to stay in a paid campground near Motley or Backus Minnesota.  This free campsite in the Foot Hills State Forest was too far off the grid for the purpose of this latest excursion.  I was on the hunt for a free two week campsite destination.  So that this digital nomad could work on my cheap RV living travel blog. So unfortunately it was time to pack up and search for something else, but in case you still have questions about the Spider Lakes Trail Recreational Area…… 
Fun Facts of Spider Lake Trails
Nestled in the in the lower Southwest quadrant of the Foot Hills State Forest surrounded by over 200 recreational lakes is an ATV playground known by the locals as "The Spider." 
The Spider Lake Trails sprawl throughout 29 square miles of the Foot Hills State Forest and with the exception of snowmobile season these trails and this free camping boondocking destination is open year round for family enjoyment.  By providing thousands of miles of off roading ATV/ORM/ORV fun by connecting up with the Heartland State Trail as well as the iconic never ending SOO Line ATV Trail system.
With plenty of free camping along the way the Spider Trails Recreational Area is a budget friendly RV boondocking destination favorited by families all over Minnesota & quite possibly the Midwest. 
10 Spider Lake Trails Facts
29 Square Miles of ATV Fun
Over 200 Recreational Lakes to fish from
Hundreds of Free Campsites
Connects to the SOO Line Trail and Heartland State Trail
Short Distance to the Northern Lights Casino
Perfect Base Camp to Chippewa National Forest, Huntersville State Forest, Brainerd, Walker, Northern Lights Casino & Leech Lake
Suitable for big rigs like travel trailers and 5th wheels as well as other campers like truck campers and camper vans
No cell service from the West Entrance, but 4 bars of Verizon cell service from the North entrance (Spider Lake Trail ATV Parking ~ Official entrance)
Pet Friendly ~ definitely Kota's favorite fun fact
Answers to Common Questions about Spider Lakes Trail Campground
Spider Lakes Trail RV Campground
There is no standard "RV" campground.  There is no water, electric, sewer or full RV hookups at Spider Lakes Trail.  Spider Lakes Trails is a state forest recreational area that has approximately a dozen pre developed primitive camping spots.  That from what I saw only included a picnic table, fire ring and parking spot.  This is wild camping.  Not wild like rowdy party wild (which I'm sure has happened over the years), but there is no gift shop, shower house, laundr­­y mat, pool or dog park.  A permit isn't even required.
There is no ranger station or pay box.  There is an outhouse bathroom on both the North entrance and West Entrance into the Spider Lakes Trails recreational area, but for the most part this is primitive camping.  Where it is first come first serve, and even if all the spots are taken you are allowed to make a new camping spot.  Just clean up after yourself.  Almost all of the free campsites I came across where made by other campers.  A few where pull thru's, most were widened sections of the roads and a few were actually cut back into the woods off of the road. 
Do You Need Reservations for Spider Lakes Trails Recreational Area
There is no designated campground at Spider Lakes Trails Recreational Area.  So there is nothing to reserve.  It is all free camping served up on a first come first serve basis.  Like camping should be.  Pets, kids, nagging wives and even lazy husbands are allowed. 
Trailers, boats, floaty toys, fishing gear, ATVs, side by sides, snowmobiles, drones and whatever else you think you need to enjoy yourself is allowed.  Just be aware there are other people out there.  As long as you're not bothering them I am sure you will be fine.  Don't be a "douchebag", don't set up a meth shop, don't go shooting guns or lighting off fireworks in the dry season.  Use practical common courtesy aware of your surroundings common sense and you'll be fine. 
Are Tents Allowed on Spider Lake Trails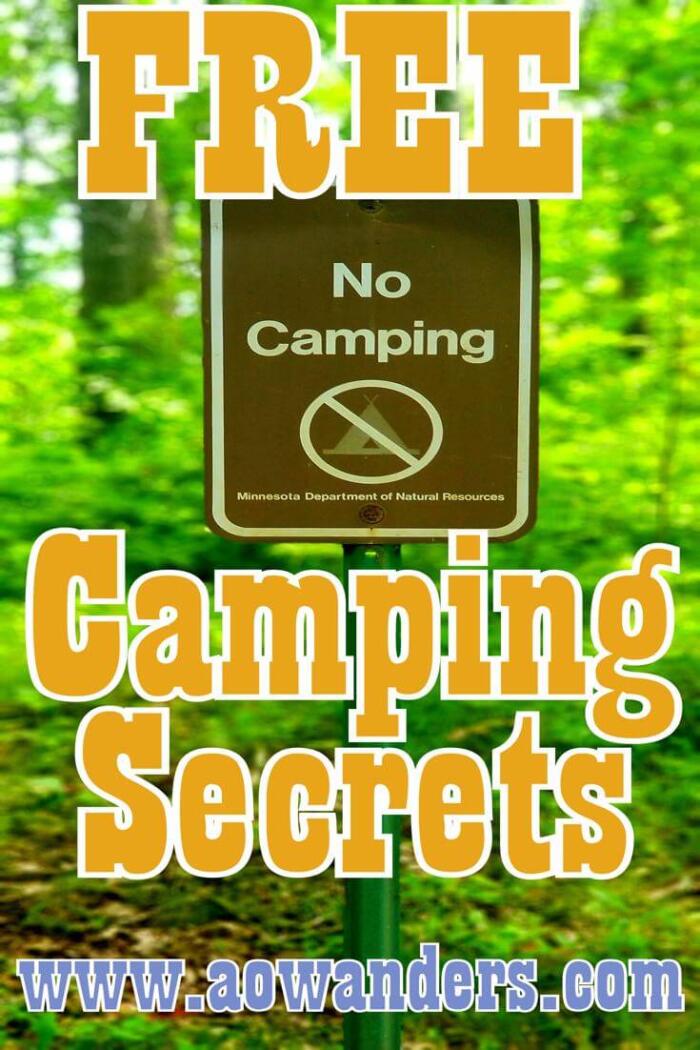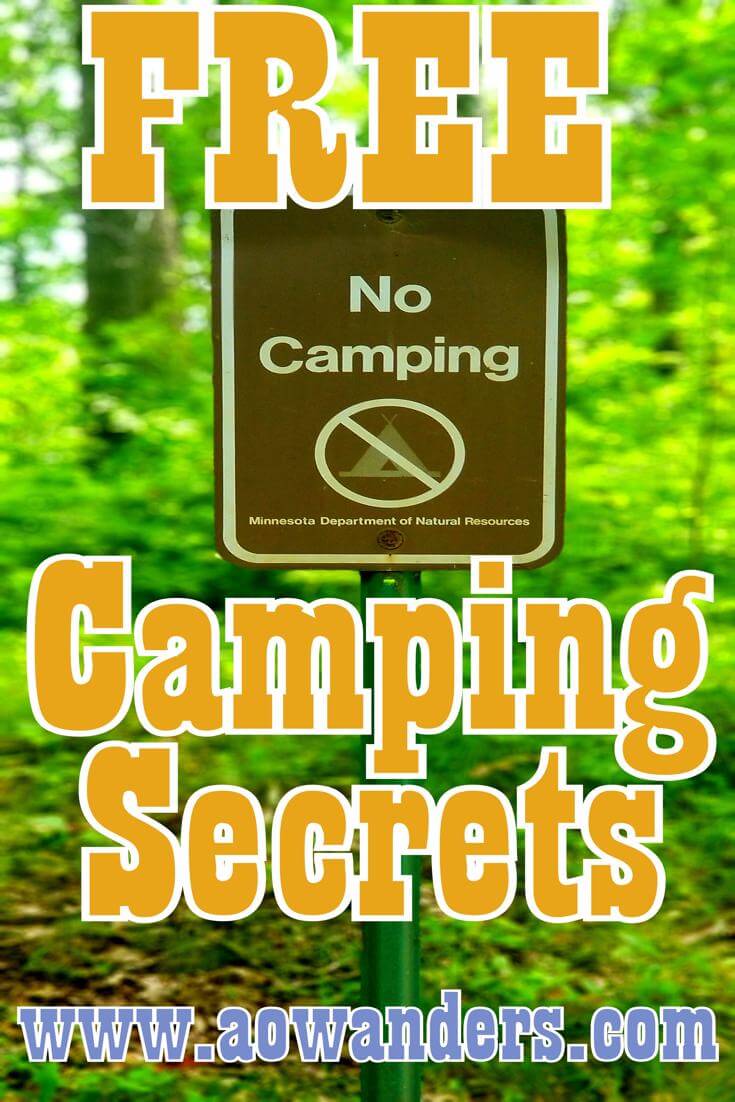 There is no office, no ranger station, and no signage stating any rules other than where you CAN NOT camp.  Which was only alongside the main roadway coming in.  Because both sides of the roadway were occupied by farmer's fields.  Once you actually got into the Foot Hills State Forest the signs disappeared and it's pretty much a free for all to camp where ever you can find a spot.  Tents, campers, RV, Motorhomes, Vans, Travel Trailers, 5th Wheels, Boats, ATVs and Snowmobiles are allowed back here. 
Do You Need to Wear Helmets
I don't know the "official" answer to this which is why I included the photos below.  From what I saw no one was wearing helmets.  From my ATV days as a kid you only needed to wear a helmet if you were under 16.  I would think if you were stopped by the MN DNR education over citation would be the norm and anyone over 16 would be ok without a helmet, but I am just guessing from personal experience here.  So do your due diligence if you are afraid of fines, citations & rangers.
How Crowded is the Spider Lakes Recreational Area on The Weekend       
This is primitive camping that gets scooped up on a first come first serve basis.  Arriving Wednesday night or early Thursday morning is a much better game plan than Friday night or Saturday morning, but there are plenty of campsites.  Just keep driving down the road you will find a free campsite along the shores of one of the many lakes back here, or just build or own.  Pack out what you pack in.  Leave it better than it was before you came, and nobody will care. 
I visited the Spider Lake Trails recreational area the weekend after the 4th of July.  Two campsites were occupied, and one old man was fishing from shore.  You could hear the ATVs buzzing off in the distance, but for a Saturday morning in the middle of summer there were 5 people occupying two campsites.  Not counting Kota & I.    Surely this place is buzzing with activity Memorial Day, Labor Day, Father's Day, 4th of July & hunting season.  
Other than that I'm sure it's only sporadically enjoyed by a select few the rest of the summer.   The weekend I was there was coincidentally the same weekend as Moondance Jam up in Walker, and still there were only 5 people other than myself visiting the Spider Lake Trails Recreational Area. 
A Budget Friendly Full of Outdoor Activities Destination
­It's a struggle for me to consider the Chippewa National Forest an actual National Forest.  To me its more like a restrictive residential park that can't be used after sunset.  With a town occupancy found within its borders ever few miles, paved roads that lead to neighborhoods or strip malls.  It is literally the weirdest National Forest I have ever encountered.  Fortunately, the Foot Hills State Forest picks up the slack.  Acting like a true National Forest where dirt roads lead to free camping heaven, and rules are left back where the pavement ends. 
The Foot Hills State Forest is the perfect destination for families on a budget.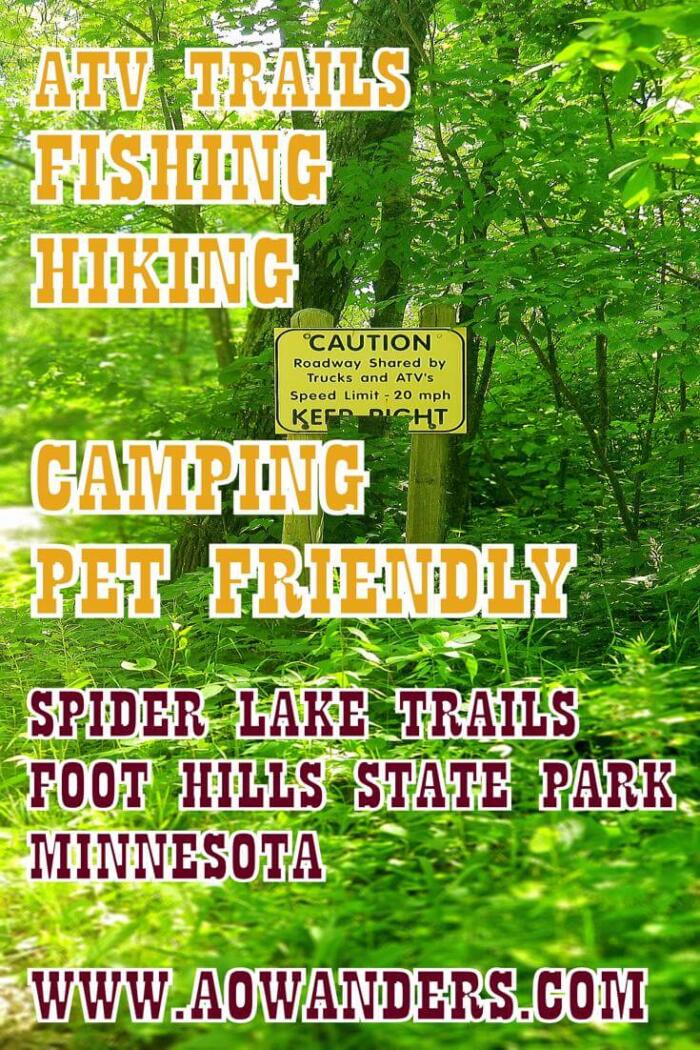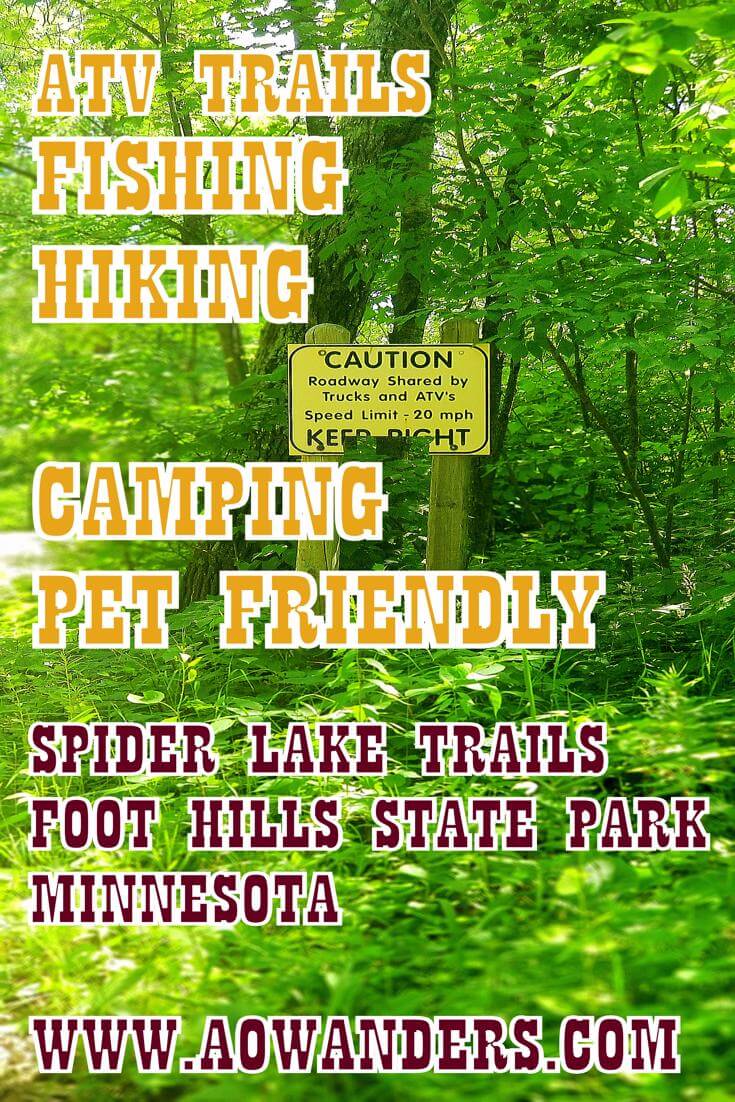 With hiking trails, hundreds of lakes to fish out of and thousands of miles of ATV trails to explore it's the perfect MN summer family camping destination.   Especially when you consider its only 2 ½ hours from the Dakota borders, the big city lights of Minneapolis or even the gateway to the Northshore – Duluth.  Being centrally located, free and open year round "The Spider" is a destination where memories can be made every weekend of the year.  So pack up the ATVs, duct tape the kids in the back, buy your wife some bug spray (50 gallons should do it), fill the coolers and start a new family summertime adventure tradition.  Won't cost you anything, but smiles and good times!  What are you waiting for?  The Foot Hills State Forest and the Spider Lake Trail System are perfect for a weekend family camping adventure, and the rest of us would love to hear all about it in the comments below.