Hard-Sided Campers For Toyota Tacomas and Other Mid-Sized Trucks
Quick Reference Table of Contents
Due to the increased popularity of mid-sized trucks such as the Toyota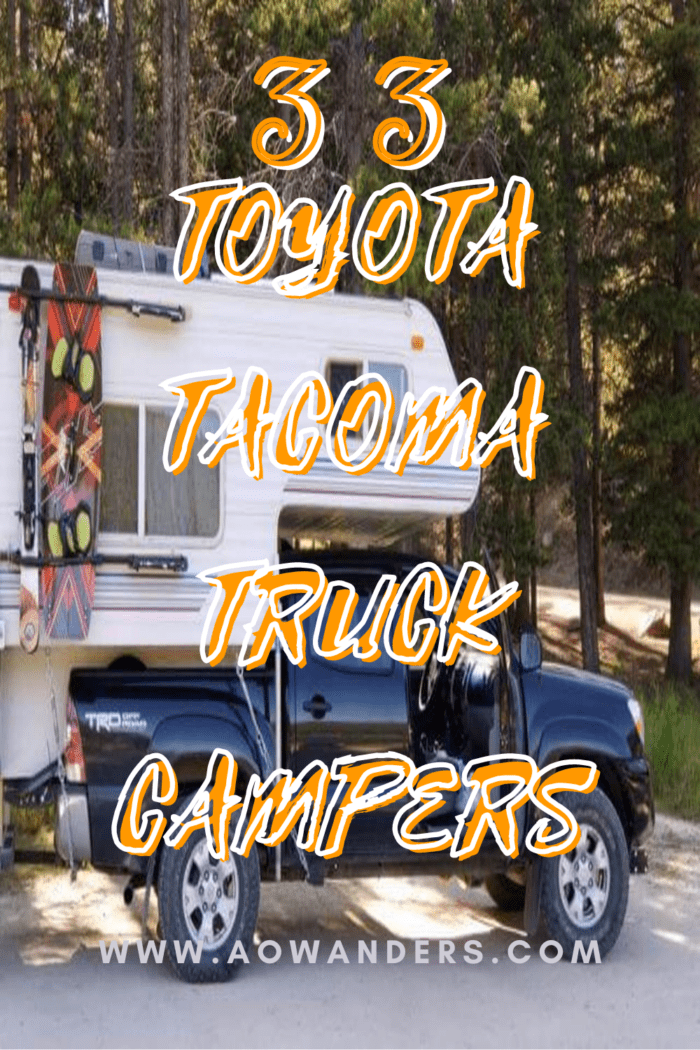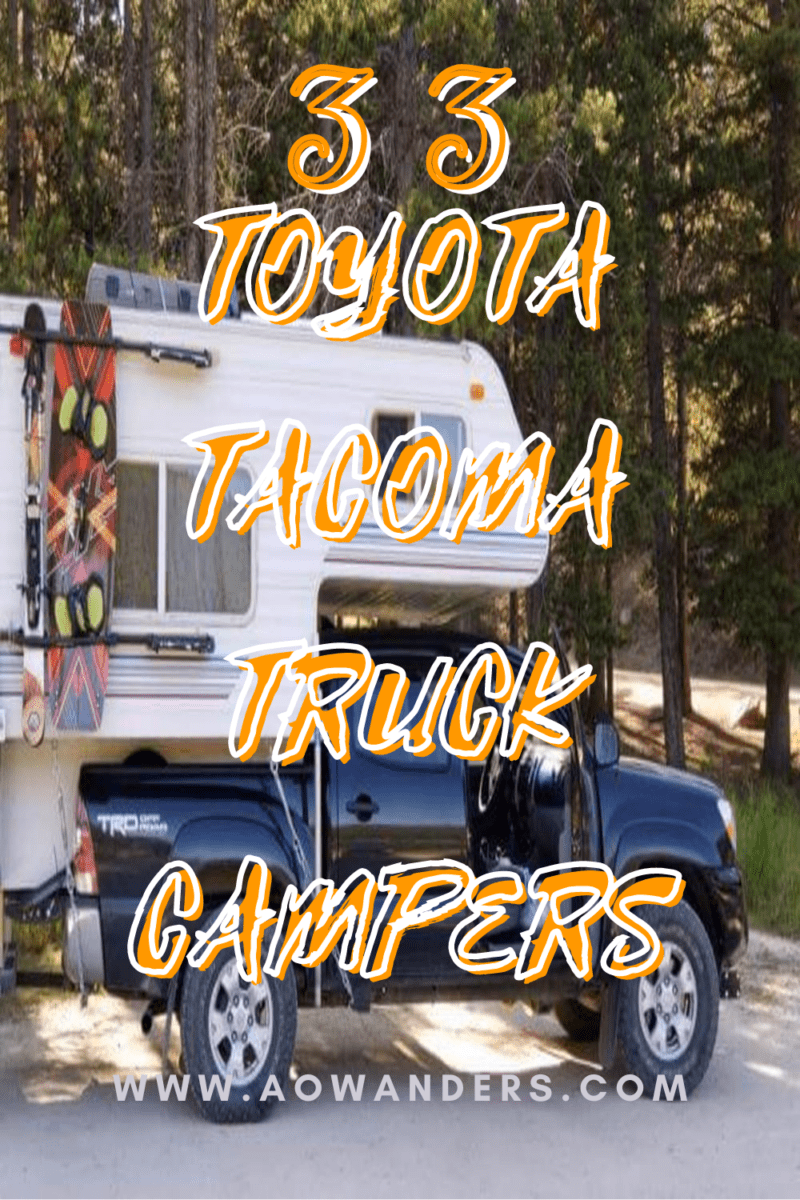 Tacoma, there is a high demand for lightweight short bed slide-in campers in today's market. I've written about the elusive Tacoma camper before and how difficult it is to find campers for Toyota Tacoma's. Along with all of the frustrations that come with searching for a short bed pick up truck camper, or even a lightweight truck camper that will fit a Toyota Tacoma. You can't just type in campers for Toyota Tacoma's on craigslist and sort through the choices. 
Thats not a thing. So, if you're looking for a used lightweight slide-in camper for Toyota Tacomas, you have to gear up for a lengthy research session. One that could span days, weeks, and even months before tracking down a pickup truck camper that will fit your mid-sized truck.  
Other Tacoma Truck Camper Articles

But, regardless of why your searching for a hard-sided truck camper, I've compiled a list of 33 campers for Toyota Tacomas that will let you take full advantage of an outdoor lifestyle and save you a massive amount of research time.  
This ultimate list of campers for Toyota Tacomas are a sleek ultralight design versatile enough to fit a variety of mid-sized trucks, and my list of Tacoma Truck campers range in price from $3,000 to $40,000. Weighing as little as 750 pounds, and up to 2,100 pounds dry weight. Depending on the year, make, and model could have an aluminum or fiberboard exterior. These Tacoma campers come fully equipped with a full-size kitchen, bed, bath, and double dinette. Along with a host of exclusive truck camper accessories and amenities you can't find on any other pick up truck campers. Like the outdoor gear closet on the Livin Lite 6.8 ultralight camper.  
So if you are in the market for a lightweight short bed camper for a mid-sized truck like a Toyota Tacoma, let me help you navigate your choices. Below are 17 truck camper manufacturers and their 33 models of hard-sided full-sized 4-season cabover pick up truck campers that will fit any Toyota Tacoma.
| Truck Camper Manufacturer | Toyota Tacoma | Nissan Frontier | Dodge Dakota | Chevy S10 | Ford Ranger |
| --- | --- | --- | --- | --- | --- |
| Travel Lite Campers | | | | | |
| 590 | X | X | X | X | X |
| 610 R | X | X | X | X | X |
| 610 SL | X | X | X | X | X |
| 625 SL | X | X | X | X | X |
| 690 FD | X | X | X | X | X |
| 700 SL | X | X | X | X | X |
| 770 R | X | X | | | |
| 770 SL | X | X | | | |
| | | | | | |
| Lance Campers | | | | | |
| 620 | X | X | X | X | X |
| | | | | | |
| Cirrus Campers | | | | | |
| 620 | X | X | X | X | X |
| 670 | X | X | | | X |
| | | | | | |
| Kimbo Campers | X | X | | | |
| | | | | | |
| Palomino Campers | | | | | |
| 6601 | X | | | | |
| 650 | X | X | X | X | X |
| 690 | X | X | X | X | X |
| 750 | X | X | | | X |
| | | | | | |
| Sun-Lite Camper | | | | | |
| 690 | X | X | | | X |
| | | | | | |
| Livin Lite Campers | | | | | |
| 6.8 | X | X | | | |
| | | | | | |
| Forest River Campers | | | | | |
| 1805HS | X | X | | | |
| | | | | | |
| Northern Lite Campers | | | | | |
| 6-10 | X | X | X | X | X |
| | | | | | |
| Bigfoot Camper | | | | | |
| 6-11 | X | X | X | X | X |
| | | | | | |
| Scout Yoho Camper | X | X | | | |
| | | | | | |
| RV Direct Camper | | | | | |
| Drifter | X | X | | | X |
| | | | | | |
| Northstar Liberty Camper | X | X | | | |
| | | | | | |
| Alaskan Cabover | | | | | |
| 6.5 | X | X | X | X | X |
| | | | | | |
| Capri Campers | | | | | |
| Retreat | X | X | X | X | X |
| Cowboy | X | X | X | X | X |
| | | | | | |
| Adventurer Campers | | | | | |
| 80RB | X | X | | | |
| 86FB | X | X | | | |
| 89RB | X | X | | | |
| 89RBS | X | X | | | |
| 901SB | X | X | | | |
| 910DB | X | X | | | |
**SL=Super Light, R=Rear, FD=Forward Dining, HS=Hard Sided, RB=Rear Bath, FB=Forward Bath, RBS=Rear Bath Slide, SB=Short Bed, DB=Dry Bath**
***Some of these truck camper models will require larger suspension, truck frame extension and/or camper modifications to fit your mid-size truck***
Most of these small, lightweight truck campers will also fit any Nissan Frontier, Dodge Dakota, Chevy S10, and Ford Ranger mid-sized trucks with a few modifications to your suspension, frame, and/or camper.
RECOMMENDED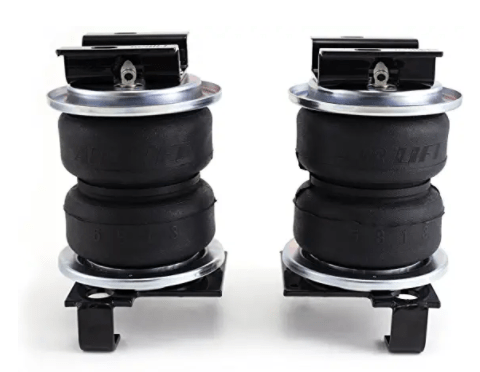 Firestone Airbag Suspension Kits

Quick, Easy Installation
Heavy Duty
Increase Payload Capacity
Tacoma's popularity is growing with outdoor enthusiasts who enjoy traveling, and the most reliable, rugged, heavy-duty mid-sized truck on the market today.
Forcing truck camper manufacturers to take notice of the increasing demand for short bed slide-in truck campers. Creating more choices than the usual 5 best small truck campers we are used to seeing at RV shows and Overlanding expos. So, let's take a look at the 33 lightweight slide-in campers designed for Toyota Tacomas and their mid-sized truck counterparts.
Travel Lite Truck Camper Models That Fit A Toyota Tacoma – 590, 610R, 610SL, 625SL, 690FD, 700SL, 770R, and 770SL
First up are the Travel Lite truck campers. There are eight different Travel Lite truck camper models you can choose from to fit a Tacoma. The 590, 610R, 610SL, 625SL, and 690FD are cabover campers that will fit your Tacoma and other mid-sized trucks without any vehicle or truck camper modifications.
Meanwhile, the 700SL, 770R, and 770SL truck camper models will require modifications to fit your truck because of how spacious these campers are.
Depending on the camper model you choose, you will have to upgrade your suspension, and in most cases, an airbag suspension system from Firestone will be adequate enough.
RECOMMENDED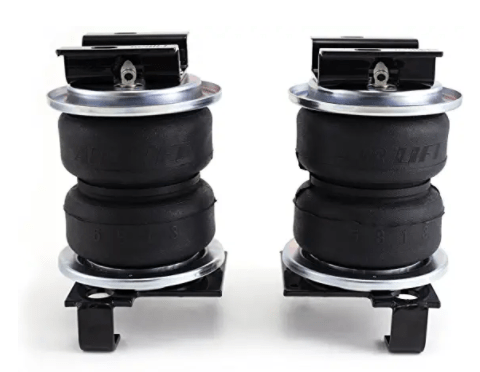 Firestone Airbag Suspension

Quick, Easy Installation
Heavy-Duty
Increased Payload Capacity
In other cases, you will have to cut the corner of the truck camper to fit in between the wheel wells, as I discussed in my other Tacoma camper article. Or you can always pull off your truck bed box and install a flatbed system to carry your new truck camper.
These spacious small campers from Travel Lite are big enough for two people and come with amenities like a porta-potty, refrigerator, bed, pantry, and table.
Travel Lite's lightweight short bed camper models are somewhere around 1,285 pounds except for the smaller 590, which is only 1,120 pounds. Except for the 5'9″ floor length of the 590 cabover model, the 610R, 610SL, 625SL, and 690FD are all at least 6'2.5″ and no more than 6'9″.
The slightly bigger models like the 700SL, 770R, and 770SL would need to be modified to fit a Tacoma or any other mid-sized truck, but the extra work and the higher price tags they come with make it worthwhile because of how spacious and more luxurious they are. Not to mention they come with a full-sized bathroom.
The 700SL may be smaller than the 690FD, but the 770R and 770SL camper models are slightly longer and wider. This will require you to shave a corner of the truck camper to fit between the wheel wells of your truck bed box. The spacious designs of the 770 also come equipped with extra amenities like a sunroof and a full-sized bathroom with a stand-up shower.
Travel Lite truck campers can be purchased from dealerships around the country for about $15,000. Some dealerships have them as low as $10,000, and I've spotted a few on craigslist for $8,000.
Lance Truck Camper 650 Is Designed Specifically For Toyota Tacomas
The 650 is the culmination of Lance Camper's experiments when it comes to smaller hard-sided campers that will actually fit mid-sized trucks such as the Toyota Tacoma. The design of the Tacoma camper Lance 650 allows it to fit a smaller type of truck bed and weighs in at about half a ton(1,000 pounds).
What's great about the floor plan of the Lance Truck Camper 650 is that it's well-balanced between the bedroom and the living room space.
This well thought out floorplan includes a full bathroom in the spacious design. Making it the most premier camper for Tacoma's on the market today. Lance Campers did well with the 650 as they made a small and comfy camper that fits quite well with mid-sized trucks and comes equipped with all of the accessories truck camper owners are used to seeing.
Cirrus Truck Camper 620 and 670 Will Fit Your Toyota Tacoma
The Cirrus Truck Camper 670 is yet to be revealed to the public as it will be available in 2021, but there is also news about a 620 camper model reported to fit half-ton trucks such as the Toyota Tacoma. Meaning it will be one of the smaller campers in the Cirrus line of products, but the demand for small hard-sided campers comes with big rewards.
Meanwhile, the 670 is a newer model that has only been around for two years. The frame is made with aluminum and comes with a sleek and spacious interior that has a total length of nearly 15′. The bedroom looks more luxurious than most other campers on the market, and the bathroom is beyond reproach. The most impressive thing about the Cirrus 620 truck camper is the vast amount of storage created from transformer furniture.
Although the Cirrus 620 truck camper isn't on the market yet, expect to find a price tag of $25,000-$30,000.
Palomino Truck Campers 6601, 650, 690, and 750 Fit The Toyota Tacoma Perfectly
The Palomino Truck Camper 6601 is one of the bigger campers that will fit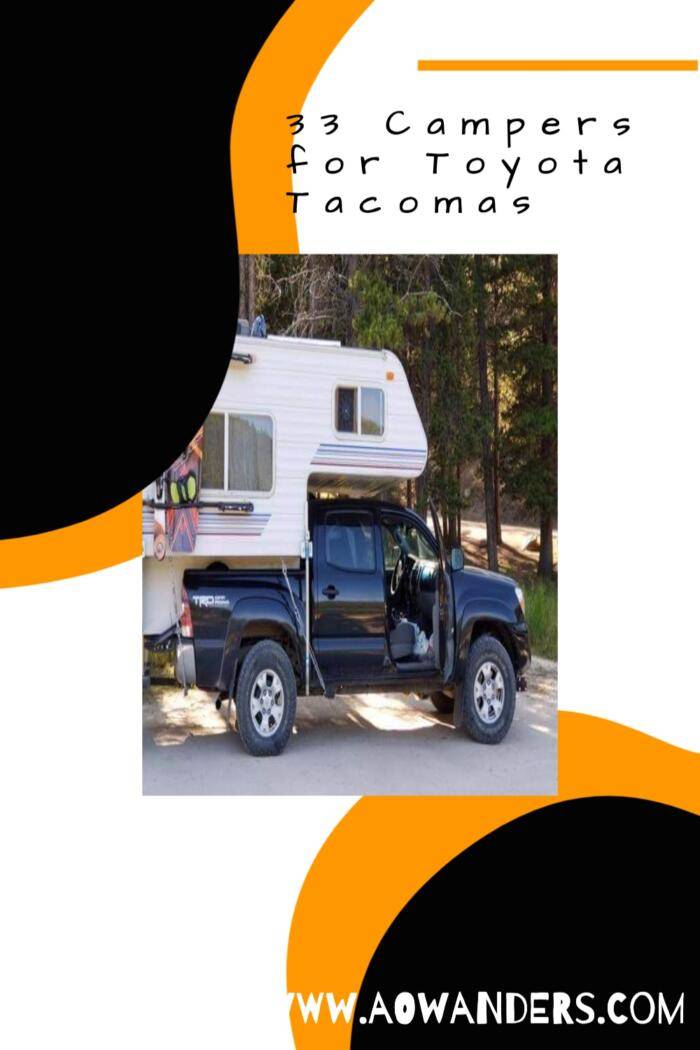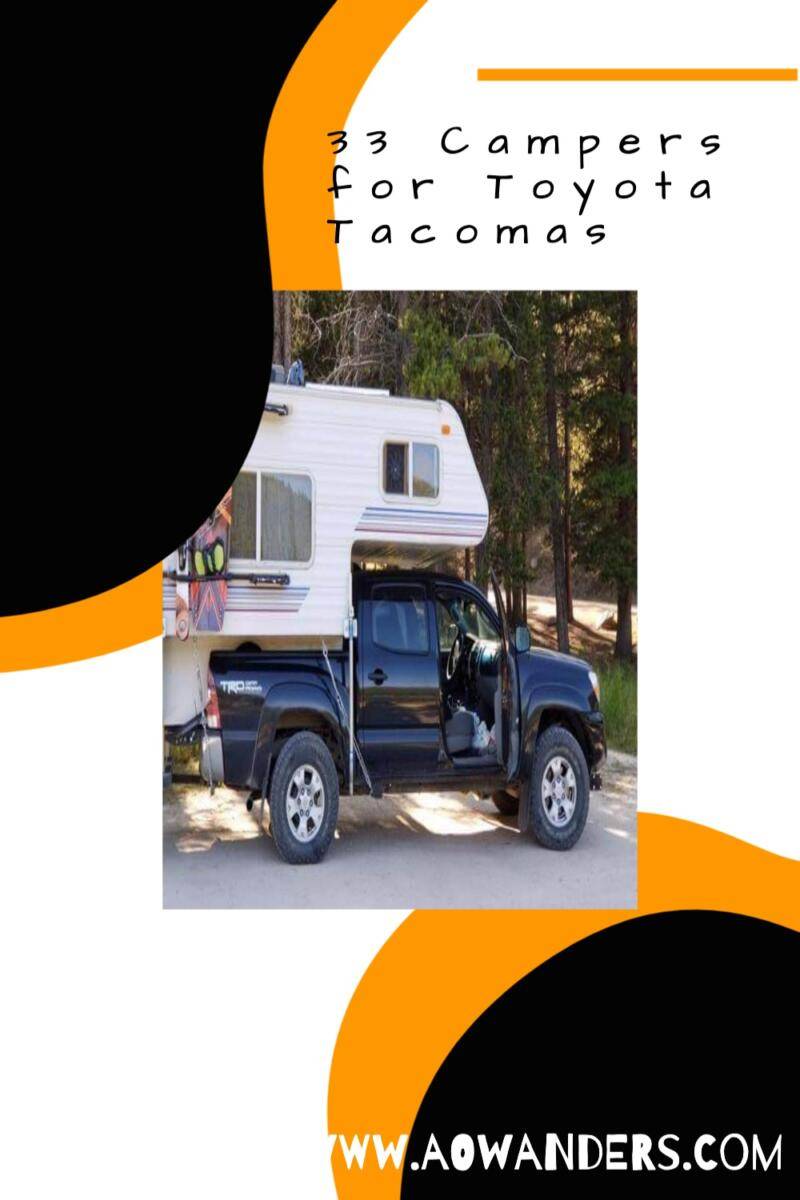 your Tacoma. It has an astonishing length of nearly 17′ and a weight of more than 2000 pounds. It can accommodate three people and still fit mid-sized trucks despite its size. I would highly recommend an airbag suspension upgrade, at the very least.  
Meanwhile, the 650 is nearly as big but is lighter and more compact than the 6601. Still sleeps two people and comes with a standard floor plan of most truck campers. The 690, while being more compact, is built just as heavy-duty as the 650 so that it feels and looks sturdier. Still, it can sleep two people and is excellent for those who want a camper without the need to modify their mid-sized trucks.
Finally, the 750 is slightly smaller than the 6601 but requires you to modify your Tacoma or mid-sized truck for it to fit within your truck bed. It is more than 16′ feet long and weighs nearly 1900 pounds. Which means you are going to need a suspension upgrade. I used the fireside airbag system for my Toyota Tacoma.
Sun-Lite 690 Was My First Tacoma Truck Camper
One of the older models of campers on this list, the Sun-Lite 690, was the first truck camper I put on my Toyota Tacoma. It's a compact, hard-sided camper that will surely fit your mid-sized truck but actually requires you to modify it to fit between the wheel wells.
Check out this popular Tacoma Truck Camper article on how I did that.
Despite its age and modification requirement, the Sun-Lite 690 is a heavy-duty cabover camper that will fit your Toyota Tacoma and costs less than $3,000.
Although I added a bathroom, 3-stage water filtration system, solar power, roof cargo boxes, and a makeshift office, the Sun-Lite 690 truck camper only has a 6'6″ floor plan. Making it one of the smallest footprints on this list, but still comes equipped with a kitchen, side dinette, and cabover bed. This one should be best for those who are solo campers because it might only be enough space for one single person, and its storage options will leave you a bit envious.
Livin' Lite Camplite 6.8 Truck Camper Is The Most Heavy-DUTY Toyota Tacoma Slide-In Camper Available
The Camplite 6.8 with an all-aluminum designed frame is easily one of the top truck campers on the market today. Some unique feature exclusive to the Camplite brand is its massive outdoor gear closet, spacious kitchen, and over-sized wardrobe closets. And what I really like about the Camplite 6.8 is the heavy-duty design it displays both on it's interior and exterior. With every corner being protected by an aluminum guard.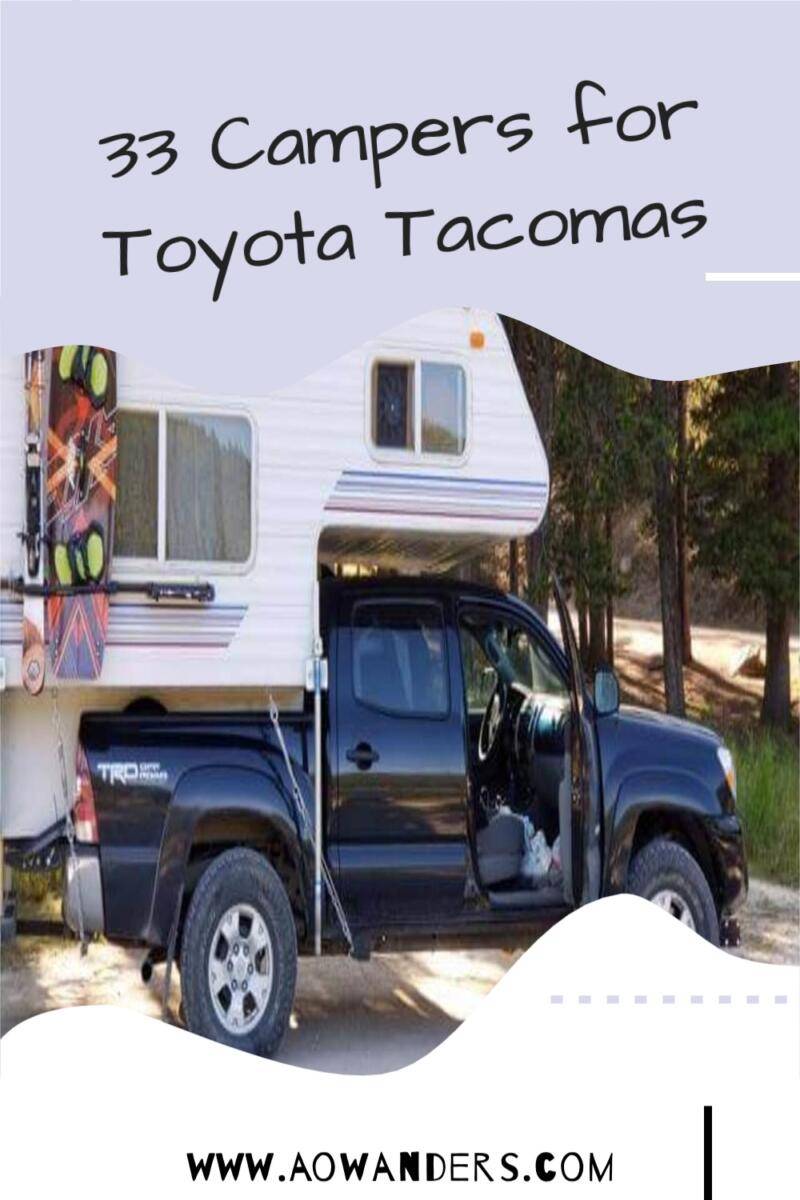 The Camplite 6.8 also comes with one of the best kitchens you can find in a small camper, the most versatile dinette, and a conveniently located fridge. Allowing you to quickly grab a snack at night from a fridge that doens't take up valuable real estate inside your pickup truck camper.
Before I move on to more campers for Toyota Tacomas, the most significant thing about the Camplite 6.8 model is its high resale value and the potential life span of 60 or more years. Because of its all-aluminum design.
Expect to spend around $12,00 for one of these heavy-duty truck campers for Toyota Tacomas.
Forest River Real-Lite HS-1805 Makes For A Quality Mid-Sized Truck Camper
Made by the same people behind Palomino, this is a tremendous hard-sided camper for those looking for a spacious floor plan and still be able to fit a mid-sized truck.
With enough space for a queen bed, a full-size kitchen, and ample storage, the Forest River HS-1805 is a great two-person lightweight short bed camper design. That will surely fit a half-ton mid-sized truck like a Toyota Tacoma, and has a reputation for dependable, durable flooring options.
One unique feature of the Forest River HS – Model 1805 is its walkable super flex membrane roof that will hold up for decades. Encouraging truck camper owners to use this as their own personal rooftop patio.
The Forest River Real-Lite HS-1805 is one of those sleeper campers that flies well below the radar, and you can find them on craigslist for under $6,000. Because most of the owners have no idea what they have.
Northern Lite 6-10 Fiberglass Truck Camper Is A Classic Tacoma Camper
Built when things were meant to last, the Northern Lite 6-10 truck camper was created. A highly sought after mid-sized truck camper commodity. With its heavy-duty design & well-insulated frame, this cabover is a true lightweight short bed camper built for ages. Making it one of the rarest lightweight truck campers on the market.
The Northern Lite 6-10 weighs around 1,000 pounds (dry weight) and comes equipped with all the usual accessories and appliances. Complete with sink, stove, fridge, fan, toilette, heater, and two wardrobe closest.
Because of how rare this small truck camper is, it can command a price tag close to $30,000. Making it one of the most expensive campers for Toyota Tacomas on this list.
I've seen it on craigslist and rvtrader for less than $15,000, but it was scooped up in less than a day. So if you come across this rare bird during your Tacoma camper research, don't hesitate. Pull that trigger.
Bigfoot 6-11 Truck Camper Made for Mid Sized Trucks & Tacomas
Another classic fiberglass camper built back in the 90s that will fit a Toyota Tacoma is the Bigfoot 6-11 short bed slide-in truck camper. This 2-section fiberglass shell screams reliability and durability. Unfortunately, it was only made for 2 years before Bigfoot pulled the plug on this lightweight Tacoma pickup truck camper.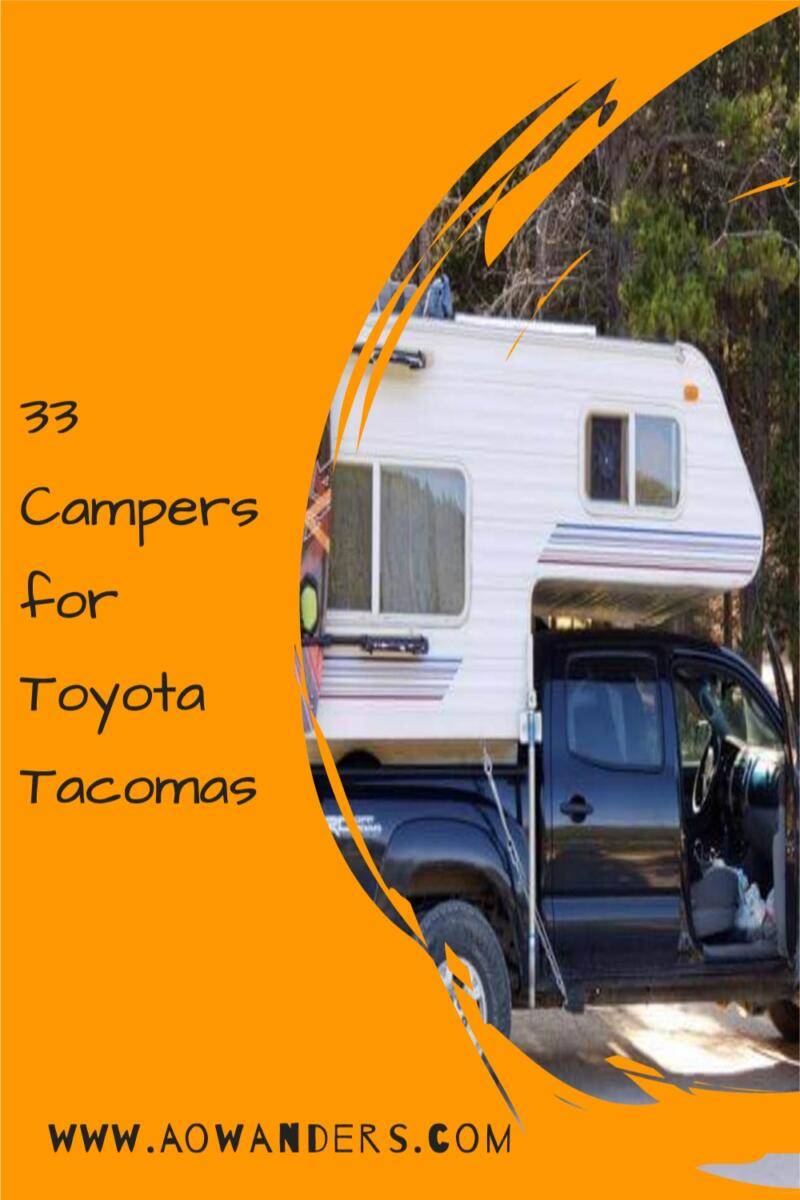 One remarkable feature of his relatively lightweight and straightforward designed camper has over the Northern Lite 6-10 is its built-in bathroom. This lightweight camper is oozing with potential with a modern-day makeover for the right person, but the original design is a no-frills masterpiece.
No hardwood flooring.
No granite countertops.
No transformer furniture.
Limited storage.
At 1,600 pounds, fully packed with all of your camping gear along with your ski gear, this little camper packs a punch.
Cozy at -10°, and just as comfortable with 100° temperatures. The Bigfoot 6-11 is a rare bird, and if you should come across one while searching campers for Toyota Tacomas, scoop it up immediately.
They usually sell in the $10,000 neighborhood, but I know one guy who paid less than $3,000 and another who spent more than $50,000.
Kimbo Is One Of The Newest Toyota Truck Campers Available
Kimbo truck camper's slogan is "Nimble, simple living," and is one of the newest Tacoma campers on the market. With some incredible space-saving furniture, unique one of a kind accessories, and unbelievable craftsmanship.
With that said, they are the essential bare bones slide-in camper. Yes, their floorplan includes a bathroom, shower, kitchen, and even a wood-burning fireplace.
Still, the kitchen is basically an oversized Jetboil stove with a one-basin sink. The bathroom is a toilette vanity combo with a shower just inside the entry door that requires a wrap-around shower curtain. All tied together with a Dickenson fireplace made for sailboats makes a very unique handcrafted Tacoma camper.
Aesthetically pleasing. Next-generation craftsmanship and tons of upgrade potential. Right now, you can pick up this 11 foot 1100 pound dry weight Tacoma truck camper for $20,000 direct from the manufacturer in Washington.
Scout Yoho Lightest Tacoma Truck Camper Available
At 958 pounds dry weight, the Scout Yoho is one of the lightest campers for Toyota Tacomas on this list. Second only to the Sun-Lite 690 truck camper.
Made with an aluminum skeleton frame, lightweight exterior boarding, flexible solar panels, and portable appliances, the Scout Yoho is an energized hard-walled camper thats as versatile as a tent and can fit in the truck bed of your Toyota Tacoma. Its portable appliances and transformer build allow this lightweight truck camper to sleep 4 full-size adults comfortably. A quality you won't find in any of the other Tacoma campers on this list.
At the time of this writing, you can only pre-order one of these truck campers for $20,000, and you'll have to go pick it up since they do not offer delivery service.
Cheapest Campers For Toyota Tacomas Is The Drifter By RV Direct
Drifter is a brand new truck camper for Tacomas that will be available in 2021. Mimicking the same style and design as the Travel-Lite truck campers, but at almost half the price.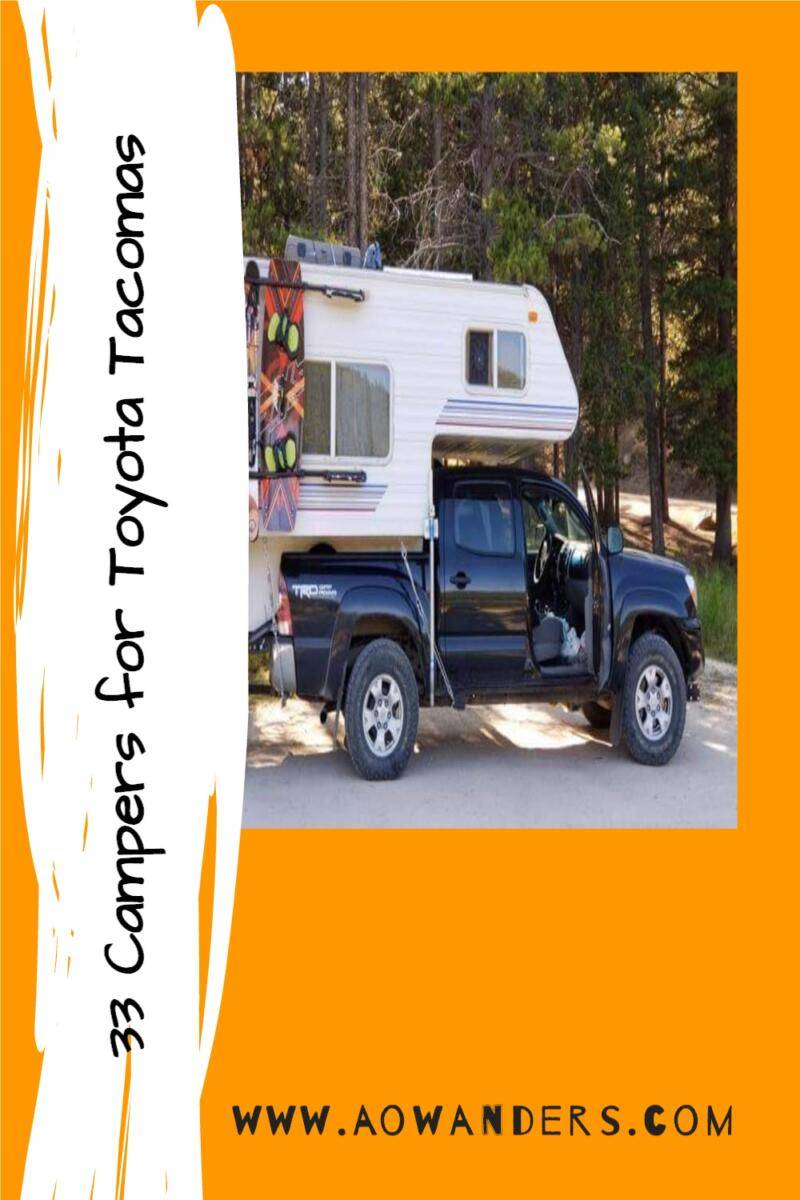 Featuring a jackknife pull out couch, kitchen, bathroom, fridge, and overhead cab sleeping area, the Drifter uses its full footprint to offer an array of features.
Starting at $13,000, the Drifter is the most affordable brand new Tacoma camper on this list and offers plenty of upsell options. Such as solar, on-demand hot water tank, AC/DC inverter, or even an outdoor shower. If you're considering a camper for a Toyota Tacoma, you should give some serious thought to purchasing a Drifter cabover camper.
Northstar Liberty Truck Camper Is Designed For Half-Ton Toyota Trucks
The lightweight Northstar Liberty truck camper is a mighty mouse version of their 8.5 model. Featuring an "L" shaped dinette, a wet bath with a cassette toilet, and a large spacious kitchen creates a very comfortable living space.
What really makes this Toyota Camper stand out from the rest is the ridiculous amount of storage and potential storage options. With a 20-gallon freshwater tank, 13-gallon grey water tank, 6-gallon hot water tank & 5-gallon blackwater tank, you can do some serious boondocking in this Toyota pickup truck camper.
With 6'4″ of headroom and 3 blank walls, you can add plenty of interior cabinetry to increase your storage options. The roof is wide open for a cargo box or solar panels, and remove one of the propane tanks to make room for an extra battery.
The Northstar Liberty cabover camper is a little on the heavy side at 1,750 pounds but still within the towing capacity of mid-sized trucks like the Toyota Tacoma or Nissan Frontier. With plenty of potential to upgrade as you see fit.
The Alaskan Cabover 6.5 Is A Mighty Tacoma Camper
Worth its weight in gold, the mighty Alaskan Cabover truck camper is a hybrid between a pop-up and a hard-walled truck camper. Which is the only reason it makes this list because I hate pop-up campers and everything they stand for.
Weighing in at 1,300 pounds dry and 1,500 pounds wet weight, this highly functional cabover camper is an impressive display of engineering for mid-sized truck campers built for vehicles like the Toyota Tacoma.
Instead of using canvas walls like most pop-up truck campers, the Alaskan features a solid-wall design accompanied by a patented telescoping hydraulic mechanism. That raises and lowers the top half of this lightweight truck camper into position by the flip of a switch.
Accessorized with custom leather mattress and cushion dinettes, 4-burner stove with an oven, and a farmhouse sink. There isn't another camper on this list that offers more functional appliances than the Alaskan Cabover 6.5.
All this patented technology and high-end finish comes with a price tag of around $31,000, though.
Capri Campers Make Two Models For The Toyota Tacoma
Capri Campers are out of Texas and made my radar about 3 years ago when I searched for my first Toyota Tacoma Truck Camper. They came onto the scene out of necessity for cowboys looking for affordable living quarters while traveling from rodeo to rodeo.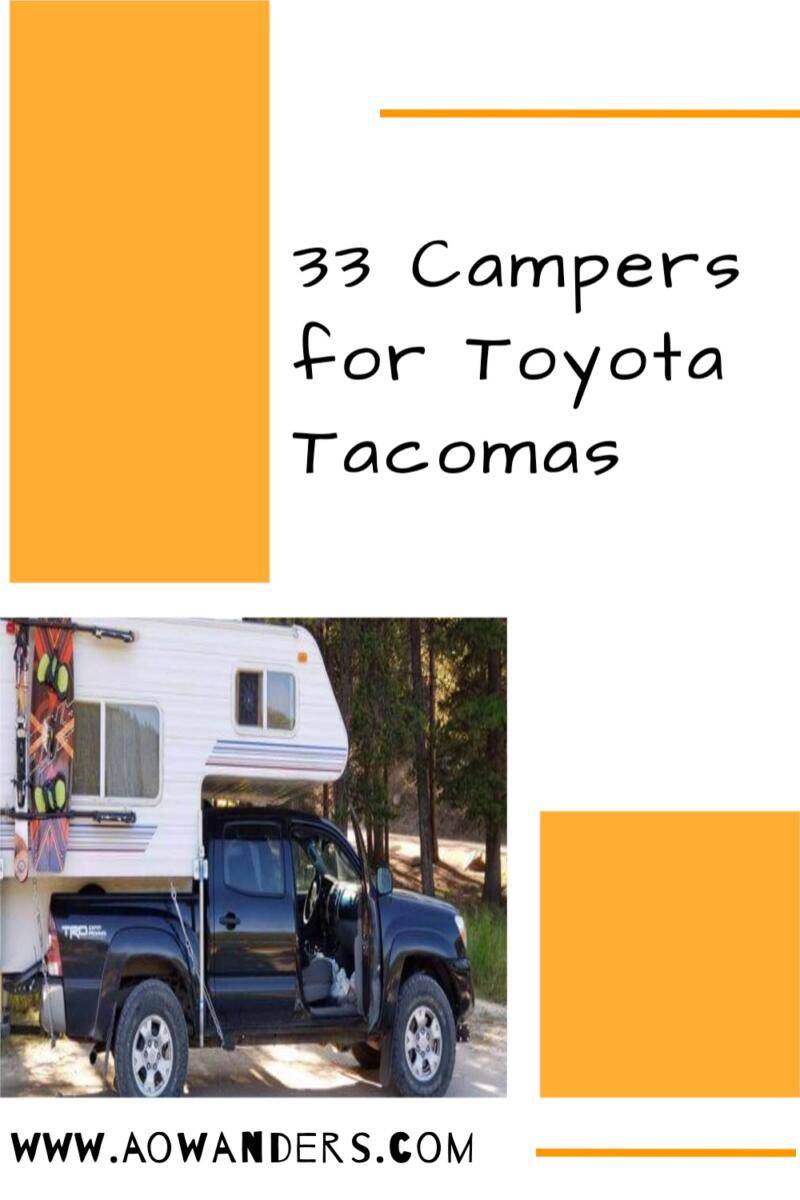 A Capri camper can come as loaded or as unloaded as you'd like it to be. With nothing more than just a bed and four walls, or as loaded as you'd like with the Capri package known as "The Works."
Capri campers come with an exceptionally "handcrafted" feel to them. As they are built entirely out of wood with an exterior aluminum wrap. That you can even choose from 10 select color patterns. Even the interior wood paneling offers 4 different wood pattern choices, and you can choose from 3 different truck bed sizes.
Capri campers are one of the only lightweight truck campers I know of that you can customize interior color, appliance lineup, and exterior colors direct from the manufacturer. Not only that, you can create your own floorplan. For $10,000-$20,000, you can get your own customized Toyota Tacoma truck camper from Capri through a short phone call and a few back and forth emails.
You can also find these mid-sized truck campers on craigslist for around $5,000.
Adventurer 80RB Is A Highly Polished Camper for Tacomas
Finally is the Adventurer truck camper lineup, and my personal favorite the 80RB truck camper designed exclusively for light-duty full-size short truck bed boxes. Like the ones found on a Toyota Tacoma.
The Adventurer 80RB is a ridiculous model name, but in the top 3 of high-end finishings regarding campers for Toyota Tacomas. Don't overlook this unbelievable mid-sized truck camper.
This self-contained, fully-featured truck camper incorporates a comfortable bathroom complete with a shower and toilet as a standard feature on all of its models.
Adventurer Camper Manufacturing offers 6 models (80RB, 86FB, 89RB, 89RBS, 901SB, 910DB) that will fit a Toyota Tacoma, including 2 of them with a full wall slideout. Can you imagine a camper slideout on a 1/2 ton truck!!!
These 6 camper models will fit truck bed sizes of short-beds (5.5′, 6′, 6.5′, 6.75′) and long-bed (8′) trucks.
These high-end truck campers made by Adventurer manufacturing start out at $20,000 and go all the way up to $50,000, depending on the package you select.
Finding Campers For Toyota Tacomas
Why you have to search multiple cities, states, and even other countries to track down a short box truck camper that you can afford to fit the popular rugged Toyota Tacoma is beyond me.
Every ski bum, surf bum, climber, hiker, camper and outdoor enthusiast dreams of the day when they can say, "I own a Toyota Tacoma truck camper." Not to mention its the #1 vehicle of choice for overlanders across the globe.
That doesn't mean it's any less baffling why the number one most reliable, rugged, heavy-duty, and most popular mid-sized truck doesn't have an endless supply of used & affordable Tacoma campers to choose from, on sites like craigslist, rvtrader or facebook marketplace.
Give it a decade, and you'll be able to find most of these high end pickup truck campers for sale on websites across the internet. Who knows if this pandemic continues these 33 campeers for Toyota Tacoma's may end up for sale for a lot less than you'd expect to see them.
Related Posts

Got Feedback?
Let me know in the comments below if I missed any truck campers that could fit a Toyota Tacoma, or other mid-sized trucks. Share your experience with one of these small lightweight truck campers. Got any advice for others looking to add a backpack camper to their truck? Let us know your thoughts, concerns and advice below.
Here Are My Favorite Booking Resources:  Affordable & Efficient Travel Booking Tools I Use Everyday Along With My Favorite Gear Resources
Book Your Flight
Find a cheap flight by using Skyscanner or Momondo. These are my two favorite "flight" search engines because they search through websites and airlines around the globe and offer a calendar view to find even cheaper flights for flexible travelers.  Check out these UNIQUE destination deals or my favorite All Inclusive Booking Travel Tool!
Rent An RV
Find cheap RV rentals for your next adventure by using Outdoorsy or RVshare.  These are my two favorite "RV" search engines because they allow you to rent from private RV owners, and offer a wide variety of chooses at affordable rates.  Want to start making money by renting out your RV?  List it with Outdoorsy or RVshare.
Book Your Accommodation
You can book your hostel with Hostelworld. If you want to stay elsewhere, use Booking.com as they consistently return the cheapest rates for guesthouses and cheap hotels.  Get a $40 credit for booking with AirBnb.  Need to book a private campsite use my favorite RV booking site Hipcamp!
Need Gear
I use REI for all my gear needs because if it ever fails or gets damaged they will replace it for free!!! No questions!!! No hassles.
If REI doesn't have the gear I need.  I can always find it on Backcountry.com
Travel Community
Join the Escapees travel club to meet fellow travelers and talk about all things related to RVing and overland travel.
Travel Packages & Tours
Are you looking for worldwide tours and travel packages?  Check out my go-to source — IntrepidTravel!  Looking for more family related travel packages and tours book with GAdventures.
Don't Forget Travel Insurance
Travel insurance will protect you against illness, injury, theft, and cancellations. It's comprehensive protection in case anything goes wrong and will cover things like transport security, crisis response and medical transports such as Life Flight. Why go on any trip without a safety net that costs less than a case of beer? I've been using SafetyWings for years without any issues.
My favorite companies that offer the best service and value are:
SafetyWings (ONLY $35 & Covers USA Travelers)
World Nomads (for everyone below 70)
Insure My Trip (for those over 70)
Medjet (for additional travel insurance coverage like medical transport, travel security & crisis response)
Looking for the best companies to save money with?
Check out my resource page for the best companies to use when you travel! I list all the ones I use to save money when I travel – and I think will help you too!
Just Want To Support This Amazingly Resourceful Website
Websites incur constant fees!  From hosting costs to massive amounts of personal time creating beneficial content for readers to consume at their leisure.  To help offset those costs or just to say, Thank You.  You can help support this community by shopping through any of the links found on my resource page.  Shop on Amazon through this link and I'll get a small commission, or you can directly support this site through Paypal donations.  None of this is a requirement its just helpful and creates a better community for all of us.