Arizona Trail Magic
Quick Reference Table of Contents
The hiking trails of southern Arizona captivate hikers with fiery skies and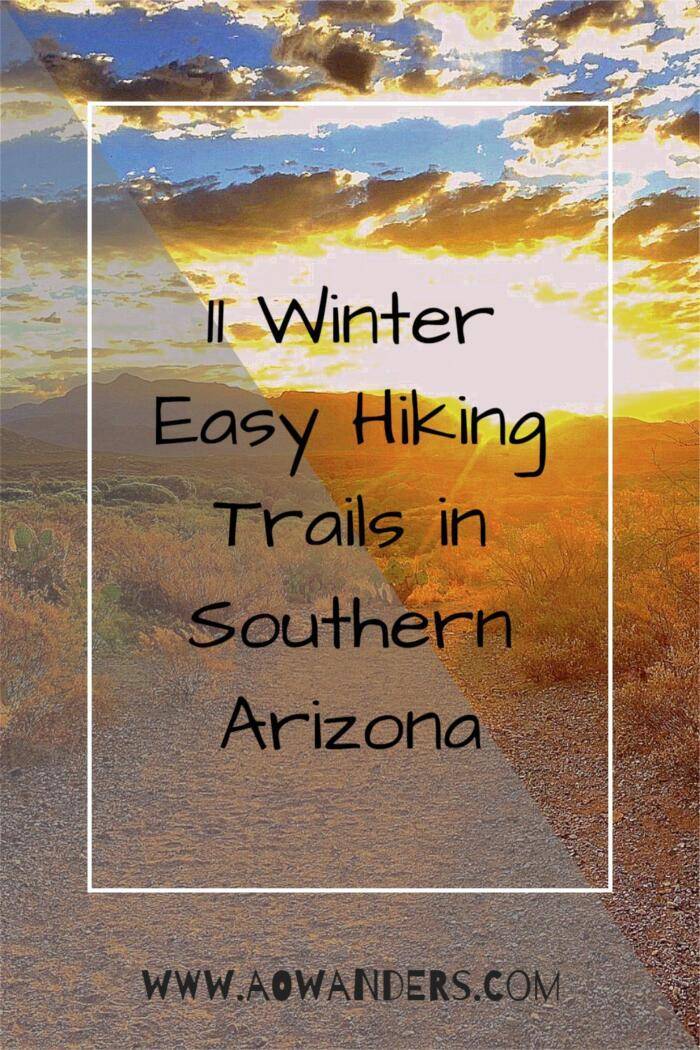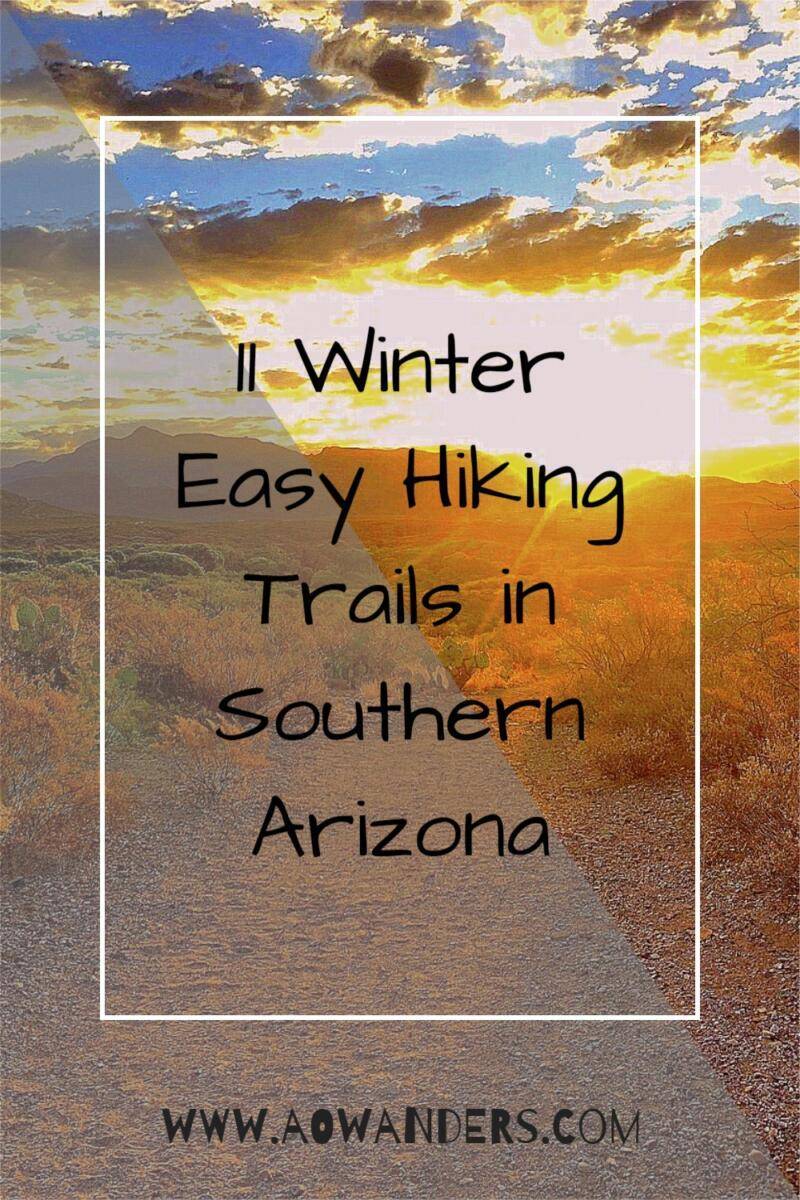 stunning red rock landscapes. But while the rest of the country enjoys the summer hiking season, "Arizonians" tend to hibernate indoors. Like their northern hemisphere compadre's do during the winter months in states like Minnesota. Because who wants to go hiking the trails of southern Arizona during triple-digit summer temperatures?
Not exactly one of those pleasant bucket list ideas. Is it? Still, by the time winter rolls around, the bright blue expansive skies coupled with cooler temperatures make getting outdoors practically a must.
In fact, the locals consider fall and winter to be the most ideal hiking season in the country. Of course, even Arizona mornings tend to be chilly during winter, and the days find themselves briskly comfortable. Until the setting sun paints the sky with those fantastic oranges and pink strokes it's so famously known for.
What To Be Aware of on Arizona Hiking Trails
Before you go off in search of your newfound sense of freedom from hiking the trails of southern Arizona, let's be aware of a few things.
Fun Reads

Arizona Hiking Dangers
Scorpions & Rattlesnakes still roam about.
Micro weather climates create flash floodings without warning.
Hydration is a significant concern because Arizona is an arid year-round climate.
Hiking Concerns of Arizona
While hiking in the south, you need to be more aware of your surroundings, observations, and hydration levels. Since hiking the trails of southern Arizona requires you to be more pro-active in regards to your safety because of invisible climate threats along with deadly animals.
So don't forget to lather up on the sunscreen or neglect any other "normal" protocols of the hiking world.
My Favorite 11 Easy Hiking Trails of Southern Arizona in Winter
Enough of the fine print jargon, though. Here are my top picks for winter hiking trails in southern Arizona. Don't forget sunsets are magnificent, but hiking back in the dark sucks!
Tanque Verde Falls Trail – Tucson
The Tanque Verde Falls trail harnesses the beauty of a hidden 80-foot two-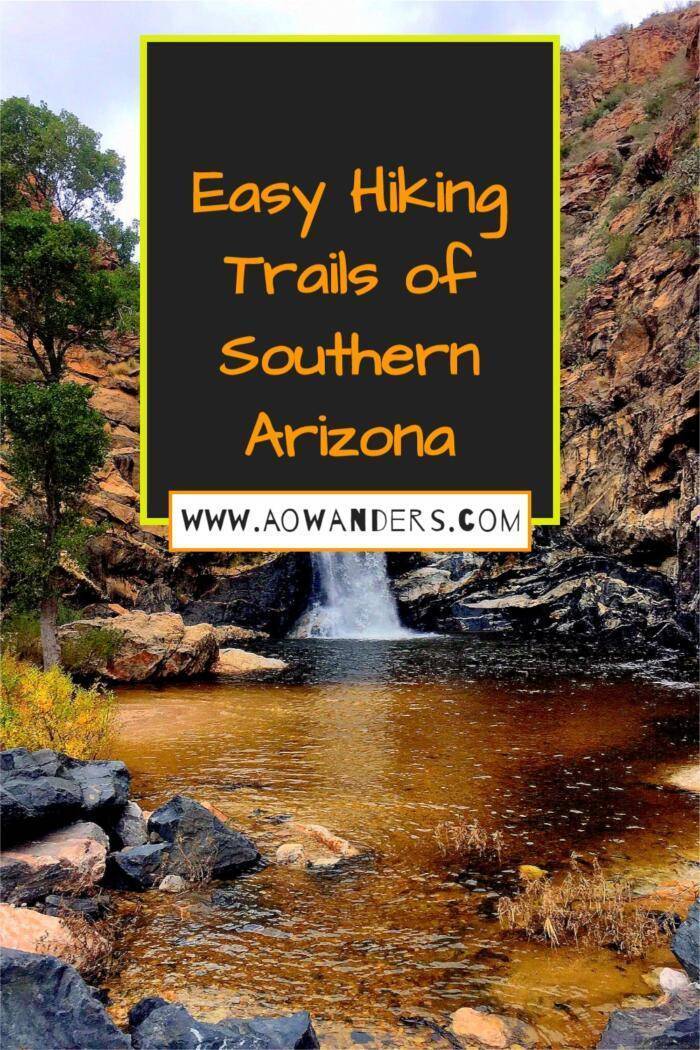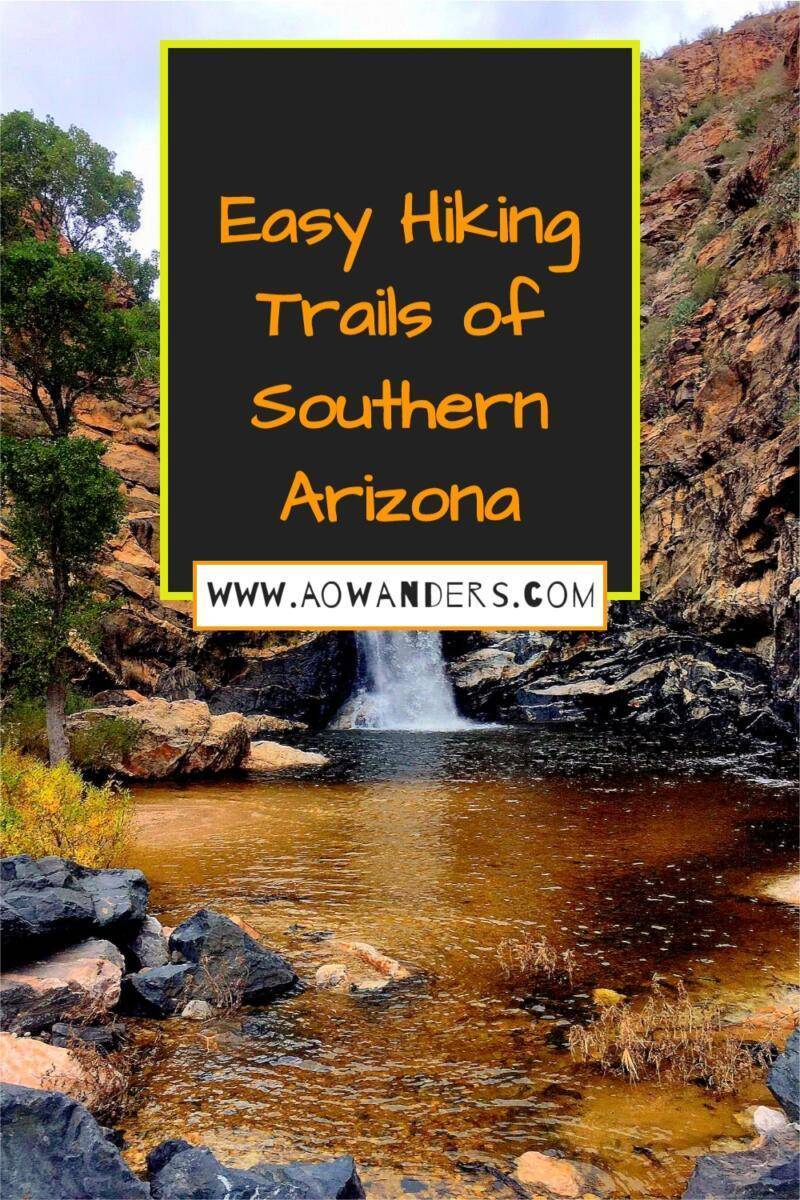 tier secret waterfall with a swimming hole. While alluring you with anticipation along a 1.6-mile round trip excursion.
From the beginning of this mild-mannered hike, you'll encounter several smaller waterfalls on display. That may not mesmerize you with their petite status, but that sound of crashing water fills the atmosphere along the trail.
With each new step, the rage of mother nature echoes off the canyon walls. Bringing you closer to the end of your jaunt down the easy Tanque Verede Falls trail where you'll discover a thirty (30) foot wall of water spilling over a cliffside wall and engulfing you in a misty river spray.
Where you'll begin to question the facts you were given of the Tanque Verede Falls trail. Thinking to yourself, "I thought my friend told me it was an 80-foot waterfall?"
Facts & FAQs Of The Tanque Verede Falls trail
The Tanque Verede Falls trail is a deceptive roundtrip 1.8-mile hike. With an elusive trailhead that sometimes takes longer to find than the actual trail itself, don't forget that this canyon hike's waterfalls are on seasonal display.
When is the best time to hike Tanque Verede Falls trail?
To get the full experience with over a dozen waterfalls crashing down on the rocks below, you will want to hike the 1.8 mile Tanque Verede Falls trail in early to late spring.
From April – May, Tanque Verede Falls trail will boast several smaller waterfalls along the beginning of the hike. While capping the trek with a 30-footer towards the end and a massive 80-foot wall of water falling down the cliffside at the very end of your hiking adventure.
Thus, creating some inviting swimming pools and optimal photo opportunities! More on that to come.
Is this a popular hike in Arizona?
Tanque Verede Falls trail is a popular and heavily tracked hike in the spring. During the summer months, under the scorching heat, it is less traveled. Throughout the winter season, it is mildly trafficked because most of the waterfalls are dried up. Waiting for the spring thaw to roar to life once again.
How easy is the Tanque Verede Falls trail?
The Tanque Verede Falls trail is one of those deceptive trails that can be classified as easy or difficult. Based on a hiker's fitness levels. Because sections of this trail provide a steep incline over slippery wet rocks in both directions, once you reach the beach, though, it's a flat hike the rest of the way.
Secrets Insights to Tanque Verede Falls trail
Every hiking trail has a secret path, lookout, or feature that usually is only known to the locals who frequently endure these trails. The Tanque Verede Falls trail is no different.
Two insider tips to hiking this trail are
Be sure to make your way behind the waterfall to get a great photo.
When climbing up to the top waterfall swimming hole, be prepared to see nude people enjoying the secluded swimming pool.
Other Facts About Tanque Verede Falls trail
Well maintained trail with a designated parking lot
Tucson's most popular trail for visitors and locals alike
During spring, it's rumored to have over 30 waterfalls on display.
While it's trafficked year-round during all the seasons, winter is the best time to go due to the excellent weather combination of brisk air and warm sun. Still, if you're looking for raging running water, then spring thaw is the absolute best time to hike the Tanque Verede Falls trail.
Hamburg Trail – Sierra Vista
Hiking options in Sierra Vista, Arizona, are a revolutionary breath of fresh air. Filled with dramatic and sweeping desert landscape. Complete with hiking accessory aids and beginner level enjoyment found on hikes like the 2.4 mile Hamburg Trail.
Where you will find a mellow inclined hike safe enough for elderly and pregnant individuals. With plenty of benches to act as a designated sitting rest area for hikers to soak in the south's dramatic red rock southern desert landscape.
Hiking the Hamburg Trail transports you to the upper portion of Ramsey Canyon as it drops you alongside a soothing creek and long-forgotten stream bed. Where parts of this once upon a time raging river is now overrun with thick forestry. That you need to navigate before being delivered to the boundaries of an abandoned mine site.
While there isn't much excitement around the mining shaft or its' modern-day artifacts, the mild journey back there will bring you passed hieroglyphics, among other enjoyable scenery. Such as cooling swim pools and trickling cascading waterfalls.
Suppose you're on the hunt for a Siera Vista hiking trail thats sure to deliver an enjoyable experience for all ages. In that case, I suggest giving the less popular Hamburg Trail a chance.
Facts & FAQs Of The Hamburg trail
The Hamburg trail is an easy mellow 2.4-mile hike littered with stopping points and benches for resting. That can easily be extended to 7.5 miles and take you all the way up into the Ramsey Canyon for a bird's eye view of sweeping landscapes and panorama sunsets.
When is the best time to hike The Hamburg trail?
Being a year-round hike, the 2.4-mile easy hiking Hamburg trail is a popular choice among Sierra Vista residents and visitors looking to enjoy some outdoor adventures.
Because of Arizona's squelching summer temperatures, the best time to hike The Hamburg trail is in November – April, and be sure to carry plenty of water to be safe in Arizona's year-round arid climate.
Is there a fee to hike The Hamburg trail?
The Hamburg trail is located within the conservatory outside of Sierra Vista, AZ, and the cost of hiking this trail is an $8 admission fee. It's also noteworthy to let you know that this trail closes down at 5 pm.
Secrets to The Hamburg trail
Costs $8 admission fee & closes at 5pm
Extend into Ramsey Canyon Trail turns this into a 7.5-mile hike.
Other Facts About The Hamburg trail
Public Trail on Private Property
2500 feet in elevation gain
3 hours to complete
Residents of Sierra Vista especially love this easy hiking trail during the winter months. Because the snakes are gone, and the sun isn't as harsh as it is in the summer. Don't forget about those jaw-dropping sunsets!!!
Silver Spur-Faraway Trail – Chiricahua National Monument
Very few hikes in the country can transport someone back in time like the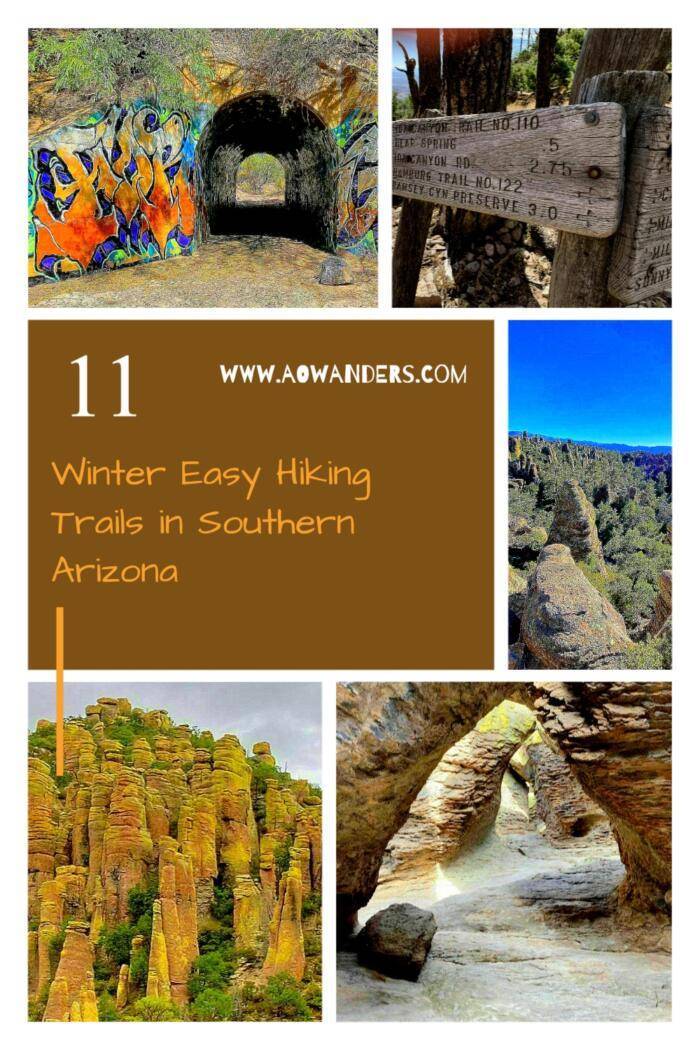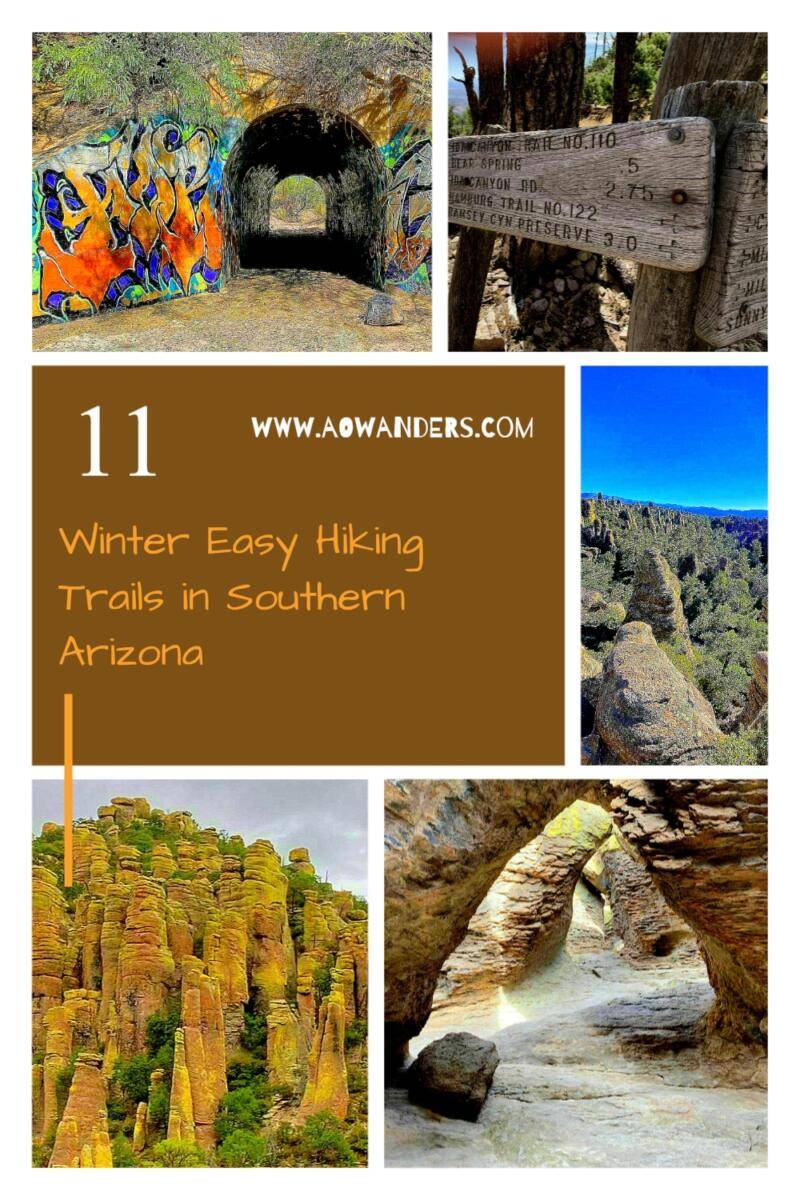 Silver Spur Trail to Faraway Ranch. Nestled in the southeast part of Arizona, this 2.8-mile easy roundtrip hike will take you through the desert, forest, and upper highland environments. To the Bonita Canyon meadows where you can wade through a sea of exotic wildflowers.
The Silver Spur Trail's calming 150-foot elevation gain will escort you passed three historical sites leftover from the 1930s. Such as the intriguing two-story homestead known to many as Faraway Ranch. Each step down the Silver Spur Trail takes you deeper into the history of our country. From complete log cabins built in the 19th century to only their chimneys that have survived the Arizona backcountry elements.
Facts & FAQ About The Silver Spur Trail
A well-traveled 2.8 out and back hike in Southeast Arizona that escorts visitors along a historic trail to the Faraway Ranch and various other historical sites along this 150-feet of elevation gain hike.
Best Time to Hike The Silver Spur Trail
As with all the hikes on this list, the best time to hike these trails will be from November to May because of the lack of heat and snakes. The perfect time to wander the Silver Spur Trail will be in the spring while the snakes are still in hibernation, but the wildflowers are in full bloom.
Secrets To Silver Spur Trail
Only dog-friendly trail in the park
Link up with the Bonita Creek Trail Loop to make this a 4.5-mile easy flat hike
Other Facts of The Silver Spur Trail
Simple trail along historic sites in Chiricahua National Monument Park
Cross Bonita Creek
Always a great spot to see wildlife
Patagonia Lake Overlook – Patagonia
When it comes to a deceptively bittersweet, relatively easy hiking trails of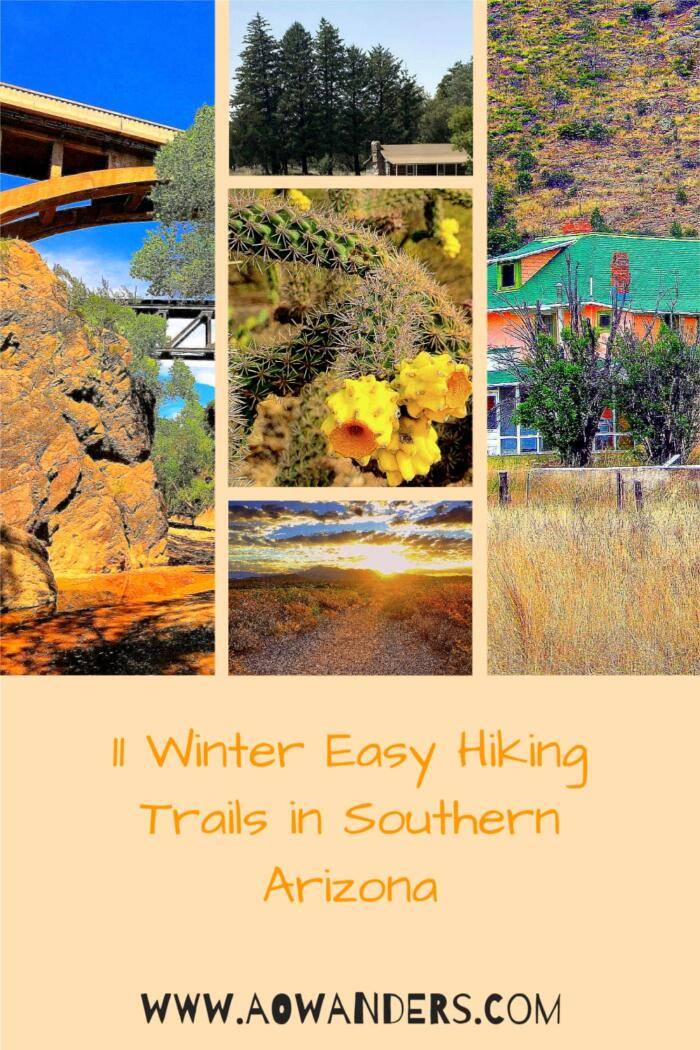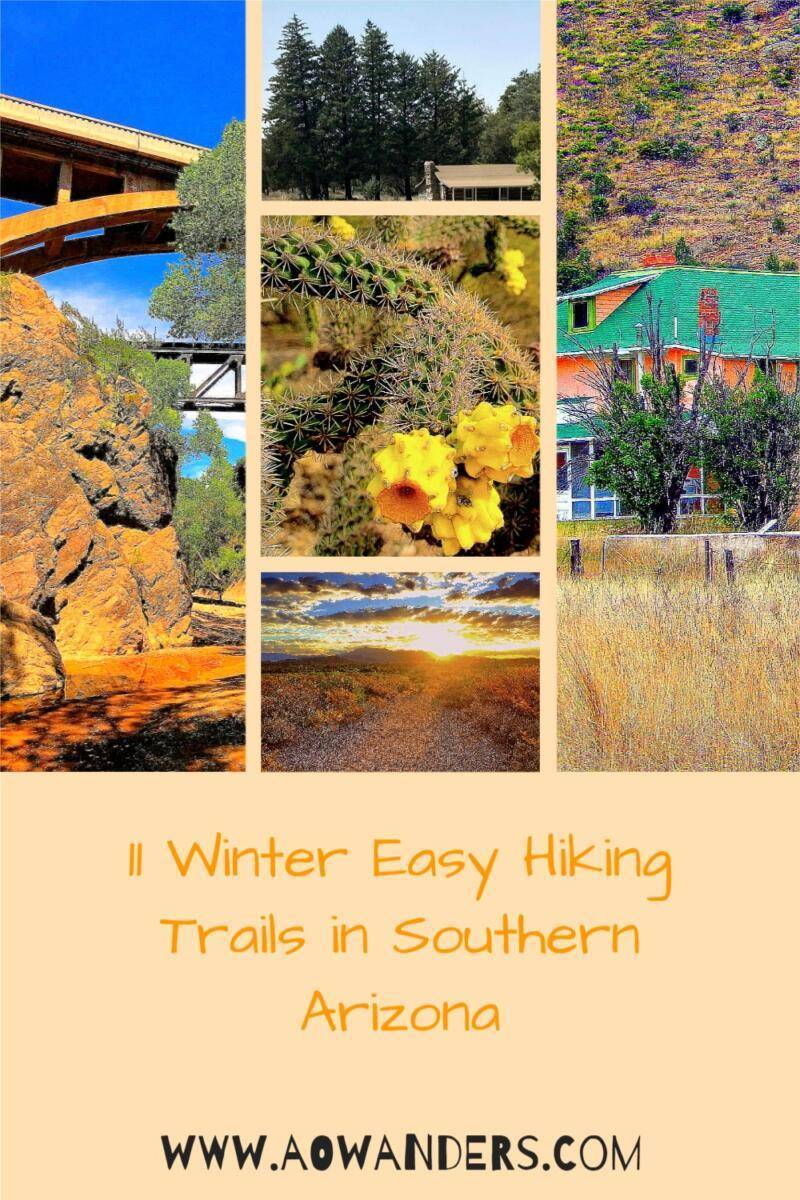 southern Arizona, nothing comes to mind faster than the Patagonia Lake Overlook trail.
This little known trail in Patagonia is a short and sweet 2.6 mile out and back adventure. The perfect southern Arizona hike to capture wildlife or panoramic shots with the camera. Even better, you can bring Fido, as long as he stays on his leash.
The hike cliffside overlooks are popular among birdwatchers and great for capturing the setting sun as it lights up the sky in the only way it does in southern Arizona. With only a 314-foot elevation gain, the Patagonia Lake Overlook trail is mild enough for even the most out-of-shape hiker.
Facts & FAQ About Patagonia Lake Overlook trail
The Patagonia Lake Overlook trail is a dog-friendly 2.6 mile out and back hike that sees 314-feet of elevation gain and superior cliffside overlooks to take in the setting sun over Patagonia lake and the popular waterfront campground.
Best Time to Hike Patagonia Lake Overlook trail
Spring thaw is the best time to hike the Patagonia Lake Overlook trail directly out of the RV campground. At this time of year, random waterfalls are on display, and wildflowers perk up to add a dash of color along this desert highland hike.
Secrets To Patagonia Lake Overlook trail
Start the Patagonia Lake Overlook trail out of the campground adds an extra mile of southern Arizona beauty.
Locals shy away from this trail in the wintertime.
Other Details of Patagonia Lake Overlook trail
Dog friendly
One of the few hikes in southern Arizona that entails a body of water
Not being as crowded during winter with locals, there's a perfect opportunity to meet an interesting snowbird in the waterfront camping area. Whenever I am in the area, the Patagonia Lake Overlook trail is a favorite of Kota and me.
Sonoita Creek Trail – Patagonia
A favorite morning hike among locals is The Sonoita Creek Trail, which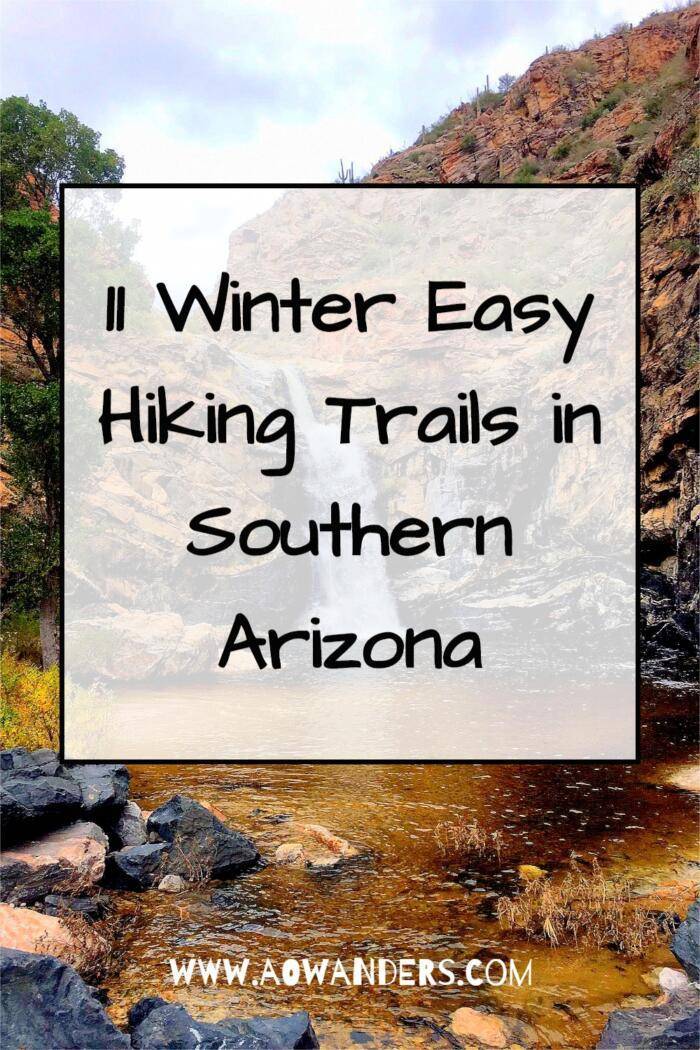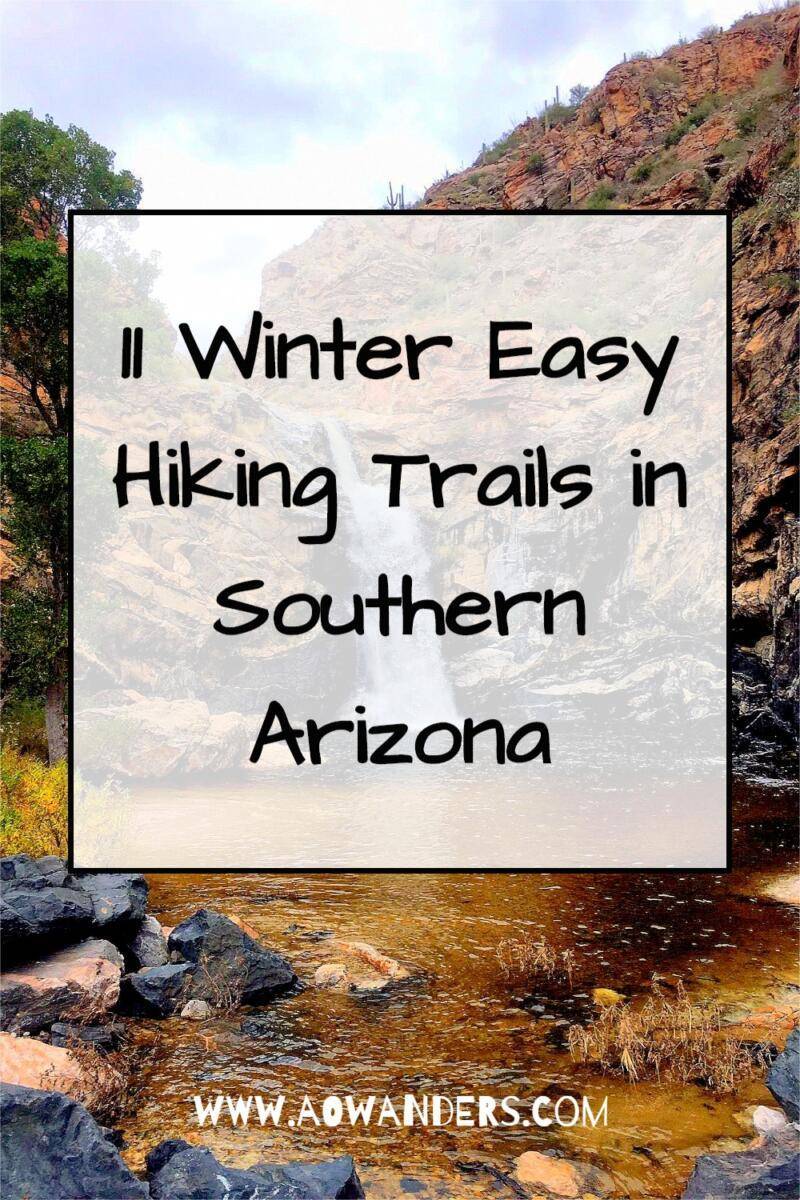 bodes a 3-hour adventure along its 2.9 miles out and back—making it an excellent choice for bird watchers and dog lovers who keep their pet on a leash.
The wildlife is pretty eclectic here, too, as cattle roam freely in the area. So don't be caught off guard by any running bulls. The Sonoita Creek Trail is an excellent choice for hikers of all skill levels and a great trail to do even in the summertime. As there are plenty of swimming pools to cool off in.
The Sonoita Creek Trail is another in the Patagonia area and a perfect hike for all skill levels. At a distance of 2.9 miles out and back, this hike is considered excellent for bird watching. It allows dogs to accompany you on leashes. Sonoita Creek Trail is a fun, relaxing 2-3 hour adventure, but keep your eye out for livestock. Cattle roam freely in this area, and hikers have reported running into a bull or two. In wintertime, this hike is best done at around 6 or 7 in the morning because that's when the air is coldest in this sunny state. Since Patagonia is pretty close to wine country, this might be just the hike to do before a little wine sipping later in the day.
Facts & FAQ About The Sonoita Creek Trail
A relaxing 3-hour 2.9 mile hike known as the Sonoita Creek Trail in southern Arizona delivers adventure around every turn. With a trailhead that starts from the overnight camping beach and runs along the creek through livestock country. Complete with free-range bulls and young cows.
Best Time to Hike The Sonoita Creek Trail
The best time to hike The Sonoita Creek Trail is with your dog from October to May.
Secrets To The Sonoita Creek Trail
Overnight camping is allowed down by the beach.
Trendy locals watering hole.
Other Details of The Sonoita Creek Trail
Dog friendly
Abundant wildlife
Located in Arizona's wine country.
Beware of free-range cattle and bulls will block your path. Making it impossible to finish The Sonoita Creek Trail.
It's one of those trails you get what you make of it.
The Sonoita Creek Trail is one of my favorite hiking trails in southern Arizona. Because it's in wine country, follows a creek the entire time, and I can overnight camp legally on the beach. The Sonoita Creek Trail checks boxes and delivers Arizona beauty as few other trails can.
Linda Vista Loop Trail – Tucson
As morning hikes go, the Linda Vista Loop Trail out of Tuscon at the Pusch Ridge Mountain base offers 2.2 miles of easy hiking and no shade.
So be sure to kick this hike out early in the morning or save it for late in the evening to watch a setting sun fall behind the Pusch Mountain Range. It's not an entirely flat trail, but it's also not unheard of to knock this hike out in roughly an hour. If you're used to hiking in the Rockies or other western states, this will seem like a beginner trail to you.
Carry lots of water, though, as there is no shade. No dogs are allowed, and I wouldn't go near this 2.2-mile loop during the mid day heat.
Facts & FAQ About The Linda Vista Loop Trail
The ambiance of the Linda Vista Loop Trail offers 2.2 miles of Pusch Ridge Mountain views. Considered by many locals to provide more of Arizona's beauty than the neighboring Saguaro National Park.
Best Time to Hike The Linda Vista Loop Trail
Highly recommend hiking the Linda Vista Loop Trail early in the morning when temperatures are cool or saving this gem for a sunset hike. With sweeping views of the Pusch Ridge Mountain range.
Secrets To Linda Vista Loop Trail
No shade
Should hike early morning or late evening
Stunning sunset hike with mountain range backdrop to setting sun
Other Details of The Linda Vista Loop Trail
Some people consider this hike to be even more picturesque than many of the Saguaro National Park hiking trails. During the winter, this hike is very popular among the snowbirds. It is an excellent way to get reacquainted with all that Arizona's desert atmosphere and scenery has to offer.
Romero Ruins Trail – Tucson
Tucked away beneath the Santa Catalina Mountains in Tucson is a mellow,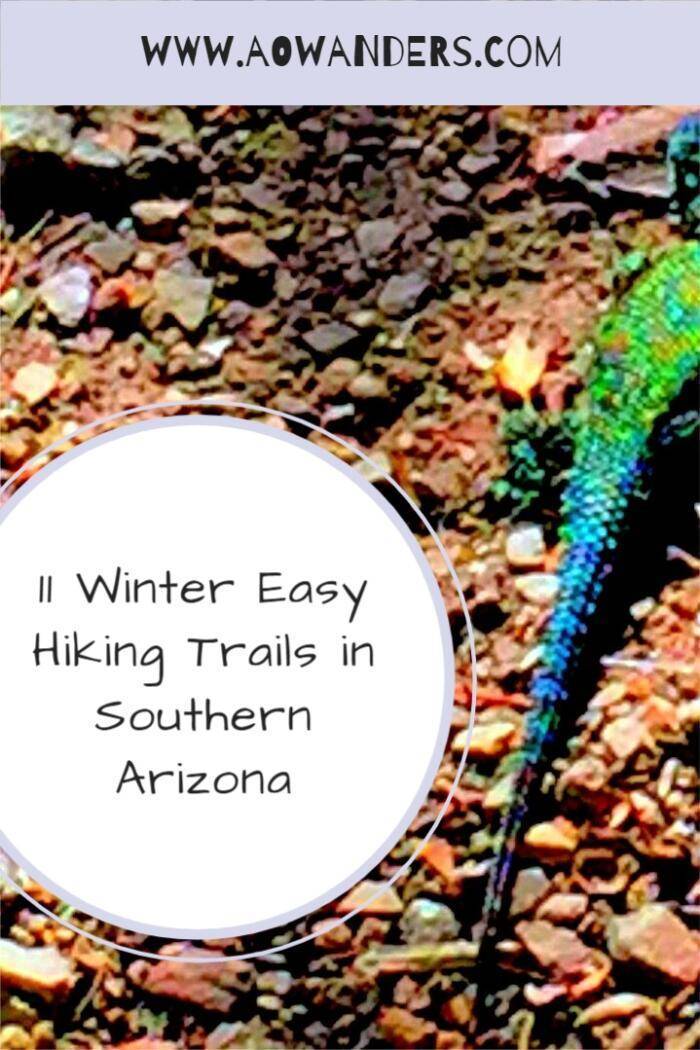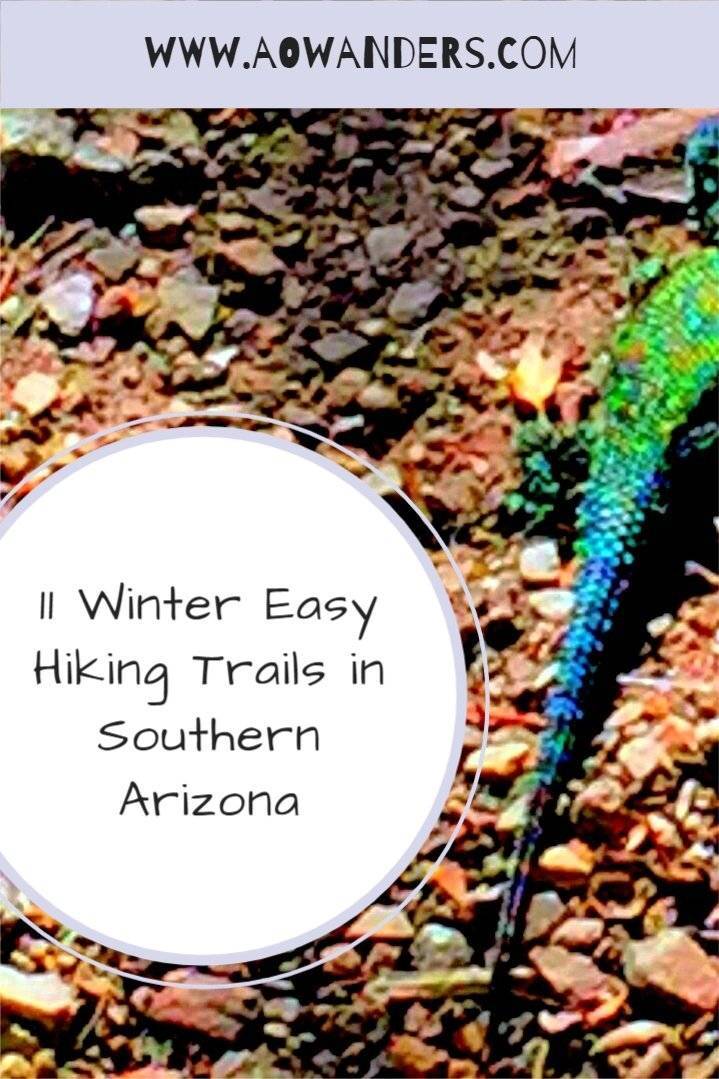 mild-mannered hike that will take you centuries back in time. A mere 3/4 of mile loop, the Romero Ruins path offers views of what's left of the Hohokam village and the walls of a Tucson's family historic 19th-century ranch.
Roughly only three-quarters of a mile long, but jam-packed with several centuries of human history, wildlife, and jaw-dropping archeological scenery. The Romero Ruins Trail will escort you through time and place to where homes once stood. Villages flourished, and ranches enveloped a modern era. You'll be able to visit the replica Steam Pump Ranch while cooling off from a waterfall spray.
The Romero Ruins trail is a quickly accomplished Arizona hike that can be done in less than an hour and offers excellent insight into the Tucson culture and community of our past.
Facts & FAQ About The Romero Ruins Trail
A 3/4 mile loop trail tucked away and nestled beneath the Santa Catalina Mountains of Tuscon takes less than an hour to complete and offers up centuries of human history alongside a captivating waterfall. Perfect resting area for questioning the meaning of life
Best Time to Hike The Romero Ruins Trail
This year-round hike offers plenty of shade and an abundant source of water. Making the best time to hike the Romero Ruins Trail for me is late in the evening because I'm a sucker for those incredible Arizona sunsets.
Secrets To Romero Ruins Trail
Intersect four other trails (50 year, Bridle, Birding & Nature Trail).
Seasonal waterfall.
Pets on a leash are permitted.
Other Details of The Romero Ruins Trail
Great for mountain biking
Suitable for all skill levels
From the Romero Ruins Trail, you can see evidence of several centuries of human history, culture, and a way of life thats been long forgotten. Refreshing reminder to get outdoors and learn from those who have come before us.
Inspiration Point Loop via Echo Canyon Trail – Chiricahua National Monument
An incredible 4-hour 8-mile loop known as the Echo Canyon Trail connects
with nature, time, and evolution. Passing through Ryholite canyon, Heart of Rocks Loop, and of course, the infamous balanced rock of Inspiration point.
If you crave a glimpse of Arizona's unique side, this is your trail. The one and only one-stop-shop of captivating landscape. Educational evolution, and a secret conversation with mother nature.
The Inspiration Point Loop via Echo Canyon Trail is one of the most popular hikes in the state's southwestern region. At a mere 522 feet in elevation gain, it's a hike worth taking for any skill level.
With a remote trailhead being the most significant challenge, don't let that deter you from the inspiration that awaits. Before even concluding this list, I can confidently tell you this is my #1 choice in hiking trails of Southern Arizona.
The trailhead is remote, but the paved road to the trailhead is not complicated to find. Stunning views of rock formations are present throughout the path, which is well maintained, so you don't need to worry about any exotic climbing to see the highlights.
Facts & FAQ About The Echo Canyon Trail
A forgiving 8-mile loop trail that encompasses a multitude of landscape, terrain, and inspiration. Over 522 feet of elevation gain, you'll be overloaded with beauty, inspiration, and evolution. Mother nature will put on her best 4-hour display. That will encompass all the hiking trails of southern Arizona into one grand loop with options to extend over four (4) more loop trails at its crossroads of magnificence.
Best Time to Hike The Echo Canyon Trail
Anytime you get a chance to take on this beautiful trail, you should take full advantage, but late spring is the best time to hike the Echo Canyon Trail if you get to choose.
Secrets To Echo Canyon Trail
Inspiration Point offers 1 mile to this hike.
Heart of Rocks is a must-see.
Other Details of The Echo Canyon Trail
Moderate ups & downs, and lots of rock.
The only reliable shade is down in the canyon.
One of the most all-inclusive hiking trails of southern Arizona, I can not recommend it enough. To truly get the most rewarding experience, I would save this hike for a sunset ending over inspiration point. Still, in all honesty, if you're only going to do one Arizona hike, this is your trail.
Anza Trail – Tumacacori
A peaceful, serenity filled 3.4-mile hike with a river crossing and no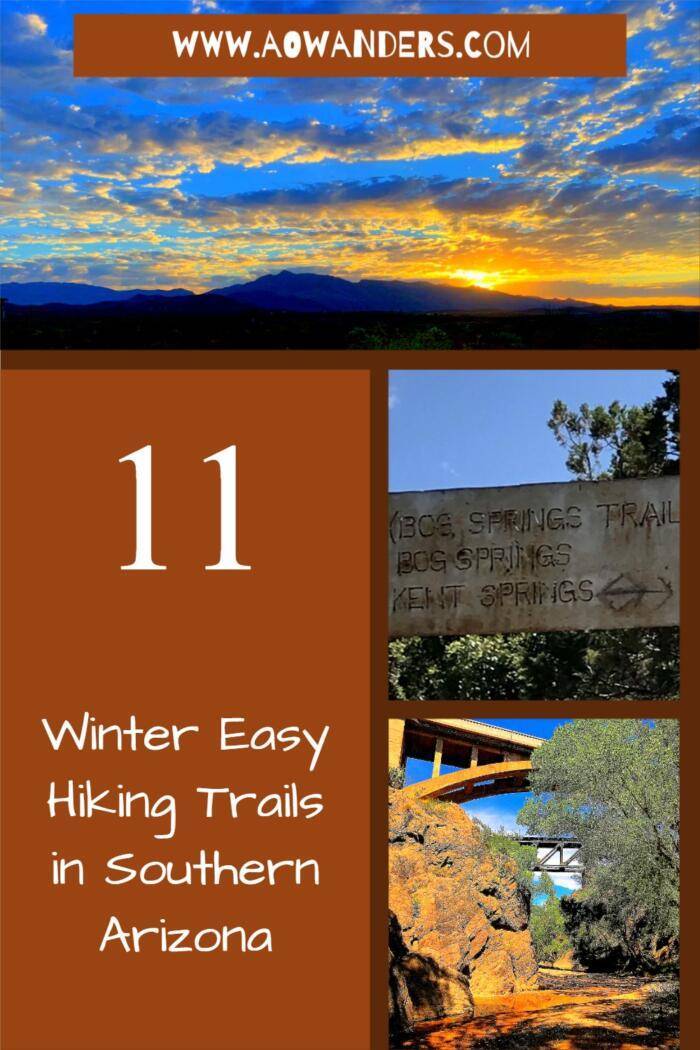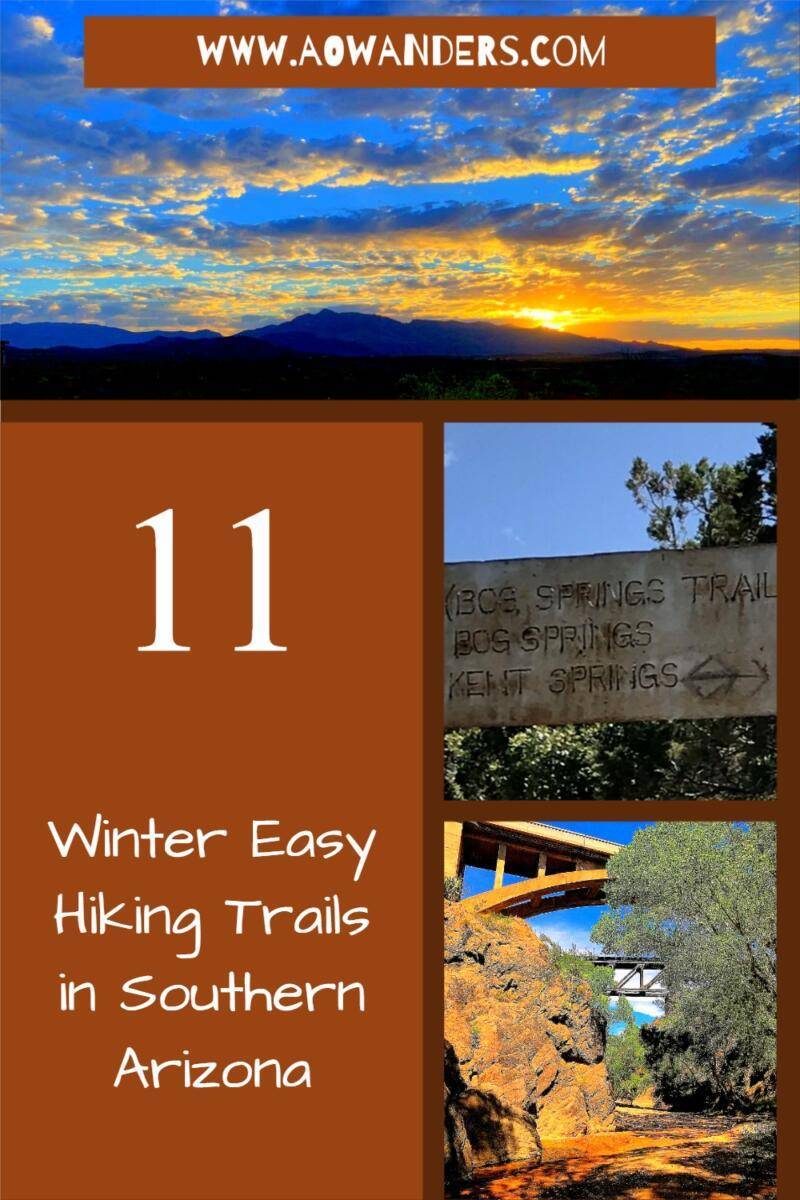 elevation gain is what you will get with the Anza Trail—making it suitable for all experience levels. While also offering plenty of shade to fend off the Arizona sun.
Anza Trail allows pets on a leash and affords plenty of opportunities to spot some Arizona wildlife. Right by Tumacacori's small town, the Anza Trail has become one of the more popular hiking trails of southern Arizona that see many hikers repeat time after time.
The creek may wash out the river crossing during years with steady rain and cut this hike short. However, the desert often goes without storms for long periods, drying up this seasonal river bed. Either way, it's still a decent walk for anyone who's up for knocking out their daily steps in just a couple of hours.
Facts & FAQ About The Anza Trail
A peaceful low rpm 3.4-mile hike. With a river crossing at 2 miles that gets washed out during the rainy season.
Best Time to Hike The Anza Trail
The best time to hike this trail is from mid-February to March. Giving the river plenty of snowmelt and the wildflowers ample water supply to begin their blooming season.
Secrets To Anza Trail
Check the website to see if the river crossing is washed out.
Hiking under a full moon is incredible along this trail in late fall.
Other Details of The Anza Trail
Too many critters to let your dog run off-leash
Can be a muddy mess after a recent rain
The Anza trail is on this list because it's an effortless hike with a river crossing feature. While the scenery won't take, you're breathe away along the Anza trail, a midnight hike under the stars will.
Gabe Zimmerman Trail – Vail
A couch potato friendly 2.3-mile loop trail that delivers you into the Cienega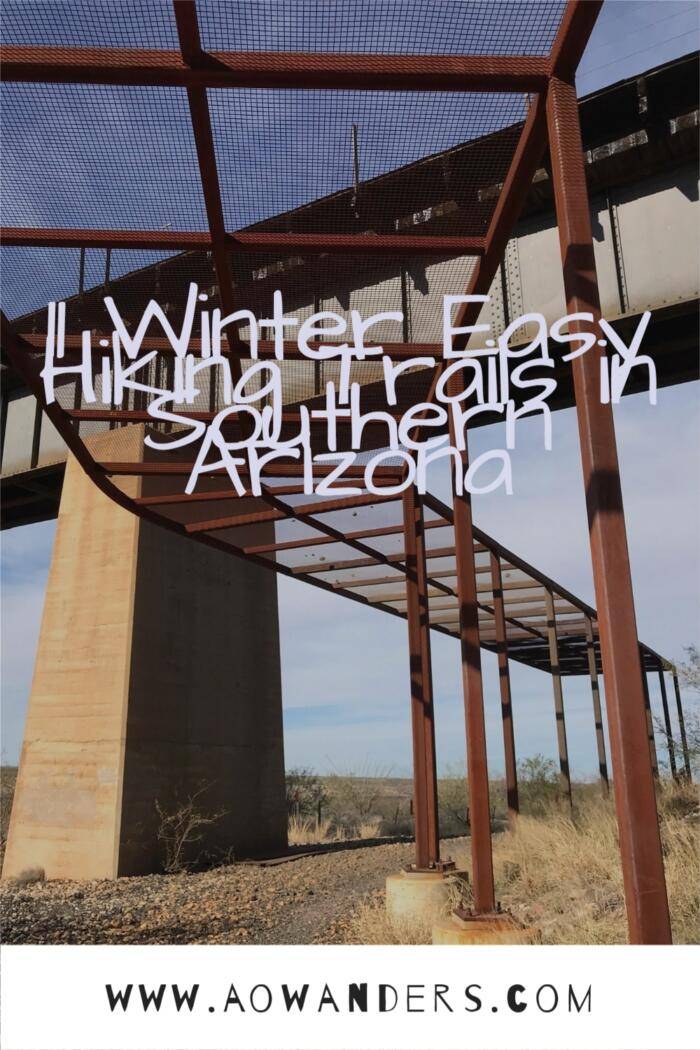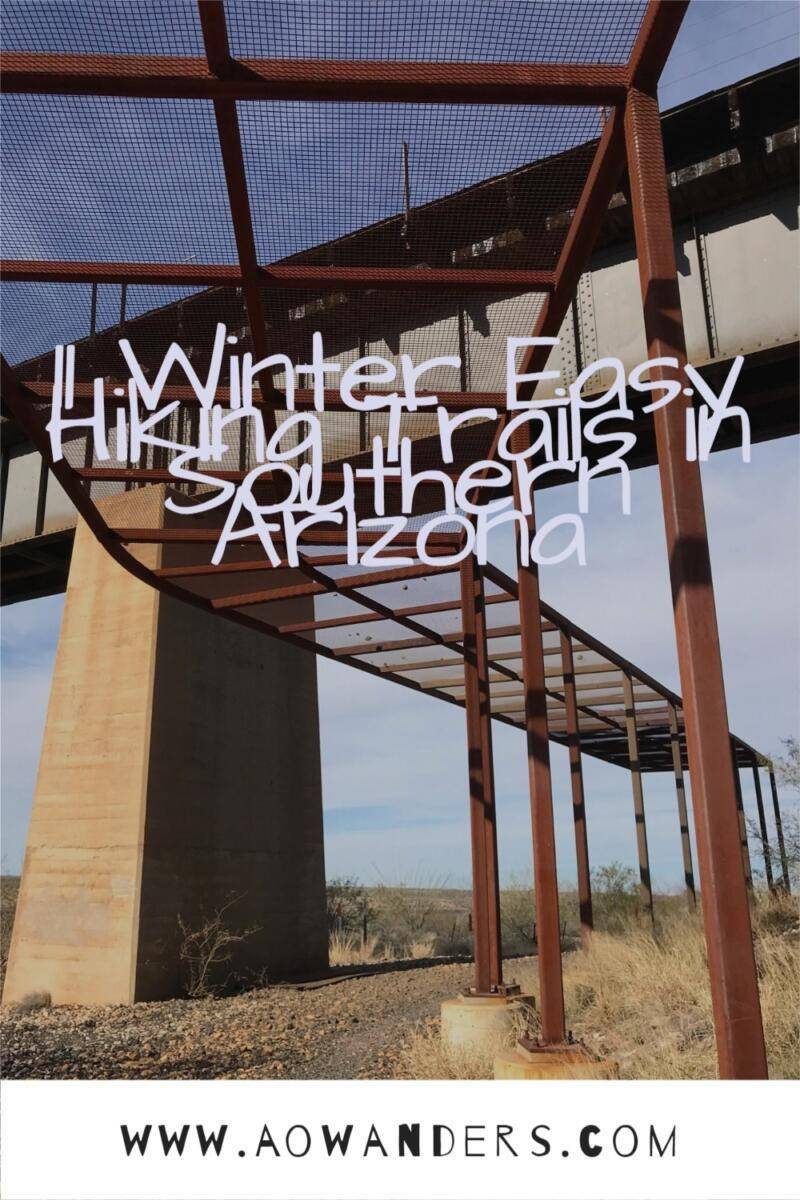 Preserve. By way of a pedestrian tunnel under a stunning but towering railway bridge.
The Gabe Zimmerman trail was conceived out of ill-fated circumstances surrounding a congressional aid. Which adds a touching fate of irony as you walk through graffiti lambasted walls. On your way to back up the creek.
Located in the town of Vail just outside of Tucson, this 2.3-mile loop trail is a friendly beginner's hike that offers intrigue and mystery in a high desert climate.
Facts & FAQ About The Gabe Zimmerman Trail
At 2.3 miles, the Gabe Zimmerman trail offers up a high desert landscape for beginners. Sprinkled with urban art and frosted with cultural history. This relatively easy hike will offer up historic railway bridges and pedestrian tunnels alongside a seasonal creek. That supports a micro-climate of wildlife and critters.
Best Time to Hike The Gabe Zimmerman Trail
The optimal time to get out and hike the Gabe Zimmerman trail is late evening in early March. When the temps are still cool, but the season begins to change. Bringing a blanket of stars and captivating sunsets. Along with those ever adoring wildflowers.
Secrets To Gabe Zimmerman Trail
Best photo opportunity ~ stand outside the pedestrian tunnel and shoot in.
Wanna get the adrenaline pumping? Stand under the railway as a train passes overhead.
Other Details of The Gabe Zimmerman Trail
Dogs on leash allowed.
Creek is seasonal so carry plenty of water.
Named for the brave nature enthusiast and aide to congresswoman Gabby Giffords who passed away at an event ambushed by a crazed gunman, the Gabe Zimmerman Trail is one that is dear to the hearts of southern Arizonans. Be sure to be extra respectful when enjoying this hiking trail in southern Arizona.
Bog Springs Trail – Green Valley
Suppose you can make it passed the challenging first half-mile of loose earth. In that case, the Bog Springs Trail in Green Valley is a delightful, short loop that goes through some green grasses, large trees, and an inviting area of bubbling springs.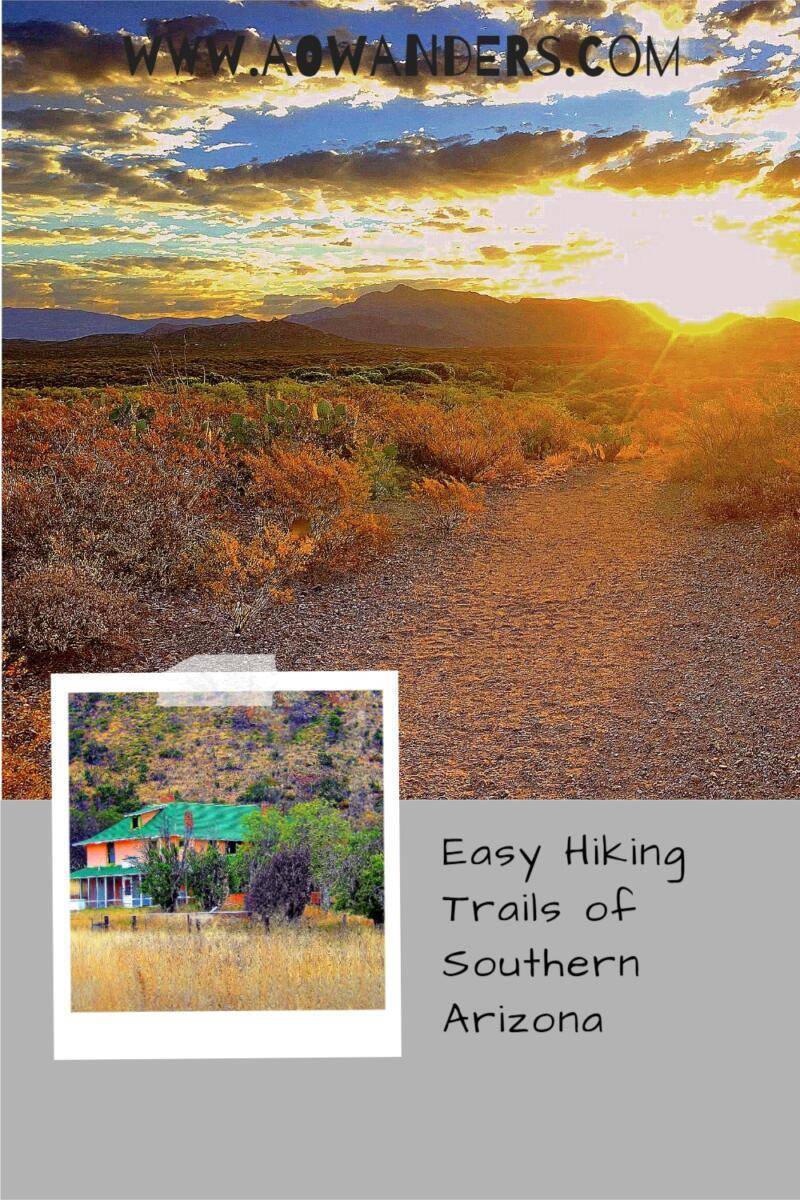 The trailhead is located at the far end of the Bog Springs Campground. Just one of many in the Madera Canyon Recreational Area. Be sure to bring your pair of binoculars because the Bog Springs Trail is famous for wildlife sightings and spectacular long-range views. You might even be surprised by some of the trees found on this mildly challenging hiking trail of southern Arizona.
Some of the views you can expect to see on this path include overlooks of the canyon, the Baboquivari mountains, and the Kitt Peak Observatory. Thanks to how vast and clear the desert sky is. Makes seeing landmarks so far away such an easy achievement.
While Madera Canyon is known to have a handful of challenging hikes, the Bog Springs Trail is on the lower end of that spectrum. As long as you can endure the first 1/2 mile of scramble rock and loose earth.
Facts & FAQ About The Bog Springs Trail
An uphill trail with mostly loose rock awaits you initially. Still, it saves the best for last by delivering plenty of mountain views, excellent overlooks, and diverse wildlife.
Best Time to Hike The Bog Springs Trail
Bog Springs Trail is a phenomenal hike to do in late fall as you'll get lots of oranges, yellows, and reds from the leaves changing. With plenty of mountain views, you can capture a superb colorful foggy autumn mountain pic on a cloudy day.
Secrets To Bog Springs Trail
Great fall time photo opportunities.
Start before the heat of the day.
Other Details of The Bog Springs Trail
First mile sucks!
Bring your own water. Creek is seasonal.
Kid-friendly.
The combination of sweeping mountain views and magnificent Arizona sunsets creates a collaboration you can only find on the Bog Springs Trail. With an elevated entry, you're sure to hit your cardio mandates for the day. While absorbing the hiking trails of southern Arizona.
Harness Mother Natures Collaboration
The hiking trails of southern Arizona will captivate you with the path they've carved among the red rock landscape. Inspire you by harnessing the elements of surprise and beauty. Mesmerize you in thought from the display of evolution. While whispering the echos of our historical past.
There are very few trails in the country that can hit any of these checkboxes, let alone all of them. At will. As long as you absorb the transformation while out on the hiking trails of southern Arizona.
I've put together this list of easy hiking trails in southern Arizona for your enjoyment, and I would love to hear your reviews in the comments below.
Happy Hiking everyone! Don't sleep on those Arizona sunsets!!
---
Here Are My Favorite Booking Resources:  Affordable & Efficient Travel Booking Tools I Use Everyday Along With My Favorite Gear Resources
Book Your Flight
Find a cheap flight by using Skyscanner or Momondo. These are my two favorite "flight" search engines because they search through websites and airlines around the globe and offer a calendar view to find even cheaper flights for flexible travelers.  Check out these UNIQUE destination deals or my favorite All Inclusive Booking Travel Tool!
Rent An RV
Find cheap RV rentals for your next adventure by using Outdoorsy or RVshare.  These are my two favorite "RV" search engines because they allow you to rent from private RV owners, and offer a wide variety of chooses at affordable rates.  Want to start making money by renting out your RV?  List it with Outdoorsy or RVshare.
Book Your Accommodation
You can book your hostel with Hostelworld. If you want to stay elsewhere, use Booking.com as they consistently return the cheapest rates for guesthouses and cheap hotels.  Get a $40 credit for booking with AirBnb.  Need to book a private campsite use my favorite RV booking site Hipcamp!
Need Gear
I use REI for all my gear needs because if it ever fails or gets damaged they will replace it for free!!! No questions!!! No hassles.
If REI doesn't have the gear I need.  I can always find it on Backcountry.com
Travel Community
Join the Escapees travel club to meet fellow travelers and talk about all things related to RVing and overland travel.
Travel Packages & Tours
Are you looking for worldwide tours and travel packages?  Check out my go-to source — IntrepidTravel!  Looking for more family related travel packages and tours book with GAdventures.
Don't Forget Travel Insurance
Travel insurance will protect you against illness, injury, theft, and cancellations. It's comprehensive protection in case anything goes wrong and will cover things like transport security, crisis response and medical transports such as Life Flight. Why go on any trip without a safety net that costs less than a case of beer? I've been using SafetyWings for years without any issues.
My favorite companies that offer the best service and value are:
Looking for the best companies to save money with?
Check out my resource page for the best companies to use when you travel! I list all the ones I use to save money when I travel – and I think will help you too!
Just Want To Support This Amazingly Resourceful Website
Websites incur constant fees!  From hosting costs to massive amounts of personal time creating beneficial content for readers to consume at their leisure.  To help offset those costs or just to say, Thank You.  You can help support this community by shopping through any of the links found on my resource page.  Shop on Amazon through this link and I'll get a small commission, or you can directly support this site through Paypal donations.  None of this is a requirement its just helpful and creates a better community for all of us.