Frank Church Wildernes Free Hot Spring Campsite
Quick Reference Table of Contents
If you're an RVer looking for your own private Idaho (or at least a part of it),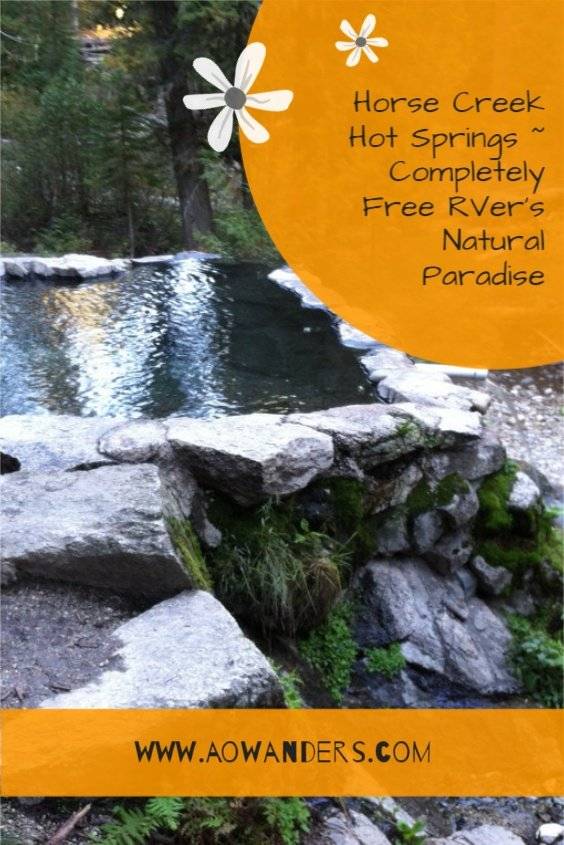 there is plenty of opportunity near the Frank Church-River of No Return Wilderness that is just waiting for you. One of my favorite spots is Horse Creek Hot Springs, widely considered a little piece of heaven here on Earth.
Keep reading to discover why Horse Creek Hot Springs ought to be the destination for your next off-the-grid RV camping adventure.
More Fun RV Reads

Fun Facts Of The Frank Church Recreational Wilderness
The Frank Church-River of No Return Wilderness region is wild, untouched, and untamed. I'd have it no other way, and so should you.
Officially protected as of 1980, the Frank Church-River of No Return Wilderness is one of those remote and as-of-now untouched areas that nature-loving RVers dream of. It's an exceptionally stunning region that remains relatively unknown among outdoor enthusiasts, including hardcore boondocking RVers.
The Frank Church is the second-largest wilderness area in the National Wilderness Preservation System. Known as, The River of No Return got its name because its waters cut through a chasm that's considerably deeper than the Grand Canyon, and back in the day, those that went upstream never came downstream.
If that sort of risk gets your blood flowing like the river itself, there are a few things to consider before you embarking on your journey.
Rules of the Frank Church Recreational Wilderness Area
Due to its potential for danger, travel along The River of No Return is managed under a strict permit system that limits float parties' number and size.
The maximum group size is twenty, and visitors are allowed to stay no longer than fourteen days.
Several other restrictions to keep in mind for the wild Frank Church Wilderness Recreational Area.
Timber harvesting is prohibited, as is motorized or mechanized transport. Seriously, you can't even run a weed whip or golf cart. Also, you'll have to leave your motorboat at home, as they're not allowed in the Frank Church-River of No Return Wilderness.
Free RV Campground Inside the Frank Church Wilderness
Horse Creek Hot Springs is considered heaven on Earth for RVers in the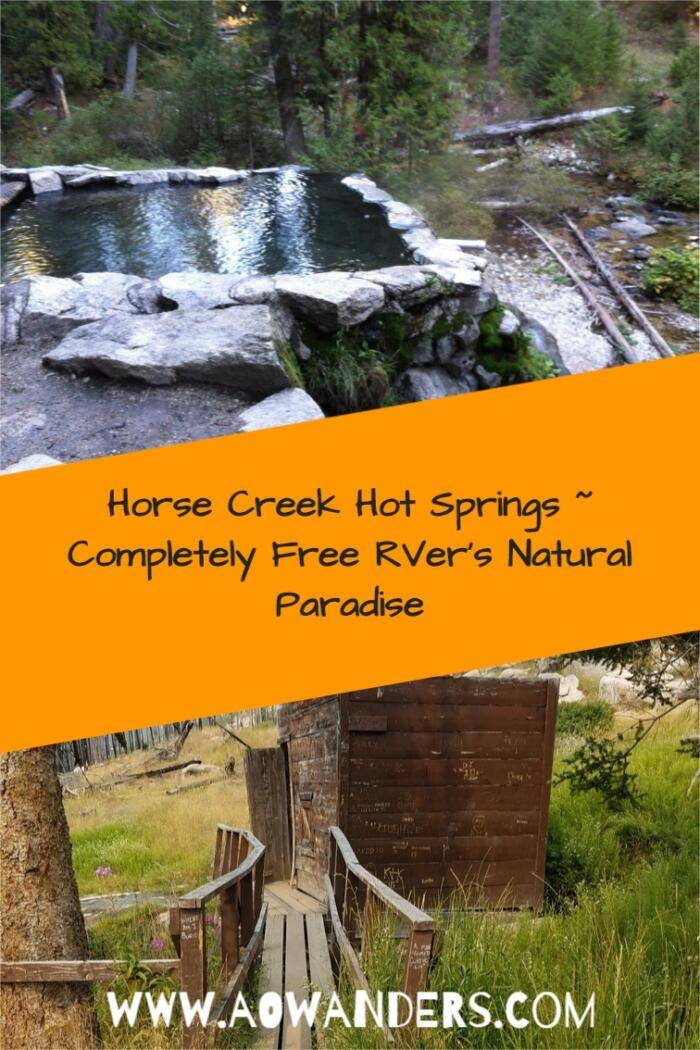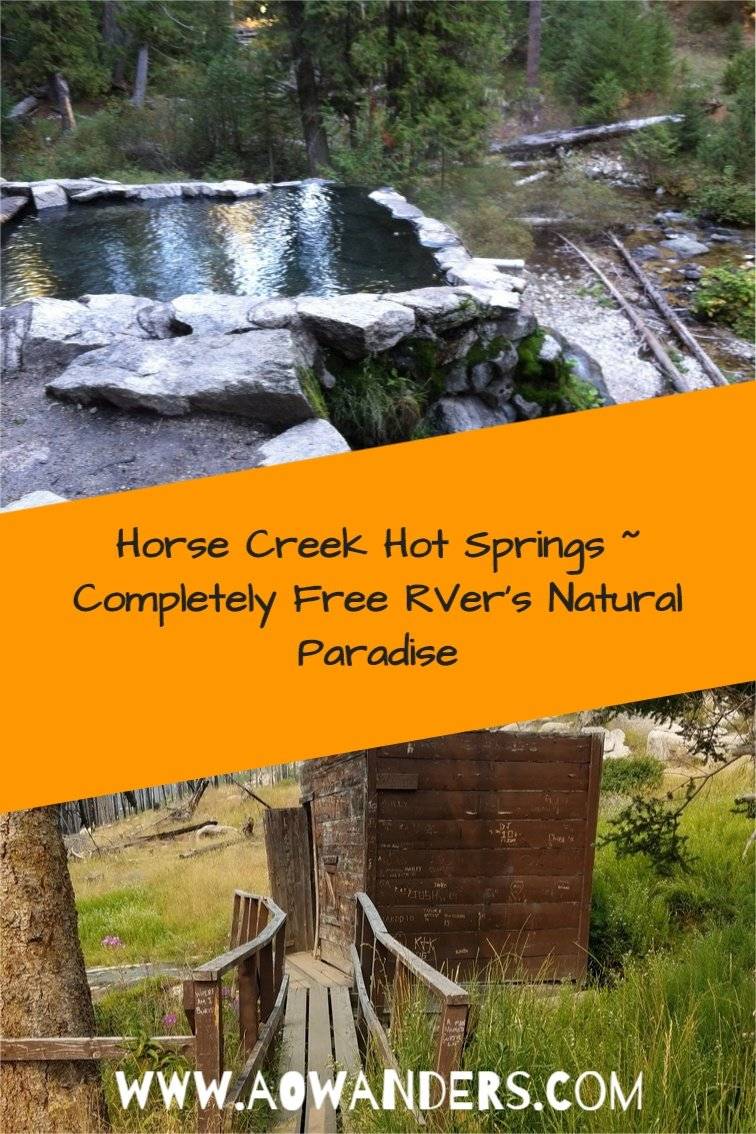 Frank Church Wilderness, and here's why.
The only thing better than a scenic, untouched, and completely private RV-friendly resort is a scenic, wild, and completely private RV-friendly resort right next door to a body of water. Especially if it's a body of water made up of hot springs. If that's what you've been looking for, you'll find it at Horse Creek Hot Springs. Known as the locals secret doorway to heaven.
Where Is Horse Creek Hot Springs
Located near the Frank Church-River of No Return Wilderness and Montana's Bitterroot National Forest, this locals secret is also home to the Horse Creek Hot Springs Campground and world class gold mining opportunities!
There are views galore, and the air and water are among the purest in the United States. It's a paradise for any RVer looking for an off-the-grid lovefest with the sights and sounds of nature.
Expect lots of dry camping, as there are restroom facilities, but very little else. The campground provides outhouses, but no fire-rings or picnic tables.
Best Time To Visit Horse Creek Hot Springs
As for the hot springs themselves, the 104-degree water bubbles up from cracks in the bedrock. A small bathhouse is built over the springs, and the roof opens for a stargazer's paradise. Making this one of my favorite destinations in the northwest region of the United States.
Horse Creek Hot Springs is only accessible to average vehicles and campers from June until the first snow. This usually happens in October, but sometimes it occurs as early as September. During the winter, the site is very popular with snowmobilers and other snow-running rigs. However, once the road shuts down, there is no way to access the Horse Creek Hot Springs by vehicle.
View The Beauty From Fire Lookouts
Idaho has a beautiful policy of allowing unmanned lookouts to be used by the public. The fire lookouts near Horse Creek Hot Springs are the perfect way to get a panoramic view of the area.
Four fire lookouts guard the Horse Creek area, with one of them located directly above the springs. You can stay the night for free, but it's first-come, first-served. Trust me when I say the stars will put on a performance like you have never envisioned before from the fire lookout just above the Horse Creek Hot Springs.
The views from these lookouts are breathtaking. Stunning and downright mesmerizing. It's even quite the experience to watch a thunderstorm or forest fire from 360-degree views roll in on you.
Are Horses Allowed In Horse Creek Hot Springs Campground
Horse enthusiasts will have a field day at Horse Creek Hot Springs. There are several corrals near the main campground. Not to mention it's pretty live and let live territory around those parts.
Are ATVs & Motorcycles Allowed
There are numerous trails for motorcycles and ATVs. Dirt roads abound. At the top of Horse Creek Pass, you can drive out to Reynolds Lake via the motorcycle trail. It's about a ten-mile drive and then an easy mile hike into the pristine mountain alpine lake.
Can You Pan For Gold At Horse Creek Hot Springs
Gold panning is also a favorite activity for those visiting the Horse Creek area. Gold has been discovered near the hot springs for over 100 years. So why not bring your gear and give it a shot?
Other Outdoor Activities
Trying to be the next successful gold digger is just one of several activities near Horse Creek. Some of the most common include fishing, hiking, climbing, horseback riding, and taking pictures via camera or drone are just some of the outdoor activities you can participate in.
My favorite being cliff jumping and fire-watching. Can't do those two outdoor activities at just any RV campground.
How To Get To Horse Creek Hot Springs
No matter how you like to spend your time while on your RV adventure,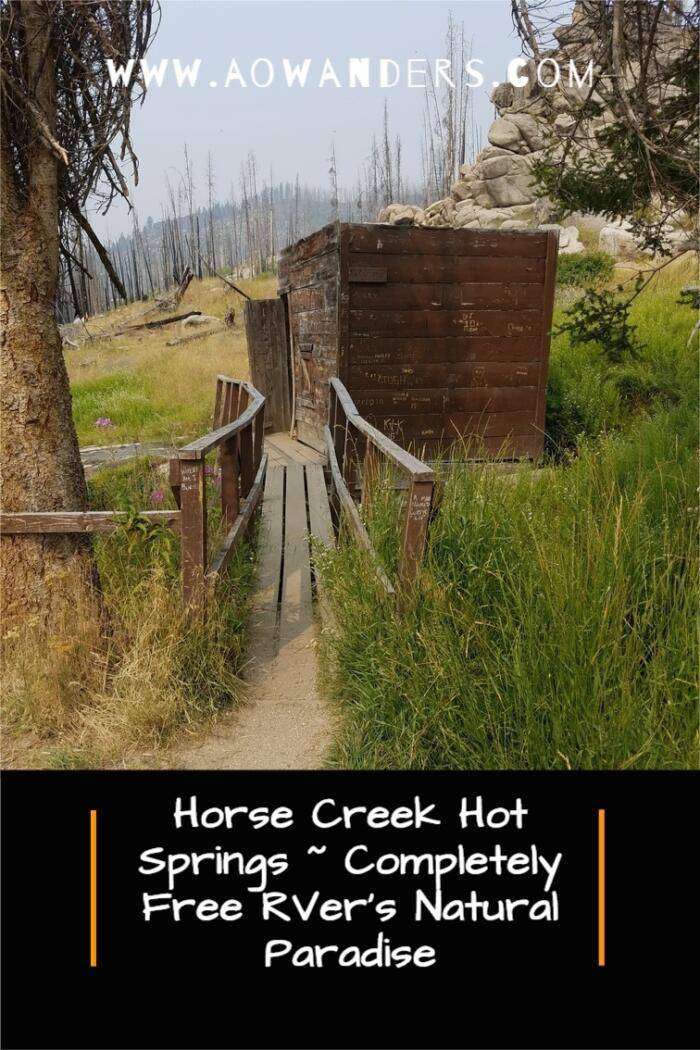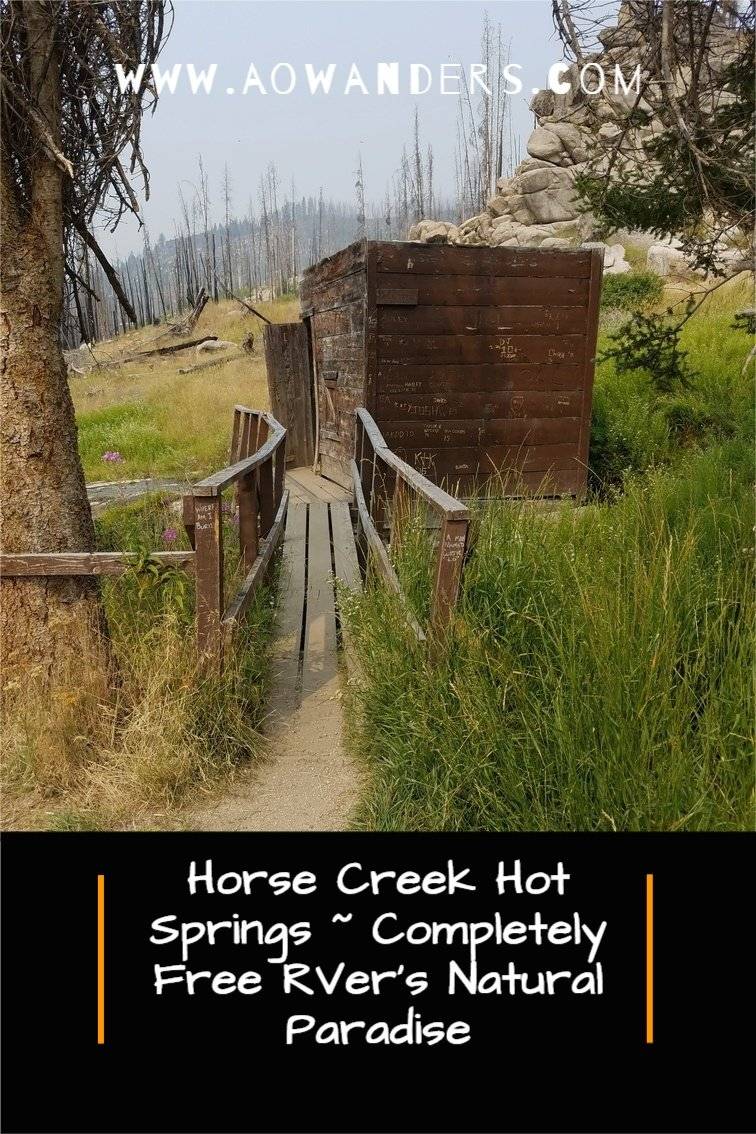 you're sure to find something, you'll enjoy at Horse Creek. And if you're the type of RVer who prefers to kick back and soak in your setting, you just might not want to leave.
To get to Horse Creek Hot Springs, from Missoula, take Highway 93 south to Conner. You'll then take a right on State Highway 473 (be sure to follow signs to Painted Rocks State Park and continue past them) for 31 miles. You'll then come to the junction of West Fork Road, where you'll take Woods Creek Road for 14 miles before you reach the Horse Creek Hot Springs Campground. This is the GPS coordinates standing dead center in the middle of the campground 45°30'15.1″N 114°27'34.7″W.
It's a hike to get there, but you'll be glad you made the trip.
Rules Of Horse Creek Hot Springs
Hot springs are a natural treasure, so be sure to follow this etiquette when you visit Horse Creek Hot Springs.
Once you discover Horse Creek Hot Springs, you'll understand the importance of being a responsible hot springs guest.
What exactly does that look like? I've compiled some things you can do to leave the springs in better shape than you found them:
Regulations of Horse Creek Hot Springs
Don't use soap while bathing.
Make sure you stay on designated walkways at all times.
Pay attention to the posted instructions regarding showering before going in the springs.
Respect other visitors by maintaining a reasonable volume and by always wearing clothes while you soak.
Always pack out everything you packed in.
By following these simple steps, you'll ensure that everyone has the same fantastic experience you have when you first encounter the Horse Creek Hot Springs.
Other Area Attractions
There are several other attractions worth visiting near Horse Creek Hot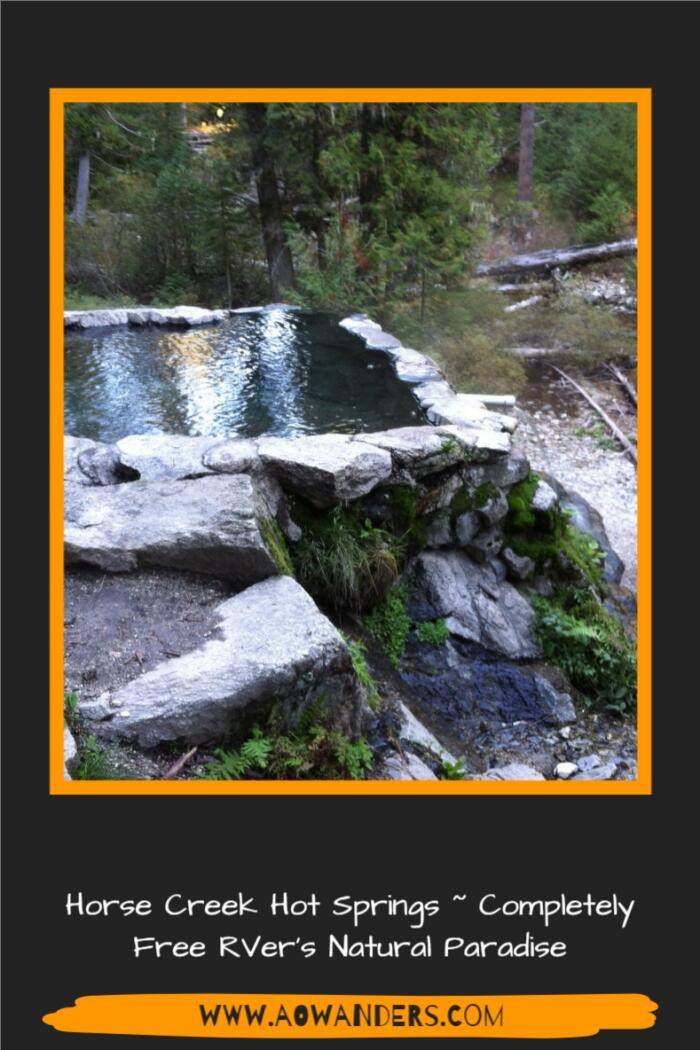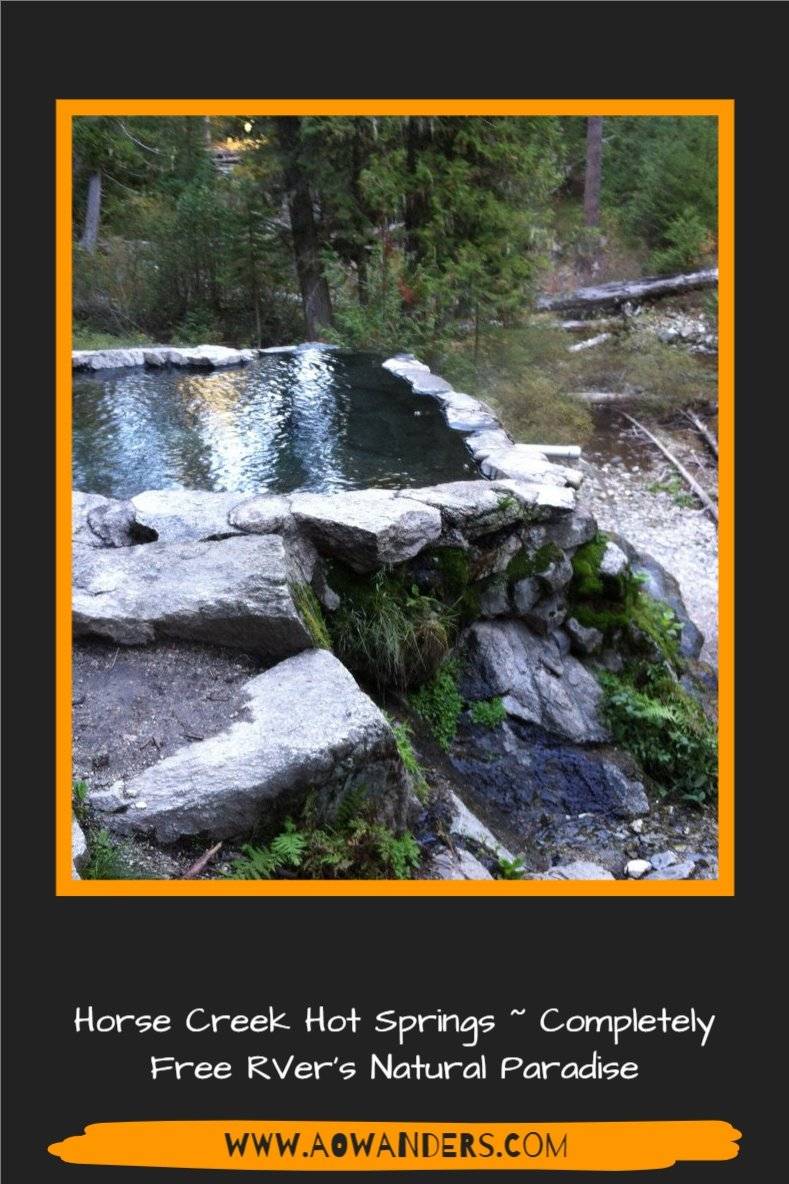 Springs.
If your average RV stay lasts a week or more at your destination and involves visiting the surrounding areas, you'll definitely like what you find near Horse Creek Hot Springs. There are plenty of places to visit that are worth your time – and they're all within striking distance drive.
One such destination is Painted Rocks Lake, an absolute gem that I've mentioned above. If you have an entire day to spend, Painted Rocks Lake offers some of the region's best boating, kayaking, and swimming.
You'll also find numerous campgrounds that dot Painted Rocks Lake. As you reach the end of the lake, you'll see a sign for Hughes Creek. Lots of gold has been found in that creek, so whip out the gold pan and try your luck.
Area Day Trip Destinations & RV Drives
If you're in the mood for one of those epic drives that leave you wondering what's around the next bend, here's one for you: drive from the hot springs up to Blue Nose Lookout, then to Beartrap Lookout, then down Spring Creek to Shoup, Idaho, then along the Salmon River to the Ram's Head Bar, and finally up to Long Tom Lookout and Oreana Lookout.
This winding loop of a road will fill multiple memory cards with wonderful views of the Salmon River, gorgeous canyons, and awe-inspiring mountaintop views. You'll encounter countless rafters, kayakers, and floaters. There's also an excellent chance that you'll see mountain goats jumping along the rock cliffs or walking down to the river for a drink.
Along the Salmon River, there is also an orchard where you can pick your own fruit. Depending on the season, nectarines, cherries, and apricots are available. The Ram's Head offers a bar, a cafe, lodging, and RV camping. Plan to make an entire day out of this free self-guided excursion.
Wild Fire Scars
Sadly, you can also see the effects of recent wildfires at Horse Creek Hot Springs. It seems as though wildfire destruction stories are a weekly occurrence out West, and Horse Creek Hot Springs has had its share.
The summer of 2011 was an incredibly difficult one for the region. A devastating wildfire burned hundreds of acres in August of that year.
The result was a transformed landscape that lacked much of the lushness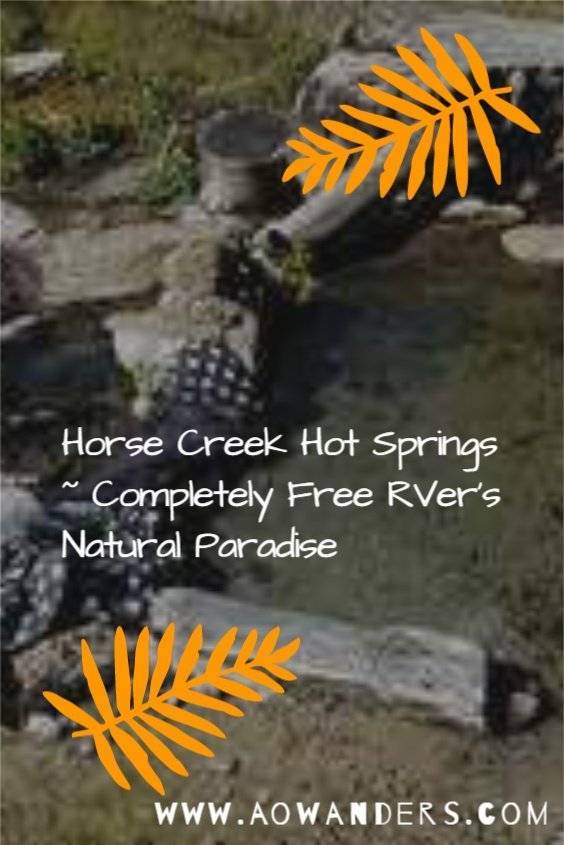 previously seen near or directly at the hot springs themselves. 
While the bathhouse is still standing, not much of what surrounds it is. Burned skeletons of trees stand on barren hillsides.
The imagination can easily picture the mountains lushly covered in trees, and the campgrounds surrounded by pines, a green carpet blanketing the landscape.
But as most RVers have noticed, nature is resilient. Before too long, the Horse Creek Hot Springs area will regain its natural beauty.
All that is charred now will eventually grow back to its original glory.
Future visitors like yourself will be grateful for those that leave the area better than they found it.
Calling All Boondockers
Horse Creek Hot Springs is truly a one-of-a-kind site. The sooner you experience it, the better.
More and more RVers have been flocking to Horse Creek Hot Springs and its spacious campground in recent years. And for good reason.
The area boasts some of the most breathtaking landscapes in the United States.
It offers a top-notch dry camping environment that's second to none – and it's completely free.
It provides visitors the chance to explore the great wide open while maintaining a sense of privacy.
Lastly, you get to experience the soothing effect of Mother Nature's hot springs at no cost.
Even though weekends often find the campgrounds full, this scenic slice of paradise is usually all yours during the week.
Turns out that the best things in life really are free.
Enjoy this well-kept secret on me! Horse Creek Campground, one of the last real RV treasures to remain free!
Map Of Every Hot Spring in Idaho
Enjoy discovering Idaho ~ The best kept secret in America! I know I sure did. Got any questions, concnerns, advice or just want to share your experience leave them in the comments below or shoot me an email at [email protected]
Did you notice the new job board? Theres more big changes coming, and they are all for you! Happy travels everyone.
---
Here Are My Favorite Booking Resources:  Affordable & Efficient Travel Booking Tools I Use Everyday Along With My Favorite Gear Resources
Book Your Flight
Find a cheap flight by using Skyscanner or Momondo. These are my two favorite "flight" search engines because they search through websites and airlines around the globe and offer a calendar view to find even cheaper flights for flexible travelers.  Check out these UNIQUE destination deals or my favorite All Inclusive Booking Travel Tool!
Rent An RV
Find cheap RV rentals for your next adventure by using Outdoorsy or RVshare.  These are my two favorite "RV" search engines because they allow you to rent from private RV owners, and offer a wide variety of chooses at affordable rates.  Want to start making money by renting out your RV?  List it with Outdoorsy or RVshare.
Book Your Accommodation
You can book your hostel with Hostelworld. If you want to stay elsewhere, use Booking.com as they consistently return the cheapest rates for guesthouses and cheap hotels.  Get a $40 credit for booking with AirBnb.  Need to book a private campsite use my favorite RV booking site Hipcamp!
Need Gear
I use REI for all my gear needs because if it ever fails or gets damaged they will replace it for free!!! No questions!!! No hassles.
If REI doesn't have the gear I need.  I can always find it on Backcountry.com
Travel Community
Join the Escapees travel club to meet fellow travelers and talk about all things related to RVing and overland travel.
Travel Packages & Tours
Are you looking for worldwide tours and travel packages?  Check out my go-to source — IntrepidTravel!  Looking for more family related travel packages and tours book with GAdventures.
Don't Forget Travel Insurance
Travel insurance will protect you against illness, injury, theft, and cancellations. It's comprehensive protection in case anything goes wrong and will cover things like transport security, crisis response and medical transports such as Life Flight. Why go on any trip without a safety net that costs less than a case of beer? I've been using SafetyWings for years without any issues.
My favorite companies that offer the best service and value are:
Looking for the best companies to save money with?
Check out my resource page for the best companies to use when you travel! I list all the ones I use to save money when I travel – and I think will help you too!
Just Want To Support This Amazingly Resourceful Website
Websites incur constant fees!  From hosting costs to massive amounts of personal time creating beneficial content for readers to consume at their leisure.  To help offset those costs or just to say, Thank You.  You can help support this community by shopping through any of the links found on my resource page.  Shop on Amazon through this link and I'll get a small commission, or you can directly support this site through Paypal donations.  None of this is a requirement its just helpful and creates a better community for all of us.