No Shame In Being Bored
Quick Reference Table of Contents
Searching for things to do when you're bored can be frustrating. Even though theres a world full of activites you just can't seem to settle on anything. Nothing feels practical or entertaining!
The cure is focusing on FUN outdoor things to do when you're bored? Because most outdoor activites are free and adventurous.
Activities like caving, surfing, hiking and even gold mining are all free outdoor things to do when you're bored!
Willing to spend a little money? Scuba diving, wing walking and zorbing are all excellent outdoor things to do when you're bored! Stop pacing from the kitchen to the living room looking for something to do. Use this list of FUN outdoor things to do when you're bored and go explore the great outdoors for FREE!
Some Unique Outdoor Activities to do When You're Bored
Create a Scavenger Hunt

Build a Fort

Go Gem Hunting

Climb a waterfall

Fly a Peregrine Falcon

Pan For Gold

Tube Down the River
Go Bear Watching
Climb a Mountain
There are endless possibilities of outdoor things to do when you're bored. Go camping, climbing, fishing, hiking or do them all for one adventurous weekend!
Instead of sitting at home being bored, pursue those hobbies you always wanted to.
Below is my list of outdoor activities to do when you're bored for kids, parents, and even adventurous adults who are going stir-crazy from boredom.
34 Outdoor Things To Do When You're Bored
The great thing about nature is it's full of entertaining outdoor things to do when you're bored. Whether you have a low budget or a bottomless bank account, there is always something fun to do outside.
Kayaking, Canoeing or Stand Up Paddle Boarding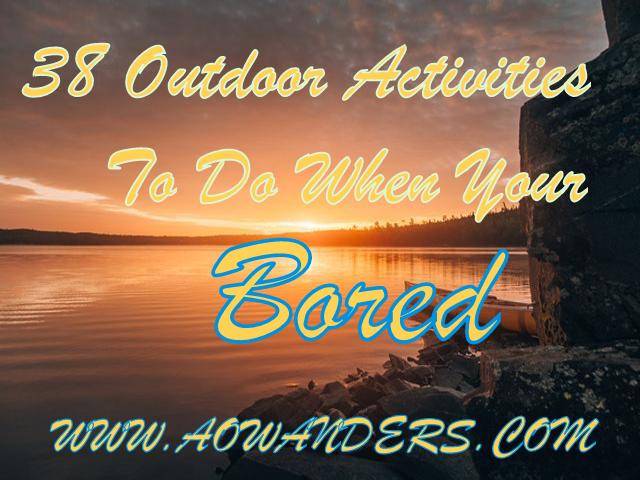 Have you ever charged the rapids of a spring-time raging river, or gone on a water exploration that leads to lunch on an unknown island?
Most of us haven't, but if you're looking for something to do watersports are a great way to get out of the house.
Activities like canoeing, kayaking, and stand up paddle-boarding also provide the added benefit of a full cardio workout. Haven't hooked you yet?
Exploring the Boundary Waters Canoe Area Wilderness in Northern Minnesota will take your breath away. With over 1,100 lakes, the BWCA offers almost 60 different 1,500-mile routes of remote wilderness and tranquil scenery. Filled with local wildlife from birds to big game. Such as moose, black bear, and bobcats.
Not ready for a life-changing canoe trip? How about something a little milder? Like standup paddle-boarding!
Imagine skimming across the water on your stand up paddleboard surrounded by granite mountain peaks, sandy beaches, and views 70 feet deep. An experience only found on Lake Tahoe or, more accurately, the crystal clear waters of Emerald Bay on Lake Tahoe. Here are seven water trails on Lake Tahoe you can explore today.
Looking for quieter waters? Quaint communities and a rich wilderness experience filled with a surplus of wildlife? Whether you're a novice or avid paddler looking for that memorable wilderness experience, the Northern Forest Canoe Trail is 740 miles of bliss spanning across the Northeastern United States.
Learn to Surf, Windsurf or Kitesurf
You can kitesurf on flat watered bays, choppy waters, or even big wave seas. People of all ages, from teenagers to senior citizens, can participate in this watersport. Kite surfing is an amazin outdoor activity to do when you're bored!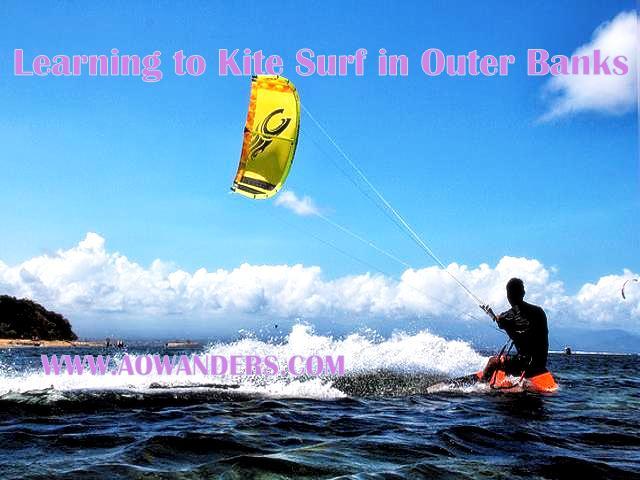 Another watersport I am fascinated with and want to get more involved in is surfing.
Surfing can be a bit more challenging, but the excitement factor of riding a wave for your first time or millionth time is a thrilling experience.
Surfing waves off the coast of Florida, California, and Hawaii is a national pastime thats been pursued by free-spirited souls for decades.
Watersports are the perfect outdoor activity to do when you're bored!
ATVs Are A Blast
When I was a kid every weekend and holiday in the summer, we headed up North to our land. We prepped in the summer and hunted in the fall. While other kids were playing video games, having sleepovers, and toilet-papering the neighborhood, I was playing in the woods.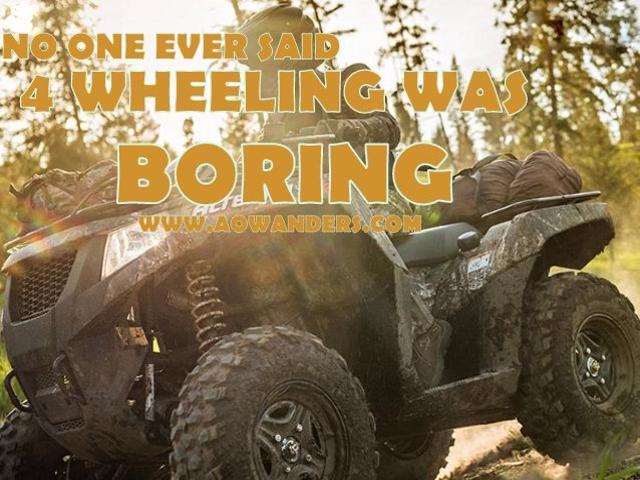 Mobbing through swamps and jacked up dirt roads on our families ATV's. Sometimes for fun. Sometimes for work.
ATVs can be a great source of outdoor enjoyment when you're bored!
The SOO Line ATV trail in Minnesota consists of 253 maintained miles of ATV fun! With thousands of tributary branches that allow you to explore all that Minnesota ATVing has to offer.
Searching for outdoor things to do when you're bored? The perfect place to set up base camp is the Spider Lakes Recreational Area for a fun weekend of ATV fun in Minnesota. Free to camp as long as you want, and directly ties into the SOO Line ATV trail system.
Out West, in places like Idaho and Montana, there is an extensive Forest Service road system that accommodates free camping and thousands of miles to explore on your ATVs.
Nevada and Utah have millions of miles to rip around an on ATV. Along with thousands of places to boondock camp for free.
Riding around on ATVS is a great outdoor activity to do when you're bored!
Paragliding, Hang Gliding, Parasailing or Hot Air Ballooning
Finding yourself miles above the Earth and soaring through the open sky is
the perfect outdoor activity when you're bored.
Hang-gliding over the red rock landscape of Utah is always a welcome activity for its ideal soaring conditions 365 days a year.
Parasailing is a wonderful outdoor activity to do when you're bored.
Lake Powell & Pend O'reille offer plenty of room and magnificent beauty for a day of parasailing.
Take in the setting sun of the Arizona desert through hot air balloon rentals.
Stop searching for outdoor things to do when you're bored, and just do something. Any wilderness activity will be more fun than a day of TV!
Sky diving/Bungee Jumping/base jumping
When looking for outdoor things to do when you're bored few activities can match the thrill of free-falling thru the air. Turn to the adrenaline and adventurous activity of sky diving or bungee jumping!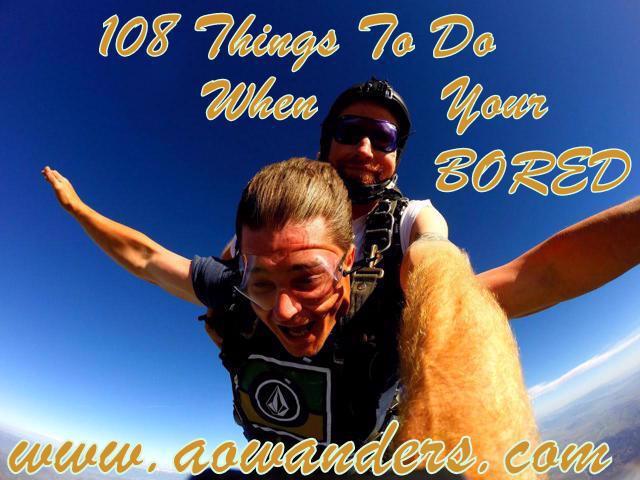 Plummeting through the air, screaming on the inside or maybe for the whole world to hear, waiting for the parachute to open or the bungee cord to end your free falling terror is an unforgettable experience!
Imagine being able to admire the incredible bird's eye view at umpteen thousand feet.
If you've never been free-falling, now is the time to check this adventurous activity off your bucket list of outdoor things to do when you're bored.
Soar over the Canyonlands of Utah like I did a few years back with Skydive Moab. Check out the sparkling lights of the Las Vegas skyline. Not ready to truly fall out of the sky, check out Las Vegas's Indoor Skydiving packages.
See Australia from the clouds at the Reef & Rainforest in Cairns. Need a little more security like a bungee cord attached to your body? Enjoy the thrills of bungee jumping over Lake Sevilla in Spain. Costa Rica has some extreme bungee jumping opportunities in Monteverde.
BaseJumpMoab has three different packages to choose from here in the United States.
Free-falling through the air is a remarkable outdoor activity to do when you're bored!
Caving and Cave Diving
With endless miles of underground adventure, caving offers a level of raw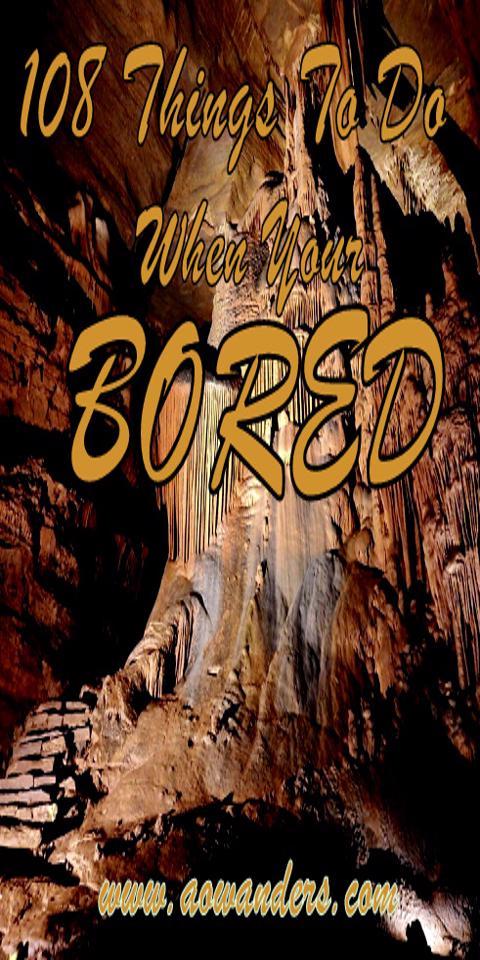 exploration that few outdoor activities can when you're bored.
Letting your imagination run wild as you discover walls covered in crystals and stalagmites. Secretly hoping to find a treasure chest full of gold buried by pirates centuries ago. Sound boring to you?
Caving is a fascinating experience for both young and old. Nine of the most inspiring cave systems can be found internationally in countries like the Philippines, New Zealand, Belize, and Malaysia. Still, America has underground gems of its own.
Like the Natural Bridge Caverns found in Texas, or the Carlsbad Taverns found in the neighboring state of New Mexico. The Cosmic Cavern in Arkansas features two bottomless lakes that divers have yet to see the bottom. Its not the Great Blue Hole of Belize that scuba divers from around the world come to explore, but will afford you the chance to do some underwater cave diving exploration right here in America.
Caving is one of my favorite outdoor things to do when you're bored!
Whitewater Rafting
If you've never experienced a rafting trip, slept outdoors, or eaten a shore lunch you're missing out on life. Probably the reason why you're searching for fun outdoor things to do when you're bored.
Whitewater rafting is an exhilarating activity to do on a lazy afternoon. With some of the best river shoots found up and down the East Coast, throughout the Midwest and all over the West Coast there's no shortage of opportunity.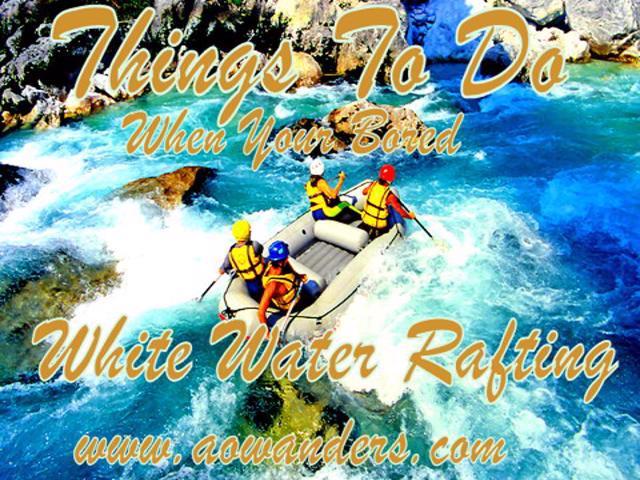 Head West to run the Colorado River in the Rockies or deep in the Grand Canyon. The North Fork up in Montana or the Salmon River in Idaho offer anything from lazy day river runs to death-defying class five rapids.
Whitewater rafting is an exhilirating activity to do when you're bored.
Waterfall Hunting
Of all the outdoor things to do when you're bored waterfall hunting is easily the most fun. It costs nothing and is pure adventure. It's like stepping into a time a maching and becoming one of world's first explorers. Thanks to an ex-girlfriend, hiking waterfalls is one of my all-time favorite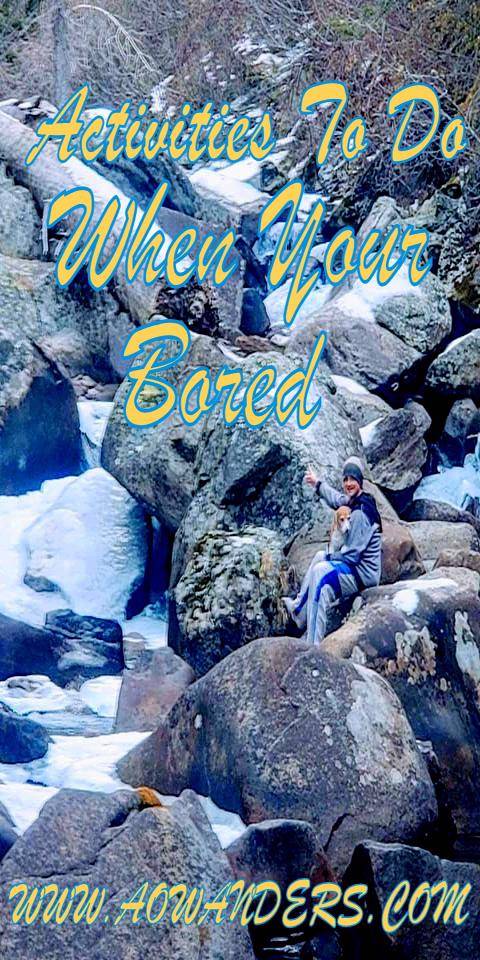 hobbies.
I'm not talking about climbing raging waterfalls like Angel Falls in Venezuela.
I'm referring to mild meandering rivers that cut through the mountains and wooded landscapes of rural America. Offering nothing but beauty and the soothing sound of rippling water. Where you'll find cascading waterfalls and hidden wilderness beauty visited by few.
Hiking waterfalls like the ones found on the Kadunce river just outside of Grand Marais, MN, offer a completely different experience than hiking the designated trail above.
By allowing you to explore the algae-covered canyon walls up close, and wading over smooth-edged boulders in the crisp waters. While conquering three waterfalls before finding a secret swimming hole not accessible from the official Kadunce River trail.
Waterfall hunting is an outdoor activity both young and old can enjoy. Providing endless fun and new adventurous challenges for anyone to enjoy looking for outdoor things to do when you're bored.
Bridge Climbing
When your struggling to find outdoor things to do when you're bored turn to the Australian's. Who offer a great way to see a city with unique 360-degree views through bridge climbing.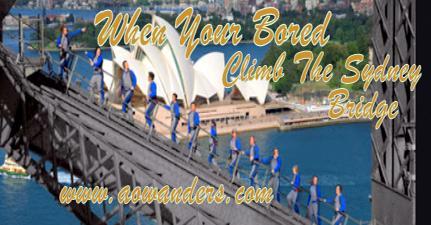 The most famous bridge climbing destinations are in Australia & New Zealand. The Sydney Harbor Bridge Climb is the ultimate experience and the only way to see this iconic city Downunder.
Bridge climbing is an adrenaline packed outdoor activity to do when you're bored with far less risk than sky diving.
Sandboarding, Volcano Boarding, Sand Yachting, kiteboarding, Mountain Boarding
These five sports honestly had to have been invented by someone digging deep for outdoor things to do when you're bored. If your looking for an activity to do away from the masses and is just pure fun in the sun, look no further.
Any form of sandboarding will bring a smile to your face for days. Don't worry about the learning curve. All you have to do is hold your balance and let gravity or wind do the rest.
It's a ton of fun, and best of all, there's no admission to surf down a sand dune or race across the desert.
Stop climbing the walls of your house out of boredom and head out to the sand dunes for a day of fun! Sand boarding is just one of those epic things to do when you're bored.
Rappelling
Some of the best outdoor things to do when you're bored will be outside of your comfort zone. Grab some rope, a harness, and an anchor point high above the ground.
Rappelling is fun, memorable, and a heart-pounding outdoor adventure experience fun for all ages. You could be dangling over raging rivers, deep canyons, or directly off your deck.
Rappelling doesn't have to be exotic for it to be fun and memorable, but after you master the basics, there will be a new world out there for you to explore.
With waterfall rappelling, cave rappelling, and even sea cliff rappelling. When you're looking for something outdoors thats cheap, safe, and easy to do. Rappelling is one of the more popular outdoor things to do when you're bored!
Mountain Biking
Before you go looking for exotic fun outdoor things to do when you're bored, why not try a therapeutic and cardio rewarding hobby like mountain biking!!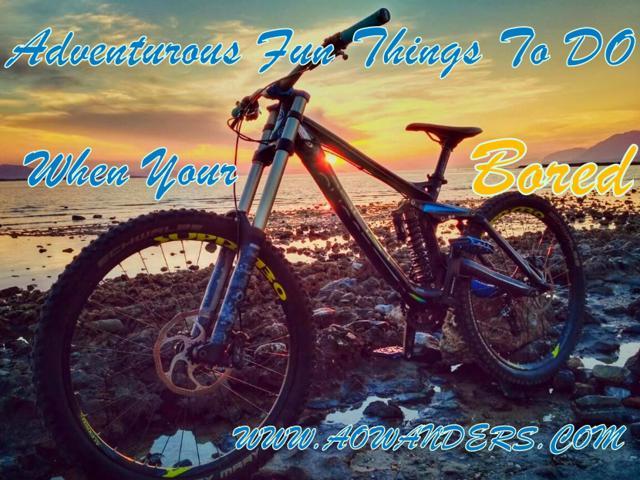 It adds adventure into your life and gets you closer to nature. Mountain biking creates terrific opportunities to discover new parts of the world and gives you confidence while teaching you about self-sufficiency.
Mountain biking is not just a sport; it's a way of life for a large community people. This enjoyable activity is also a fantastic workout routine that will have you meeting some wonderful peeps from around the world.
So kick start that New Years Resolution of getting back in shape by hopping on a mountain bike and getting out of the house. No training, courses or lessons needed. You just need to get off the couch and go.
Mountain biking is a rewarding outdoor activity to do when you're bored.
Dog Sledding
Racing through the woods during the winter months along a snowy trail behind a pack of racing sled dogs is a thrilling outdoor experience.
Wind whipping through hair. The eye's crying from the blistering cold air. Finger's gripping the handlebar for dear life. No, I'm kidding. Dog sledding is a mild-mannered enjoyable experience. Just think of it as sledding with a little bit more speed, but your still entirely in control.
Dog sledding is one of those unique outdoor things to do when you're bored!
Skiing
I've been a passionate ski bum for over a decade now, and one of my all-time favorite outdoor things to do when you're bored is skiing!!!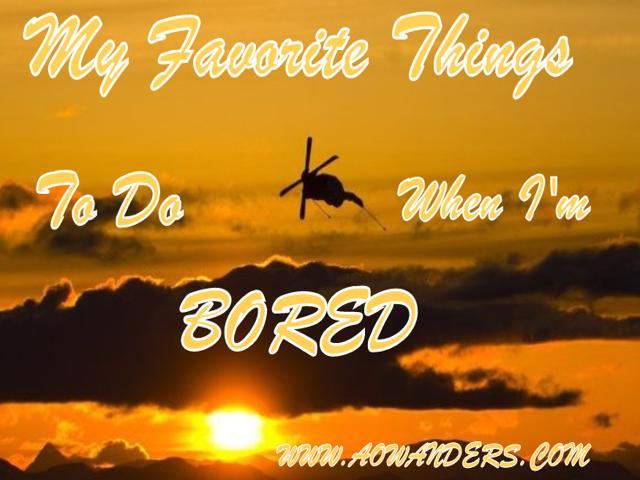 Skiing is a beautiful activity that gets you outdoors. Provides a great workout and supercharges the soul with good vibes.
Like mountain biking, skiing isn't a hobby or even a sport. Well, I suppose it is, but to the vast majority of us. Skiing is a passionate pursuit of a way of life found only on the mountainside. Stop looking for fun outdoor things to do when you're bored and get out skiing today.
Skiing is one of those outdoor acitivities that will challenge, frustrate and reward all in the same day. When you're bored and looking for something to do in the outdoors take up skiing!
Deep-Sea Fishing
Trying new things is one of the best outdoor activities to do when you're bored! Activities like deep-sea fishing, for example.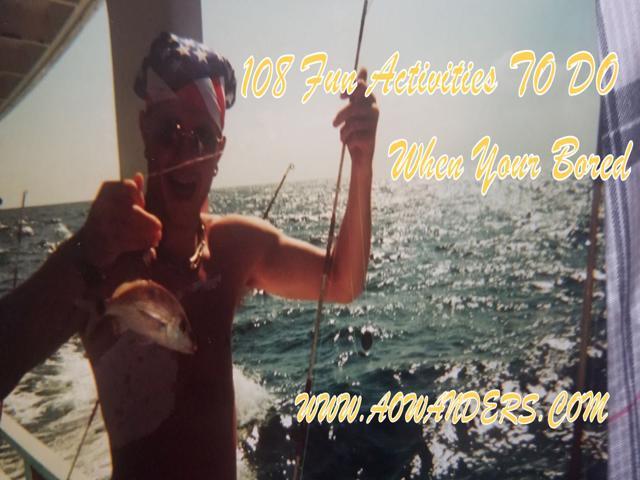 The warm sun beating down on your face and sweat dripping into your eyes. Every muscle in your body is pulsating from exhaustion as you stare down at a 400 pound Yellow Fin Tuna flopping around your boat. Well hopefully.
Deep-sea fishing is a marvelous activity that affords the rare occasion of landing a mythical fish only see on TV.
For most of us, deep-sea fishing will amount to nothing more than filling the live-well with groupers and sea bass. While getting sunburnt and shit faced drunk on cheap beer.
Grab the gas can bait cooler, 12-pack, and cast off the bowlines in search of that mythical monster lurking in the ocean waters. Because deep-sea fishing is the ideal outdoor activity when you're bored!
Hammock & Cliff Face Campin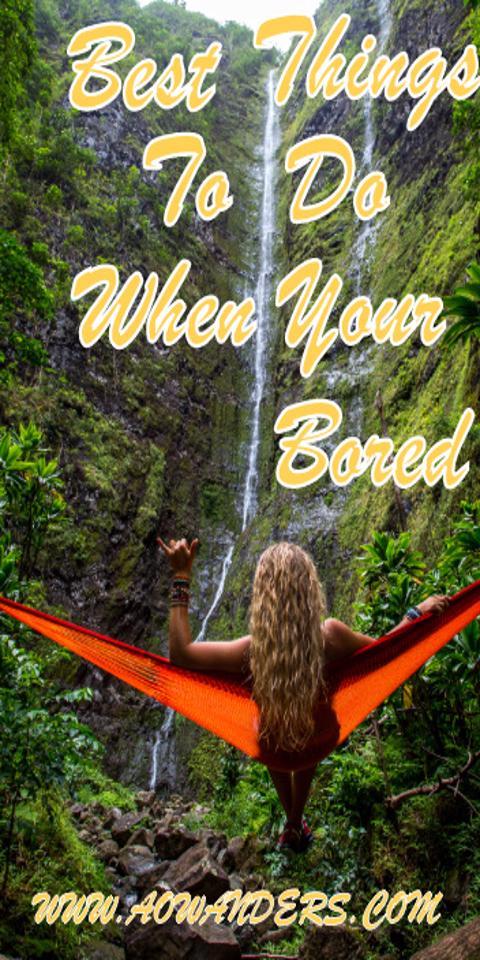 From simple to exotic summer is full of activities to do when you're bored!
One of those simple summer activities is swaying slightly from side to side high above the ground in my hammock. With the sounds of a crackling campfire below me. A good book and a bottle of wine. One of the best outdoor things to do when you're bored is "hammock life."
Hammocks are the greatest invention ever made!!!
Seriously, they weigh next to nothing. Extremely affordable. Provide shelter from the bugs and weather. Setup can be anywhere and takes only a few moments to accomplish. No tools or instructions are required, and they're super comfortable!
The only thing that beats hammock camping is cliff face camping. Combine rappelling and cliff face camping, and you've got yourself an entire weekend of fun outdoor things to do when you're bored.
Glacier Climbing
I can already see you rolling your eyes and sighing. Glacier climbing??
Hey, not all of us live on a Caribbean island. Some of us live north of the equator. So if you're having a hard time trying to find fun outdoor things to do when you're bored and fortunate enough to live near a glacier, stop rolling your eyes and go exploring!
Glacier climbing is a unique experience in some of the world's most remarkable locations. So if the opportunity arises, you should grab it with both hands.
Glacier climbing is a bucket list activity that should be experienced by everyone.
Coasteering
What is Coasteering? Coasteering is a new fad of hiking, which isn't new, but I'm sure the name itself came from a bored group of individuals.
Coasteering is where one attempts to hike a coastline in a tidal zone. Where you press on as far as you can by land, and when that's no longer an option, you jump into the sea and swim to the nearest landmass to begin again. There's nothing fancy about it. It's like making up an obstacle course as you go.
Any new activity like coasteering and waterfall hiking are the perfect outdoor things to do when you're bored!
River Boarding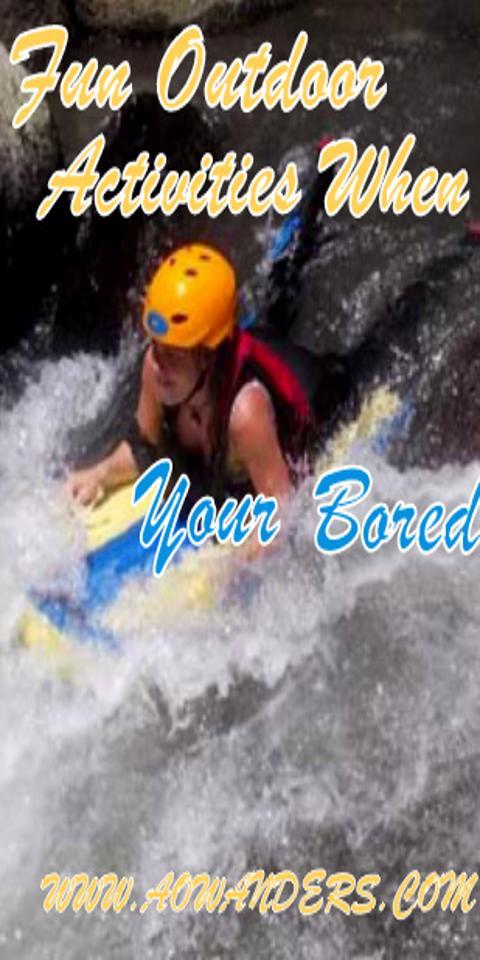 An exciting new sport sweeping across the globe is river-boarding, where you can experience the exhilarating feeling of conquering rapids and waves that never end. A thrilling, fun outdoor activity when you're bored.
Unlike surfing where you have to wait for the wave to roll in, and then paddle back out to catch the next wave. Riverboarding is an endless activity you can do on any river, stream, or creek.
Just wade in. Hop on your board, and if you fall off, stand up and try again. Riverboard surfing truly is an activity-packed with fun. Low entry cost to begin, and with a little common sense reasonably safe.
Stop searching for fun free outdoor things to do when you're bored, try river-boarding this summer.
Storm Chasing
Watching a storm roll in from afar is a grand event. Especially out west where you can watch lighting strike mountain tops in the distance. Easily one of the most underrated outdoor things to do when you're bored is storm chasing!
The temperature gets colder. Sun disappears behind dark grumbly clouds, and lighting begins to lash out in every direction. Shaking the ground and air with its crackle. It's a superb exhibition of nature and science, and in the right environment an unforgettable experience.
Under the right conditions watching a storm roll in is a fascinating outdoor activity to do when you're bored!
Airplane Wing Walking
The absolute most unique outdoor activity to do when you're bored is airplane wing walking!
Walking on an airplane wing while it's flying through the sky is sensational!
Wing walking is not for the faint of heart, or people scared of heights. Its for adrenaline junkies.
Strapped into a five-point harness on a vintage biplane, you will be whisked into the air while standing on an airplane's wing. With the wind reforming your face and rushing through your hair you might find the meaning of life during this outdoor activity.
One of most sensational outdoor things to do when you're bored is wing walking!
Cliff Jumping
If wing walking terrifies you, but still craving a rush of adrenaline? How about some good 'ole fashioned cliff jumping.
When we were kids cliff jumping was always at the top of our list of outdoor things to do when you're bored.
Throughout my travels I've learned that everyone knows of a place to go cliff jumping. I used to go to a site called the "Beehive" in Stillwater on the border of Minnesota and Wisconsin. Over 80 feet above the Mississippi River was our launching point where we mustered up the courage to huck ourselves into the waters below.
You don't have to find an 8-story rock to enjoy cliff jumping. In fact, cliff jumping's a lot more fun when your life doesn't flash before your eyes.
There's a quarry in St. Cloud Minnesota with a rock that's only 10-15 feet high and the waters over 100 feet deep. Making it an enjoyable day of water activities and the perfect outdoor thing to do when you're bored.
Free, simple, and with a little comment sense completely safe. Cliff jumping can be a lot of fun, and when you're looking for fun outdoor things to do when you're bored cliff jumping can save the day.
Zorbing
Outdoor things to do when you're bored are endless, and one of the most enjoyable ones on this list is Zorbing!
What could be more fun than rolling down a hill in a giant bubble ball? Zorbing came on the scene a few years ago, and it's an absolute blast. You can Zorb in a field, hill, or even in water.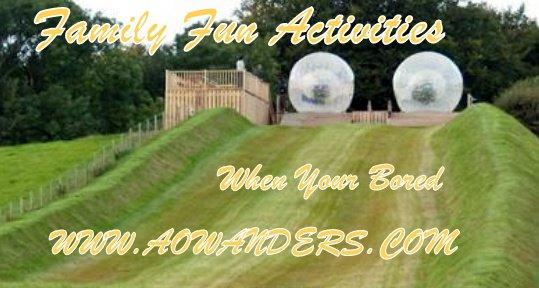 Most Zorb's come filled with water, and the participant sloshes around until the ride comes to an end. A completely harmless activity fun for all ages. No experience required, and indeed something the whole family, from grandma to little johnny, can do.
Book your zorbing trip today. Show up confused and leave with a smile that will last for days. I promise!
Horse Back Riding
I've only been horseback riding one time, but I would never be bored if I owned horses.
There's just something soothing, relaxing, and a bit adventurous about riding a horse through the woods. The horse I rode oh so long ago wasn't a bucking bronco either. In fact, all he did was try to eat everything, including me. But it was a fabulous lazy day activity. Allowing me to get to know my new friends better while exploring the area around me.
The horse does all the work. Just enjoy the experience. It sure does beat sitting at home wondering what to do?
Snorkeling/Scuba Diving
Let's get one thing straight scuba diving is one of the most intriguing hobbies on the planet. By providing a remarkable opportunity to discover an underwater world that most people will never see.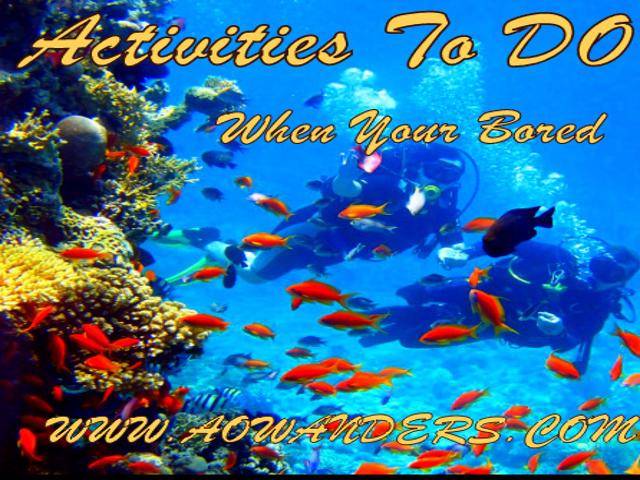 From underwater caves. Sunken battleships. Colorful fish and beautiful coral are just a few of things you can discover while scuba diving.
I'll admit scuba diving requires a little bit of dedication before you can go off looking for underwater buried pirate treasures, but boy is it worth it. Snorkeling, on the other hand, can be just as much fun and far cheaper.
When I went to the Virgin Islands, I rented some snorkel gear and headed to the beach. Within seconds I was face to face with a Barracuda, and moments later, I was getting towed through the water by a giant sea turtle.
Trust me, it's a lot more fun than sitting at home, microwaving a pizza pocket, and secretly envying those that are out there exploring an underwater world.
No list of "Fun Outdoor Things To Do When You're Bored" is complete without including scuba diving and snorkeling!
Shooting Guns
Origami made be cool on your dining room table but compared to a 50 caliber sniper rifle and flame thrower. There's no competition. There's also no reason to own either one of those weapons, but they are a ton of fun!!
Gun owners are never bored! Any excuse to shoot paper targets is a day of fun and entertaining destruction! The rest of you are probably shaking your head, rolling your eyes and asking yourself WTF!! But seriously, who doesn't like destruction?
In all seriousness and in the right environment, guns are an endless source of entertainment.
Fishing
Fishing was always my go-to as a kid for free outdoor things to do when you're bored. We used to load up our bikes full of gear, rods, and bike seven miles to the nearest the lake. Some times with friends, and sometimes solo.
Fishing is a relaxing pastime that provides freedom from the stresses of life, and a perfect activity to detach with on a warm summer day.
When you're bored and looking for something to do. Grab a can of corn, a tin of worms, head out to the lake and log some peaceful wilderness time.
Did you know you don't even need a boat or license to fish in Glacier National Park! Ever wanted to learn how to fly fish? There's no time like the present! What else are you doing? Get out there and catch some fish!
Camping
I might be a little bias on this one because I've been camping for over 20 years, but when you're looking for fun outdoor things to do when you're bored camping is an immediate injection of fun!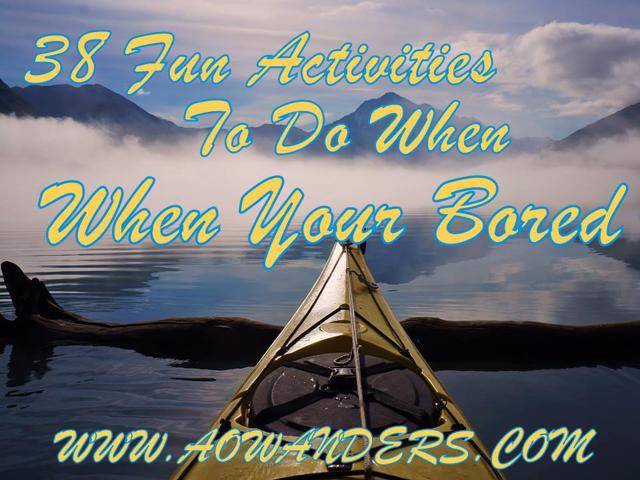 Even if it's just in your backyard, its a change of routine. If you're feeling a bit more adventurous, head out into the backcountry for a long weekend overnight camping trip.
Let the songbirds wake you in the morning. The moose startle you on a mid-day hike and let the setting sun captivate you.
Camping's one of those activities that provide perfect moments all on its own, and a great accomplice to an endless list of other activities to do when you're bored.
One of the greatest things I love about camping is it's FREE, even with an RV or a camper.
Climbing
Maybe your not up for a multi-day camping trip just yet, but still looking for a wilderness adventure. Rock climbing is an unbelievable way to release pent up boredom.
From bouldering to ascending vertical cliff walls without ropes, all ages and abilities will find immense joy in rock climbing.
Climbing is one of those activities you can make it as straightforward or as challenging as you like. Combined with other outdoor activities like camping or kayaking and you've got an outdoor wilderness adventure your whole family can enjoy.
When looking for outdoor things to do when you're bored I suggest free activities like camping and hiking because they're fun for all ages.
Go hiking
Hiking is one of my favorite things to do because anyone can do it. It's free. No rules or boundaries.
Hiking gives you a sense of adventure into the unknown. Which is why I love waterfall hiking.
You can be a day hiker, multi-day hiker, thru-hiker, and even an overnight hiker. Did you know there are even trash hikers?
Whatever classification you fall into hiking gets you out of the house. Allowing you to see new landscapes. Let the dog run. Get a bit of exercise, and even explore new recipes for your hiking adventures.
There's no good reason not to go hiking if the weather permits it, and sometimes hiking is even more fun in bad weather.
Hiking is a cheap rewarding activity that requires nothing but the will to participate, and is one of the ultimate outdoor things to do when you're bored!
Gold mining
Panning for gold is a ton of fun, even if you don't know what you're doing. Because, I sure as heck have no clue what I am doing, but the anticipation of what might be in your gold pan fuels the excitement of the experience.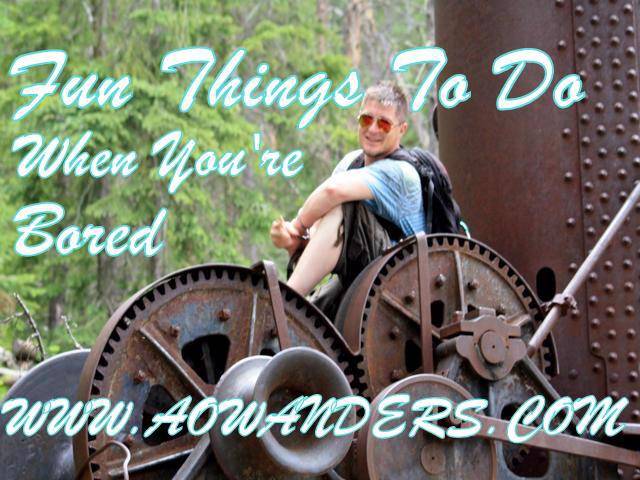 This is a list of fun outdoor things to do when you're bored. Not how to become a millionaire, but this activity just may put some extra money in your wallet.
The best thing about gold mining, besides possibly striking it rich, is gold panning teaches you new skills. Develops independence. Gets you out of the house and into nature where all the best adventures begin.
Gold mining is an activity that can be as social or as solitude as you wish. Still, more importantly, all it takes is a shovel and bucket. So pack your camping gear, hammock, rappelling gear, and head out for a weekend of gold mining camping adventures.
Take a road trip
Road trips are always a blast because the journey's the destination, and the experience is the adventure! Road trips are one of the few activities where less planning means a more rewarding experience. In today's world of uncertainty, I bet a road trip would be an extraordinary adventure!
One of the greatest things about a road trip is you can do them solo or with a group of friends, and its an instant cure to boredom!
Rent a houseboat
Are you bored and looking for an experience that will undoubtedly deliver a one of a kind outdoor adventure? Houseboating is the most underrated outdoor activity in the world today.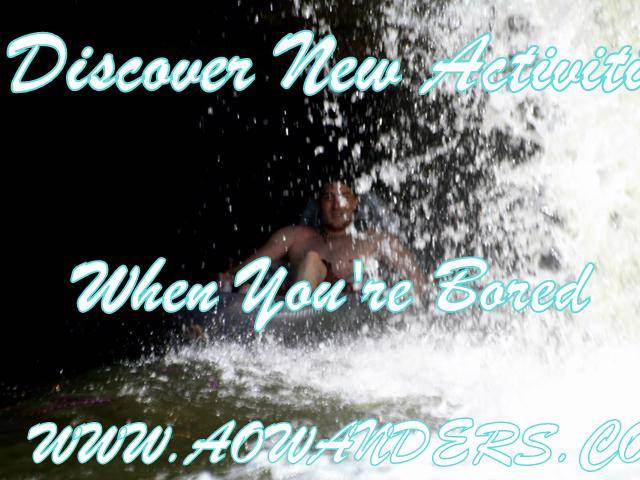 I've owned two houseboats in my life, and have deeply regretted selling them! You can literally' call home to any place you feel like anchoring.
Have shore lunch on this island. Camp on the next island. Sunbathe on a sand bar. Drop anchor at your favorite swimming hole. Dive off the roof or watch the setting sun drop into the river. Host a dinner party, or cast a fishing line.
With all the amenities of home, including a rooftop deck, house boating provides an endless supply of leisure and enjoyment. From island hopping to exploring uncharted waters, house boating is an experience that will awestruck you from the moment you step aboard.
There is no comparable travel activity close to house boating, and if you're looking for something remarkably fun to do when you can't find anything else. Look into the possibilities of house boating in your area.
Learn to sail
The magic of sailing and RVing can be traced back to the freedom they deliver.

When you're out exploring the world in an RV or sailboat, a buffer gets created between you and the rest of the planet. You become completely isolated from the stress and craziness of society, but gain this complete sense of freedom you can't find anywhere else.
The freedom that sailing exposes you to makes it one of the most alluring adventure activities on the planet.
Learning a new hobby like sailing will forever chang your life. From the moment you tie your first knot to watching the sun set into the ocean horizon you'll become a sailing addict.
Imagine island hopping in the Caribbean, or setting off to South America just because you can. There is nothing is boring about sailing!
Trick to finding Outdoors Things To Do When You're Bored
When everything seems mundane and boring turn to the outdoors. Because most outdoor things to do when you're bored are FREE, fun, exciting and full of adventure!!!
There are so many activities to do when you're bored in the outdoors its pathetic! Why do you think there are so many big box stores full of outdoor gear? Outdoor recreation is so popular that its estimated 340 million people visited a National Park last summer alone!
Trying something new is the key to finding an enjoyable new hobby of outdoor things to do when you're bored.
One of the best things about outdoor recreation activities they are even more fun to people with no experience, and there is always a rental shop willing to help you sample your new outdoor activity.
Did I miss anything? Got any outdoor things to do when you're bored recommendations? What's your favorite activity to do when you're bored? Leave your questions, tips and concerns in the comments below.
My Favorite Travel Booking Resources: Most Affordable & Efficient Travel Booking Tools I Use Everyday
Book Your Flight
Find a cheap flight by using Skyscanner or Momondo. These are my two favorite "flight" search engines because they search through websites and airlines around the globe and offer a calendar view to find even cheaper flights for flexible travelers.  Check out these UNIQUE destination deals or my favorite All Inclusive Booking Travel Tool!
Rent An RV
Find cheap RV rentals for your next adventure by using Outdoorsy or RVshare.  These are my two favorite "RV" search engines because they allow you to rent from private RV owners, and offer a wide variety of chooses at affordable rates.  Want to start making money by renting out your RV?  List it with Outdoorsy or RVshare.
Book Your Accommodation
You can book your hostel with Hostelworld. If you want to stay elsewhere, use Booking.com as they consistently return the cheapest rates for guesthouses and cheap hotels.  Get a $40 credit for booking with AirBnb.  Need to book a private campsite use my favorite RV booking site Hipcamp!
Looking For A Travel Community
Join the Escapees travel club to meet fellow travelers and talk about all things related to RVing and overland travel.
Travel Packages & Tours
Are you looking for worldwide tours and travel packages?  Check out my go-to source — IntrepidTravel!  Looking for more family related travel packages and tours book with GAdventures.
Don't Forget Travel Insurance
Travel insurance will protect you against illness, injury, theft, and cancellations. It's comprehensive protection in case anything goes wrong and will cover things like transport security, crisis response and medical transports such as Life Flight. Why go on any trip without a safety net that costs less than a case of beer? I've been using SafetyWings for years without any issues.
My favorite companies that offer the best service and value are:
SafetyWings (ONLY $35 & Covers USA Travelers)
World Nomads (for everyone below 70)
Insure My Trip (for those over 70)
Medjet (for additional travel insurance coverage like medical transport, travel security & crisis response)
Looking for the best companies to save money with?
Check out my resource page for the best companies to use when you travel! I list all the ones I use to save money when I travel – and I think will help you too!
Just Want To Support This Amazingly Resourceful Website
Websites incur constant fees!  From hosting costs to massive amounts of personal time creating beneficial content for readers to consume at their leisure.  To help offset those costs or just to say, Thank You.  You can help support this community by shopping through any of the links found on my resource page.  Shop on Amazon through this link and I'll get a small commission, or you can directly support this site through Paypal donations.  None of this is a requirement its just helpful and creates a better community for all of us.