A rugged laptop that is life proof
Quick Reference Table of Contents
I want what the computer industry calls a rugged laptop, or what I call a "life proof" laptop!  A rugged laptop that I can throw out the window of a moving a vehicle off a bridge into the raging river below without practicing my best turrets impersonation, kicking the dog or going clinically insane because I just lost 8 years' worth of files & photos.  I don't want to travel around the world carrying a fragile laptop that broke the bank, and constantly be worrying about replacing it.  I need a laptop that is life proof, and doesn't cost a years' worth of income to acquire or replace.   I need a rugged laptop!



Maybe you have kids that you secretly call monsters, or work on a job site where dust & debris fill the air.  An office that gets mistaken for a gymnasium.  Clumsy or travel a lot, and just want a laptop that can withstand the day to day.  Maybe you just want a laptop that can defend itself against dust, liquids, falling objects or extreme temperatures.    The answer to your prayers is a rugged laptop.
A couple of weeks ago I put my Microsoft Pro into the bag, and a day later I retrieved a laptop with a shattered screen.  So I've compiled all of my research to bring you a list of the best rugged laptops on the market today.  Here are the deals I have found that would be compatible with my adventure travels as well as handle my computing needs…………
Dell Rugged Laptop Tablet
First up is the Dell Latitude 7212 Rugged Extreme Tablet
Nickname: The best rugged tablet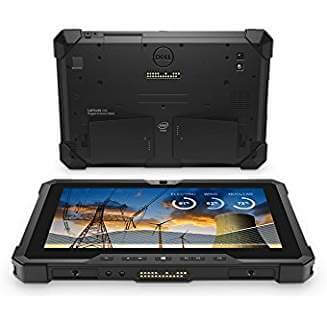 CPU: Intel Core i5-7300U | Screen: 14 inch FHD (1920×1080) Touch LCD | Readable Glove-Capable Touchscreen w/ Gorilla Glass | RAM: 16GB | Hard drive: 128GB SSD | Connectivity: WiFi – GPS |Windows 10 Professional | Weight: 4 pounds.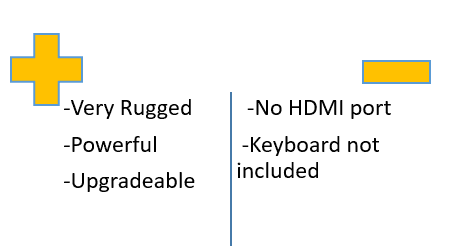 $999.00 View at Amazon
$2579   View At Tiger Direct
$2034   View at Walmart 
I am not a tablet kind of guy because my first tablet was an Ipad.  Which had no keyboard, no usb ports, no hdmi port and no storage for my 5 terra bytes of movies.  But with the computing power of a desktop, and the mobility of a smartphone this rugged tablet is on my radar for good reason.
The Dell Latitude 7212 Rugged Extreme Tablet is easily the most rugged tablet on the market today.  Dedicated GPS keeps you connected at the most critical moments even in the most remote locations which is perfect for a backcountry adventure lifestyle like mine.  With optional shoulder strap, soft handle, chest harness or even the crash-certified vehicle docking station this rugged tablet has maximum mobility.   With a 7th generation i5 processor, 16GB of RAM and optimized mobile connectivity its 2x faster than any other tablet on the market.  This rugged tablet also comes with 5MP(mega pixel) front webcam, 8MP rear cam & dual microphone.  A USB type-c & 3.0, mini serial RS-232 and combo mic/headphone make up the slots & ports on this rugged tablet.   It doesn't have an HDMI Port or come with a keyboard, but I have a USB HDMI adapter.  You can purchase a Dell keyboard from Amazon or any Bluetooth keyboard will work to turn this into a powerful rugged laptop you can take anywhere.  Thats its only knock for me is the ala carte keyboard.
Extreme Rugged Laptops
2. Next up is the Dell Latitude 14 7404 Rugged Extreme 2 in 1
Nickname: The pioneer of Dell's rugged laptop models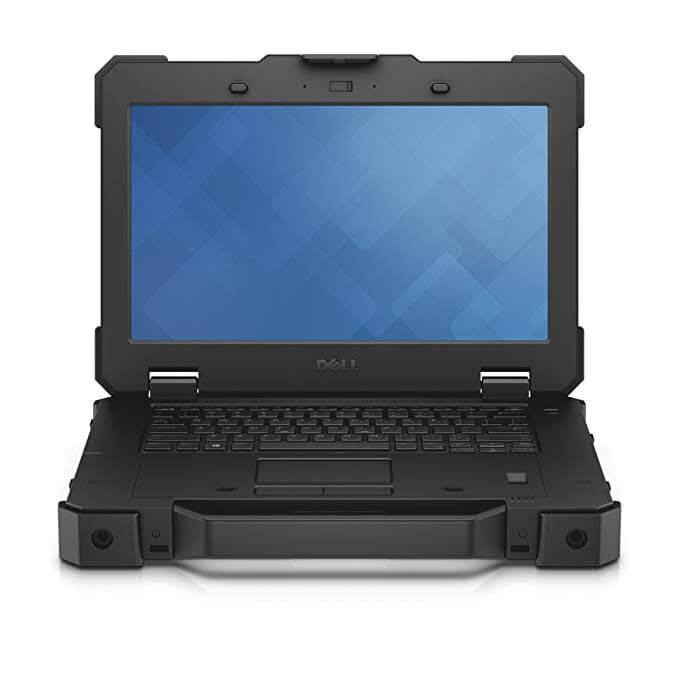 14" Touchscreen LED Notebook |CPU: Core i7 i7-4650U |Processor: 1.70 GHz |Graphics: Intel HD 5000 | Weight: 8 pounds | RAM: 4GB | Storage: 256 GB SSD | Windows 8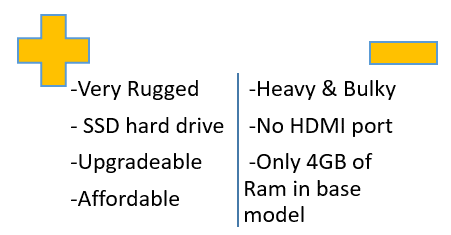 $1660 View At Affiliate
Not Available View At Tiger Direct
$2250 View at Walmart
If someone asked me to define a rugged laptop I wouldn't use terms like: military standards, reinforced bumpers, shock absorbent or magnesium alloy case.  I would simply say a laptop that can fall out of my vehicle without braking, or take on a camping trip that sees rain for a week and still works.
The Dell Latitude 14 Rugged Extreme 2 in 1 is the easily the most rugged laptop on the market today, and while it's Dell's pioneer of rugged laptops available to the public for a few years now.  Its rugged design meets modern military standards (MIL-STD)!  The Dell latitude 14 Rugged 2 in 1 Laptop provides a 5 mega pixel camera both front & rear.  Two USB 3.0 ports, Two Serial Ports, Headset/Mic & SD Card reader as well as biometric security features.
This base model may not be a computing juggernaut, but its shock absorbent case, magnesium alloy build & IP65 certification against sand, dust, extreme temperatures & even water will allow it to withstand more of life's curveballs than your average computer.  It's a shame that it weighs so much, but to protect some pretty beefy internals you're going to have to compromise somewhere.
Im considering buying this base model because it allows me to test drive a rugged laptop and see if it fits my lifestyle or computing needs without having to pawn a kidney.  And like all Dell laptops you can customize them to fit your computing needs.  So if you come to love this base model upgrades are only a click away for your new rugged laptop.
Dell Latitude E6420 XFR Rugged Extreme Laptop has my attention & respect!




Nickname: Extreme rugged laptop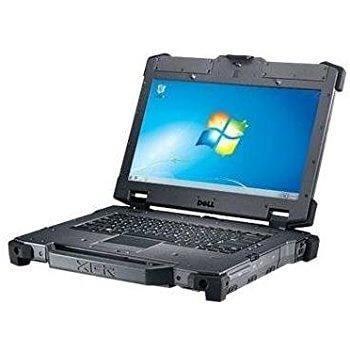 14" Touchscreen LED Notebook |CPU: Core i7 i7-2620 |Processor: 2.70 GHz |Graphics: AMD | Weight: 8 pounds | RAM: 8GB DDR3 | Storage:  1TB Hybrid | Windows 7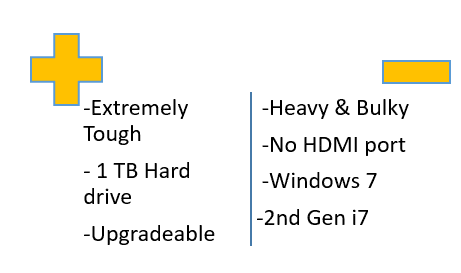 Low Supply
$1099 View at Amazon
Not Available View At Tiger Direct
$177   View at Walmart
This rugged laptop is a few years older, but the Dell Latitude "real-world" Rugged E6420 XFR laptop comes encased in a trademark protective ballistic armor casing independently tested to MIL-STD-810G, UL1604 and MIL-STD 461F.   Read more about military standards, requirements & rugged laptop certifications. Basically, these independent tests say you can use this rugged laptop as a shield in a sword fight or as an underwater camera while snorkeling in the Caribbean.   Making the Dell Rugged extreme laptop XFR a contender to be crowned the most extreme rugged laptop you can get your hands on.  With a redesigned bumper system, rugged chassis, and a rigorous five foot drop test that requires 78 passing drops without damage to acquire a 6 foot MIL-STD certification making this one badass tough laptop.
With ingress protection the Extreme Latitude E6420 XFR handles life without hesitation.  This rugged laptop is designed with die-cut compression gaskets giving it a MIL-STD IP65 level of protection against water, dust & sand.  This rugged laptop XFR by Dell keeps your system safe, and offers extreme performance in extreme environments.
While I was researching I found this on Amazon for only $320
Panasonic Toughbooks
Pansonic Toughbook CF-33




Nickname: The original rugged laptop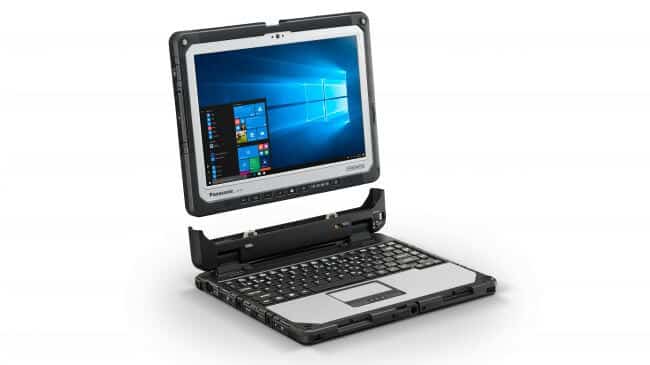 Screen: 12" 12″ 2160 x 1440 Touchscreen + Digitizer | Processor: 2.4 GHz |  Core i5-6300U |8GB RAM | 256GB SSD | 802.11ac Wi-Fi | Bluetooth 4.1 | 4G LTE |Weight: 13 pounds | Intel HD Graphics 620 | MicroSDXC Card Reader | HDMI | USB 3.0 Ports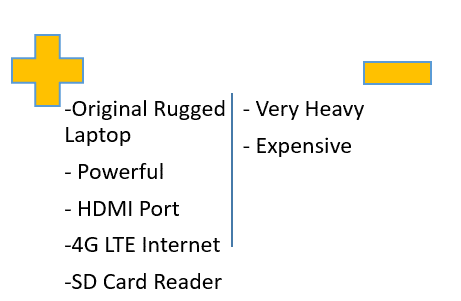 $3,602.56  View at Amazon
Not Available   View At Tiger Direct
$3475   View at Walmart
I've been looking at the Panasonic Toughbooks for years now.  They're always too expensive with subpar computing power.  But with Dell creating its line of rugged computers at affordable pricing it has forced Panasonic to beef up its computing power.   Which makes me want a Toughbook more than ever now.  All the reviews are positive.  Great resale value. You rarely find a used one on Craigslist, Amazon or Ebay.  And Panasonic has had 22 years to perfect its "life proof" Toughbook!
The first ever rugged laptop available to the public was in 1996, and called the Panasonic Toughbook CF-25.  Which was designed to withstand vibration, spills, extreme temperatures, rough handling and of course drops.  Leading to healthcare, law enforcement, oil, telecom, gas, defense, emergency service personal & government agencies around the world lining up to get their hands on a Toughbook.
Twenty-two years later Panasonic has one of the most powerful rugged laptops on the market in its CF-33 model.  From high-end graphics card, touchscreen, digitizer, superfast processor, built in wifi, SD Card reader, USB ports and the only rugged laptop to include an HDMI port the Panasonic Toughbook CF-33 is the ultimate 2 in 1 touchscreen rugged laptop.  Its tablet mode is remarkable, but attaching the keyboard for document work is effortless.  It's expensive and heavy, but comes with a 27 hour battery life making it the only 2 in 1 laptop truly designed to live in the trenches life.  If you need a "life proof" laptop with all the bells and whistles the Panasonic Toughbook CF-33 is the only rugged laptop you need to consider.
Affordable Rugged Laptops
2018 HP ProBook x360 11-G1 EE 11.6″




The Laptop with a rugged personality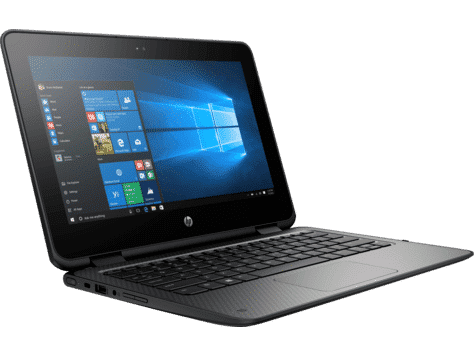 Screen: HD Touchscreen | Intel Dual-Core N3350 up to 2.4GHz| 4GB DDR3 RAM | 128GB SSD | HDMI | WiFi 802.11ac | Bluetooth 4.2 | Windows 10 Professional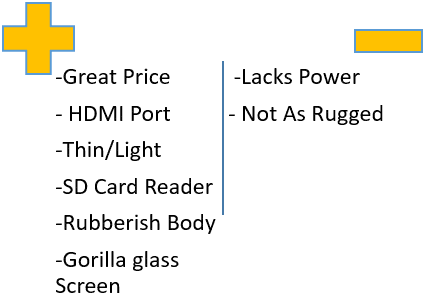 $367     View at Amazon
$549   View At Affiliate
$331   View at Walmart 
The HP ProBook x 360 11 G1EE Notebook is the worst name for a laptop ever!! Whoever thought of this name was probably toilet trained at gunpoint, or lives in a bunker in the suburbs.   And created one of those sneaky amazing internet deals you have to know what you're looking for to find.  While it may look like just another laptop on the shelves.  With its Gorilla Glass touchscreen, spill-resistant keyboard, and rubberized body it's a deceptively unclassified rugged laptop.
It won't meet any military grade standards or requirements.  You won't find it in the back of an ambulance or the front of a squad car, but its built to withstand more drops, spillages, and knocks than any other laptops in its class.  It's not designed for dangerous environments, cliff diving or rock climbing.  But its more life-proof than my Microsoft Pro was.  You can put this rugged laptop in the bag and not pull out a shattered screen a day later.  The HP Probook may not be the most rugged laptop on the market and missing some points on the power scale, but this little guy is perfect for the casual user.  It won't withstand an extreme life but will defend against a regular life for a long time.
Lenovo Thinkpad 11e




Rugged Elements for business class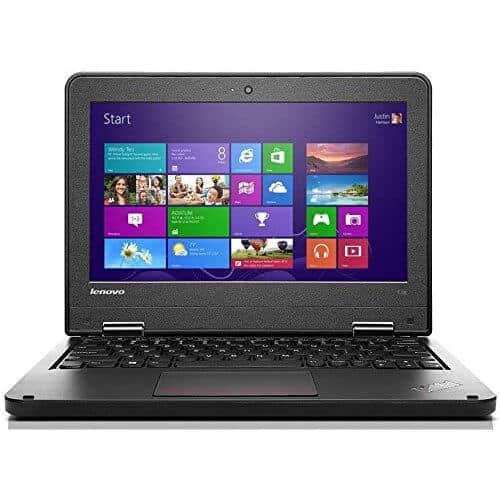 Screen: Lenovo 2018 ThinkPad 11e 11.6 | Core Intel Celeron N2920 | Processor: 1.8GHz |4G DDR RAM | 128SSD |Storage: 128 GB SSD | USB 2.0 Ports | Weight: 3.3 pounds | Windows 7 Pro 64-Bit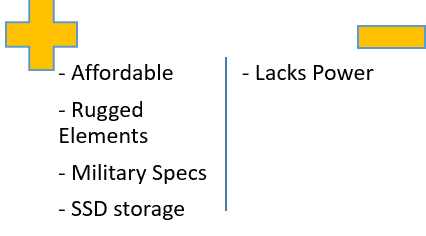 $178    View at Amazon
$633  View At Tiger Direct
$673  View at Walmart
I spend $100 at the bar before tip.  $200 on any poker game! $2-$300 on ski goggles without hesitation! For the cost of a decent hotel room you can own a rugged laptop with plenty of computing power to handle your daily tasks.  The Lenovo ThinkPad 11e meets military requirements with reinforced corners, covered ports and can withstand vibrations, temperature changes or drops from up to 3 feet. The most affordable rugged laptop that can still handle everyday tasks is the Lenovo Thinkpad 11e!
It's forgiving on bank accounts, and perfect for students! It can handle spills and drops.  As well as make movies, edit photos or type term papers.  My favorite computer was an Acer Netbook which they don't make anymore, but it was compact, powerful & affordable.  I took it everywhere: hiking, skiing, climbing, camping, airports, work, road trips & even fishing.  It lasted 5 years in environments it wasn't intended for, and the Lenovo Thinkpad 11e reminds me a lot of my Acer Netbook.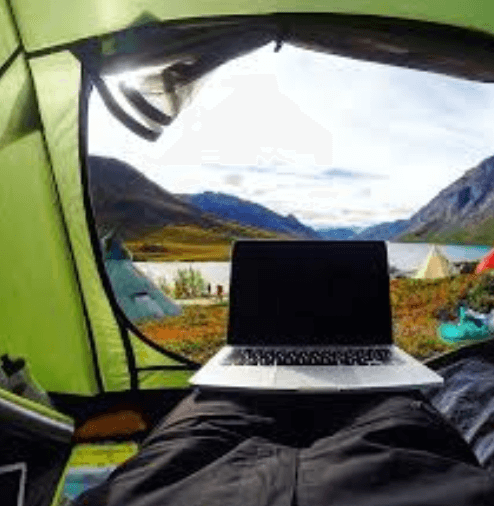 Of course, there are other options available, but for my computing needs, these are my front-runners. I am not sure if the Panasonic Toughbook is practical at this price point, but if it lasts me 10 years it definitely is.  But if the Lenovo could last 10 years at $178 I'd be an idiot not to go that route.  Especially when I back up everything to externals and clouds.
All I do is write blog posts, check email, edit pics, check social media, and surf the web.  How much computing power do I really need?  I just need protective computing power not circuit breaking power.
Maybe you don't need a rugged laptop you just need to toughen up your existing laptop.  There are options, and I wish I would have known about them before my Microsoft Pro became unusable.  From researching a replacement laptop I found a number of things I could have done to prevent my shattered screen.  Which is my next blog post so check back soon to find out how you can toughen up your laptop, and don't forget to pin me or comment below.