Your Complete Guide to The McCall Winter Carnival
Carnivals and Festivals happen all over the world, and whatever the reason, every month for many different reasons, you'll find people descending on a location to celebrate ritualize and share in a common experience.
On the last weekend of January to the end of the first weekend in Feburary, McCall hosts the iconic Idaho event known as the McCall Winter Carnival~ "A Celebration of All Things Winter!"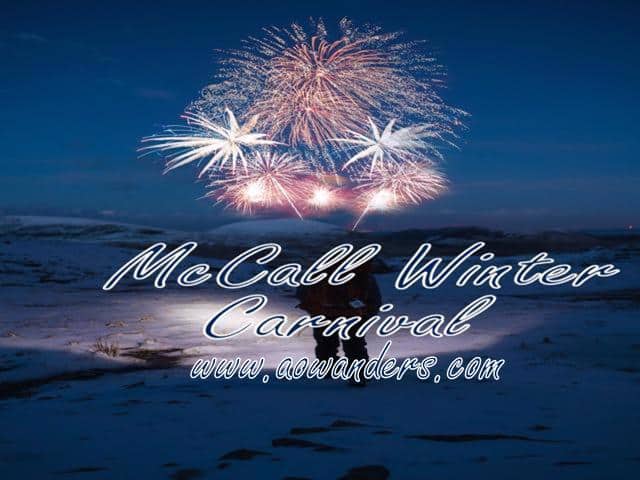 Fun for the whole family The McCall Winter Carnival has 233 scheduled events. From a Mardi Gras like parade, fireworks over Lake Payette to a Harry Leg Contest at the Yacht Club on "Service Industry Night".
The variety of activities found at the McCall Winter Carnival are as amazing as they are unique and memorable! Starting with oversized snow sculptures. Hot chocolate warming houses, and outdoor vendors in Legacy Park. Snowshoe golf and Grand Bingo. Three sled-dog races and a downhill ski race. Snowmobile & snow bike races. Children's Torchlight parade, and 13 live musical performances outdoors. Including music in the tipis up at Jug Mountain Ranch. Along with a host of other wonderful events scattered around town.
The McCall Winter Carnival is a celebration of all things winter and has a menu packed full of events with a carnival pageant, snow sports, food, art, fireworks, and a Pacific Northwest Mardi Gras Parade.
Throughout the festivities you will be torn between dance parties, hockey games, downhill tubing, drunken bingo, concerts, karaoke, Olympic ice shows and even glow in the dark body painting activities.
Discounted packages for breakfast, lunch, and dinner. From dinner & a movie" to winery dinner's & steak night combos. To cheap happy hours, longest happy hours and bloody mary parade parties. Ending with closing ceremonies, prizes, raffles & of course an unforgettable firework show over Lake Payette.
If you've never been to McCall Winter Carnival you're missing out on one of the last great family fun festivals in our country!
Below you will find the McCall Winter Carnival signature events and my personal recommendations for food, drinks & lodging.
Along with a complete schedule of every event's: time, day, location and cost. I even made it downloadable for you in case you wanted to print it off or just have it with you at all times. How nice of me was that??
Enjoy the fun and be safe everyone! Follow this link down the page to the carnival's signature events! Click this link to take you down the page to my personal McCall Winter Carnival recommendations. Follow these links to take you to the day of the event's schedule you are looking for.
Day One ~ Day Two ~ Day Three ~ Day Four ~ Day Five ~ Day Six ~ Day Seven ~ Day Eight ~ Day Nine ~Day Ten
So be sure to show check out the events calendar below, show up early and have fun! The McCall Idaho Winter Carnival is fun for all ages!!
Activities & Events Map for McCall Winter Carnival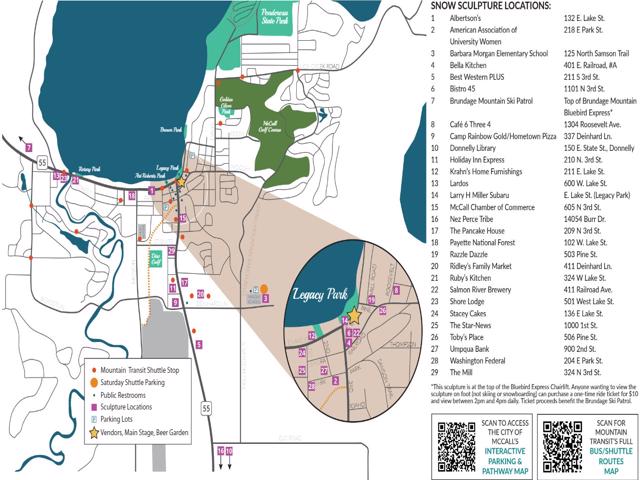 McCall Idaho Winter Carnival Schedule ~Day 1 Fri Jan 24th
McCall Winter Carnival Schedule Day One Events
McCall Idaho Winter Carnival Schedule ~Day 2 Sat Jan 25th
McCall Winter Carnival Schedule Day Two Events
McCall Idaho Winter Carnival Schedule ~Day 3 Sun Jan 26th
McCall Winter Carnival Schedule Day Three Events
McCall Idaho Winter Carnival Schedule ~Day 4 Mon Jan 27th
McCall Winter Carnival Schedule Day Four Events
McCall Idaho Winter Carnival Schedule~Day 5 Tues Jan 28th
McCall Winter Carnival Schedule Day Five Events
McCall Idaho Winter Carnival Schedule~Day 6 Wed Jan 29th
McCall Winter Carnival Schedule Day Six Events
McCall Idaho Winter Carnival Schedule ~Day 7 Fri Jan 30th
McCall Winter Carnival Schedule Day Seven Events
McCall Idaho Winter Carnival Schedule ~Day 8 Fri Jan 31st
McCall Winter Carnival Schedule Day Eight Events
McCall Idaho Winter Carnival Schedule ~Day 9 Sat Feb 1st
McCall Winter Carnival Schedule Day Nine Events
McCall Idaho Winter Carnival Schedule ~Day 10 Sun Feb 2nd
McCall Winter Carnival Schedule Day Ten Events
McCall Winter Carnival Signature Events
Torchlight Parade Schedule~
This year's McCall Winter Carnival theme is "It's a Kid's World!" It seems only fitting that we start off with the kid's torchlight parade. Free to all children. The Torchlight Parade lineup begins at 530pm Friday, January 24th at the Congressional Church at 901 1st St. The actual torchlight parade begins at 630pm, and ends across from Legacy Park on East Lake Street.
Dress Warm its winter out there. Explore face paints, glow in the dark necklaces and other stand out gear so you can grab the perfect photo of your child in this year's "Children's Torchlight Parade."
McCall's Mardi Gras Parade Schedule~
For the adults and the rest of the family the McCall Mardi Gras Parade officially kicks off the winter carnival on Saturday, January 25th at Noon. Stop by the Yacht Club to pregame with McCalls Best Bloody Mary Bar. If the Yacht Club is too hectic for you swing by Big Country's Sports Bar (across the street in Manchester Ice Arena) for an even better Bloody Mary & Mimosa Bar!
The parade runs through downtown and is expected to run from Noon-1pm on Saturday, January 25th. Dress warm, bring your camera's and enjoy the festivities. Best place to sit K & B's outdoor deck!
Snow Sculpture Schedule ~
The staple of the McCall Winter Carnival are the ice sculpters. This life-size and sometimes bigger than life size snow sculptures are a real treat. From exotic to playful they come in all shapes and sizes. Viewing the detailed art exhibits will begin on January 24th and last throughout the carnival. The Idaho State Snow Sculpture Judging begins at 10 am on day 8 ( January 31st).
Travelers Tip ~ For $10 you can take a chair ride to the top of Brundage ski resort and view the ski patrol snow sculpture.
Snowbike Race Schedule ~
If your looking for speed or adrenaline you won't want to miss out on the Snowbike races. There will be three races. Two prelims & a final. The first prelim takes place on Saturday, January 25th from 215pm-330pm at Riverfront Park (604 Mission St, McCall Idaho).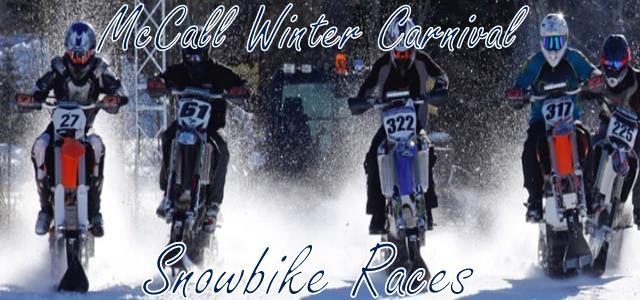 Dog Sled Race Schedule ~
There are three dog-sled races. 300 miles, 100 mile and Juniors. On Tuesday, January 28th come out and meet the dog mushers' at the Idaho State Bank parking lot at 6 pm. On Wednesday, January 29th at 11 am the 300 mile dog-sled race begins up at Little Ski Hill (just North of town). On Thursday at 11 am the Junior race begins & at 1115am the 100-mile race begins from Little Ski Hill.
You can catch the finish of the 100-mile face all morning on Friday, January 30th at Van Wycke State Park in Cascade. The 300-mile race will begin to finish around 5 pm on at Little Ski Hill also on Friday, but be sure to check the online trackers for more accurate times.
Winter Carnival Firework Display Schedule ~
The McCall Winter Carnival fireworks display over Lake Payette is really something spectacular. If you don't go to any other event be sure to find a comfortable spot in Legacy or Depot park for the best view of this captivating firework show.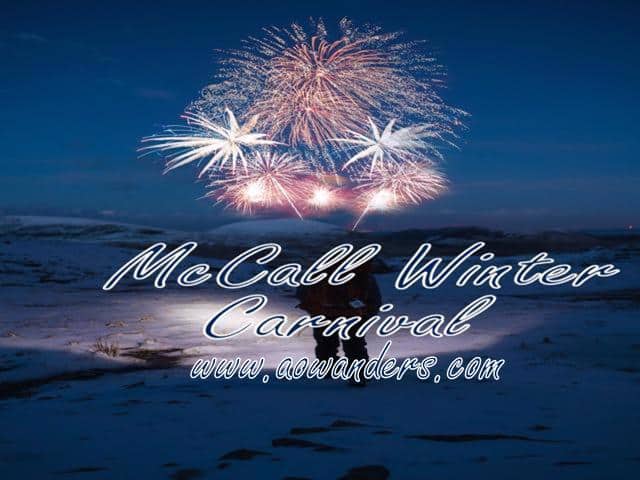 The opening fireworks show will begin @ 7 pm on Friday, January 24th, and closing fireworks Saturday Feburary 1st @ 7pm
Opening Ceremony Schedule ~
Kick off the McCall Winter Carnival at the opening ceremonies in Depot park that begin right after the children's torchlight parade at 630pm.
Closing Ceremony Schedule~
Like all good things even the McCall Winter Carnival must come to an end. The closing ceremonies & raffle drawing will be held in Depot Park at 630pm on Saturday February 1st.
My Personal Recommendation's for the McCall Winter Carnival
With over 233 events to choose from it's going to be easy to miss out on some real treats. Below you will find my recommendations from a local's perspective.
The Winter Carnival Ice Show Schedule~
show hosted at the Manchester Ice Arena with real Olympic performers should not be overlooked. Perfoming on days 8 & 9 (January 31st & February 1st @ 730pm).
McCall Activity Barn – Tubing Hill
Not everyone is a downhill adrenaline junkie, but its winter so get out and tap into your childhood. The McCall Activity Barn will be open from 10am-6pm. Offering tons of fun for all ages on the tubing hill, cross country skiing and even fat bike rentals. Fill up your water bottle with some adult beverages and spend an hour on the tubing hills. Sure to be a great time!
McCall Winter Carnival Live Concerts
Besides the parades and fireworks the next biggest ticket item event you won't want to miss is the live music performances and beer garden in Depot Park. With over 13 live performances being held throughout the carnival you have to make an effort to catch at least one show. During sets take a stroll through the vendor court.
Winter Carnival Sleeper Events ~
Not every event is going to be a home run, but the potential is there. I think these are the best sleeper events with the most potential to be amazing. Or they could be a bust, but you'll never know unless you check 'em out.
The Alpine playhouse will be hosting a murder mystery play all week long for only $10 a night. Screen goes up at 730pm.
At the Alpine Village from 11 am-1 pm on Sunday 26th MCPAWS is hosting a monster dog pull. Great excuse to get your dog out of the house.
Karaoke Night at the Yacht Club on Sunday, January 26th starting at 8 pm. It's labeled Carnival Karaoke so….
Open mic night for comedians & musicians at Forester's Club on Monday Day 4 (January 27th). This will either be amazing or a bust.
Grand Bingo at the North Fork Lodge on January 29th could be a great way to spend the evening with family or away from family depending on how things are going.
One last event for the kiddies or young adults of the group. On the last day of the winter carnival, the McCall Public Library will be hosting a snowman building competition from Noon-2pm. Bring your competition!
My Winter Carnival Food Recommendations ~
There will be all kinds of food package deals during the carnival.
Jug Mountain, Banyan's on the Green and The Narrows all hosting their own special steak nights.
Rupers and The Narrows are even hosting special winemaker's nights. Honoring Dunham Cellars, Abeja Winery and Grammercy Cellars.
Broken Horn Brewery & Cuthroat Restaurant will be hosting special burger nights.
Banyan's on the Green (McCall Golf Course) will be hosting $5.99 breakfast specials, lunch specials and unique happy hours.
The McCall Senior Center will host a pre-parade pancake breakfast, two community dinners and a family bingo night.
Everyone will be at the Pancake house for breakfast. Lunch and dinner will see the pub food places overrun with diners. Steak houses and other high-end joints will be just as packed for dinner.
If you want good food, great service at an affordable price. Check out these three places.
Ruby's Kitchen is a wonderful breakfast place, and off the beaten path. Not nearly as large as Pancake house so seating is limited, but should definitely be on your radar.
Sushi Bar is a wonderful alternative to your other dinner options. With an in-house Sake professional, full sushi menu and a variety of cooked Asian dishes there's something for everyone. Even the kids. Parking is extremely limited!
My ultimate favorite goto spot in McCall is Jasmine + Ginger. Relatively new in town, but this Thai place is McCalls best kept secret. Below the Yacht Club, a heavenly dining experience awaits. Check out my review from my first visit to Jasmine + Ginger.
Traveler's tip ~ Don't follow the herd. Every restaurant will be slammed from Noon-2pm & 6pm-8pm. Want better service and better food. Dine outside of these time frames. Staff will be less stressed. More tables will be available, and the atmosphere will be less chaotic.
McCall Winter Carnival Lodging ~
Like all small mountain towns lodging is limited. Especially during an event like Winter Carnival. If you haven't secured lodging months in advance you're going to pay a premium. Don't worry I got you covered. Click here to check out available AirBnB's.
Or check out what bookings has to offer.