Boondocking Freedom
Quick Reference Table of Contents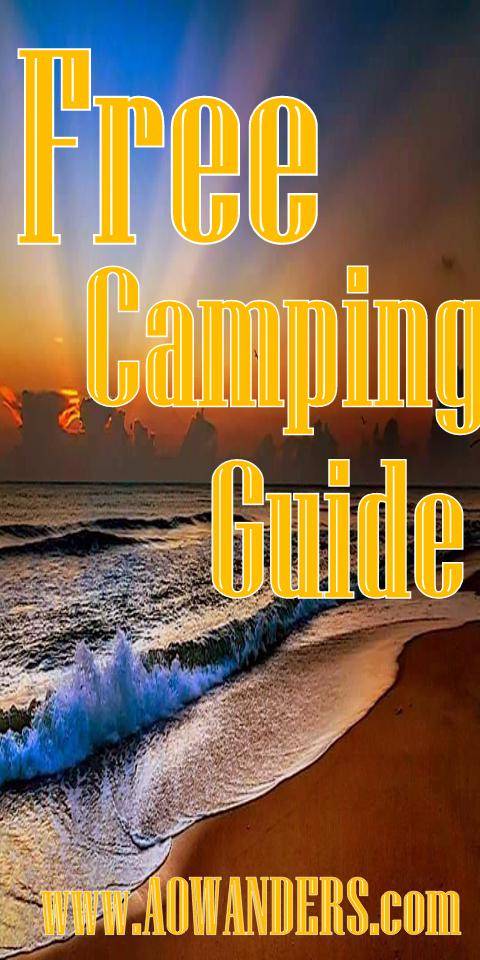 Whether you need an unexpected overnight free R.V. parking space or you simply want to stay off the beaten path, free camping is an R.V. travel budget's best friend. The most rewarding aspect of free camping isn't the endless adventures that await you. No, the greatest appeal of dispersed camping is the freedom you will find from this cost-effective camping style. Once you muster up the courage to explore destinations anywhere but a campground, R.V. resort, or R.V. park you will open a door to freedom most people don't even know exists in today's world.  f
Oceanfront Camping
Close your eyes and imagine waves lapping on the beach with your favorite tune playing in the background. The crackling wood of a campfire cooking your favorite meal.  As you open a bottle of wine and sway gently from the warm ocean breeze in your hammock watching the sun drop into the ocean. Lighting the sky on fire with vibrant colors of yellows and oranges. Life is courting your eyes, and seducing your heart as the perfect moment in time stands still for you to absorb all of its beauty. 
This is your home for the night. Weekend. All next week, or even for the rest of the month. 

At a cost lower than that $900 apartment, or $1500 mortgage you walked away from to see what RV life was all about. The beauty of free camping is this oceanfront home could be yours for the amazingly low cost of $0.00!  
Free camping, also known as boondocking, dispersed camping, mooch docking, driveway surfing, dry camping, and even wild camping, is all about mastering the art of cheap R.V. living. By lowering your R.V. travel costs through free camping options on public lands like the BLM(Bureau of Land Management) and National Forest. Free camping is just one reward of "R.V. Life," but ultimately is the number one solution to seeing our country's most iconic vacation destination on an affordable travel budget.
Free Camping Tips
However you phrase it, free camping, is essentially camping anywhere that's not a designated campground, and instantly injects adventure into your life.
So what's involved in free camping, and what can I do to help you obtain the unbelievable freedom I speak of. This article will tell you everything you need to know about free camping, including:
● the best ways to prepare and plan for free camping
● which stores allow RVers to camp for free
● social media groups that can help you become familiar with free camping
● the benefits of free camping
Related Free Camping Articles

If you're excited to experience the world of dispersed camping, here are 5 things every RVer should know about free camping. 
Free Camping Resources
The rules for "wild camping" vary by state, season, and type of rig. So you'll need to do your homework by researching the various regulations. R.V. Travel blogs like this one can provide you with tons of R.V. tips on where and how to free camping within the U.S. 
But, If you are looking to explore America's vast national parks system, check out the National Park Service at www.fs.fed.us.nps, and the Park Service's Wildlife Management Area at www.nps.gov.wma. You can also find more free camping tips at the National Forestry Service website or Bureau of land management (www.blm.gov.usfs), there's an extraordinary amount of helpful boondocking info on each of these sites. 
Free Camping Rules
Most free camping sites that are maintained by the government only allow you to stay for up to 14 days. The farther you go into the backcountry the more relaxed this rule becomes. The general rule of thumb is you need to relocate at least 7 miles away from your original campsite every 14 days.  
The National Park Service is a federal agency with each individual park having its own dedicated website to inform visitors of rules, regulations, and upcoming events. So you'll want to look up the park you want to visit and discover their guidelines, regulations, and directions. If you visit the Bureau of Land Management site, you'll need to enter the state you wish to visit to get a list of rules and regulations. 
***Free Camping Pro Tip***Almost all National Parks charge an admission fee along with a campsite fee, but most National Parks have a National Forest along their borders where there is no admission fee or campsite fees.  
Remember: rules differ from state to state. If you intend to hunt or fish while you're camping, the Wildlife Management Area is the best online source to explore your options. Make sure you have the required licenses and permits to partake in any hunting and fishing. 
***Free Camping Pro Tip*** You can fish for free without a license legally in Glacier National Park Montana.
Even city and county parks have areas reserved for free camping. Most will advertise their campgrounds, as doing so helps infuse money into their communities. They may not, however, always post their free camping areas, so make sure you check with the website or the attendant on duty when you arrive at the campground. 
***Free Camping Pro Tip*** Californa SnoParks charge $25 for a 6-month season camping pass. I camped in South Lake Tahoe for less than $5 a month with access to over 10 ski resorts.  
The good news is that these smaller parks will sometimes offer very convenient amenities like electricity, internet, and drinking water. But do your research before pulling up in the middle of the night to an unknown destination.  
There are several websites and apps (www.ioverlander.com or www.trover.com) that can guide you to smaller parks where you can do your free camping, so check them out.  
Free Camping Requires Preparation and Planning
The Girl Scouts nailed it with their motto "Be prepared!" 
Preparation is key for regular camping, but even more so when you're dry camping. At the beginning of this article, I had you close your eyes and imagine free oceanfront camping. Now I want you to imagine camping with kids who can't even say "conserve water" let alone actually do it in the middle of nowhere.  
Boondocking Supplies
If you're not going to be staying in a designated camping area, you'll need to pack extra supplies. Be proactive in preparations. Because what you don't consider will devastate your free camping experience. Do you have enough juice boxes? Are there enough games to play? How far away is the nearest water source? Do you have enough gas for the generator? What happens is there is no cell phone service? Can you download a bunch of movies to watch later?  
Dispersed Camping Tips
Some other essential free camping concerns to keep in mind.
Unless you find a spot close to a water source, you'll need to bring water. This is perhaps the most important thing to remember to bring. You don't want to find yourself in a gorgeous free campsite with no water.  
Can I Cut A Tree Down For Firewood
Most national parks have laws against cutting down live trees, so plan on bringing your own firewood. My brother brings an electric chainsaw to cut up fallen and dead trees, but even that's a frowned-upon practice. I recommend buying a bundle of firewood and starter logs before you hit the road. Some RVers bring landscape stones or concrete blocks to make their own fire pit because not all free camping areas will have a campfire setup. I recommend purchasing a quality portable fire pit that can easily be packed away.  
You'll also want to make sure you bring plenty of toilet paper. Not all places have readily available restroom and shower facilities, so you'll want to be completely prepared for when the time arrives.
Best Wifi Option For Camping
Cellphone reception is often spotty, to put it mildly. It's always a good idea to have a signal booster if you plan on heading to a more primitive camping area. Emergencies happen, so you want to have a signal at all times. My cell phone is on the Verizon towers, and I can absolutely tell you without any concern Verizon has the largest coverage map in the country. I am constantly borrowing my phone out to others or turning on my hotspot for others to connect. Because Verizon has a bigger, better, and stronger coverage map than any other cell phone provider. Whether I am deep in the backcountry or on top of the mountains I run this R.V. travel blog with my Verizon cell phone, but I also own about a dozen prepaid hotspots devices for the rare occasion I don't have a signal.  
What Do I Do With My Trash When Boondocking
Trash disposal may not be an option with more primitive forms of camping. Be aware of your surroundings because wildlife is drawn to food scraps and trash. Bears are notorious garbage pickers. Most places will have signs warning you of dangerous wildlife nearby. Some places will even require you to hang your food in a bear-proof canister. Do your part by not inviting animals to where you're staying by leaving food and trash exposed, and you'll be fine, I promise.    
Wild Camping Gear
Finally, you'll need to come prepared with the proper gear. Here are some other camper essentials that every free camper should bring with them:
● a top-notch knife for hunting, fishing, whittling wood, or just you know spreading peanut butter
● an ax for cutting wood for your fire, or the other side of it as a hammer
● a safe and secure tent, if you plan to camp that way
● an extra pair of dry boots, just in case your main pair gets wet or damaged, or my favorite flips flops hobigear
● a first aid kit
● Bear Spray
● Headlamp
Bringing these items is just one way you can ensure a good time while free camping.   
Free Camping Adventures 
As with any trip, your free camping voyage requires advanced planning. There are a handful of apps that can help you plan your trip from start to finish. More on those in a minute.  
First, remember that you need to make sure you have some daylight for when you decide to set up camp. Since you already know that you'll be staying somewhere without electricity, make sure you arrive in plenty of time to ensure you don't become disoriented or lost while trying to find your way around. This also lets you get in some exploring if you want to stay awhile or stop for the night. 
Roadtrippers, boondockers welcome, and Good Sam Camping are sites that can help you plan the perfect trip from start to finish. InRoute Planner costs $3.99 per month and can tell you the weather, elevations, and road conditions. It can even help you find an alternative route or destination if you encounter problems along your current route. 
Make sure you always have a backup plan. If you find yourself somewhere and there are no sites left, make sure you have virtually explored at least one other destination that you can reach before it gets dark, or you may end up on an epic R.V. road trip like mine.
You also want to plan your trip so that you never come close to running out of gas. To do this, consider using Waze. It's a wonderful backup route planner that lets you know how far you are from a gas station. Waze also helps by scouting out local authorities such as state police and national park rangers. Waze can save you money, time fines!
If you are camping for free in a national park, it is always a good idea to check in with a park ranger. You never know when there will be an emergency, and having a park ranger nearby can be a very comforting feeling – and possibly even a lifesaver.  
4. BIG BOX STORES THAT ALLOW RVERS TO CAMP FOR FREE.  
If your planned destination completely falls through, all is not lost. Stores such as Cabela's and Walmart allow RVers to park overnight in their parking lots. I suggest you first speak with the management of each store to let them know you'll be spending the night, but in full transparency, I have never done that one time in 12 years Rving. 
There are several reasons why Walmart is an ideal backup destination if you suddenly need one while RVing. 
First, it's open 24 hours. This allows you to easily replenish your food and supplies at any time. 
Next, Walmart has dozens of cameras on its premises. This gives RVers a feeling of safety. 
Last, most Walmart stores are located relatively close to a major highway. Making it easier to get back on the road after free Wallydocking night.
Walmart may not be a cool spot to stay, but it's always better to be safe than sorry. You'll feel a heckuva lot more comfortable in Walmart's lot parking lot than in the complete darkness of an unknown desert destination. 
Camping overnight at a big box store like Cabellas or Home Depot isn't the allure that got you into R.V. life, but they are a quick, easy and effective last-minute free camping solution for when things don't go as planned.  
5. THERE ARE SEVERAL SOCIAL MEDIA GROUPS THAT HELP RVers BECOME FAMILIAR WITH FREE CAMPING.
People often joke about there being a Facebook group for everything, and free camping is no exception. I would prefer you to email me, or leave a question in the comments below, but Facebook is a wonderful real-time source of answers.  
Several groups offer valuable insight into how to make the most of your free camping experience. After all, who better to tell you all about it than those who have been there and done it. 
"Free Camping, Boondocking, and Public Lands" is a Facebook group. Its members post pictures and information about their free destinations. They also offer precious insight regarding the obstacles they've encountered while free camping, as well as the rules and regulations for each destination. 
This group is a wonderful resource because its members tend to look after each other. You check-in, and if a problem arises while at a certain location, you can message a group member who has been there. And then, voila! Help is on the way. 
Another helpful resource is this blog Aowanders. Which offers an entire page of discounts and free trials for those RVers who are currently on the open road. A very handy resource on Aowanders, that I get emailed about all the time, is a program called Safety Wing. Which is travel insurance for all the unforeseen things that can happen when out and about. For less than $40 a month for full catastrophic medical insurance.  
"Free Camping and Boondocking, USA" is another Facebook group. With over 15,000 members, you have a ton of chronicled travel experiences and tips to use as a guide. The members of this group truly are a wealth of information. All you have to do is join and then ask for help whenever you need it. 
NOW THAT YOU KNOW EVERYTHING ABOUT FREE CAMPING, I.T.'S TIME TO HIT THE ROAD.  
There are very few things in this world as enjoyable free camping, and to be able to do something as adventurous at little or no cost as you roam about is truly one of the world's lost treasures. 
Free camping will always be my preferred method to R.V. life, and the fun you have and the memories you make are well worth the planning and preparation it takes to do it properly. Whether you driveway surf, moochdock, dry camp, or wallydock, free camping allows budget travelers to see the world for less than $50 a day. 
And now that you've read these 5 things every RVer should know about free camping, it's time to hit the road and find your free spot beneath the stars.
Let the adventures begin!
My Favorite Travel Booking Resources: Most Affordable & Efficient Travel Booking Tools I Use Everyday
Book Your Flight
Find a cheap flight by using Skyscanner or Momondo. These are my two favorite "flight" search engines because they search through websites and airlines around the globe and offer a calendar view to find even cheaper flights for flexible travelers.  Check out these UNIQUE destination deals or my favorite All Inclusive Booking Travel Tool!
Rent An RV
Find cheap RV rentals for your next adventure by using Outdoorsy or RVshare.  These are my two favorite "RV" search engines because they allow you to rent from private RV owners, and offer a wide variety of chooses at affordable rates.  Want to start making money by renting out your RV?  List it with Outdoorsy or RVshare.
Book Your Accommodation
You can book your hostel with Hostelworld. If you want to stay elsewhere, use Booking.com as they consistently return the cheapest rates for guesthouses and cheap hotels.  Get a $40 credit for booking with AirBnb.  Need to book a private campsite use my favorite RV booking site Hipcamp!
Looking For A Travel Community
Join the Escapees travel club to meet fellow travelers and talk about all things related to RVing and overland travel.
Travel Packages & Tours
Are you looking for worldwide tours and travel packages?  Check out my go-to source — IntrepidTravel!  Looking for more family related travel packages and tours book with GAdventures.
Don't Forget Travel Insurance
Travel insurance will protect you against illness, injury, theft, and cancellations. It's comprehensive protection in case anything goes wrong and will cover things like transport security, crisis response and medical transports such as Life Flight. Why go on any trip without a safety net that costs less than a case of beer? I've been using SafetyWings for years without any issues.
My favorite companies that offer the best service and value are:
SafetyWings (ONLY $35 & Covers USA Travelers)
World Nomads (for everyone below 70)
Insure My Trip (for those over 70)
Medjet (for additional travel insurance coverage like medical transport, travel security & crisis response)
Looking for the best companies to save money with?
Check out my resource page for the best companies to use when you travel! I list all the ones I use to save money when I travel – and I think will help you too!
Just Want To Support This Amazingly Resourceful Website
Websites incur constant fees!  From hosting costs to massive amounts of personal time creating beneficial content for readers to consume at their leisure.  To help offset those costs or just to say, Thank You.  You can help support this community by shopping through any of the links found on my resource page.  Shop on Amazon through this link and I'll get a small commission, or you can directly support this site through Paypal donations.  None of this is a requirement its just helpful and creates a better community for all of us.