Need An AirBnb Coupon?
Quick Reference Table of Contents
I'll give you an AirBnB Coupon that is worth $40! Good for your entire vacation, not just one night. Book a long three day weekend at $25/night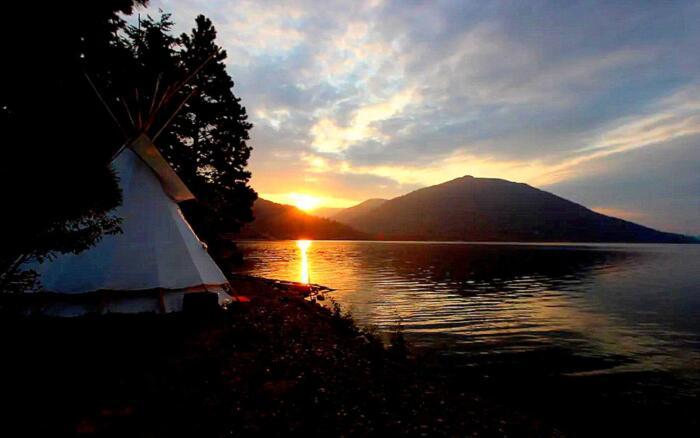 with my AirBnB coupon and that lodging will only cost you $35 total for all three days! What is Airbnb & how do you get $40? Are probably the questions going through your head right now. Airbnb is an online rental agency that allows individuals to rent personal property to you. You can rent a whole house, sailboat, camper, cave, treehouse, tipi, Mansions, RVs, vacant land and so much more. Whenever you like for as long or as little as you like.
Airbnb is single-handedly reinventing the current hotel concept. No longer do you have to pay top dollar for just a small room to accommodate you or your family while traveling. You now have options to rent an entire house with private hot tubs, pools, free laundry, wifi, dishwasher and a fenced in backyard for your pets. All for the same price as a shitty hotel that requires you to be out by 10 am.
How Do You Get Your Free $40 AirBnb Coupon?
Click any one of the orange links or photos on this page. You can copy & paste this AirBnB coupon promo code: www.airbnb.com/c/aoverby1 into your browser, share it with your friends or write it down for later. This will give you $40 off your next vacation! All you have to do to apply this Airbnb discount code is signup by clicking on this link FREE AIRBNB COUPON CODE. Or read the directions below.
Get your $40 AirBnb Discount NOW
How To Use Your AirBnB Coupon Code
Step 1: How does the Airbnb Discount work?
Clicking on my Airbnb promo link will take you to the signup page on Airbnb. Using this link will tell Airbnb that I referred you to use their services. So there is no need to memorize or enter in a coupon code or discount code anywhere on the site. Using the Discount Airbnb Link does this for you, and will automatically apply the $40 discount at checkout.
You won't be able to see the discount while browsing through the available vacation properties, but once you start the checkout process you will see the total cost has been reduced by $40. If you choose to rent an Airbnb property for $25 for three nights your total cost at checkout will be $35. Deal, right! Three-night vacation for only $35?????? Yup that's what I can do for you, and I am happy to do so.
Get your $40 AirBnb Discount NOW
Step 2: How do you get the $40 Airbnb coupon code credit
To make it simple you need to spend $75 for Airbnb to give you $40 off, and they automatically apply it at checkout time if you signup using one of the orange links on this page!
Click on any of the orange links on this page & then follow the prompts to sign up for Airbnb with your email.
Following these prompts the Airbnb promo code will automatically be applied to your account.
Your first Airbnb vacation booking must be $75 or more. That is not a per night requirement, but a total amount of your booking requirement. For this Airbnb Coupon to be automatically applied the total cost of your vacation booking before the coupon application needs to be $75 or more in order for the Airbnb discount code to trigger.

For example: If you booked a two day weekend Airbnb rental for $30/night your total cost for that vacation rental would only be $60, and the Airbnb promo code would not be applied.
On the other hand, if you upgraded to an Airbnb Rental that charges $40 a night for your weekend getaway. Your total cost before the Airbnb coupon would be $80. Triggering Airbnb to automatically apply the $40 Airbnb coupon promo giving you a new total of only $40 for your weekend getaway.
That was a lot of back and forth trying to explain …….You need to spend $75 for Airbnb to give you $40 off, and they apply the Airbnb Coupon at checkout time.
Visual Example of Airbnb Discount Scenario to get $40 OFF Your Rental Price
Night One ($20) + Night Two ($20) + Night Three ($20) + Night Four ($20) = a total of $80 (Tada, Five dollars above the $75 requirement so you triggered the Airbnb Discount code……WOOHOOO!)
OR
A single night stay of $75 or more also triggers that sweet Airbnb Discount Code. Simple, right?!
Get your $40 AirBnb Discount NOW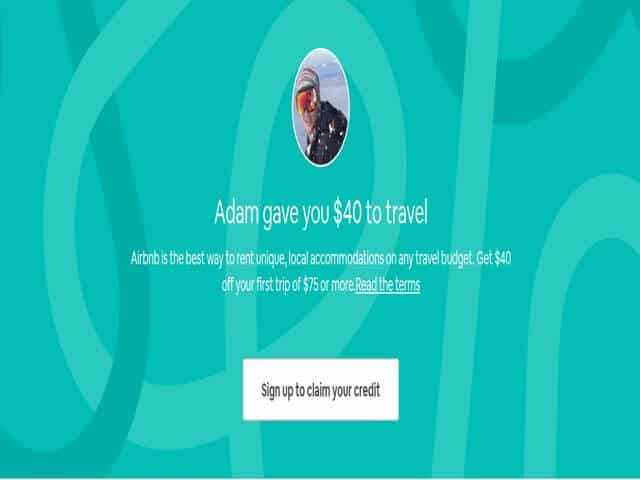 Step 3: How to test if the Airbnb Discount promo code is working.
To test the Airbnb Discount code after you have signed up through any one of the Airbnb Discount Links I've provided. Find a vacation rental you want to book for your next getaway, but remember for the Airbnb Discount to trigger. Your total has to be $75 or more. Once you've found your dream vacation rental spot book it with your credit card, and enjoy the $40 worth of savings by ordering a nice meal you wouldn't have otherwise. Or consider the first $40 at the bar on me while on your next Airbnb Vacation.
I just did a quick search for Airbnb's available in Paris for under $100, and these are all within walking distance of the Eiffel Tower.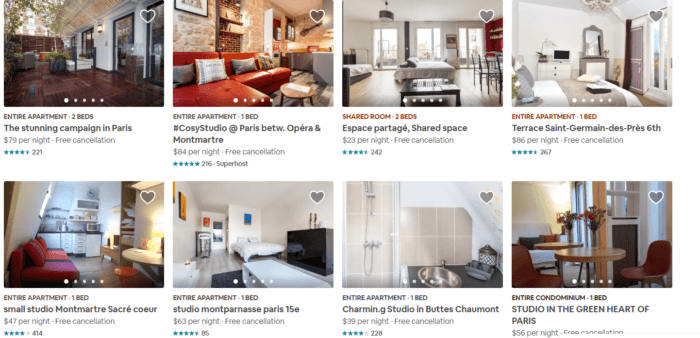 Get your $40 AirBnb Discount NOW
Step 4: What If You Have Been Using AirBnB to Wander the World Already, BUT STILL WANT THE $40 AirBnb Coupon?
Don't worry I got you covered. Send this link (www.airbnb.com/c/aoverby1 )to your travel partner. If they don't have an email address or don't want to use an existing email address it's free and easy to set up a new email address with Google. Have them use that new email address to create a new profile on AirBnb, but remember to get the $40 credit you need to use THIS LINK. Using there new email address & my Airbnb Coupons will have you setup in under 5 minutes. Search for listings, and book your new vacation. Easy, right?
Get your $40 AirBnb Discount NOW
*****BONUS TIP****** How to use AirBnb to Find Cheap RV Hookups
If you read my Cheap RV Hook UPs or Free Camping Guide you know I use Airbnb a lot to make my life easier. Most people use Airbnb to find homes to rent. I mainly use Airbnb to find Cheap RV hookups. It takes a little more work than simply clicking and booking, but when you book a private beach for $200 a month with full hookups I'm not complaining. Now go use my link to book that 30-day vacation and it will only cost you $160. SUPER DEAL ALERT!
But How Do I find Airbnb Deals Like That?
You have to know what to look for. You might be able to find a spot for your RV in downtown New York, but I guarantee you can find a spot in Whitefish, Montana. Where? Exactly. Airbnb is wonderful as it's coverage map is massive, but if you want to use Airbnb to find Cheap Rv Hookups than you need to look listings with big yards or farms. In or near a tourist destination helps. You don't need to find a listing at the gates of Yellowstone, but the surrounding towns around would be a great place to start. Offseason is another variable to take into consideration.
Trying to book a month for cheap rv hookups in the middle of July near Yellowstone isn't going to happen. But if you wait till the kids go back to school or right before they get out that property opener will be more receptive to your requests. Listing with few bookings and few reviews are even easier to convince into letting you stay for 30 days during prime season. They don't know the ropes yet or have the "internet" reputation to say "NO."

Get your $40 AirBnb Discount NOW
When I am using Airbnb to find long-term stay with my RV. I usually look for small towns off the beaten path during the offseason and away from tourist hotspots. Farms, vacant land or massive properties are my main focus. It's extra income for listings that get little attention and sprawling property with carefree owners. A win for all parties involved.
AirBnb Coupon Examples
Last year a buddy of mine found an ocean front property with full hookups. The listing on Airbnb stated $56/night. My friend wasn't going to pay $1,500 a month. Using the dates available he could see the rental history of this property. Seeing it only booked a few times a month. Even during peak tourist season. This was the perfect property to target. He found a month with no reservations and emailed the property owner. Asking if he would be interested in a monthly rental for "X" month. After a few back and forths, the property owner agreed to $285 for the month. My friend used a link on this page to sign up and book his vacation rental. Using the AirBnB Coupon from this site he only paid $245. For a month of ocean front full hookups on his Class C RV.
Get your $40 AirBnb Discount NOW
My Favorite Travel Booking Resources: Most Affordable & Efficient Travel Booking Tools I Use Everyday
Book Your Flight
Find a cheap flight by using Skyscanner or Momondo. These are my two favorite "flight" search engines because they search through websites and airlines around the globe and offer a calendar view to find even cheaper flights for flexible travelers.  Check out these UNIQUE destination deals or my favorite All Inclusive Booking Travel Tool!
Rent An RV
Find cheap RV rentals for your next adventure by using Outdoorsy or RVshare.  These are my two favorite "RV" search engines because they allow you to rent from private RV owners, and offer a wide variety of chooses at affordable rates.  Want to start making money by renting out your RV?  List it with Outdoorsy or RVshare.
Book Your Accommodation
You can book your hostel with Hostelworld. If you want to stay elsewhere, use Booking.com as they consistently return the cheapest rates for guesthouses and cheap hotels.  Get a $40 credit for booking with AirBnb.  Need to book a private campsite use my favorite RV booking site Hipcamp!
Looking For A Travel Community
Join the Escapees travel club to meet fellow travelers and talk about all things related to RVing and overland travel.
Travel Packages & Tours
Are you looking for worldwide tours and travel packages?  Check out my go-to source — IntrepidTravel!  Looking for more family related travel packages and tours book with GAdventures.
Don't Forget Travel Insurance
Travel insurance will protect you against illness, injury, theft, and cancellations. It's comprehensive protection in case anything goes wrong and will cover things like transport security, crisis response and medical transports such as Life Flight. Why go on any trip without a safety net that costs less than a case of beer? I've been using SafetyWings for years without any issues.
My favorite companies that offer the best service and value are:
SafetyWings (ONLY $35 & Covers USA Travelers)
World Nomads (for everyone below 70)
Insure My Trip (for those over 70)
Medjet (for additional travel insurance coverage like medical transport, travel security & crisis response)
Looking for the best companies to save money with?
Check out my resource page for the best companies to use when you travel! I list all the ones I use to save money when I travel – and I think will help you too!
Just Want To Support This Amazingly Resourceful Website
Websites incur constant fees!  From hosting costs to massive amounts of personal time creating beneficial content for readers to consume at their leisure.  To help offset those costs or just to say, Thank You.  You can help support this community by shopping through any of the links found on my resource page.  Shop on Amazon through this link and I'll get a small commission, or you can directly support this site through Paypal donations.  None of this is a requirement its just helpful and creates a better community for all of us.