FREE CAMPING 
Finding free camping in America is becoming an endangered species.  In fact, there is an entire industry evolved around fee-based camping, and for three months out of the year, it is a booming business.  One that I have looked into quite thoroughly, and at some point, I will pull the trigger on my own campground.  Until then let me show you how to find free camping anywhere in the United States.
As a kid, I can count on one hand the number of times my parents brought us to a campground.  Where sites are numbered, groomed, and have a check in/check out time.  At the time I never really gave it any thought, but why would I?  It was just weekend camping time with the family.  Roasting marshmallows, building fires, fishing from the dock, playing night tag or cooking hot dogs on a stick were my responsibilities.  Sometimes I even got to cook on the little green stove, but to pay the lady in the booth so we could sleep on the ground.  That wasn't an 8-year-old's job.  Nor acknowledging quiet hours.  I had more adventures than Indiana Jones, and no rule or sign was going to stop me.  Skip down the page to the Free Camping Guide Section
FEE CAMPING
Trying to find the number of campgrounds that exist in an America is such a daunting task not even google or bing can find the answer.  Every single state in the U.S. has at least one state park showcasing their remarkable landscapes.  From remote beaches to towering mountains.  Some even have rugged canyons to explore with a kayak, or slot canyons to explore on foot.  Lake Havasupai is a 10-mile hike, and an impossible permit before you can pitch a tent next to this secret waterfall.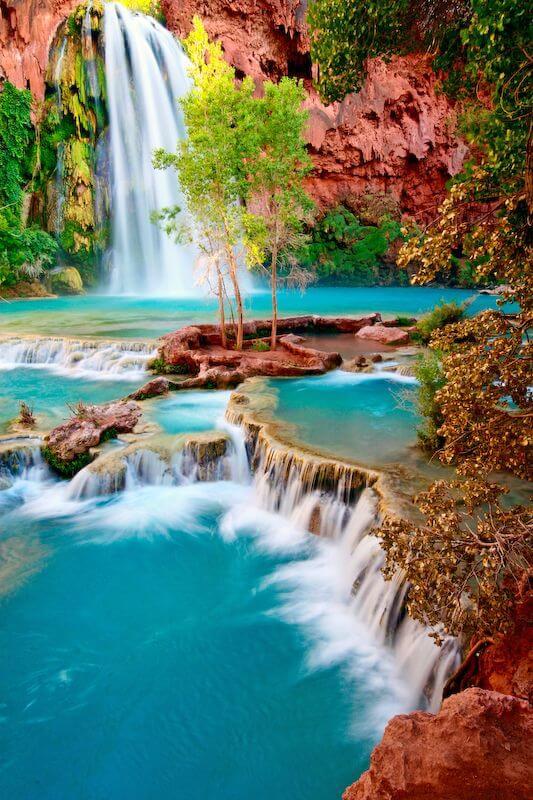 In the U.S. all campgrounds can be found on either government lands such as: national, state and county parks or forests, or they are privately owned & operated.  Depending on your style of camping daily rates range on average from zero to $55, and some places with a vast amount of amenities (game room, activities director, etc) will charge even more.  Usually the National Forest is free.  State parks are between $15-$25, and private campgrounds slide all over the scale.  RV sites are typically $45-$55 a night, but most RV parks also have a weekly or monthly rate that is drastically cheaper than the per night fee.
All daily maintained or staff employed campgrounds in America usually have a 10 am checkout time.  Majority of these campgrounds operate a "quiet time" rule from 9pm-6am.  These hours differ from campground to campground, but most campsites have some type of quiet time rule.  Were loud behavior is not tolerated.  The layout of campgrounds also vary from campground to campground.
Majority of the campgrounds found in America are developed & improved.  This simply means there is a compacted ground area for tents, RVs, and vehicles.  As well as a fire ring and picnic table.  Improved campgrounds means there is access to drinkable water, toilets, trash bins, showers and/or staff.  Just because it is developed and improved doesn't mean its a desirable campsite.  Something I learned years ago in Loveland, Colorado.  This place charged me an $80 deposit & $45/night to sleep in a specified corner of the 2-acre dirt parking lot they called a campground.  No trees. No secret waterfalls, and surrounded by businesses.  Instead of a river, there was an active train track.  It was an RV park that occasionally accommodated tenters.


Fee-based camping is restrictive, intrusive and excessive.  Some places require an application with your social security number to sleep on the ground in a tent!  Like I found out in Colorado some places charge you a security deposit to sleep in their dirt parking lot.  Your neighbors are a hockey stick away, and you can hear their conversations.  Watch their TV.  Get a stern lecture for driving too fast.  Evicted for talking too loud or playing music after quiet hours.  There is nothing about fee-based camping that I enjoy.  However, free camping with a 40-foot travel trailer is next to impossible and sometimes you just have to bite the bullet.
FREE CAMPING VS FEE CAMPING
Free camping is a bit more elusive in America than fee camping campgrounds.  Most free camping in the U.S. is considered dispersed camping.  This simply means camping anywhere outside of a designated campground, and dispersed camping usually means no services.  Free camping will not have a designated compacted ground area for tents, RVs or vehicles.  Most free camping will not have access to showers, drinkable water, fire rings or picnic tables, toilets.  No trash bins or staff.  Some popular dispersed/free camping areas may have toilets.  Free camping unless in the BLM or National Forest is most compatible with short-term stays (1-2 nights).
BLM stands for Bureau of Land Management and is an agency within the US government that supervises 247 million public acres of land within the US.  The National Forest is 188 million public acres divided up into 154 designated National Forests throughout the US.  Some BLM & Nat'l Forest campgrounds will have a host and even some basic facilities, but this isn't the standard operating procedure for majority of the campgrounds.  If you do decide to camp out in the BLM or National Forest there are 6 rules you have to follow.
Dispersed Camping in Undeveloped Areas Rules for BLM & NAT'L Forest
• Whether in a developed campground or at a dispersed site, you may usually camp in an area for up to 14 days before having to move at least 25 miles from your original spot.
You may not return to that area for 28 consecutive days.
• Choose sites that are already established.
• Camp at least 200 feet away from water sources.
• Use existing fire rings or camp stoves.
• Check current fire conditions.
• Dispose of human waste properly (away from water and in a 6" or deeper hole).
The level of strictness these rules are enforced are based on two variables: Time of the year and popularity of the destination.  Most authority figures will enforce these rules with education, but fines court appearances are an option.  The most common violation of these rules are duration, and the consequence is you will be asked to move.  Depending on the infraction fines can range from $5-$300 & a mandatory court appearance.  Violating rules in a fee campground usually don't come with tickets or court dates.  A more common approach is you will be asked to leave.
Besides the minor rules that are rarely enforced the BLM & National Forests are a free-for-all.  Set up camp wherever you like, and stay for as long as you like.   There are no check in/check out times.  No quiet hours.  Your neighbors aren't a hockey stick away, and there's no melodramatic city slickers bragging about their overpriced rig & unnecessary gear.  You don't even have to worry about the old couple hiding in their RV using their secret radar gun ready to report any trivial speeders.   The deeper you go the less likely anyone will be around.  The BLM & National Forest are evolutionarily better for the stereotypical camping experience.  When they're close by they are a great option, but unfortunately they are not always the most accessible.
ONE NIGHT STANDS
One night stand camping is what I like to call Stealth Camping or Ninja Camping, If your thinking about buying an RV check out my RV buying Guide.and I do it a lot both in my RV and my tent.  I usually get in this mode when traveling solo from one destination to the next.  On all my solo travels since 1998 I have never paid for a hotel room, and have traveled over a million miles.  When I am Ninja Camping anything is fair game whether it is legal or illegal.  My favorite spots are found along a dirt road.  Along the edge of a river.  There is always a road the locals have made into the woods to some exotic place, it can't be found on any map or any guidebook.
Best way to find these perfect spots is to open your maps app and find the nearest water.  All locals have a secret spot.  Its always near water, and there's always a trail.  3-7 foot wide year-round rivers always have hundreds of "locals only" campsites.  It's not because they are only for locals, its because only locals know about them.  They discovered them as a kid, or a friend showed them one afternoon.  The high schoolers party there one weekend a year, or the fisherman use it as a base camp for a long weekend.  Whatever the reason may be they exist, and they are only hidden from the untrained eye.
If it's on private property I recommend setting up camp after dark and leaving at first light but to each their own.  I've broken this guideline many of times and have never had a problem.  If you're trying to set up shop for a couple of weeks I'm sure someone is going to come talk to you at some point about your activities.  Obviously, this completely depends on the area & location of your campsite.  If it's just for a night most likely you will come and go without anyone noticing.  Nobody cares.  This is the assumption I have made since 1998, and have never run into any problems.  I even camped in a residential suburban vacant lot once.  I'm sure the neighbors just thought it was some neighborhood kids having a weekend adventure, but no one bothered me.  I've never done long-term Stealth Camping, but that's about to change this spring when I embark on the AC LOOP.
FAVORITE ONE NIGHT STANDS
BOAT RAMPS
PULLOUTS ALONG THE ROAD NEXT TO A RIVER
ANYWHERE DOWN A DIRT ROAD
BEACH
REST AREAS
TRUCK STOPS
ANY PARKING LOT
HOTEL PARKING LOT (COMES WITH FREE BREAKFAST)
CAMPGROUNDS AFTER OFFICE HOURS
FOOTBALL,SOCCER, BASEBALL FIELDS
CITY PARKS
ANY SCHOOL DURING THE SUMMER MONTHS
COMMUTER PARKING LOTS
SEASONAL RESORTS DURING OFF SEASON
VACANT LAND (GET LISTINGS FROM LOCAL REAL ESTATE AGENT OR TRY  CRAIGSLIST)
CHURCHES
FARMS
CHECK LOCAL FACEBOOK GROUPS (YARD SALE, GARAGE SALE, RANT & RAVE)
HOSPITAL PARKING LOT (COMES WITH FREE SECURITY)
CRAIGSLIST ~ROOMAMTE WANTED SECTION
CASINO PARKING LOT (COMES WITH FREE ALCOHOL)
RV DEALERSHIP (BLEND RIGHT IN)
HIKING TRAIL TRAILHEADS
ABANDONED ROADS
DOG PARK
COUCHSURFING (ASK TO CAMP IN THEIR YARD)
ANYWHERE IN THE DESERT (OCTOBER 1ST-MAY 1ST THOUSANDS OF PEOPLE CHOOSE THIS OPTION)
SKI RESORTS
**GOT MORE IDEAS LEAVE THEM IN THE COMMENTS BELOW**
FREE CAMPING SKI RESORTS
Ski resorts are one of my favorite free camping destinations.  Had I not worked at a ski resort I would have never uncovered this little secret.  Ski resorts have a name for their community, and its called ski bums.  Ski bums live in the parking lot of a ski resort during the winter season for months at a time.  They live in their cars, shacks, RVs, busses you name it they live in it.  Some resorts manage this by restricting overnight parking to no more than 3 nights.  Others encourage this lifestyle and set aside a portion of the parking lot just for these folks.  Some resorts even sell RV parking season passes.  Each resort is different in regards to its parking lot camping rules, but all of them are free to camp at for as long as you like to any hike in destination.   Outside of the BLM or National Forest, you won't find this anywhere else.  Plus ski resorts provide some of the most iconic terrain in the world to call your campsite.
The best time to camp at a ski resort is in the summer or fall months.  The height of their operations is during winter, and only the big resorts have any summer operations.  During the fall months its what they call "shoulder season"~ September, October & first of November.  Chairs don't start spinning until Thanksgiving, and all the kids are back in school so family vacations are pretty much non-existent.  The only people that will be there will be HR doing hiring & interviewing for the upcoming season, and department heads trying to gauge staff & department needs for the upcoming season.    You will have the whole place to yourself.
Most likely you won't have any hookups for your RV, but its free camping in a beautiful setting.  If your at one of the bigger resorts that holds summer operations you can explore all sorts of activities such as mountain biking, zip lining, alpine slides, mountain scooters and all kinds of weekend festivals or shows.  Ski resorts are their own little community, and they have all sorts of amenities.   Restaurants, shops, showers, pools, activity rooms, chair lifts, dog parks and some even have free wifi.  It's like living at a high-end RV park with no fee.  Its the ultimate free camping destination for RVers or tenters.  You can thank the ski bums of the 70s for that.  There are roughly 500 ski resorts spread out over 40 states within the US.  Trying to find free camping at a ski resort is relatively easy, and I highly recommend it.
MISC FREE CAMPING
Depending on your comfort level & length of stay free camping is relatively easy to find though.   Free camping is a host of compromises versus fee camping is a host of amenities.  If you can't live without internet or cable TV…..well free camping isn't for everyone.  There are sites like www.freecampsites.net & www.campendium.com, but depending on the area they have outdated information or unappealing options.  This is a travel series called Kombi Life that utilized Free Camping in 23 countries for 7 years and is one of my favorite travel documentaries, and you can support Ben by subscribing to his Patreon Page 
Highway 14 in Northern Colorado just west of Fort Collins is one of my favorite roads to find free camping spots along the Cache La Poudre River.  The PCH (pacific coast highway) also known as Highway 1 is another one of my favorite roads to find free camping on the beach.  The 486 also known as the North Fork road out of Columbia Falls Montana is one of my all-time favorite free camping site roads.  Here you will find towering mountains, rivers in every direction & no one for miles.  The 61 in Northern Minnesota is unbelievably beautiful and full of free camping spots along Lake Superior.  Check out Artist point in Grand Marais when you get there.  And my favorite on the east coast is Highway 12 in the Outer Banks of North Carolina where the beaches are vacant of businesses and free of clutter.  As far as the eye can see is nothing but sand and waves free to use at any time of day or season.   Thinking about hittng the open road or things to prep before your next road tripWhat are your favorite places to find camping leave it in the comments below.
Before kids, my father worked at the forest service surveying land plots, wildlife management, timber sales and even working with youth groups.  He was quite familiar with free camping or what my brother likes to call "Backroads Camping."  Our free camping spots were always down some random dirt road meandering through the countryside.  No idea where it leads or what we were about to find, but it always paid off.  Because our free camping was always next to our own private waterfall, gorgeous lake or peaceful river.  As a teenager, free summer camping was extended into hunting season.  Which is my favorite time of the year.  City slickers call this "patio season".  The weather is perfect.  You can wear anything you want, and all the outdoor options are still available.  Growing up in the land of 10,000 lakes (which is closer to 30,000) the state bird is the mosquito.  The most appealing benefit of this time of the year is its bug-free in the northern part of America.
Free camping is always a gamble.  You're not in your own backyard or hometown.  You don't get to enjoy the comforts of knowing the area culture, atmosphere, mentality or even how authorities respond to "free camping".  Be proactive, and use common sense.  Don't put yourself in a position that could drastically become negative in a hurry.  Ask for permission. People are nice they like to help.  Pack out what you packed in, and camp more! Hotel less, and it will save you a bunch of money.  And the best tool to find free camping is Trover There are tons of ways to find free camping.  Be sure to share your ideas below so the whole community can benefit from what I have missed.  Thanks for reading, and look forward to reading your comments.