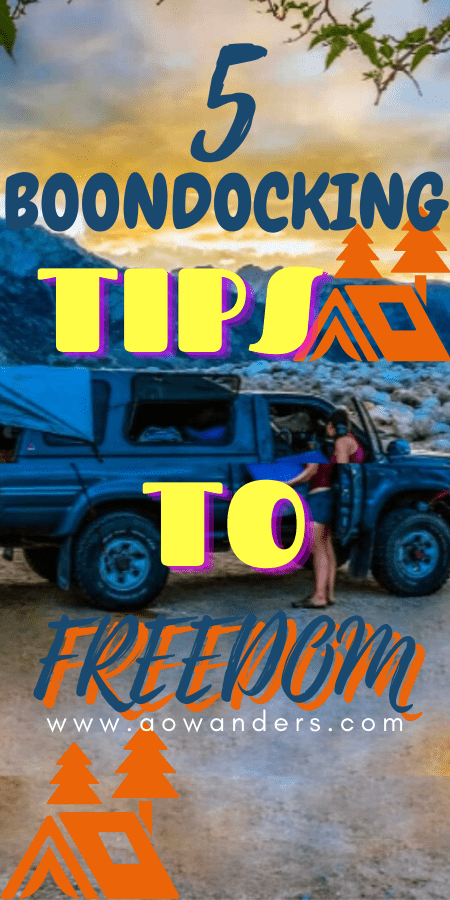 Is it Boondocking or Dispersed Camping
Quick Reference Table of Contents
If you've been RVing for any significant amount of time, you've likely heard of the term boondocking from your fellow campers. Perhaps you've heard it called dry camping, wild camping, or even dispersed camping. New RVers often refer to boondocking as free camping, but we can all agree boondocking is a ridiculous and somewhat comical term. In any event, boondocking is a mastered art of savvy prowess for locating free campsites, both on the grid & off the grid, that scares even the most experienced RVer because of all the unknown variables in the equation.
In the most basic definition, boondocking is simply RV camping without any electric, sewer, or water hookups. It's barebones—raw and wild free camping.
Out in nature. Away from the campsites, hustle, and bustle of conventional RV living. It's everything that RVers love, and sold them about RV life before they even owned their first camper.
So What Exactly is Boondocking
Boondocking is camping without readily available RV hookups like water, electricity, and sewer. Often referred to as dry camping or dispersed camping, and whether you boondock camp in the city or out in the country, it is called urban boondocking or rural boondocking. And oddly enough, urban boondocking is much easier to master than its counterpart "rural boondock camping," because it's much easier to find boondocking options in a developed city with streets, parking lots, and closed businesses. Whereas rural boondocking requires RVers to blaze their own trail because there are no access points, roads, or parking lots.
And it's pretty much guaranteed for anyone who owns an RV. At some point, you will, intentionally or not, find yourself in a boondocking scenario. Because even if you camp overnight in a rest area or truck stop parking lot, that is urban boondocking.
For these reasons, it's a good idea to become familiar with the ins and outs of boondocking. This article will discuss everything you need to know about boondocking, including:
The three types of boondocking
Where you can boondock
The easiest ways to find places to boondock
How to best prepare for boondocking
Boondocking or wild camping emphasizes on roughing it while living in the moment. Creating yet another unique RV life experience. From secret waterfalls to Walmart parking lots, dry camping is a part of the everyday RV life. If boondocking is brand new to you, here are 5 things every RVer should know about wild camping or boondocking.
The three major types of boondocking
Now that you know a basic definition of boondocking, let's look at the three major types of boondocking.
The first way you can experience boondocking is overnight camping anywhere other than a campground. This is when you simply stay overnight in your RV, either because you planned too, or you suddenly hit the "fatigue wall" and couldn't drive anymore. Two examples of overnight boondocking are Wallydocking and moochdocking.
What is WallyDocking
Wallydocking is when you spend a night in the Walmart parking lot, all cozied up in your RV.
Which every RVer will, at some point, need to squat for a night at Walmart. It might be due to unexpected inclement weather or a ridiculously bad bout with traffic that has you stopped for hours on end. Wallydocking isn't exclusive to Walmart, either. That's just the first official store that came out publicly, allowing RVers to camp overnight in their parking lots. Other big-box stores have since jumped on this bandwagon, enabling you to camp at several national chain stores.
Big Box Retail Stores That Allow Overnight Camping In Their Parking Lots
1. Walmart
2. Target
3. Home Depot
4. Menards
5. Bass Pro Shops
6. Cabella's
7. Costco
8. Cracker Barrel
Other Notable Urban Boondocking Options for Overnight Camping
1. Hotels
2. Motels
3. Casinos
4. Movie Theaters
5. Truck Stops
6. Rest Areas
7. Businesses that are closed for the night
What is Moochdocking and Driveway Surfing
Moochdocking has become increasingly popular.
This is when an RVer shows up at a friend or family member's house (sometimes unannounced) and spends a night in their RV in the driveway. Which is also sometimes called driveway surfing.
Moochdocking tends to be popular among RVers, but not so much RVers' friends and family. Go figure.
Cost of Moochdocking
One way to lessen the annoyance of moochdocking or driveway surfing is to give friends and family plenty of notice. I like to provide them with at least a week's notice or at least drop a hint that I am heading in their direction whenever I am within 500 miles of their address.
Another trick I like to do is send them a postcard. Who doesn't like "fun mail?" Most mail is nothing but bills and solicitations. Why not brighten someone's day with something more personal with a surprise postcard.
Cost of Driveway Surfing
I also like to bring gifts, and not the kind that accumulates dust on a shelf long after you've left. The presents I try to find for friends and family can be used repeatedly or something that might create a new hobby for someone. Presents like a home beer making kit or backyard grilling recipe book. I'm not a fan of snow globes or wall art, but know your audience because those might just be the perfect gifts.
What is Dispersed Camping
The third and final type of boondocking is dispersed camping or wild camping, where you spend the night in a completely undeveloped campsite with no RV hookups. Some even call this off the grid camping and is usually what comes to mind when RVers think of boondocking.
What is Dispersed Camping Also Known As Wild Camping
There are two types of dispersed camping, but both generally involve public lands such as the BLM, National Parks or National & State Forests. Where RVers blaze their own trail through the backcountry until they find the perfect dispersed campsite. This form of boondocking has attracted RVers to RV life since the first RV rolled off the assembly line.
Some of the most popular destinations for full time boondocking are just outside gateway towns like Whitefish, Montana; McCall, Idaho & Jackson, Wyoming.
I can promise you right now that McCall, Idaho is the best-kept secret in America, and if you own an RV, this is one of the most RV friendly towns in America.
Utah, Arizona & Nevada are overrun havens during the winter months for RVers. Known as snowbirds, these RVers flock to warmer temperatures during the winter and create their own tiny neighborhoods out in the desert. Truly a unique experience that every RVer should try at least once during their RV life. And if you're thinking about this year swing by and say, "Hi." I'll be down there this winter.
Training Wheel Dispersed Camping
The next type of dispersed camping is staying in a developed campground that has no hookups. Believe it or not, this is also considered boondocking and can be free or come with a fee depending on the destination.
With this type of boondocking, you're basically paying for a spot to spend the night. Think state and national parks. If you're looking for privacy, security, and nature in your boondocking experience, this is your best bet. This is also what I recommend first-time boondockers to explore before heading out into the backcountry of Utah. You can find these boondocking destinations throughout our nation's park systems.
Just look for the campground that is farthest away from the main attraction points, and away from where most tourists will be.
Due to its complete absence of services, this off-the-grid approach to boondocking can be intimidating to inexperienced RVers. You need to be entirely self-reliant to thrive in this setting, but that's also what makes it so rewarding.
You can find these barebones campsites on BLM land or through the United States Forest Service (USFS) website, and believe it or not, after just one night of boondocking, will give you a sense of freedom you can't find anywhere else.
Urban Boondocking vs. Rural Boondocking
Urban and rural boondocking are quite different from each other, and one is considerably more spellbinding than the other.
Some folks would argue that urban boondocking isn't, by its very nature, actual boondocking. After all, they insist, boondocking gets its name from the boonies. As in waaay out there, away from the madding crowd of the city and suburbs. But let's temporarily ignore the purists. Let's assume that boondocking can (and does) take place anywhere.
Even at a Walmart.
Or a Home Depot.
Or a Cabelas.
As I mentioned above, these are all companies that allow boondockers to stay overnight on their premises with an RV. Just like the handful of the other places I also mentioned above, in which urban (or suburban) boondocking is allowed:
truck stops
parking lots
rest stops
casinos
You don't have to be a diehard traditionalist to agree that the more ideal setting for boondocking is in rural areas. You know, out in the boonies, and the best rural location is usually on public lands. Waaay out yonder under a blanket of stars.
Boondocking Dilemas
For one, you don't have to worry about illegally spending the night in a parking lot where you're forbidden, and in danger of the middle of the night police knock.
Instead, public agencies such as BLM and the U.S. Fish and Wildlife Service want RVers to go out an experience boondocking in all it's glory. Recreational camping is not only tolerated, but it's also wholeheartedly encouraged. Not just by other RVers, but by these agencies.
The legality of rural boondocking is just one small reason why RVers should head out of town to do their boondocking.
Benefits of Boondocking
Nothing beats the feeling of staring into a sky fully flooded with twinkling stars.
Or hearing a dozen different animals wake up just as you hit the pillow.
Or smelling the scent of pine trees as you slowly rise and shine.
Yes, rural boondocking is quite different from its urban counterpart. The air is fresher. The food is more flavorful. Smells are more enticing. Because what you're experiencing is raw freedom you can't find anywhere else on the planet through any other activity.
Where Can You Legally Boondock
It is now easier than ever to find places to boondock. Like everything else nowadays, the best way to find places to boondock is to search online for RV travel blogs like this one, www.aowanders.com.
There are a growing number of informative websites that are up-to-date, and flat out enjoyable to browse, like this one, www.aowanders.com. But to be fair, here are some other popular & pertinent RV travel sites that I use regularly.
Boondocking Resources
Boondocking With Campendium
While all of the above provide RVers with beneficial information, Campendium features well-written and engaging reviews by other RVers. Nothing beats hearing from people who have actually been there and done that. Definitely check out Campendium if you're looking for your next boondocking destination.
Boondocking With iOverlander
My personal favorite is iOverlander because it's my "tribe" kind of people. Listings provide GPS coordinates, amenity information, individual reviews, and user tips. Some destinations even include photos so you can get a first person view of precisely what that boondocking destination looks like.
Which came in very handy on my last trip through Barstow, California. I was leaving Vegas and looking for a place to stay. The reviews read very favorably, but the pictures showed nothing but a dirt parking lot in the middle of the desert. Which is not what I was looking for when searching for a multiday campsite.
Boondocking With Harvest Host
Harvest Host is my favorite boondocking referral app because not everyone likes to wild camp as I boondock. Sometimes it nice to hang out with other people, and what better way to do that than at a golf course. Or winery! Or brewery!
If you're going to pay for an RV camping membership, Harvest Host needs to be seriously considered. The only camping membership I own is Harvest Host. I will not pay for any other camping membership until they address rates industry-wide. Primarily since rates just increased from $12 to $32 a night for tent sites at a nationwide household name campground company.
Another excellent paid boondocking service that I highly recommend is Hipcamp. RV lots found on this site can range from 5-star all-inclusive amenities such as pools, gun ranges, and free spa days to fire rings only on your own private beach. Hipcamp is a phenomenal up and coming RVers boondocking resource.
Campgrounds Are Great Resources For Secret Dispersed Camping Destinations
In addition to navigating the internet, try some good old-fashioned word of mouth from friends, family, or even complete strangers you run into at the campground who have previously boondocked.
Ask around. You'll be surprised how many folks have hit the open road at some point in life. How else would you find treasures like Horse Creek Hot Springs?
If boondocking is brand new to you, fear not. You have a multitude of resources that will have you heading in the right direction before you know it.
Wild Camping Breeds Confidence
Boondocking is not something you do on a whim. It takes planning and preparation.
RVers tend to be free spirits, but even free spirits need to plan and prepare every now and again. Especially when boondocking.
Think about what's involved in boondocking. You're heading to a place where there is nothing but air and land.
No electricity.
No water.
No food.
No gas.
The Freedom of Boondocking
And chances are you'll be all alone while you're there. Complete freedom!
To make sure your boondocking experience is a pleasant one, you need to make plans for how you'll eat, drink, and stay comfortable during the cold nights and warm days.
This isn't to say that you'll need a "preppers" amount of supplies to survive. Quite the opposite, actually. After all, part of the allure of boondocking is the whole "roughing it" element. Right?
Disperesed Camping #1 Accessory
Unless you plan to stay near a water source, you'll need to bring your own water for drinking, cooking, cleaning, and possibly even bathing. The #1 RV camper accessory I get the most envy over is this affordable water tank.
RECOMMENDED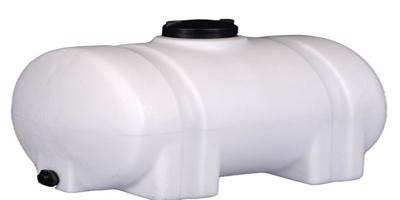 Norwesco 35 Gallon Water Tank
Heavy Duty Construction
Will work with any RV
Only 13 pounds when empty
You'll also need enough food to get you through your stay. And whatever food you do pack, make sure you pack it in predator-proof containers if you plan to leave it outside. You definitely won't find, for example, campground provided bear-resistant containers while boondocking.
Make sure you bring proper clothing for the environment for your destination. Comfortable temperatures in the wild can be challenging to find, so try to find places that offer moderate temperatures. For example, avoid the desert's heat during the day and the wind-swept mountain tops at night. Layered clothing is your best friend, I promise.
Boondocking Accessories
Other items to bring with you include extra clothing, a portable stove, toilet paper rolls, and a car charger. Solar anything will be the most functional!
As long as you plan ahead and prepare for the basic necessities, you just might find that boondocking's minimalism is preferable to the excesses we tend to surround ourselves with out in ordinary life.
Boondocking Rules & Protocols
There are unwritten rules regarding boondocking, and while most of these protocols for dispersed camping are common sense, you need to educate yourself before heading out into the wild. Because boondocking does not come with an instruction manual.
Likewise, there is no written code for behavior while boondocking. Remember when I said, "Complete freedom," you can run around naked if you'd like.
There are, however, some unwritten rules regarding boondocking that you should learn and follow. These rules are based on the fundamental beliefs that 1) the earth is precious and we should care for it, and 2) we should treat everyone and everything with respect.
Boondocking Etiquette
What exactly does that look like while boondocking?
For starters, use roads and camping spots that already exist. Why disrupt the landscape just because you want to be 3 feet close to the water than an already established campsite? Use google-earth or google-maps satellite view to see where a road goes before carving out a new road with your rig.
Leave with whatever items you came with, including garbage. This is called pack it in –pack it out, or leave no trace.
Don't overcrowd places. You see this all the time on Facebook groups. People are always asking for advice when someone parks to close to them.
Be aware of personal space. Especially if you show up in the middle of the night in the middle of nowhere. The rule that I boondock is 200 feet. If you infringe on that, I say something. Give people their privacy.
Leave the place you go dispersed camping in even better shape than you found it. There are disrespectful people out there who leave trash behind. Who cut down live trees for a 20-minute campfire. Some people just like to rev engine RPMs and dig ruts into the ground for nothing more than their own personal entertainment. You're never going to change these people, but if you can enhance the experience of a particular destination for the next camper, karma will pay you back 10-fold.
Wild Camping is Amazing
Now that you know everything you need to know about boondocking, it's time to hit the road.
Boondocking is a beautiful way to enjoy your RV, Mother Nature, and whoever you bring with you.
By now, you should have plenty of options for how to properly moochdock, were to disperse camp and the different types of boondocking. Because it's now easier than ever to discover those options with the help of the internet. Through websites like this and apps like iOverlander.
As long as you prepare correctly and follow the unwritten rules of boondocking, your first wild camping adventure definitely won't be your last.
Happy boondocking, and, please come back and tell me all about your boondocking experience in the comments below!
My Favorite Travel Booking Resources: Most Affordable & Efficient Travel Booking Tools I Use Everyday
Book Your Flight
Find a cheap flight by using Skyscanner or Momondo. These are my two favorite "flight" search engines because they search through websites and airlines around the globe and offer a calendar view to find even cheaper flights for flexible travelers.  Check out these UNIQUE destination deals or my favorite All Inclusive Booking Travel Tool!
Rent An RV
Find cheap RV rentals for your next adventure by using Outdoorsy or RVshare.  These are my two favorite "RV" search engines because they allow you to rent from private RV owners, and offer a wide variety of chooses at affordable rates.  Want to start making money by renting out your RV?  List it with Outdoorsy or RVshare.
Book Your Accommodation
You can book your hostel with Hostelworld. If you want to stay elsewhere, use Booking.com as they consistently return the cheapest rates for guesthouses and cheap hotels.  Get a $40 credit for booking with AirBnb.  Need to book a private campsite use my favorite RV booking site Hipcamp!
Looking For A Travel Community
Join the Escapees travel club to meet fellow travelers and talk about all things related to RVing and overland travel.
Travel Packages & Tours
Are you looking for worldwide tours and travel packages?  Check out my go-to source — IntrepidTravel!  Looking for more family related travel packages and tours book with GAdventures.
Don't Forget Travel Insurance
Travel insurance will protect you against illness, injury, theft, and cancellations. It's comprehensive protection in case anything goes wrong and will cover things like transport security, crisis response and medical transports such as Life Flight. Why go on any trip without a safety net that costs less than a case of beer? I've been using SafetyWings for years without any issues.
My favorite companies that offer the best service and value are:
SafetyWings (ONLY $35 & Covers USA Travelers)
World Nomads (for everyone below 70)
Insure My Trip (for those over 70)
Medjet (for additional travel insurance coverage like medical transport, travel security & crisis response)
Looking for the best companies to save money with?
Check out my resource page for the best companies to use when you travel! I list all the ones I use to save money when I travel – and I think will help you too!
Just Want To Support This Amazingly Resourceful Website
Websites incur constant fees!  From hosting costs to massive amounts of personal time creating beneficial content for readers to consume at their leisure.  To help offset those costs or just to say, Thank You.  You can help support this community by shopping through any of the links found on my resource page.  Shop on Amazon through this link and I'll get a small commission, or you can directly support this site through Paypal donations.  None of this is a requirement its just helpful and creates a better community for all of us.