RV Thanksgiving Festivities
Quick Reference Table of Contents
With Thanksgiving just days away, many RVers are currently contemplating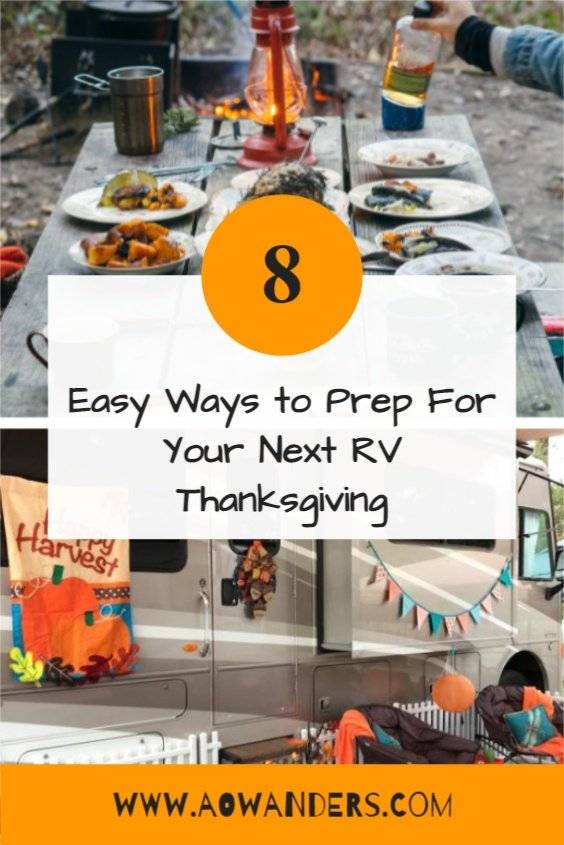 their Thanksgiving holiday options for the day of grateful feasting. Some RV folks will look for an event hosted by campgrounds, RV Resorts, and Parks, while others will take the path of least resistance and settle for dinner at a restaurant. Anything to avoid prepping a holiday dinner in their home-on-wheels.  
There's no shame in whatever holiday festivity options you choose, but in today's Covid-19 climate, let's explore other ways to celebrate an "RV-Motorhome-Camper Thanksgiving" 
Fun Thanksgiving Reads

If you're as torn on the topic as that turkey leg, you plan to devour during Thanksgiving, worry not. There's a way you can celebrate a Turkey Day dinner in your motorhome without sacrificing your "RV" street cred. Actually, there are eight festive ways to prep Thanksgiving in your motorhome, and hopefully, you'll find one that will appeal to you and your camper's interior design.  
I do not doubt that you'll be, umm, thankful for these RV holiday suggestions, but if not, there's always Thanksgiving football and Doordash.  
8 Thanksgiving Preparton Options While Living In An RV Fulltime
Prep Your RV Thanksgiving Throughout The Week 
 I strongly dislike misconceptions. And one of the biggest misconceptions is that all the cooking for Thanksgiving needs to be done on the actual day of Thanksgiving. Not true! 

There's absolutely nothing wrong with spreading things out over a few days. Just in case you're concerned about completely ruining the taste of your Turkey Day food, you can rest assured that several items can be prepared ahead of time and still taste amazing. 


Here's a short list of foods that will not spoil when made in advance and may even taste better than the usual Thanksgiving day suspects. 
8 Thanksgiving Accessory Food Ideas 
deviled eggs

cranberry sauce

casseroles

potato salad

macaroni salad

vegetable trays

mac and cheese

pumpkin pie
That's right: pumpkin pie can be made a day or two in advance and served on Thanksgiving Day. And if you can prepare everybody's favorite fall dessert ahead of time, so can several other food items. 
Expand Your RV Counter Space
Anyone who's been RVing for any significant amount of time knows that RVs lack counter space in a major way.
RV kitchens are cramped, tight, and in some cases, completely useless. So the thought of preparing a hefty Thanksgiving meal might make you want to quit planning your festive feast before you even get started. Some might call this quitting cold turkey. 
To cancel the lack of counter space, you can set up a folding table or something similar. This should give you the room you need to spread out while chopping, mixing, seasoning, and whatever else you do to your food before thoroughly devouring it.
This is why I install multiple cutting boards in any used camper I purchase. To quickly increase my countertop square footage and have all the food chopping areas I need during the holidays.  
RV Kitchen Appliances Will Make Your RV Thanksgiving Easier
I know some RVers who refuse to invest in electrical appliances. I hope they have no intention of hosting Thanksgiving in their RV, but I'll also admit I'm one of "those RVers" who hate buying electronic appliances.  
Let me be crystal clear: I highly recommend that you spend the money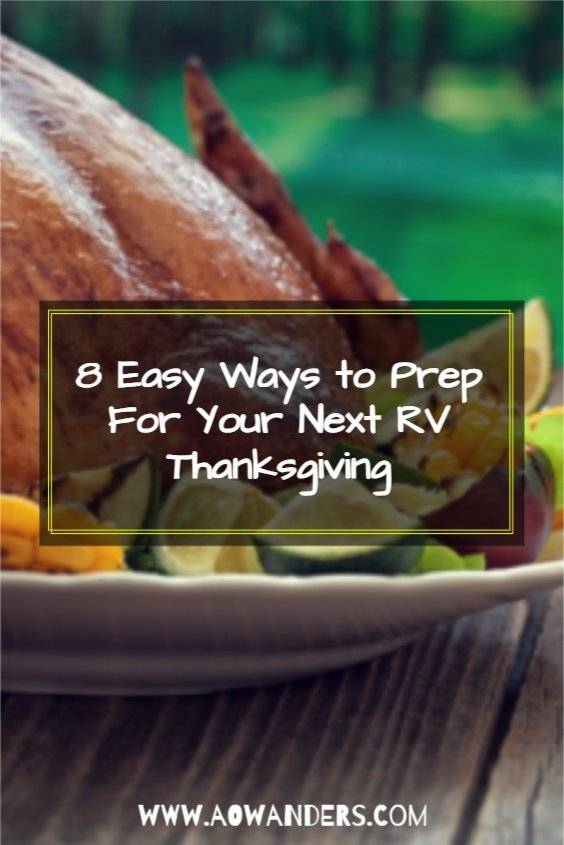 necessary to purchase a handful of electronic appliances. Because doing so will make your life as an RVer infinitely easier, both while hosting Thanksgiving dinner and after. Just don't buy absurd RV kitchen appliances like the Berkley water filter. 
That takes up valuable counter space and costs hundreds of dollars.   
Consider some of the benefits of modern-day RV kitchen appliances. For example, you'll be able to potentially cook several food items at the same time. You'll also save a ton of propane by not using your fuel source for cooking every single food item. Finally, you'll avoid turning your RV into a mini furnace. 
Some places still have warm temperatures in late November, so this last point is especially relevant for folks who want to spend their Turkey Day sitting in a comfortable environment.
Wondering which electric appliances to buy? Based on my experience, there are a few items that most RVers, including myself, could not live without:
Instant Pot: The Instant Pot is pretty much the hands-down favorite electric kitchen appliance for RVers worldwide. It's widely considered a must-have item for anyone who wants to cook without using their RV oven, and for good reason. 
It's essentially a slow cooker, pressure cooker, and much, much more – all wrapped into a relatively small package. 
RECOMMENDED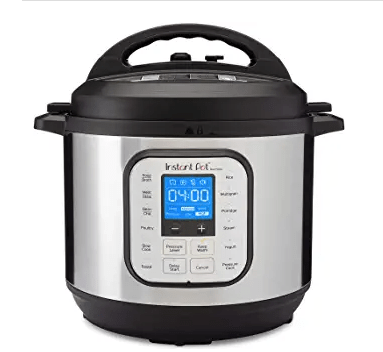 Instant Pot

Affordable 8-in-1 slow cooker
13 one touch cooking programs
Heavy Duty Construction & Dishwasher Safe
The Instant Pot is super compact and convenient, two things that mean the world to RVers.
Induction Cooktop: Even if you decided to cook for a Thanksgiving crowd in a traditional house kitchen, you'd still somehow lack the necessary stovetop space. There's simply no way around it: there's never enough stovetop space for holiday feasts.
When working your culinary magic in an RV, though, things get even tighter.
Fortunately, an induction cooktop can help you feel as though you've gained tons of stovetop space. Not only that, but this pseudo stovetop superstar will make you feel as though you're actually cooking with a stove. The result is more space, more convenience, and less propane used.
I consider that a win-win-win.
RECOMMENDED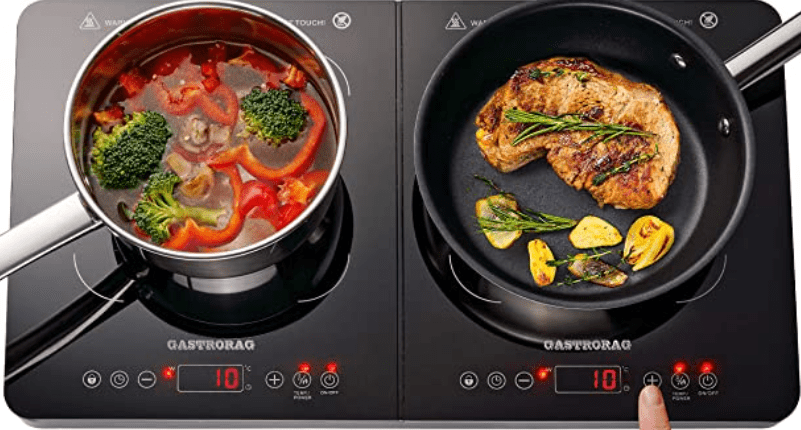 Induction Cooktop

Double Burner
Lightweight
Sensor Touch
NuWave Oven: Some folks do a ton of baking on Thanksgiving, while others don't. If you fall into the former category, the NuWave Oven can be something of a lifesaver.
RV ovens are notorious for being unable to house a bunch of food at one time. RV ovens are also known to unevenly cook whatever food does fit in them. Simply put, they're not good for baking anything other than a frozen pizza.
In contrast, a NuWave Oven has a rock-solid reputation for fitting more food, as well as evenly cooking all of your food. This allows you to deliver perfect pies and killer casseroles, all the while leaving your RV oven free for something else.
RECOMMENDED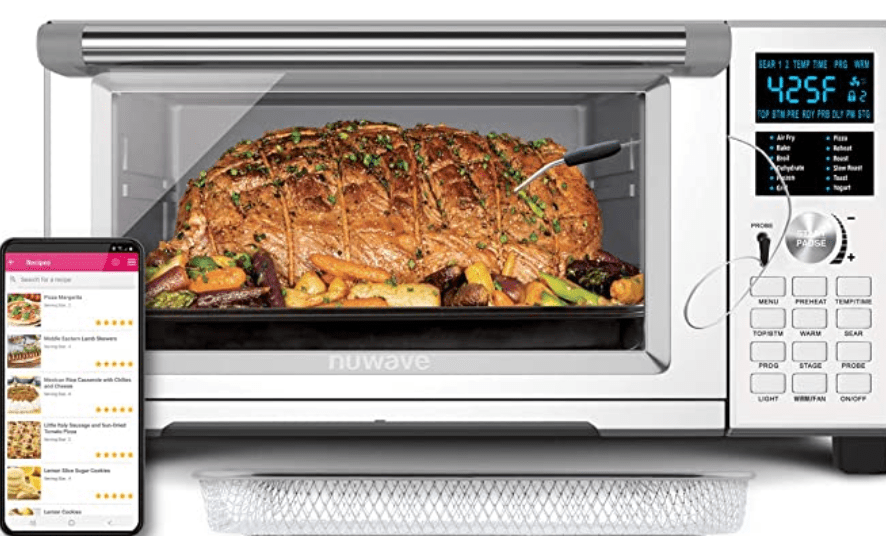 NuWave Oven

Heavy Duty Construction
12-cooking settings including air fryer
Flavor Infusion Technology
Again, Thanksgiving is one of those holidays that can be measured by the amount of stress it causes you, especially if you're hosting in an RV.
You now have a golden opportunity to drastically reduce that stress by buying yourself the type of electric appliances I've described above.
Move the feast-making festivities outside
If you follow my advice from #3, you'll have some tools that allow you to move your Thanksgiving prep outside. Simply set up a few folding tables and place the aforementioned electric appliances on them. This will enable you to expand your cooking space while simultaneously giving you more room to breathe. 
Also, consider taking different outdoor approaches to prepare your turkey.
You can grill it.
You can smoke it.
You can even fry it in an outdoor deep fryer.
No matter how you cook your turkey, you're sure to enjoy the result. Not only that, but outdoor cooking your turkey will also free up your RV oven for other things.
The end result will be a delectable bird and several delicious plates to accompany it.
That's how you prep your RV Thanksgiving feast like a BOSS!
Simplify Your RV Thanksgiving Feast
Thanksgiving in an RV is not the time or place to overdo things. 
In fact, trying to do too much will only lead to a cornucopia of angst, anxiety, and animosity. The more you can simplify things, the better.
Take food options, for example.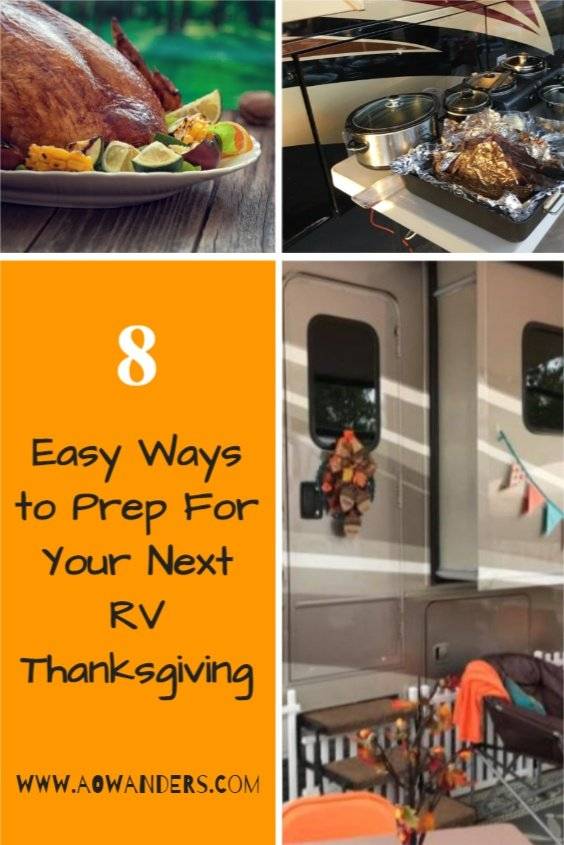 Instead of focusing on quantity, aim for quality. Be purposeful in the foods you choose to make for your RV Thanksgiving meal.
One way to do this is to have everyone bring one plate that they've always loved. In addition to the turkey, of course. That way, you'll have just what you need, and you'll know for sure that everyone has at least one item to enjoy.
Thanksgiving is all about being openly grateful for the people and things you value. It's not about stuffing your face until you vomit, so ditch that pressure to offer more food items than you actually need.
Share & Delegate Your RV Thanksgiving Tasks
Never forget that famous quote by a wise old philosopher who was preparing for Thanksgiving:
"The more work I can make other people do this week, the less stress I'll feel and the more I'll enjoy the holiday."
So no philosopher ever said that. But those are wise words that we should live by. 
For real. Your top goal right about now ought to be rounding up as many folks as possible to help prepare for your RV Thanksgiving.
Remember: the more, the merrier.
And not just for the captivating company you'll have. Getting more friends and family on board with your Turkey Day prep will help transform this Thanksgiving from a time of terror to a day of delight.
Simply ask your loved ones to bring one or two dishes to share, rather than you doing all the cooking on your own. Also, feel free to ask your guests to volunteer for specific tasks so that everyone has something to do.
This team approach to your RV Thanksgiving is a surefire way to leave everyone feeling proud of their contribution. It's also a guaranteed means of making sure you don't burn yourself out before the day of feasting arrives.
So go ahead: recruit, recruit, recruit.
Be Grateful For Holiday Traditions
Remember that scene in A Christmas Story where Ralphie's family ends up eating their Christmas Eve dinner at the Chinese restaurant due to a series of unfortunate events? Well, it's further proof that a traditional holiday meal is not always necessary to have a memorable holiday. 
So yeah, if you want all the fun and togetherness of a classic Thanksgiving without any of the hassles that come from making the meal, go ahead and invite your favorite folks to your RV and order food from a restaurant. After all, this article is all about making Thanksgiving work in your RV – whatever it takes & whatever that means.
Like I said earlier, there's absolutely no shame in letting a fine local establishment cook your Thanksgiving meal. Not only that but given the hardships that have hit the restaurant industry this year, I'm pretty sure they'd be thankful for your business.
Another win-win.
Plan, plan, plan!
Holidays are meant to be fun, relaxing, and refreshingly therapeutic. Often, though, they're quite the opposite. 
The biggest reason why is that we all too often fail to properly plan for them. Not sure about you, but I know I've ruined one too many holiday get-togethers by trying to "wing" the whole thing.
And I have no doubt: an RV Thanksgiving is not the kind of soiree you want to wing at the last minute, especially since it takes hours to cook a turkey.
Time might be your best friend right now, but it will become your worst enemy if you wait too long.
So, if you're gonna pull this off, it's probably best to start planning now.
Contact all the folks you'll need to make Thanksgiving a success, and contact them now.
Make a detailed list of all the things you'll need to ensure a smooth process, and make it now.
Rent, buy or borrow any of the items you'll need for the food preparation process, and get hold of them now.
Time is of the essence, and the success of your RV Thanksgiving depends on how well you plan and prepare in advance. There's no better time to begin doing that than right this second.
Actually, first read my closing thoughts and then begin planning and preparing.
Embrace The Message Of Thanksgiving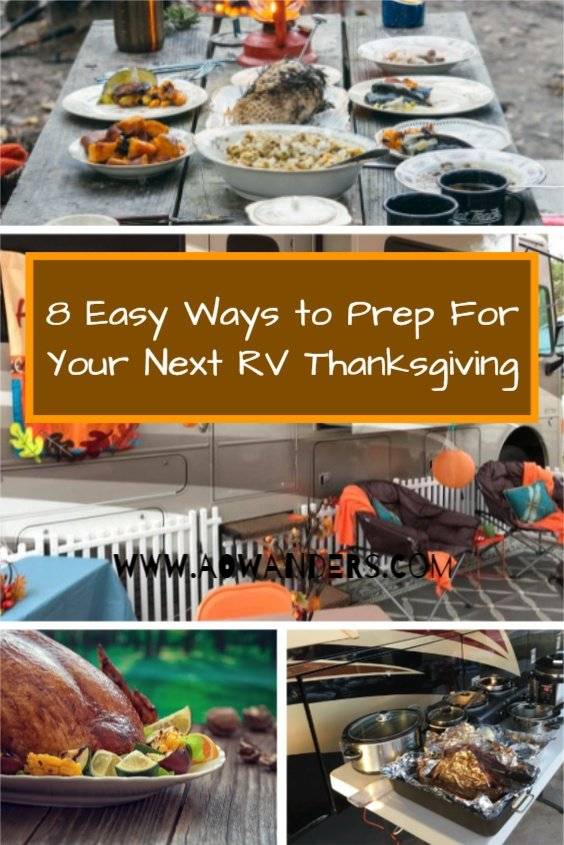 Hosting Thanksgiving in your RV will more than likely be something of a challenge. The extent to which you try to make it a traditional Turkey Day will determine how much of a challenge it actually is.
But you know what?
You're an RVer, so you're used to challenges. You eat them for breakfast, so throwing a Thanksgiving shindig in your home-on-wheels is nothing you can't handle.
In fact, you're just crazy enough to see that hosting your favorite folks for your favorite holiday in your favorite setting makes all the sense in the world.
And now that you've got these eight ways to make the whole thing work, the only thing left to do is send out the invites and start prepping.
Happy Holidays and enjoy your RV Thanksgiving!
---
Here Are My Favorite Booking Resources:  Affordable & Efficient Travel Booking Tools I Use Everyday Along With My Favorite Gear Resources
Book Your Flight
Find a cheap flight by using Skyscanner or Momondo. These are my two favorite "flight" search engines because they search through websites and airlines around the globe and offer a calendar view to find even cheaper flights for flexible travelers.  Check out these UNIQUE destination deals or my favorite All Inclusive Booking Travel Tool!
Rent An RV
Find cheap RV rentals for your next adventure by using Outdoorsy or RVshare.  These are my two favorite "RV" search engines because they allow you to rent from private RV owners, and offer a wide variety of chooses at affordable rates.  Want to start making money by renting out your RV?  List it with Outdoorsy or RVshare.
Book Your Accommodation
You can book your hostel with Hostelworld. If you want to stay elsewhere, use Booking.com as they consistently return the cheapest rates for guesthouses and cheap hotels.  Get a $40 credit for booking with AirBnb.  Need to book a private campsite use my favorite RV booking site Hipcamp!
Need Gear
I use REI for all my gear needs because if it ever fails or gets damaged they will replace it for free!!! No questions!!! No hassles.
If REI doesn't have the gear I need.  I can always find it on Backcountry.com
Travel Community
Join the Escapees travel club to meet fellow travelers and talk about all things related to RVing and overland travel.
Travel Packages & Tours
Are you looking for worldwide tours and travel packages?  Check out my go-to source — IntrepidTravel!  Looking for more family related travel packages and tours book with GAdventures.
Don't Forget Travel Insurance
Travel insurance will protect you against illness, injury, theft, and cancellations. It's comprehensive protection in case anything goes wrong and will cover things like transport security, crisis response and medical transports such as Life Flight. Why go on any trip without a safety net that costs less than a case of beer? I've been using SafetyWings for years without any issues.
My favorite companies that offer the best service and value are:
Looking for the best companies to save money with?
Check out my resource page for the best companies to use when you travel! I list all the ones I use to save money when I travel – and I think will help you too!
Just Want To Support This Amazingly Resourceful Website
Websites incur constant fees!  From hosting costs to massive amounts of personal time creating beneficial content for readers to consume at their leisure.  To help offset those costs or just to say, Thank You.  You can help support this community by shopping through any of the links found on my resource page.  Shop on Amazon through this link and I'll get a small commission, or you can directly support this site through Paypal donations.  None of this is a requirement its just helpful and creates a better community for all of us.