Most people think ski towns are only good for allowing you to sit on mountain tops absorbing breath taking beauty. While ignoring dangers of the environment and just letting loose to float down a mountain in a ghostly smoke of white powder. While that may be true. The allure of a ski town that makes you a bit jealous for not living there is most likely the back drop beauty of high alpine peaks, pristine lakes and the infectious personality of locals. Through their passion for skiing they've created these magical iconic vacation destinations around the globe.


Where clocks seem to be broken, and fashion takes a backseat to function. There's no rush hour traffic or 9-5 culture. Instead, there's' a community of passionate personalities that create towns with a soul. Instead of climbing corporate ladders for materialistic gain they climb mountains for recreational gain.
Life in a Ski Town
Life in a ski town marches to a different beat. Where skiing is more than just a sport. Its an entire culture, social outlet and hobby. A romantic lifestyle luring residents to the mountains away from the rat race of convention. Ski towns offer a pastime that significantly shape lives while providing the soul of community.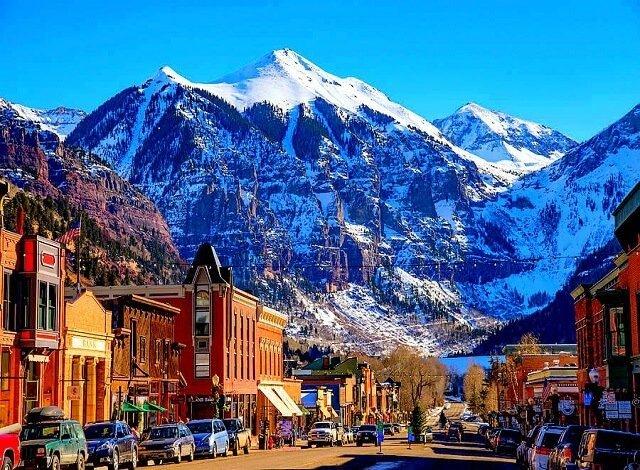 Life in a ski town isn't about mortgages, car payments or student loans. It's about connecting with like-minded individuals while pursuing the passions of life. Days begin before sunrise to start off multi-day hiking adventures in the backcountry; chase down first tracks on a powder day, or even to capture the warm glow of the sun as it makes its way over the peaks onto the valley floor below. Not to start your morning commute to a dead end job you can't stand.
It's about knowing the history of your community. The name of the barista that serves you coffee every morning while eating oversized breakfast combos at a place named, Jeremiah's. Celebrating your anniversary at a quaint, vintage-chic cottage restaurant with backyard seating called Spoons. Picking up camping supplies at a deli called Sweet Cheek Mikes. Meeting up with friends after a day on the slopes at the Drunken Onion, or taking friends out to the local night club called Chubbs. Life in a ski town is all about a way of life that's built on a foundation of individual connections.
Life in a Ski Town
From the first time you set eyes upon the wooden boardwalks of main street to the captivating beauty of snow covered mountains a connection is made. A pace of life without all the hustle & bustle of a big city is revealed. Instead of feeling out of place you feel like you belong with waves from strangers and smiles from locals. You've been immediately invited in. It's a wonderfully comfortable experience that only ski towns can provide.
Life in a Ski Town
The magic of a ski town is generated from the revolving door of souls wandering in and out of town. From the weekend warriors to those that were born & raised. To the seasonal implants looking to sample this lifestyle — all contribute to the "magic" of a ski town. With roots from the early days of mining where struggle & hardship where on the forefront. Ski towns have evolved into a mecca of personal pursuit of happiness. Where the choices of things to do outweigh the battle of things to buy.
Life in a ski town rewrites the rules of society by rewarding quirky personalities who strengthen the bond of community. By introducing unique community engaged fun for the whole family activities like rubber ducky races on rivers in the spring. Sacrificial ski burnings for the snow gods in the fall. Full moon bike ride pub crawls, and minnow racing booths at free concerts in the park during the summers. Torch light parades on the slopes in the winter. Skijoring & tree lighting ceremonies on main street over the holidays.
Life in a ski town is an all-inclusive rewarding culture. A culture that effects each soul differently, but creates an allure stemmed from the roots of character. A culture that praises instead of ridicules which instills a bit of epidemic envy upon unsuspecting visitors. A culture that contributes to the personality and vibe of ski towns around the globe. A culture that provides overwhelming support because like I said before life in a ski town marches to a different beat.
Click here to check out more posts on Ski Towns
My Favorite Travel Booking Resources: Most Affordable & Efficient Travel Booking Tools I Use Everyday
Book Your Flight
Find a cheap flight by using Skyscanner or Momondo. These are my two favorite "flight" search engines because they search through websites and airlines around the globe and offer a calendar view to find even cheaper flights for flexible travelers.  Check out these UNIQUE destination deals or my favorite All Inclusive Booking Travel Tool!
Rent An RV
Find cheap RV rentals for your next adventure by using Outdoorsy or RVshare.  These are my two favorite "RV" search engines because they allow you to rent from private RV owners, and offer a wide variety of chooses at affordable rates.  Want to start making money by renting out your RV?  List it with Outdoorsy or RVshare.
Book Your Accommodation
You can book your hostel with Hostelworld. If you want to stay elsewhere, use Booking.com as they consistently return the cheapest rates for guesthouses and cheap hotels.  Get a $40 credit for booking with AirBnb.  Need to book a private campsite use my favorite RV booking site Hipcamp!
Looking For A Travel Community
Join the Escapees travel club to meet fellow travelers and talk about all things related to RVing and overland travel.
Travel Packages & Tours
Are you looking for worldwide tours and travel packages?  Check out my go-to source — IntrepidTravel!  Looking for more family related travel packages and tours book with GAdventures.
Don't Forget Travel Insurance
Travel insurance will protect you against illness, injury, theft, and cancellations. It's comprehensive protection in case anything goes wrong and will cover things like transport security, crisis response and medical transports such as Life Flight. Why go on any trip without a safety net that costs less than a case of beer? I've been using SafetyWings for years without any issues.
My favorite companies that offer the best service and value are:
SafetyWings (ONLY $35 & Covers USA Travelers)
World Nomads (for everyone below 70)
Insure My Trip (for those over 70)
Medjet (for additional travel insurance coverage like medical transport, travel security & crisis response)
Looking for the best companies to save money with?
Check out my resource page for the best companies to use when you travel! I list all the ones I use to save money when I travel – and I think will help you too!
Just Want To Support This Amazingly Resourceful Website
Websites incur constant fees!  From hosting costs to massive amounts of personal time creating beneficial content for readers to consume at their leisure.  To help offset those costs or just to say, Thank You.  You can help support this community by shopping through any of the links found on my resource page.  Shop on Amazon through this link and I'll get a small commission, or you can directly support this site through Paypal donations.  None of this is a requirement its just helpful and creates a better community for all of us.