Kuhl Brands Inspiration
Quick Reference Table of Contents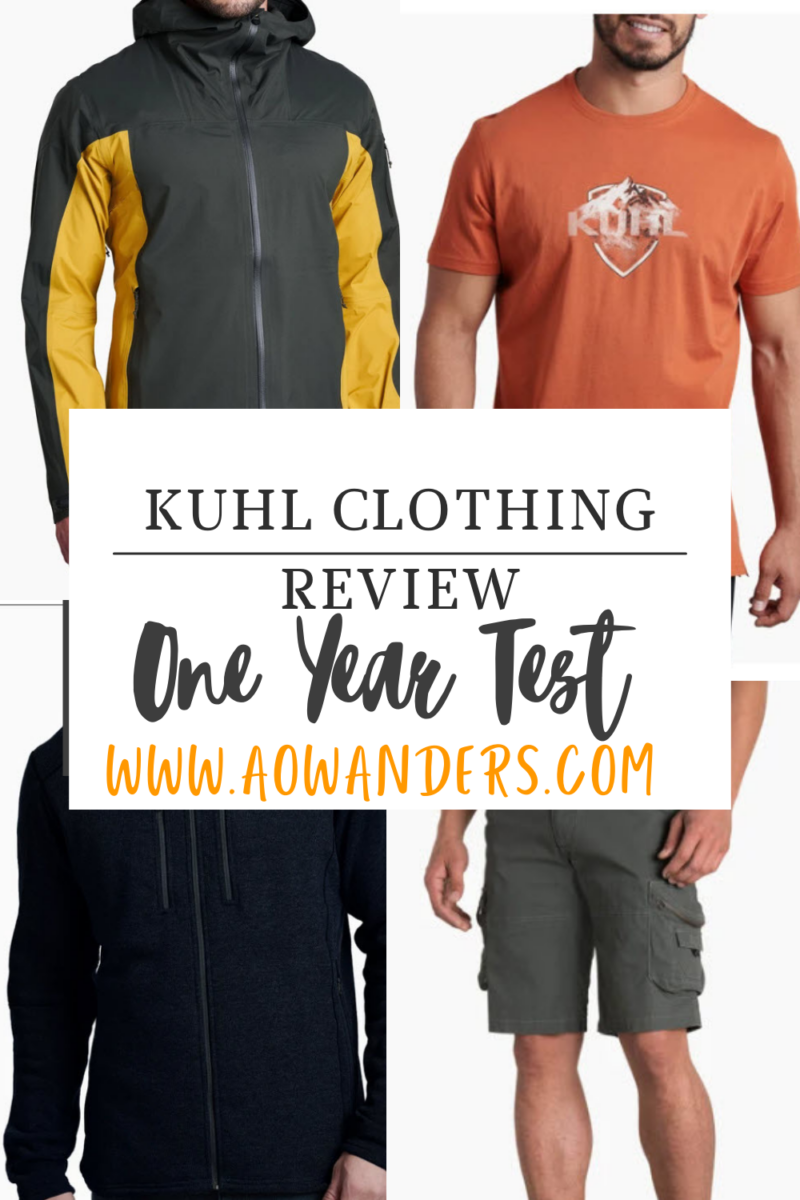 For more than a year, I've been relentlessly pushing KUHL's travel clothing to its limits in all kinds of environments – from snow and rain to sun and mud.
Whether on the trails, at the beaches, immersed in hot springs, or navigating the rugged challenges of mountain biking. The abrasiveness of climbing, or the resilience demanded by ski resorts.
I promise you the KUHL brand has been battle-tested!
With each step, KUHL's wardrobe has echoed the rhythm of outdoor recreation, daring me to defy its limitations and plunge headlong into the unknown.
Did KUHL's travel clothing bridge the gap between function and inspiration?
Will this travel attire seamlessly integrate the demands of the road with the desires of the soul?
Can they even be considered "best clothing for travel?"
Let me break down what got under my skin, what brought a smile to my face, and what truly stood out as I life-proof-tested KUHL's stylish travel clothing wardrobe throughout this remarkable year.
My Kuhl Travel Clothing Product Review
Click one of these four links to take you directly to my personal review of each of these Kuhl outdoor recreational garments.
This collection symbolizes a fusion of convertible clothing for travel that's acted as my inspiring accomplice through more adventures in one year than most have in their entire life.
So sit back. Kick your feet up. Get comfy and enjoy my personal review of this travel wardrobe collection.
The Inspiration That KUHL's Travel Clothing Had On My Year-Long Journey
In a world of travel apparel, Kuhl's clothing stands out as a beacon of innovation by summoning adventure and elevating itself beyond simple travel attire.
It represents a collection of convertible travel wear embodying a philosophy that marries style with substance while prioritizing rugged durability through cutting-edge design.
Imagine a world where your travel attire becomes your armor, shielding you against the unpredictable and inviting you to embrace the uncharted.
Where every garment is a vessel of possibility, every fabric being a testament to resilience.
Like a manifesto written in threads, these clothes are not just travel garments; they're partners in adventure, collaborators in exploration, and the witness to your journey's triumphs.
Kuhl's versatile travel attire is dedicated to creating travel garments born out of inspiration that weave an anthem of aspiration meticulously designed for those looking to embrace the extraordinary along their journey, and seize experiences without compromise.
It's not just about dressing for the expedition; it's about adorning yourself with the audacity to chase after horizons, dance with the elements, and to answer the beckoning call of curiosity.
Welcome to the world of travel clothing where it's not just worn—it's your travel companion!

My Kuhl Interceptr Pro Hoody Personal Review:
"Like a guardian spirit for the adventurous soul, the Interceptr Pro Hoody wraps you in its embrace, shielding you from the elements with a blend of comfort and resilience. As if woven from the threads of determination, it stands tall against chilly winds. This hoody whispers stories of alpine quests and rugged landscapes, while its warmth is a reminder that even in the harshest of environments, its fabric is a fortress against the cold's advances"
RECOMMENDED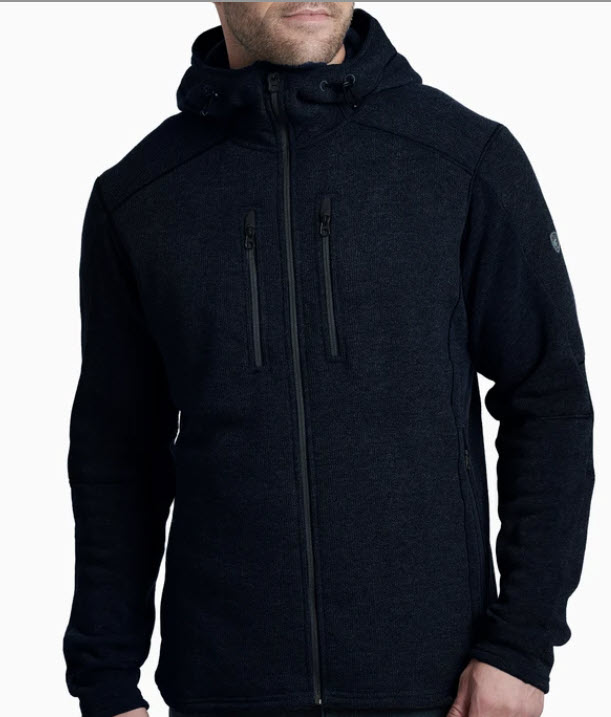 Kuhl Interceptr Pro Hoody

Adjustable Hood
Heavy Duty Stitching
Zipper Pocket
My Personal PROs For The Intercepter Hoody
Adjustable Deep Hood
SuperDuty Stitching
Thumb Cuffs
Articulated sleeves for increased range of motion
Zipper Pockets
Chest Pockets
Whether you're an avid adventure traveler or a casual outdoor recreationist, there are certain items that are absolutely the cornerstones of your everyday travel wear.
Without question, a trusted and dependable hoodie is on this list. A good hoodie brings a level of comfort that makes it easy to return to again and again.
A hoodie isn't just any old item that you wear once and toss into the laundry basket.
It becomes an everyday identity, morphing effortlessly between function and fashion depending on your travel itinerary. Find the right one, and you might end up wearing it for months, if not years.
Kuhl's Intercepter Hoody is a prime choice to add to your travel clothing arsenal for its wearable versatility. Whether jet-setting through an international airport, preparing for an alpine hike to bag those "fourteeners," or simply going to grab coffee around the corner, this KUHL hoodie has a ton of range.
Are you layering for a bigger adventure?
This warm, breathable hoodie could easily be worn underneath a shell. Not only is it comfortable and durable, but it's form-fitting and looks good too.
Are things starting to heat up a bit? No problem, because Kuhl's Intercepter Hoody has built-in vent zips that make the mid-trail layer strip tease a thing of the past.
Be wary of loaning this versatile travel hoodie out though, because you may not get it back.
My Personal CONs Of The Kuhl Intercepter Hoody
Pet Hair Magnet
Not Waterproof
Thumb Cuffs Vulnerable
While the Intercepter Hoody by Kuhl boasts an impressive range of features, let me acknowledge a couple of limitations I've encountered over the past year.
One notable downside is its tendency to attract pet hair, which might prove frustrating for those with furry companions.
Because when you have a hoody that has as much versatility as the Intercepter does, pet hair on your travel clothing may be okay in the backcountry, but it's very much frowned upon at the local bakery.
Additionally, the hoodie falls short in terms of waterproofing, lacking the protective barrier needed for sudden rain showers, but show me an everyday waterproof hoody thats as comfy and durable as the Interecepter!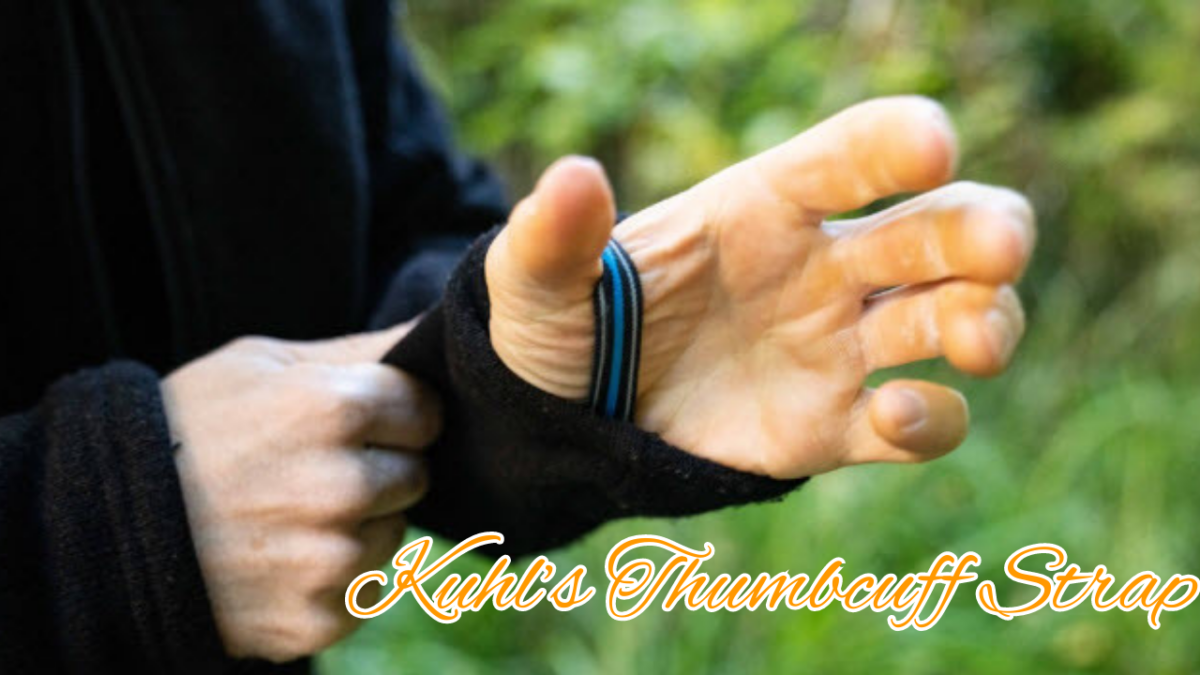 Another minor drawback lies in the vulnerability of the thumb cuffs, which could potentially experience wear and tear over extended use.
They are simply just a strap, but despite these personal downfalls, the Intercepter Hoody remains a versatile and functional travel companion for a wide array of adventures.
RECOMMENDED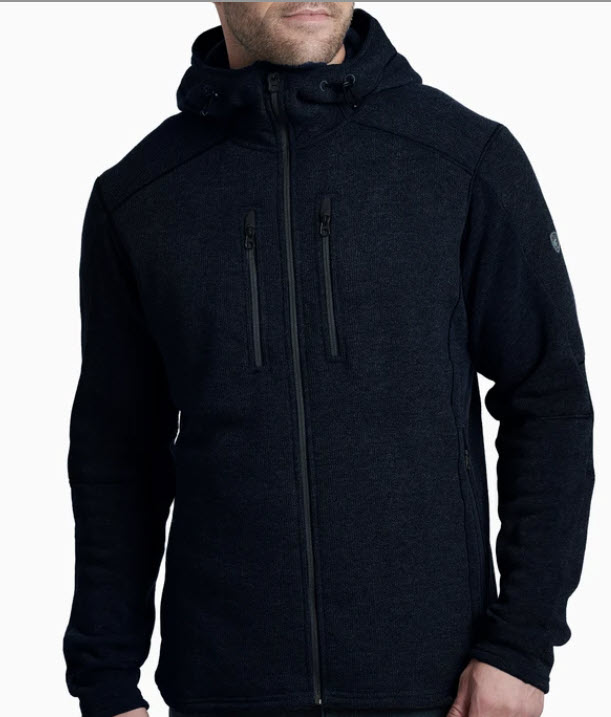 Kuhl Interceptr Pro Hoody

Adjustable Hood
Heavy Duty Stitching
Zipper Pocket
My Personal Review Of Kuhl's The ONE Shell:

"The One Shell from Kuhl is your dance partner in the rain as it keeps you moving through the storm with the grace of a seasoned performer. It's a symphony of innovation, where each note is played by the raindrops sliding off its surface. As adaptable as a chameleon, it morphs with your every movement, its waterproof embrace never missing a beat. Just as a river carves its path through rock, this shell charts your course through downpours and drizzles, making every journey a triumphant performance."
RECOMMENDED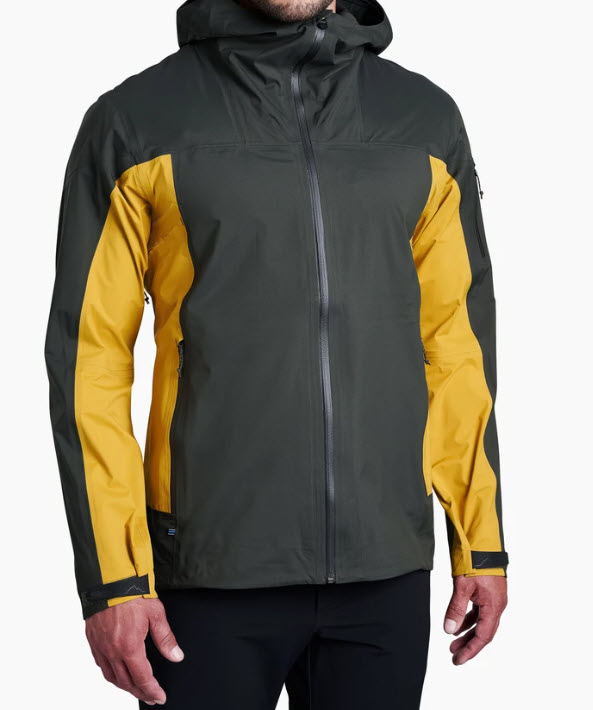 KUHL's The ONE Shell Hoody

Waterproof Zipper Pockets
Adjustable Hood
Seam Seals
My Personal PROs Of Kuhl's The ONE Shell
Waterproof yet highly breathable
5-panel hood
Water and oil resistant finish
Fully Seamed Sealed
Oversized Hand Pockets
Kuhl Stealth Cord Hood Lock Adjustments
When you're looking for that versatile waterproof layer to add to your pack for hiking season, the options can be a bit overwhelming.
How do you choose reliable outerwear that will keep unexpected dampness at bay?
I mean, moisture has a way of squirming into cracks and crevices that you didn't even know moisture could get into.
Having a solid line of defense in your outerwear department can help to fend off the encroaching dampness of a dry day turned soggy.
Whether preparing for a trip to the Pacific Northwest, Iceland, or Patagonia, KUHL's One Shell is sure to keep your core dry in even the most intense of weather situations.
With that said, not every adventure is turned up to eleven. The One Shell is a fantastic option for those partly cloudy days where precipitation seems like it is looming on the horizon the entire day.
The Hydroflex One Shell is an adaptable piece of rainwear built from high-quality water-wicking materials.
It has a lighter finish than previous versions, and really lives up to the descriptors of being both breathable and waterproof.
Mobility remains unhindered, and the ONE shell allows for seamless movement.
Making this convertible travel clothing an incredibly versatile and functional piece of your travel wardrobe.
Suitable for both technical outings and leisurely explorations around town, following an exhilarating day of mountain memory-making adventures.
Even if you're just planning to wear it to the office, it's nice to know you're wearing something thats will easily be able to handle any adverse weather that gets thrown at you.
Another bonus is that it packs up nice and tight, leaving plenty of room in the backpack or carry-on for those trail mix recipes you might want to bring along.
My Personal CONs Of Kuhl's The ONE Shell
Two Way Zipper
Sizes Run A Little Big
No Vent Zips
No Arm Pocket for Ski Pass
While Kuhl's The ONE Shell presents a range of commendable features, it's important to consider its drawbacks.
Which, for me, is the utilization of a two-way zipper because its more of a finicky pest that always requires extra attention during use.
Personally, I hate them because they tend to fail more than a conventional one-way zipper.
Plus, you always have to double-check to make sure the other side is zipped shut so you don't accidentally lose whatever it is you're trying to store.
When it comes to size, well, I grew up in the 90s, so I like big and baggy, but some people might find that the sizes run a bit larger than expected.
I'm 5'8″, 180 pounds, and the XL is a bit big on me, but that just means it's easier to layer under.
Another feature that caught me by surprise from Kuhl is the absence of vent zips.
Waterproof shells tend to be less breathable during outdoor activities, so I assumed one of the best travel clothing companies would have considered this an essential feature in their outdoor recreational travel clothing line.
Guess I was wrong.
The last personal missing feature for a mountain shell of this caliber is the lack of any arm pockets for holding essentials like a ski pass, park pass, backcountry permit, or anything you need to visually display to watchful gatekeepers.
Despite these drawbacks, The ONE Shell by Kuhl is durable and stylish, making it an easy "first choice," for all the things in the outdoors.
RECOMMENDED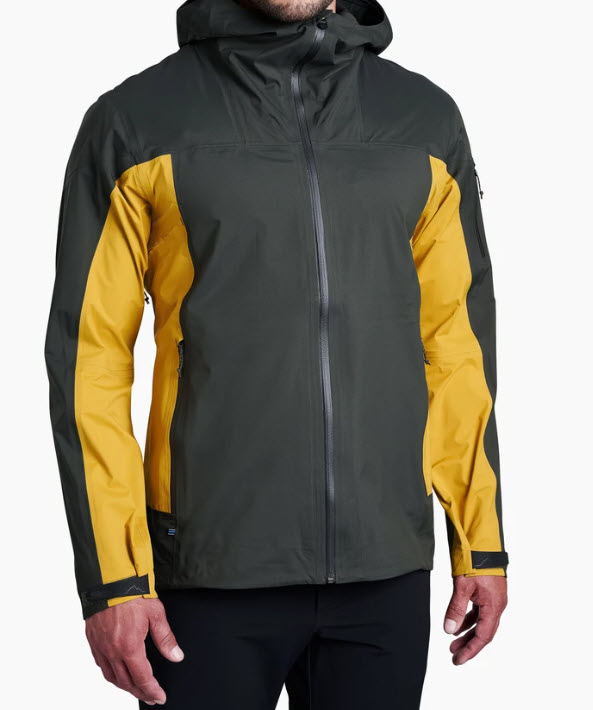 KUHL's The ONE Shell Hoody

Waterproof Zipper Pockets
Adjustable Hood
Seam Seals
My Kuhl Ambush Cargo Shorts Review:
"In the theater of life, the Ambush Cargo Shorts are your versatile actors, ready to take on any role. They're the stagehands of practicality, with pockets that open like secret passages to hold your tools and treasures. Like a map to uncharted territories, these shorts guide you through urban jungles and wild landscapes. Their fabric is a testament to durability. Its arsenal of pockets are a practical marvel, and its versatile range transitions from urban exploration to wild terrain, fully equipped with both functionality and style.

RECOMMENDED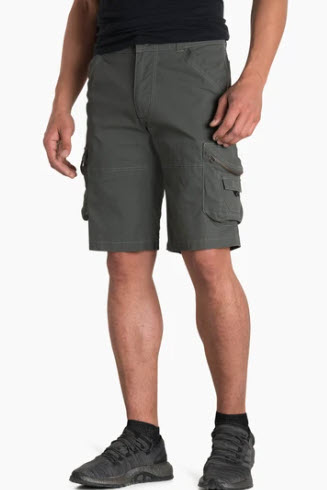 Kuhls 9 Pocket Ambush Cargo Shorts

Quick Dry
9 Pockets
Vented
My Personal PRO's For The Kuhl Ambush Cargo Shorts
9 Pockets
2 Zipper Pockets
4 Vertical Pockets
Pocket Flap Protection
Unique drying process
Durable, built for action
Super Tough Stitching
Patina Dye
UPF50+ Protection
A good pair of cargo shorts are the Swiss army knife of the travel clothing world. Whether you're planning to hike, fish, climb, or finally get that yard project done, the Ambush Cargo shorts offer plenty of function and utility.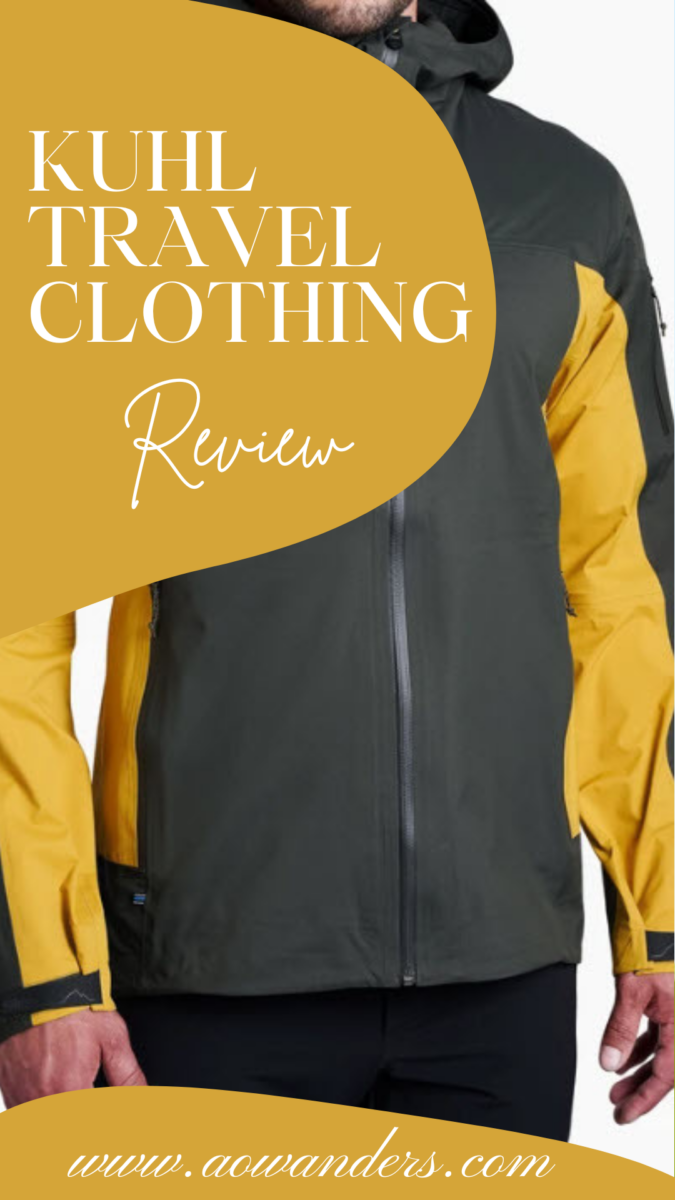 The best part of purchasing a pair of cargo shorts? Pockets!
And the Ambush Cargo has plenty of them. Nine, to be exact.
Do you require pockets inside of pockets? Well, it has that too.
Angeled zipper pockets? Yeah, it's got them too!
What about vertical entrance pockets instead of horizontal entrance pockets? Sure does!!
The cargo shorts by Kuhl check all of the boxes because they have a focus on rugged reliability with easy access no matter how you play in the outdoors.
Trust me when I say this,
"The Kuhl Ambush Cargo Shorts are the absolute best piece of travel wear clothing you could throw in your pack!"
These travel shorts from one of the best travel clothing brands on the market are the perfect garment to add to your travel clothing rotation.
They come in a variety of colors, including camo, so consider picking up a second or third pair to mix and match for different looks throughout your journey.
They have a great fit and dry quickly, making them a prime choice for when you're hiking through early morning dew-covered foliage.
Find yourself above the tree line or lounging in a meadow of mountainside wildflowers with the local wildlife.
In case you were wondering, these shorts are made from SPF-treated materials, so they keep out those harmful UV rays too.
If you want more, well, these KUHL shorts have taken a leap into the modern age with a snap enclosure instead of a traditional button.
Because let's face it, why settle for boring buttons when you can have snappy closures that keep up with your every move?
No more waistband readjustments since these shorts are determined to cling to your hips like your determination to conquer the day.
Best of all, these "travel" shorts are incredibly breathable, making them perfect for wet, watery excursions as well as dry heat adventures.
My Personal CONs Of Kuhl's Ambush Cargo Shorts
For me, the Kuhl Ambush Cargo Shorts offer practical features every travel clothing wardrobe should contain, but there is one feature that gave me a bit of a pause this last year.
While snaps can provide ease of use, they're generally less secure than old-school buttons, but the Ambush Cargo Shorts unique snap style fastener withstood a year of deliberate beatings.
I don't recall any embarrassing snap-related moments from my big trip, but I was ready to swap in a more secure button if need be.
Despite my initial judgment, the Ambush Cargo Shorts maintained their functionality, rugged design, and appearance through a year of constant use in the backcountry.
Making them my absolute crucial travel attire recommendation for outdoor enthusiasts seeking functional and comfortable shorts for their adventures.
RECOMMENDED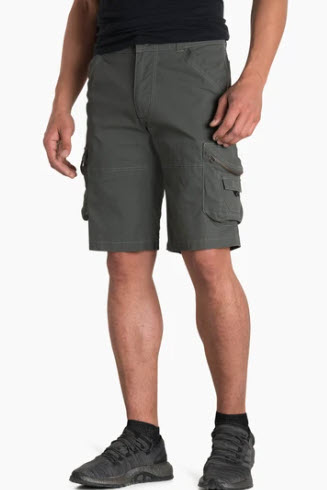 Kuhls 9 Pocket Ambush Cargo Shorts

Quick Dry
9 Pockets
Vented
My Kuhl Born in the Mountains T-Shirt Review:

"Wearing the Born in the Mountains T-Shirt is like wearing your spirit's passion woven into a fabric of rugged authenticity while imprinting narratives of uncompromisable allure from life's distractions. With each wear, you welcome the untamed tranquility of nature, acting as a compass steering you back to your core amidst the clamor of life's commotion."
RECOMMENDED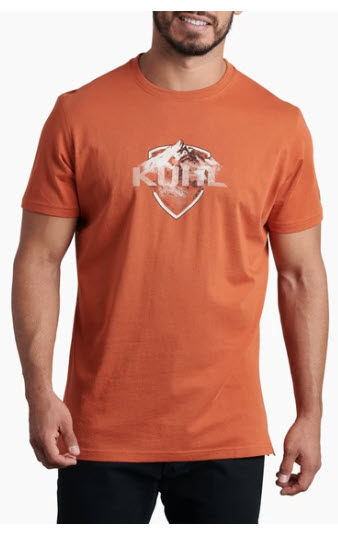 Kuhl Born In The Mountains Tee

Variety of Colors
Stain Resistant
Durable
My Personal PROs Of Kuhl's Born In The Mountain Tee
100% Wildfiber Organic Cotton
Sustainably sourced material
Tons of colors
Are you a fan of mountain culture?
Then, KUHL's Born in the Mountains shirt is a great way to subtly announce to the world where you play in your free time.
It's a great conversation starter and might even lead to meeting a few folks around your neighborhood.
Whether wearing it around the house, to the local brewery, or on a casual day hike, this tee will quickly become your go-to!
A soft tee with color that is going to last through multiple washes? Yes, please! This t-shirt is bound to generate some compliments somewhere along the way.
Heck, I've changed my oil three times wearing this T-shirt, and guess what? There's not one stain on it!
Does it fit well?
Certain t-shirts just fit better than others, and this is certainly a prime example of a form fitting T-shirt.
Maybe it has something to do with its unique stitching in the shoulder area, or maybe I'm just built for the Kuhl brand.
Whatever the reason, there's plenty of airflow, smart stitching, and the placement of the side slits make this a spectacular shirt.
This is a t-shirt that is sure to impress, whether at your backyard barbeque or in the backcountry. This shirt hangs well and fits true to size.
My Personal CONs Of Kuhl's Born In The Mountains Teeshirt
The Kuhl Born in the Mountains Tee Shirt embodies a sense of adventure and comfort, and yet I'm disappointed at the fact of having only bought one.
Is it weird to "overlike" a T-shirt? Seriously I might be borderline obsessed with this thing!
This is one of those shirts you can wear anywhere. From the backcountry to the board room, it'll get the job done, and you'll look good doing it.
With its mountain-inspired graphic and comfortable fabric, it's easily a no-brainer for both outdoor pursuits and everyday wear.
However, the regret of not acquiring multiple shirts might surface once you realize how seamlessly it fits into your travel wardrobe. So don't make the same mistake I did, and buy more than one of these perfect travel tee's.
RECOMMENDED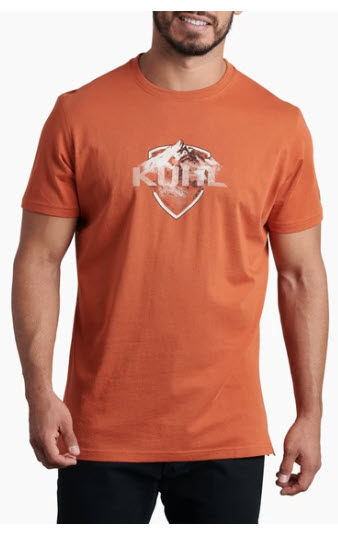 Kuhl Born In The Mountains Tee

Variety of Colors
Stain Resistant
Durable
Lets Wrap Up This Travel Clothing Review Thing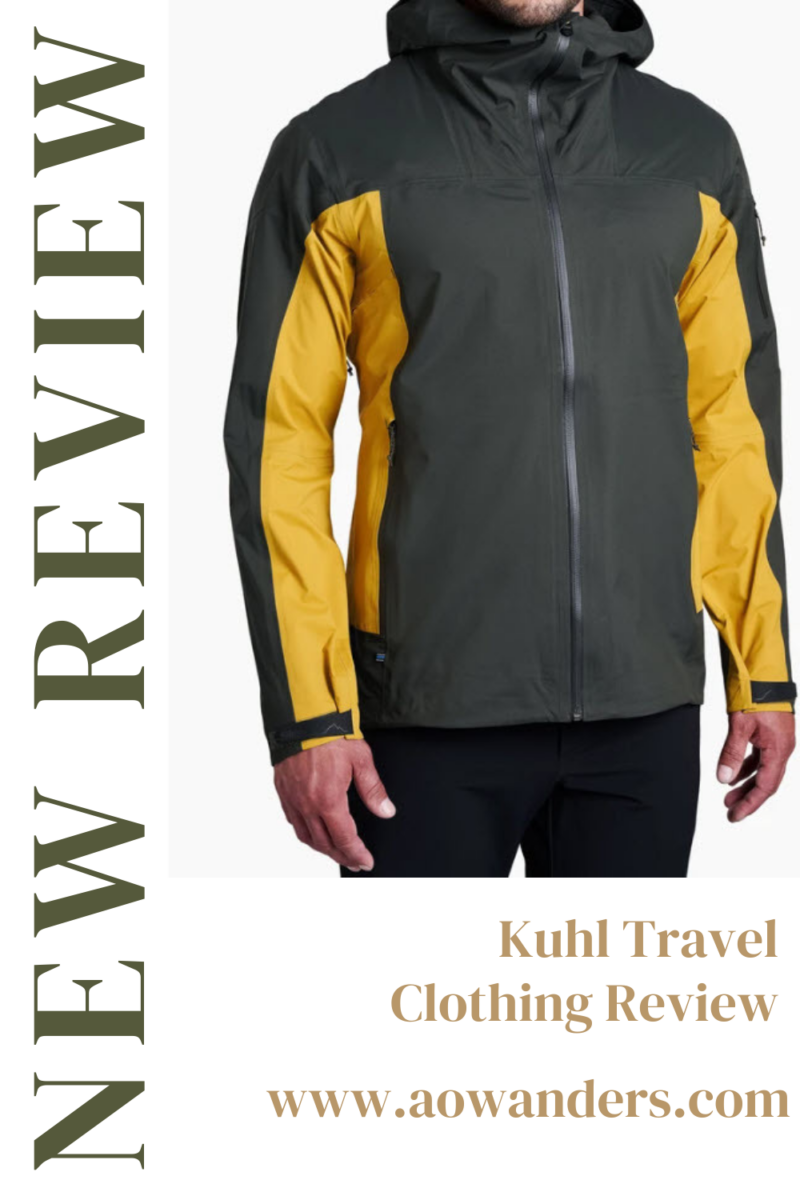 When you dive into the world of life-proof travel clothing, Kuhl's a willing accomplice as they envision each garment as a vessel of possibility and resilience, waiting to be discovered and cherished.
This isn't merely a review about travel clothing; it's a tutorial on how to equip yourself for a journey where every moment is a triumph, every step a testament to your audacious spirit, and every destination a canvas for your stories.
These pieces of travel clothing aren't mere garments; they're enablers of your daring escapades and companions in conquering the unknown. As you suit up in a meticulously crafted hoodie, adaptable shell, or rugged cargo shorts, you're weaving a narrative of resilience, discovery, and self-expression.
So, stride confidently into the wilderness, traverse bustling streets, and stand resilient against the elements – for every adventure embarked upon in these garments is a chapter in the epic saga of a life lived to the fullest. With every sunrise witnessed and summit conquered, these travel clothing essentials become symbols of your unyielding commitment to embrace the extraordinary.
Welcome to the world of travel clothing where it's not just worn—it's your travel companion!