Organize Your Shoe Closet Bigfoot Style
Quick Reference Table of Contents
Your wide feet are your friends, especially when it comes to hitting the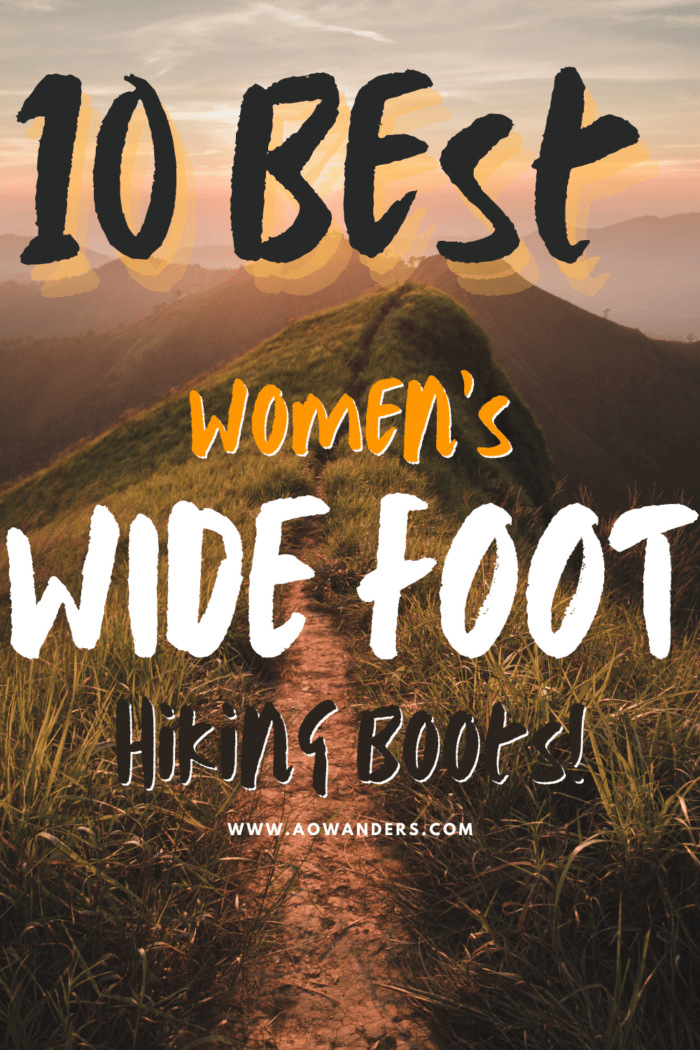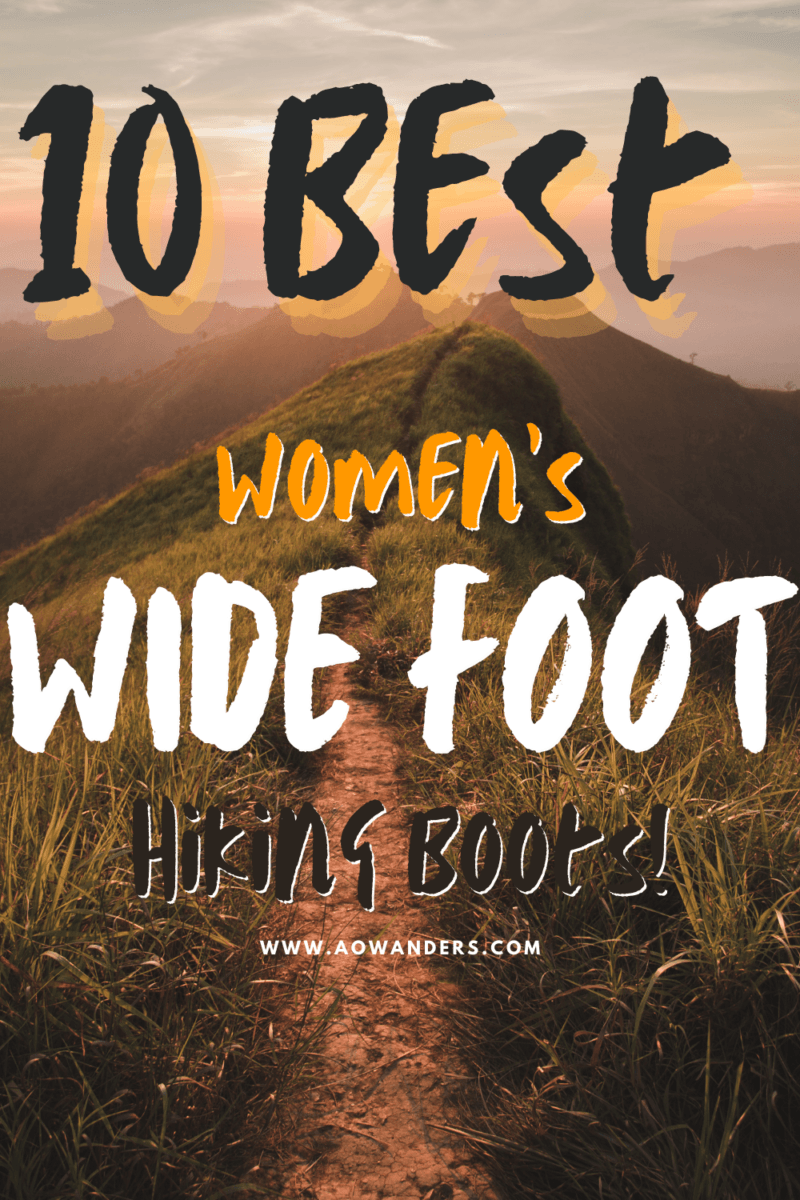 great outdoors. With all the different levels of hikes, rocks, mud, water, dust, sand, and everything else you'll be going over or through. Having the proper footwear is crucial to keeping those pesky foot aches at bay. Wide feet require wide foot hiking boots to ensure your feet are comfortable from the trailhead to the very end, no matter the terrain.  
As many of you know, shoe width size does matter. So if you're a woman or know a woman with wide feet and are on the hunt for some new hiking boots, look no further. Here are my picks for the best wide foot hiking boots on the market. Stop squishing those wide feet into the narrow foot hiking boots, and try one of these ultra-durable outdoor gear wide foot hiking shoe brands today.  If you have narrow feet check out my other popular female hiking boot post.
Relatables

Don't forget, I'm a budget traveler who loves saving you money. Be sure to check out the partnerships and discount resources at the bottom of this page to score some smoking deals on ALL OF YOUR OUTDOOR gear or other travel related needs!
Lowa Renegade GTX Mid Wide Foot Hiking shoes
The Lowa brand has been around for almost an entire century and has proven that they can "walk the walk" when it comes to their wide foot hiking boots. Lowa is a company that is loved by hikers, climbers, and outdoor enthusiasts, and their products bring the most comfort in the most challenging environments to even the widest feet. Lowa is also the official boot sponsor for the American Hiking Guides Association, so if they can trust them, so can you.
These waterproof boots have breathable Gore-Tex liners that will even keep your feet dry while trekking in shallow puddles, light streams, and even slushy sloppy snow. The uppers have water-repellent leather lined with Cordura ankle bands to give you the most comfort and flexibility. Another great feature of these wide foot hiking boots is that they have polyurethane midsoles that do a fantastic job of absorbing shock as you trek along. Lowa Renegade GTX Mid Hiking Boots appeal to women with wide feet because they were designed to be wider than most conventional hiking boots for women.
RECOMMENDED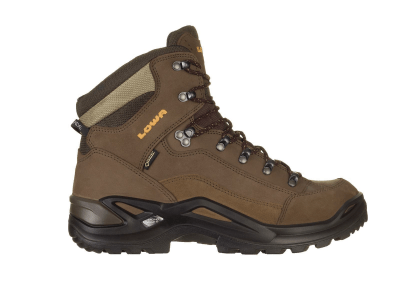 Wide Foot Lowa Renegade GTX Mid Hiking Shoes

Waterproof
Breathable Gortex
Cordura Ankle Bands
Oboz Bridger Mid BDry Wide Width Female Hiking Boots
The Oboz brand is famous among hikers who spend hours outside, as this carefully designed footwear lasts under the harshest conditions. Customers also appreciate that Oboz promotes both human health and planet health, as they plant a tree for every pair of shoes sold in their partnership with Trees for The Future charity. If you are looking for a pair of boots that will remain stable for you without compromising comfort, the wide foot female Bridger Mid BDry Hiking Boots might be a perfect solution.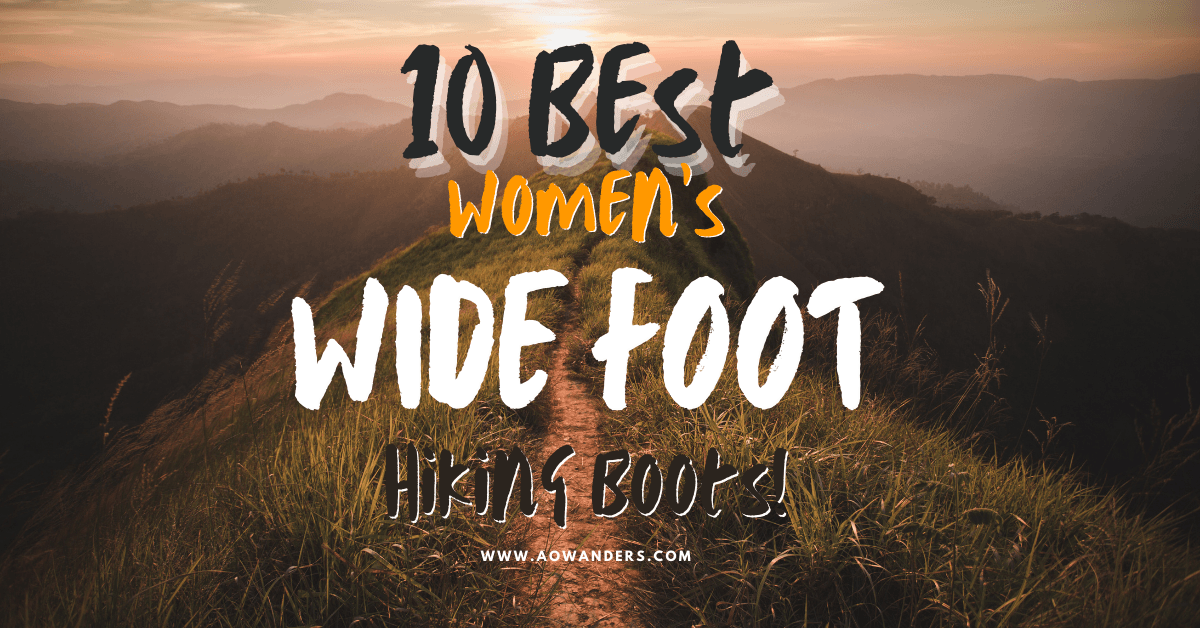 If you have wide feet, these Oboz boots will ensure that your toes don't get crushed at the tip of your boot. They also are made with the best waterproof and breathable material, keeping all of those nasty soggy elements away from your feet. The nylon mesh lining inside the boot creates a unique breathability design.
Becoming even more quick-drying than their competition, and won't hold you back around areas with water.
In addition to this, the arch support on the Bridger's footbeds is a significant selling point for hikers who are on the trails all day long. Like the Appalachian Trail. When looking for a rugged high-end, long-lasting, and comfortable wide foot hiking shoe, give Oboz Mid BDry hiking boots for women some severe consideration.
RECOMMENDED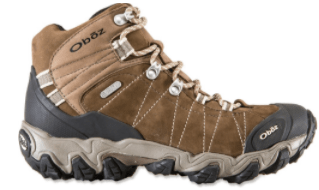 Oboz Bridger Mid BDry Hiking Boots for Women With Wide Feet

Rugged Design
Waterproof
Charitable Company
Merrell Moab 2 Waterproof Wide Foot Female Hiking Shoes
Merrell hiking boots are not just functional, but they're stylish too. This brand has been worn by over 20 million happy customers who keep coming back for their next pair. These ankle-high wide foot boots are great for hitting the trails or even just cruising through town, as they are steady enough for intense paths and lightweight enough for casual evening strolling through town.
Made with performance, suede leather, and mesh uppers, the Moab 2 Waterproof Hiking Shoes for females with wide feet are sure to keep you dry and comfortable. The breathable membranes inside the shoe are also waterproof and shield your feet from any rain, trying to creep inside.
If you have wide feet, you'll be glad to know that these boots run a little on the broader side. Providing excellent arch and heel support, thanks to their high-tech footbeds. Clumsy people will be delighted to know that these shoes have rubber toe caps and Vibram outsoles to stop any slipping accidents on the trail.
Merrell is a household name that sets the standard in the industry for wide foot hiking shoes for females, and if you in the market for a new pair of hiking boots this season, don't sleep on the Merrell Moab 2.
RECOMMENDED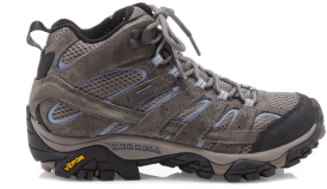 Female Wide Foot Merrell Moab 2

High Tech Footbeds
Waterproof
Rubber Toe Caps
Oboz Sawtooth II Low BDry Hiking Shoes
Here we have another wide foot hiking shoe from the Oboz brand. Because this philanthropic company produces high-quality hiking shoes and boots for all skill levels, but more importantly, cater to women with wide feet who love the great outdoors. The Sawtooth II Low BDry hiking shoes are built with waterproof Nubuck leather uppers, and moisture-wicking nylon mesh liner lowers to bring you the best shielding possible coupled with breathability. As for your toes, the protective overlays help to prevent any abrasions. Along with cushioned toe caps.
Hikers who live in all kinds of climates rave about the Oboz Sawtooth II. Right out of the box, these shoes are comfortable enough to wear on a long journey. The O FIT insoles offer exceptional performance and feel, thanks to how it wonderfully wraps around your foot. Based on customers' reviews, these shoes run a little on the broader side, perfect for women with wide feet.
And it's admirable to mention if you're trying to figure out a tie-breaker between the best wide foot hiking shoes, Oboz plants a tree for every shoe sold.
RECOMMENDED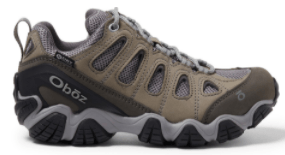 Oboz Sawtooth II Low BDry Hiking Shoes for women with wide feet

Nubuck Leather
Protective Overlay Toes
Waterproof
Female Salomon X Ultra 3 Mid GTX Hiking Boots
Salomon is a brand with a household name born in the French Alps and has been helping people experience hiking since the mid-1940s. The good news, they have no plans to stop their hard work and hard play. This company prides itself on being proactive in the hiking world. Every year they are improving their boot technology and design with each new model that comes out.
If you tend to trip, slip, or fall on trails, you'll love that these boots provide the ultimate stability and motion control without adding any weight. Making some of the most demanding wide foot hiking shoes on the market, Salomon produces memories every hiking season!
A nice feature of the Salomon X Ultra 3 Mid GTX hiking boots is that they are specifically designed to support the shape of women's feet. The leather uppers with Gore-Tex liners mean these boots are quick-drying and prepared for stepping into anything muddy or wet. There isn't quite a boot out there like this one that cradles the foot precisely and provides impeccable ankle support. Women with wide feet love these boots thanks to the giving yet secure side material. If you're ready for a trekking adventure and are a female with wide feet, add these to your cart today.
RECOMMENDED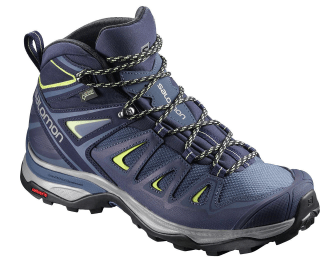 Female Salomon X Ultra 3 Mid GTX Hiking Boots

Quick Drying
Gortex Linings
Supportive Ankle Design
Columbia Women's Newton Ridge Plus Waterproof Hiking Boot for Wider Feet
Columbia has a strict criteria list for designing and crafting their women's broad width footwear, which is why their hiking boots are no different. The Columbia Newton Ridge Plus Waterproof Hiking Boot is a trendy choice and is comfortable right out of the box with no need for break-in time. The brand uses high-quality materials that merge comfort and durability while keeping these boots lightweight and fashionable.
If you're looking for a waterproof boot that sets itself apart from the rest of the wide foot hiking shoes, the exteriors on this pair are made from the best suede and leather materials in the industry!
To protect them from rainy, marshy, sloppy, muddy, slushy wet, and soupy surfaces.
The outsoles have excellent traction, helping prevent slipping as you adventure on the trails up into the mountains. Thanks to the lightweight midsole, these boots are comfortable for long periods without sucking up your energy, lifting each foot for miles. These hiking boots also cater to women with wider feet, allowing some toe room even when all laced up.
RECOMMENDED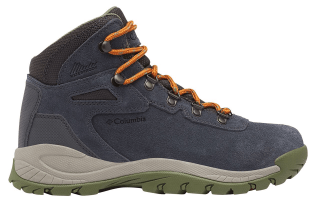 Columbia Women's Newton Ridge Plus Waterproof Wide Foot Hiking Boot

Waterproof
Suede Leather
No Break In Time
Clorts Women's Pioneer Hiking Boots Waterproof Suede Leather Lightweight Hiking Shoes
Clorts is one of the few brands of hiking boots that I've come across that keeps your feet dry while standing in a couple of inches of water. These wide foot hiking boots for women have an impermeable membrane that uses Unneblex technology that provides an extra level of protection to keep water out and have the ability for trapped moisture to escape.
The brand's outstanding commitment to supporting the hiker and keeping them in mind during their design is one reason that outdoor enthusiasts return to them more than any other brand in the industry.
These carefully crafted wide toed boots can take you on the long haul of an all-day adventure without tiring your feet before returning to the trailhead. While they have excellent hiking performance, they are also fantastic for cycling, backpacking, casual walking, climbing, hunting, and trekking out in the snow. The rubber toe on the Clorts Women's Pioneer Boots has an excellent grip and an anti-skid feature to prevent falling and slipping, no matter what activity you're doing.
Making these my personal favorite if your searching for a woman's wide foot hiking shoe.
RECOMMENDED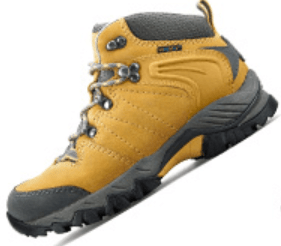 Clorts Women's Pioneer Hiking Boots Waterproof Suede Leather Lightweight Hiking Boots

Unneblex Technology
Rubber Toe
Waterproof
JABASIC Women's Wide Foot Mid Hiking Boots Lightweight 14 Waterproof Outdoor Trekking Shoes
These cool, JABASIC Women's Mid Hiking Boots are stylish and functional, so it's no wonder why so many women choose them for their next outdoor journey. Constructed with breathable and waterproof uppers means that these boots are guaranteed to keep your feet dry and cozy, no matter what kind of terrain you're on.
The non-slip TPR outsole is strong, durable, and has excellent abrasion resistance. If you're worried about having a stable grasp on the ground, these hiking boots are good at making you feel secure, whether standing, climbing, running, or jumping.
One of the best features of these shoes is how versatile they are. Whether you're prepping for hiking, trekking, camping, or a climbing adventure, this pair is reliable and will deliver all-day comfort to whatever activity you're doing. Do laces give you trouble? These are designed to be adjustable without sacrificing a tight fit and don't fray as often as some competitor's models.
Making them one of the more popular wide foot hiking shoes on the market for females.
If you're looking for new gear this hiking season, check out JABASIC's wide foot hiking boot lines.
RECOMMENDED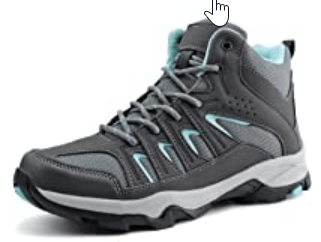 JABASIC Women's Hiking Boots Lightweight 14 for wide feet.

TPR Outersole
Waterproof
Durable
L.L. Bean Women's Wide Foot Alpine Hiking Waterproof Boots
The L.L. Bean brand has been around for over 100 years, and with its headquarters in the forests of Maine, it's not a shocker that they would have a quality boot. If you live in a cold region, here's great news for you.
The exclusive VertiGrip rugged outsole has shown great trekking results through winter weather, thanks to this boot's maximum insulation. The 200-grams of recycled PrimaLoft insulation offers excellent warmth and comfort, even if you're out hiking on frozen terrain.
These wide foot hiking boots are also made with lightweight material and have a double mesh upper that's healthy, breathable, and seals out moisture with its waterproof system. Women with wide, flat, and arched feet will appreciate the internal rock plate that protects feet every step of the trail. In addition to that, the soft padded tongue and ankle cuff will wrap your ankles with all the support they need for any journey.
RECOMMENDED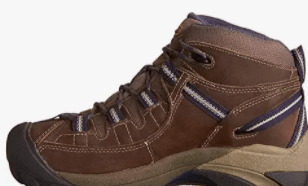 LL Bean Hiking Boots for Women With Wide Feet

Vertigrip
PrimaLoft Insulation
Internatl Rock Plate
Timberland Women's Flat Foot White Ledge Mid Ankle Boot
As a woman spending time out in the backcountry, you need a pair of boots that can carry you through it all, rain or shine. Since the 1970s, Timberland has been a brand that supports an active lifestyle outdoors worldwide, and they've got the fanbase to back up their worth.
Timberland sets the industry standards high and authentically considers the user's point of view when carefully designing their hiking footwear. These White Ledge, Mid Ankle Wide Foot Boots, are made of 100% leather with a rubber sole to make sure you stay dry and slip-free all-day on your upcoming hiking trip.
Is your foot on the broader side? Timberland's got your back. These boots offer room for your toes without compromising the security of your foot while trekking. They come with a padded collar and tongue for all the comfort you could ask for and are complete with a cushioned EVA footbed to cradle your feet.
There's nothing worse than getting debris in your boots while hiking, which is another thing this Timberland pair excels at deterring. The tongue and seam-sealed waterproof construction partner up to keep all things wet and rocky outside of your boots.
RECOMMENDED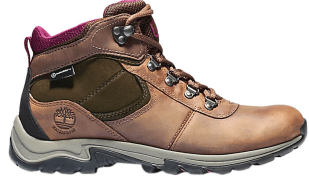 Timberland White Ledge Mid Ankle Boot for Wide Feet ~Women's

100% Leather
Padded Collar
Waterproof
Wide Foot Hiking Shoes FAQ
What material is best for a hiking boot?
No matter what type of boot you get, you'll want something waterproof. For that reason, leather uppers and Gore-Tex waterproof liners are pretty famous across the board. If the shoes have mesh material for ventilation, you'll be a lot happier too.
Are some hiking boots better for winter trails than others?
If you see yourself spending a lot of time outdoors in winter weather, be sure to look for a pair of boots that include insulation. In general, boots are designed to withstand all environments, but you will want the extra warmth from insulation if you live somewhere frigid.
Here Are My Favorite Booking Resources:  Affordable & Efficient Travel Booking Tools I Use Everyday Along With My Favorite Gear Resources
Book Your Flight
Find a cheap flight by using Skyscanner or Momondo. These are my two favorite "flight" search engines because they search through websites and airlines around the globe and offer a calendar view to find even cheaper flights for flexible travelers.  Check out these UNIQUE destination deals or my favorite All Inclusive Booking Travel Tool!
Rent An RV
Find cheap RV rentals for your next adventure by using Outdoorsy or RVshare.  These are my two favorite "RV" search engines because they allow you to rent from private RV owners, and offer a wide variety of chooses at affordable rates.  Want to start making money by renting out your RV?  List it with Outdoorsy or RVshare.
Book Your Accommodation
You can book your hostel with Hostelworld. If you want to stay elsewhere, use Booking.com as they consistently return the cheapest rates for guesthouses and cheap hotels.  Get a $40 credit for booking with AirBnb.  Need to book a private campsite use my favorite RV booking site Hipcamp!
Need Gear
I use REI for all my gear needs because if it ever fails or gets damaged they will replace it for free!!! No questions!!! No hassles.
If REI doesn't have the gear I need.  I can always find it on Backcountry.com
Travel Community
Join the Escapees travel club to meet fellow travelers and talk about all things related to RVing and overland travel.
Travel Packages & Tours
Are you looking for worldwide tours and travel packages?  Check out my go-to source — IntrepidTravel!  Looking for more family related travel packages and tours book with GAdventures.
Don't Forget Travel Insurance
Travel insurance will protect you against illness, injury, theft, and cancellations. It's comprehensive protection in case anything goes wrong and will cover things like transport security, crisis response and medical transports such as Life Flight. Why go on any trip without a safety net that costs less than a case of beer? I've been using SafetyWings for years without any issues.
My favorite companies that offer the best service and value are:
SafetyWings (ONLY $35 & Covers USA Travelers)
World Nomads (for everyone below 70)
Insure My Trip (for those over 70)
Medjet (for additional travel insurance coverage like medical transport, travel security & crisis response)
Looking for the best companies to save money with?
Check out my resource page for the best companies to use when you travel! I list all the ones I use to save money when I travel – and I think will help you too!
Just Want To Support This Amazingly Resourceful Website
Websites incur constant fees!  From hosting costs to massive amounts of personal time creating beneficial content for readers to consume at their leisure.  To help offset those costs or just to say, Thank You.  You can help support this community by shopping through any of the links found on my resource page.  Shop on Amazon through this link and I'll get a small commission, or you can directly support this site through Paypal donations.  None of this is a requirement its just helpful and creates a better community for all of us.