These are the most AWFUL 5th Wheel Brands on the Market Today!
Quick Reference Table of Contents
There is a heated debate on which 5th wheel brands to avoid when buying one of these oversized campers and fancy travel trailers.
If your unaware a fifth-wheel camper is nothing more than a simple camper box palace balancing its weight on 1 to 3 independent dead axels.
The engineering that goes into these mobile recreational vehicles is fascinating, but some brands cut corners with poor craftsmanship. Combine this with subpar quality control, and you get these 5th wheel brands to avoid.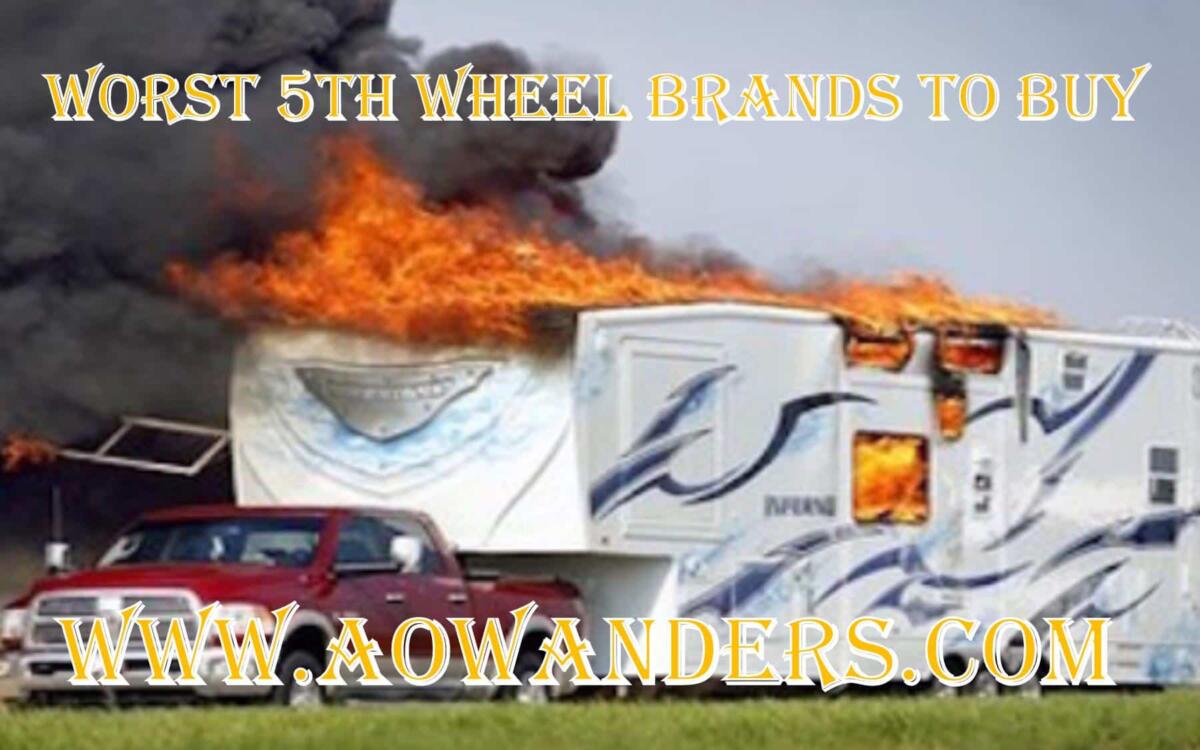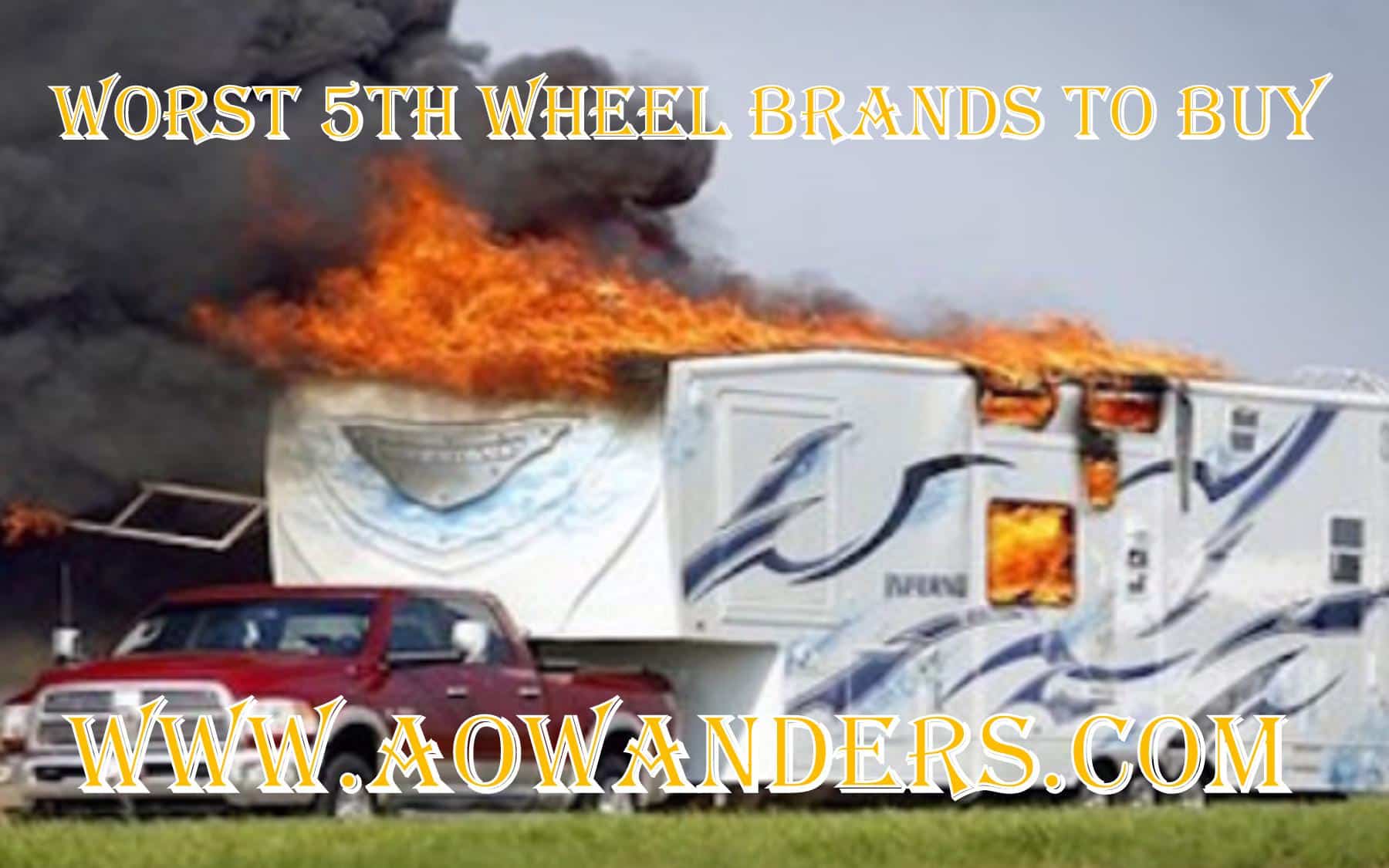 Avoid these seven 5th Wheel Brands at all Cost
Dutchman Voltage 5th Wheel Camper
Dutchman Wild Thing 5th Wheel
Coachman Chaparal 5th Wheel Camper
Keystone Crossroads Zinger 5th Wheel Camper
Jayco Eagle 5th Wheel Camper
Jayco Starcraft 5th Wheel Camper
Allegro 5th Wheel Camper
Like the automotive industry rumors and 2nd hand accounts develop the reputations of these awful 5th wheel brands to avoid.
Ask one person and they will say, "That 5th wheel brand is junk! Don't buy one."
Ask another person and they will say, "We love that 5th wheel brand, and they are one of the best camping trailers on the market today."
All 5th wheel brands essentially provide the same functionality. Trying to determine the reputable 5th wheel camper brands from the not so reputable 5th wheel brands is a challenge – but in the RV industry it all comes down to the materials used. The less you pay the cheaper the product, and the more you pay the better the materials are used to build a 5th wheel camper.
Every 5th wheel manufacturer advertises a quality product and pledges to provide the conveniences of home through modern amenities.
During your adventures on family road trips over the summer holidays.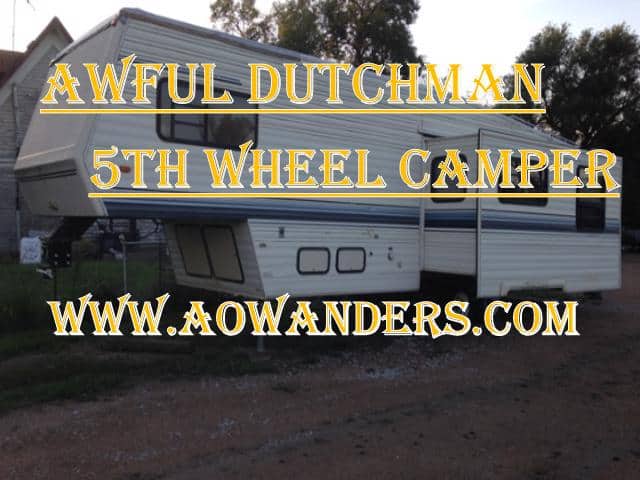 Unfortunately, some 5th wheel brands are only great at marketing. The low-end 5th wheel brands you'll want to avoid are a constant headache that deliver unexpected issues at the worst times. To avoid these unforeseen expenses it's a good idea to avoid these Six 5th wheel brand campers.
Dutchman 5th Wheel Brands to Avoid
Dutchman claims to be the industry leader since 1988, but this 5th wheel camper brand has a spotty track record. Before merging with Keystone – Dutchman RVs were an entry-level manufacturer of towable camping units. Unfortunately, this second tier camper manufacturer is stuck in the 80s and infected by complacency. From design flaws to mediocre materials.
The only silver lining that Dutchmen 5th wheel campers bring to the table is their "3-year warranty" they plaster all over press releases, blog posts, and other promotional material.
Dutchman camper's under the Keystone brand flag are better than they used to, but no manufacturer produces quality 5th wheels across their lineup equally. And the Dutchman 5th wheel brand has some real dogs in their fleet.
Dutchman Voltage 5th Wheel Brand to Avoid
One of these awful "dogs" in their fleet is the Voltage camper. The Dutchman Voltage 5th wheel brand is ground zero for the complacency infection found at Dutchman manufacturers.
You should avoid this 5th wheel brand at all costs. Unless you like lighting money on fire. Camper review forums are littered with horror stories from this horrendously awful 5th wheel brand.
The Dutchman 5th wheel brand Voltage comes with an A/C unit that can't keep up on those mid-summer hot days. Because more times than not this Dutchman 5th wheel campers come with sawdust in the A/C roof vents. Blocking its airflow intake and outtake vents.
Dutchamn Major Design Flaw
Along with shotty cabinet hardware that doesn't allow cabinet doors to shut properly. TV mounts that aren't properly mounted to a stud in the wall. But here's where the complacency really kicks in. This Dutchman 5th wheel comes equipped with a tub that has no faucet or drain plug – and I hope you don't actually want to take a warm bath. Because this 5th wheel brand with its 6-gallon hot water tank will only provide three inches of hot water before you have to wait an hour for more.
Avoid Buying The Dutchamn Wild Thing 5th Wheel Brand
The other meager model in the Dutchman 5th wheel brand to avoid is the "Wild Thing" lineup. Including a standard 4-burner stove and an inside/outside stereo system – Dutchman stopped making this 5th wheel model in 2007 voluntarily.
Because the grounding screw for the fuse box kept falling out. Killing power to the entire 5th wheel camper. After replacing the ground screw unit the breaker panel would then start causing electrical shortages to the TV sound system, fireplace, and vacuum. A logistical annoyance that literally got this brand kicked off the assembly line.
All 5th wheels are built on an assembly line but the Voltage and Wild Thing 5th wheel brand lineupes must have been assembled on days after a binge drinking holidays.
Coachman 5th Wheel Brands To Avoid
Like a 12-page restaurant menu trying to please everyone Coachman is the Mexican restaurant of the RV industry. Somewhere between 1964 and present-day—Coachman has lost their focus in recent years. From their signature, lightweight pop up campers and entry-level travel trailers Coachman manufacturer has started building illogical 5th wheel brands you will want to avoid like the black plague.
Coachmen Chaparral 5th wheel Brand
One Coachmen model in particular, The Chaparral 5th wheel brand is plagued with water leaking problems that require new fiberglass panels. A costly expense that isn't covered under any warranty. RV review forums are over run with 5th wheel owners complaining about slide issues and camper roof replacement costs.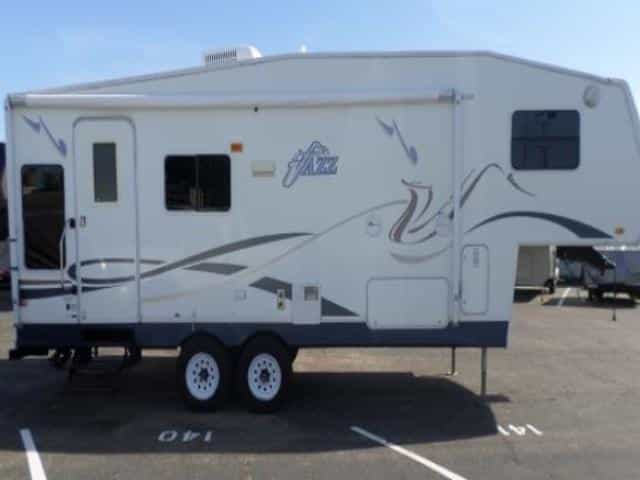 There is even multiple threads on the forums complaining about how to drain the fresh water tanks. Where these 5th wheel camper owners complain about having to crawl underneath your 5er and unscrew a cap. Same goes with the hot water tank.
When all they needed to do was install a 2-way valve. Walls pulling away from their frame. Prompt responses from call service customer service reps to tell 5th wheel camper owners to install more screws. I'm guessing thats not in the training. Since thats an issue that should have been addressed on the assembly line not out at a campground after purchase.
The Chaparral 5th wheel brand is Coachman's flagship 5er and has more complaints on RV forums than any other model on the market today.
Keystone 5th Wheel Brands to Avoid
Crossroads RV, owned by Keystone, is an entry to mid-level RV manufacturer of towable RV campers. In recent years Crossroads RV has updated their entire lineup with better materials, modern technology and have learned a trick or two from Keystone manufacturer. Unfortunately, RV review boards are still trending with customer complaints regarding the Crossroads RV Zinger model.
Crossroads Zinger 5th Wheel is an Awful Brand
This is a bit unfair to Keystone and the Crossroads brand. Because after Keystone purchased Crossroads RV they offered design assistance, marketing teams, research data, and big bank accounts. Making Crossroads RV just as innovative and modern as any other RV manufacturer in the entry to mid-level market today.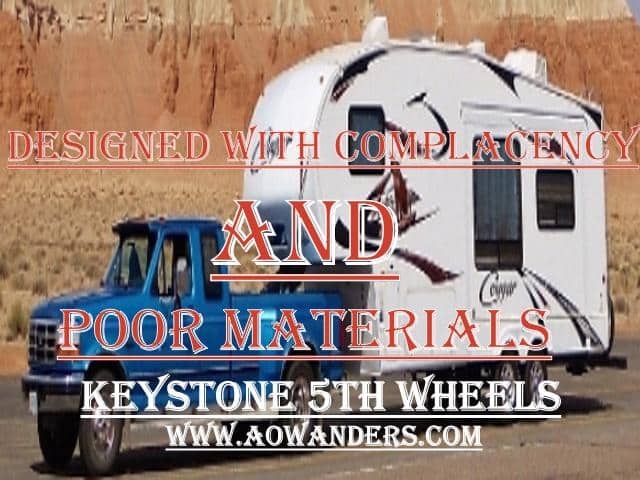 Most buyers don't look any farther than the top name brands on the market, but all RV/Campers are made on an assembly line using roughly the same material.
Yeah sure some brand lines use better material than others, but craftsmanship and quality come down to the individual employee manning that particular station.
Meaning people are people. Employees come and go. Training is absorbed better by some, and Fridays and Mondays are low production days. Because of holiday and weekend activities.
How focused are you when you're hungover? For whatever reason you can find negative reviews on all the major RV 5th wheel brands made in the USA.
15 Reasons Not To Buy a Crossroads 5th Wheel
Crossroads 5th wheel Zinger model, however, has an awful reputation for its final fit and installation of products. Review boards on the Crossroads 5th wheel zinger read like this
Toilet pipes leak
Roof trim hanging off edges
Cracked cupboards
Roof Vent trim bubbled and cracked
Fridge door won't latch
Roof leaks rotted wall and floor
Paint fades from brown to grey
Buldge in vertical wood frame
Cupboard doors fall off their hinges when moving
Bent rear axels that can't be fixed until tires show wear
Warranty departments refer to page numbers in the manual rather than assisting customers in their time of need
Dealers ignoring customers after purchase
No sense of urgency from repair shop to fix
Wrong parts ordered multiple times
Service department fixes one thing and breaks another
One reviewer said they had to replace their wheel hub assembly within 5 miles of driving on their first trip.
After hooking it up at the campground they had water leaking from the toilet, under the sink, the outdoor shower and even from the fresh water holding tank.
They claim their slide wouldn't open all the way making it impossible to access cupboards that didn't have enough clearance to swing the door open. The fridge wouldn't turn on so $200 worth of groceries rotted, and the A/C unit blew sawdust all over the inside of the camper the first two days they used it. Sound familiar?
This is one 5th wheel brand you should avoid at all costs no matter what anyone tells you. Even though this Crossroads RV 5th wheel is now made by Keystone it hasn't improved quality one bit!
Thor RV 5th Wheels
Thor RV manufacturer is one of the most trusted RV makers in the industry, and also manufacturers over 50% of all RV campers on the market today.
There are a handful of RV manufacturers that build top-notch campers at an affordable price, and Thor camper company is one of them.
Unfortunately, just like every other big name RV builder, they have acquired some brand names that don't live up to the quality Thor is known is for.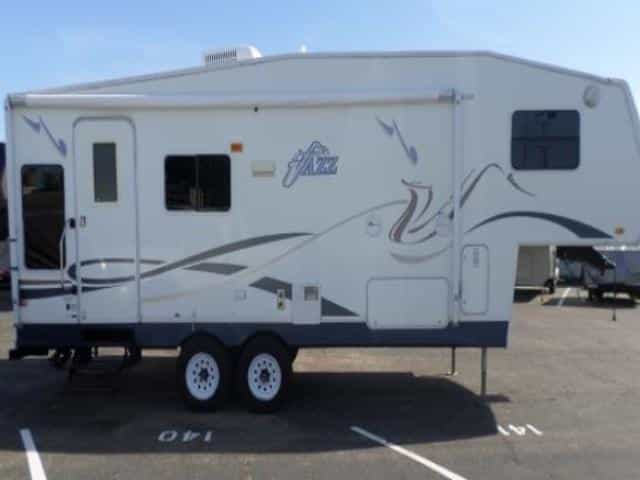 Jayco 5th Wheel Brand to Avoid
One of them is the Jayco brand. One of the most popular campers on the market today because its an affordable entry-level camper.
Jayco designs entry-level towable campers in all shapes and sizes. With the deep pockets of Thor, Jayco also runs an aggressive marketing campaign for this brand line in its portfolio.
You can find Jayco campers for sale all over craigslist, rvtrader, dealer lots and a host of forums that have their own classifieds page.
Jayco is a household brand name that people have come to trust as being a quality modern and fair priced towable camper unit. Which is true for almost every model except the Jayco Eagle 5th wheel.
Avoid the Jayco Eagle 5th Wheel Like The Black Plague It Is!
From poorly constructed slides. To improper structure struts. The Jayco Eagle 5th wheel will spend more time in the service department being repaired than out on the road adventuring.
This Jayco 5th wheel is an awful design riddled with problems. Problems that take months to fix, and only after you spend weeks on the phone with the warranty department.
If you happen to be out of warranty coverage the shortcomings of this awful Jayco 5th wheel will cost you thousands and thousands of dollars.
One review complained that his heater kept popping the fuse. Long story short it wasn't ducted right and was overheating. Cost him $2700 to fix this issue that should have been caught on the assembly line. This is one 5th wheel brand you will want to avoid.
Starcraft 5th Wheels ARE JUNK!!!
Starcraft 5th Wheel also made by Jayco is another dogpile 5th wheel brand you will want to avoid.
I rarely stay in campgrounds because I can't justify spending the money they want to charge for a parking spot with a plugin and a drain.
However, this last summer I spent two days in a campground in Minnesota. My neighbor was a young couple pulling a Starcraft 5th wheel that destroyed their family vacation in less than 24 hours.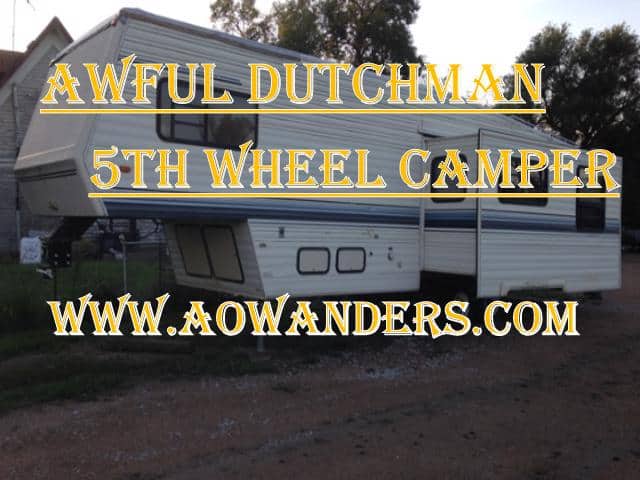 In one night I watched their camper fill with smoke after a breaker panel caught fire. Sound familiar?
Their blind broke and fell off when they tried opening the door. Later when it started drizzling outside they came knocking on my door because their ceiling had swelled with water.
It hadn't even rained a half an inch, but somehow they had a major pool of water in their ceiling. The fake wood near their door had also swelled making it impossible to shut the door, and two cabinet doors fell off while we were just standing there conversating.
Purchased less than 24 hours earlier its safe to say they were experiencing buyers remorse. Something you can easily avoid if you check out my popular RV buying guide or use my Free RV CAMPER INSPECTION CHECKLIST.
They were happy to sleep in my well put together KZ SPORTSMAN with no issues.
Every brand builds a lemon now and then, every RV builder will make mistakes from time to time. But if I spend $60,000 on a 5th wheel like they did, and it can't even make it 72 hours before it burns up, leaks water and starts falling apart than I would say that's a 5th wheel brand I would want to avoid!
Starcraft 5th wheel brands are complete junk and a waste of money!
Allegro 5th Wheels Are Outdated & Overpriced!
Allegro RV is an entry to mid-level RV manufacturer of towable RVs and campers. Owned by Tiffin motorhomes, Allegro RVs are their most popular and affordable RV line on the market today. The Allegro RV line up has been around since 1971 and has a reputation of solidly built traditional towable campers.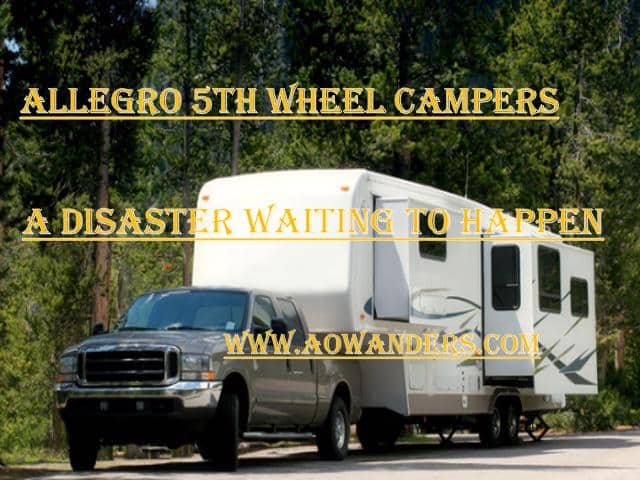 In recent years, Allegro has updated its entire lineup with better materials, modern technology, and more functional layouts. Trying to get back to the days when Allegro was considered one of the big guns in the RV industry.
Unfortunately, today they are still considered a 2nd or 3rd tier builder infected with complacency. Like the rest of the awful 5th wheel campers on this list.
Talk to the right camper owner and the Allegro RV brand envokes wonderful family camping memories from the 1980s, and those same customers will be surprised they are still in business.
As a result, the Allegro RV brand has fallen from Graceland. Stuck in the 80s and floundering to finds its identity today, the Allegro 5th Wheel is another brand to avoid.
Overbuilt in some areas and underbuilt in others. There is no consistency with the Allegro brand.
5th Wheel Camper Brands to Avoid Buying
Don't take my word for it. Do your own research. Just like I urge in my popular RV buying guide you need to understand the what, how, when and where your going to use your 5th wheel camper. Or you're going to end up buying the wrong RV camper for the wrong reasons.
What I am trying to tell you. Before you shell out 5 and 6 figures worth of money for a camper, RV, travel trailer or 5th wheel do your research and use my free camper inspection checklist.
How to Avoid Buying a Lemon Camper
Test out everything before you even consider purchasing the unit. Turn on all the lights. Open all the cupboards! Sit in every seat! Try hooking it up to your vehicle. Bring items with you that you intend to put in the cupboards. Make sure they fit. Walk the floor plan. Hook it up to a water source. Crawl underneath to check tires, axels, and underbelly.
***Use this Pre-Sale 5th Wheel Inspection Checklist***
The more knowledge you have the better decision you can make. The more tests you do the more comfortable you can be when purchasing a big-ticket item like a 5th wheel. The more you know the more you'll save, I promise!
***Use this Pre-Sale 5th Wheel Inspection Checklist***
Dealerships Are Not Your Friends
Whatever you do DO NOT trust the dealership to educate you. They're only concern is commission. They are focused on selling RVs to increase their commissions! See the conflict of interest here? Don't trust the sales person's recommendations. Do your own research and inspections.
Search the internet. Join RV forums and RV Facebook groups. Rent an RV and talk to other campers that can only share their experience and don't take any commission off of the answers they provide!
Also remember RVs depreciate by up to 50% their 1st year!! So do your research unless you want to lose $50,000 because you trusted a commissioned biased RV salesman!
RV Life Resources
Have more RV related questions? Leave them in the comments below or check out my entire RV Life section by following this link https://aowanders.com/category/start-here/rv-life/ to get more RV tips, directions, answers and funny stories. Or if you just want a good laugh and want to read about my first RV road trip check out this funny tale. https://aowanders.com/two-dumb-ski-bumbs-take-on-rv-life/ or read about my latest RV Road Trip Adventure that ended in a fight to the death. https://aowanders.com/epic-rv-road-trip-that-ends-in-a-fight-to-the-death/
My Favorite Travel Booking Resources: Most Affordable & Efficient Travel Booking Tools I Use Everyday
Book Your Flight
Find a cheap flight by using Skyscanner or Momondo. These are my two favorite "flight" search engines because they search through websites and airlines around the globe and offer a calendar view to find even cheaper flights for flexible travelers.  Check out these UNIQUE destination deals or my favorite All Inclusive Booking Travel Tool!
Rent An RV
Find cheap RV rentals for your next adventure by using Outdoorsy or RVshare.  These are my two favorite "RV" search engines because they allow you to rent from private RV owners, and offer a wide variety of chooses at affordable rates.  Want to start making money by renting out your RV?  List it with Outdoorsy or RVshare.
Book Your Accommodation
You can book your hostel with Hostelworld. If you want to stay elsewhere, use Booking.com as they consistently return the cheapest rates for guesthouses and cheap hotels.  Get a $40 credit for booking with AirBnb.  Need to book a private campsite use my favorite RV booking site Hipcamp!
Looking For A Travel Community
Join the Escapees travel club to meet fellow travelers and talk about all things related to RVing and overland travel.
Travel Packages & Tours
Are you looking for worldwide tours and travel packages?  Check out my go-to source — IntrepidTravel!  Looking for more family related travel packages and tours book with GAdventures.
Don't Forget Travel Insurance
Travel insurance will protect you against illness, injury, theft, and cancellations. It's comprehensive protection in case anything goes wrong and will cover things like transport security, crisis response and medical transports such as Life Flight. Why go on any trip without a safety net that costs less than a case of beer? I've been using SafetyWings for years without any issues.
My favorite companies that offer the best service and value are:
SafetyWings (ONLY $35 & Covers USA Travelers)
World Nomads (for everyone below 70)
Insure My Trip (for those over 70)
Medjet (for additional travel insurance coverage like medical transport, travel security & crisis response)
Looking for the best companies to save money with?
Check out my resource page for the best companies to use when you travel! I list all the ones I use to save money when I travel – and I think will help you too!
Just Want To Support This Amazingly Resourceful Website
Websites incur constant fees!  From hosting costs to massive amounts of personal time creating beneficial content for readers to consume at their leisure.  To help offset those costs or just to say, Thank You.  You can help support this community by shopping through any of the links found on my resource page.  Shop on Amazon through this link and I'll get a small commission, or you can directly support this site through Paypal donations.  None of this is a requirement its just helpful and creates a better community for all of us.