Leaf Changing Adventures
Quick Reference Table of Contents
Fall Foliage RV road trip season has arrived, which means RVers are extra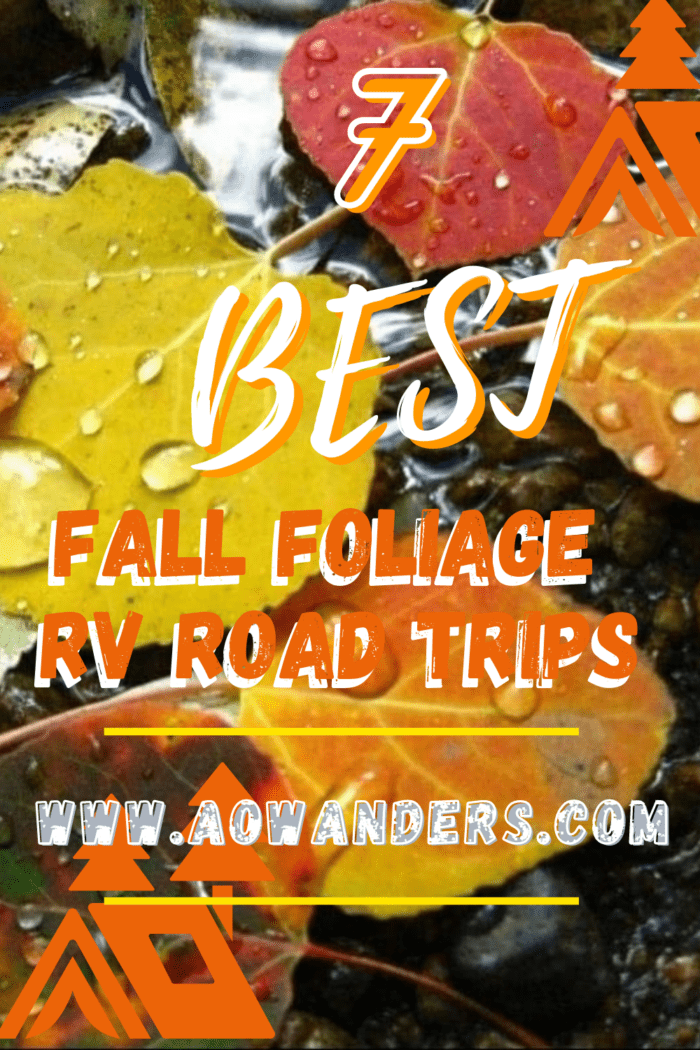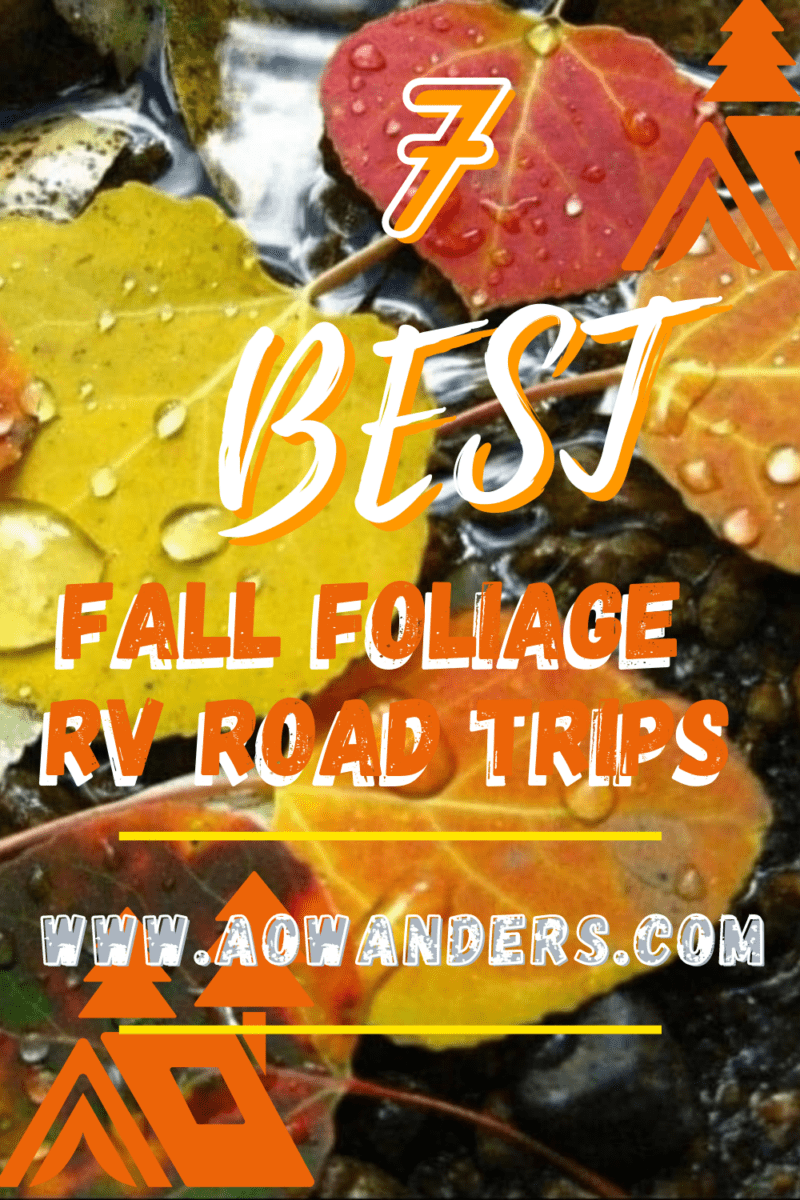 excited to hit the road. With crisp, comfortable temps, crystal clear blue skies, and a palette full of vibrant colors on the trees, autumn is the perfect time to enjoy RV life.
Even better, there are a ton of must-see destinations in countless regions throughout North America. From the majestic mountains of Colorado to Maine's flourishing forests, RVers have a plethora of scenic settings from which to watch natures magnificent natural fireworks show.
If your truly looking for the perfect fall foliage RV road trip destinations this article will help prepare you for all the goodness that comes with autumn RVing. I'll start by discussing some general fall activities that pretty much everyone seems to enjoy. Then I'll tell you about some of my favorite destinations to discover this fall.
[custom-Enjoyable Reads title="Related Posts" none_text="None found" order_by="title" order="ASC"]
If you're ready for the ultimate autumn epic RV adventure, make sure you don't forget about these 3 fun fall activities, and bookmark this page so you don't forget about these 7 stellar fall foliage RV road trips your sure to enjoy.
3 FUN FALL Foliage ACTIVITIES
Peep some leaves
Catching the intoxicating colors of fall can be a tricky game, but if you can witness the fall foliage in all its glory, the efforts are well worth it. And contrary to popular opinion, you don't have to RV throughout New England just to see the leaves. Fall's very own fireworks show can be seen throughout the landscapes of the U.S. from coast to coast.
Some of my favorite places to watch the fall foliage unfold include:
● Denver, Colorado and the nearby Lariat Loop Scenic Byway, but don't sleep on Steamboat Springs or Rocky Mountain National Park's gateway town, Grand Lake,Colorado.  
● Salt Lake City and the nearby Alpine Scenic Loop. If you ask me, and you are since your here reading this I'd highly recommend taking a drive up to Ogden, Alta, Snowbird or Park City.  Because ski towns always have the best fall foliage colors.  Plus you can camp for free in their parking lot.  SCORE!!!
● Estes Park, Colorado, and if you truly want a road trip to remember take the drive from Fort Collings to Steamboat Springs on Hwy 14. Its one of my all time favorite roads to drive anwhere in the country anytime of the year, and it has a ton of riverfront free campsites.  
● Asheville, North Carolina
● Willamette Valley, Oregon
● Sandpoint Idaho—Selkirk Loop–The greatest RV road trip in the country passes through Sandpoint!
Ask me about the epic RV road trip route that includes all of these routes, loops and destinations in one journey, or just keep reading!
Why Is Picking Apples On A Farm So Much Fun In The Fall?
Picking apples on an orchard farm is the quintessential fall activity for every American. If you have kids, they will absolutely love the freedom that comes from the landscape of an open apple orchard. They'll also enjoy being thrust upon your shoulders so that they can handpick the finest apples of the bunch from the tops of the trees.
Not only that, but it sure seems like RVs and apple farms were made for each other. Just ask the RVers who have stayed at any of the amazing Harvest Host locations around the country.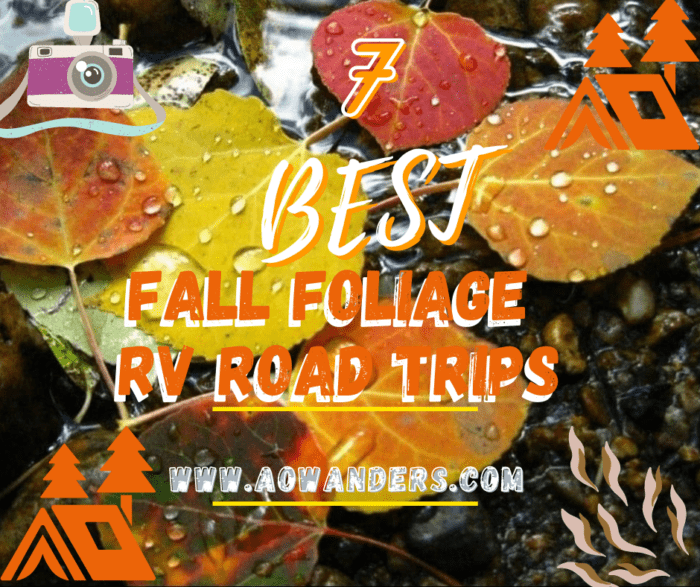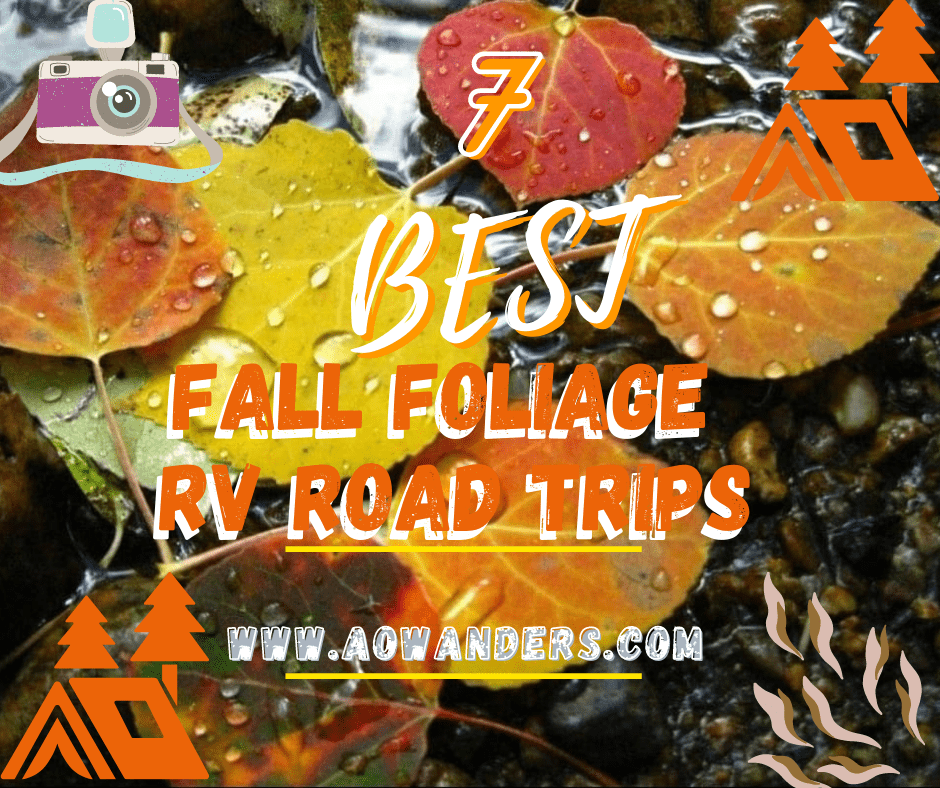 I've noticed that the absolute best apple-picking happens in:
● New England
● East Coast
● Midwest
● Pacific Northwest
So pretty much everywhere North of an invisible line starting in Outer Banks, NC and running all the way to Monterey, CA. 
Why Is Fall Hiking So UNBELIEVABLE!
Lots of hikers prefer to wait until summer's scorching heat has passed to hit the trails. If you feel the same, fall foliage season is the perfect time to get out there and exercise by doing some fall hiking on your favorite trails.
Better yet, park your RV for free at the trailhead, and you just might think you've found heaven on Earth.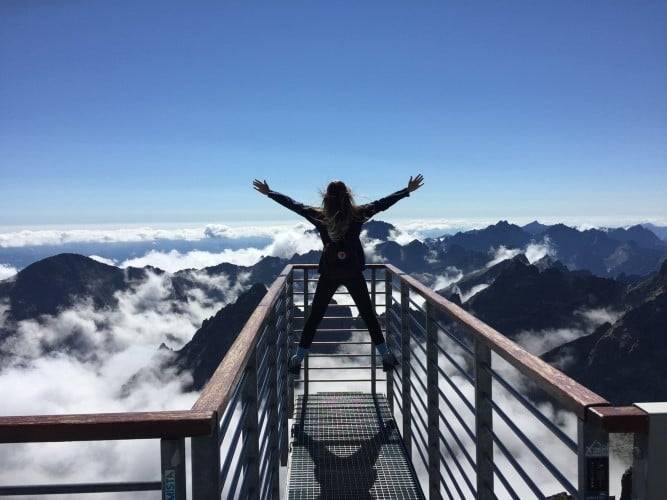 As for places where I love to hike, here are just some of my favorite locations to settle down and find some trails:
Teton has my favorite hike of all time (Grizzly Bear Lake), but Glacier National Park has my heart.  Probably because I hiked all 871 miles of the "official" trails.  
7 STELLAR FALL FOLIAGE RV ROAD TRIP DESTINATIONS
The Great Smoky Mountains – North Carolina and Tennessee
The Great Smoky Mountains offer perhaps the most stunning scenery south of the Mason-Dixon line. And unlike many mountain areas that lose their brilliant fall colors early in the season, the Smoky Mountains keep their vivid colors all the way through the middle of November. This leads to an extended fall foliage fireworks season for any RVers making their way through eastern Tennessee and western North Carolina.
I recommend staying at The Smoky Mountain Premier RV Resort in Cosby, Tennessee. Which is a beautiful 16-acre park located on Highway 321 in Cosby, TN. The site is appropriate for large motorhomes as well as pop-up campers, and most of the sites include full RV hookups, or use hipcamp to find a list of private campsites you can rent for as little as $5 a night in the Cosby, Tennesse area.
Yellowstone National Park – Wyoming, Montana, and Idaho
National Parks don't get any more recognizable than the world-famous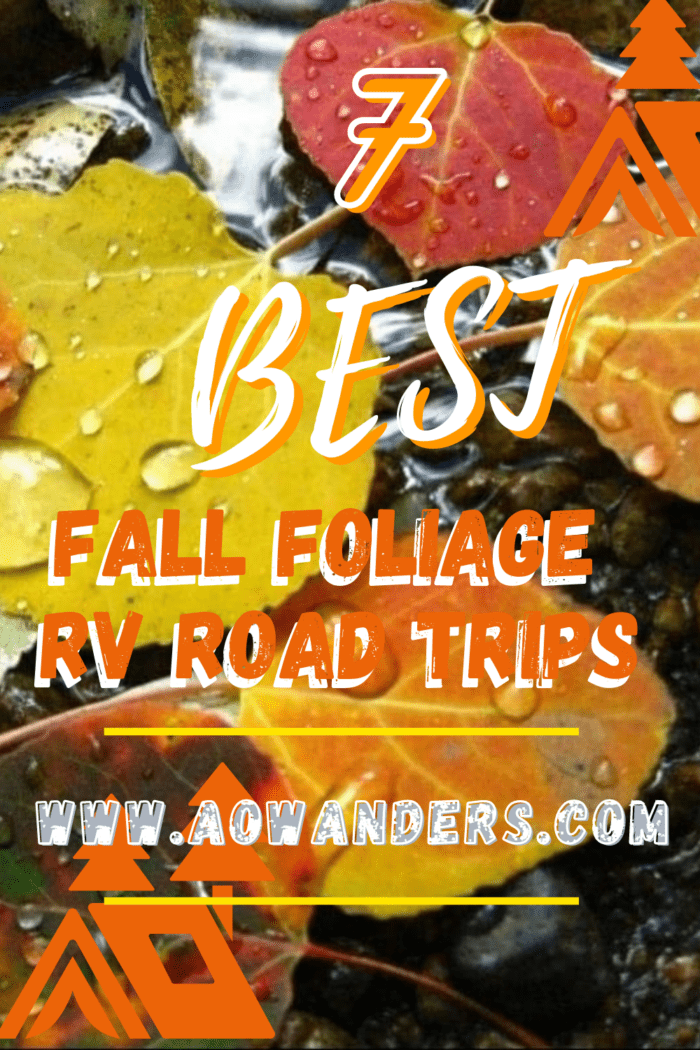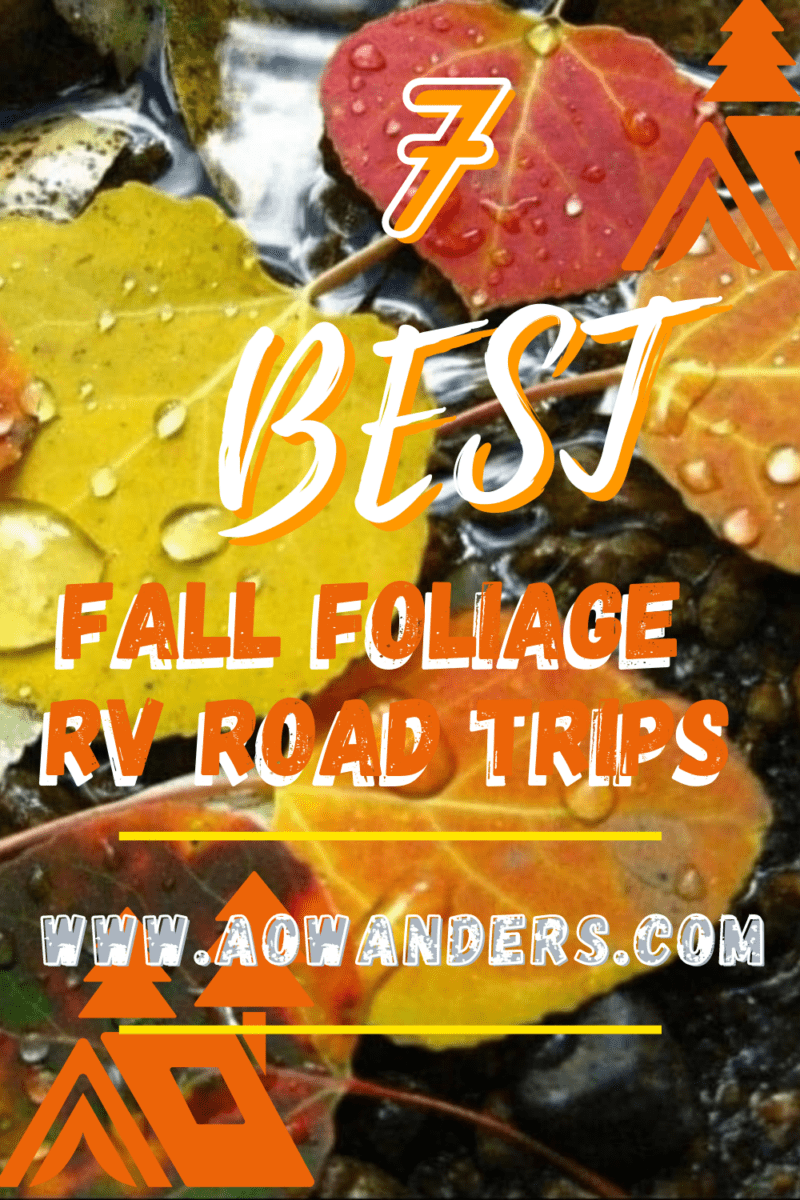 Yellowstone National Park. It is truly an outdoor institution and remains a favorite among RVers during all seasons.
After living in this park over the summer of 2010 I know all its fall foliage RV road trip secrets, like the greatest road trip I am about to tell you!  That starts way back in South Dakota. 
Which spans from Mount Rushmore to McCall Idaho.  Where you will summit Beartooth pass just outside of Red Lodge Montana after visiting Rushmore and The Badlands. 
Related Posts

[custom-More-Enjoyable-Reads title="Related Posts" none_text="None found" order_by="title" order="ASC"]
Spend a couple days in Yellowstone before making your way to Teton National Park in Jackson Wyoming.  Set your GPS to take you to Sun Valley Idaho and over to the best kept secret in America known as McCall Idaho.  Then run up to the gateway town of Glacier National Park known as Whitefish Montana.  Before heading over to Sandpoint, ID and jumping on the Selkirk Loop.   
This 1,700 mile route I have just given you is quite possibly the greatest"Fall Foliage RV road trip," in the entire country,and quite possibly the world. 
This unbelievable "Fall Foliage RV road trip," will leave you awestruck, breathless and filling more memory cards than you came prepared with.  The only way you could enhance this magical fall foliage road trip would be to make it a cross country endeavor.  By starting in Bar Harbor, Maine and setting your sites by way of New England to Mackinac Island located on the Upper Peninsula in Michigan.  Where you could then enjoy Grand Marais, MN before heading to The Badlands of South Dakota. Alter this epic RV road trip by going from Maine to Tennesse, and back up to Michigan.  
During the fall, however, this would be the most intriguing fall foliage RV road trip possible. What other autumn RVing road trip would allow nature enthusiasts to witness head-turning views of thousands of sugar maple and hickory trees from an elevation higher than 4,000 feet while crossing a dozen state lines?
I recommend staying at the Yellowstone Grizzly RV Park in West Yellowstone, Montana. Which is a mere four blocks from the entrance to YNP, and offers easy access to dining and other area attractions. Including the Grizzly and Wolf Discovery Center Museum and Historical Center.  If you'd prefer a free RV campsite within the park check out Pac Creek, or see what Hipcamp has to offer!
Bear Creek Campground outside of Gardnerville comes with its own private waterfall, and the Gros Ventre National Forest provides front row seats to magical sunsets.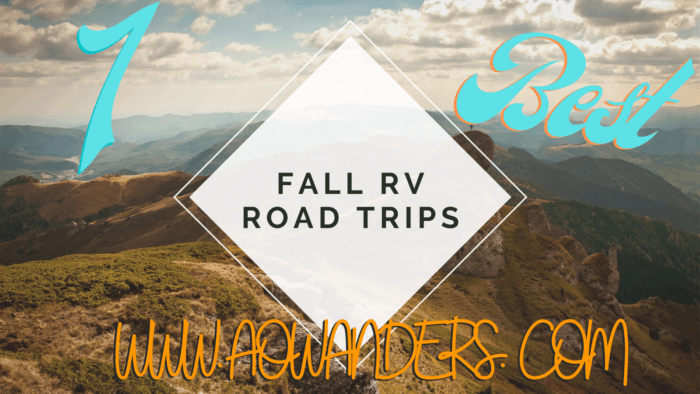 Staying in West Yellowstone gives RVers unfettered access to multiple lakes, rivers, and streams. If you enjoy fishing, this area is home to some of the country's best fly fishing. If you prefer other activities, you have your choice of hiking, horseback riding, and guided tours of Yellowstone National Park.
My favorite hike of all time is Grizzly Bear Lake in the Teton National Park.  Which will bring you passed things called, "Hidden Falls," and "Inspiration Point."  Before finding yourself pitching camp next to abandoned bear caves and floating ice bergs.
The Green Mountain National Forest – Vermont
Vermont is one of those states that is known globally for one thing. Luckily for outdoor enthusiasts, that one thing is its incredible fall foliage RV road trips.
People come from all over the world to see with their own eyes the magical colors that dominate the Green Mountain National Forest in the fall. If you're the type of person who loves breathing the cold, crisp air while hiking on a heavily forested trail, Vermont is the place for you.
I recommend staying at the Greenwood Lodge and Campsites in Bennington, Vermont. The hostel offers forty private and heavily wooded campsites right next door to the Green Mountain National Forest.
There you'll have your choice of outdoor activities, including swimming, fishing, canoeing, and a host of others. Besides just hiking.   The lodge's living spaces are immaculate, and the site offers modern heated bathrooms and free hot showers.
If you suddenly discover that you need something you did not pack, the charming True's General Store is across the street on Route 9.  Along with a handful of other local activities, including museums, flea markets, and golf courses.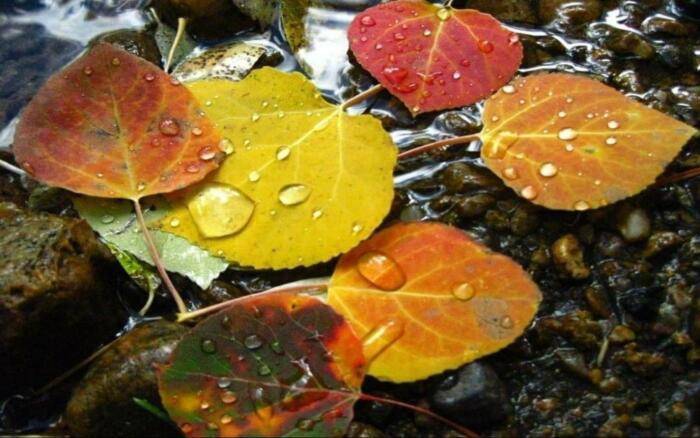 Fall Foliage RV Road Trip Around Aspen, Colorado
Be honest. The first thing you think of when you hear "Aspen" is its world-famous snow-covered peaks. Being the backcountry skier I am I can't blame you. Aspen is the ultimate ski town. But it's Maroon Bells mountains are also the perfect spot for RVers who want to experience Colorado's stunning fall foliage sights in all of their glory. I recommend staying at the Glenwood Canyon Resort in Glenwood Springs, Colorado. Which will give you a 41 mile drive of fall foliage beauty on a sunny weekend afternoon before heading up to Grand Lake or Steamboat Springs. 
This resort is the only camping, lodging, and RV resort in the Glenwood Canyon area so be sure to see what Hipcamp offers. If you're unfamiliar with this Colorado canyon, it's home to Hanging Lake and the magnificent Colorado River.  Two regional favorites that have come to represent the area's natural beauty.
RVers who stay at the Glenwood Canyon Resort will have plenty of options for staying busy when they're not photographing leaves. Two favorite activities are on-site rafting and zip-lining. There's also a canyon bike path just across the street from the resort.
Perhaps best of all, you'll have access to a package deal involving the resort and Glenwood and Iron Mountain Hot Springs.
Leaf Peeping Fall Foliage On The Upper Peninsula – Michigan
Remember when I mentioned Mackinac Island? And a cross country fall foliage RV road trip for the ages?  Imagine the photos and the stories you could tell if you took my advice and embarked on this bucket list fall foliage RV road trip!
The U.P. — surrounded by Lake Superior, Lake Michigan, and Lake Huron, known as Michigan's Upper Peninsula is a favorite destination for RVers who want chilly temperatures with bright fall foliage autumn views.  RVing in the fall doesn't get any better than the Upper Peninsula of Michigan. 
Almost as endearing as the peninsula's scenic sights are the locals. Known as Yoopers, who love to play a game called Yuker (I think that's how you spell it).
These UP residents warmly welcome anyone who ventures to Michigan's northern most point and will eagerly challenge you to a game of Yuker.  A fall RVing camping source of pure entertainment after the sun sets on the skittled colored landscape.
Someone tell me in the comments below if I am spelling this game correctly.   Is it Yuker or Yooker.  I'm not googling it.  Help a writer out!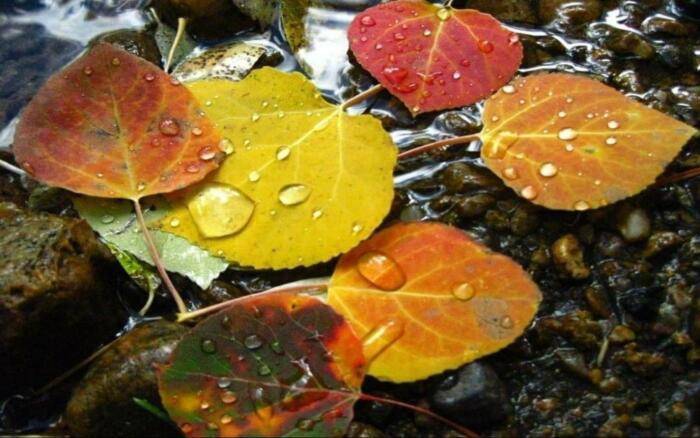 I recommend staying at the Silver Lake Resort in Channing, Michigan. The Silver lake Resort is a full-hookup RV campground catering exclusively to the joys of fall RV camping in Michigan.
It's smack dab in the middle of hundreds of miles of state forest, so it makes sense that fall season is incredibly beautiful. The resort's location makes it an ideal destination for RVers who enjoy hunting and spending quality private time with family, and makes it one of the best RV destinations in October.
Autumn RVing In Nashville, Indiana
There are few things I love more than making RVers aware of relatively unknown gems, and  Nashville, Indiana, most definitely fits the bill. While most folks mention cornfields and hayrides when discussing fall in Indiana, Nashville offers so much more. Making it one of the best places to RV in November!
Situated in the heavily forested Brown County, Nashville has the state's highest concentration of trees. This leads to an unforgettable autumnal RVing experience. If you're looking for one of the best fall camping outside of the East coast — Nashville, Indiana is what you're looking for. 
So memorable, in fact, that you'll likely forget everything that you've previously associated with RVing in the fall, and whatever usually comes to mind when you think of the Hoosier State.
I recommend staying at the Valley Branch Retreat in Nashville, Indiana. This retreat is by far the most family-friendly destination on my list. One reason why, is the seemingly unlimited options families have when staying at Valley Branch.
Some of the activities kids and parents can enjoy include zip lines, historical buggy tours, and a fun-filled games of paintball. After enjoying an action-packed day, RVers can settle down at Valley Branch's camping cabins to enjoy a complimentary campfire dinner, or at least that is what I did when I was there!
My Favorite Fall Foliage RV Trip Ends In Glacier National Park – Montana
If you're the type who loves an adventure while playing among fall's vibrant colors, Glacier National Park better be on your radar! GNP, situated close to the Canadian border, presents RVers with a wide array of wildlife and a rare opportunity to experience nature up close and personal.
If you're enjoying the park's many animals during the fall, remember to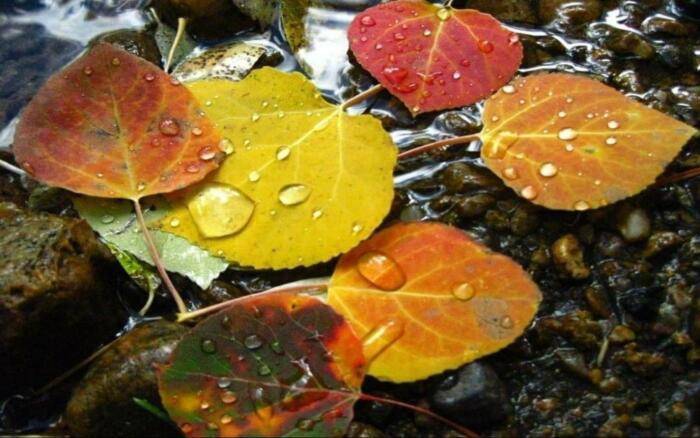 leave them alone and let them do their thing. Most are fattening up for their winter slumber, so you'll often see them grazing near the side of the road.
A wonderful time to whip out your binoculars or high definition camera to capture the animals of Glacier National Park. That way, you can watch the animals from afar while also keeping an eye on the brilliant rustic setting that makes Glacier National Park the true treasure it is.  Even during wildfire season.
I recommend staying at Polson Motorcoach & RV Resort in Polson, Montana because it's widely considered the #1 RV resort in Montana and for good reason.  But if you don't have Verizon don't expect any cell service.
In Polson you'll encounter jaw-dropping views of Flathead Lake and the nearby mountains – all while enjoying the resort's top-notch standards for cleanliness, convenience, and hospitality.  During wild fire season there is no better place to view the encroaching work of nature's paint brush. 
The Pure Joy of RVing Among Natures Firework Show
Autumn is the perfect time for your next fall foliage RV road trip. The leaves are bright and brilliant and bold. The air is cool and comfortable, and the summer crowds have vacated the fall fireworks landscape.  You have nature's outdoor playground all to yourself.  What more could you want?
If you're still looking for a familiar – yet fun – fall activity. You can't go wrong with leaf-gazing, apple-picking, and hiking. These fall favorites offer hours of entertainment the whole family will enjoy.
So if you're ready for a lengthier outing involving nature. Sometimes waaaay out there- the seven destinations described above are about as good as it gets for your next fall foliage RV road trips.
Happy leaf peeping!!
My Favorite Travel Leaf Peeping Booking Resources: Most Affordable & Efficient Travel Booking Tools I Use Everyday
Book Your Flight
Find a cheap flight by using Skyscanner or Momondo. These are my two favorite "flight" search engines because they search through websites and airlines around the globe and offer a calendar view to find even cheaper flights for flexible travelers.  Check out these UNIQUE destination deals or my favorite All Inclusive Booking Travel Tool!
Rent An RV
Find cheap RV rentals for your next adventure by using Outdoorsy or RVshare.  These are my two favorite "RV" search engines because they allow you to rent from private RV owners, and offer a wide variety of chooses at affordable rates.  Want to start making money by renting out your RV?  List it with Outdoorsy or RVshare.
Book Your Accommodation
You can book your hostel with Hostelworld. If you want to stay elsewhere, use Booking.com as they consistently return the cheapest rates for guesthouses and cheap hotels.  Get a $40 credit for booking with AirBnb.  Need to book a private campsite use my favorite RV booking site Hipcamp!
Looking For A Travel Community
Join the Escapees travel club to meet fellow travelers and talk about all things related to RVing and overland travel.
Travel Packages & Tours
Are you looking for worldwide tours and travel packages?  Check out my go-to source — IntrepidTravel!  Looking for more family related travel packages and tours book with GAdventures.
Don't Forget Travel Insurance
Travel insurance will protect you against illness, injury, theft, and cancellations. It's comprehensive protection in case anything goes wrong and will cover things like transport security, crisis response and medical transports such as Life Flight. Why go on any trip without a safety net that costs less than a case of beer? I've been using SafetyWings for years without any issues.
My favorite companies that offer the best service and value are:
SafetyWings (ONLY $35 & Covers USA Travelers)
World Nomads (for everyone below 70)
Insure My Trip (for those over 70)
Medjet (for additional travel insurance coverage like medical transport, travel security & crisis response)
Looking for the best companies to save money with?
Check out my resource page for the best companies to use when you travel! I list all the ones I use to save money when I travel – and I think will help you too!
Just Want To Support This Amazingly Resourceful Website
Websites incur constant fees!  From hosting costs to massive amounts of personal time creating beneficial content for readers to consume at their leisure.  To help offset those costs or just to say, Thank You.  You can help support this community by shopping through any of the links found on my resource page.  Shop on Amazon through this link and I'll get a small commission, or you can directly support this site through Paypal donations.  None of this is a requirement its just helpful and creates a better community for all of us.