My First RV Camper
Quick Reference Table of Contents
I approached buying an RV for the first time in all the wrong ways because I was your typical RV newbie.   Full of assumptions & misguided information.  After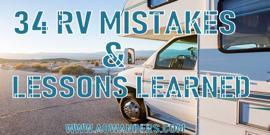 buying my first RV camper I dreamed of endless adventures, but instead, I made one frustrating RV mistake after another.  I was easy prey who was distracted by the camper inside instead of the overall functionality and reasons I was buying an RV in the first place.
RV Frustrations
Frustration is an expected part of long-term travel, but I've always accepted frustration as my travel companion who distracts my focus by poking me with a metaphorical stick.  In hopes of guiding me away from my travel goals while placing one travel hurdle after another in my path, but in the end, I've always viewed travel frustration to be there to teach me lessons about life; provide new vantage points and ultimately help to shape my own self.
RV Frustation Lessons
Unfortunately,  I found it impossible to embrace the lessons my RV was trying to teach me because buying my first RV camper cost me thousands of dollars in time, effort and frustration because I bought the wrong RV for the wrong reasons.  My dream of full time RVing freedom got shattered before it even got started because my first RV camper amounted to more hours of frustration than creating adventurous memories with my fellow travelers on the open road.  If I would have done any research I would have known what to avoid when buying an RV for the first time. Instead of filling my "frustration" jar with one RV mistake after another as most first-time camper owners do.  My first RV presented travel challenges I had never encountered before because I shot from the hip, and didn't prepare myself for RV ownership.
Hopefully, this post will help you learn from all the RV camper mistakes I made after buying my first RV–and all the other RV mistakes I've seen along my travels.  To keep you and your camper in better working order so that you can pursue the adventures that RV life is known for.
34 RV Mistakes & The Lessons I learned
RV Mistake #1 – RV Community
The first RV mistake I ever made was not doing any research.  The RV community is a friendly bunch of supportive individuals full of beneficial information.  Don't be afraid to admit you don't know.  Ask questions.  Find a forum or a facebook group.  Here are 11 Facebook groups focused on full-time RV life, camper design, free camping/boondocking, camper travel income and of course RV camper adventures.  Filled with people eagerly waiting to answer all of your RV camper questions.  From the dumb ones to the really hard RV questions.
Facebook Search Results of all the different RV Groups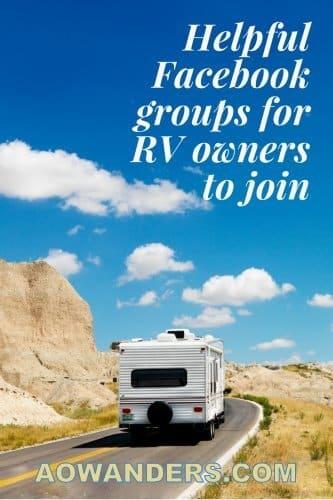 FB's Boondocking & FreeCamping Group
FB's Low Income Rv Living Group
? Simply Full Time Rving ?⛽ FB Group
HOW TO RV FOR NEWBIES FB Group
RV Lesson #1 Learned-  Always reach out.  There is always someone out there who has been in your position before and can help solve your problems easier.   Plus it's a great way to meet other travelers & full-time RVers.  
Return back to the RV Mistakes Table of Contents for easier navigation
RV Mistake #2 – How to buy your first RV Camper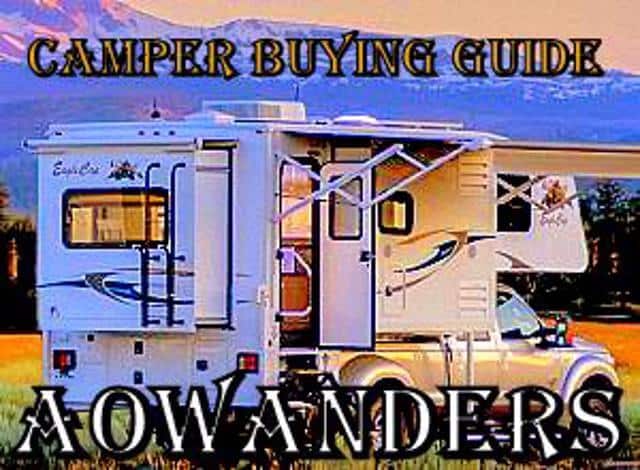 My next RV mistake was that I grew up in America.  Where bigger is always better.  It's that materialistic attitude that got me in trouble when buying an RV for the first time.  I bought a 38 foot Class C motorhome thinking I was going to use it as a commuter vehicle and boondock in downtown Minneapolis wherever I felt like it.
Before I bought my 38-foot mobile wrecking ball the biggest thing I had driven was a Mitsubishi Eclipse.  How long do you think it took for me to get comfortable driving a 40-foot camper around downtown Minneapolis?  A couple of parking tickets later reality began to set in, but after filling the tanks a few times reality just bitch slapped me.  As it should have.
RV Lesson #2 – Be honest with yourself when buying an RV for the first time or you will regret it more than you think.  How do you plan on using your RV camper?  Where do you plan on using your new RV camper?  Who do you plan on using your new RV camper with?  Click Here to help you answer all of those questions in My Complete Guide to Buying an RV 
Return back to the RV Mistakes Table of Contents for easier navigation
RV Mistake #3 – Project RV
I bought my first RV knowing it was a project RV.  It was going to be an educational adventure, but my first RV camper turned out to be a used RV nightmare.  My first camper turned out to be a massive money pit that required professional expertise, and all I had was a naïve dream that relied on a shoestring budget and skills I didn't have to bring my RV back to life.  Every project RV budget will require 25%-35% more money than you budget for & 200% more time than you think.  Restoring a camper or an RV can be a wonderful undertaking if you have the time, money & space.
However, what ends most camper restoration projects is merging today's technology with yesterday's technology, and the hidden costs that come with that.  For example, when I tried replacing the broken window in the entryway door I assumed my only expense was glass and time.  It turned out I needed to buy special glass, a new inset frame and had to cut the hole bigger because they didn't make that frame or that type of glass anymore.
Another frustrating hurdle came up with the generator.  It would instantly turn on from the switch inside the camper, but wouldn't produce any power for the RV.  After weeks of calling shop after shop, I finally found a small engine repair shop that would take a look at it.  When they took it apart they found it needed a new copper coil to produce power.
My RV Taught Me How to Weld
What should have been an easy one-day replacement turned into a complete RV nightmare.  When I went to put it back into the camper the bottom of the RV generator storage compartment fell out and was too rusted to weld back on.  Not that I knew how to weld anyways.  Took me a month to afford that fix, but wiggling the corroded wires every day eventually caused them to break off up inside the camper walls.  Took two more months to track down and fix that issue. Great, I learned how to weld & become an electrician, but what should have been a couple hundred dollar fix in one afternoon turned out to be a 3-month project of trial and error.  Just another RV nightmare full of tests & lessons I wasn't interested in at the time.
RV Lesson #3 – When it comes to used campers and inside RVs the rule is you'll find two things for every one thing you intend to fix.  Every wall you open up will reveal two problems you didn't know about, and every budget is only 10% accurate.  If you're thinking about buying a project RV or camper restoration the best approach is to completely gut it and start from scratch.  This will save you time, money and headaches!
Return back to the RV Mistakes Table of Contents for easier navigation
RV Mistake #4 – RV Tires
An easily avoidable RV mistake is not doing a proper pre-buying inspection of your new RV Camper.  Just because the RV is new to you doesn't mean its components are.  After buying my first RV the alternator broke its mounting bolt from not being secured properly, and the transmission required a new gasket to keep it from leaking tranny fluid at every stop.  The real frustration was the tires.
They were over 10 years old and started to peel back on themselves 2 months after I bought my new RV camper.  Besides tire size — wheels have a ton of information on them, including the date they were manufactured.  Before buying an RV, especially from a dealership, its a good idea to check the date of your tires.  Which is a four digit number usually found on the sidewall of your tire.  To find out more than you ever cared to know about RV tires including how to find the date of your tires check out my Cheap RV tires article.
RV Lesson #4 – Check the dates, tread & wear on your tires.  RV tires can cost as much as $500 a piece.  Travel Trailers, Motorhomes, Campers & 5th wheels can have as many as 8 tires that need replacing.  Cheap RV tires can still cost as much as $150 after taxes, mounting, balancing and disposal fees.  Check your tires, and if your buying a used camper from a dealer this is an easy negotiating tactic because the information is right on the tire for both of you to see.
Return back to the RV Mistakes Table of Contents for easier navigation  
RV Mistake #5 – Changing an RV Tire
Speaking of tires that reminds me of another RV mistake I made.  When you get a flat tire on your car you know there is a jack and a lug nut wrench somewhere in your car.  Whether it's in a hidden compartment in the trunk or tucked away under your seat its there somewhere.  Did you know that RVs & travel trailers don't come with a lug nut wrench or a jack? No seriously, they don't!  Something I found out while sitting on the side of the road in nowheresville Arizona, and another time in the middle of a blizzard in remote Wyoming.
RV Jacks & Wrenches
What else did I find out while squinting my eyes to protect from the piercing wind driven snowflakes?  Lugnuts are not a universal size, and the lug nuts on my travel trailer & RV camper tires aren't the same size as the ones on my truck.  Trust me I tried my vehicles lugnut wrench multiple times, and when your fingers are on the brink of falling off because it's so cold outside.  You wonder why there is no government oversight to enforce universal lug nut sizes while cursing manufacturers for not even providing the proper wrench size or even a jack!
To add insult to injury your vehicles tiny bottle jack isn't big enough to get your travel trailer or RV camper off the ground enough to change a tire either.  You will need to stack some wood or something underneath your tiny bottle jack to get the tires off the ground.  I was lucky enough to have a socket big enough to get the tire nuts off the first couple of times I got a flat, but you will want to buy a 4-way lugnut wrench or at least a socket set that is large enough for your tire nuts.  I also recommend you buy a bottle jack that will lift your travel trailer off the ground or buy some easy tandem axel ramps that will allow you to change a tire quickly and safely with no jack needed.  They only cost $30 or so, and a 4-way lugnut wrench also fits your hot water heater bolt when it comes time to winterize your RV.  Two for one combo, woohoo!!
But the best advice I can give you to avoid this awful scenario is to monitor your tires along your journey directly from your cab using a TPMS system.   You can purchase a solar-powered display monitor or even a cigarette lighter powered display monitor for your RV tires for less than a couple of cases of beer.  Pretty cool, right?   Checking your tires along your journey is essential.  Whether you use a TPMS system or a digital tire gauge or even a Laser Infrared Thermometer set yourself up for a worry-free adventure.  Or if you prefer RV nightmares go ahead and ignore your tires.  I'm sure they will bite you in the ass at the easiest and most convenient part of your trip.
RV Lesson #5 – Don't wait until an emergency to find out what you don't have.  Be prepared.  Buy a 4-way lug nut wrench, tandem axel ramps, a bottle jack and a TPMS Tire Monitoring System.  A few dollars now will save you money & hours of frustration later.  I promise. 
Return back to the RV Mistakes Table of Contents for easier navigation
RV Mistake #6 – RV Life Rush
The dog ran away while raining with gale force winds.  Finally retrieving the family pet in drenched clothes you open the door to screaming kids inside the RV camper.  Before you dive into the shouting match you hit your head on the cupboard you left open to grab a dry shirt in hurry.  Then you stumble and step on one of the kids lego's sending a shooting pain up your leg.  Wrapped in dry warm clothes your wife begins to lecture you for throwing your wet clothes on the dry couch.  Its one of those mornings that you just want to go back to bed.  Restart the day, but you're on a time crunch because you have to be somewhere in an hour, and now the campground host wants to get know you better before taking final payment.  Frustrated, cold & annoyed you have 45 minutes to pack, map your route and drive 50 miles.
Enjoy RV Frustrations
You never planned for this morning, but these days happen more than people like to admit.  And when they do people tend to make a lot of RV mistakes they otherwise wouldn't of.  Forgot to disconnect the sewer hose or electrical cord before driving off.  Forget to put down the awning before driving an RV is never a good idea.  Left your favorite chair next to the still smoldering campfire.  Kids left their goggles and water toys in the pool house.  Maybe you left your phone plugged into the charger in the laundry room while waiting for your clothes to finish.  I've seen and heard it all.  The worst "forgotten" thing I saw?  Someone left behind a brand new Jeep on the trailer with the keys in the ignition.  6 days later when I was set to leave…..the trailer and Jeep where still there with no sign of the owner anywhere in site.  I wonder how long it took them to finally realize they were missing an entire vehicle along with a trailer.
Avoid mistakes, accidents and lost property by simply slowing down.  It seems rather obvious but at the moment its the last thing you think of when you're in a frantic hurry.  There will be times, I guarantee you, that you will feel rushed or feel like something isn't getting done fast enough.  But remind yourself, "It's just a feeling."  The world will not end, and civilization as we know it will continue on.  RV mistakes are more likely to happen when your feeling rushed.  So slow down.  Enjoy the process, and smile because the adventure began when you put the key in the ignition.  Someday you'll be the expert willing to pitch in & help the new guy struggling with setting up his awning, and you can all laugh together over adult beverages around the campfire later.  Slow down and enjoy RV Life.  You'll make fewer RV mistakes.
RV Lesson #6 – Slow down.  Enjoy the little things, and when your feeling rushed remember its just a feeling.  The party started when you decided to start off on this journey, and big or small its all apart of the big adventure.  Enjoy it. All of it.  
Return back to the RV Mistakes Table of Contents for easier navigation
RV Mistake #7 – Communication
When traveling in my RV with others communication is key.  Especially with new RVers.  Every situation requires different communications, and try to avoid confrontational phrases like you did that wrong, you should of, what are you thinking, why didn't you.  Have a plan with clear expectations and try to deliver your message in a clear positive way so others don't feel challenged or ridiculed.
They may not be aware of how to level an RV or hookup the sewer pipe.  When faced with three different plugins at your site they may be confused as to which one to plug into.  New RVers won't know that it could be helpful to have a spotter getting into or out of a campsite.  Communication is crucial in these types of situations to avoid stressful awkward situations later on.  Remember you were new to this to at one point, how would you have felt if someone was barking at you while trying to help?
RV Lesson #7 – Communicate in a clear positive way to avoid stressful and awkward RV mistakes later on.  Have a plan with clear expectations for all involved.  Teach instead of preach.  
Return back to the RV Mistakes Table of Contents for easier navigation
RV Mistake #8 – RV Camper Measurements
The most common RV mistake among all new RVers is not knowing their campers length, height & width.  From bumping gas pumps to tearing off awnings I've seen it all.  Even done a few of them, and if you have never driven on the East Coast you will find out real quick they have some very low bridges, signs & tunnels.  If you can't memorize your campers height. Write it down and post it somewhere in your cab, and make sure that measurement includes the A/C unit on top of your camper or the luggage racks you installed.  I always recommend adding  6-inches to whatever height you measure just to be safe.  I went from driving a Mitsubishi Eclipse to a 40 foot RV.  Thankfully I didn't take out any gas pumps, cars or buildings during my learning curve.  Others haven't been so lucky on their maiden voyage.
Even if you have extended mirrors you won't be able to see directly behind your travel trailer when backing up.  Unless you have a backup camera you won't be able to see behind your RV camper when backing into your campsite.  It's easy to drive by feel in a tiny car, but when driving a 40-foot battering ram you won't feel that bridge rail or curb until its too late.  You need to take things slower because you won't know your too small until you start hearing things crumple and scrape.  Its the worst feeling!


RV Lesson #8 – Know the measurements of your RV Camper or Travel Trailer.  Know before you go, or go slow while using a travel partner as a spotter.  
Return back to the RV Mistakes Table of Contents for easier navigation
RV Mistake #9 – Boondocking
Boondocking, such a strange word, and is often referred to as dry camping or dispersed camping, but boondocking is the unicorn appeal of RV Life freedom.  Camping next to a secret waterfall in the backcountry for free while exploring the landscape around you, or roaming about calling any place you park home for as long as you want with all of your belongings.  Boondocking can be an amazing experience, but it can also lead to a number of RV mistakes and comes in two fronts: Rural Boondocking and Urban Boondocking.
Urban boondocking seems a bit CRAZY to new RVers.  Camping in a parking lot??!! Wait, what? Essentially that is urban boondocking.  Camping in the parking lot of big box stores like Walmart, Target, Cabelas, strip malls, hospitals, city parks and wherever else you can find the space needed for your rig.  A concept that seems ridiculous to new RV owners, but when I bought my first RV that is just what I planned on doing.  Don't worry after a couple of nights you'll be an expert urban boondocker, and question why you ever thought this concept was crazy in the first place.  It's a wonderful way to travel across America and save on lodging in the big cities, but it's a different style than rural boondocking.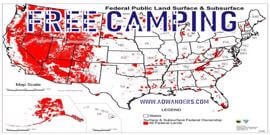 Rural boondocking is camping on rural land without hookups like National Forest property or BLM land also known as the Bureau of Land Management.  Boondocking in the National Forest usually comes with a 14-day cap requiring you to move at least 7 miles away for 7 days before returning.  Some NFS Web Pages say 3 miles while others say 5 miles. Some say you only have to relocate for 24 hours while others say a week.
To be safe I use the 7 & 7 rule.  At least 7 miles away for at least 7 days when rural boondocking on BLM or National Forest Land.  Don't make the RV mistake of staying too long though because the bare minimum is a $275 ticket and the maximum is $5,000 fine and 6 months in jail.  Most of the time the officer will only issue a warning or a ticket, but depending on your record he could issue a whole lot more.  Some hall monitors, I mean officers, just like to make an example and will issue you a ticket just out of spite.  Don't put yourself in a position reliant on a power tripping individuals sense of pitty.  It will likely end an outcome not in your favor.  Employ the 7 and 7 rule.
Check out my Free Camping Guide for more Urban Boondocking Options
RV Lesson #9 – Boondocking – The more you move or the more remote you go the less likely you will have to do deal with any consequences.  Rural boondocking is more relaxed and less intrusive compared to urban boondocking.  When urban boondocking the less obvious you are the better.  Park at the back of a parking lot out of the way, and best to park after dark and leave before sun up.  Park at businesses that are closed on the weekends.  Truck stops and hotels are easy to blend in for one night stays.  The longer you stay the more attention you attract.  
Return back to the RV Mistakes Table of Contents for easier navigation
RV Mistake #10 – Know Your Tanks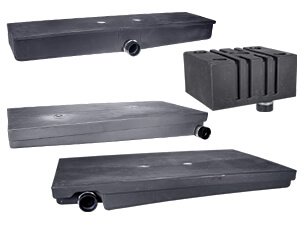 One of the 1st RV mistakes I ever made almost cost me dearly.  I didn't know how to read my control panel so I didn't know my grey water tank was full.  A couple of trips in my RV and I begin to notice a leak every time I took a shower.  What I didn't know was that this was a safety measure to ensure a new RVer like myself didn't burst the tanks, but I feared the worst.  I started taking things apart and was about to start dismantling my entire water system when I realized my grey drain was in the off position.  A simple fix that had I not noticed would have created a giant headache for myself.  Staying at RV parks where there are full hookups doesn't require you to pay as much attention to tank levels as when your boondocking, but its a good idea to keep an eye on these things.
Most campers will have three tanks:
Blackwater -this tank holds your toilet waste
Grey Water-this tank holds the water from your shower & sink
Fresh Water-holds all your fresh water to use for the sink, shower, and toilet.
Depending on the size of your RV camper the size of your tanks will vary.  My travel trailer tanks are 40 gallons apiece.  While my slide in truck camper for the Tacoma only has a 5-gallon freshwater tank.  Knowing how to read your control panel will help you plan when to make a supply run while boondocking.  Keep in mind though at some point your freshwater and blackwater sensor will fail.  They all fail.  Crazy right??!!  Sometimes you can fix them with dawn dish soap or other DIY fixes you can find on the internet, but don't count on it.
Before your sensor goes bad make sure you know how much use will fill your tank so you can plan your trip accordingly.  For me, I am not worried about my freshwater or grey water tanks.  I can always use water jugs or simply drain my grey water tank.  It's my black water tank that trips me up, and for my travel trailer I know I can go over a month before it is full.
Some campers control panel will also monitor their propane levels. Something I wish I had.  Especially during ski season.  There's been a few cold nights I wish I could forget, but during the summer my propane tanks can last 5 months before needing a refill.
RV Lesson #10 – Know Your Tanks – Know the size of your tanks and their limitations so you can plan your trips accordingly.  Make a mental note of how much daily use drains your tank in case your control monitor panel fails to avoide the RV mistake of being stranded with empty tanks.  
Return back to the RV Mistakes Table of Contents for easier navigation
RV Mistake #11 – Plan Your Route/Destination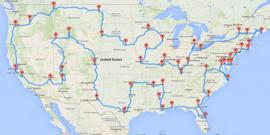 One crucial RV mistake that could cost you both time and money is to just wing it.  I used to do this a lot because I started traveling before the internet was even a thing, but take advantage of all the gadgets and gizmos available today.  A lot of RVers use an app called Allstay.  I am not a fan because it looks like a drunk a 3-year-old designed it and filled it with content, but a lot of RVers swear by it.
I use an app called iOverlander because it's free, easier to navigate and was created to support overland exploration of the world, while respecting local cultures, people and environments through user-submitted free camping sites and whatever amenities they offered.  iOverlander has come along way since its creation and can help you find campgrounds, RV resorts, State Parks, BLM Land, National Forest Property, free camping spots, free hookups, private hookups, and various other boondocking alternatives.  With over 8,000 documented destinations in the United States alone iOverlander is always my first RV app I open.
RV Lesson #11 – Having a plan saves you time and money.  Saves you from guessing on where what & how.  Using apps like iOverlander and Allstay allows you to benefit from the experience of others.  I know of 3 secret camping spots less than 1 mile away from the North Entrance of Yellowstone, one which has a 3 tiered waterfall 5 feet from your campsite.  You'll never find it unless you use an app like iOverlander or ask me in the comments below.  While you are at it ask me how I can get into any National Park for free, and so can you.  Saving you thousands of dollars on hotel and entrance fees for you and your families summer road trip.  
Return back to the RV Mistakes Table of Contents for easier navigation
RV Mistake #12 – Document
The most regrettable RV mistake I have ever made was not documenting my travels when I started way back in 1998.  Imagine the content this travel blog would have had I documented everything I ever did from 1998 until today.  Imagine the wealth of information you would have at your fingertips all in one spot. Its the one RV mistake I can't correct no matter how hard I try.  Even if you don't want to build a website and share your life publicly you should still document everything you do with photos or a journal so you can share with your kids, friends, and family someday.  I promise they will come asking at some point.  Imagine sitting around a campfire with your closest friends and family with a full glass of wine reliving your adventurous travel life.
RV Lesson #12 -Document-  Whether you create a website or not document your travels.  Someday somehow someone will want to hear all about it, and you will forever change their life from the experiences you had while wondering around this wonderful world.  
Return back to the RV Mistakes Table of Contents for easier navigation
RV Mistake #13 – Tree Lined Streets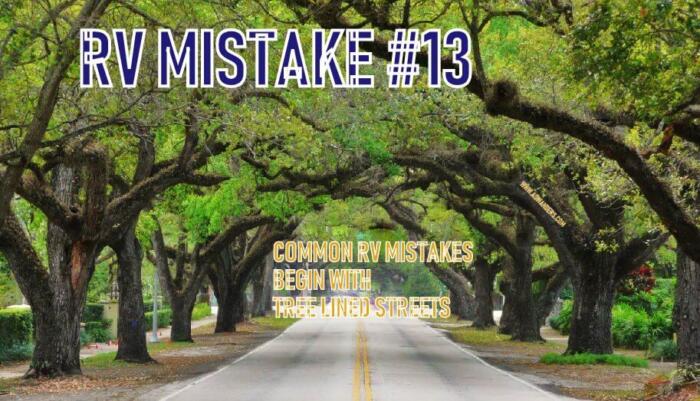 Almost every class C RV from the 1990s leaks from the cabover sleeping compartment.  Why?  Because people make RV mistakes by forgetting the size of their RV camper.  People are used to driving their little cars and trucks down the road instead of this massive two-story camper.  Within two days of buying my new RV camper, I did the same thing almost taking off the entire corner of my Mom's garage with the cabover sleeping compartment in my Class C RV.
Tree-lined streets are a new RVers worst nightmare.  More damage happens at 5mph on neighborhood roads to RV campers than anywhere else in America.  Goes back to knowing the measurements of your travel trailer or camper.  Remote dirt roads are also a vying culprit to destroying your new RV roof.  Not only did I almost destroy my Mom's garage I also ripped off the TV antenna a day later driving to the beach with a couple of friends.  A low hanging branch I thought was high enough or I would just drive through created roof damage I didn't even feel or hear.  I only found it while trying to fix something else a week later.
RV Lesson #13 – Tree-lined streets – Know the clearance of your vehicle.  I dented a gutter and lost an analog antenna, but what if I was at a fast food drive-thru or pulling under a hotel canopy?  If its looks like it going to be close it is better to avoid or use a spotter than assume your fine.  
Return back to the RV Mistakes Table of Contents for easier navigation
RV Mistake #15 – Carbon Monoxide Detector
Remember your college dorm room with ripped out fire alarms or that first apartment you had where you took out all the batteries because your cooking kept setting them off.  Factory Carbon Monoxide Detectors are awful and create the same urge to rip them out or remove their batteries.  They are meant to keep you safe which they do, but they also go off when they are low on power.  Which means if you are boondocking and using your battery as a power source your factory RV carbon monoxide detector will always be going off.  Its what they do.  An obnoxious "cry wolf" one too many times scenario leaving you guessing at whether you are in danger or just being warned the battery is dying.
After one too many false alarms I replaced mine with this self-contained guaranteed 10-year battery carbon monoxide detector that only goes off when its a real alarm.   Exactly what I needed to replace that awful factory RV alarm!! I never knew this was a rookie RV mistake until I started researching which carbon monoxide detector I should get for my new RV, and then I found out every RV owner swaps these out for the exact same reason.  Lesson learned.
RV Lesson #15 – Carbon Monoxide Detector – Replace the factory carbon monoxide detector that came with your camper with a self-contained 10-year battery RV carbon monoxide detector.  
Return back to the RV Mistakes Table of Contents for easier navigation
RV Mistake #16 – Rig Flipping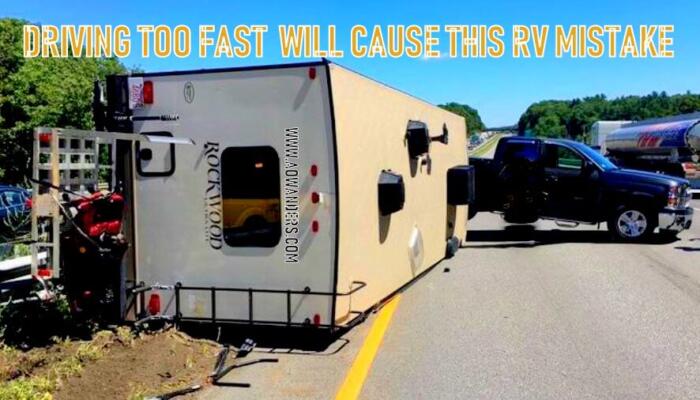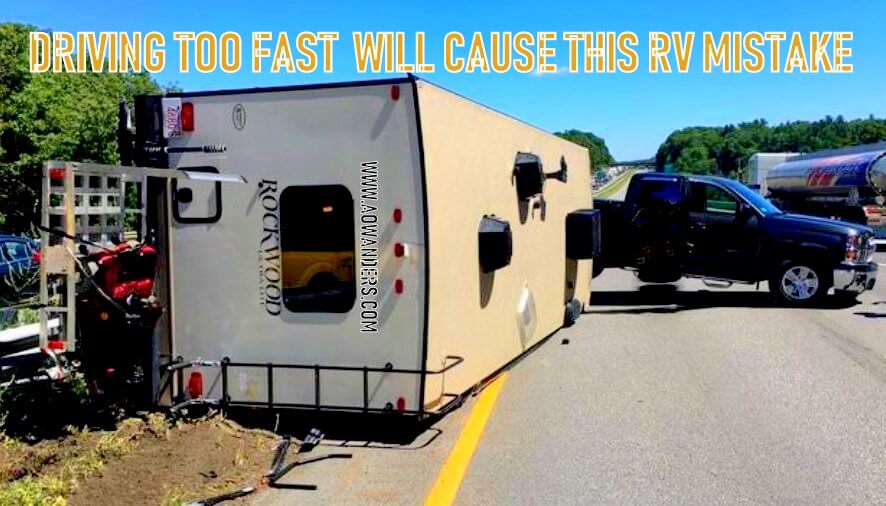 If you have never owned an RV or driven a large rig before it might take you a while to get comfortable with driving it.  I have never flipped my rig before. Thank god, but two months after buying my first RV I watched a couple roll their truck and travel trailer into the ditch.  Thankfully no one was seriously hurt, but their truck and travel trailer were unsalvageable.  Both completely totaled.
This RV mistake usually happens to new RV owners who take turns too fast, drive in very strong wind or start to fishtail uncontrollably.  All resulting in campers rolled over in the ditch.  In a travel trailer or RV Camper, you have a much higher center of gravity which makes you more vulnerable to turnovers if you take corners too fast.
RV Lesson #16 -Rig Flipping – When driving your RV Camper or travel trailer pay attention to all those signs you ignore when driving your car.  When they say maximum speed is "X" that is the maximum speed you want to be traveling.  When the wind starts pushing you around on the road its time to pull over and take a break so you don't find yourself in the ditch wondering what happened.  
Return back to the RV Mistakes Table of Contents for easier navigation
RV Mistake #17 – Backing Up
Buying an RV for the first time will make you incredibly cautious at first, but eventually, you'll get confident and comfortable enough to make the most popular RV mistake.  Backing up into something.  I have owned 5 different RVs and I have backed up into something with every one of them beside my truck camper.  Probably because I have a backup camera on my truck.  You will find yourself in all kinds of situations that require you to back up.  Backing up into a campsite, the gas station with cars whipping all around you or even your storage unit with no spotter.  Trying to avoid stumps, overhanging trees, buildings, walls, cars, and even people.  Sometimes I wonder why a backup camera isn't required by law on these things.

A backup camera is a must. Ever since I got mine for the travel trailer I am amazed it took me this long to get one.  Even with the experience, I have at driving RVs my backup camera has saved me multiple times from dangerously backing into something I didn't know was there or wouldn't have seen without it.


RV Lesson #17 – Backing Up – A backup camera is an essential tool every RV camper owner needs.  Its the difference between spending a few dollars on a gadget now, or spending lots of dollars later fixing your damaged camper.  
Return back to the RV Mistakes Table of Contents for easier navigation
RV Mistake #18 – Gas Mileage
Fueling habits you have with your personal vehicle will get you into trouble with your new RV.  I've almost made this RV mistake a number of times.  When the gas light comes on in my Tacoma I know I have 60-80 miles before I need to find a gas station.  When pulling my travel trailer I have less than 20 miles to find a gas station.  On more than one occasion I thought for sure I was going to be walking down the side of the road in search of fuel.   Luckily that hasn't happened, yet, but I do carry a 5-gallon gas can now.  To give me that extra little range.  Plus I need that gas for my generator if I am boondocking for long periods of time.
RV Lesson #18 -Gas Mileage – When towing a travel trailer your mpg will drop by more than half, and driveable RV campers usually only get around 10 mpg.  When my gas guage hits a quarter tank I start looking for the nearest gas station to refuel.  
Return back to the RV Mistakes Table of Contents for easier navigation
RV Mistake #19 – Misusing Stabilizer Jacks
Ask any employee at Camping World and they will tell you the #1 RV Mistake or camper repair they do is replacing stabilizer jacks.  Some of the time this is warranted because they are old and rusty, but most of the time it is because someone ran over something or tried to use their stabilizer jack as a regular jack to change the tire.  Stabilizer jacks are not meant to support the weight of your travel trailer or camper.  Camper stabilizer jacks are merely meant to keep your travel trailer from rocking and swaying as you carry on inside your camper.  They are meant to be raised just enough so that they are taught and barely touching the ground.  Anything other than that and you will damage them.  They are made out of cheap aluminum.  Not Steal.  They twist, bend and break all the time because people use them to support more weight than they are meant to.  Another RV mistake is paying someone to replace your stabilizer jacks.  It's 4 easily accessible bolts that takes less than 5 minutes to swap out yourself.
***The weight capacity of your travel trailer stabilizer jacks is around 2,500 pounds per jack, but they are called stabilizer jacks for a reason.  They are meant to stabilize a portion of your camper's weight not the total gross vehicle weight of your travel trailer.  Doing so will damage your stabilizer jacks, and require replacements!!**


RV Lesson #19 – Don't use stabilizer jacks for an actual jack.  They are are not meant to carry full loads, and careful driving over bushes, boulders and stumps as they will also damage your stabilizer jacks.  
Return back to the RV Mistakes Table of Contents for easier navigation
RV Mistake #20 – RV Camper Winterization
It doesn't take much water to completely damage your camper over the long cold winter months.  Luckily my first RV didn't have a kitchen, shower or anything that required water or I would have easily damaged my first RV beyond repair by making this crucial RV mistake.  I didn't know anything about winterizing my RVs back then, but campers hold a lot of water throughout its plumbing system.  Even after your tanks are emptied.  Something I found out in my Class B RV when I found out in the spring I never drained the hot water tank.  Good thing I found someone for cheap to weld the aluminum tank back together for me.
To winterize your RV you simply need to empty out all of the water in your camper and replace it with RV anti-freeze (the pink stuff).  You shouldn't need more than a few jugs (5 gallons at the very most).  You can pay someone to do this.  Likely it will cost you around $150, but it's easy to do it yourself and shouldn't take more than 20 minutes.
RV Lesson #20 -RV Camper Winterization-
To avoid making this RV mistake follow these simple steps to winterize your RV camper:
Drain all the water from your holding tanks.
Refill with RV antifreeze 

My travel trailer came with a "T" attachment at the pump to allow me to swap sources for the pump to suck from.  By turning one lever it closes the main hose and starts sucking fluid from the 3-foot hose attachment.  I put the open end of this hose into a 1-gallon jug of RV antifreeze (the pink stuff)  and turn on the pump.  
You don't need to fill up your entire holding tanks or the entire RV.  All you need to do is turn on the faucet and wait until the pink RV antifreeze starts coming out.  Do this until every faucet, shower head & toilet start showing the pink RV antifreeze when turned on or flushing.  Remember for the faucets to do both the hot and cold side of the faucet.  Thats it your done.  This ensures the RV antifreeze is in all the pipes (hot & cold), holding tanks, hot water tank & even the toilet.  
I live in Minnesota and we get temperatures in January and February that can drop as low as -50 degrees at night with the windchill.  Winterizing my RV using this method has never caused me any problems.  Takes less than 20 minutes and costs less than $20 dollars for supplies.
Return back to the RV Mistakes Table of Contents for easier navigation
RV Mistake #21 – Walk Around Rule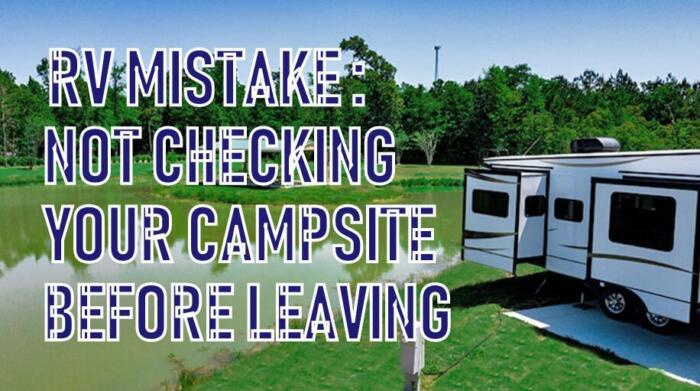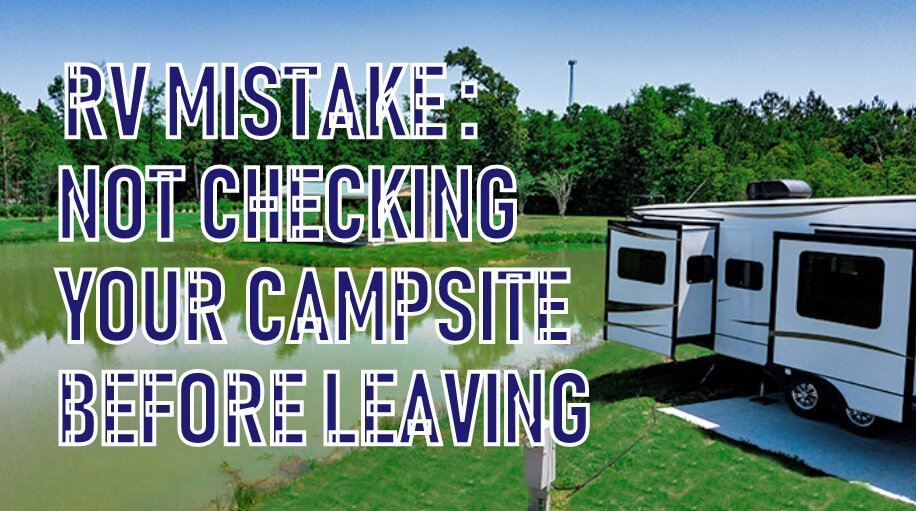 To avoid embarrassing yourself in front of friends, family or complete strangers employ the walk around rule.  If every RVer did this there would be a lot less RV mistakes to laugh at on the internet.  I have seen people drive off with sewer hoses still connected, gas pumps still pumping, awnings left open, dogs still attached to bumpers and so many more "RV mistakes" over the years.  Whenever you stop or are gearing up to leave simply do a walk around your rig to make sure everything is unhooked, cranked up, folded up and closed up.
How awful would you feel if you forgot to close up a storage compartment and a jack or wrench fell to go bouncing down the road during heavy traffic?  Create a checklist to review before pulling out of a campsite.  Did you raise the stabilizer jacks?  Fold up the stairs?  Lock/close all the outside storage doors?  Retract the awning?
There are dozens of things you should check before leaving any campsite, and the same goes for pit stops.  Did you take the gas nozzle out of your fuel door before leaving the gas station?  Are the kids back inside the RV before leaving the rest stop?  What about the dog?  Did you close the fridge after that lunch stop before traveling another 500 miles to your next destination?  Did you hook up the trailer lights?  Electric brakes?  What about raising the front crank jack?  Are all electronics off before tootling down the road for a day?  Literally, there are dozens of things you should check before taking off from any long stay, short stay or even quick pit stop.
I've been doing the walk around rule for years, and every time I do I find something that I should have attended to beforehand.  Its simple, quick, easy and keeps you from making costly and dangerous RV mistakes.
RV Lesson #21 – Walk Around Rule –  To avoid an embarrassing RV mistake simply double check your work by doing a quick walk around. 
Return back to the RV Mistakes Table of Contents for easier navigation 
RV Mistake #22 – RV Generator Maintenance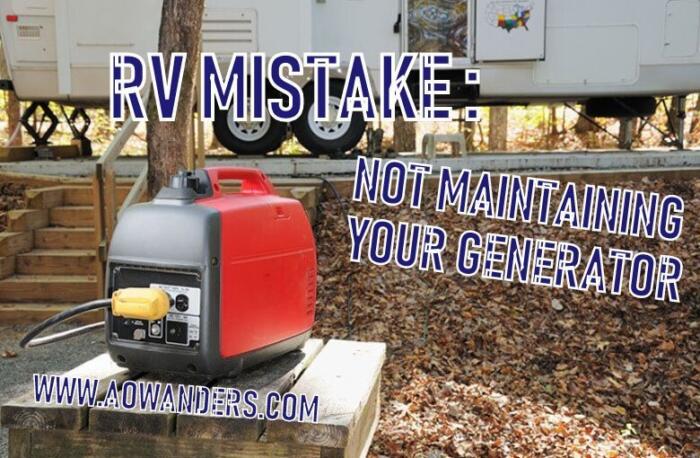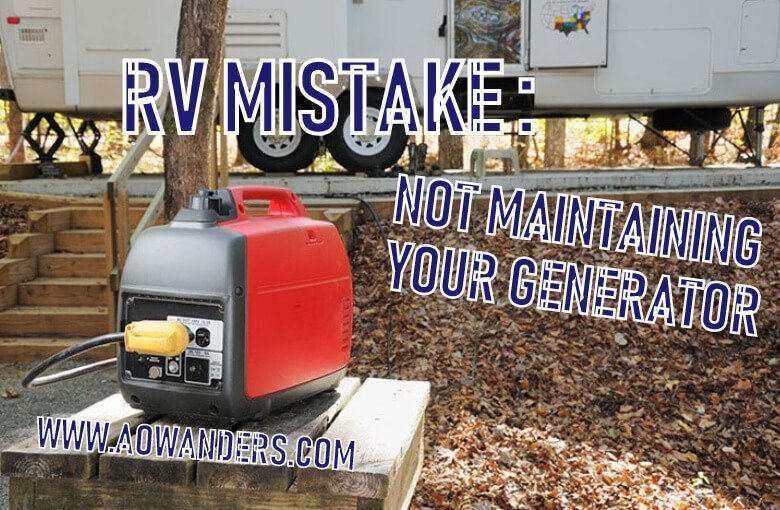 To avoid the RV mistake of blowing up or ceasing your generator follow these 5 simple guidelines.
Change the oil – For new generators they require their first oil change after 30 hours of operation.  After that, you can stretch it out to every 100 hours of operation.  Most people equate 100 hours to one season but remember there are 24 hours in a day.  If your running it non stop day and night you need to change the oil every 4 days.
Replace Spark Plugs and Air Filter – Having the proper air/fuel mixture will keep your RV generator running longer and healthier.  Try to change out your spark plugs and air filter after every 200 hours of use.
Drain Fuel When Not in Use –  RV generators systems can get gummed from oil, gas and various other fluids.  After sitting for more than 30 days certain gas can begin to separate and attract moisture.  Causing damage to fuel lines, carbuerators and even your tank.  If you plan to let your RV generator sit idle for more than 30 days before storing it you should:

Run it for 10-15 minutes.
After the RV generator has cooled down add a gas additive
Restart your RV generator and let it run until it dies ensuring all gas has been removed from the system.

Ensure the Battery is Fully Charged – If you have an electric start on your RV generator make sure your battery is fully charged before use or storing for long periods.
Start Your Generator Every 30 Days – Just like a car RV generators need periodic love.  If  you plan on storing your generator for long period of times its best to let it run for 15-20 minutes every thirty days.  This help keeps maintenance related issues at bay and ensures you keep the internal components lubricated to avoid rust and other harmful wear and tear when not in use.
RV Lesson #22 – Generator Maintenance – Change your RV generator oil, spark plugs, air filter at the appropriate times to avoid damaging your RV generator.  
Return back to the RV Mistakes Table of Contents for easier navigation
RV Mistake #23 – Securing Your Travel Trailer Camper Ball Hitch
I hate to admit it, but I still make this RV mistake all the time.  So much, in fact, I swapped out my trailer hitch with a universal slide lock.  Now whenever the ball reaches the receiver it automatically locks for me.  I needed this because for some reason I constantly failed to check this.  Luckily I never had anything major happen, but it was still shocking to show up at a gas station and see the travel trailer wasn't secured to my truck properly.
RV Lesson #23 – Securing Travel Trailer-  To avoid this RV mistake simply lower your travel trailer down onto the ball.  Secure the latch and then try and raise it back up with the front winch jack.  If it tries to pick up your truck you know you are secure.  If it didn't well at least you found out before driving up a mountain.  
Return back to the RV Mistakes Table of Contents for easier navigation
RV Mistake #24 – Falling Asleep while RV driving
RV driving isn't like driving your everyday vehicle.  It takes a lot more focus, planning, and awareness to avoid a costly RV driving mistakes like falling asleep at the wheel.  Plus, in your daily vehicle, most trips are shorter than 30 minutes whereas RV driving is long-haul road trips.  Pushing your self to arrive at your destination as soon as possible.  Staring down the road as signs, road marks and cars lethargically pass by.  Zapping the energy out of you with each passing mile.  You buy an energy drink.  Turn on an audio book, and even roll down the window.  Nothing seems to help as your eyelids get heavier and heavier.   This is what every RV driver said after falling asleep at the "RV wheel".
Your destination isn't going anywhere, and arriving at a campsite isn't worth dying over.  Don't make the RV mistake of falling asleep while driving because you want to click off a few more miles.  Pullover.  Take a break.  Get some rest.  Let the dog run.  Do some shopping or better yet go see the sites you're whizzing by.
RV Lesson #24 – Falling Asleep while RV Driving is the most common RV mistake that ends in disaster.  Slow travel is cheaper, easier & safer.  Instead of whizzing by all the wonderful sites this country has to offer pullover and take them in.  You never know when you be back to see them again.  
Return back to the RV Mistakes Table of Contents for easier navigation
RV Mistake #25 -Checking your Camper & RV Roofline Seals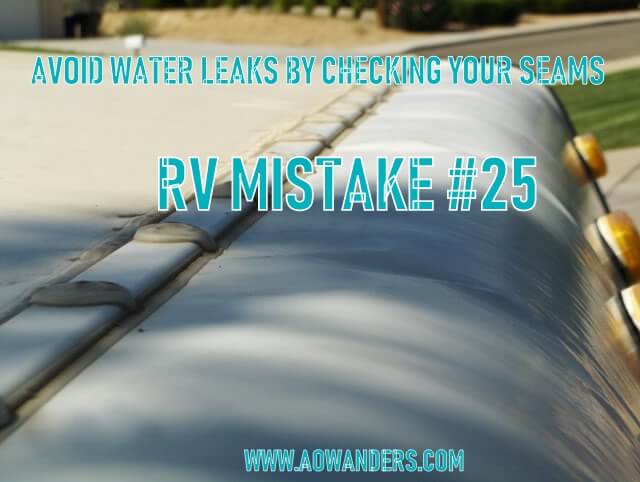 Most new camper owners don't realize they are making this RV mistake, but you need you to check the seals on your RV camper twice a year.  Once at the end of the season, and once before the season begins.  Caulk is not a long-term solution.  It cracks under the hot sun.  Freezes in the cold temperatures.  Contracting and expanding shortens the life of even the best caulk on the market.  You also need to consider caulk application is designed for stationary seals.  RV camper seals are constantly get bounced, twisted & thumped along your travels.  This constant bending and twisting is detrimental to caulk especially during the cold months.  When it can simply just brake off under the stress.  Leaving your seal open to the elements.
RV Lesson #25 – Camper & RV Roofline Seals need to be checked every 6 months.  Professionals recommend reapplying seam sealant/caulk once a year to protect your camper investment.  
Return back to the RV Mistakes Table of Contents for easier navigation
RV Mistake #26 – RV Camper Toilet Paper
Another RV mistake that most new RVers don't know they are making is using the wrong toilet paper.  Do you really have to buy special toilet paper for your RV, travel trailer or camper?  The answer is NO!  You definitely do NOT have to buy special toilet paper, but it helps.  Finding and using rapid dissolving RV toilet paper isn't crucial, but if you want your RV camper to stay in tip-top condition it's extremely helpful.  Remember when I said your black water and grey water tank sensor will fail you at some point?  Well, thats because something in your tank is messing with the sensor.  Using rapid dissolving paper products will help ensure your sensors last longer.


RV Lesson #26 – RV camper Toilet Paper – If you want to extend the life of your camper, keep your tanks from clogging and your sensor within the tanks functioning longer than you should consider using rapid dissolving RV toilet paper and various other rapid dissolving RV paper products.  
Return back to the RV Mistakes Table of Contents for easier navigation
RV Mistake #27 – Propane Leak
A common RV mistake that usually flies below the radar is a propane leak.  Crazy right??!!  How is that possible with a camper that includes a carbon monoxide detector?  The answer is burner blowout, and I am not talking about your stovetop burners.  Most campers come with 3-way refrigerators. Allowing them to run on propane, shore power (electric) or battery power(12 volts).  Running your camper fridge on propane is a wonderfully cheap option.  I can run my fridge on one propane tank for over 5 months, but the RV mistake that most people make is driving with their fridge running on propane.  The wind will blow out the burner and propane will still be flowing to a burnt out burner.  Losing propane and letting it draft into your RV camper.
Embarrassingly enough, I have made this RV mistake a bunch of times this last fall with my new Toyota Tacoma truck camper.  I was so used to the reliability of my travel trailer I forgot how sensitive RV fridge burners can be.  For over a week I kept opening a warm fridge even though I kept lighting the pilot every time I stopped.  Then the carbon monoxide alarm went off one afternoon and the lightbulb finally came on as to what my problem was.
RV lesson #27 – Propane Leak- When a burner blowout occurs propane is still being piped into your RV.  So don't drive your RV camper or travel trailer with the fridge running on propane.  Your items will not get cold.  You'll be wasting propane, and more importantly, you will be piping propane into a sealed box.  YIKES!
Return back to the RV Mistakes Table of Contents for easier navigation
RV mistake #28 – Overloading Your RV camper Bumper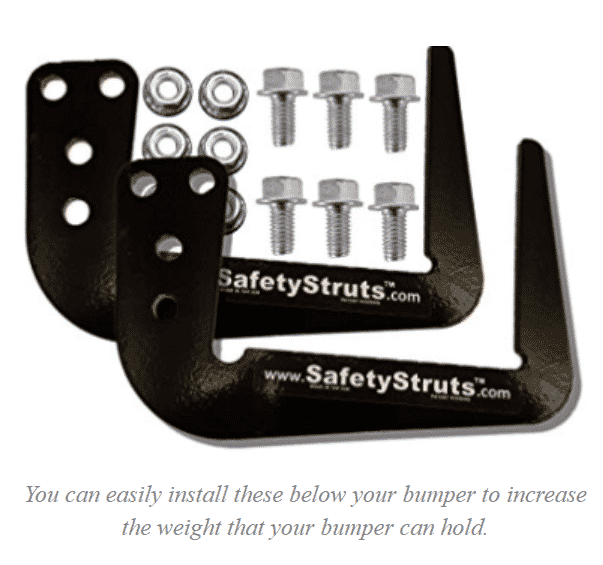 A bumper is a bumper, right?  If something can fit on it than its fine, right?  I found a bumper tray at a thrift store someone had custom made to fit the square bumper of my travel trailer.  It was the perfect size for my generator, gas can & camping chairs.  Even came with 4 welded D-rings to secure my RV generator from being stolen.   The RV mistake I made was assuming my factory bumper could bear the weight of my RV generator.


If I was never going to move my travel trailer this wouldn't be an issue, but the bouncing stress of travel quickly showed me how poorly this bumper was attached.  There are hundreds of RV bumper attachment accessories you can buy online to increase your storage or enhance your camping experience.  Before installing any of these awesome aftermarket attachments I strongly recommend you purchase bumper struts to increase the weight your bumper can support.
RV lesson #28 – Bumper supports can increase the weight you can safely load onto your bumper to protect your camper investment from unnecessary damage.  Bumper supports will increase your load bearing ratio from hundreds to thousands of pounds.
Return back to the RV Mistakes Table of Contents for easier navigation
RV Mistake #29 – Exposed to the Elements
An incredibly cheap an avoidable RV mistake is leaving your camper exposed to the elements.  The number one RV killer is water damage.  One tiny hole in your roof from an ice dam build up over the winter, or cracked caulking during the hot summer can destroy your entire camper.  When you are not using your camper it's extremely wise to tarp it.  Pay for covered storage, or install a covered carport on your property.  The couple dollars you spend now in preventative maintenance will save you thousands of dollars later on.    A new roof on an RV camper averages about $300 per linear foot.  On a 20 foot RV camper, a new roof will cost you $6,000 to replace.  Most RV mistakes are made out of financial pressure.   Don't make a $30 RV mistake that will cost you thousands of dollars later on.
RV Lesson #29 – Cover your RV Camper.  Buy a tarp!  Pay the extra for covered storage, or purchase a carport to protect your camper investment.  A $30 tarp could save you $6,000 later on.
Return back to the RV Mistakes Table of Contents for easier navigation
RV Mistake #30 – Air Vents
Becoming a full-time RVer is a huge learning curve filled with one RV mistake after another.  Each RV mistake you make will teach you a lesson most of the time you wished you'd never learned, but will never make again.  One of the most overlooked components when buying an RV for the first time are the air vents.  If you have never lived in a tin box before how would you know how crucial these little things are?    The three most common RV mistakes when it comes to air vents are:
Wrong type of camper vent – There are two types of air vents.  Ones that do nothing and ones that do something.

If your air vent does nothing but open and close it's pretty much useless.  On hot days it will do nothing to move the hot stale air within your camper. On cold days you may or may not even be able to open it because when the warm air met the cold air it created condensation.  This condensation tends to freeze air vents shut.  Again making them completely useless.
If your vent has a fan installed within it you at least have a vent that has potential depending on the size of your fan and overall design.  You still have to open and close the roof lid.  Which is a poor design that can still freeze shut during colder months.  If you have a fan thats the size of a silver dollar pancake you pretty much have a useless battery draining air vent.  You want a fan that is 6 inches or larger with no roof lid.  It still needs it to be covered, but you just don't want a lid that needs to cranked opened or closed.
Age of camper vent– The age of your air vent is also a big factor.  Again crank lids are extremely vulnerable to the elements, and they have no way of hiding.  This last year I purchased an 8-year-old truck camper.  With the intention of installing DIY air vent fans because they had none.  While on the roof installing the solar panel I barely brushed up against one of the crank lids.  When I say barely I mean the slack in on my sweatshirt arm I was wearing barely grazed a corner of the lid and it completely crumbled into a thousand pieces.  Now instead of just adding a fan, I had to replace the whole camper air vent.  The sun had beat down on them for so long the plastic was beyond brittle.
Securing your camper vent –  Crank lid camper air vents were probably groundbreaking technology in their time, but in today's world are completely useless.  Buying a camper with crank lid air vents and no fans is a huge RV mistake.  Crank lids can be forgotten to be closed before rains; before driving off to your next destination & before the wind picks up.  Crank lids can also become frozen shut.  Forgetting to close your vent before driving or on windy days is only a minor RV mistake, but forgetting to close your vent while its raining can become a major RV mistake in a hurry.  Imagine leaving your RV on a day trip and a surprise rainstorm kicks up while your away. You could come back to an inch or more of standing water in your camper.  Not cool!
RV lesson #30 – Air Vents-  When buying a camper for the first time make sure they have the right vents or negotiate the price so that you can install the right vents and avoid this annoying RV mistake altogether.  Proper camper vents with fans can run over $150.  Use this when negotiating the price of your new or used RV camper.
Return back to the RV Mistakes Table of Contents for easier navigation
RV Mistake #31- Buying your RV from Camping World
The most devastating RV mistake you could ever make is buying your camper from Camping World.  I have been traveling since 1998, and have been full-time RVing since 2008.  In all of those years of travel, I have not heard one good thing about Camping World.  Everything I have heard about Camping World can be summed up as:
too expensive
the instant they got our money the customer service disappeared
my RV has spent more time in their repair bay than I have been able to use it
Camping World offered me half what it was worth
Then Camping World nickel and dimed me to death
Camping World quoted me one thing and delivered another
RV lesson #31 – Buying an RV from Camping World is a complete nightmare that will cost you more than your new RV Camper is worth.  There are better deals through better companies that you should consider before giving any money to Camping World. 
Return back to the RV Mistakes Table of Contents for easier navigation
RV Mistake #32 – Food
Classic rookie RV Mistake is thinking you will get food on the way.  When was the last time you went to the grocery store in a semi?  Ever been to a fast food restaurant driving a bus?  RV driving is completely different than zipping around in your little commuter vehicle and rarely do things go as planned.   RV life likes to keep you on your toes.  At all times.  When you get a flat tire or stuck down a remote road you'll hate that you planned to do your grocery shopping later.
RV Lesson #32 –  Do your grocery shopping in your everyday vehicle before you leave.  This will give you time to pack and plan. Maybe even make a ready to heat meal for pit stops along the way to your new RV adventure.
Return back to the RV Mistakes Table of Contents for easier navigation
RV Mistake #33 – Extension Cord
After buying my first RV I had a lot to learn, and the dumbest RV mistake I made I didn't find out until after I had parked and began setting up.  I can't consider this a major RV mistake,  but I felt pretty dumb for not having a way to connect my new RV to the power outlet 10 feet away.  Luckily my neighbor, who must have taken pity on me, had an extra one to borrow me for the night.  Keeping me from driving around at 10 pm at night in a 1978 30 foot class C RV looking for a power cord.
Another thing about extension cords is that they are not all made the same, and you get what you pay for.  Buying the cheapest extension cord will only cause more problems down the road.  After making that first RV mistake of not packing a power cord I have always made sure to have one stored permanently in my RV campers.  But most RV campers will require an adapter for your RV to plugin to a power cord. This creates a problem when you purchase a cheap extension cord, or if you try to run your camper without enough voltage.
Another RV mistake I never knew I was making until I did a little research.  I always used to buy the $20 fifty foot orange extension cords because they worked for all of my other RV campers.   After getting my new travel trailer every 3-6 months my adapter would be melted to my power cord.  Because the cords I was using weren't big enough to power my 50 amp travel trailer.  Whenever I hooked up the travel trailer and blew a fuse or plugged into an outlet not suitable for 50 amps my cheap extension chords would stop just short of causing an electrical fire.  Another RV mistake I repeatedly made because I made assumptions powered by past experiences.  When you get a new RV be sure to do your research, and read your manuals.  It could prevent an electrical fire.
RV Lesson #33 – Pack a power cord, and at least one back up extension cord.  Be sure to pack the right power cord or you may end up burning down your new RV camper in an electrical fire because of an RV mistake you weren't aware you were even making.  
Return back to the RV Mistakes Table of Contents for easier navigation
RV Mistake #34 -RV GPS -CoPilot
Even when I am driving in my hometown or even home state I use google maps for everything.  I used to be able to whip around Minneapolis & the surrounding suburbs without any assistance.  Remember I grew up before there was an internet, and when I was running my roofing company I relied heavily on map books.  Nowadays, I couldn't even tell you where to buy a map book, but if you want to avoid navigational RV Mistakes you will want to get the app CoPilot. CoPilot is an app made for both Apple & Android that has RV related warnings (low bridges), maps and data.    No data needed for use of  CoPilot's updated offline maps which also include height/weight restrictions for roadways.  But the best feature of CoPilot is the ability to avoid tolls when mapping out your destination.  Something I can't wait for google maps to incorporate.
RV Lesson #34 – Get an RV focused GPS unit or app like CoPilot. 
I made a lot of RV mistakes since my first RV.  Mainly because I thought I knew everything that I needed to know.  Most RV mistakes can be avoided by doing a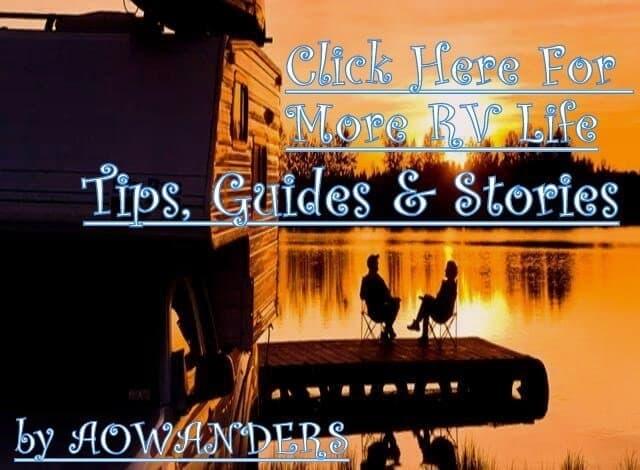 little research or at the very least a simple google search.  What I am trying to say is my first RV taught me a lot about RV life.  Through one RV camper mistake after another.  It was a fun adventurous & frustrating road to learning everything I now know about motorhomes, campers, travel trailers, and truck campers.  Hopefully, this "RV Mistake" article will help you skip all the RV mistakes I made so that you can enjoy RV life sooner rather than later.  Is there an RV Mistake that didn't make the list, but think it should?  Leave it in the comments below, or just make fun of me for making all these dumb RV mistakes.  Either, way I would love to hear from you.  Thanks again for reading my RV travel blog.
Instead of my first RV being the rv home of my dreams.  It ended up being the camper studio apartment my parents hated parked in their front yard.  Because I just bought the first cheap RV that came along.  Don't make the same RV mistakes I made.  Get out there and enjoy RV life and all the adventures that come with it by buying the right RV the first time, and doing the necessary research afterwards.
My Favorite Travel Booking Resources: Most Affordable & Efficient Travel Booking Tools I Use Everyday
Book Your Flight
Find a cheap flight by using Skyscanner or Momondo. These are my two favorite "flight" search engines because they search through websites and airlines around the globe and offer a calendar view to find even cheaper flights for flexible travelers.  Check out these UNIQUE destination deals or my favorite All Inclusive Booking Travel Tool!
Rent An RV
Find cheap RV rentals for your next adventure by using Outdoorsy or RVshare.  These are my two favorite "RV" search engines because they allow you to rent from private RV owners, and offer a wide variety of chooses at affordable rates.  Want to start making money by renting out your RV?  List it with Outdoorsy or RVshare.
Book Your Accommodation
You can book your hostel with Hostelworld. If you want to stay elsewhere, use Booking.com as they consistently return the cheapest rates for guesthouses and cheap hotels.  Get a $40 credit for booking with AirBnb.  Need to book a private campsite use my favorite RV booking site Hipcamp!
Looking For A Travel Community
Join the Escapees travel club to meet fellow travelers and talk about all things related to RVing and overland travel.
Travel Packages & Tours
Are you looking for worldwide tours and travel packages?  Check out my go-to source — IntrepidTravel!  Looking for more family related travel packages and tours book with GAdventures.
Don't Forget Travel Insurance
Travel insurance will protect you against illness, injury, theft, and cancellations. It's comprehensive protection in case anything goes wrong and will cover things like transport security, crisis response and medical transports such as Life Flight. Why go on any trip without a safety net that costs less than a case of beer? I've been using SafetyWings for years without any issues.
My favorite companies that offer the best service and value are:
SafetyWings (ONLY $35 & Covers USA Travelers)
World Nomads (for everyone below 70)
Insure My Trip (for those over 70)
Medjet (for additional travel insurance coverage like medical transport, travel security & crisis response)
Looking for the best companies to save money with?
Check out my resource page for the best companies to use when you travel! I list all the ones I use to save money when I travel – and I think will help you too!
Just Want To Support This Amazingly Resourceful Website
Websites incur constant fees!  From hosting costs to massive amounts of personal time creating beneficial content for readers to consume at their leisure.  To help offset those costs or just to say, Thank You.  You can help support this community by shopping through any of the links found on my resource page.  Shop on Amazon through this link and I'll get a small commission, or you can directly support this site through Paypal donations.  None of this is a requirement its just helpful and creates a better community for all of us.