Best RV Kitchen Accessories UNDER $20
Quick Reference Table of Contents
There are two types of people when it comes to camper packing for the first time. The frustrated and the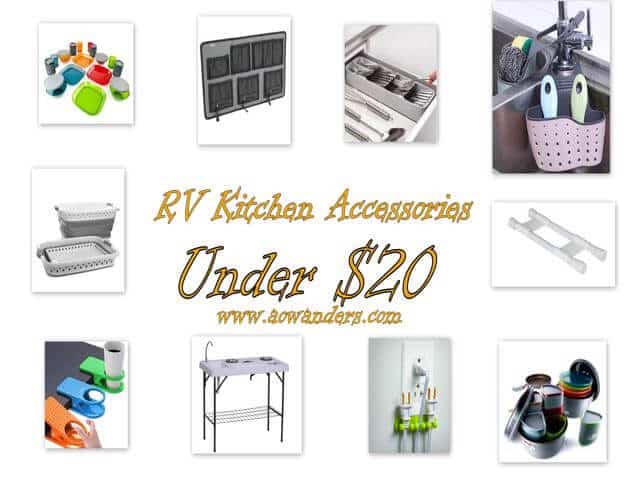 excited. Do you know which one you are? When it comes to RV kitchen accessories to pack in your new camper kitchen for the first time it can be a chore determining which camper kitchen accessories make the final cut and which ones get left behind. Literally!
You can't just select any kitchen appliances for your camper. You have to carefully consider: counter space, power source, functionality, storage space, efficiency, and overall convenience. A smart consumer should select RV kitchen accessories that function well in tight mobile spaces. While still being able to handle the day-to-day workload of food prep and mealtimes that are such an important part of cheap RV living.
Camper Kitchen Space
Finding RV kitchen appliances that won't eat up your valuable counter space, storage options, or require precious resources like electricity is a frustrating treasure hunt at times. Because let's face it RV kitchens are notoriously small cramped tight spaces. So with those considerations in mind lets help you find the best RV kitchens accessories for your camper.
There are a lot of fun camper accessories and nifty motorhome gadgets, but the best kitchen accessories for your RV are efficient, functional and cheap! And if you still have camper packing related questions after reading this. You should probably check out my popular "Must Have Camper Accessory Guide," for more ideas OUTSIDE of the kitchen. Because today we are talking about the best RV Kitchen Accessories for under $20, and if you just want to get to the point well…..
There are a few essential camper accessories that will make RV life more enjoyable, but the only RV kitchen accessories you really need are disposable dinnerware, Non-Stick RV Cookware, and Tupperware. Why? Because they're efficient, functional & effective. Taking up little counter space, are able to multi-task, use little electricity (or none at all), and increase….. or require very little RV kitchen storage space for your beloved camper.
If you took in the considerations I mentioned above you will utilize your camper kitchen accessories three times or more a day. So it is vitally important that the camper kitchen accessories you stock your RV with are efficient, functional and effective. Below are my favorite camper kitchen accessories from my own travel trailer kitchen and have grown to love over the years. Any new camper I buy, trade in, upgrade to or downgrade to these 12 camper accessories can always be found in my camper kitchen.
My 12 Must Have RV Kitchen Accessories For Under $20
RV Kitchen Accessory #1 –Disposable Dinnerware
The absolute number one RV kitchen accessory without any doubt. No competition is disposable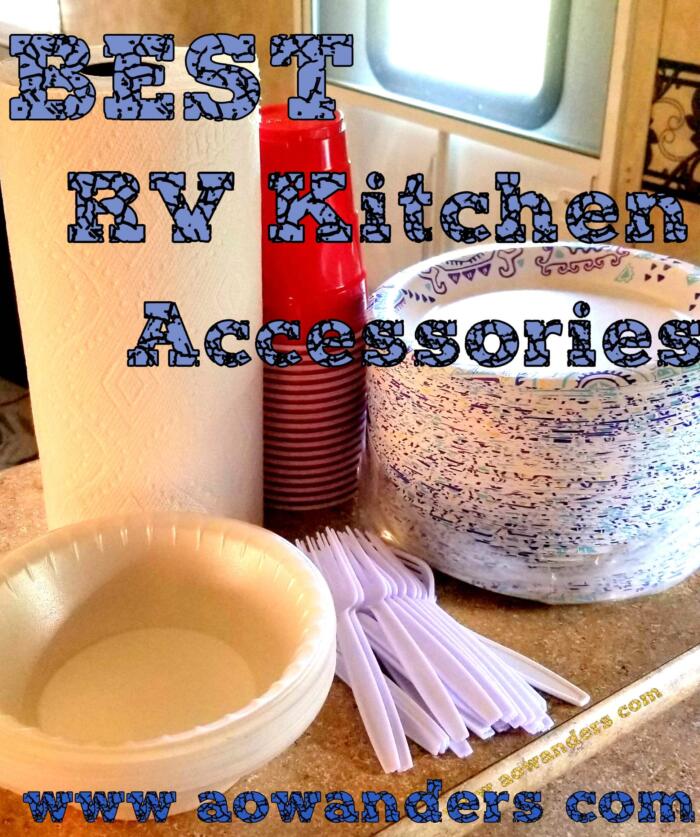 anything! Plastic cups, plastic silverware, paper plates & paper towels will be the foundation of an enjoyable RV life or the never-ending list of regrettable reasons why you hate RV life.
Cheap RV living is all about a simple freedom-filled life. Think about it. Most people eat three times or more a day, and it is very rare to find a camper with a dishwasher. You can always buy a countertop dishwasher if your one of those people that think your camper has too much counter space, but for the rest of you that are a bit more practical ask yourself.
How much fun it would be to hand wash dishes in miniature sink three plus times a day? And dry them! And put them back in your tiny cupboard! Paper disposable dishes delete a chore from your life. You don't have to wash them, dry them or repack them. You simply throw them away or burn them. And for any of you thinking about leaving a comment about global warming or recycling's good for the earth. Guess what? Washing dishes in a miniature sink and waiting for them to dry so I can repack them isn't compatible with my quality of life expectations!
The most essential RV kitchen accessories are paper plates, paper towels, plastic silverware, plastic cups and anything else disposable that is necessary for meal times.
RV Kitchen Accessory #2 – RV Kitchen Storage Accessories
The next RV kitchen accessory you need to enjoy cheap RV living is creative RV kitchen storage accessories. You need a place to put your plastic silverware and paper plates right? Go to any big box store or online retailer like Amazon and browse their storage container section. Most of the options you will find will be plastic containers from a company called Sterilite. Which is perfect because that means they are dishwasher & microwave safe.
If you want to be a little more upscale by trying to match the décor of your camper check out the wooden containers they offer. Visit a site like Etsy to find custom made RV kitchen storage accessories. Whichever container you choose simply mount it underneath your existing overhanging cabinets. For me, I usually take out whatever drawers there are and screw it to the bottom of my cabinets, but I have seen quite a few other methods from gluing, caulking to even velcro. Whatever floats your boat.
For me, every time I buy a new camper there are three RV kitchen storage accessories I purchase. A wooden breadbox with magnets, a wooden box with one drawer and sterlites mini 3 drawer container. The mini sterilite I use to hold my plastic silverware. Spoons, knives & forks all get their own little drawer. The bread box I mount somewhere near the door and that holds keys, flashlight & gloves. Basically anything I need quick access to when coming in or out of the camper. My one drawer wooden box is used for paper storage (registration, park passes, campground passes, local area maps, take out menus, etc etc).
These three RV kitchen storage accessories allow me to add functionality and storage to my camper's kitchen for less than $10 apiece.
My favorite RV kitchen accessories provide more storage, take up no counter space and don't require any electricity!
RV Kitchen Accessory #3 – Collapsible Laundry Basket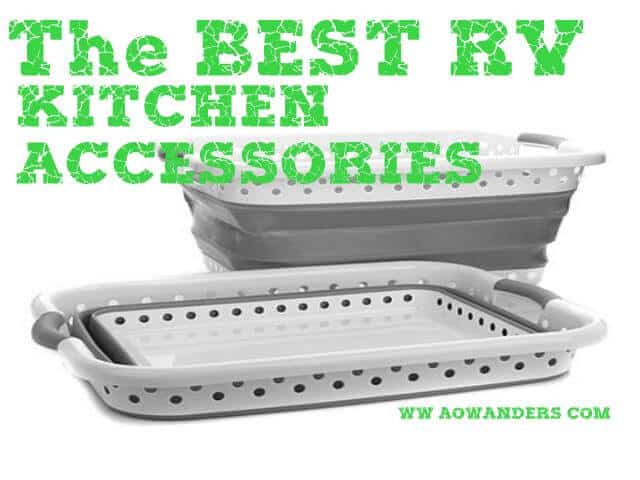 You might be asking yourself why I am including a laundry basket in a list of camper kitchen accessories, but it is essential for any RVer. Fulltimer, parttimer or weekend warrior. A collapsible laundry basket has multiple functionalities and when it is not in use can easily be stored away. Even in tight spaces that you can't use for anything else. Besides being able to carry your clothes in and out of the laundry mat a collapsible laundry basket is a crucial RV kitchen accessory.
Because it can act as a drying rack for pots, pans & other dishes that you just can't throw away or burn. It's a wonderful little tote for carrying things in and out of the camper to your RV's outdoor kitchen setup. And if you're like my friend Sam add even more functionality by attaching a plastic cutting board to the bottom of this RV kitchen tool. For under $20 you get a heavy duty collapsible tote, laundry basket, drying rack, outdoor sink/washtub, and a cutting board. You know that's a screaming deal!
RV Kitchen Accessory #4—Drinking Cup Clip Holder
If the top 3 kitchen accessories didn't exist this would be my #1 RV camper accessory of all time. Without a doubt! A drinking cup clip holder provides a drink holder no matter where you are camping, standing, sitting or even laying down. Attach em to a table, chair, tailgate, tree, leg or even an annoying kids noise. They are fantastic! And will change your RV life forever!
If there is nothing else on this list you have to buy. You need to order a set of drinking cup clip holders today. You won't regret it. Every time someone see's mine for the first time the very first thing they say is, "Where did you get that?" It is easily the number one camper kitchen accessory that invokes the most jealousy from other RVers.
RV Kitchen Accessory #5 – Camco RV Refrigerator Bar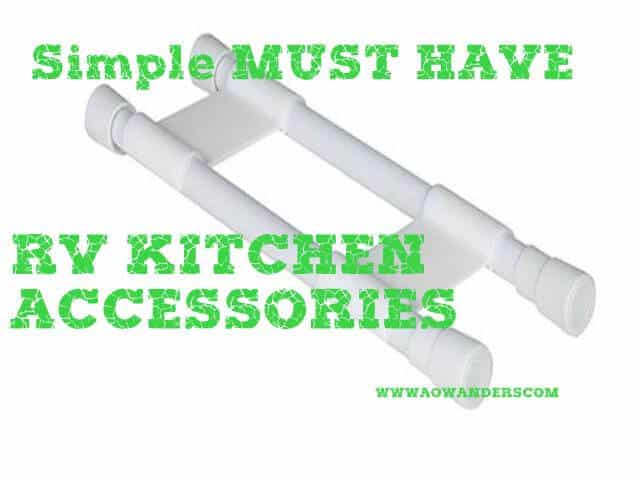 Your first reaction may be what? Why? I don't need that? Why would I need a refrigerator bar? I have a door on my refrigerator, and things called cupboard doors as well. But RVs, Motorhomes, Campers & Travel Trailers…….they all move! That's what they were designed to do. Things shift, roll, bounce and jump. I could add an incredibly nasty photo of when I opened a kitchen cupboard and a heavy canned good fell on my foot. Causing me to lose a toenail. Talk about unexpected surprise disaster.
Remember I'm a pretty agile, coordinated and athletic individual who participates in a lot of outdoor physically challenging activities. Still wasn't quick enough to avoid a falling can of fruit. For $15 I could have avoided that stupid and entirely avoidable scenario. So while this isn't the most glamorous RV kitchen accessory it is a kitchen tool that will make cheap RV living a bit safer.
RV Kitchen Accessory #6 –Outlet Plug Holder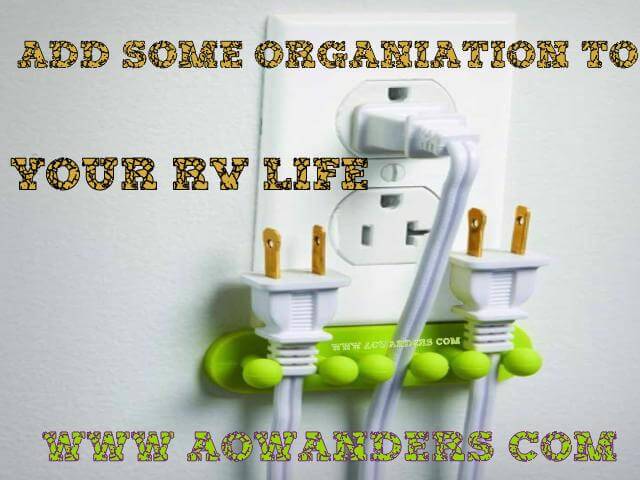 The best RV camper kitchen accessories are the ones that organize your tiny space, cost nothing and make your life easier. Which is why my #6 camper kitchen accessory is an outlet plug holder. Campers aren't like a brick and mortar home where there's an abundance of wall outlets at your disposal. In fact, my travel trailer has zero wall outlets on the entire driver's side of the camper. I've since added a four-foot power strip, but the manufacturer apparently thought no one would ever need electricity while sitting at the table or on the couch.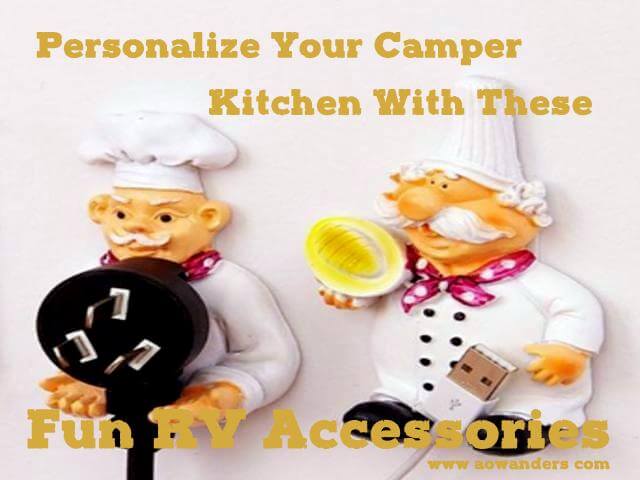 I know RVing embraces the simple pleasures of life, but I still need to charge my cell phone and use my laptop to search Amazon for cool RV kitchen accessories. So instead of wrapping up cords to kitchen appliances or throwing them on the floor to charge cell phones and laptops keep your kitchen organized with an outlet plug holder. Swap out power to all of your RV appliances with this simple, cheap & functional fun camper accessory.
RV Kitchen Accessory #7 – Rubby Sink Caddy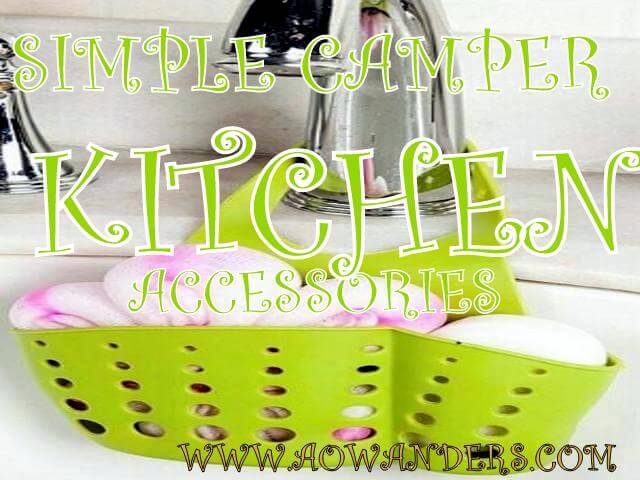 Remember when I told you RV's are mobile? This makes it difficult to store your toothbrush, soap, shavers and dish scrubber on the counter. Because when you arrive at your new destination they are most likely going to be in the sink, on the floor or somewhere they are not supposed to be on the counter. The rubber sink caddy costs less than $2. Is dishwasher safe and keeps all your sink supplies where they belong.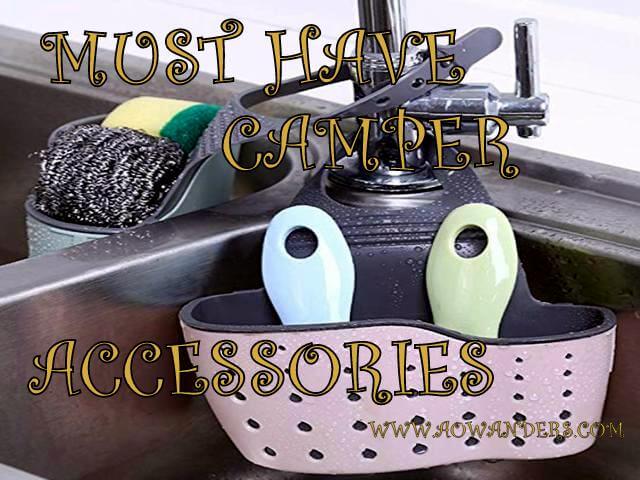 It is the perfect RV kitchen accessory. Serves a dual purpose. Organizes your camper kitchen. And it's a simple, sleek, efficient design and at a very affordable price! Its one of those things you don't know actually exists, and once you do it should be the very next thing you buy for your camper kitchen.
RV Kitchen Accessory #8 – Shoe Organizer
This is more of an RV kitchen storage accessory, but none the less an item you will definitely want to pick up. For less than $10 you will never have to trip over shoes again. Never have to dry out shoes that were left outside in the rain or covered in morning dew. No longer will you have to occupy valuable storage space for shoes.
You can find a cloth shoe organizer at any big box store or online retailer in all different shapes, sizes, and colors. Making it easy to find something that will match the interior of your camper. This RV kitchen storage accessory costs less than $10 and takes less than 5 minutes to install. If your camper has limited storage options or useless storage options like my first Class B RV did explore the options a hanging shoe organizer provides.
Add More RV Kitchen Storage
If you would like to add more RV kitchen storage to your camper start looking at blank wall spaces and imagine what you could put there. Hire a cabinet maker to install more cabinets on a blank wall space above the bed, over the table, the blank wall next to the camper door, under the countertop or on the side of the kitchen island. If you have a blank space on your wall that's a great place to add unique RV Kitchen storage accessories. Take a stroll through Pinterest to get those creative juices flowing. Remember there's always the roof too.
RV Kitchen Accessory #9 – Weather Stripping Tube
Floating noodle, pool floaty or weather stripping tube. Whatever you want to call it you need to get one of these. Go to your nearest dollar store, order them off of Amazon or swing by Walmart. If you don't want a moldy smelling fridge or hate cleaning up the black mold you need to keep your RV fridge propped open when not in use. So the air can circulate and keep mildew from forming.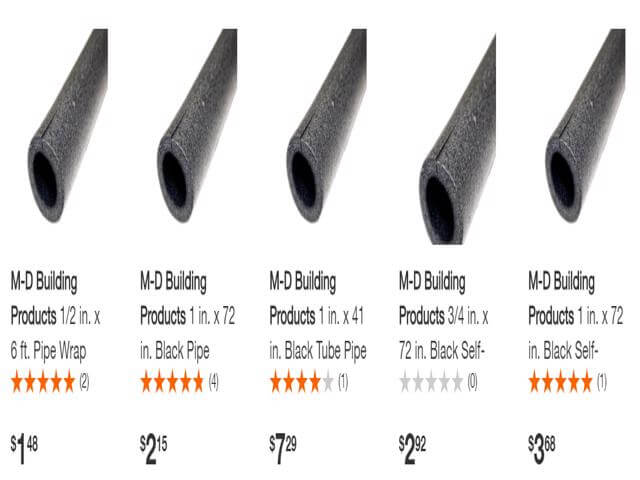 They make all kind of gadgets to help you with this, but a weather stripping tube is $1.35 at Home Depot. For less than $2 this RV kitchen accessory will keep your fridge nice, clean and airy. Leaving you one less chore to do in the spring before RV season. Plus this $2 camper kitchen accessory is 4 feet in length. Meaning you wouldn't have to buy it again for 8 years! Talk about return on investment!
RV Kitchen Accessory #10—Clip on Fridge Drawer
Another RV kitchen storage accessory that is perfect for any camper is the clip on fridge drawer. For less than $10 you can add a drawer or storage compartment to your mini RV fridge.

This is a no brainer, and perfect for RV families. Buy a color pack of four. Each member of the family gets their own drawer. Kids love this, and it teaches them organization. It's a great RV kitchen storage accessory that adds functionality, storage space and at a very affordable price.
RV Kitchen Accessory #11 – Magnetic Spice Rack
I used to recommend the peal and stick plastic spice racks for any "real" RV Kitchen Accessory List and I still use them myself, but nowadays I recommend the magnetic spice tins. Better construction.


Keeps your spices fresher, and can't melt by accident near the stove. They look classier, dishwasher safe and even come with labels. Every camper with a hood vent/fan provides the perfect place for these magnetic meal prep assistants. If you cook with spices this is the perfect RV kitchen accessory for any camper or motorhome.
RV Kitchen Accessory #12 –Scrap Trap
One of my all-time favorite camper kitchen accessories is the scrap trap. It is basically just a plastic bucket that hooks onto the top of a cupboard door. Allowing you to brush chopped food off of the countertop and into the container. Super easy to clean, use and store. No more trying to scrape chopped veggies over a sink lip, space in the countertop or scooping up by hand.


Simply chop and scrape into an awaiting container at the edge of your countertop. Every camper owner should own one of these cookware RV kitchen accessories. Absolutely perfect. Keeps the kitchen clean, organized and efficient.
Bonus RV Outdoor Kitchen Accessory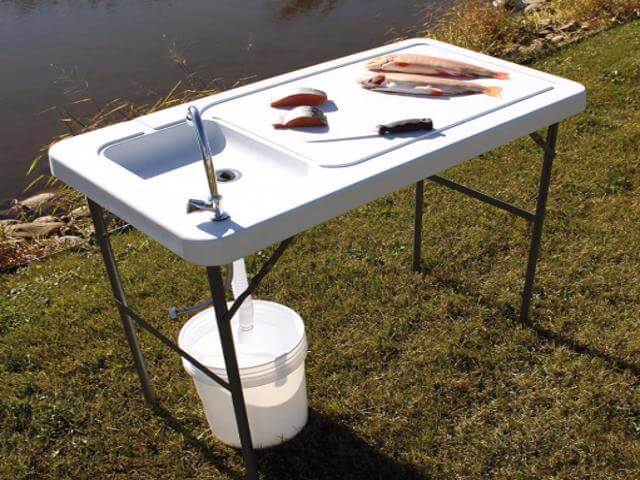 Every camper owner loves the great outdoors. Its why you own a camper! Everyone loves sitting around the campfire. Preparing meals outside, and hosting friendly gatherings. So while this next camper kitchen accessory isn't under $20 it is an absolute must own for any RVer. I scooped one upf at a garage sale my first time, but will never own a camper without this must have RV outdoor kitchen accessory.
Folding Table With Builtin Sink For Outdoor RV Kitchen
This folding table with a hose attachment to give you a functional
workspace with sink anywhere a hose will reach! Absolute game changer. Easily expands your RV kitchen to the outdoors. You can even wash dishes in this sink. Without any worries about splashing water all over the place. It is perfect for families who love to eat outdoors while also keeping the mess outdoors. Its an absolute MUST have for any hunter or fisherman. No more cleaning smelly fish inside. No harvesting game in the camper kitchen. Whether you own a camper or a cabin if you do any time of meal prepping or eating outside this is a must-have RV Outdoor Kitchen Accessory.
My Camper Kitchen Accessories
These are my favorite RV kitchen accessories from my own camper kitchen, and after a long day of hiking these accessories make cooking simple, fun and enjoyable. Allowing me to gather around a crackling warm fire with my new campground friends and cold alcoholic beverages sooner rather than later.
Other RV Travel Blogs
I put this list together because at the time I wrote this the search results were filled with RV kitchen accessories that required a massive amount of counter space, excessive storage options, and required electricity. In fact, the #1 listing at the time was recommending people go buy a $323 big bulky electric countertop water filter. That looks like a beat up Stanley Cup because that RV blog owner cared more about affiliate commissions than actually providing you beneficial information.
RV Life Considerations
When evaluating what camper accessories are right for your kitchen you need to consider countertop space, cabinet arraignments, fridge parameters, and overall efficiency and functionality that that RV kitchen accessory is supposed to provide.
Everyone loves coffee in the morning with their pancakes made on an electric griddle. There's nothing wrong with that, but I would never recommend them to you. Why? Because I have been living the RV life for over 20 years and both of those recommendations require electricity, storage space and a counter top to use em.
I am not opposed to using electricity. How else would I watch my NHL team on the giant flat screen TV? I also store things in a cabinet or use my juicer on the countertop. But the fewer items I have that require these three crucially limited elements in every RV/Camper the easier my RV life is.
Camper Accessory Considerations
For anyone foolish enough buy any camper accessory that doesn't account for these three debilitating factors deserves the headaches, stress, and frustration that comes along with them. Buying a spice rack that sits on the countertop because its cute is a bad idea! Purchasing 20 camper accessories that require electricity when you only have three plugins is a bad idea.
Purchasing camper accessories that require you to spend more money to use them is a bad idea! Camper accessories that require you to exert effort to use to them is a bad idea. Spending money on camper accessories that require power and excessive storage is a horrible idea. Especially if it's a $323 water filter that looks like it got beat up with a baseball bat and stands 4 feet tall! At over 8 pounds per gallon how easy do you think it is to move 4 feet of water to chop an onion or season some burgers?
Camper Essentials
From RV kitchen accessories to camping supplies there are a few essential camper accessories that will make RV life more enjoyable. Plus a ton of really cool and fun camper accessories out there, but don't let RV blogs prey on you for referral commissions. Think about what they are recommending you to buy before you give any weight to their recommendations. Ask yourself is this practical? How will I power this? Where will I store this, and where will I use this? How many times do I have to use this to get my money's worth out of it? These are just some of the questions you should be asking yourself when buying camper accessories.
As a little bonus here is a camper packing checklist for you. Happy Travels Everyone. Thank you for visiting my RV travel blog, and hopefully, this was beneficial to you. If you want to read any more RV life articles of mine just follow this link, and as always if you have any questions, recommendations or concerns leave them in the comments below.
What Should I stock in my Camper Trailer
You need to pack bathroom, kitchen and bedroom supplies in your camper trailer. Some of the essentials that everyone packs into their camper trailer are:
Paper towels
Paper Plates
Plastic silverware
Plastic Cups
Sheets
Pillows
Blankets
Towels
Toiletries (toilet paper, shampoo, soap, toothbrush etc)
Cookware and Utensils
Ziploc bags
Tupperware
Flashlight
Matches/Lighter
Books, movies & board games
Free Pinterest Thumbnails
My Favorite Travel Booking Resources: Most Affordable & Efficient Travel Booking Tools I Use Everyday
Book Your Flight
Find a cheap flight by using Skyscanner or Momondo. These are my two favorite "flight" search engines because they search through websites and airlines around the globe and offer a calendar view to find even cheaper flights for flexible travelers.  Check out these UNIQUE destination deals or my favorite All Inclusive Booking Travel Tool!
Rent An RV
Find cheap RV rentals for your next adventure by using Outdoorsy or RVshare.  These are my two favorite "RV" search engines because they allow you to rent from private RV owners, and offer a wide variety of chooses at affordable rates.  Want to start making money by renting out your RV?  List it with Outdoorsy or RVshare.
Book Your Accommodation
You can book your hostel with Hostelworld. If you want to stay elsewhere, use Booking.com as they consistently return the cheapest rates for guesthouses and cheap hotels.  Get a $40 credit for booking with AirBnb.  Need to book a private campsite use my favorite RV booking site Hipcamp!
Looking For A Travel Community
Join the Escapees travel club to meet fellow travelers and talk about all things related to RVing and overland travel.
Travel Packages & Tours
Are you looking for worldwide tours and travel packages?  Check out my go-to source — IntrepidTravel!  Looking for more family related travel packages and tours book with GAdventures.
Don't Forget Travel Insurance
Travel insurance will protect you against illness, injury, theft, and cancellations. It's comprehensive protection in case anything goes wrong and will cover things like transport security, crisis response and medical transports such as Life Flight. Why go on any trip without a safety net that costs less than a case of beer? I've been using SafetyWings for years without any issues.
My favorite companies that offer the best service and value are:
SafetyWings (ONLY $35 & Covers USA Travelers)
World Nomads (for everyone below 70)
Insure My Trip (for those over 70)
Medjet (for additional travel insurance coverage like medical transport, travel security & crisis response)
Looking for the best companies to save money with?
Check out my resource page for the best companies to use when you travel! I list all the ones I use to save money when I travel – and I think will help you too!
Just Want To Support This Amazingly Resourceful Website
Websites incur constant fees!  From hosting costs to massive amounts of personal time creating beneficial content for readers to consume at their leisure.  To help offset those costs or just to say, Thank You.  You can help support this community by shopping through any of the links found on my resource page.  Shop on Amazon through this link and I'll get a small commission, or you can directly support this site through Paypal donations.  None of this is a requirement its just helpful and creates a better community for all of us.