Buying Your First Traveler Trailer
Quick Reference Table of Contents
You just bought your first travel trailer and are wondering what RV accessories you need to buy now. Or even what to pack in your brand new camper to enjoy all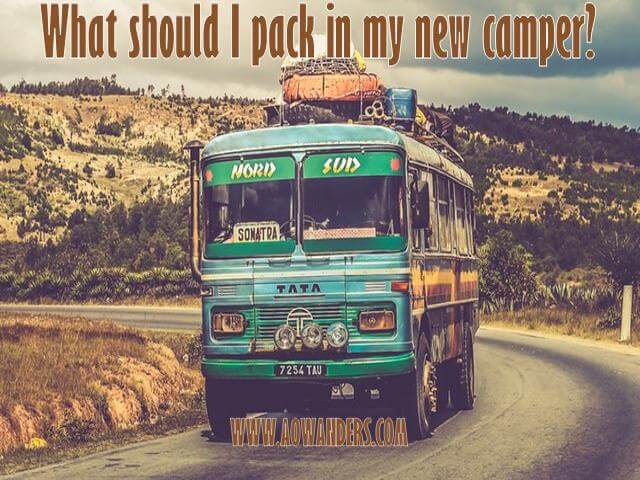 the wonderful adventures that lie ahead. If you're a first time camper owner asking yourself, "What camping supplies and travel trailer accessories do you need now," you've come to the right place. Figuring out what RV essentials you need for your first camper can be challenging as well as exciting. Who doesn't like to pamper themselves with new camping supplies?  Click Here to skip down to my personal list of camper accessories or Click here to skip down to the bullet point new camper accessories list. Want a more detailed list of camper accessories click on this link to skip down the page.
But if you've never stocked a camper before you may be wondering what should I pack in my new camping trailer? What are the essentials for RV camping? What supplies do I need to live in my new travel trailer? Is there specific RV cookware? How does my camping trailer kitchen work? Do I need special RV toilet paper? Does my travel trailer have an onboard generator? What is the best generator for travel trailer camping? These are all great questions, and if you just bought your first camper you probably have a million more questions. So if you're thinking to yourself, "I just bought a travel trailer and am a new camper owner what do I need?"
Don't worry I got you covered. Below you will find a complete camper packing list along with an essential RV accessory guide, and all the camping trailer accessories you will need to fully enjoy your new camper.
Related Reads:
There are plenty of wonderful and fun RV accessories you can purchase, but when stocking your RV for the first time you should focus on the bare essentials. Whether you have a small motorcycle camping trailer or a large 5th wheel camper let's help you figure out what camping accessories you need to buy and pack in your new travel trailer camper. Before diving into the essential RV accessory guide & travel trailer packing list lets debunk a few RV must have myths!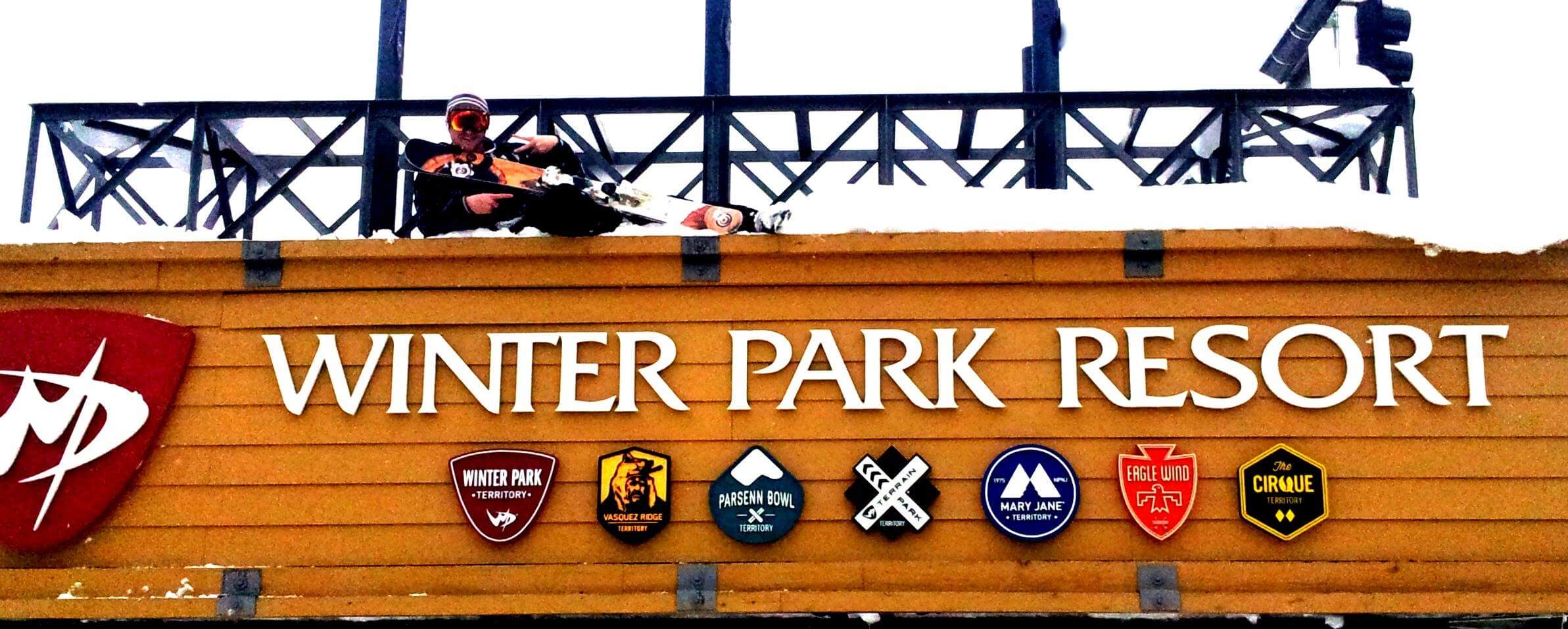 RV Camper Must Haves
What does every RV, camper or travel trailer must have?

There are only 3 essential things that every camper must have. No matter the size, age or condition every RV/camper/travel trailer must have a destination, power source & water source. Any other camper accessory is a comfort focused and convenient based desire.


What is the best camper power source?

The best power source for your new camper is generator power. Generators are lightweight, portable, reliable and affordable. The best generator for your new travel trailer is the Champion 3400-Watt Dual Fuel RV Ready Portable Inverter Generator with Electric Start. The Champion generator is ultra-quiet, powerful and can run on 3 different fuel types! Click here to find out how I turned this into an onboard generator for less than $200.


What about solar power?

Solar power is the closest you will come to free power, but solar powered camper setups provide their own challenges. Solar power camper installations can be complex, costly and limited. You would need to spend a lot of money creating a solar powered system that would be capable of running your camper's microwave, air conditioner and refrigerator. This would add a ton of weight, and electrical logistics that would require occasional maintenance.

Boondocking must have's?

Whether you are urban boondocking or backcountry boondocking there are only 3 essential boondocking must haves. Destination, power source & water source. Any other boondocking must have is a want and not necessarily a need.


Is there specific RV cookware?

You can find camping cookware at Cabelas, REI and Amazon, but camping cookware is not RV cookware. There is actually no such thing as "RV Cookware." They make cast iron pots, pans, skillets and various other cooking surfaces for campers, but these are not what I would consider RV cookware. I consider RV cookware to be any cookware that makes my life easier. So I highly recommend a top of the line nonstick pan. You can use the same cookware you have at home to cook in your camper, but the best RV cookware is any cookware that is extremely easy to clean & versatile. One pot meals are the norm in RV life for a reason.

Camper Trailer Accessories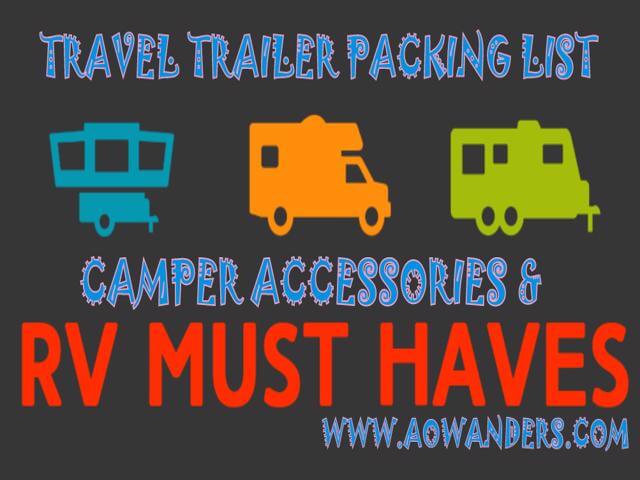 But you clicked on this link to answer the question, "What should I pack in my new camping trailer?" And the answer is whatever will make your RV life more enjoyable. We live in an era where almost everything has been created, manufactured or invented. Providing an enormous amount of camper trailer accessories that will enhance your RV Life. All that's left is for you to choose the camper trailer accessories that will be compatible with your camping lifestyle.
I do a lot of winter camping because I'm a passionate ski bum. So while an electric blanket makes sense for me it might just take up unnecessary space in your new camper. I hate washing dishes in my RV because of all the requirements needed for a 2 minute task that turns into an hour long task. Water source, power source for the water pump, drying space, available grey water tank space and I have to wash them in a tiny RV sink that can barely hold standard sized pint glass.
I would rather use paper plates, plastic cups & disposable silverware because it doesn't create a chore for me to do later. Plus they work for great campfire starters. Maybe you get uncomfortable backing up your travel trailer so a backup camera might be the perfect camper accessory for you. Or maybe you like to watch your favorite sports team while camping in the middle of nowhere so a self-tracking satellite setup would be an ideal camper accessory for you. Camper trailer accessories can range from electric jacks to motion sensor door bells, but let's dive into the essential camper trailer accessories you need to pack in your new camping trailer.
To properly enjoy your new travel trailer you need to pack your new camper with essential RV accessories, and purchase additional camping supplies that aren't generally included in most camper sales. New camper owner supplies should include a reliable generator. New sheets, pillows and blankets. Proper RV kitchen supplies. RV tools along with camper cleaning supplies and RV bathroom supplies. You'll also need to purchase a variety of miscellaneous camping supplies from camper extension cords to camping chairs and even marshmallow sticks. With your new travel trailer you're going to need an electric brake controller, tire monitoring system and various plugin adapters to hookup to all the different shore power options available. And on rainy days you'll be glad you stocked your new camper with board games, movies, books, dice and a deck of cards. Whether you're a first time camper owner or full time RVer or just bought a travel trailer and asking yourself what do I need. Below you will find the essentials of what every RV needs and what to pack in your new camper. After buying your new travel trailer you need to buy thousands of dollars' worth of RV accessories to truly enjoy your new camper!

10 Item Travel Trailer Essential Camper Accessories List
1) Generator (gas can, plugin adapters, camper extension cord, storage & security of your generator)

2) Camper Bedroom Supplies (Sheets, Pillows, Blankets & possibly a new mattress)

3) RV Kitchen Supplies (Camping Cookware, Cutlery, High End NON-Stick Camping cooking Pan, RV Dish Drying Rack, Camping Pot/Pan Rack, Oven Mit, RV Spatula, RV Pasta Strainer, Ziploc Bags, Paper Plates, Plastic Silveware, Paper Towel Holder, RV Paper Plate Holder, Spice Rack & Camping Tupperware)

4) RV Bathroom Supplies (Towels, Camping Shower Caddy, RV Toilet Treatment Drop-ins, Toilet brush, & RV Toilet Paper)

5) Camper Cleaning Supplies (Windex, 409 All-purpose cleaner, Bleach, dish soap, scour pads, vacuum, broom/dustpan, Swiffer, RV toilet tablets)

6) RV Tools (socket set, hammer, drill, hand tools)

7) Misc Camping supplies (Camper extension cord, camping chairs, hatchet/chainsaw, gas can, flashlight, HDMI & AUX cord, fan, hotdog/marshmallow stick, air pump, head lamp, electric blanket, propane sunflower heater, USB wall outlet)



8) RV/Camper Accessories (backup camera, tire jack, lugnut wrench, spare tire, propane tanks, camper battery, trailer hitch lock & locking pin, travel trailer electric brake controller, travel trailer tire monitoring system & plugin adapters for regular outlets/30amp/50amp)



9) Living Room Essentials (Cup holders, coffee table, swinging couch laptop tray)



10) RV/Camper Entertainment accessories (movies, books, camper board games, deck of cards, dice, notebook, camper bluetooth speaker, camper walkie-talkies, inflatable water toys, bocce ball, bean bags, croquet set, jenga, Yahtzee, or any backyard lawn game will be ideal for your new travel trailer)
Travel Trailers Comprehensive In depth Camper Packing Details
Travel trailers offer more living space, comfort and a buffet of features at half the price of a drivable RV. These pull behind campers are more versatile, adaptable & modifiable than their camping counterparts. Which is probably why they are the most popular camper on the market today, but no travel trailer comes with a checklist of how to pack your new camper. So let's find out what supplies every travel trailer needs in more in depth than a 10 item camper packing list.
Bedroom Supplies For Your New Travel Trailer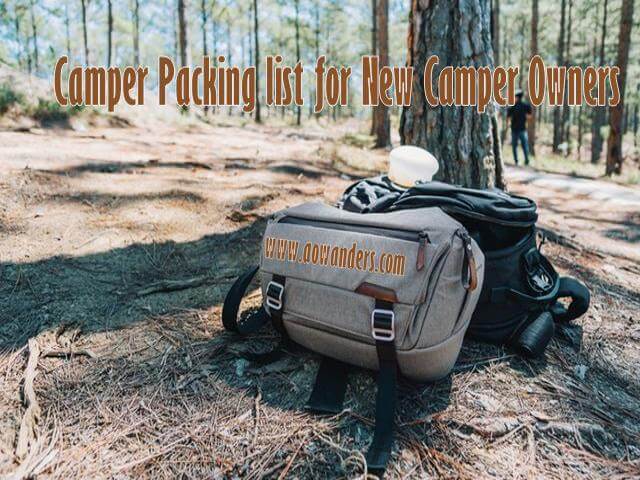 Unlike moving into a new apartment or a house RVs, campers & travel trailers come with a bed and a history you know nothing about. RV mattresses have a notorious reputation for shotty cheap material, rampant with design flaws and about as comfortable as petrified wood covered in broken glass. The first thing you will want to do is replace your RV mattress. Some campers have standard size RV mattresses while others were designed by a blind drunk who used a broken tape measure.
Fortunately, no matter what size your RV mattress is you can get a custom size camper mattress shipped directly to you relatively easy from Amazon. Click here to shop for RV Mattresses. Plan on spending around $200, but you will want to keep a couple of things in mind.
Saggy sheets tend to make for an uncomfortable nights rest, and memory foam freezes hard as a rock in cold temperatures. Flannel sheets will have you roasting in the summer. While silk sheets will keep you cool in the summer but will leave you desiring something more in the winter. If you do plan on doing a lot of winter camping I suggest purchasing an electric blanket. It will keep you warm and doesn't produce condensation on the windows or walls, but requires electricity. Good with the bad, right? When shopping for a new RV mattress try to purchase a conventional size mattress so you can find sheets and blankets easier.
**Camper Accessory PRO TIP ** Most RV mattresses sizes are called a short queen

Livingroom Supplies For Your New Travel Trailer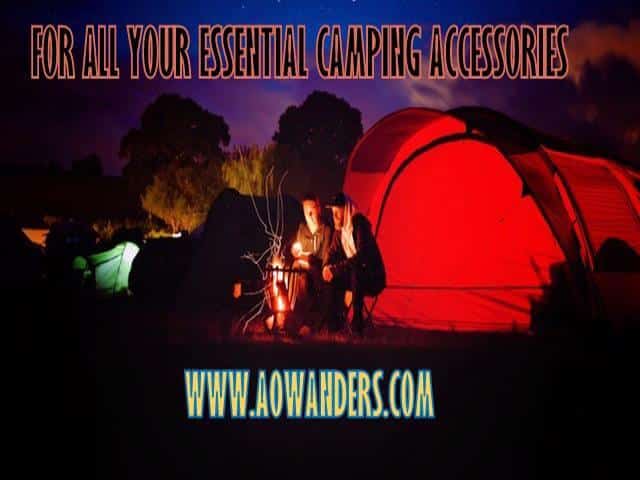 Whether you have a conventional RV jackknife couch, captain's chair, booth dinette or full surround sound RV entertainment center I bet syou're missing a few key items you won't discover until after your first camping trip. One culprit that often gets overlooked is RV cup holders. My first decade of RVing I simply set my cup on the floor, but my beagle is a raging alcoholic. So he soon discovered if he tips it over daddy will let me lick it up. Since they don't let dogs into AA groups he's cool with being a sloppy drunk, and I've discovered hard liquor isn't his red solo cup of tea!???!


You can buy cupholders for a couple dollars at any autoparts store, Walmart, amazon, thrift store or even goodwill. A couple dollars now will save you confused frustration later. If your new camper has a slideout one of the first things you will want to purchase is a 4 foot power strip because it is very rare to find any outlets on a slideout wall. If your new travel trailer is like mine this means you will have no outlets on one side of your entire camper. Obnoxious is a word that comes to mind, but for a couple of dollars its an easy fix. Another thing you might want to think about is laptops, eating arraignments or a work station.
They do NOT make a specific RV coffee table. Its left up to you and your creative juices to figure out how to make a conventional coffee table work. My suggestion is to look for one with folding legs or add wheels with a braking mechanism to the legs of a coffee table you do like. Walmart, Etsy & amazon also have swivel tray stands for less than $50 that are perfect for RVs, campers and travel trailers.
**Camper Accessory PRO TIP ** You can find wonderful one of a kind RV coffee tables off of Etsy, or do a google search for transformer furniture.
Camper Kitchen Supplies For Your New Travel Trailer
Stocking your RV kitchen for the first time can be a lot of fun. But the kitchen is where most new RVers trigger the question,"I just bought a travel trailer what do I need?" Before you go out and buy and bunch of cool RV kitchen supplies. Take a serious look at your kitchen. How many drawers & cupboards do you have? Is there any counter space in your new camper? After taking a good look at your new travel trailer kitchen where will your RV cleaning supplies go? Cooking utensils? Seasonings?


A really easy way to give yourself some more space and camper storage is head off to your local Walmart, Target, Peir1 or other big box stores with cheap containers. I personally like Target because they have a few more "wood" options in their storage container aisle. Majority of the aisle will be filled with plastic containers made by Sterilite, but take a good look at all of them. Can you hang any of these containers underneath your existing camper cupboards to give you more drawers and storage space?
Sterilite makes a little 6inch by 6inch container with 3 drawers that I love to use. I take out all the drawers and screw the top of that container to the bottom of my camper cupboards giving me a quick easy 3 drawer silverware drawer for less than $5. Look at their wooden box section. Some of these are intended for jewelry, bread or files. But what could you turn them into. I turned a laptop table into an under the cabinet drawer for important papers. I turned a bread box into an entryway drop point for keys, gloves, remotes, headlamps, spare change & spare keys.
While you are at the store look for a paper towel & paper plate holders, magnet knife holder, seasoning holders that stick to the wall. Keep an eye out for a small garbage can & battery operated magnetic lights & chip clips. These are all personal touches, but the one thing you're going to really want to focus on in your new campers kitchen is your RV cookware.
**Camper Accessories PRO TIP ** Adding a cutting board to your kitchen increases your campers counter space and gives you added functionality, or install a Cantilever Angled Bar bracket Support for Solid Tops to extend your counter top.


RV cookware Supplies For Your New Travel Trailer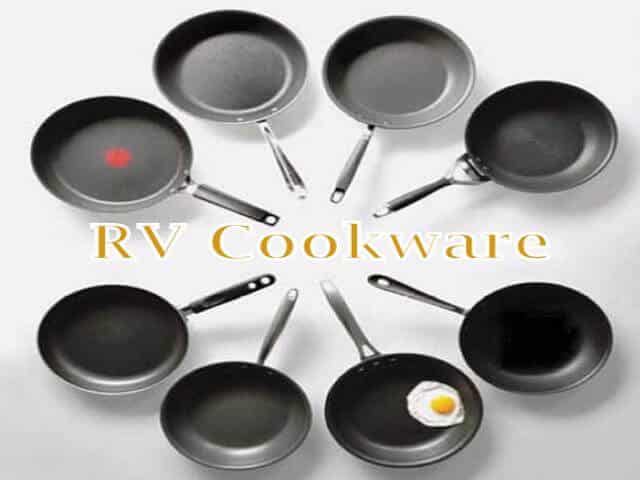 Most people new to RV camping make their RV mistakes in the kitchen. I recently witnessed this first hand on a road trip with my family. Who knew they were going on a 10 day road trip in a travel trailer that has been used full time for the last 3 years. They still packed cups, plates, bowls and even a counter top oil free deep fryer! No, I'm not kidding! A giant red egg shaped looking thing sat on the counter of my travel trailer for 10 days. Never getting used.
At the grocery store they purchased items that required multiple steps from mixing to preheating and even multiple cooking steps. It was like watching someone new to RV camping going on their first RV trip. Not knowing there wouldn't be mixers, blenders, measuring bowls & ample counter space to chop vegetables while prepping entrée's.
Stocking your camper trailer for the first time can be as easy or as hard as you would like to make it. I like an easy, simple and efficient lifestyle so I pack a lot of disposable kitchen aids. The more glassware, home cookware & regular utensils you stock the more work you will make for yourself later. First, all of this stuff needs to be washed after it is used. Washing dishes in a camper is not easy. In fact it actually sucks. I specifically have a camper that has over 10 feet of counter space. Which is about as rare as a turtle mating with a bear, and its still not enough counter space to do dishes. Now take a look at your RV sink and home cookware. Can any of that fit in your camper's sink? Probably not.
Before you start unloading your new cookware take a look at your glassware and other kitchen supplies. Are they all actually made of glass? Glass breaks! Travel trailers move. Cupboards accidentally open. Did I mention glass breaks! Keep in mind you have to wash all of that regular cookware after using it. Which also means you need water. Which means you need electricity to run the water pump. So you need access to an outlet or you need to start your generator. These are things that you don't have to worry about when stocking your kitchen at home, but when packing a camper you have to be aware that you're packing a tiny house that moves. That you will use when you're out dirt biking, hunting, fishing, skiing, climbing, kiteboarding and yes CAMPING!
When stocking your new camper's kitchen for the first time you want to stock it with camping cookware. Camping cookware is durable, reliable and fits your tiny RV sink.
When I say camping cookware I don't want you to go buy the lightweight folding handle pots and pans that all stack inside of themselves that fit nicely in a backpack. So that you can roam around Southeast Asia. You can and it will be cheaper, but one of the biggest RV mistakes new camper owners make is RV cookware. I know you're excited about your shiny new camper with its shiny new oven & gas burners. But when it comes to kitchen camper packing plan to cook one pot meals for the rest of your RV Life.


You don't need a set of pots and pans. You need one top notch nonstick lifetime guaranteed pan that is super easy to clean. One that you can cook burgers and steaks in one night and fish and vegetables the next. As well as eggs, bacon, hash browns and pancakes in the morning. A pan that doesn't take any more effort than wiping it down with a paper towel to clean. Yes, you will need a pot to boil water for noodles and rice dishes, but trust me when I say this: "When it comes to camping cookware in your RV less is more." Remember to reheat items for 30 seconds in the microwave requires you to run an extension cord, pay for RV Hookups or start the generator.
When it comes to RV cookware & RV kitchen supplies…less is more. Simple is better. Camping cookware comes down to how reliable, multi-functional, durable, adaptive & reusable your camping cookware is. Does it make your "camping life" easier or more challenging?

Rather than buying a complete kitchen cookware set that includes multiple pots & pans. Just buy one pan that can cook everything. One pot that will do the job. It's not like you can leave dishes piled up in the sink while traveling from one destination to the next. You'll open up your camper door to an unwelcomed disaster. One pot & one pan is all you need. You can't even use more than one full size pan on your camper's mini stove anyways. A regular size pizza pan won't even fit in your oven. One pot & One pan is all you need for your RV cookware.
New Camper Bathroom Supplies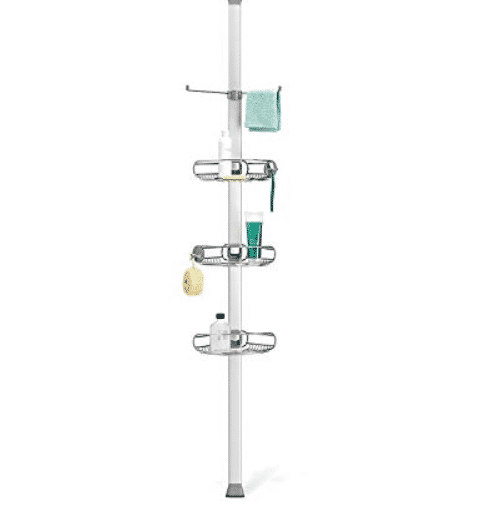 What camping bathroom supplies do you need to pack in your new travel trailer? Another area where many new RV owners make RV mistakes is in the bathroom. Remember while your new travel trailer has all the bells and whistles of a regular bathroom. Your travel trailer camper bathroom moves.
So no countertop jewelry displays, ladies! No magazine stands next to the plastic throne guys! Really all you need to purchase for your new camper bathroom is an RV shower caddy to hold all your soaps, shampoos and various other shower supplies. I recommend one that secures to the wall of your shower, but I use one that simply hangs off the shower head. Which has me cleaning up all my shower supplies every time I reach my new destination.
**Camper Accessory PRO TIP ** The best camper shower caddy is the one that has a pole reaching from floor to ceiling


Is RV toilet paper necessary?
No! You don't need to buy any fancy RV toilet paper, but you can if you want. I've owned a number of RVs in the last 20 years, and I have never bought special RV toilet paper! Mainly because the internet wasn't invented when I started RVing, and my local grocery store didn't carry RV specific toilet paper. I have never had a problem that warranted me to start buying RV toilet paper off the internet. So you can buy whatever toilet paper you like. I promise!
8 brands of toilet paper that are best for an RV?
Thetford Aqua-Soft Toilet Tissue
Scott Rapid Dissolving Toilet Tissue
Freedom Living Septic Tank Safe Toilet Tissue
Valterra Q23630 Softness Toilet Tissue
Thetford 20804 RV Tissue Paper
Firebelly Outfitters Toilet Paper
Caboo Tree Free Bamboo Toilet Paper
Camco 40275 RV Bathroom Toilet Tissue
Is Charmin safe for RV?
The simple answer, Yes. All toilet paper is safe to use an RV. Do some toilet paper brands dissolve faster and better than others? Yes, of course. Until this travel trailer packing article I have never put this much thought into RV toilet paper. I simply go to the toilet paper aisle and buy whatever is the cheapest that day, and in 20 years I have never had a problem with any of the 2 dozen RVs I have owned. Not my truck camper. Travel trailer.  Or any of my Class C RVs. Not the Class B motorhome or my Class A motorhome. So if you came to this website because you've been asking yourself,"
Do you really need special RV toilet paper?"
The answer is, NO! The only reason there is something called "RV toilet paper" is the same reason you can get a diet soda with your fast food meal. People like plausible theories. Like the one that says a diet soda makes a 1300 calorie greasy burger healthy.

Camper Cleaning Supplies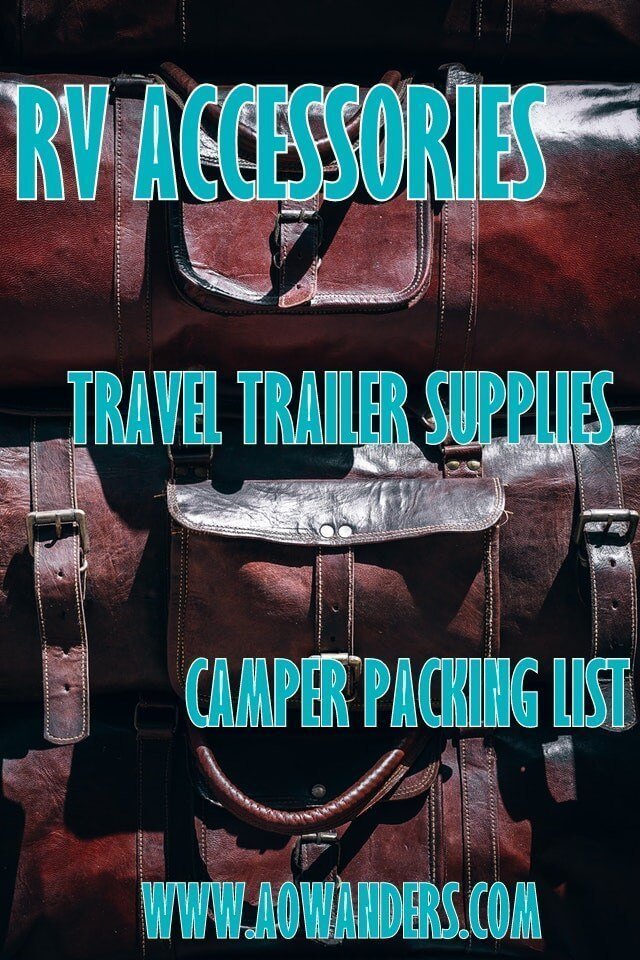 Manufactures boggle my mind. They know you are going to be using your new camper out in the wild. Away from running water, electricity and hopefully stores, but yet they design the insides of campers with carpet, floor ducted heat vents and raised ledges that make it impossible to sweep. In all my years of RVing I have really only needed for items for my camping cleaning supplies. Broom or Swiffer, Vacuum, Windex & 409 all-purpose cleaner. For thorough deep cleans bleach, pledge & oven cleaner round out my camper cleaning supply arsenal.


My favorite vacuum was given to me by mom for my Toyota truck camper, and is by the far the best RV vacuum I have ever come across. If I had to choose between the entire travel trailer and my rocket vacuum. Well I'd have a vacuum. The rocket vacuum cleaner is the best RV vacuum on the market. It's a powerful and compact bag less RV vacuum. That's tough enough to clean up dog hair as well as everyday camping dirt and grime. Breaks apart nicely into small little sections so I can tuck it in a cubby underneath the dinette seating.
**Camper Accessory PRO TIP ** Don't buy one of those handheld vacuums that are only a foot long unless you feel like crawling around your camper every time it needs cleaning. A bag less vacuum that you can use standing up and a Swiffer is all you will need for your camping cleaning supplies.
RV Tools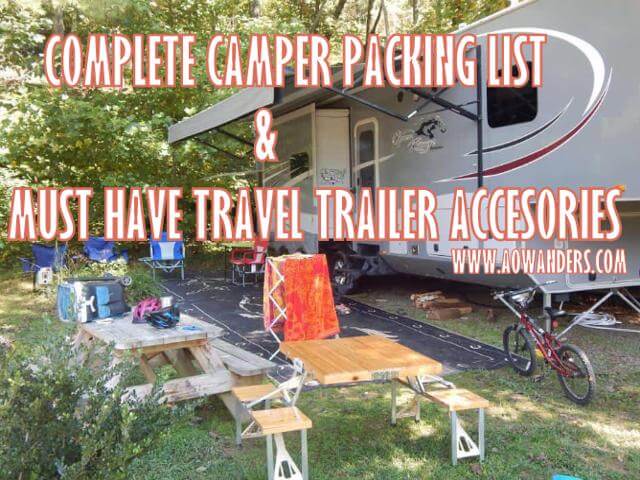 Every camper needs tools. You may come across the perfect trinket at a gift store that needs hanging. A cupboard door may fall off its hinges and need to be screwed back on. I can tell you from personal experience it's no fun changing a flat tire without a wrench! Things brake in a moving house, and it's nice to have a tool to fix broken things.
Every one of my RVs has a cupboard I nickname the tool shed. Where you'll find a set of sockets, hand tools, skill saw, drill, hatchet & a caulk gun. In my travel trailer's tool shed you can also find an extension cord, power adapters for the generator and various screws, nuts & bolts. Along with back up piano hinges, peel-and-stick accessories and even bike locks which I use to lock up the generator in the back of my truck.
You may even find camper accessories such as super glue, scraps of Velcro, a two-way air pump, a surplus of batteries and all kinds of cable/internet cords. You'd be surprised at where you can find cable boxes in the middle of nowhere. I have a 300 foot cat 5 cable cord because while boondocking for over a month in Utah I found a cable box that had a live Comcast feed. Giving me high speed internet for free! No I won't tell you were it's at. Keeping that secret all to myself.
**Camper Accessory PRO TIP **A cordless drill with the right socket makes putting down your camper jacks a breeze.
Travel Trailer Camper Accessories
You can go buy an RV hot tub if you'd like and be the king or queen of any campground you call home. But travel trailer accessories that are a little more practical would include a trailer hitch lock and locking pin so it's not as easy to steal your new camper. A spare tire for when you get a flat doing 80 down the freeway, or even a backup camera so it's easier for you to get setup at the campground. An electric brake controller is pretty essential too. Ever try to stop a 40 foot box at 80 mph without any brakes?
Do you need a brake controller for your new travel trailer?
Yes, you need a brake controller for the electric brakes on your travel trailer to actually function. If you bought a travel trailer than you most likely have a tiny home with electric brakes. Without a brake controller your electric brakes won't actuate. I bought an electric brake controller off of Amazon for less than $100, and took less than 2 minutes to install. It was a simple plug and play install. The hardest thing about my electric brake controller installation was figuring out where to mount it on my dashboard.


Another Camper Accessory ~ Travel Trailer tire Monitoring System
I wouldn't consider a tire monitoring system a fun RV accessory, but it is an essential travel trailer accessory. A tire monitoring system will monitor your tires air pressure and relay that information to your smartphone, dash mounted LCD screen or even your radio screen. This camper accessory can be hard wired, Bluetooth enabled or operate off of your vehicles Wi-Fi signal. Tire monitoring systems come in all shapes and sizes. From cigarette lighter powered displays to solar powered displays, and range all over the map in price. A tire monitoring system also known as TPMS keeps you up to date on your tires conditions along your travels without having to make unnecessary pit stops. Making it easy to avoid blowouts, and determining when its time to replace your RV tires.
**Camper Accessory PRO TIP ** TPMS systems can cost as little as $40 and as much as $400. Plan on spending $100-$200 for a quality tire pressure monitoring system for your new travel trailer. A couple hundred dollars upfront will save you from sitting on the side of the road later with camper tire blowout.

Must Have Camper Accessories
As you can see camper accessories can range from self-tracking satellites to paper plate holders and everything in between. Below you will find a photo, price and product description of all the must have camper accessories I would purchase for my new camper. Got any questions? Leave them in the comments below. Did I forget an essential must have camper accessory? Let me know in the comments below? What's your favorite camper accessory? I love opening emails from all of you so if you'd prefer you can always email me [email protected]. Shoot some questions, comments or tips. I would love to hear from you by email or in the comments below. Share with the rest of us how much you're enjoying your new camper. Happy Travels Y'all. Not sure why I've been using Y'all lately but I kinda like it.
My Personal List of Camper Accessories