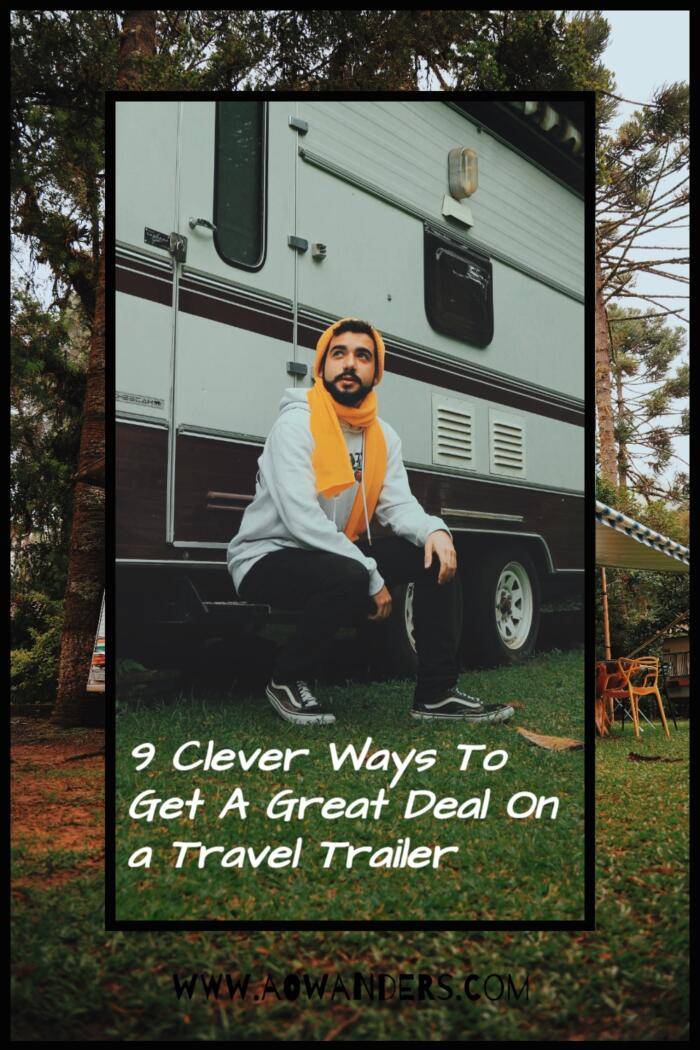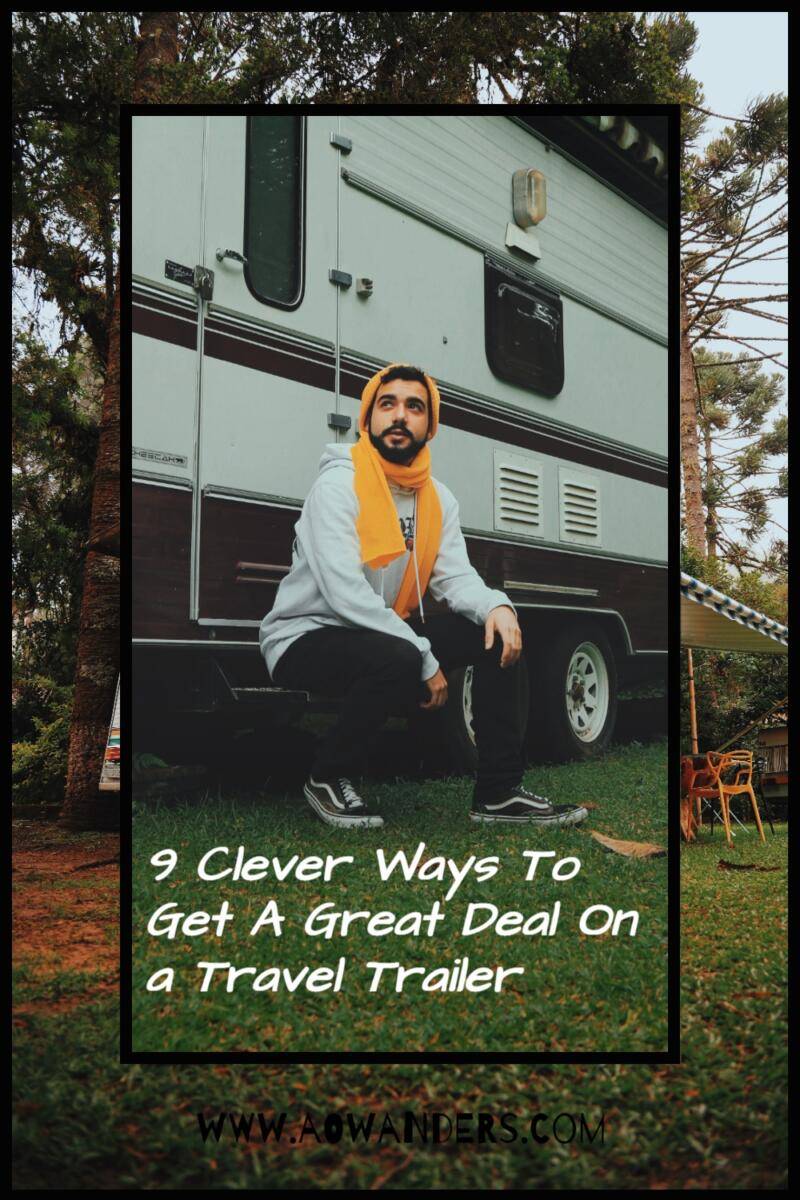 Thinking Of Buying A Travel Trailer Are You?
Quick Reference Table of Contents
Finding the best travel trailer deals isn't all that hard if you know what you're doing, but you need to be a little crafty. Do a little a research, and implement some common sense.  
For starters, buying a camper from a dealership is like playing a game of chess. Because they had to buy from the manufacturer. Ship it to their lot, insure it and inspect it. Promote it and sell it by way of a pushy commission based salesman.  
They know what the market price is, and they are conveniently partnered with banks eagerly willing to give you a loan that will see you paying almost double the price after interest is calculated.  
Of all the RV buying mistakes you could make, buying a camper from a dealership without doing any research is number one! If for no other reason than the depreciation value of an RV, the second you drive it off the lot is absurdly high.  
So how do you find the best deals and lowest price on your dream travel trailer? Let's get into it!
Here are my 7 clever tips for finding the best travel trailer deals.  
Indiana Has The Best Travel Trailer Deals BUT Look Everywhere
To find the best deal on a camper, you need to be willing to travel and shop outside your hometown. You need to shop the entire country using sites like:
As of right now, the only site on this list that doesn't charge users to post their items for sale is Facebook marketplace. So there will be a much more extensive inventory of items to choose from. But it is much easier to search the entire country on the other sites to find the camper you're looking for. You don't even need to select a city on RVT, eBay, or RVTrader.  
Why Does Indiana Have The Cheapest Campers
There are camper deals all over the country just waiting to be scooped up,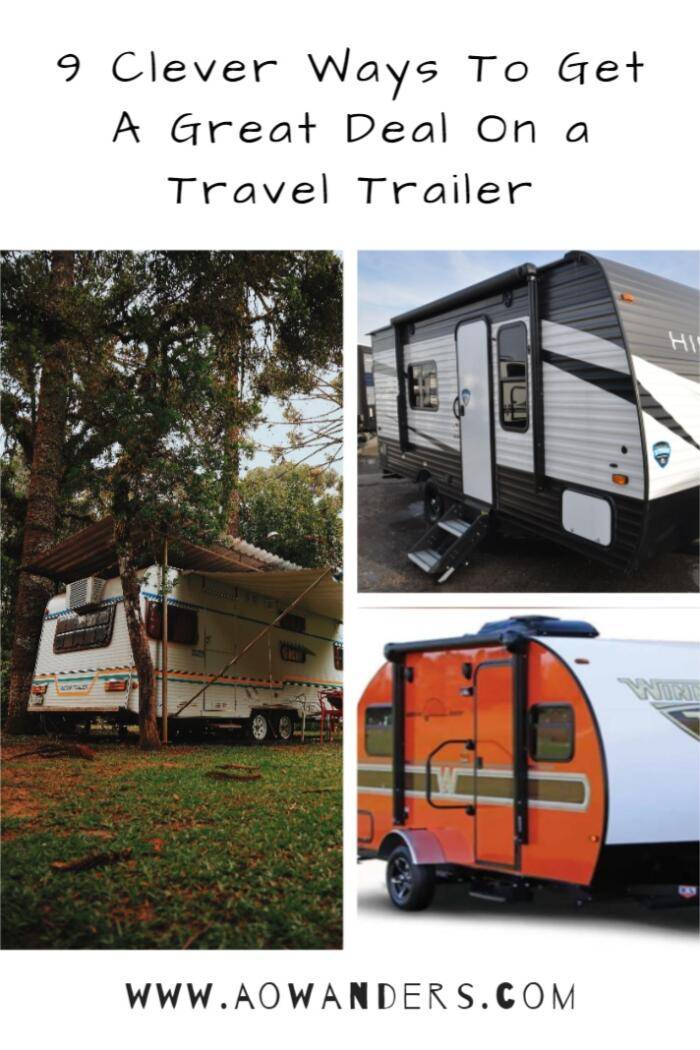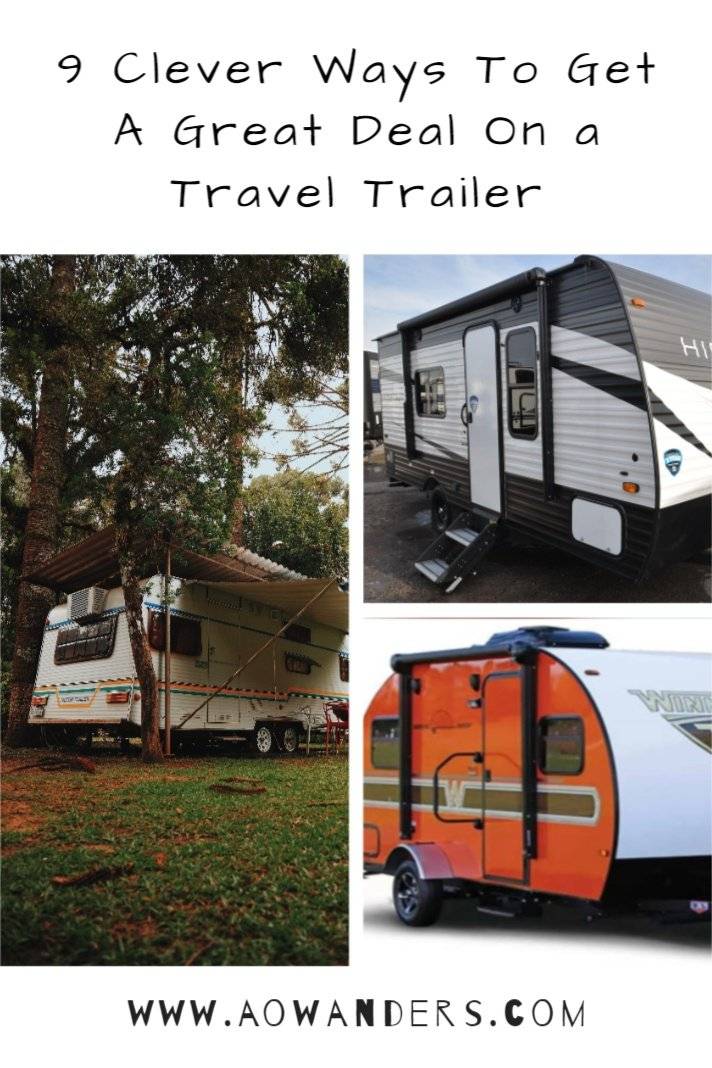 but keep in mind that 98% of all the campers made come out of Indiana. Making it the hub of RV distribution for the entire country. Allowing you to find cheaper campers throughout the midwest. While your campers on the coast have hefty shipping fees to recoup. That can range from $2-$3 a mile.
You can haggle the dealership all you want. Shop at every dealership within 100 miles of your hometown, but the fact of the matter is, depending on how far you are away from Indiana, you could paying as much as $6,000 more for your camper. 
Because shipping a travel trailer is a complicated process. It's heavy, odd-shaped, and weighs more than most cars. Don't forget the numerous mountain ranges transportation companies have to cross while eating up all that fuel.   
The farther away you shop, the higher the base price of campers will be. To find out the travel trailer's markup, your thinking of buying google other RV dealerships around the country. Call them and see what their list prices are for the travel trailer you're thinking of buying.  
Find out if they offer 'shipping directly to you or a closer dealership. Check into private shipping companies to see what it would cost to have the lower priced travel trailer shipped to you. If none of those are viable options, you can always go on a road trip to pick up your travel trailer. Imagine how much fun that road trip would be. Full of excitement on both legs of the drive. Plus, you get to put your travel trailer to use starting on day one.  
Shop Used Travel Trailers
Most people swap out their travel trailers every 2-3 years. Because kids get bigger. Kids leave the house. Truck breaks down. Favorite camping spot becomes boring. Change in jobs. Whatever the reason, there's a massive inventory of used campers for sale across the country.  
You can buy a 2-year old model for half the price of a new one from a dealership, craigslist, or even RVTrader. A common RV mistake is looking at brand new travel trailers first because afterward, you instinctively compare every trailer to the shiny decked out brand new model. Don't set yourself up for buyer's remorse by not looking at used travel trailers first.  
By looking at used travel trailers first, you're comparing your needs and functionality of a camper's design instead of its shiny high gloss amenities. And if you come across a slightly used model that checks all the boxes, you don't have to worry about taking out a 30-year loan to pay for your new toy.  
Another bonus to buying a used camper is travel trailers hold their value and don't have as high of depreciation as other recreational vehicles. So when it comes time for you to sell, keep that in mind.  
Remember to use my handy RV Buyers checklist to keep track of all the campers you view and the condition they are in. It's free to print off as many as you like.  
Avoid Travel Trailers With An Existing Loan
One thing you need to be careful about when trying to find a deal on a used travel trailer are bank loans. I've found multiple used travel trailers I wanted to buy this last fall, but every time we got into the negotiations, they came to a screeching halt. Because most people won't sell their recreational vehicle for less than what they owe on it.  
Add in the interest and the length of the loan, and you could easily overpay for something you can find cheaper from someone else. Depending on the state and the bank, the loan must be paid before they release the loan. Most people are honest people, but why put yourself in a situation that could turn negative because you trusted the wrong person.  
Force RV Dealerships To Price Match
One good thing about buying from a dealership is they know negotiating is part of the game, and commission checks don't come if they don't make a sale.  
I know I told you never to buy from a dealership, but if your shopping for used travel trailers, they can be a gold mine of deals. Because they want to turn over that inventory, collect that commission check, and have no sentimental attachment to the recreational vehicles on their lot.  
RV dealers love selling used campers because they buy them cheap by taking them in on trade, allowing them to sell a more expensive camper. Buying used travel trailers from a dealership can really save you a lot of money if you don't get caught up in all the distractions around the lot.  
One clever trick I used for my friend this last fall was price matching. He found a used travel trailer he really liked. Wonderful floorplan. Decked out with all the camper accessories and amenities, and it was in great shape. He had me go with him to do a once over just to make sure he wasn't missing anything.  
As advertised, it was a solid rig, and the price was market value. He was ready to pull the trigger and buy it right then and there. It took quite a bit of convincing to get him to leave the lot so that I could do some research. Later that night, I found a very similar rig at another dealership for $8,000 less.  
Called up my friend to see if he was free to look it over, and off we went to the other dealership. He wanted the other travel trailer real bad, but this one was cheaper and had all the same amenities. In fact, you could tell he was torn on what to do. So I stepped in. Went and found a salesman and told them we needed to talk about a travel trailer on their lot. After getting the tour and whole schpeal, I asked if they would take a lower price than the asking price. After a brief pause, the salesman agreed.  
He drew up the paperwork, and before my friend could sign, I stepped in again. Convincing him and the salesman to give us another day to think about it and smooth it over with his wife (that he doesn't have).  
After getting in the truck, my friend started screaming at me.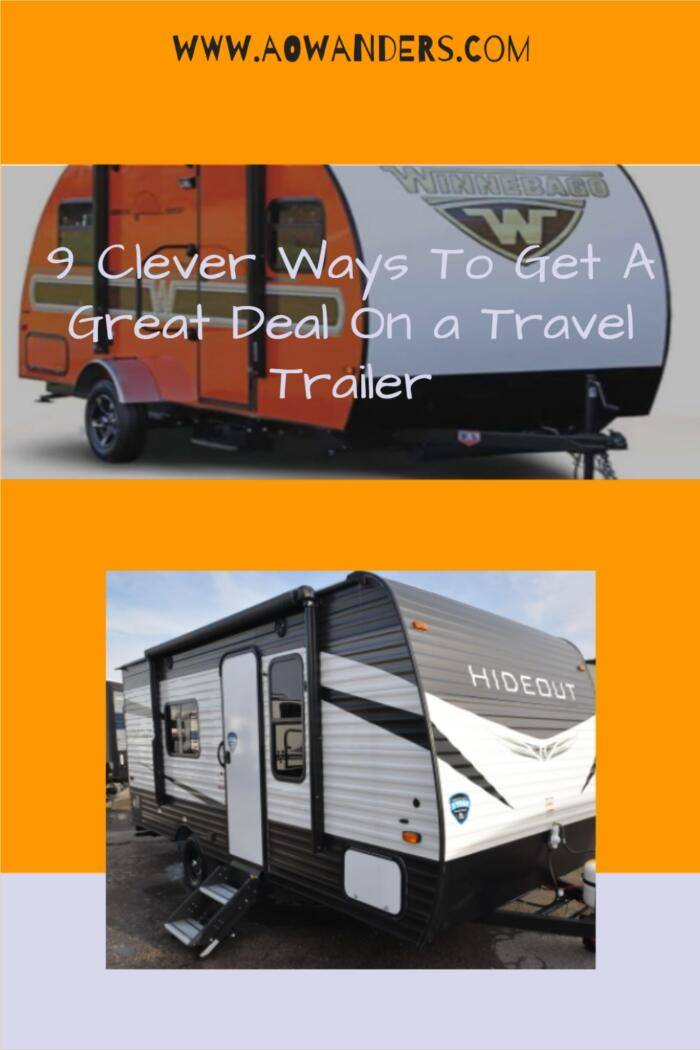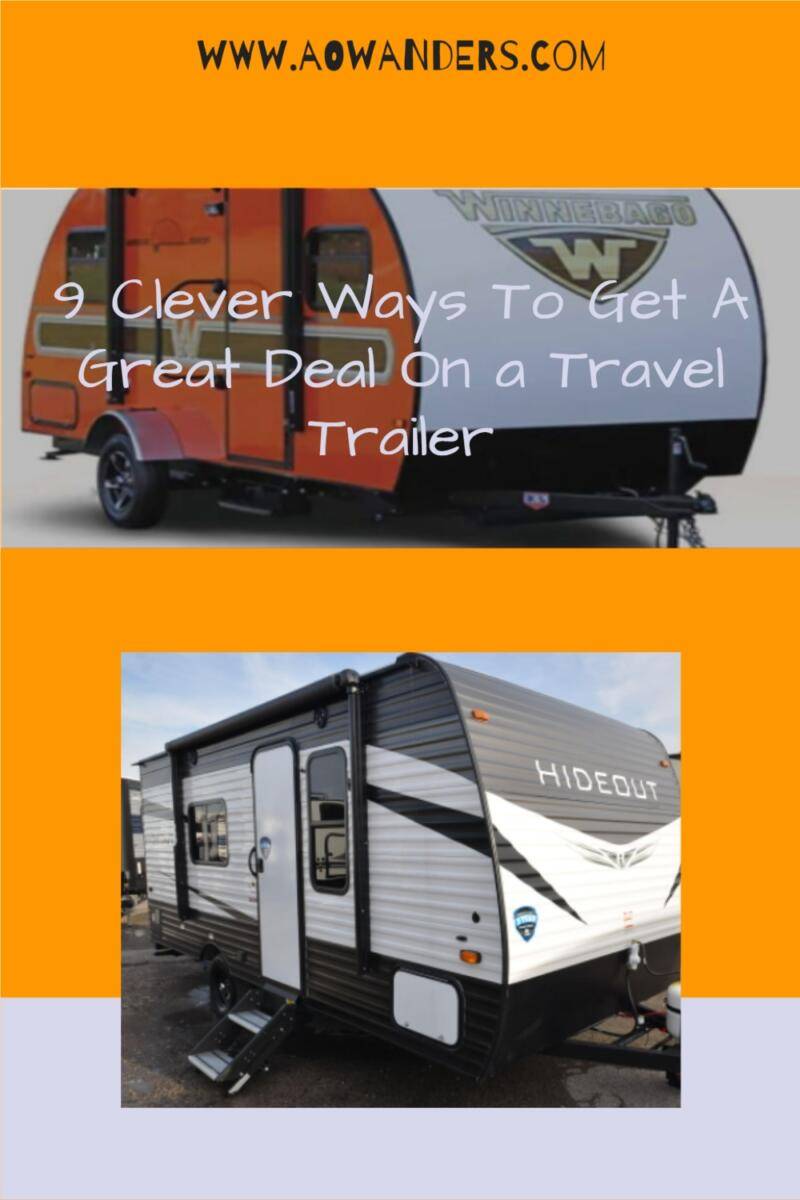 "What are you doing?!"
"Why did you say all that stuff in there?!!"
I told him I had a plan to get him the first travel trailer he wanted for the price on the paper in his hand. Skeptical, but he was ok to give it a try because we could always come back to this dealership and buy the used travel trailer we just walked away from.  
When we got to the other dealership I played it real smooth. Waited for them to come find me. Told them I was buying an RV today. I had the financing all lined up. Ok, from the wife, and today was the day. When we started talking numbers, I told them about the other travel trailer and our price point. Told them we almost bought it yesterday, but we just wanted a day to think about it. Today we were just taking one last look at this very similar model, but it all came down to price.  
Then they offered to sell us the travel trailer on their lot for even cheaper than what the other RV dealership was offering. Yeah, it took a bit of creativity and a little extra leg work, but my friend saved over $10,000. Got the used travel trailer he really wanted, and I got a case of beer. Sounds like a win-win to me.  
Don't Make The RV Mistake Of Buying On Your First Visit
The key to that little story is to be patient. Don't ever buy a camper on your first visit—Thats true for a lot of things, but especially for campers and especially in today's world. Last year RV sales were up by over 4,300% because it was the only way to travel during the COVID-19 Pandemic.  
What does that mean for you? There will be a massive amount of RVs, campers, travel trailers, and fifth wheels for sale in the coming years. This last summer was an anomaly, and when the luster wears, people will be selling their impulse buys like hotcakes.  
Be patient. Do your research. Shop around. Don't forget to look at similar models, multiple sources, and most importantly, negotiate for a better price.
Remember, the sticker price is only the starting price, and that price has negotiations built into it.   
If it's your first visit to an RV dealership, the salesman can make you feel like you have to do whatever it takes to buy that camper right then and there. One trick that RV salesman implore across the country is to use verbiage that pressures you to act on your impulses and forget about being disciplined. Don't fall for it.  
Develop Your RV Eyes
Especially if you haven't done any research. It takes multiple visits to train your "RV eyes." If you've never taken a tour of campers on the lot, you're going to sweep past so many crucial design flaws. Because if you've never owned a camper before, you don't know what you don't know.  
You won't see that the crooked sink leaves you no counter space for meal prepping. You won't see that the table is erected by a flimsy aluminum leg. You won't see that the drain valve for your holding tanks is dead center of your rig. Forcing you to crawl up underneath it every time you have to dump your tanks.  
You may think you want a pop-up pull behind camper because thats all your vehicle can tow. Until you see a small hard-sided travel trailer for a reasonable price.  
The point is campers are expensive, and some of them cost more than a house. Before you commit to a 30-year financial obligation, you need to be sure that the camper you are thinking of buying checks all the boxes. The only way to do that is by doing your research and viewing as many campers, travel trailers, and motorhomes as possible.  
After multiple visits to the dealership, you may find out that the camper you thought you wanted isn't the right camper for you. Unfortunately, the only way to discover that is field trips to the RV dealership.  
Missing Camper Accessories Hide The True Price
The sticker price on travel trailers is about as reliable as high school gossip.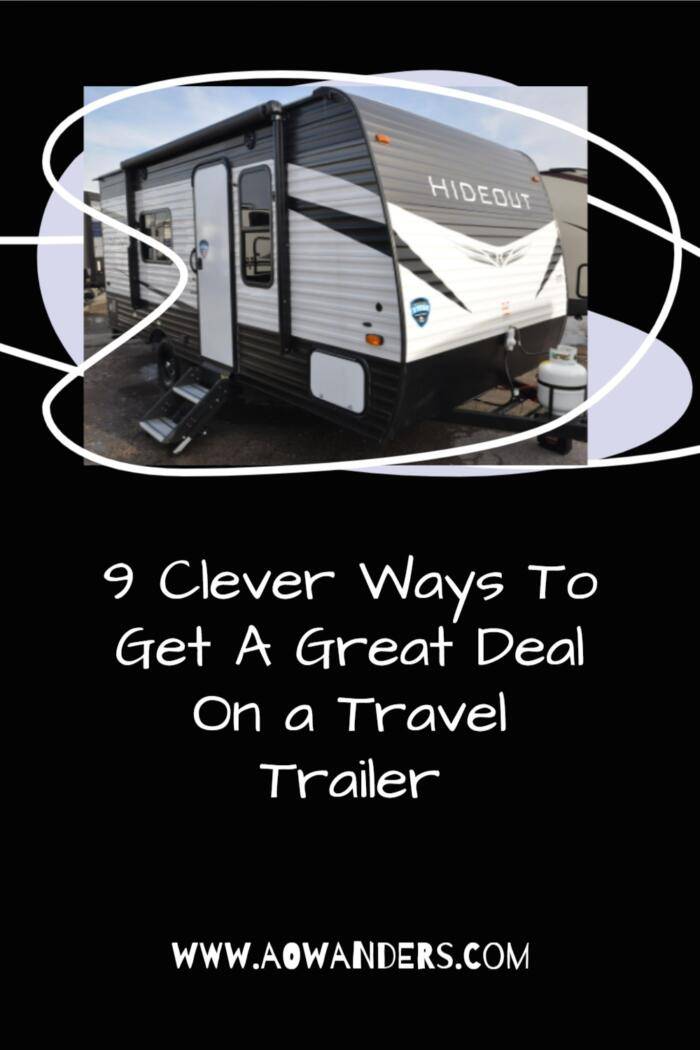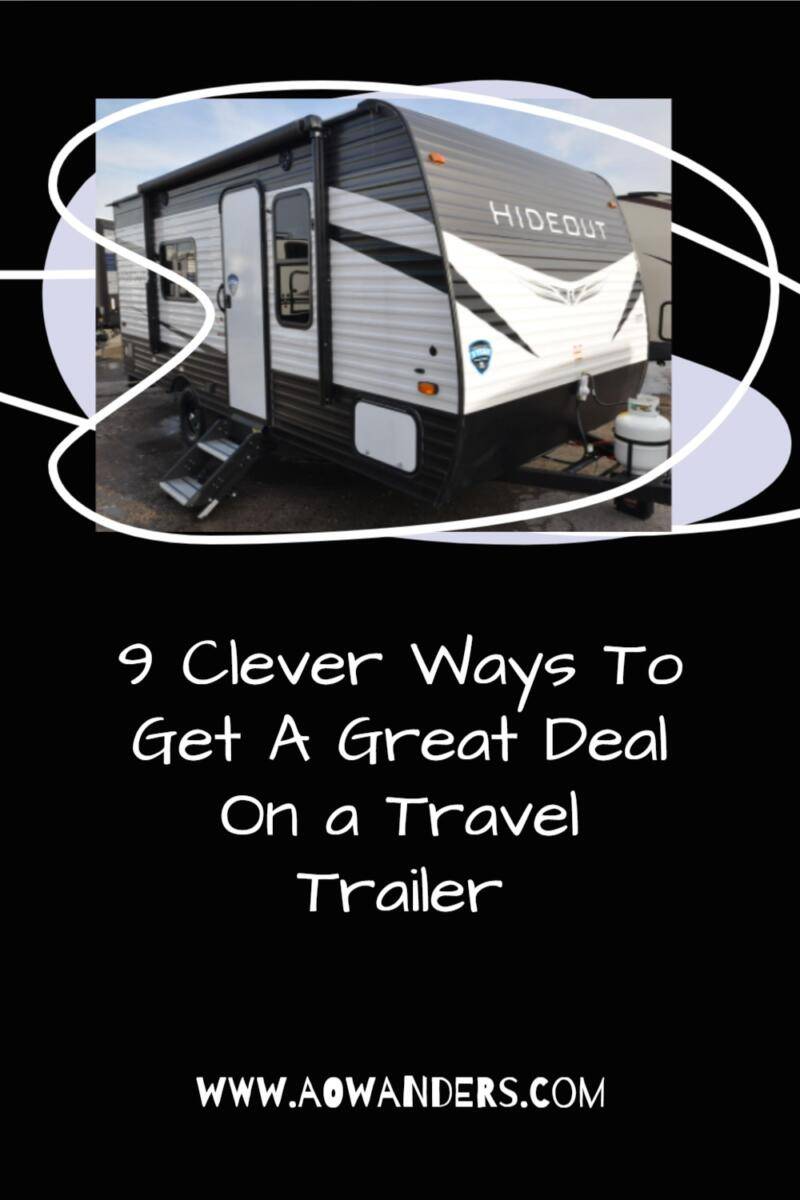 There is no way to tell what is included and what isn't without physically being there and asking the salesman the details. What I mean by this is just because you see a lower sticker price doesn't necessarily mean that a particular travel trailer is cheaper than its counterpart.  
If you looked over two travel trailers, and one was priced at $30,000, and the other was at $32,000, you'd think the $30,000 rig would be cheaper.  
The truth of this scenario is it's probably more misleading than it is cheaper. Because the more expensive travel trailer includes more camper accessories, amenities, and quite possible bonus add-ons exclusive to that dealership.  
Let me elaborate. Two summers ago, my girlfriend forced me to tag along with her brother to every RV dealership in the state. Eventually, I warmed up to the idea because it would give me more content to write, show me the latest camper designs and make my girlfriend happy. 
Here is what I found out about the financials that go into the price tag on travel trailers after visiting over 20 RV dealerships.  
One dealership included their shipping expenses by adding a $950 fee ($500 freight fee & $450 processing fee)

Another dealership offered free storage for a year at its own storage facility.

One dealership offered lifetime winterizing if I bought a travel trailer from them. Which was a savings of $175 every year.  

Sales tax is not included in the price, and in most states averages about $70 for every thousand spent. So a $30,000 rig automatically costs another $2,100 just in sales tax.  

Almost every dealer charged a licensing and title fee of about $400.
Then all the camper accessories that don't come with a travel trailer. The little items that don't sting as much are things like a water hose to hook up to a water source. A spare tire and a jack. Electric brake controller and various other items you can find on my super popular gift ideas for RV owners article.  
But the one crucial camper accessory you won't find that will sting a whole lot is a generator. I have never ever seen a travel trailer come equipped with a generator. It's baffling. Every other recreational vehicle comes equipped with an Onan generator except travel trailers, but this article will show you how to create an onboard generator rack for your travel trailer. 
I still have my champion dual fuel generator even after someone trying stealing it from me, but this bike lock with cable kept them from removing it from the back of my truck. However, suppose you need to buy a generator for your new travel trailer. In that case, I can not recommend the Champion lineup brand enough. Their new 4500-watt generator is not only super quiet and powerful enough to run any A/C or camper, but it's also equipped with a remote start.  
As you can see while the price tag may be cheaper on some travel trailers the ala carte camper accessories you need afterwards could be more costlier.  So before assuming price tags are universally created you need to dig into them to fully understand what is included.  What is not, and how much is it going to cost to get it yourself.  
Negotiate For Extras Like A Gift Card Or Cleaning
After purchasing your new travel trailer, you will have a lot of ala carte camper accessories you'll need to acquire too. Check out this article on must-have camper accessories for new RV owners. 
Which actually works in your favor because most RV dealerships are also home to an RV store full of must-have camper essentials, wall art, and campfire trinkets.  
After you have worked out the purchasing price, hem, and haw for just a bit longer. So that you can hold out for one last item in a full package deal.  
Seriously, it works. Ask them if they will throw in a $500 gift card to complete the deal. It's actually more reasonable than you think because they know you will have to purchase more items to kit out your travel trailer, and they have a significant markup on items in the store. So it's like giving it to you at cost to ensure you buy all your necessary camper accessories from them too.
Check Out More Than One RV Brand
Like every other product globally, some brands are considered elite, thus allowing them to command higher prices. It's a laughable game that I don't play. Mainly due to my bartending days. 
Where night after night, I fulfilled top-shelf drink requests from my guests. Until one night, I ran out and was in a pissy mood. I started making drink orders with whatever bottle was closest to grab. As long as it was the same type of liquor. What started off as a lazy shirq to the establishment quickly turned into a week-long experiment to see if any guest would return their drink. Not one inaccurate drink was ever returned. Not the mixed drinks. Not the martinis. Not even the glasses of wine were the only thing accurate about them was the color the guest expected to see.  
I learned quite a bit from that weeklong experiment and even more with the weeks to come. It's funny how your perspective instantly changes when you pull back a curtain of reality.  
What I learned at that restaurant in Chicago was that you can pay more if you like, but if you educate yourself even a little bit, you can always find a cheaper alternative. A motto I've lived by for decades. As you can clearly see from my mega-popular cheap RV hookups article, and the RV industry is no different.
In fact, this summer, I had the pleasure to take a tour of the Grand Design Momentum G-Series Toy Hauler fifth wheel. It was an incredibly luxurious camper with a very well thought out floorplan and flawless design. Equipped with all of the high-end amenities, finishings, and accessories. Complete with a remote fireplace, central vacuum, and full-size washer and dryer. Did I mention it also had three couches in this fifth wheel? It was an incredible display of a well-engineered camper that commanded a price tag of nearly $90,000.
The catch to this long-winded section of the article is there is always a cheaper alternative, and in this case, the Crossroads Volante is almost identical to the Grand Momentum design. Same size, weight, floorplan, and even amenities for $30,000 less!
It pays to shop other brands, and your wallet will thank you, I promise. Again, it just goes to show you that top-shelf status isn't always the best option on the table.  
Rent Before You Purchase
Here is an article about a reporter who has been covering "vanlife" and the tiny home movement for over a year. One day, he dreamed of quitting his job and setting out on an endless road trip around the world in a campervan. So this last weekend, he rented a campervan off a site like Outdoorsy for a weekend road trip from NY to Philadelphia and is now vowing he will never embark on his own campervan adventures because of how awful the experience was.  
I'm sharing this with you because this individual has done nothing but dream about owning a campervan for over a year. He researched thousands of stories and wrote hundreds for publication. He covered every topic you can think of and did more research than most people could even conceive. He felt deep down inside a campervan was the answer to his traveling dreams. It took 3 days and 95 miles to shatter his camper van adventures. He absolutely hated everything about it, but lucky for him, he found out before spending $100,000 on a brand new sprinter van.  
I'd hate for you to find yourself in this same situation after purchasing a new travel trailer, and it could have been avoided by renting before you buy. Buying an RV is a large long-term financial investment, and to avoid making a costly rookie RV mistake, do yourself a favor and rent a travel trailer before signing any purchasing papers. You can follow that link or go to my travel resources page (https://aowanders.com/travel-resources/#RV-Rentals-&-Resources) and choose from any of the companies listed in my rental section to find a suitable travel trailer to rent before you buy.  
Great Destinations for RV Rentals
RV Rentals By City

RV Rentals in Anchorage AL
RV Rentals in Phoenix, AZ
RV Rentals Tuscon, AZ
RV Rentals in Los Angeles, CA
RV Rentals in Sacramento, CA
RV Rentals in San Diego, CA
RV Rentals in San Francisco, CA
RV Rentals in Colorado Springs, CO
RV Rentals in Denver, CO
RV Rentals in Jacksonville, FL
RV Rentals in Miami, FL
RV Rentals in Orlando, FL
RV Rentals in Tampa, FL
RV Rentals in Atlanta, GA
RV Rentals in Chicago, IL
RV Rentals in Kansas City, MO
RV Rentals In Las Vegas, NV
RV Rentals in Charlotte, NC
RV Rentals in Columbus, OH
RV Rentals in Portland, OR
RV Rentals in Austin, TX
RV Rentals in Dallas, TX
RV Rentals in Houston, TX
RV Rentals in San Antonio, TX
RV Rentals in Salt Lake City, UT

RV Rentals By State

RV Rentals in Alaska
RV Rentals in Arizona
RV Rentals in California
RV Rentals in Colorado
RV Rentals in Connecticut
RV Rentals in Florida
RV Rentals in Georgia
RV Rentals in Maine
RV Rentals in Maryland 
RV Rentals in Massachusetts
RV Rentals in Michigan
RV Rentals in Minnesota
RV Rentals in Montana
RV Rentals in New Hampshire
RV Rentals in North Carolina
RV Rentals in New York
RV Rentals in Ohio
RV Rentals in Oregon
RV Rentals in Pennsylvania
RV Rentals inTexas
RV Rentals in Utah
RV Rentals in Vermont
RV Rentals in Virginia
RV Rentals in Wisconsin
All Other RV Rentals
RV Rentals by Type