Pull Behind Campers
Quick Reference Table of Contents
How much does a popup camper weigh? A question not many people outside of the RV world are going to ask, but knowing the towing capacity of your vehicle is NOT something you want to figure out after purchase. Plus with all the features that can be equipped in today's camper, there's not really an exact weight per camper. The weight of a popup camper varies depending on the size, make and model.


Making it kind of tricky to find out how much a popup camper weighs. One way to find out the exact weight of a popup camper is to look at its manufacturer placard. Usually located near the door on most models. If this is not accessible you can always call the manufacturer or browse their webpage for specific model weights. Another way to determine the weight of a popup camper is its size. Not an exact science, but it will get you in the ballpark.
Weight of PopUp Pull Behind Campers
Small Motorcyle Pop Up Campers = 250lbs

Large Motorcycle Pop Up Campers =375lbs

Small SUV/CAR/Van Pop up Campers = 600 lbs

Medium Pop Up Campers = 900 lbs

Large Pop Up Campers = 2,000 lbs
Factors of PopUp Camper Weight
While most people think the weight of a popup camper comes from the walls and trailer. It actually comes from the amenities added afterward that require more framing and a host of a lot of other things. Entertainment centers need copper wiring, outlets and of course those heavy glass doors. Kitchens require counters, sinks, stoves, drawers, cupboard and a not so light refrigerator. Bathrooms are where the most weight is added to pop up campers. Besides the extra framing and electrical. Bathrooms need plumbing for their holding tanks, and with water weighing close to 8 pounds a gallon the weight can really add up quickly.
Adding a solar system onto your rig can easily add another 200-300 pounds with each battery weighing close to 50 pounds. Imagine the difference in weight between a canvas wall camper and fiberglass wall pop up camper. There's a lot of factors that come into play in determining the weight of a popup camper, but knowing what your vehicle can handle and how you're going to use will keep you from getting overwhelmed with all the choices out there. Still, need a little guidance?
Hopefully, this will help you determine if the camper you're thinking about buying is compatible with your vehicles towing capacity, but keep in mind these numbers are based on the bare bones models for each category.
Motorcycle PopUp Campers


Owning a lightweight camper designed especially for motorcycles allows riders more freedom and less frustration on the open road. They can keep their camping supplies in the trailer, and their daily needs on the bike. Without having to play the age-old pack and repack game riders go through when tent camping. Pop up campers for motorcycle are becoming more and more popular because of the comfort they provide. Sleeping on the cold hard ground has its appeal, for about an hour, until you can't stand the rock jabbing through spine anymore. Motorcycle campers are an affordable convenience allowing riders to avoid the cost of hotels while laying claim to serene countryside.
Small motorcycle pop up campers weigh around 250 lbs and will most likely include a bed with a limited amount storage. Larger motorcycle pop up campers will come equipped with a sleeping area, storage, and even a basic kitchen. Adding more weight making these popup campers weigh in at around 400 pounds.

Small PopUp Campers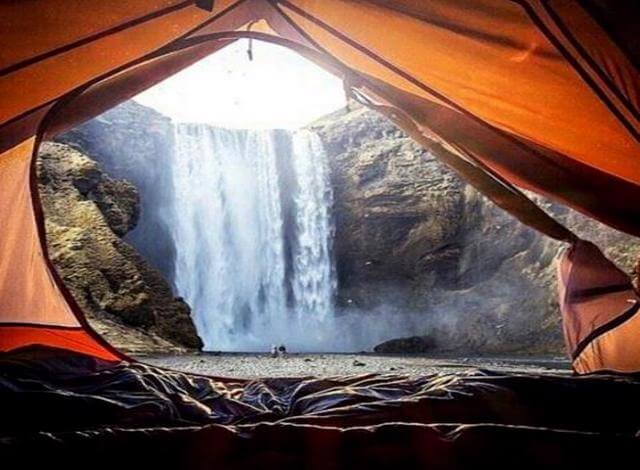 With a little more room and a few more amenities, small pop up campers weigh about 600 pounds. With canvas walls and limited storage, these hybrid tents are focused more on weekend getaways. Most provide two sleeping areas and a basic kitchen. Consisting of a cooktop, drawer, and small countertop. Fancier campers will include TVs, bathrooms, outdoor showers and possibly a better kitchen set up. Just adding more weight. Perfect for a couple or family with small kids looking to get away a few weekends every summer, or that long fishing trip with the buds. Maybe to even call home in the fall on weekend hunting trips.
Small Pop Up Campers weigh anywhere between 600-1000 pounds depending on the amenities they are equipped with; the more basic the set up the lighter it will be.

Medium PopUp Campers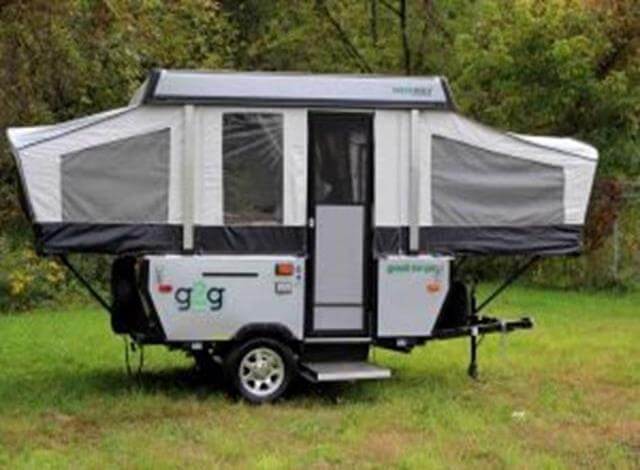 The most popular camper purchased in the United States is a medium pop up camper. Mainly because it is an affordable option to explore the RV world and see if it something for you. Almost every long-term RV owner I have ever met has started out with a popup camper, and the most common statement from them all is:"It was the best worst decision they ever made." Lightweight and able to tow with just about anything the medium pop up camper sits in the backyards of millions. Waiting for the annual family vacation to the lake. Equipped with sitting areas that turn into sleeping areas and a moderate amount of storage they pack a lot of versatility. Kitchens that include all the comforts of home create a lot of appeal for new camper owners. More family memories have been created with medium pop up campers than any other camper on the market.
Your basic medium pop up camper will weigh around 1,000 pounds, but a luxurious popup camper with all the amenities of home will be closer to 1,500 pounds.

Large PopUp Campers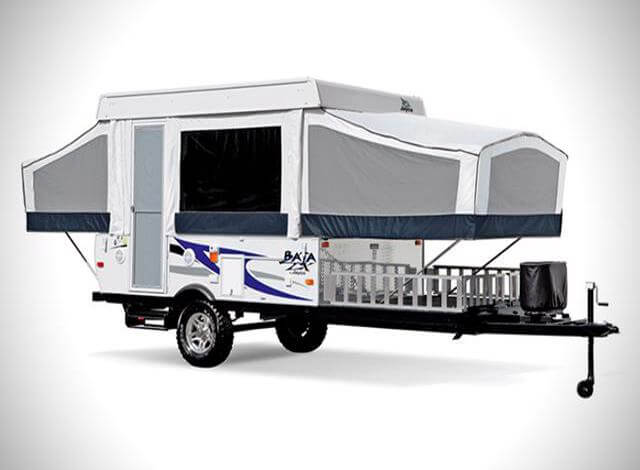 Combining the best of both worlds between a tent and travel trailer are the large popup campers weighing around 2,000 pounds. Protecting you from the natural elements better than a tent, and are able to tow with an SUV, minivan, truck or even sedan. Less maintenance and way easier to manage than a 30-foot travel trailer. Let alone a 50 foot 5th wheel & dually diesel combo. Many of the same comforts of home. In some cases even more conveniences depending on the model or where you live.
Most large popup campers will be designed with two permanent sleeping areas, and 1-2 temporary beds(fold-down table or pull out couch). Adequate storage. Tables to eat off. Kitchens with running water, gas cooktops, more storage, and ample countertops to prepare your meals with plenty of elbow room. Some large popup campers even come equipped with a gear deck or outdoor patio. Besides providing all the necessities for an outdoor adventure getaway the real appeal for a large pop up camper is their price tag. Costing 10s of thousands of dollars less than a motorhome, travel trailer or diesel pushing Class A RVs.
Large popup camper weigh start at 2,000 pounds and can weigh as much as 3,000 pounds.



Why A Pull Behind PopUp Camper
A pull behind pop up camper weighs less than a travel trailer. Feels more like camping, but more convenient to load/unload. By allowing you to store all of your gear in your camper instead of the house or garage. Because pop up campers are smaller & weigh less they are easier to store on your property instead of a costly RV storage facility. They give you the freedom to explore the outdoors with family and friends. Providing comfort of home while roaming the open road without the gas pump sticker shock of their motorhome counterpart, and costing thousands less than a travel trailer or RV. Pull behind pop campers are a great introduction to RV life, and weigh less than any other option available.
Thinking about buying a Popup Camper Click HERE To Check out my Complete Guide to Buying an RV
Small Motorcycle Popup Camper – 250 lbs

Large Motorcycle Popup Camper – 400 lbs

Small Popup Camper – 600 lbs

Medium Popup Camper – 900 lbs

Large Popup Camper – 2000 lbs

Hand Picked Related Articles