Small Toe'd Hiking Boots For Woman
Quick Reference Table of Contents
Are you a female with narrow feet, or just tiny feet?  Do you dred buying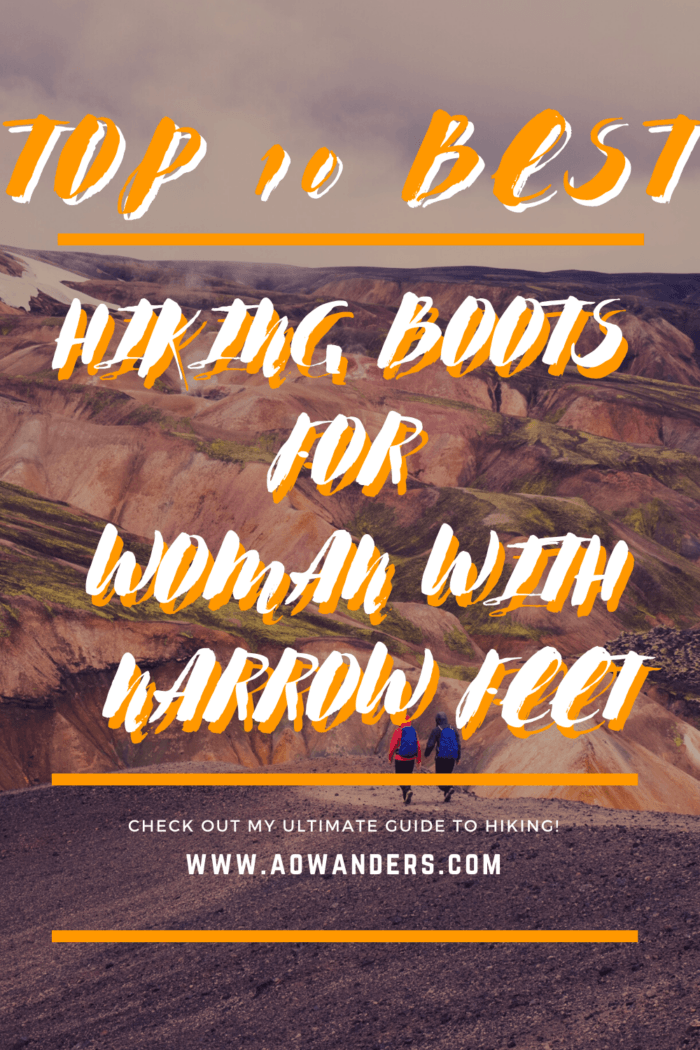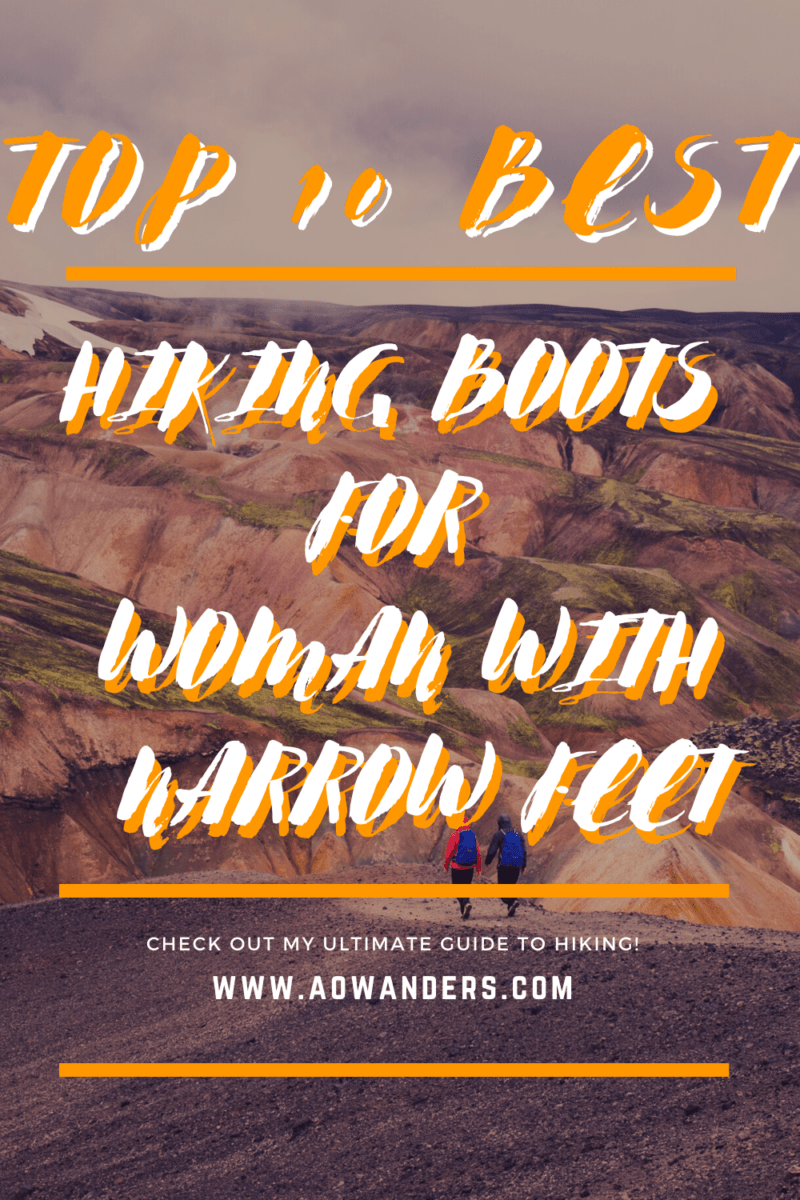 female footware because of the size of your feet? When you walk into an outdoor store is the first thing you ask, "Do you have hiking boots for women with narrow feet?"
Anyone who's ever been hiking knows and appreciates a good quality hiking boot. Men & women adventuring across changing terrain means that you need footwear sturdy and versatile enough to handle the various hiking paths.
One of the most significant issues for women with narrow feet is finding a good boot that will correctly hug your foot so that you don't get blisters, numb toes, or cramped feet.  Creating a particular unique challenge when trying to buy hiking boots for women with narrow feet.
Related Posts
The ideal hiking boot should be a stable fit that ensures your feet are snug; your ankles are supported with ample toe room and a solid fit. This will make all the difference in the world when it comes to keeping balance, whether you're trekking over logs, sand, mud, or water.
So if your a female with small fee you'll enjoy the list below of the top ten best hiking boots for women with narrow feet.
Danner Women's Explorer 6″ Gore-Tex Hiking Boots For Women With Narrow Feet
The Danner Women's Explorer 6″ Gore-Tex Hiking Boot is one that is applauded by many hiking and outdoor enthusiasts, as it is guaranteed to be one of the most durable pairs you'll own without sacrificing the classic boot look. When it comes to hiking boots for women with narrow feet these boots are a top choice! They are made of full-grain leather and lined with waterproof Gor-Tex fabric. Making it an excellent choice for hikers who live in wetter climates or near trails with pools or rivers. I'm talking to you Pacific Northwesterners.
These Danner boots are made in the USA, boasting their famous stitch-down construction that allows them to provide the hiker with all the stability they need. It has a Vibram sole, making it ideal for shock absorbance while maintaining its lightweight and comfortable feel. Women with narrow feet will appreciate these boot for it's thinner features and sturdy lacing properties. There are very few hiking boots for women with narrow feet that I would recommend more strongly than these Danner gems, but continue reading to ensure you find the perfect hiking boots for your small feet.
RECOMMENDED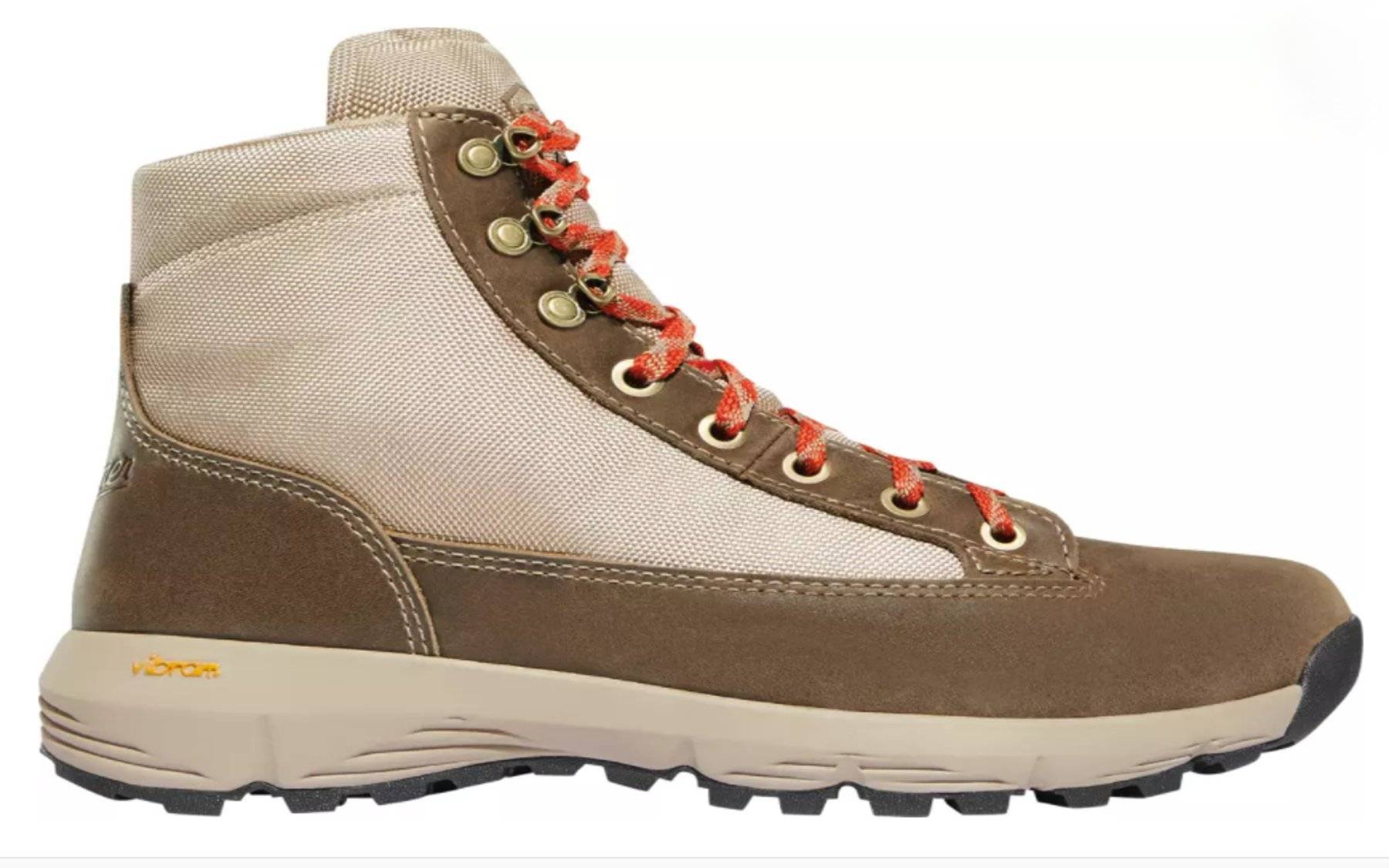 Danner Female Hiking Boot For Woman With Narrow Feet

Waterproof Gortex Fabric
Stitch Down Construction
Vibram Sole
Vasque Women's Monolith Hiking Boot For Woman With Narrow Feet
The Vasque brand is highly praised by many consumers, making it a great choice for hikers who like to get outdoors and vigorously tackle those trails. They are also a brand with a reputation for running narrower, making it a popular choice for women with narrow feet. This company is genuinely thoughtful when designing their shoes and striving to meet the demand for high standards with exceptional functionality.
This is on very few companies radars let alone their mission statement. Meaning you can purchase hiking boots for your small feet from Vasque with extreme confidence. nb
The Vasque Women's Monolith Hiking Boot was created to be an incredibly versatile, durable boot. Whether you're trekking on a rocky trail or get stuck in a rainstorm, you can rest assured that their technology will keep your feet dry and comfortable until the end of your adventure. Women with narrow feet will appreciate the mid-cut ankle support as it will keep your foot in place without being too tight. These boots are also a fantastic choice for those who want some footwear they can wear through town, your garden, or the highest mountain in your region.
RECOMMENDED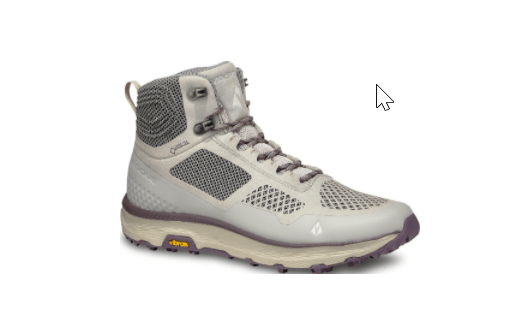 Narrow Vasque Hiking Boot For Woman With Small Feet

Waterproof
Versatile
Durable
Chaco Women's Barbary Boot For Women With Small Narrow Feet
The Chaco brand has been making high-quality products since 1989 and prides itself on having boots that can be repaired instead of tossed out when they breakdown from everyday use. Making Chaco one of the most highly desired hiking boot for women with small feet!
These boots were made with a focus on functionality, a good fit, and feature a biocentric footbed that has earned the APMA Seal of Acceptance. Philanthropists enjoy knowing that Chaco is also a charitable company, donating 3% of their profits to organizations worldwide dedicated to helping the people's planet.
The Chaco Women's Barbary Boot is perfect for that all-day mountain adventure and even has wool and fleece lining for trips in colder climates. Women with narrow feet will appreciate the traditional lace system that allows for a perfect fit and the ability to fold down the waterproof, full-grain leather upper collar if they so choose. The midsole is specifically designed for women and boasts an injection-molded nylon shank.
RECOMMENDED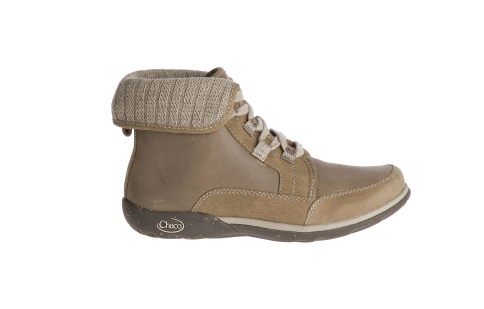 Chaco Narrow Fit Barbary Boot For Woman

Repairable
Lifetime Warranty
3% Goes to Charity
Vasque Women's St. Elias Gore-Tex Hiking Boot
These Vasque boots were designed to encourage women to get outdoors and see the world. What makes Vasque one of the best hiking boot brands worldwide is the fact that they work hard to develop new and innovative technologies into their footwear. If you plan on having a heavy backpack with you, you'll be delighted to know that these will lighten your load with a weight-optimized Vibram sole.
The St. Elias Gore-Tex hiking boot is made from 100% leather and designed to log years of hiking miles. Boot owners are happy that they have a tighter wrap around the foot without creating any discomfort. The Gore-Tex lining helps feet stay dry during rain or puddle jumping, which is ideal for women in areas with more weather.
RECOMMENDED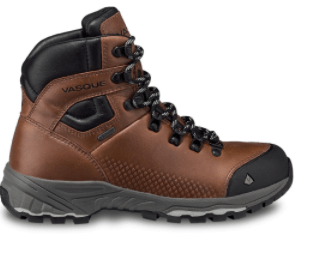 Vasque Narrow Foot Women's St. Elias Gore-Tex Hiking Boot

Last Forever
Vibram Sole
Weight Optimized
Ahnu Narrow Foot Women's Sugarpine II WP Boot
The creative inventors at the Ahnu company are known for making products for people who have demanding active lifestyles, catering to those who prefer life outdoors instead of in a gym. The Ahnu Women's Sugarpine II WP Boot will center and guide your foot, helping you to maintain stability and balance in every step for miles on the trail.
This particular hiking boot is made with a mix of lightweight mesh and waterproof leather, allowing you to stay comfortable no matter what your circumstances are. Women with narrow feet and high arches will be glad to find that the Sugarpine II WP Boot has plenty of inside and outside support, making those long hikes easy on feet. This boot is also incredibly lightweight and appeals to hikers looking for quality protection without the poundage.
RECOMMENDED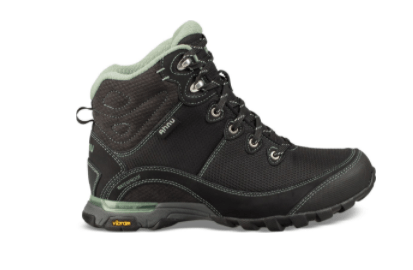 Ahnu Sugarpine Hiking Boot For Woman With Narrow Feet

Stable
Waterproof
Lightweight
Lowa Women's Small Feet Renegade GTX Mid Hiking Boot
When it comes to quality and sustainability, Lowa is a brand that has done right by hikers for almost a century. Handcrafted in Europe, these beauties are put together with intention and thoughtfulness. Anyone who wears a Lowa shoe can rest assured they're buying a hiking boot that doesn't know how to do anything less than last a very long time.
The Renegade GTX Mid Hiking Boot stands out from the rest due to its full-length nylon shank, a Vibram sole that's shock-absorbent, and is built specifically for women's feet. This shoe model has a very effective Gore-Tex lining on the inside that is both breathable and waterproof, meaning it helps your feet stay comfortable and protected from water or overheating. Also, the Nubuck leather is designed to hold your foot in place and reduce the amount of pressure on your toes. Making this a wonderful footwear choice for both intense and long journeys.
RECOMMENDED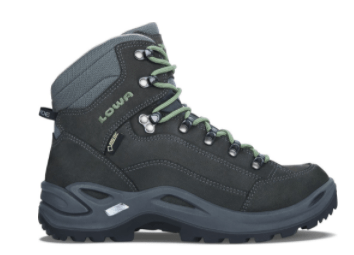 Lowa's Hiking Boot For Woman With Narrow Feet

Built for Woman's Feet
Waterproof
Nubuck Leather
KEEN Terradora II Waterproof Mid Hiking Boots For Woman With Small Feet
If you've been on the hunt for a pair of hiking boots that can also double as footwear for cruising around town, then the Keen Terradora II Waterproof Mid Hiking Boots should be at the top of your consideration list. The Keen brand is committed to creating exceptionally comfortable and durable products, which is why members of the hiking community keep coming back to them.
Year after year. Hike after hike and trail after trail. Keen's are easily the most recognizable footware on this list that garnishes more recommendations than all other brands combined.
These pair of boots are designed specifically for women and really benefit those with narrow feet. They come equipped with stability shanks that deliver lightweight support, low-density EVA midsoles, and speed hooks that make for easy lace adjustment. The outside comes coated with a PFC-free durable water repellant treatment proven effective for keeping water and dirt off the material. In addition to that, the breathable membranes are ideal for keeping moisture from the outside from creeping in on more humid or rainy days.
RECOMMENDED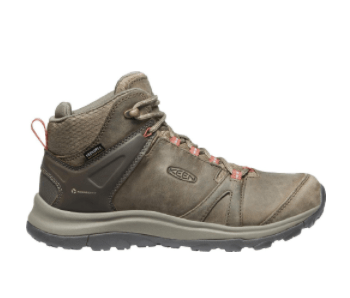 Keen's Hiking Boot Designed Specifically For Woman With Small Narrow Feet

Duel Purpose
Exceptional Comfort
Durable & Waterproof
La Sportiva Saber GTX Women's Hiking Boots
La Sportiva is another brand known to run on the narrow side, and it's also a company with a good reputation that hikers seem to back. This particular model has an excellent over-the-ankle fit with a classic lace-up. Made of Gore-tex extended comfort waterproof breathable membranes. That are great for keeping feet dry on those wet days and saturated paths. The La Sportiva Saber GTX Women's Hiking Boots have an air mesh and leather upper construction, which is great for fending off trail debris.
If you're one to struggle with putting boots on, there's some more good news for you with these footware options. They have soft cuffs with integrated heel-pulls, making it a breeze to pull them on or off. Overall, these boots are made to last and are up for any adventure you are. More importantly, the reason they made this list is because they are life tested. Life proven and life ready!
RECOMMENDED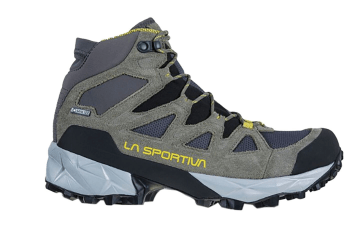 Sportiva Saber GTX Narrow Foot Hiking Boot For Woman

Trusted Reputation
Phenomenal Design
Waterproof
Columbia Women's Newton Ridge Plus Waterproof Hiking Boot
Columbia is a brand known by everyone in the outdoor recreational world, so it's no wonder why these women's boots are making the list. The outer material is made up of leather, suede, mesh and feature a lightweight midsole that is incredibly durable and designed for long-lasting comfort. The rubber sole on the Columbia Women's Newton Ridge Plus Waterproof Hiking Boots also allows the wearer to take on the world without fear of slipping, no matter the terrain, water or weather.
Women with narrow feet will appreciate this boot model, as it has a lace-up closure for an adjustable and secure fit. As hikers with little feet know, having the ability to tighten up your boots is an essential feature. This is especially true for people hoping to trek on some of the most vigorous trails, which also helps that they are waterproof except for when you decide to go cliff diving at the end of a long hike.
RECOMMENDED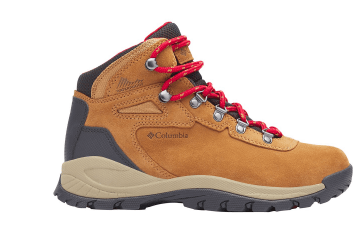 Small, Narrow Foot Columbia Women's Newton Ridge Plus Waterproof Hiking Boot

Waterproof
Household Name
Lightweight
Frequent Concerns & Questions Regarding Womans Narrow Designed Hiking Boots
What are the critical features of good quality hiking boots?
When looking for your next pair of hiking boots, you will want to make sure that they have a sole built for your safety. Vibram is an excellent example of a material that can be used on any hard surface to ensure that you don't slip no matter what the weather is outside.
Vibram is also known to thrive on ice without any compromise, and vital that the rest of the boot is comfortable so that you can use them for lengthy hikes. With heavier boots, hikers usually prefer leather, while mesh material is for people looking for a more lightweight option. No matter what type of hiking boot you get, you will probably want some form of waterproofing. You never know what kind of weather, ponds, or puddels you'll run into on the trails.
What's the average price range for long-lasting hiking boots?
Depending on the material, your boots will significantly affect the price range. Leather hiking boots typically run anywhere between $150-400, whereas some lighter material like breathable mesh boots can be as inexpensive as $40-60. However, there are also anomalies in each category and subject to each brand. The golden rule of you get what you pay doesn't always hold true when it comes to hiking boots for women with narrow feet.
How long does a pair of hiking boots last before they need replacement?
Ideally, a high-quality pair of hiking boots will last you hundreds of miles and several years. Very few models of hiking boots can be repaired after showing signs of wear, but as mentioned above there are a few hiking boots specifically designed to be repaired instead of thrown out.
Hiking boots are typically a once-in-a-decade purchase for many occasional hikers, but those who have intense regular use may find their hiking boots have a lifespan of a few years. Once again, this is where researching the materials of your hiking boots will help you find longer lasting footware for your narrow feet.
My Favorite Travel Leaf Peeping Booking Resources: Most Affordable & Efficient Travel Booking Tools I Use Everyday
Book Your Flight
Find a cheap flight by using Skyscanner or Momondo. These are my two favorite "flight" search engines because they search through websites and airlines around the globe and offer a calendar view to find even cheaper flights for flexible travelers.  Check out these UNIQUE destination deals or my favorite All Inclusive Booking Travel Tool!
Rent An RV
Find cheap RV rentals for your next adventure by using Outdoorsy or RVshare.  These are my two favorite "RV" search engines because they allow you to rent from private RV owners, and offer a wide variety of chooses at affordable rates.  Want to start making money by renting out your RV?  List it with Outdoorsy or RVshare.
Book Your Accommodation
You can book your hostel with Hostelworld. If you want to stay elsewhere, use Booking.com as they consistently return the cheapest rates for guesthouses and cheap hotels.  Get a $40 credit for booking with AirBnb.  Need to book a private campsite use my favorite RV booking site Hipcamp!
Travel Community
Join the Escapees travel club to meet fellow travelers and talk about all things related to RVing and overland travel.
Travel Packages & Tours
Are you looking for worldwide tours and travel packages?  Check out my go-to source — IntrepidTravel!  Looking for more family related travel packages and tours book with GAdventures.
Don't Forget Travel Insurance
Travel insurance will protect you against illness, injury, theft, and cancellations. It's comprehensive protection in case anything goes wrong and will cover things like transport security, crisis response and medical transports such as Life Flight. Why go on any trip without a safety net that costs less than a case of beer? I've been using SafetyWings for years without any issues.
My favorite companies that offer the best service and value are:
SafetyWings (ONLY $35 & Covers USA Travelers)
World Nomads (for everyone below 70)
Insure My Trip (for those over 70)
Medjet (for additional travel insurance coverage like medical transport, travel security & crisis response)
Looking for the best companies to save money with?
Check out my resource page for the best companies to use when you travel! I list all the ones I use to save money when I travel – and I think will help you too!
Just Want To Support This Amazingly Resourceful Website
Websites incur constant fees!  From hosting costs to massive amounts of personal time creating beneficial content for readers to consume at their leisure.  To help offset those costs or just to say, Thank You.  You can help support this community by shopping through any of the links found on my resource page.  Shop on Amazon through this link and I'll get a small commission, or you can directly support this site through Paypal donations.  None of this is a requirement its just helpful and creates a better community for all of us.