Where Can I Park MY RV For Cheap
Quick Reference Table of Contents
The art of cheap RV living is built on the foundation of locating long-term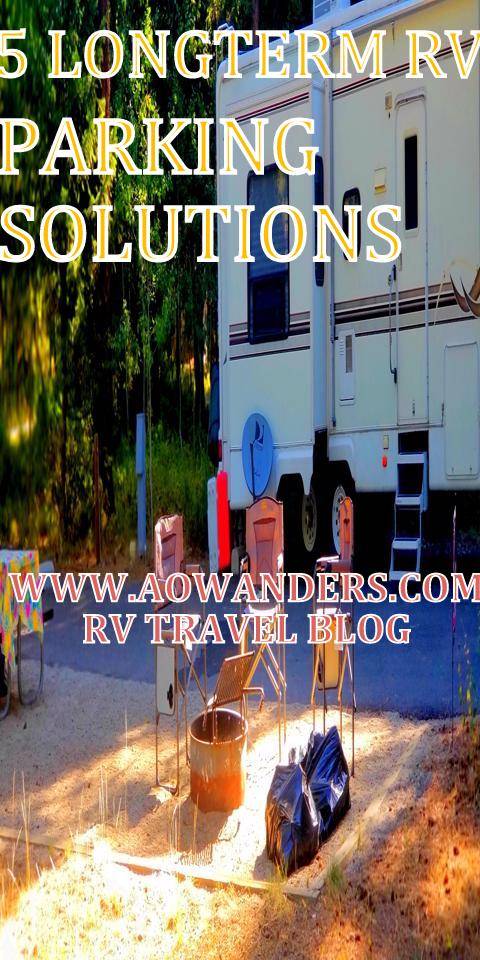 RV parking. Because those of us who live (and love) the RV life tend to have a somewhat cynical view of routine and stability, because of the endless pursuit of long-term RV parking. After all, we've chosen to spend a good chunk of our life (if not all of it) on the move and on the road. Traveling from one RV parking spot to the next. In a never-ending game of, "Where can I park my RV to live?"
Sometimes we simply just need a break from travel and prefer to stay in one destination. At least for a little while.
Perhaps it's because of work.
Or maybe it's school.
Sometimes it's simply because the destination we've discovered stole our heart, and we want to stay a little longer than we'd planned.
Whatever the reason, there are times when all RVers must settle down. And when we do, we run into the same old problem time and time again: long-term RV parking.
Where Can I Park My RV for Free
If you're concerned about your upcoming adventure filled RV trip being ruined by the logistics and, to a greater extent, the cost of extended RV parking, fear not. This article will cover everything you need to know about parking your RV on a slightly more permanent basis, including:
● the benefits of long-term RV parking
● where you're allowed to park your RV to live out of full-time, and where you're not
● the type of motorhome parking options you have and the costs involved
● the difference between RV Resorts, RV parks, and campgrounds.
More RV Parking Resources
Before we discuss your 4 tried and true options for long-term RV parking, here's a reminder of why it matters.
What are the benefits of finding the right long-term RV parking?
Ideally, you'd be able to find affordable, safe, and secure long-term RV parking anywhere you go, and at any time you need it.
Unfortunately, that's rarely the case.
Finding the right long-term RV parking takes a fair amount of research, and sometimes a little luck. But when you do finding the right camper parking spot, can feel like you hit the jackpot.
Cheap RV Living Benefits To Long Term RV Parking
Mastering RV parking for an extended period rewards your RV travel budget in more ways than you can know. Both in time and money.
Without having to frantically hunt for the right RV parking place because the baby is crying or you're just about out of gas, you can relax and enjoy your new destination.
And when you've carefully weighed the potential costs ahead of time, your RV travel budget will thank the hell out of you.
Finding affordable long-term RV parking awards you with fewer stresses, lower expenses & more adventures. Anything that saves you money and helps you accomplish is worth exploring.
What are your options for long-term RV parking?
Now that you're familiar with the benefits of long-term RV parking, it's time to discuss your options for how to locate these elusive RV spaces for rent.
Long-term RV Parking Option 1. Purchase Your Own Land
If you're able to afford land, this is the ideal way to park your RV for an extended period of time. Owning a piece of land can give you your own personal destination to return to time and time again.
Park your mobile home for as long or as little as you like.
Of course, life can be difficult if the land you buy isn't equipped with utilities such as electricity or water.
Word of warning: some cities won't allow you to install power or water without a formal building permit. This points to a more significant issue all RVers must eventually face: local zoning laws and the legality of living in an RV. The tiny house movement sweeping across the country has declared war on American cities from coast to coast.
The rules surrounding where you can live in an RV – or even if you're allowed to live in an RV – can be tricky. Each state, county, and town has different laws on the topic, so make sure you do the research to find out where you can legally call your RV home. Learn more about the legalities of RV living from this article.
You can try to buy land that already has electricity and water or forget about utilities altogether and stay entirely off the grid. Some pieces of land are so ideal that an off-grid lifestyle is well worth the inconvenience. Or better yet, check out these three (3) camper accessories that turn any RV parking space into a full RV-hookup destination. These three (3) essential camper accessories completely change RV life in your favor.
By extending the time, you can stay wherever you've found RV parking. Never have to pack up the camper and relocate just because you ran out of water, or filled your black water tank. Never let the park or campground discourage you from spending the night because of their lack of RV utilities.
But if you're looking to buy land for your motorhome check out websites, real estate sites such as Trulia and Zillow allow you to search for property in your preferred area.
Longterm RV Parking Option 2. Stay at an RV Park.
If buying land isn't in your current RV travel budget, don't worry. You have lots of choices for parking your RV on a long-term basis. One of the more popular spots is an RV park or RV resort.
RV parks are often viewed as small communities designed for traveling RVers. These traveler oasis's include all the essential utilities & amenities you could ever need. These RV havens are typically located close to major highways and not too far from shopping centers, making them a convenient option for travelers looking to explore unknown cities.
There is, however, something of a trade-off for all that convenience. RV parks are not free and almost always charge higher fees than a campground.
The average cost of camping at an RV park or resort ranges from $45 to $125 per night. Monthly rates are a great way to get a decent discount if you're willing to park your RV longterm. But you're still looking at anywhere from $500 to $1,200 per month. The overall cost of camping at an RV park is usually the equivalent to one months worth of fuel and definitely, something to factor in when searching for long-term RV parking.
Another aspect of RV parks is the number of folks you'll encounter and how close your RVing neighbor will be. Hint: sometimes they're incredibly tight, and if its anything like the Tiffany RV park in Arizona, you'll wish you chose a different RV lot for rent.
RV parks tend to be significantly more crowded than campgrounds, with each RV parked right next to another. This is why some RVers think of RV parks as charming little communities of like-minded folks. While other motorhome travelers view the close proximity to other campers as a negative selling point. Which is why I would never recommend the Tiffany RV Park in Mesa Arizona!
RECOMMENDED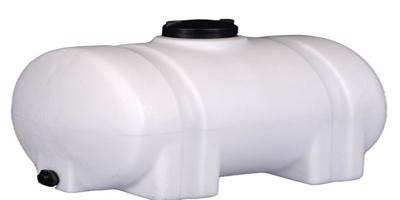 Norwesco 35 Gallon Water Tank
Heavy Duty Construction
Will work with any RV
Only 13 pounds when empty
The lack of total privacy and the relatively high cost of RV resorts are worth it to many RVers who want to know they'll have electric, water, trash removal, waste removal, and security. But just understand while these park amenities make RV life more comfortable, you can provide these same amenities with a couple of essential camper accessories like the ones below.
RECOMMENDED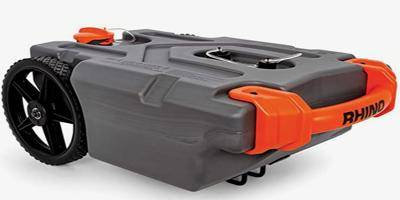 Camco Rhino Blackwater Caddy
Super Duty Construction
Towable
Includes Hoses & Accessories
Sites such as RVparky.com can guide you to RV parks near your destination. RVparky.com also includes unconventional RV options in their search results like boat ramps and business parking lots othe RVers have enjoyed campig at for a night.
Each RV park has its own rules, so make sure you call ahead or check out their website. If you own an RV older than 10 years, you will definitely want to call ahead and see if there are any RV park restrictions that prohibit you from camping there.
RECOMMENDED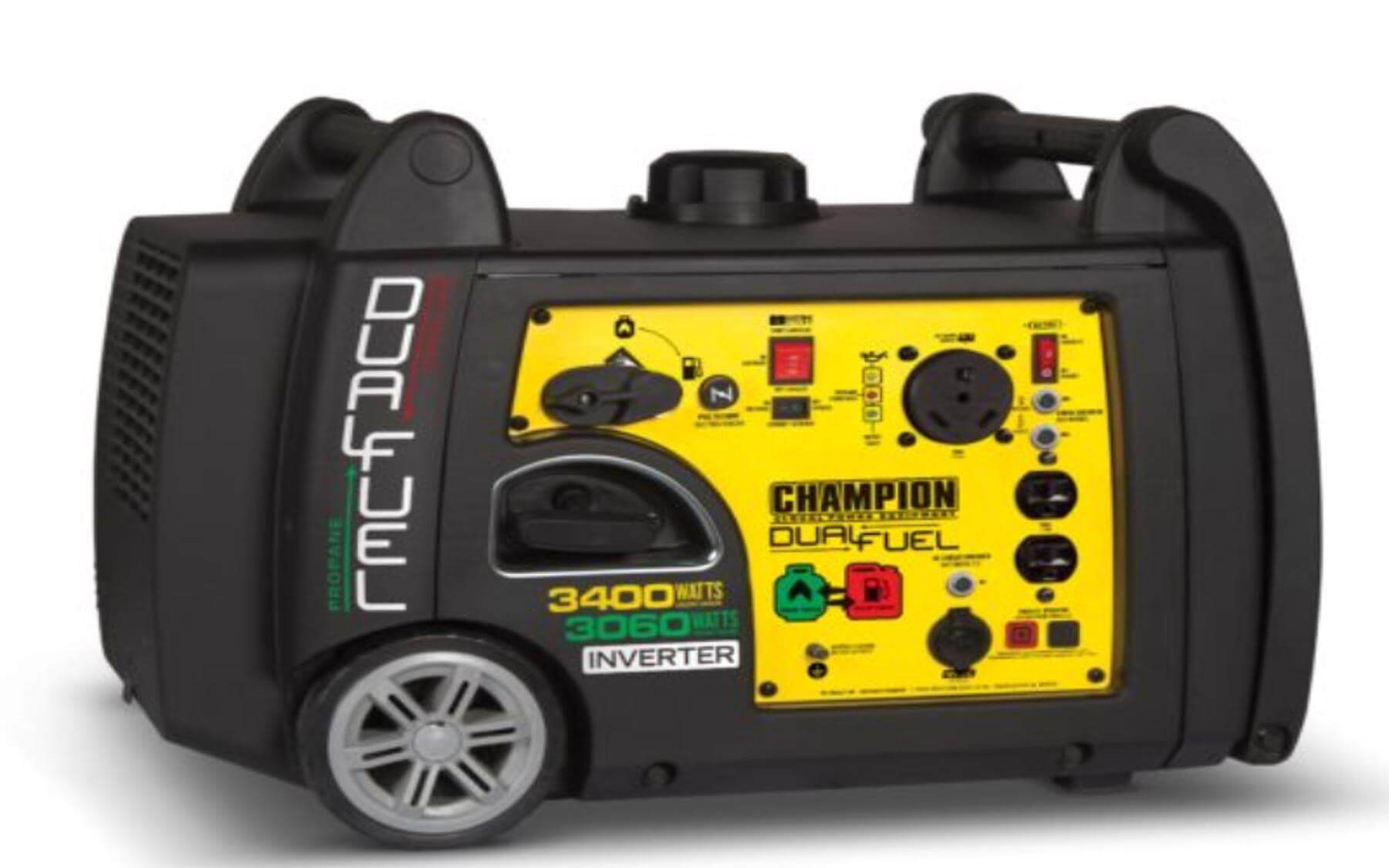 Champion 3400 Watt RV Generator
Super Duty Construction
Portable & Quiet
Runs off of 3 fuel Sources
Longterm RV parking Option 3. Find a campground.
If you're looking for a more private setting to park your RV for a while, you might want to consider a campground.
Found in state parks, BLM-managed lands, U.S. Forest Service lands and grassland park campgrounds are publicly owned. Almost all of these options will have some form of camping possibilities, but **ONLY** privately-owned campgrounds offer monthly campground rates and long-term RV spaces for rent.
Public land campgrounds typically provide the most basic necessities. You won't always find some of the fancier features seen at RV resorts. Sometimes you won't even find a toilet, but you will have access to a firepit, a picnic table, and a place to park your camper. You know, all the bare essential camping accessories you need to go camping.
What campgrounds lack in full-blown amenities, they make up for in cost, privacy, and scenery.
Some campground sites require a modest fee to help facilitate the services at that particular location. Still, the cost of long-term RV parking at a campground is almost always less than what you'll pay at an RV Resort.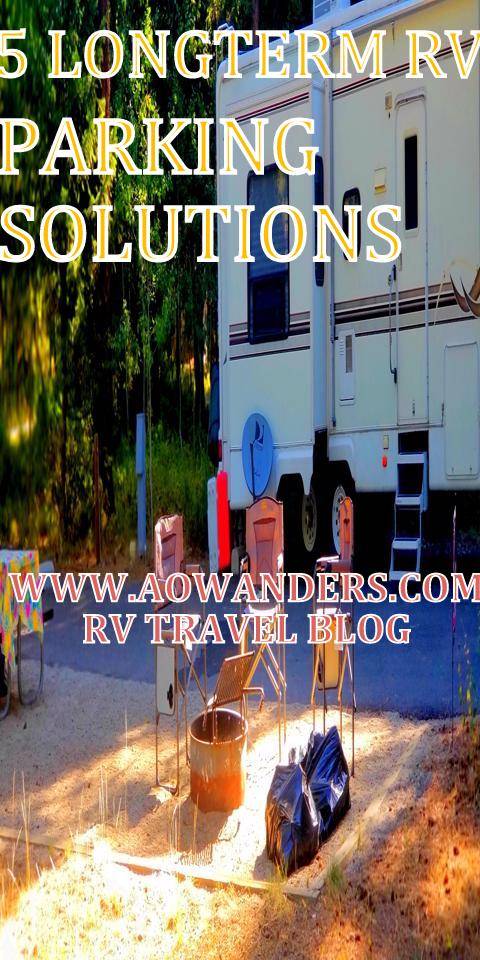 Campsites at campgrounds are usually much more spread out than you find at RV parks. This leads to an increased sense of solitude and privacy. You can actually let your dogs out and enjoy the campfire without feeling like you are sitting at your neighbor's kitchen table.
By their nature, most campgrounds are situated in a more natural, and hence, more scenic settings. Usually butted up next to lakes, rivers, ocean coasts, and of course, forests.
4. Longterm RV parking Option #4- Private RV Lots For Rent
For complete privacy, try a private RV lot.
Much like Airbnb has revolutionized short and long-term housing stays, several websites allow RVers to hunt down completely private RV lots. Sites such as HipCamp.com and HomeCamper.com offer RVers the chance to camp in their own private space. I recommend every new RVer take their first camping trip by way of Hipcamp.com. Because it allows new RVers to test the waters of RV life through the use of preverbial training wheels.
Be it mountainside, beachside, or just plain old outside, you're now able to find long-term RV parking that's perfect for you. The costs for private RV lots vary greatly, but there's enough online competition to guarantee you a good deal if you're willing to do the research.
Cheap RV Parking Options
You have options for long-term RV parking. What you choose is based on your needs and some wants.
Sometimes life requires you to stay in one place. Even if you're an RVer.
And when it's time for that bit of stability, you want to make sure you're ready to do it in the most relaxing and cost-effective manner possible. Part of making that happen is finding the right long-term RV parking.
Alternative RV Parking Resources
The good news is you have several options for where to land your RV for an extended stay. These include buying your own land, staying at an RV park or campground, or renting a private RV lot.
Whatever RV parking option you choose, make sure it meets all your needs as an RVer. Parking might not seem like a significant part of life on the road, but it dictates the majority of your planning and consumes most of your RV travel budget. It's one of those things you only notice when it goes poorly. Keep that from happening by thoroughly researching your long-term RV parking options, and subscribing to RV travel blog like this one.
May you have safe travels and successful parking!
My Favorite Travel Booking Resources: Most Affordable & Efficient Travel Booking Tools I Use Everyday
Book Your Flight
Find a cheap flight by using Skyscanner or Momondo. These are my two favorite "flight" search engines because they search through websites and airlines around the globe and offer a calendar view to find even cheaper flights for flexible travelers.  Check out these UNIQUE destination deals or my favorite All Inclusive Booking Travel Tool!
Rent An RV
Find cheap RV rentals for your next adventure by using Outdoorsy or RVshare.  These are my two favorite "RV" search engines because they allow you to rent from private RV owners, and offer a wide variety of chooses at affordable rates.  Want to start making money by renting out your RV?  List it with Outdoorsy or RVshare.
Book Your Accommodation
You can book your hostel with Hostelworld. If you want to stay elsewhere, use Booking.com as they consistently return the cheapest rates for guesthouses and cheap hotels.  Get a $40 credit for booking with AirBnb.  Need to book a private campsite use my favorite RV booking site Hipcamp!
Looking For A Travel Community
Join the Escapees travel club to meet fellow travelers and talk about all things related to RVing and overland travel.
Travel Packages & Tours
Are you looking for worldwide tours and travel packages?  Check out my go-to source — IntrepidTravel!  Looking for more family related travel packages and tours book with GAdventures.
Don't Forget Travel Insurance
Travel insurance will protect you against illness, injury, theft, and cancellations. It's comprehensive protection in case anything goes wrong and will cover things like transport security, crisis response and medical transports such as Life Flight. Why go on any trip without a safety net that costs less than a case of beer? I've been using SafetyWings for years without any issues.
My favorite companies that offer the best service and value are:
SafetyWings (ONLY $35 & Covers USA Travelers)
World Nomads (for everyone below 70)
Insure My Trip (for those over 70)
Medjet (for additional travel insurance coverage like medical transport, travel security & crisis response)
Looking for the best companies to save money with?
Check out my resource page for the best companies to use when you travel! I list all the ones I use to save money when I travel – and I think will help you too!
Just Want To Support This Amazingly Resourceful Website
Websites incur constant fees!  From hosting costs to massive amounts of personal time creating beneficial content for readers to consume at their leisure.  To help offset those costs or just to say, Thank You.  You can help support this community by shopping through any of the links found on my resource page.  Shop on Amazon through this link and I'll get a small commission, or you can directly support this site through Paypal donations.  None of this is a requirement its just helpful and creates a better community for all of us.