Brand New Thai Restaurant McCall Idaho
Quick Reference Table of Contents
YUM YUM GET YOU SOME!  Jasmine and Ginger is a hot new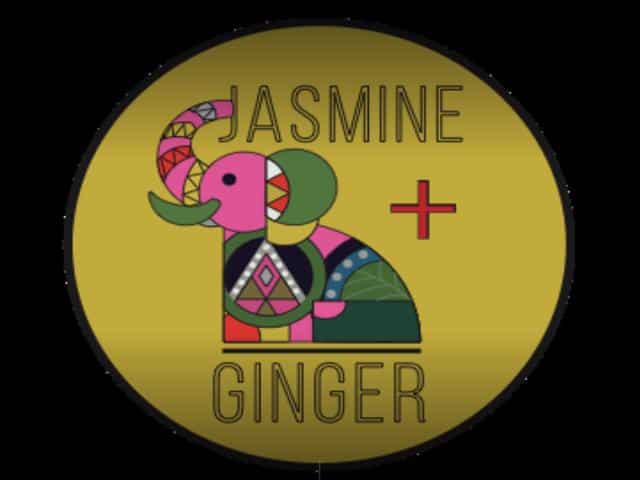 Thai restaurant in McCall, Idaho I've been dying to check out. Mainly because most ski town restaurant scenes amount to deep fried bar grub, greasy Mexican and the local nightmare burger joint.  Plus, I absoutely love Thai food because it gives ordinary bland food superhero flavor through exotic spices, blends and marinades.  Which, bring back wonderful memories of my backpacking days in Southeast Asia.  So when a friend blew into town on his birthday I didn't need any more motivation to give the new Thai restaurant, Jasmine + Ginger a try.  
Waterfront Dining at Jasmine + Ginger in McCall Idaho
This waterfront restaurant with outdoor seating is guaranteed to be on every hungry diner's short list for a place to eat, meet & greet.  So be sure to call ahead for reservations.  Because theres only two restaurants in McCall that offer waterfront outdoor patio seating, and I promise Jasmine + Ginger's will fill up fast.  

Jasmine + Ginger Thai Restaurant Menu With Plenty of Gluten Free Options
While flirting with a cute blonde bartender and browsing the hot new menu I realized 15 out of 35 menu items are labeled "gluten free".  So bring it on Celiac's!
Before sampling  "Asian" infused martini's and a Thai version of the moscow mule.  Be sure to try the shrimp wonton crackers.  They'll leave you craving their subtle flavor profile.  While waiting for your happy hour bento box and gluten free Mango Tango Noodle Entrée
Jasmine + Ginger's menu has something for everyone at this refreshingly vibrant Thai restaurant in McCall, Idaho!  From eclectic appetizers, refreshing salads and must try soups it'll be a challenge not to over order.  So bring that big Thanksgiving appetite, and be sure to save room for the classic rice dishes or highly desirable main courses.  Don't overlook the gluten free noodle & curry entrees, simple kids menu and sneaky good desserts. 
The menu at Jasmine + Ginger will hit you with a vibe of professionalism, a dash of creativity, a pinch of pushing the boundaries and a pulse of polished tradecraft from a local chef named Steve Topple.  Who knows how to trim the fat, and deliver a notable dining experience at an affordable price.  
Bento Box Delight
My favorite on this first time visit was actually the bento box my friend ordered.  Because it didn't break the bank, and allowed me to mini sample the menu.  The next visit though is going to be quite a challenge choosing between the Coconut Crusted Mahi Mahi, Crispy Snapper & Halibut-Tiger Shrimp Yellow Curry.
Price Points of Jasmine + Ginger Menu
So what are the menu prices at this awesome Thai restaurant in McCall Idaho?
Adult Entrees = $13-$24
Kids Entrees = $7-10
Appettizers = $8-$20
Bento Box =  $12.50 (only available until 6pm)
If you have kids or on a budget order an adult entrée to split.  There will be more than enough food.  I promise! 
For the two of us that weren't even paying attention to prices and ordering drinks our bill came to $70 before tip. Which is pretty standard for a resort town.  Considering the burger joint down the road will charge you $50 for two burgers & a couple of pints.
Bars of McCall Idaho
Walking into Jasmine + Ginger's bar for the first time will give you a feel of the big city instead of the charming ski town your in.  While you wait for your dinner table to become available, or spend happy hour drinking with friends at the high top rounds. 
Even the mirror backed shelving and under cabinet lighting will make you think you're in a swank uptown neighborhood bar on the North side of Chicago.  That for whatever reason prominently carries Domaine de Canton and SOHO Lychee.  A refreshing reprieve from the bar decor "norm" of ski towns across the country.   Giving Jasmine + Ginger's bar a very comfortable atmosphere with a posh vibe.
The Only 6 Bars With Liquor
None of which would be possible if it weren't for the savvy business owner Chef Steve.  Who scooped up the only available "hard" liquor license available in Valley County in the last 40 years!!!  Allowing Jasmine + Ginger to be one of only 6 bars in McCall to serve "hard" liquor.  And 1 of only 2 waterfront outdoor seating options. 
With a full liquor license, waterfront real estate and the McCall Lake Cruises launching directly from their dock; Jasmine + Ginger is setting themselves up for long-term success with some of those "good problems," any other restaurant in the area would kill to have.     
The only 6 restaurants or bars in McCall Idaho that can serve hard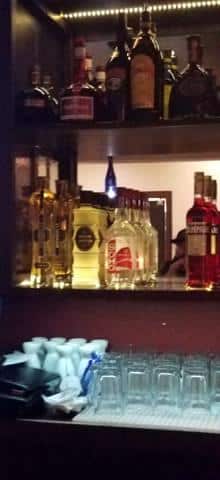 liquor.
The Shore Lodge
The Grill
Foresters
Yacht Club
Lardo's
Jasmine + Ginger
>>link this<<Click here to check out an article that dives deeper into why Idaho only allows so many liquor licenses per town.
Cocktails of Jasmine + Ginger
With a full bar stocked with American products getting your usual cocktail won't be a challenge, but try something new.  Step out of your comfort zone. Be adventurous, curious and explore the other options you usually ignore.  Ask for a Mai Thai, "special" tea or even a spiked Chai!  You can always swing by the gas station and pick up a Bud Light or Steel Reserve on your way home if Thai cocktails left you unsatisfied. 
Unaware of the official names of the two cocktails I ordered, they were both more complimentary to my experience than a watered down lager would have been.  Try new things and you never know what you'll discover. 
Thai Cocktail #1 ~ Domaine de Canton Mule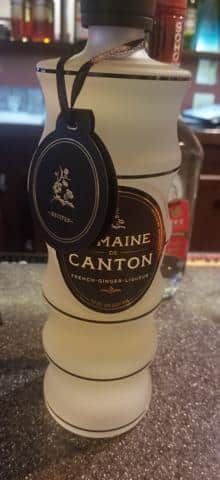 A simple easy refreshing entry level Thai drink.  Nothing exotic to be scared of.  Most "mule" drinks on the market today are simply your base liquor, ginger beer and lime juice.  A quick easy crisp and smooth drink that's compatible with just about anything on any menu.   Perfect summertime cocktail after a long day in the hot sun. 
If I wasn't in exploratory mode I would have ordered another Domaine de Canton mule, and you should absolutely give it a try. 
Thai Cocktail #2~ SOHO Lychee Martini
Another simple entry level Thai drink with nothing exotic to be scared of is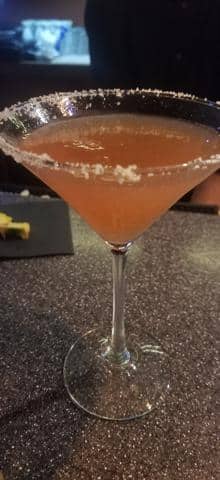 the SOHO Lychee Martini.  I'm not exactly sure what the "mixers" are in this martini because ……well sometimes flirting takes precedence over focus. 
It's pretty comparable to any vodka/juice martini drink though.  I wouldn't be shocked if someone told me it was a triple sec, blood orange & SOHO Lychee mix with a salted rim.  Would go great with the Crispy Snapper!  Give it a try.
Between the two Thai cocktails my favorite was easily the Domaine de Canton Mule, and my next visit will explore more adventurous options with this French ginger liqueur.
Location of Jasmine + Ginger
Where is this new Thai restaurnt?
Located in the same space as the old Anchor Bar & Restaurant that quietly closed down at the end of summer.  You'll find Jasmine + Ginger in the lower level of the Yacht Club Building.  Need another landmark?  Its directly across from the Manchester Ice Rink.
Use the map below to find Jasmine + Ginger located at 203 E Lake St, McCall, ID 83638.    
Hours of Operation ~ Menu ~ Website ~ Phone
Currently Jasmine + Ginger is only opened 5 days a week for dinner.  I suspect that will change eventually.  Most likely next summer, but there's evidence that Chef Steve likes to have days off. 
Jasmine + Ginger's Hours of Operation ~ McCall Idaho
Monday Closed
Tuesday 5 pm – 9:30 pm
Wednesday 5 pm – 9:30 pm
Thursday 5 pm – 9:30 pm
Friday  5 pm – 9:30 pm
Saturday 5 pm – 9:30 pm
Sunday Closed
***Menu Prices = $13-$27***
Phone Number ~ (208) 634-4665
***Click Here to Make Online Reservations**
https://jasmine-ginger-mccall.com/
Jasmine + Ginger Reviews
Ragazza Di Buffalo Restaurant in Donnelly
Why You Should Try The Thai Restaurant in McCall
I rarely set high expectations when checking out a new restaurant.  Mainly because I've been disappointed by 5 star restaurants just as many times that I've been wow'd by1 star restaurants. 
I'll admit I had low expectations when going to the new "Thai"restaurant in a 2 block mountain town where ranch & mayo are considered complimentary meal enhancements. 
But Jasmine + Ginger isn't a dive bar, local grub pub and has plenty of potential.  The menu will intrigue you.  Atomosphere will comfort you, and the staff will wow you with their friendly nature. 
The 35 item menu is sure to delight you.  The bartenders have the knowledge to whip something up on the fly, or poor the perfect classic cocktail.  After choosing one appetizer, bento box and an entrée we sat in anticipation while the chefs worked there magic.  So we could go back to  flirting with a bartender. 
Jasmine + Ginger Menu Items
HOMEMADE PORK POT STICKERS ~ $11

Hand crafted dumpling stuffed with minced pork, cabbage, onion and ginger, served with soy ginger vinaigrette

Bento Box ~ $12.50 (4pm-6pm)

Crispy Egg Roll served with a ginger plum sauce
Pad Thai
Pineapple Fried Rice
Salmon Filet

MANGO TANGO NOODLES (GLUTEN FREE)~$21

Wide rice noodles with shrimp, chicken, mango, green peppers, jalapenos, cilantro, and sweet black garlic sauce
Everything we ordered was deliciousl and full of flavor.  Except the Salmon.  Which unfortunately was awful.  I attribute this to being a one off mistake by new staff at a new restaurant, and will be dialed in just in time for the holiday season. 
Jasmine + Ginger Dirty Little Secrets
If this is your first time visiting my travel blog thanks for stopping by, and hope to see you around more often.  Because I always include a travel tip you can't find anywhere else on the internet. 
Today's secret travel tip —  Jasmine + Ginger has a secret lunch menu, the only late night menu in town and a second restaurant in the neighborhing town!
Secret Lunch Menu
If you're craving Thai food for lunch while visiting McCall head on over to the Yacht Club Bar.  Located in the same building as Jasmine + Ginger.  Just one floor up, and open for lunch serving Chef Steve's enticing version of light bar grub.  I recommend the Mahi Mahi Tacos & Truffle Tator Tots with parmesan and red chili flakes. 
Late Night Food Options of McCall Idaho
These Yacht Club (Jasmine + Ginger) bar bites are only available until 930pm, but the Yacht Club offers personalized flatbread pizzas until 2 am. Yum yum get you some! 
***Travel Tip*** The only place to get hot food after 11pm in McCall is the Yacht Club.
Second Restaurant Location
This isn't Chef Steve's only restaurant.  So if you like his style he also owns the Ragazza Di Buffalo in Donnelly, and the menu looks just as fabulous.  The lobster tortellini, and crab stuffed trout off of Ragazza's Menu will be sampled very soon.  I promise.
My Review of Jasmine + Ginger
I've been calling ski towns home since 2008, and its overwhelmingly refreshing to see the culinary sprawl here in McCall.  Most of these resort town restaurant scenes amount to burger joints, dive bars, grub pubs and out dated mom and pop shops. Which you will still find here, but the culinary scene in McCall just got elevated thanks to the new Thai restaurant called Jasmine + Ginger. 
Chef Steve's from the United Kingdom and has been perfecting his culinary craftsmanship at iconic vacation destinations around the globe.   Studying under world class chefs in Vail, Sea Island, Lake Placid and more.  He provides delightful dinner experience with none of that hoytie toytie attitude found at comparable restaurants.