Best Generator For Travel Trailer
Quick Reference Table of Contents
Looking for the best generator for your new travel trailer? I've been on that portable generator hunt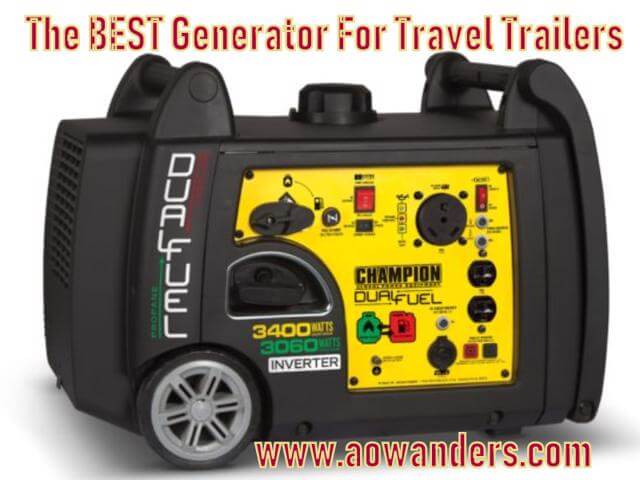 before. Multiple times in fact! I don't understand why traveler trailers don't come with an onboard generator. It's not like theres no demand for onboard generators in a travel trailer. Almost every RV comes equipped with an Onan or Cummins onboard super quiet generator. Did you know that most 5th wheels come equipped with a 5,500 watt Onan micro quiet generator? So how come travel trailers don't come with an onboard generator? I'll tell you right now the best generator for travel trailer is the Champion 3400-Watt Dual Fuel RV Ready Portable Inverter Generator with Electric Start, and you can turn it into an onboard travel trailer generator for less than $200! With the proper travel trailer accessories of course. If you want to skip the reasons why this is best portable generator for any travel trailer, and learn how I made the Champion 3400 watt Dual Fuel generator into an onboard travel trailer generator for less than $200 click here to move down the page.
Why Is The Champion 3400-Watt Dual Fuel Generator The Best Generator For Travel Trailer
The Champion 3400-Watt Dual Fuel Generator is a remarkbly super quiet portable power source that can run on three different fuels. This lightweight generator can run on gasoline, propane or natural gas. You have to buy a $15 adapter to run this camper generator off of natural gas, but thats an easy expense to justify. That alone doesn't make it the best rv generator for your travel trailer. Here's what makes the Champion 3400-Watt the best travel trailer generator.
Solid Construction Generator. Even the gas cap is of heavy duty construction.
Portable Generator. With built in wheels and a flip up handle you can roll this lightweight generator anywhere
Electric Start Generator. The built in battery gives you a couple of wonderful options.

Push button starting
Easy to install a remote start
Wire a toggle switch inside your travel trailer for push button starting

Long Run Time Generator. I only run this portable generator on economy mode, and it will power my travel trailer for 14 hours on one take of gas.

Gasoline Tank size is 1.6 gallons (Less than $5 to fill). Champion states on their site this should only run for 7.5 hours.
20 gallon propane (haven't tried) according to Champion this camper generator should run for around 14 hours.

Super Quiet Generator. The product page calls the Champion 3400 watt an Ultra quiet generator that runs at 59dB.

This generator is so quiet I can barely here it inside my travel trailer. While Urban boondocking in Minnesota I would have never started up my old Ryobi 1800 watt generator because of how loud it was. In economy mode I can barely hear this generator 10 feet away in an open parking lot standing outside. Its the quietest generator I have ever heard!
The reviews on Amazon are littered with comments like: quieter than the honda 3000 generator, quietest RV generator, super quiet generator, no noise generator, best quiet generator we ever had, such a quiet generator, best camping generator with no noise, love how quiet this generator is.

Powerful Generator. 3400 Watts Starting & 3100 Watts Running

This portable quiet generator is so powerful it can run the fridge, microwave & air conditioner all at the same in economy mode!
Parallel Ready – Connect with another Champion inverter for increased power up to 6,200-watts or 50amps!

Clean Power Supply Generator. ~ Pure Syne Wave Outpout — **NO OTHER GENERATOR ON THE MARKET DELIVERS PURE SYNE**

This means that this super quiet, lightweight, portable & powerful generator puts out clean electricity for your sensitive electronics.

Quick Touch Panel. Convienently access all the controls on one panel.

Easy to switch between gas or propane
Flip a switch to toggle between quiet and loud
Equipped with 2 USB plugin ports
Two 120volt plugins
Easy to access inline fuses
30 amp RV plugin
Oil level light indicators

Lightweight Generator. Weighs less than 99 pounds

Sturdy handles to pick it up
Flip up hand to roll it into place at your campsite
Heavy duty wheels
Best Portable Generator For Travel Trailer
All that stacks up pretty well for making a solid case for the Champion 3400 watt Dual Fuel as being the best portable generator for travel trailer, but let me do some comparisons.
I used to own 2 Ryobi 1800 watt generators. For five years, I lugged them around and cringed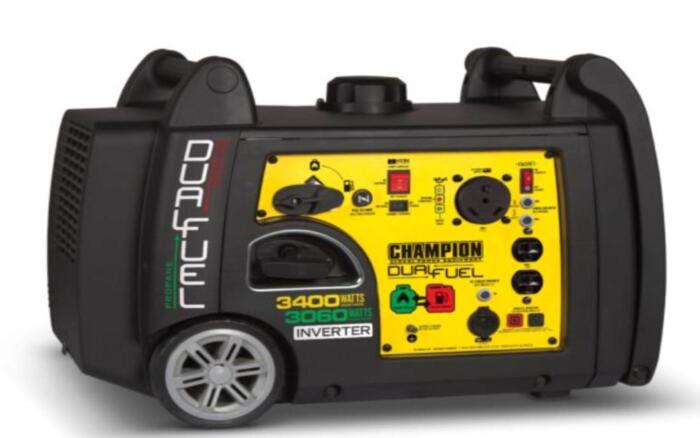 everytime I had to use them. They were heavy, awkward, and guzzled fuel. I had to run them in parallel to have a fully functioning camper. It was a 20 minute chore at every destination to unload the portable generators, and get em situated away from the travel trailer. As I type this I remember a lady at a campground in Steamboat Springs asking me if I was going to be running those "things" all night?
My simple reply,"Well it took me an hour to get them pull started so that I could have heat. So I'd like to benefit from that workout as long as I can." She didn't find that funny and walked away in huffing stride to complain to her husband.
Portable Generator Comparisons
I've lived on a houseboat with a Honda 3000 watt generator. Been surrounded by other campers sporting various gasoline generators over the years. A few have peaked my interest, but only one has impressed me. The Champion 3400-Watt Dual Fuel RVGenerator with Electric Start is easily the best portable generator for travel trailer or any camper. That I have come across in 21 years of RV travel.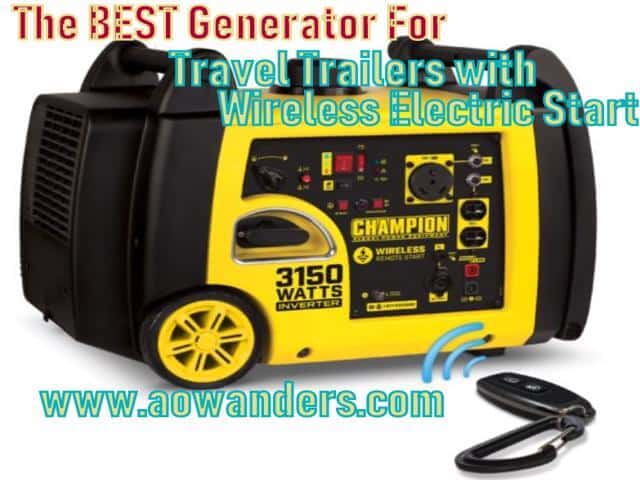 Right now I am using this portable generator in a Casino parking lot, and nobody cares because they can't hear it. I'm not even being stealthy about it. My travel trailer is parked in one spot with my wall slide full yextended. Toyota Tacoma parked in another spot. With the shore power chord lying on the pavement connecting the two because I let my brother borrow it for the weekend, and I'm too lazy to remount it on the travel trailer right now.
No one cares because the Champion 3400-watt Dual Fuel is best portable quiet generator on their market today for your travel trailer.
Quiet RV Generator For Travel Trailer
I grew up in Minnesota camping with a honda 5.5 horsepower generator. I hated that thing. There was a constant rumbling in the air from it, and I remember always having to fill it up. That old honda generator instilled a deep hatred inside of me for all generators. Constantly struggling to fall asleep through the noise or having to get up in the middle of the night to refuel it. It wasn't until years later I stumbled across my Ryobi's that claimed they were a quiet generator. They were definitely galaxies quieter than that old honda generator I fought with as a kid, but not as quiet as my Champion generator.
Ultra Quiet Travel Trailer Generator
If your looking for a quiet generator for your travel trailer consider the Champion 3400 watt dual fuel portable generator. Even when its not in economy mode this portable generator puts out a low muffled ambiant background noise. When the heater kicks on in my 2013 travel trailer its louder than this quiet RV generator. Watching a movie on my cell phone is louder than this quiet RV generator powering up my travel trailer. This generator is so quiet that it sometimes startles Kota. Prompting a round of barks and air sniffing as he investigates where this new found noise is coming from. I haven't had the heart to tell him he's getting old because its been running for hours.
If your looking for a generator that is quieter than the speakers on your cell phone or the fan on your travel trailers furnace than test out the Champion Ultra Quiet Generator! The Champion 3400 watt dual fuel quiet rv generator is the best generator I have ever owned with my travel trailer.
Camping Generator For Travel Trailer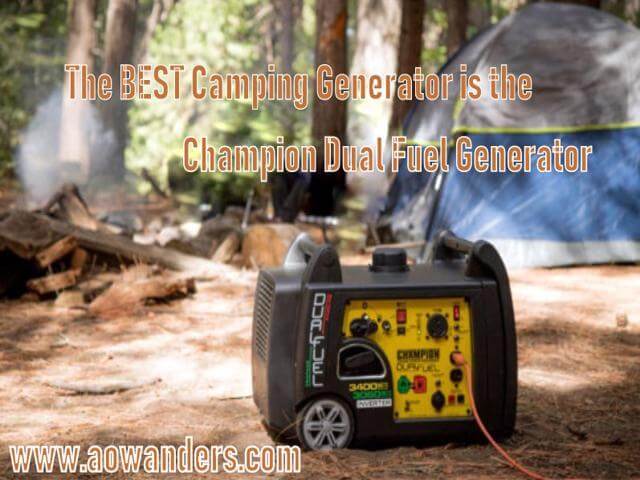 If your looking to pickup a portable power source I couldn't recommend the Champion camping generator strongly enough. Take a look around this site. I don't write product reviews, sponsored posts or any of that non sense. That should tell you how highly I think of this camping generator for your travel trailer. Its a wonderful portable and quiet camping generator. Perfect for travel trailers! Strong enough to run any RV. Quiet enough to operate in any campground, and stealthy enough to let you urban boondock under the radar. It is by far the best camping generator for any travel trailer I have come across in a long time.


Camping Generator With Multiple Fuel Sources
With the ability to run off of propane or natural gas this portable generator could easily run an off grid setup relatively inexpensive. Call your local propane company and have them deliver a 1,000 pound tank to your hunting cabin. You'd have a quiet endless power supply in this camping generator.
I just purchsed this camping generator off of Amazon a few months back so I didn't truly get to use it the way I wanted too. But next ski season I promise you that I will not be running to the gas station to fill up gas cans when I can just schedule regular fill ups from the local propane company to come me. How wonderful would that be to posted up in the backcountry, and have fuel delivered to me at a cheaper rate than the gas pumps? To run my travel trailers onboard generator!
There might be a better camping generator out there that I am unaware of, and if so please leave it in the comments below, but as of now the best generator for travel trailer is the Champion 3400 Watt Dual Fuel Electric Start Portable Generator.
Camping generators need to be portable, quiet, lightweight, durable and versatile. This camping generator checks all 5 of those boxes and has the ability to run on 3 different fuel types including natural gas. Making it the perfect travel trailer generator, off grid power source or the ultimate camping generator!
Will A 2000 Watt Generator Run The Air Conditioner in My Travel Trailer
No a 2000 watt generator will not run the rooftop air conditioner in your travel trailer. If you have a window unit Air Conditioner you need at least a 2100 watt power source to start the compressor. You need 2600 watts to start a compressor on a travel trailer rooftop air conditioner, and running 2000 watts to use your campers air conditioner. Which is why the portable Champion is the best generator for travel trailer!
The Champion portable generator has a start boost of 3400 watts and runs continuously at 3100 watts with pure syne wave electricity. Allowing it to start your air conditioners compressor, and continue to power it for up to 14 hours.
What Is The Best 3000 Watt Generator For My New Travel Trailer
Because of it's lightweight, heavy duty construction, power output and quiet operation the best portable gasoline generator is the Champion 3400 watt Dual Fuel RV ready generator!
I couldn't be happier with this model, and possiblities it puts on the table. Its rugged design gives me confidence that it will be apart of my RV travels for a long time to come.
You can buy a cheap chinese knock offs for half the price, but I promise you the best generator for travel trailers is the Champion 3400 watt Dual Fuel. You get what you pay, and I don't regret anything about this portable generator purchase! The electric start on this generator is a game changer. Allowing it to throw its hat in the ring as an onboard generator for your travel trailer.


Onboard Generator for Travel Trailers
So your probably wondering how this portable generator can be an onboard generator. For less than $200 you can purchase 1 of 2 travel trailer accessories that will transform your travel trailer into allowing an onboard generator.
Option #1 – Onboard Generator for Travel Trailers
One travel trailer accessory that would allow an onboard generator setup is a trailer tongue generator tray that you can purchase from Amazon, Camping World & even e-trailer. This heavy duty constructed generator tray fits onto the tongue of your travel trailer. Sitting above your propane tanks. Its a universal one size fits all scenario so you may have to drill some holes to fill your make and model. I didn't have too for my travel trailer setup, but there are a couple of a drawbacks.
Travel Trailer Modification Drawbacks
You have to lift your generator almost 5 feet in the air every time you want to take on or off. Once its on there I suppose you could just leave it, but then it gets covered in all the mud and debris your tires kick up. Another drawback for me was my travel trailers power chord was a couple of inches short. Forcing me to buy an expensive 5 foot camper extension cord. I wasn't a fan of always having to drag the camper power cord out and plugging it in. Eventually I secured it to the frame of my travel trailer so it was always plugged in.


Then I hard wired a toggle switch inside of my travel trailer to operate the on/off switch of the Champion RV generator. Which worked out pretty slick. I didn't even have to get out of my camper to turn on the power supply. Need to use the microwave? Flip a toggle switch. Want to turn on the A/C? Flip a toggle switch. For a $189 I had an onboard generator with an electric start for my travel trailer, and took less than an hour to install with hand tools.
Option #2 – Onboard Generator for Travel Trailers
The second method to installing an onboard generator for your travel trailer is to purchase a bumper mounted generator rack. I prefer this method because you only have to lift the generator a couple of feet to take it on or off. It was also easier to secure the travel trailer power cord to the frame with less exposure. Plus, my tires weren't kicking up debris on my new onboard generator.
Exterior Fuel Tank Solutions
With the layout of my travel trailer having the bathroom in the back. The sound of the generator had to penetrate two wall lines and 10 feet of space before you could barely hear it inside the travel trailer. Which is probably why the inside heater of my travel trailer is louder than this quiet onboard generator. Big win in my book. A friend of mine installed a remote start for me so I don't even need to flip a switch anymore. Just press a button on my keychain and my travel trailer powers right up. I couldn't be happier with this quiet onboard/portable travel trailer generator setup! I am even thinking of mounting an aftermarket gas tank to the roof and running a fuel line down to the generator. Allowing me to stay in the backcountry even longer.
Bumper Strut Supports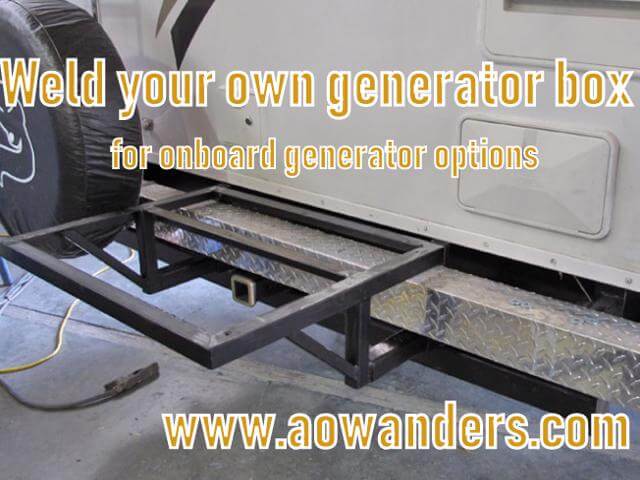 If you have any skills at welding you could whip this up in an afternoon, and purchase some bumper strut supports for a couple dollars to finish it off. But at $185 I didn't have to do anything but tighten 4 screws. Which brings up security. Right now I am using a combination of two bike locks. However, I did find a heavy duty dog kennel off of Amazon that I plan to use as a cage around the generator to thwart thieves. Its a bit on the pricey said, but delivers piece of mind so. I'll link to everything I have purchased. If you have comments, concerns or suggestions leave em in the comments below. Hope you enjoyed this RV modification on how to add an onboard generator to your travel trailer for less than $200.
***Don't need dual fuel capabilities Champion makes a 3,000 watt generator with a remote start already installed. How cool is that?!!?***
Here Are My Favorite Booking Resources:  Affordable & Efficient Travel Booking Tools I Use Everyday Along With My Favorite Gear Resources
Book Your Flight
Find a cheap flight by using Skyscanner or Momondo. These are my two favorite "flight" search engines because they search through websites and airlines around the globe and offer a calendar view to find even cheaper flights for flexible travelers.  Check out these UNIQUE destination deals or my favorite All Inclusive Booking Travel Tool!
Rent An RV
Find cheap RV rentals for your next adventure by using Outdoorsy or RVshare.  These are my two favorite "RV" search engines because they allow you to rent from private RV owners, and offer a wide variety of chooses at affordable rates.  Want to start making money by renting out your RV?  List it with Outdoorsy or RVshare.
Book Your Accommodation
You can book your hostel with Hostelworld. If you want to stay elsewhere, use Booking.com as they consistently return the cheapest rates for guesthouses and cheap hotels.  Get a $40 credit for booking with AirBnb.  Need to book a private campsite use my favorite RV booking site Hipcamp!
Need Gear
I use REI for all my gear needs because if it ever fails or gets damaged they will replace it for free!!! No questions!!! No hassles.
If REI doesn't have the gear I need.  I can always find it on Backcountry.com
Travel Community
Join the Escapees travel club to meet fellow travelers and talk about all things related to RVing and overland travel.
Travel Packages & Tours
Are you looking for worldwide tours and travel packages?  Check out my go-to source — IntrepidTravel!  Looking for more family related travel packages and tours book with GAdventures.
Don't Forget Travel Insurance
Travel insurance will protect you against illness, injury, theft, and cancellations. It's comprehensive protection in case anything goes wrong and will cover things like transport security, crisis response and medical transports such as Life Flight. Why go on any trip without a safety net that costs less than a case of beer? I've been using SafetyWings for years without any issues.
My favorite companies that offer the best service and value are:
SafetyWings (ONLY $35 & Covers USA Travelers)
World Nomads (for everyone below 70)
Insure My Trip (for those over 70)
Medjet (for additional travel insurance coverage like medical transport, travel security & crisis response)
Looking for the best companies to save money with?
Check out my resource page for the best companies to use when you travel! I list all the ones I use to save money when I travel – and I think will help you too!
Just Want To Support This Amazingly Resourceful Website
Websites incur constant fees!  From hosting costs to massive amounts of personal time creating beneficial content for readers to consume at their leisure.  To help offset those costs or just to say, Thank You.  You can help support this community by shopping through any of the links found on my resource page.  Shop on Amazon through this link and I'll get a small commission, or you can directly support this site through Paypal donations.  None of this is a requirement its just helpful and creates a better community for all of us.