WHAT IS TENT CAMPING, AND WHY SHOULD YOU DO IT?
Quick Reference Table of Contents
Before we get into my favorite two person tents for under $150 lets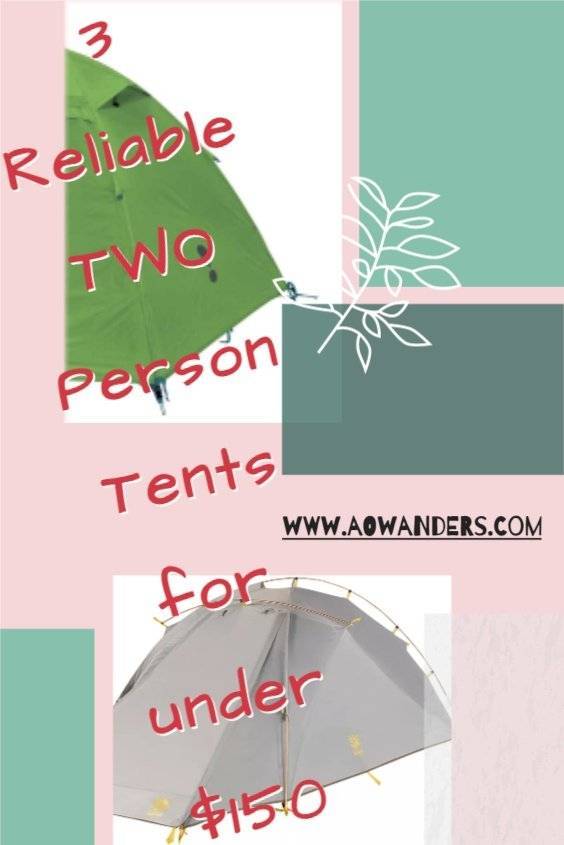 explore why you should camp in the first place!  Nothing caps off a perfect outdoor adventure more than spending the night in a tent beneath the stars. It's the ultimate escape from the madness of everyday life that surrounds us in the cities and the suburbs. The perfect opportunity to disconnect from technology and reconnect with nature. It's also a helluva lot of fun and can provide you and your loved ones with memories that'll last a lifetime. 
Two Person tents for under $150 provide lightweight and affordable shelter in year round conditions while backpacking or enjoying the great outdoors on a weekend camping trip. 
Despite the seemingly countless benefits of tent camping, some aspects of of purchasing two person tents for under $150 can be a bit irritating.
For example, if you're brand new to the world of tent camping, there's a chance you might feel overwhelmed by the sheer number of tent options available for under $150.
There are two-person tents, four-person tents, and family tents. There are fancy tents, expensive tents, as well as simple, more affordable tents.
There are tents large enough for a small car, and then there are tents called bivy's barely big enough to fit you inside of them.
Before you let these many options prevent you from exploring the wide world of tent camping, rest assured that the entire tent-buying process can be simplified. You can find the perfect tent – and it won't take a ton of research.
Related Articles

In fact, you happen to be reading an article right now that is going to help you find the perfect two person tents for under $150. Especially if you're on a budget.
I'm going to provide you with three of the most reliable two-person tents for under $150 that I've personally used. I recognize that not everyone who camps in a tent plans to do it often. Hence, sometimes folks want to get away with the bare minimum, at least as far as price is concerned.
Whatever your intentions, I hope this article inspires you to find your favorite tent, grab your favorite person, and get started on what I'm sure will be your new favorite outdoor activity & hobby.
3 OF THE MOST RELIABLE TWO PERSON TENTS FOR UNDER $150
Sometimes you need a tent that's just big enough for two. I've picked three that are light enough to carry on the trail and affordable enough to save you money for other camping accessories & supplies. If you're looking for a compact, convenient two-person tents, look no further than these three camper favorites.
Kelty Salida 2
Tent Specifications:
WEIGHT: 3.12 lbs
AREA: 30.5 ft2
CENTER HEIGHT: 43 in
What You Need To Know About The Kelty Salida 2 Tent:
The Kelty Salida 2 is considered by many to be the best budget tent on the market today. It is a fully functional tent that weighs less than four pounds. Better yet, you can easily find one for closer to $100 than $150.
The Salida 2's inner tent is more than sufficiently spacious and can easily fit two campers and their sleeping bags along with all of their gear. The internal tent floor is also long enough that you can lie in a 6-foot sleeping bag and not have to worry about touching the tent walls.
The Salida 2 also offers several internal gear loops. That lets you easily hang lighting inside the tent. It also includes a gear loft, a feature that usually ends up costing campers more money. With the Salida 2, though, it doesn't noticeably impact the overall price.
One thing I absolutely love about the Salida 2 is how easy it is to set up. This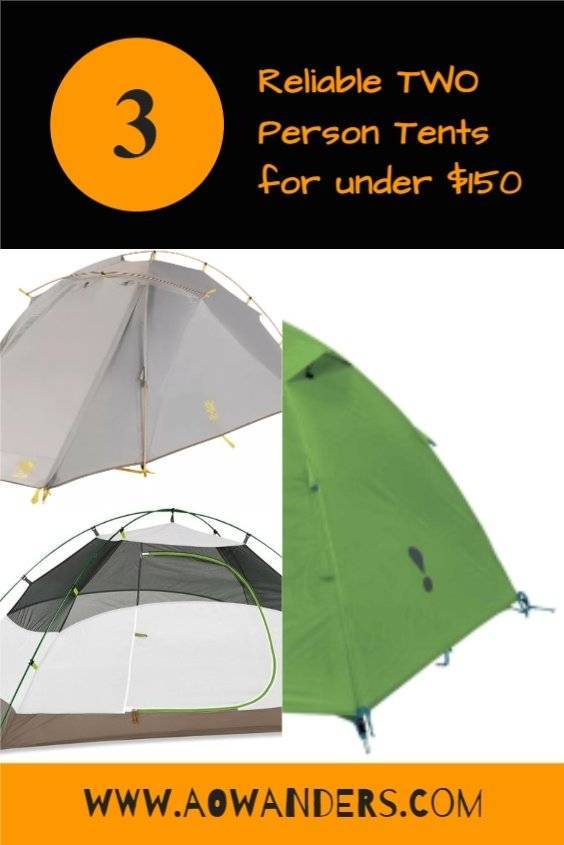 is made possible by its user-friendly clips. The ease with which one can put up the Salida 2 makes it an excellent tent for beginner campers who might need a boost of confidence. 
Its adequate size, low weight, and lower price are slightly offset because the Salida 2 offers only one door and one vestibule. While its interior size is pretty much average, campers might feel as though the tent is smaller than it is due to its minimal vestibule space.
Not only that, but the Salida 2 is not ideal for wet conditions. It's been known to become damp in heavy downpours. The tent also fails to circulate air well, which can cause condensation on the tent's interior.
Still, due to its remarkably easy to pitch frame, its sufficient size, and its bargain pricing, the Kelty Salida 2 is a classic that should be at the top of any budget camper's list.
RECOMMENDED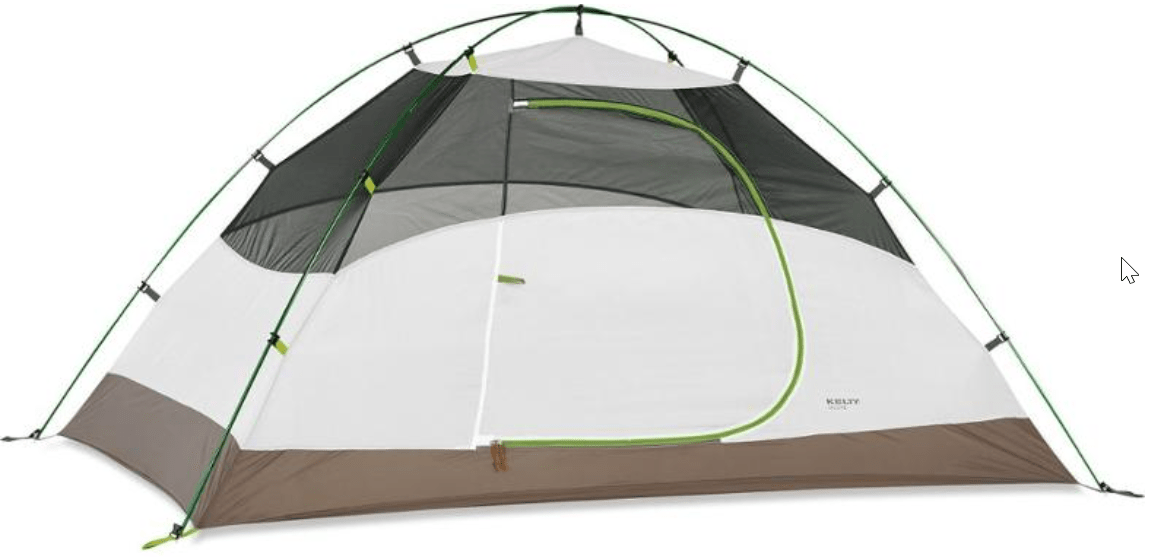 Ketly Salida 2 Two Person Tent For Under $150

Lightweight
Fast Setup
Lifetime Warranty
Slumberjack Nightfall 2
Tent Specifications:
WEIGHT: 5.10 lbs
AREA: 31 ft2
CENTER HEIGHT: 39.5 in
What You Need To Know About The Slumberjack Nightfall 2 Tent:
Typically coming in at $140, the Slumberjack Nightfall 2 feels a whole lot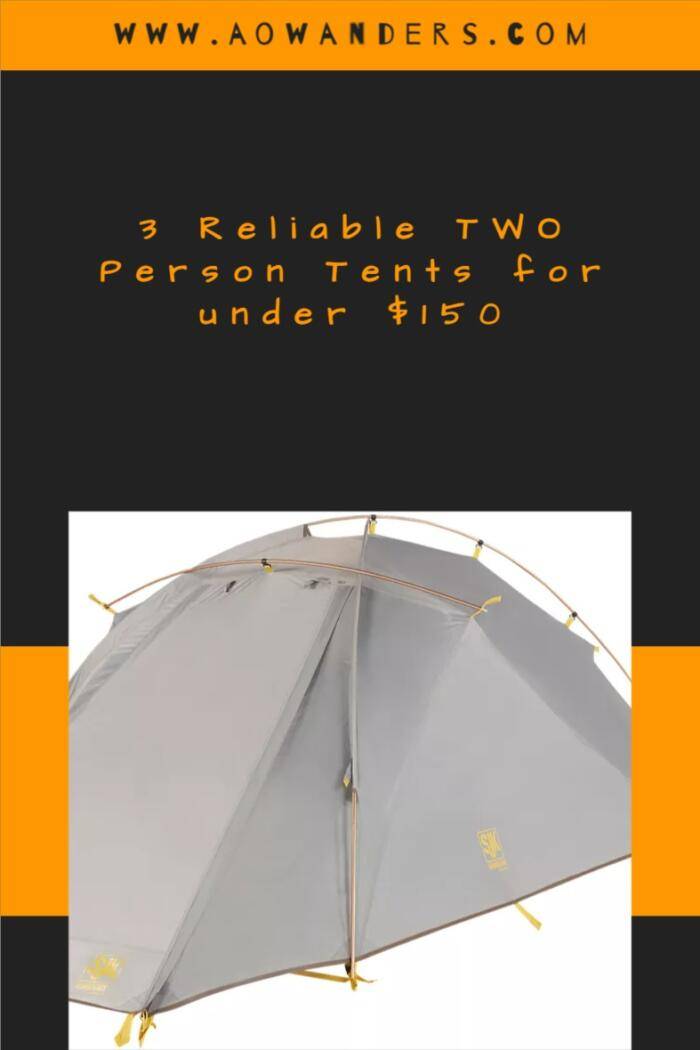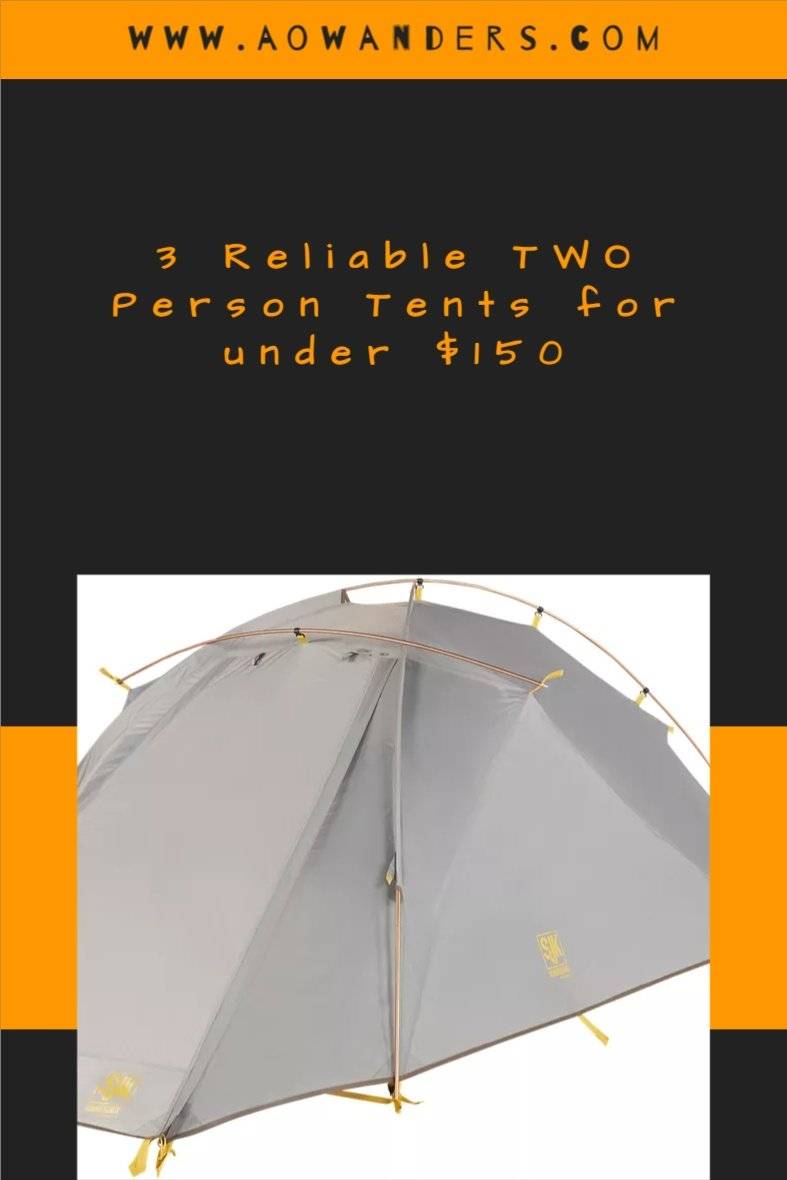 more spacious than you might think based on its dimensions. Two campers can easily sit side by side inside the tent without feeling like they're going to kill each other. Some folks have even claimed that it's possible to fit four individuals in the tent because of its near vertical walls. 
The Nightfall 2 also offers a simple external pitch that allows for a speedy set-up. This lets campers set up the tent in the rain without getting the interior wet. Super helpful during unexpected downpours.
As for its overall build, this is where I'm a bit less enthusiastic regarding the Nightfall 2. The tent poles are definitely on the thin side. The result is that the tent has a tendency to sway when facing stiff winds.
I definitely wouldn't recommend the Nightfall 2 if you plan to partake in four-season camping. I can't envision the tent withstanding significant amounts of wind or snow, so it's much more appropriate for more typical camping scenarios.
One other issue is the Nightfall 2's lack of ventilation. Without top vents and double zippers that can act as vents, there is a definite lack of airflow throughout the tent.
This can lead to a stuffy tent atmosphere during the summer, as the air has no chance to flow. On the other hand, cooler weather is made more comfortable due to heat being trapped inside the tent.
Despite its less-than-beefy poles and its ventilation issues, the Nightfall 2 is a very reasonable option for casual campers looking for a dependable shelter that won't break the bank.
RECOMMENDED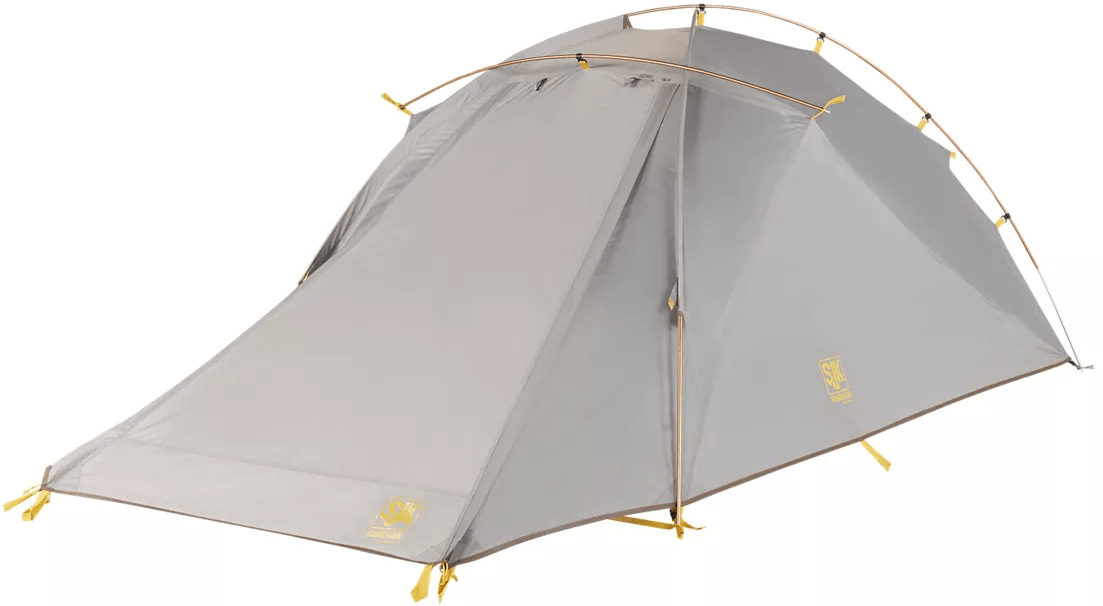 Slumberjack Nightfall 2 Two Person Tent For Under $150

Lightweight
3-Season
Full Coverage Rainfly
Eureka Suma 2
Tent Specifications:
WEIGHT: 4.13 lbs
AREA: 30.6 ft2
CENTER HEIGHT: 42 in
What You Need To Know About This Eureka Suma 2 Two Person Tent For Under $150:
At $149.95, the Eureka Suma 2 does everything you'd expect it to – and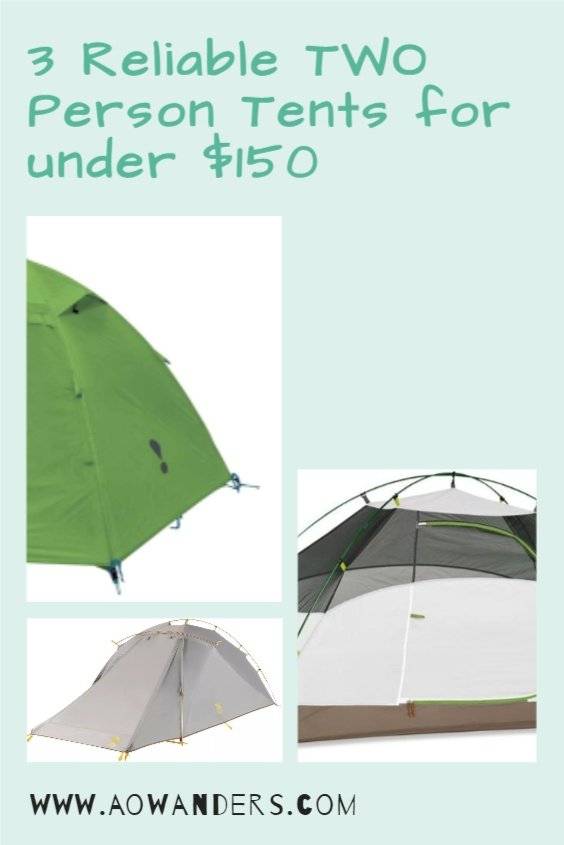 perhaps a bit more. 
It's a lightweight tent that is exceptionally easy to set up. This is due to the tent's color-coded design and its two-pole assembly.
You also might think you're getting a bit more than you paid for when you discover the Suma 2's three storage pockets and spacious gear loft. This allows you to move many of the items that might typically cause clutter (clothing, lamps, and snacks, for example) to a space above you.
The result is a feeling of spaciousness, even though the Suma 2 is not any larger than most two-person tents available for less than $150.
Another thing I like about the Suma 2 is that it doesn't produce condensation. This is due to the abundant airflow resulting from its single roof vent and its partial mesh walls. Another factor that I love about the Eureka Suma 2 is it's adequately durable, so it will survive your more rugged outings.
If I have any complaints about the Suma 2, it is how the tent is laid out. It has a peak height of 42″, which is more than adequate. The problem is that its sloped top means there aren't a whole bunch of spots inside the tent that can take full advantage of the height.
The Suma 2 also has an awkwardly placed side door. If you happen to be settled on the side that's opposite of the door, you'll end up having to climb over your camping partner just to exit the tent. Then again, that might be a fun selling point.
All in all, the Eureka Suma 2 is a lightweight and easy-to-pack tent. It obviously doesn't cost a lot, so its storage pockets and gear loft are welcomed additions.
Whether you're looking for a two-person tent for an overnight stay or a lengthier voyage, the Suma 2 is light enough for long multi-day adventures, and easy enough to setup on the fly at any destination along your journey.
RECOMMENDED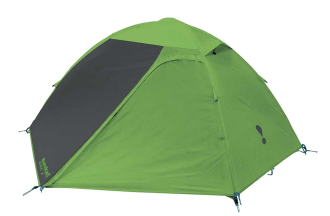 Eureka Suma 2 Two Person Tent For Under $150

Lightweight
Spacious
Durable
3 THINGS TO CONSIDER WHEN SHOPPING FOR TWO PERSON TENTS UNDER $150
Do you plan to camp or backpack?
If you intend to carry your tent in your backpack and then hike to wherever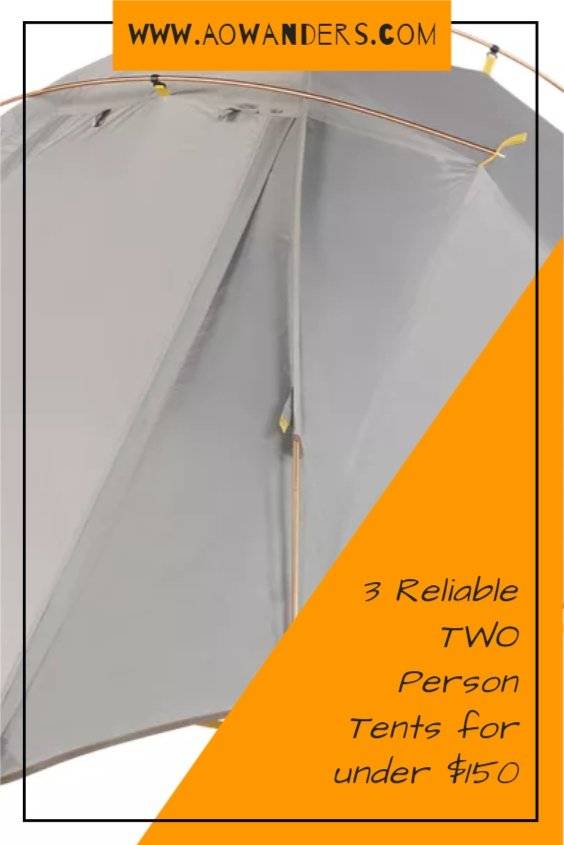 you're going to use it, a backpacking tent is right for you. 
A backpacking tent is significantly lighter than a camping tent, which is more appropriate for those times when you can pull it out of your car and set it up within walking distance of your vehicle.
Both styles of tent can be used in either situation, but make sure the tent you buy serves whatever purpose you have in mind.
Where are you going to camp, and when are you going there to camp?
Another essential factor to consider when buying a two person tent under $150 is where and when you plan to use it.
Do you intend to bring it to the top of your favorite mountain, way up in the clouds, or are you going somewhere where you know it rains all the time?
The climate and geographic setting in which you intend to do most of your camping matters quite a bit.
Not only should your location impact your purchase, but the time of year in which you plan to use your tent matters, as well. Your choice is essentially between a three-season and a four-season tent.
What's the difference between where to camp and when to camp?
Well, it goes beyond the obvious fact that a four-season tent can be used year-round, while a three-season tent cannot. A better way to think about the two tents' differences is to look at what each tent is made to handle.
A four-season tent is designed to hold up even in the most extreme conditions. Picture the worst snowstorm and howling winds imaginable. A four-season tent can withstand all of it.
In contrast, a three-season tent is specifically designed to be much more lightweight and breathable. It's substantially less durable.
Keep these differences in mind when you set out to purchase your two person tents for under $150.
How Livable Are Two Person Tents Under $150?
"Livability" is another way to say the degree to which a tent is comfortable.
Does it feel roomy?
Or do you feel like you're being buried alive?
Does it withstand all forms of wind and moisture?
Or is it often breezy and damp?
It's all about how the tent feels. You'll know the right two-person tent when you find it because it'll feel like a comfortable home away from home.
Why You Should Buy A Two Person Tent Under $150
Nothing beats camping out with your favorite buddies. It can lead to countless memorable moments. To make sure you both have the best possible experience, though, you need to make sure you find the right two-person tent.
Remember: the best two person tents for under $150 are the ones that give you and your camping partner sufficient space, are light enough to not be a burden and can withstand whatever elements you expose them to.
The tents I described in this article not only meet these criteria but, coming in at less than $150 each, they're also exceptionally affordable.
That means you'll have lots of leftover cash for other camping accessories.
Or, now that you know what type of two-person tents to consider, way more gas money for your upcoming camping trip.
Have you tried any of these two person tents under $150? Leave your experience, feedback and thoughts in the comments below. Looking for more camping related articles of mine? You can always find the latest by following this link https://aowanders.com/category/start-here/rv-life
---
Here Are My Favorite Booking Resources:  Affordable & Efficient Travel Booking Tools I Use Everyday Along With My Favorite Gear Resources
Book Your Flight
Find a cheap flight by using Skyscanner or Momondo. These are my two favorite "flight" search engines because they search through websites and airlines around the globe and offer a calendar view to find even cheaper flights for flexible travelers.  Check out these UNIQUE destination deals or my favorite All Inclusive Booking Travel Tool!
Rent An RV
Find cheap RV rentals for your next adventure by using Outdoorsy or RVshare.  These are my two favorite "RV" search engines because they allow you to rent from private RV owners, and offer a wide variety of chooses at affordable rates.  Want to start making money by renting out your RV?  List it with Outdoorsy or RVshare.
Book Your Accommodation
You can book your hostel with Hostelworld. If you want to stay elsewhere, use Booking.com as they consistently return the cheapest rates for guesthouses and cheap hotels.  Get a $40 credit for booking with AirBnb.  Need to book a private campsite use my favorite RV booking site Hipcamp!
Need Gear
I use REI for all my gear needs because if it ever fails or gets damaged they will replace it for free!!! No questions!!! No hassles.
If REI doesn't have the gear I need.  I can always find it on Backcountry.com
Travel Community
Join the Escapees travel club to meet fellow travelers and talk about all things related to RVing and overland travel.
Travel Packages & Tours
Are you looking for worldwide tours and travel packages?  Check out my go-to source — IntrepidTravel!  Looking for more family related travel packages and tours book with GAdventures.
Don't Forget Travel Insurance
Travel insurance will protect you against illness, injury, theft, and cancellations. It's comprehensive protection in case anything goes wrong and will cover things like transport security, crisis response and medical transports such as Life Flight. Why go on any trip without a safety net that costs less than a case of beer? I've been using SafetyWings for years without any issues.
My favorite companies that offer the best service and value are:
Looking for the best companies to save money with?
Check out my resource page for the best companies to use when you travel! I list all the ones I use to save money when I travel – and I think will help you too!
Just Want To Support This Amazingly Resourceful Website
Websites incur constant fees!  From hosting costs to massive amounts of personal time creating beneficial content for readers to consume at their leisure.  To help offset those costs or just to say, Thank You.  You can help support this community by shopping through any of the links found on my resource page.  Shop on Amazon through this link and I'll get a small commission, or you can directly support this site through Paypal donations.  None of this is a requirement its just helpful and creates a better community for all of us.