America's 63rd National Park
Quick Reference Table of Contents
As the path crumbles below your feet, and the spray of the river mists onto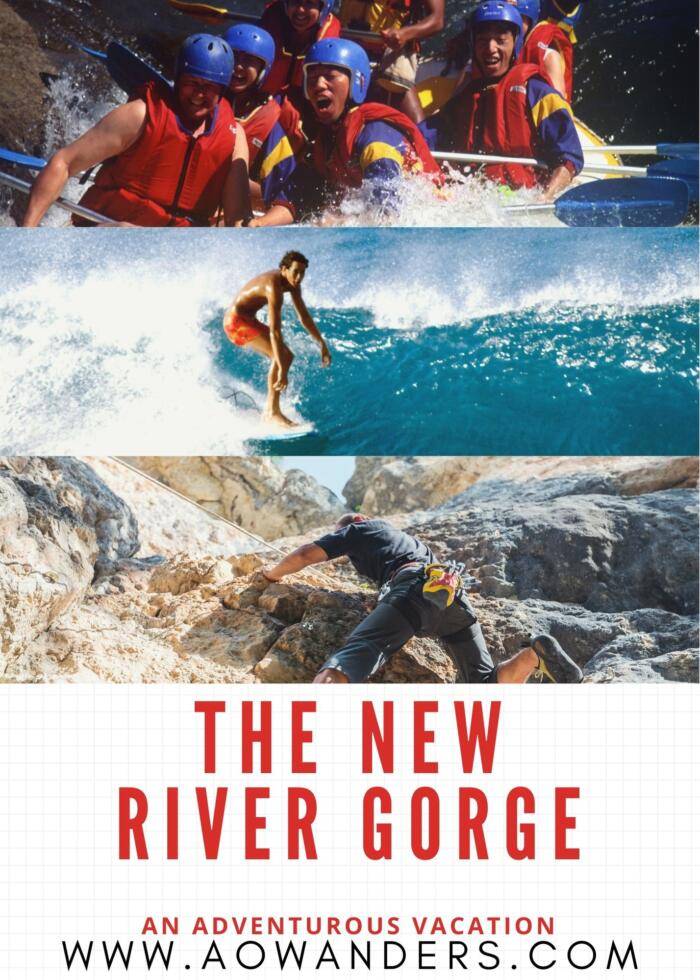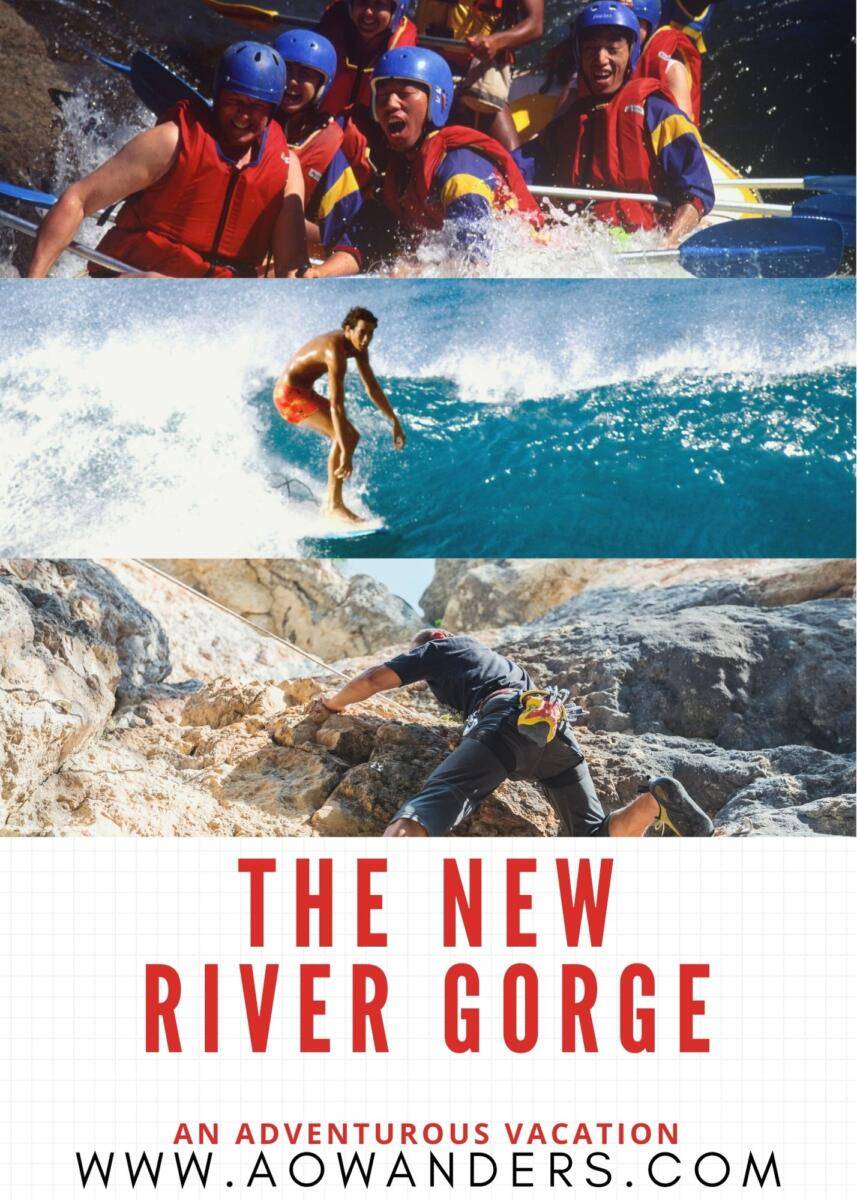 your face. You stop on the bank of The New River Gorge to watch white rafters charge the churning waters, and off in the distance, you see a group of climbers scaling the 800-foot walls.
If you didn't hear, West Virginia is offering up its most treasured playground to become America's newest National Park. Often referred to as "The New," by locals has been a national river preserve since 1978, but thanks to the recent Covid-19 stimulus bill signed in late 2020, "The New" will now be known to all of us as, The New River Gorge National Park and Preserve.
Becoming the 63rd recognized United States National Park, and it's an outdoor enthusiast's utopian playground. Perfect for rock climbing, hiking, white water rafting, kayaking, mountain biking, camping, and countless other adventures.
The New River Gorge National Park and Preserve is home to one of the oldest rivers on the continent. Offering up sweeping panoramic views of towering mountains, picturesque valleys, and sandstone walls encasing a gorge bursting with adventure. The newest iconic landmark in our nation's National Park system will invite a surge of adventure seekers from around the globe, and as an added bonus, increase tourism revenue in a state that's been struggling since the decline of coal mining activity.
Located just outside the gateway town of Fayettville, "The New" will become West Virginia's first National Park with its all-encompassing 73,000-acre adventure hub. The New River Gorge National Park and Preserve allows visitors to experienced its untamed natural ferocity through 53 miles of white water rapid fun, an astounding 1,500 climbing routes, 12.8 miles of mountain biking trails, and over 50 miles of hiking trails within the park boundaries.
This 73,000-acre outdoor adventure park provides ample camping and outdoor adventure opportunities for beginners as well as adrenaline-seeking daredevils. And since Covid-19 has locked down any other type of travel, vacation, or family fun West Virginia's first National Park is sure to attract tourists from far and wide this upcoming summer!
So, continue reading to find out everything you need to know in this little slice of heaven tucked away in West Virginia!
How did The Gorge finally become a national park in the United States?
Up until December 26th, 2020, the United States had 62 national parks spread across the country. However, on December 27th, 2020 — The New River National Gorge of West Virginia was added to America's National Park lineup by President Trump and the latest COVID-19 stimulus relief package.
Basically, in a last minute effort, lawmakers of the American congress presented a 5,000 plus page document to vote up or down without giving any legislature enough time to review its contents. This bill's primary purpose was to offer up relief to the American people and avoid a government shutdown. However, hidden away in one of the 5,000 pages was a proposal to grant West Virginia's plea to convert the gorge to a National Park. Attaching this trivial amendment to such a crucial bill guaranteed its approval. That is how West Virginia laid claim to its first National Park, The New River Gorge National Park & Preserve.
What has changed since it became a national park?
If you are a New River Gorge patron, you might have many questions about what will change in the park. Those who have enjoyed the numerous facilities this park offers will be pleased to know that not a lot will change in the park.
Most of the activities, along with entry into the park, will be free of charge. However, you will be charged a small amount to enter and enjoy the various hiking trails previously free of charge.
One of the most significant changes visitors will observe within the 70,000-acre recreation park will be an erected visitor center. To help answer questions, sell permits, and guide hikers to trailheads.
As you can see, not a lot will change. The minimal changes West Virginia plans to make within its first National Park will surely boost the local economy as well as the state's tourism revenue.
Where Can You Stay & Other Lodging Options
If you visit the New River Gorge National Park anytime soon, you're going to need a base camp. As there is no way, you can explore the entire 70,000-acre park in a single day. With plenty of hotels, Airbnb's, motels, resort's and even hipcamp options, there's something for everyone.
However, if your looking for campgrounds, here are my top 5 picks. Along with a few suggestions to help find the perfect campsite and narrow down your options!
Name
Location
Tips/Observations
Army Camp


Near Prince, off of route 41 on an unmarked dirt road you will find "Army Camp." If you're coming from Beckley, just after you cross the New River it will be your immediate first left.
GPS Coordinates: 37.857701, -81.099281

No Cell Phone Service
No RV Hookups
Pit Toilets
8-11 Tent/RV Sites Right on the river's edge
Grandview Sandbar
Near Prince directly off of route 41, and just off of Glade Creek Road. Glad Creek Road is a well-maintained and well-traveled road. From route 41 you will take a right hand turn on Glad Creek Road, if your coming from Beckley, and you will continue along Glade Creek Road for about a mile until coming to the campground.
GPS Coordinates: 37.855068, -81.052849
No Cell Phone Service
No Water
Pit Toilets
10 RV sites
6 walk in tent sites 2 handicap sites Directly across the river from train tracks
Glade Creek
Turn onto Glade Creek Road for six (6) miles to the campground.
GPS Coordinates: 37.828501, -81.013992
No Cell Service 5 RV Sites (NO Big Rigs) 6 walk in tent sites 1 Handicap Site
Primitive Camping
Pit Toilets
Right on River Catch-N-Release Fishing Section
Meadow Creek
Exit 139 off of Interstate highways 64, and its about a mile and a half past Sandstone Visitor center across the railroad tracks.
GPS Coordinates: 37.797709, -80.920417
FREE CAMPSITES Vault Toilets
No Shade
No Power
No Water
Railroad Tracks are bumpy keep in mind for large RVS 15 Free Campsites for RV/Tent
Gualey TailWaters


You can take Route 19 or 129 to the Gauley River National Recreation Area. Campgrounds are passed the dam and directly located on the river. GPS Coordinates: 38.214000, -80.888554
18 FREE RV or Tent Sites
Directly on the river
Firepits
Hear the dam all day and night
No Power
No Water
Vault Toilets
No Cell Phone Service
Unfortunately, there are no lodging accommodations inside The New River Gorge National Park. Still, there are plenty of affordable options just outside the park. Visitors can stay in secluded cabins, cozy AirBnB's, charming local lodges, and even nationwide hotel chains. All close to some of the best area attractions.
Here are a few options for when you want to a place to crash!
Lodges and Cabins of The New River Gorge National Park
You can also check out West Virginia's State Park lodging options using this link https://wvstateparks.com/places-to-stay/lodges/pipestem-resort-state-park-lodges/
Additionally, most of the lodging facilities in the area of The New River Gorge National Park offer transportation options to help you explore! So, you can visit West Virginia for a weekend getaway and unwind from your tiresome quarantine blues!
Top things to do in The New River Gorge National Park
If you have not already heard about the country's newest national park, you might be a little late to the party. The New River Gorge National Park is an exciting addition to America's park system and is a complete adventure hub.
Here are a few exciting things about the nation's newest national park that will make you want to visit West Virginia.
Adventure Sports Are Encouraged
The New River is among the oldest rivers in the entire world and is estimated to be around 360 million years old. While stretching over 320 miles through North Carolina, Virginia, and West Virginia, The New River Gorge National Park offers up 53 miles of varying class rapids to navigate.
Even though it's just a tributary off the Kanawha River, The New River Gorge is one of the most popular whitewater rafting destinations in all of West Virginia. Known to most as "The Gully."
Here are the top water sports activities you can try:
Kayaking
The New River has a 53-mile stretch in the national park where you can find calm waters towards the southern part of the river to try kayaking. The best time to visit is between April-October.
Fishing
Plan the perfect fishing trip to America's newest National Park. The Gully is full of stunning fish such as the Kanawha darter, New River Shiner, Bigmouth Chub, Candy Darter, Appalachia Darter, Kanawha Minnow, or the Bluestone Sculpin!
More on the fish of West Virginia
Whitewater rafting
The adventure sport, whitewater rafting, is usually carried out in the northern part of the river, where you can find class III and class V rapids. Many professional services can guide you through the exciting water roller coaster.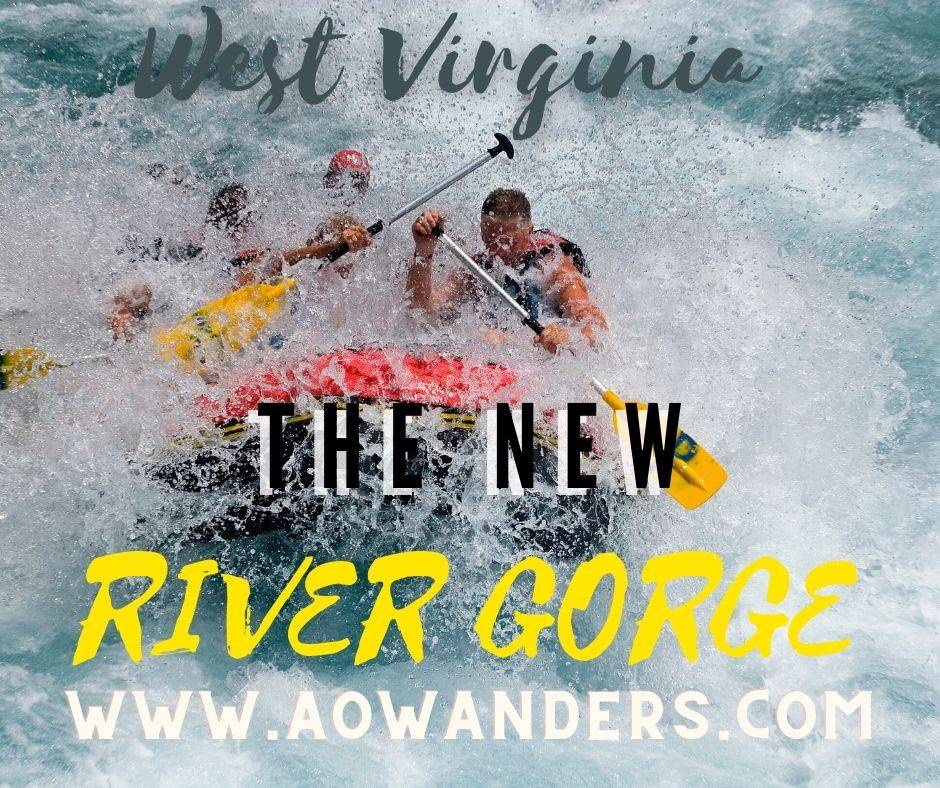 A two-day package for whitewater rafting in the New River could cost you around $275 + taxes!
Trekking and hiking
There are over 53 miles of trails for hiking that range from ¼ mile to over 7 miles in length and can easily be connected to other trails to offer longer excursions. To get more information on the trail routes, check out the visitor center.
Rock climbing
With over 1,500 "official" climbing routes, it's the perfect opportunity for beginners to adrenaline junkies to explore than many rock climbing options within The New River Gorge National Park. You can try your hand at this sport on your own or join one of the casual rock-climbing groups that visit this national park regularly!
Must-see New River Gorge National Park Bridge
One of the biggest attractions of the nation's newest national park is the historic New River Gorge Bridge. Which held the title of "Longest steel arch bridge in the world until 2003," and has now fallen to number three on that list. The New River National Gorge Bridge is a true architectural marvel in the United States and still holds the title of being the longest single-arch bridge in the western hemisphere. This coveted crown jewel of the park allows visitors to base jump, high altitude traverse, and even tie the knot in a one of a kind wedding ceremony.
Here's what you can do on The New River Gorge National Park Bridge!
High Altitude Walking Path
The New River Gorge sits 1,000 feet below its towering sandstone canyon walls and spans 1,700 feet wide. Offering up an unforgettable family adventure by allowing visitors to walk a 24-inch wide catwalk below a 3,000-foot engineering bridge marvel.
The guided Bridge Walk offers up a walking tour boasting panoramic views while suspending visitors 800 feet above the valley floor below. This incredible walking tour is an absolute must for visitors to America's 63rd National Park, and the best time to participate is during fall foliage season. Get a bird's eye view and some incredible photos all at the same time.
You can get married on the New River Gorge Bridge
Outdoor adventure weddings are not for everyone, but for those looking for a one of a kind wedding venue to tie the knot, you may be in luck. Share the experience of a lifetime and celebrate your special day on an engineering marvel with unparalleled West Virginia's iconic landscape views.
Adventures on the Gorge offers complete wedding packages to tie the knot on the remarkable bridge walk high above the gorge. Afraid of heights, but still want the New River Gorge Bridge to be apart of your wedding day? Adventures on the Gorge offer various venues and guest packages for up to 400 guests within their resorts to host indoor and outdoor ceremonies. So, if you wish to host a quaint adrenaline-filled wedding at the New River Gorge Bridge, stop dreaming and start planning.
Base jumping
Every 3rd Saturday in October, West Virginia hosts "Bridge Day." A one-day event where thousands of people gather to watch hundreds of daredevils base jump into The New River Gorge below.
The only national park in America that permits such activities that will leave a lasting impression upon your vacation if you plan it outright! However, bungee jumping off the bridge is strictly prohibited, and base jumping is only legal to Bridge Day participants!
Great opportunities for hikers
The New River Gorge National Park is an outdoor paradise crisscrossed with numerous hiking trails. Allowing visitors an opportunity to view its unique natural history. From springtime flowers to walls of green that climb from the river's edge to the top of the gorge. Hiking the canyon's gentle trails allows hikers to walk through a living monument of varying fauna, flora, and mixed forest.
One of the best parts of this national park is that there is something for everyone. Trails like Headhouse trail, Conveyor trail, Burnwood trail, Endless Wall trail are among the most popular choices for most visitors.
You can find more information on trails at the visitor centers at Grandview, Canyon Rim, Thurmond, and Sandstone. From day hikes to multi-day excursions, The New River Gorge National Park affords all trekking skill levels.
America's 63rd National Park is Officially An Outdoor Adventure Park
The New River Gorge may be the newest national park, but it's far from the youngest. Visitors have been enjoying outdoor activities within the park borders since 1978.
From kayaking, world-class rock climbing, and white water rafting to daredevil base jumping, The New River Gorge National Park will overwhelm visitors with options. Including FIVE FREE CAMPSITES for RVs & Tent camping!
If you never heard of The New River Gorge and haven't already explored it, I urge you to give it a chance this summer. With something to do for every age group and skill level, The New River Gorge is a great family vacation getaway and worthy of West Virginia's first National Park.
Here Are My Favorite Booking Resources:  Affordable & Efficient Travel Booking Tools I Use Everyday Along With My Favorite Gear Resources
Book Your Flight
Find a cheap flight by using Skyscanner or Momondo. These are my two favorite "flight" search engines because they search through websites and airlines around the globe and offer a calendar view to find even cheaper flights for flexible travelers.  Check out these UNIQUE destination deals or my favorite All Inclusive Booking Travel Tool!
Rent An RV
Find cheap RV rentals for your next adventure by using Outdoorsy or RVshare.  These are my two favorite "RV" search engines because they allow you to rent from private RV owners, and offer a wide variety of chooses at affordable rates.  Want to start making money by renting out your RV?  List it with Outdoorsy or RVshare.
Book Your Accommodation
You can book your hostel with Hostelworld. If you want to stay elsewhere, use Booking.com as they consistently return the cheapest rates for guesthouses and cheap hotels.  Get a $40 credit for booking with AirBnb.  Need to book a private campsite use my favorite RV booking site Hipcamp!
Need Gear
I use REI for all my gear needs because if it ever fails or gets damaged they will replace it for free!!! No questions!!! No hassles.
If REI doesn't have the gear I need.  I can always find it on Backcountry.com
Travel Community
Join the Escapees travel club to meet fellow travelers and talk about all things related to RVing and overland travel.
Travel Packages & Tours
Are you looking for worldwide tours and travel packages?  Check out my go-to source — IntrepidTravel!  Looking for more family related travel packages and tours book with GAdventures.
Don't Forget Travel Insurance
Travel insurance will protect you against illness, injury, theft, and cancellations. It's comprehensive protection in case anything goes wrong and will cover things like transport security, crisis response and medical transports such as Life Flight. Why go on any trip without a safety net that costs less than a case of beer? I've been using SafetyWings for years without any issues.
My favorite companies that offer the best service and value are:
SafetyWings (ONLY $35 & Covers USA Travelers)
World Nomads (for everyone below 70)
Insure My Trip (for those over 70)
Medjet (for additional travel insurance coverage like medical transport, travel security & crisis response)
Looking for the best companies to save money with?
Check out my resource page for the best companies to use when you travel! I list all the ones I use to save money when I travel – and I think will help you too!
Just Want To Support This Amazingly Resourceful Website
Websites incur constant fees!  From hosting costs to massive amounts of personal time creating beneficial content for readers to consume at their leisure.  To help offset those costs or just to say, Thank You.  You can help support this community by shopping through any of the links found on my resource page.  Shop on Amazon through this link and I'll get a small commission, or you can directly support this site through Paypal donations.  None of this is a requirement its just helpful and creates a better community for all of us.