Torklift Camper Tie Downs
Quick Reference Table of Contents
Let's talk camper tie downs for a moment, and unfortunately, there's no variation of the word camper tie downs.  So this is kind of a tough read, but informative.  This last summer I bought a short bed truck camper and found out camper tie downs and frame mounted anchor points for truck tie downs would cost more than the cabover camper I purchased.


Every attempt at finding cheap camper tie downs ended with a website urging me to purchase Happijac camper tie downs or Torklift frame mounted truck camper tie downs. Each day I started with a new energy hoping to find cheap truck camper tie downs. Mainly because I didn't have $1,500 for truck tie downs and frame mounted anchor points, but I couldn't find a cheaper alternative. Day by day the frustration grew, and finally, I decided to make my own truck camper tie downs and frame mounted anchor points.  How hard could it be?
If your in a hurry and just want the supply list and directions click here to take you down the page for directions on how to make your own cheap truck camper tie downs.
Truck Camper Tie Downs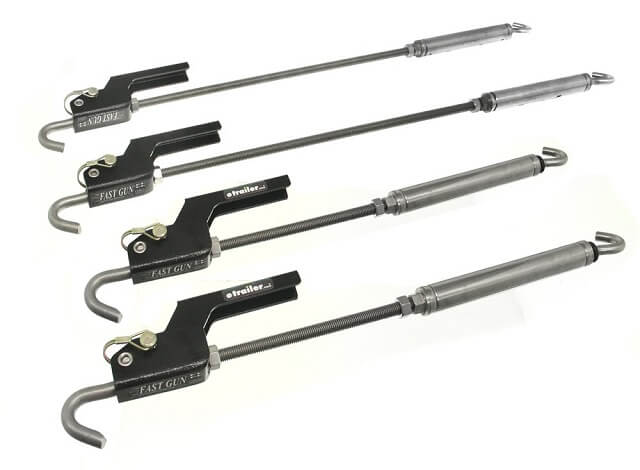 What is a camper tie down? Truck camper tie downs are essentially a stabilizing bar with two long bolts.  Each with a hook on one end to help distribute & stablize the truck camper's weight within your vehicle. Depending on how much you care about your truck camper or other people you could use rope, ratchet straps even thick speaker wire.  I suppose…?! I wouldn't recommend any of that but ……they are options. So is sandpaper for toilet paper. I won't judge.
Truck camper tie downs are what connect your slide in truck camper to your truck. Keeping it from moving around or in the worst case scenario keep it from sliding off your truck. The more secure the better. Other drivers would be quite thankful I'm guessing. Unless you just robbed a bank and it's apart of your getaway plan than by all means do what you do. For the rest of us we just simply want to secure our cabover camper to our vehicle. I know not as exciting as robbing banks, but some of us are a bit more practical than others I suppose.
DIY Torklift Frame Mounted Anchor Points
So I put on my engineering hat, read how well that worked out with myClass A RV shenanigans, and set off to build my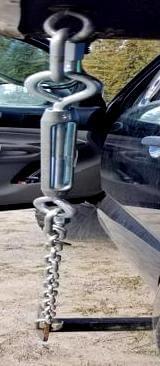 own camper tie downs and torklift frame mounted anchor points. A bit intimidated at first I'll admit, and rightly so since I've never done it before.
To start making your own camper tie downs, I would recommend installing your torklift frame mounted truck tie down anchor points first.  These will be their anchor points attached to your truck.
This way you know how much chain you need for each truck tie down. Allowing you to choose the mounting placements on your vehicle instead of forcing you to place your anchor points based on chain length.



Where you're going to put your anchor points are going to vary from vehicle to vehicle. On my
Tacoma, I chose to do torklift frame mounts instead of truck bedpost mounts. Mainly because my Tacoma's truck bed is made out of fiberglass.
Didn't know that before I bought a truck camper. Yes, I'm a guy that figures it out as I go instead of planning and researching before action. Which usually teaches me more than I care to know about any project I take on.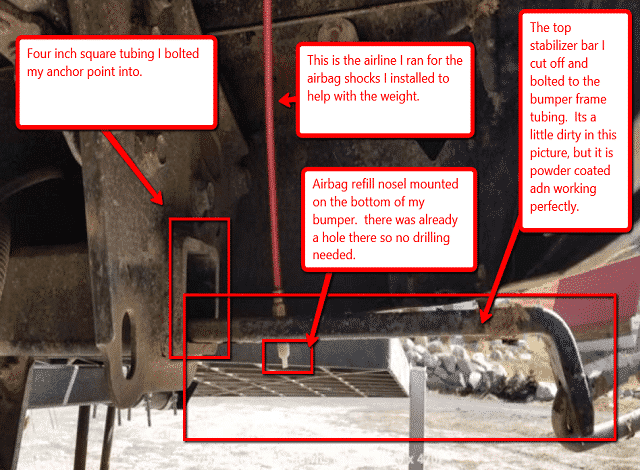 In this case, I only screwed up once, by mounting the anchor point on the driver's side a touch too far forward. Now every time someone
opens up the driver's side back passenger door it sometimes clips the chain on my truck tie down.
Thankfully majority of the time my only passenger is Kota and he's quick sometimes too quick to jump out the driver's door.  I can live with this mistake because it barely grazes the door.
To create my Toyota torklift frame mounted anchor points I found a pair of used Chevy torklift frame mounts off of craigslist for less than $50.
I am not delusional! I know they won't fit my Tacoma, but I knew if I got creative enough I could make them work. The pair I found was designed to be side mounted on a Chevy Silverado frame.  With the stabilizing bar bolted to the top of the truck frame. Quite an efficient design. Except I didn't have a Chevy, and I didn't want to pay $700 for the Toyota torklift frame mounted anchor design.  So I started carving away at them with my 4 inch hand held grinder.
How did I make it work? I cut off the stabilizer bar and drilled a ½" hole into one end of it because the other end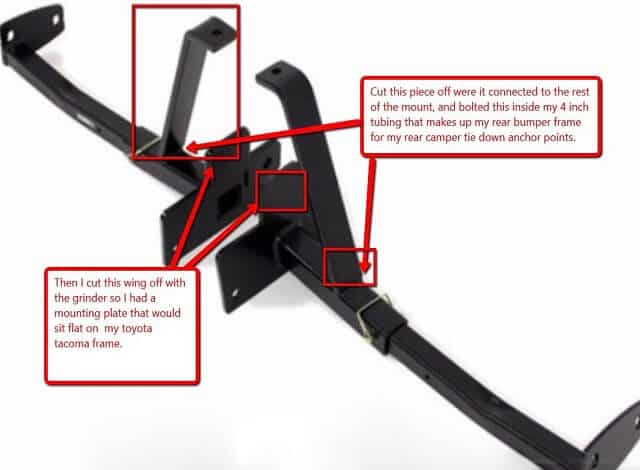 already had a ½" hole from the manufacturer.  I was going to bolt it to my frame, but more on that in a moment.
Then I cut off all the extra wings & flaps that were designed to align on holes in a Chevy frame to make it easier to bolt on. Leaving me with a mounting plate that conveniently already had a piece of 2″ square tubing welded to it from the manufacturer.




All I needed now was to choose between drilling holes into my Tacoma frame or weld it on. Since my brother is a mechanic and has a welder I chose to weld it on thinking that was stronger & more durable. The stabilizer bar I bolted on with a grade 8 bolt.  I mounted it inside of the 4-inch square tubing bumper frame of my Tacoma so that it sticks out just enough to hook into. Barely even noticeable.  See photos above.
DIY Truck Camper Tie Downs
What gave me the confidence to move forward in building my own camper tie downs was four eye bolts.
The manufacturers designed anchor points for securing my slide in truck camper to my Toyota Tacoma is one vertical eye bolt in each corner of the SunLite 690 I purchased this summer.
Not a grade 8 bolt(yellow bolts) or a massive "D-ring" welded to the frame. Simply your everyday $3 eyebolt that most people use as a latching lock on their fence gate to the backyard.
If that's the level of concern from the manufacturer for anchor points than bust out the speaker wire and tie this thing to my truck and lets get on with it, right? My grandma's got a ball of yarn she's not using either. We could really secure this thing, huh? Sheeeesh. My point being I don't have to construct something as stable as a 40 story skyscraper in downtown NY.




Supplies to make your own Cheap Truck Camper Tie Downs all you are:
8 nut locking D rings-$32

8 repair links-$5(if you don't buy big enough chain)

4 turnbuckles – $35

1 vice grips-$5

Something to cut the chain: bolt cutter($20), grinder($80), Sawzall($100), hacksaw($20)-you can probably find any of these at a pawn shop for less than $20.

This is all you're going to need to make your own DIY truck camper tie downs. The chainlink that I bought wasn't big enough for the D-rings to slide into.  Smaller D-rings didn't have a big enough gap for the turnbuckles I bought to fit either.  People that plan won't run into this problem, but remember when I said, " I usually find out more than I care to know about any project I take on."
So instead of buying more expensive and heavier duty chainlink, I opted for chain repair links.  At only thirty cents a piece, it wasn't that big of a screwup. Which is basically just a single chain link.  You slide in where needed and then clamp it closed with a vice grips or set of pliers.  Pretty simple solution.
Once I had my frame mounted anchor points in place I simply eyeballed the length of chain I needed.   Again, just winging it while the tape measure is staring at me from my hip!
To make them as adjustable as possible I unscrewed the turnbuckles to their last thread so they were fully expanded. Creating 8 inches of adjustment tightening if need be. The first couple of times I did it with the turnbuckles completely collapsed.  This gave me no room to tighten my homemade camper tie downs. So hopefully your learning from my "winging it" stupidity.




In my case, with the turnbuckles fully expanded I only needed about 2 feet of chain to go from the turnbuckle to the torklift frame mounting anchor point attached to the frame of my truck.
I added a repair link to either side of the 2-foot long chain sections.  Then I added my "D-rings" onto the repair link.   After that, I connected the "D-rings to the torklift frame mounting anchor points and screwed the nut closed. Repeating this same step with the "D-rings" to the other three turnbuckles. A couple minutes later I had DIY truck camper tie downs & torklift frame mounted anchor points for $88.00, but I could have saved myself $38 had I bought the right size chain in the first place.  D-rings and repair links weren't expensive, but proper plannin could have saved me money!
To skip this whole step you can always just bolt your slidein truck camper to your truck bed. Take out the 4 bolts holding down your truck bed and swap them for longer and stronger bolts. I almost chose to do this method with massive washers to help distribute the stress.  The bolts I was going to use where $28/piece and would have created a little bit more work every time I wanted to take the cabover camper off the truck.
Test My Truck Camper Tie Downs
I'm happy with how everything turned out. My test trip with my new lightweight truck camper spanned 1,500 mountainous miles for 21 days and no issues.  I've been up and over at least 50 mountain passes.  More waffle board dirt roads than most people do in a year.  Its been fantastic! My SunLite 690 truck camper weighs 750 pounds dry and took some more creative engineering to make it fit in the bed of my Toyota Tacoma.  You can read about that by clicking on the link below, but I couldn't be happier.
I've been free camping for the last 21 days in Red Lodge, Gardiner, Yellowstone, Jackson Hole, McCall, Sandpoint, Whitefish, Glacier & everywhere in between. The freedom to roam or stay put without towing a travel trailer behind me has been exhilarating. Kota & I have slept next to rivers, mountains & waterfalls we wouldn't have had the option with my 30-foot KZ Sportsman travel trailer. All in all, I saved thousands with my DIY Truck Camper Tie Downs, and I'm getting used to the smaller living quarters with each passing day. I've learned a lot this summer about truck campers & DIY RV projects.




Related RV Articles:
Want to know how I made a Toyota Tacoma Truck Camper in under an hour?

Need to replace your RV Tires?

Things to consider when buying an RV.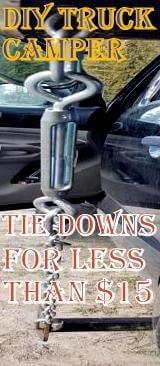 If you have any questions, concerns or ideas please leave them in the comments below.  This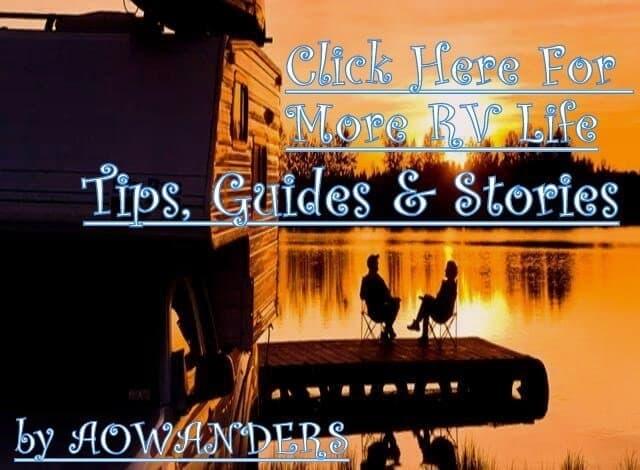 way everyone can learn how to save thousands of dollars making their own cheap truck camper tie downs. Also be sure to check the home page for related blog posts. I am also currently writing a post on the most scenic drive in America. 1,500 miles of pure beauty that will have you stopping every 5 feet to take another photo. I've been traveling since 1998 and I stopped every 3 feet to take a photo. Or subscribe below to get notified as soon as I publish. The photos alone will be amazing and they barely do it justice.
Thanks again for stopping by my travel blog.  In case you made it this far I'll give you another tip. There's always someone on craigslist that's willing to build, weld or construct your dreams for less than store prices.  I found a guy in Idaho willing to build me an aluminum flatbed truck bed and aluminum truck camper shell for only $6,000.00 total!! If you don't know how good of a deal that is most aluminum no frills flatbed truck beds go for $5,000 or more, and custom aluminum camper shells usually start at $15,000.00!!  Get creative & get traveling!
If your on Pinterest dont forget to Pin this!
My Favorite Travel Booking Resources: Most Affordable & Efficient Travel Booking Tools I Use Everyday
Book Your Flight
Find a cheap flight by using Skyscanner or Momondo. These are my two favorite "flight" search engines because they search through websites and airlines around the globe and offer a calendar view to find even cheaper flights for flexible travelers.  Check out these UNIQUE destination deals or my favorite All Inclusive Booking Travel Tool!
Rent An RV
Find cheap RV rentals for your next adventure by using Outdoorsy or RVshare.  These are my two favorite "RV" search engines because they allow you to rent from private RV owners, and offer a wide variety of chooses at affordable rates.  Want to start making money by renting out your RV?  List it with Outdoorsy or RVshare.
Book Your Accommodation
You can book your hostel with Hostelworld. If you want to stay elsewhere, use Booking.com as they consistently return the cheapest rates for guesthouses and cheap hotels.  Get a $40 credit for booking with AirBnb.  Need to book a private campsite use my favorite RV booking site Hipcamp!
Looking For A Travel Community
Join the Escapees travel club to meet fellow travelers and talk about all things related to RVing and overland travel.
Travel Packages & Tours
Are you looking for worldwide tours and travel packages?  Check out my go-to source — IntrepidTravel!  Looking for more family related travel packages and tours book with GAdventures.
Don't Forget Travel Insurance
Travel insurance will protect you against illness, injury, theft, and cancellations. It's comprehensive protection in case anything goes wrong and will cover things like transport security, crisis response and medical transports such as Life Flight. Why go on any trip without a safety net that costs less than a case of beer? I've been using SafetyWings for years without any issues.
My favorite companies that offer the best service and value are:
SafetyWings (ONLY $35 & Covers USA Travelers)
World Nomads (for everyone below 70)
Insure My Trip (for those over 70)
Medjet (for additional travel insurance coverage like medical transport, travel security & crisis response)
Looking for the best companies to save money with?
Check out my resource page for the best companies to use when you travel! I list all the ones I use to save money when I travel – and I think will help you too!
Just Want To Support This Amazingly Resourceful Website
Websites incur constant fees!  From hosting costs to massive amounts of personal time creating beneficial content for readers to consume at their leisure.  To help offset those costs or just to say, Thank You.  You can help support this community by shopping through any of the links found on my resource page.  Shop on Amazon through this link and I'll get a small commission, or you can directly support this site through Paypal donations.  None of this is a requirement its just helpful and creates a better community for all of us.