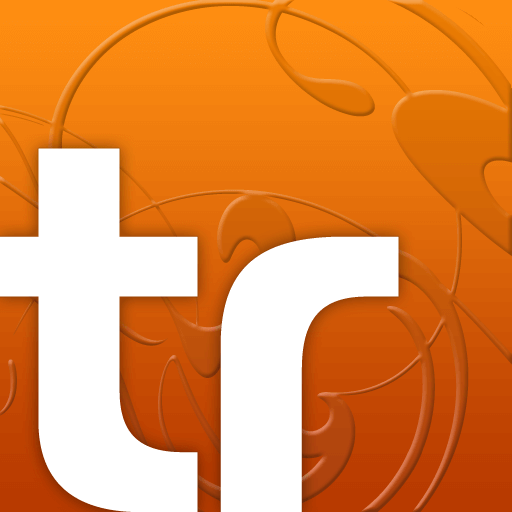 Trover has the potential to ultimately reinvent the travel industry.    Why?  Because Trover is a digital travel guide created by users who are constantly contributing new & exciting discoveries.  Its a gorgeous photography travel app that allows you to visually search for hidden gems you won't find anywhere else.
As a traveler its the ultimate guidebook.  It tells you whats around, how far it is, were its located, exactly how to get there & a preview of what your about to discover. Best of all ITS FREE!!! The real selling point is its potential. Trover's sleek interface, simplicity & overall functionality allow it to be used for a variety of reasons.  Whether your traveling for business, leisure, play or just because you can Trover provides: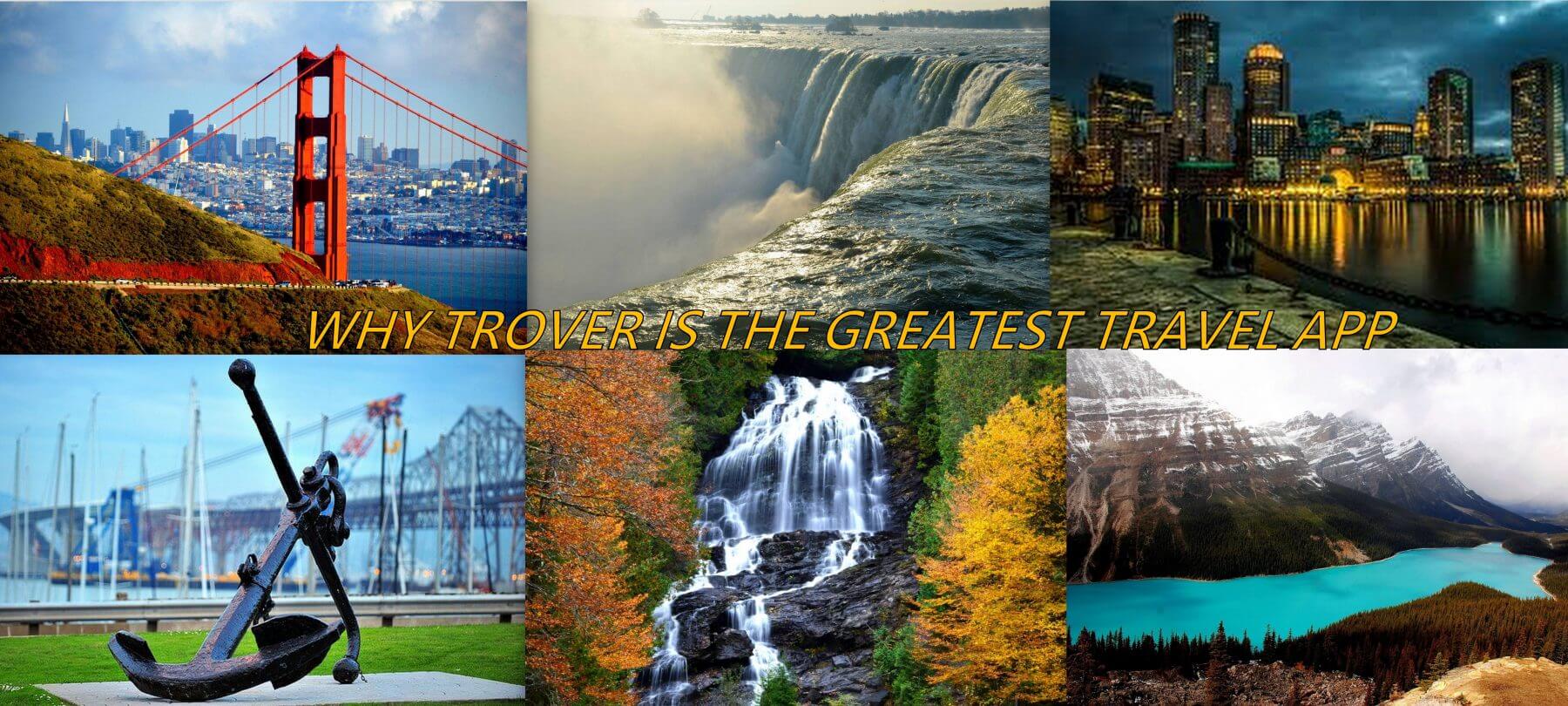 Area Attractions

Local Secrets

Hidden Gems

Icognito Adventures

Anonymous Sites

Eclectic Options
Trover is perfect by allowing you to discover an area without hiring a guide, finding a local or purchasing a guide book.  Its is always up to date with the most current information.  The benefits don't stop there.  Trover has a feature that allows you to create lists.  These keepsakes can be edited, saved, shared or even become a widget.  That last option may not be of any concern to majority of the Trover users, but the power of that widget option brings an infinite amount of possibilites for the use of Trover.  One that hasn't been harnessed yet, but as it grows in popularity the internet will inevitably exploit it.
Imagine being able to show travelers or guests of your area: restaurants, theaters, tour operations & various other area attractions.  By simply clicking a mouse button Trover will give you a line of code to display your discoveries.  Include this in an email to guests that have already made reservations, or are inquiring about things to do in your area.  Perfect for hotels, campgrounds, cruise ships, airports, chamber of commerce, National Parks or anything that has people looking for things to do in your area.  Add it to your website or include it in a blog to give you that much more credibility.  Every hotel, motel, BnB, airbnb, vrbo, campground, RV park, guest ranch & ski resort should have a page dedicated to: Things to do in (insert your city here).   



Every business in the world has a facebook page.  While facebook is great for fans, guest & other audience recruitment if they don't know you exist how are they going to find your page.  Trover's sole reason for being is to inform travelers of everything thats in the area we are visiting.  Its our generations version of the yellow pages with a lot more functionality.
Ogden, Utah – a photo list by AOWANDERS
DISCOVERING TROVER
Trover unveiled itself to me in a strange way by email in 2014.  I think they were switching gears, focus or trying to create some exposure by reaching out to every travel blogger they could find.  Which is confusing on how they found me, or even the information they had.  I had a website this site actually that all of 3 people in the world knew about, and I was one of them.  So opening an email from a social media platform like Trover was exciting.  I was about to embark on my big Mississippi river trip, and they wanted me to post my discoveries of this 2,500 mile kayak trip. I wasn't set up, dedicated or even passionate enough to start blogging let alone carve out my Trover footprint.
So why now?  Because Trover hasn't gotten the recognition it deserves.  I've got a vault full of travel secrets that need to be shared, and I'm planning the biggest trip of my life.  Travel blogs, Youtube channels, documentaries, podcasts & a mild case of regret have inspired me to kayak the entire Missouri river to New Orleans.  From New Orleans I plan to drive a dune buggy to the end of South America & all the way back to the top of Alaska.  No time frames or set destinations.  Trover will be my accomplice.  This blog will be my outlet, and my life of acquisition will migrate back to adventure.
TROVER LOVE
I have Trover to thank for that, and I can't wait to share my discoveries with the travel community at Trover.  I could share my pretty pictures & random adventures on any number of social media platforms, but Trover has my heart.  Trovers functional & not just a portal for the narcissistic to broadcast.  Every discovery has geographical details, functional tips & information I could actually use.  Its the beauty of Pinterest with the functionality of foursquare all rolled up into a simple Instagram-like interface.  Share your discoveries by uploading a photo, tagging a location and sharing a tip whether thats "try the Ahi Tuna" or "take the 2nd fork to the left to find this secret waterfall hike."  Tips can be anything from menu recommendations, directions or anything else that a visitor may benefit from knowing when travelling to a new area.  I personally think its the ultimate travel app because of its distance option.   When you click on the marker pin it will show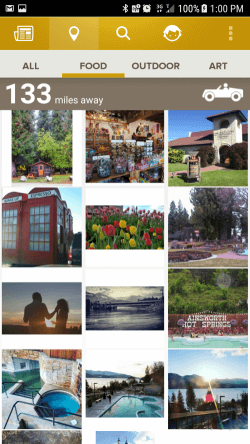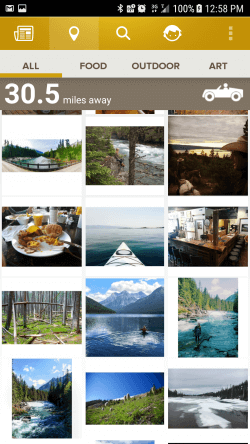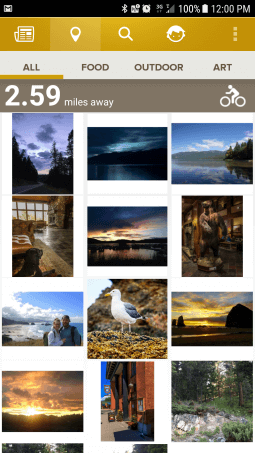 everything users have submitted, and how  far it is away from where your standing.  As you scroll up the distances will become closer, and if you scroll down the distance increase.  That feature alone is why I fell in love with Trover.   Its a revolutionary feature that  Lonely Planet
, Frommers
 or any other travel guide
book should have delivered to us years ago.
Instead Trover came to the rescue.   Using this feature you can choose discoveries from food, outdoor, art or all.  Trover will even suggest whether the distance is within walking, biking or driving range.  You can use Trover to explore the area your in, or the area you will be traveling to.  Type in a city and see what you find.  After finding something you like click on the photo to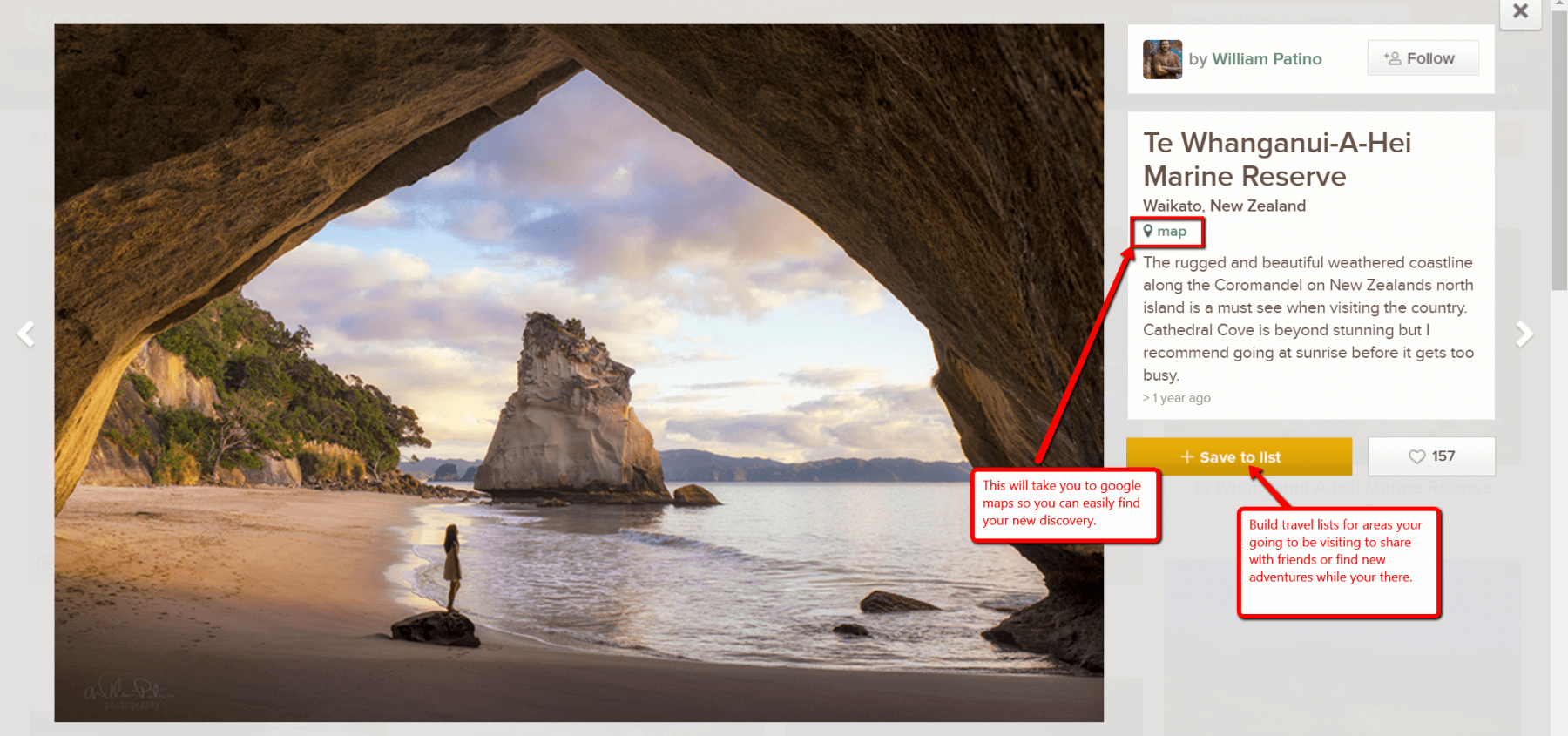 read more, give some Trover love or add it to a list  I have all sorts of lists.  Places I've been.  Places I wanna go.  Bucket list ideas.  Foods I wanna try.  Art I wanna see.  You name it I have a list for it.  Check out my Trover Profile
Click on the map pin to open google maps and get directions to your new adventure.  Trover has covered everything, and best of all ITS FREE!  Whether you have Apple or Android  its one click away.  Leave a comment below and tell me what you think of this wonderful travel app.