Ultimate RV Owner Gift Idea List
Buying gifts for RV owners can be a challenging endeavor. I mean, they live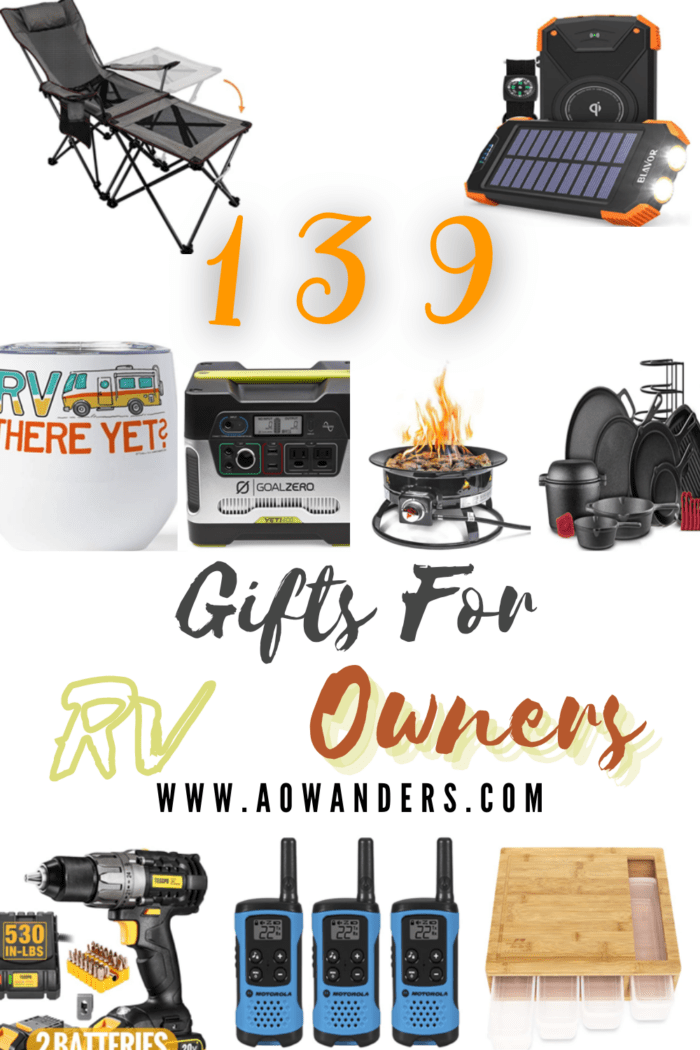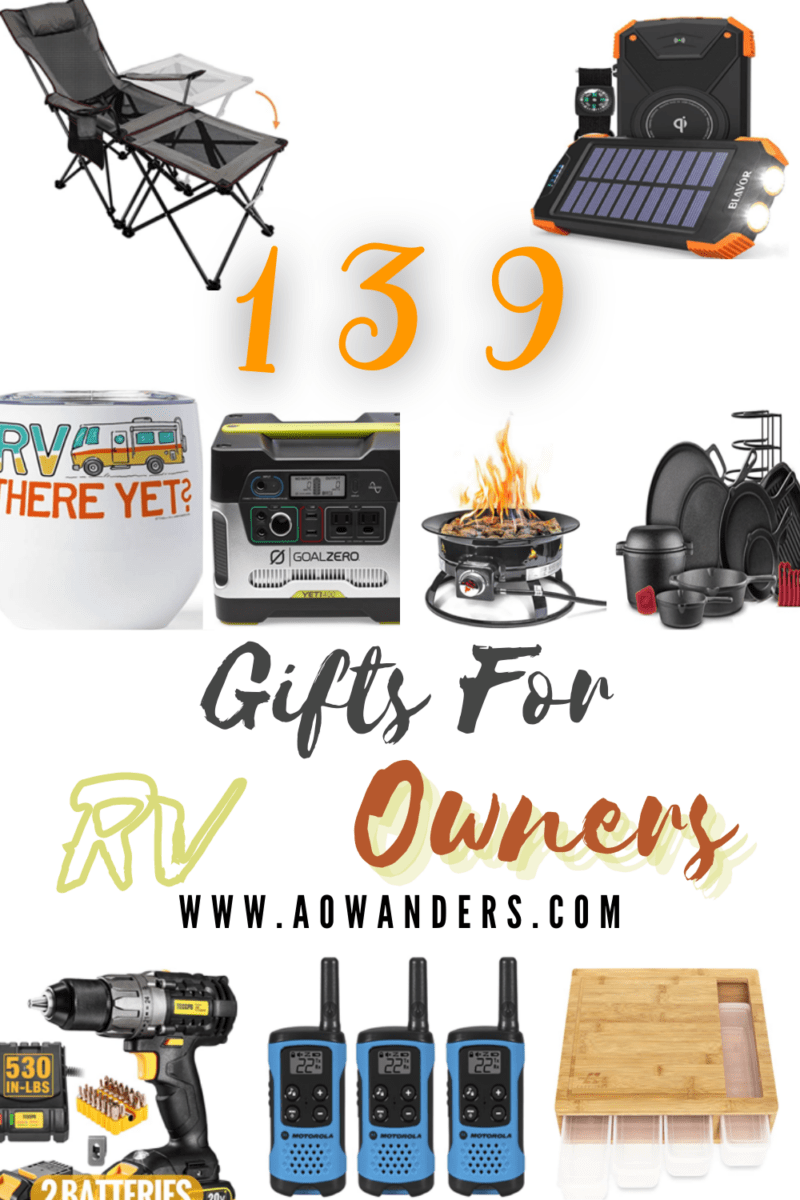 in tiny homes, and what little space they have is valuable real estate that they need to prep meals, self-entertain, or just plain relax. So what kind of gift could you give to an RV owner that will improve their everyday life. What holiday presents could you find that would bring a smile to their face while still providing a practical function?  
What makes the perfect gift for RV owners, and how to shop for those that live minimalistic lifestyles in tiny spaces?  
Give the gift of safety! RVers continuously find themselves in the great outdoors in the middle of nowhere. Headlamps, First-Aid Kits & Emergency Road Side assistance kits are fantastic holiday gifts for the camper in your life.  

Presents that save time, space, and effort will be adored by RVers around the globe. Appliances that can cook anything and everything will be forever cherished. Magnetic kitchen accessories for spices or knives will be highly coveted.  

Life on the road is a relentless effort of planning, prepping, packing, and unpacking. Counter space is limited. Cupboards are cramped. Finding free space in an RV is extremely valued by camper owners. Simple stocking stuffers such as magnetic clips, stick-on hooks, or plug and play cabinetry make RV life easier and more comfortable by creating storage options by using existing unused space.

Give the gift of fun. RV life is all about living in the moment and sharing it with those around you. Bluetooth speakers, camping chairs, movie projectors, and personalized wine glass or beer steins are a big hit with campers.
The most essential gift for RV owners is one that is multi-functional, space-saving, creates more storage, entertaining, and can be used indoors or outdoors. Keep in mind that RV owners don't always have access to electricity or running water when searching for the perfect present. Making holiday gifts like solar-powered flashlights and waterless shampoo all that more thoughtful.
The best question you can ask yourself while shopping for a camper owner is, "What would make living in a car more comfortable, enjoyable and easier?" Sometimes I tell people to consider asking themselves, "What would make living in a tent more enjoyable?" Keeping these two questions in mind will help keep you from buying a holiday gift that will never be used.
Below you will find the perfect list of motorhome gift ideas, RV gadgets, camper accessories, and travel trailer kitchen aids you can find on every RV owner's wish list. From stocking stuffers and tools that enhance RV life to space-saving furniture that can transform any camper into a storage mecca and kitchen appliances that camper's and RV owners drool over.  
I've made it easy for you to get your shopping done by including themed RV gifts for Mom, tool RV gifts for Dad, and links directly to where you can purchase, read reviews and do more research on these thoughtful must-have gifts for RV owners. So buy with confidence, and put your mind at ease. RV owners will be grateful for any of these unique and fun camper gifts.
My Top 5 Camper Accessory Gifts
These gifts are my top picks because they are logical, practical, multi-functional, easy to store away and are the perfect camper accessory for RV owners.
Related Posts

Kitchen Gifts For Motorhomes
Modern-day technology presents an endless supply of gift ideas for kitchen RV accessories and appliances. The kitchen is the main focal point of any RV, but keep in mind counter space is limited in most cases. Kitchen sinks are barely big enough to wash something as simple as a pint glass. So let's explore some space-saving fun, and multi-functional kitchen gifts for RV owners.
An Air Fryer cooks, steams, sears, broils, roasts, reheats, bakes, and even dehydrates all in one tiny space in your camper kitchen. What more could you want from one RV kitchen appliance? Dinners are easier. Deserts are more delicious. Fried foods are healthier, and leftovers are served hotter and faster. An Air Fryer is one of the best gifts an RV owner could get this holiday season.
Magnetic knife holders are the ultimate space-saving tool for the RV kitchen. Mount them under an overhanging cabinet or a sidewall next to the fridge. Creating functional storage space through unused existing space. Without breaking the bank or remodeling an entire RV kitchen.
Over the sink, cutting board with a collapsible colander makes a wonderful camper gift. Cut and wash your veggies, fruits, and meats. Another way to create a functional meal prepping space through unused existing RV kitchen space. A gift any RV traveler would be grateful to get.
Lipper International Bamboo Wood Serving Board is a 4-in-1 gift. Mounts over the sink or stove. To create more counter space. When not needed for meal prep, RV lovers can use it as an outdoor serving or dinner tray. A makeshift table around the campfire.
Roll up dish drying rack over the sink is a wonderfully simple but highly functional RV camper gift for the traveler on your shopping list. Sleek, lightweight design affords this RV kitchen appliance many uses and can be stored away when not in use almost anywhere.
Cutting board and vegetable basket is another multi-functional camper kitchen gift. RV travelers will love this for preparing snacks inside and bringing them out for all to enjoy around the campfire. A simple thought, but a big gift idea.
Over cabinet door organizers are great for the home but a perfect gift for RVers. Organizes their cupboards by creating storage space in areas that go relatively unoccupied in RV kitchens. Choose from spice racks, pan holders, knife sets, book corals, and much more. Over the cabinet, camper organizers reinvent an RV kitchen's functionality without disrupting the existing floorplan and flow.
Swivel sprayer for an RV is a must-have camper accessory. Most RVs don't come with a kitchen sink sprayer, and to install one means adding additional plumbing lines. A swivel spray attaches directly to your existing faucet, installs in less than a minute. Make washing dishes easier with this must-have camper accessory.
Nostalgia 3-in-1 Family size breakfast station bakes, cooks, toasts, griddles, roasts, sears, grills, and brews coffee! It does everything all in one small space. Counter space in a camper is valuable real estate, and to have an appliance that can do the job of three is a real treat. Making this one of the best camper kitchen gifts for RV owners.
Want more kitchen gift ideas? Check out my super popular RV Kitchen Accessories From Amazon For Under $25. Keep in mind when shopping for RVers space and cleaning are big factors when living in tiny spaces.
Gadgets and Tool Gifts For RV Travelers
Battery caddy eliminates the junk drawer. Holds up to 180 batteries of varying size. Its sleek design allows it to fit in a compact area. Find the batteries you're looking for in an organized, timely fashion. Makes the battery caddy a top-tier gift for RV owners.
Wireless backup cameras simplify one of the most frustrating and accident-prone tasks of RV travel. Full-color screen with grid lines to help guide your camper to its final resting place. Optional sound. Equipped with night vision. Waterproof and dual mounting plates. Installs in less than 5 minutes. You just might get a bear hug from RV travelers over this present.
Drive X RV is a cell phone booster for motorhomes. We RVers are a quirky bunch who like to venture out in the great outdoors. Sometimes we find ourselves with low or no cell service—the drive X RV cell phone booster works on any network and any carrier. Reach far away towers. Boosts the signal for multiple devices. Works while in motion or parked—ideal for campers, trailers, motorhomes, and RVs. Give the gift of connection this holiday season.
Keyless RV door entry. Over 1 million codes to program from. Connect up to 10 key fobs to one door or 10 doors to one key fob. Campers who like to enjoy the outdoors by hiking, skiing, or climbing will enjoy this little safety net. Imagine the sigh of relief your camper will have coming back to their RV with no keys after a long day of hiking to see a keyless door entry!
For traveler trailer owners, a quality cordless drill is paramount to successful traveling, from lowering and raising the leveling jacks to mounting cute camper wall art. A cordless drill comes to the rescue more times than you think. I personally own a Milwaukee, but this cordless drill has 530 pounds of torque. With a full metal chuck this cordless drill is strong enough for any job a camper owner may have.
RVers are a do it yourself kinda bunch. They live an unconventional type of lifestyle. Which is what we love about it. That and the freedom it delivers us day after day, but when you're in the middle of nowhere, you need a toolset that's up for the task. When it comes to tools, you definitely get what you pay for. You don't have to purchase the most expensive, but the cheapest toolset will be made of the most inexpensive material. Meaning a lot of stripped bolts, bored out screw heads, and broken bits. Just like the kitchen is the heart of the RV. The tools an RVer carries with them is essential to their day to day travels.
Whether you have an Apple or an Android phone, if you want to efficiently use your data without getting throttled, every RVer needs an HDMI adapter. Cell phone companies are smart. They've managed to limit your hotspot data and monitor when your computer is transferring picture to your TV. To get around this absurd restriction, all you do is buy an apple to HDMI or an Android to HDMI cord. Watch the same shows on the same TV without using any additional data.
Whether you camp in the winter or your husband likes to blast the A/C, an electric blanket comes in handy on more than one occasion. Easy to store. Easy to use. Multiple applications. An electric blanket is just one of those RV accessories every camper needs.
A telescoping ladder is such a Dad gift, but it's an essential Dad RV gift. Most travel trailers don't have ladders, and most RVs made before 2010 have no roof access without a ladder. Keep the RVer in your life from looking for tree side parking next time they have to do roof repairs with a telescoping ladder. Lightweight, compact, and highly versatile. Lend a helping hand with this gift idea.
A portable air compressor makes backcountry camping less stressful. Pump air into your tires. Pump up your water floats. Inflate your guest air mattress and plenty more uses that make this RV Dad's gift a thoughtful holiday present. Life on the road takes on many forms, but living out of an RV full time without a portable air compressor is tempting fate.
Roadlink RV unlimited WiFi allows RV travelers to stay connected wherever they may be. Choose from unlimited plans to efficient plans. 3G-5G unlimited data plans. Never be without internet data again.
Camping Gifts For RVers
Camping rugs are such an essential camper accessory that you should consider an outdoor camping rug if you want to give a great present this year. They come in many different styles. They're lightweight, waterproof, and super easy to clean. They keep all the dirt and grime outside and even let you walk around barefoot. Camping rugs fly below the radar because those that don't have them don't realize how just how awesome they are!!
Collapsible measuring spoons and cups serve a useful function while easily being stored away when not in use. Durable, accurate, and valuable. Small in size, but significant in thought!
Collapsible bowls are a space saver's dream. Microwaveable and dishwasher safe. No camper should be packed without these collapsable food containers. Made from medical-grade silicone that resists odors and stains. Easy to clean, and best of all, they collapse down to less than half their original size for easy storage.
Camco shower head is an upgrade every RV owner is looking to make with their factory shower. The Camco shower head has a built-in on/off switch. Rubber nozzles make for easy cleaning. Choice of 5 spray patterns, and install under a minute. Just screw it on.
Water hose quick connects are the perfect gift for RV travelers. Quick links allow an RVer to attach their drinking hose to the campground's water supply with the snap of a finger. Fast on/off connections. Universal fittings and one of those presents that get massive gratitude.
Hose Y is a simple gift with big rewards. The hose Y allows RV travelers to install an outside shower for less than the cost of a happy meal at McDonalds. Allows RV travelers to install a pet washing center or wash their RVs without disconnecting their water source from the camper. Another camper accessory that's simple on design but big on convenience.
Quick ZIP bed sheets accommodate RV life more than non-RVers will ever know. Especially RV travelers with pets. Space is limited in a camper, and your bedroom is likely to be used for more than just sleeping. Thus the sheets are always getting pulled in some direction until they fall off. Quick zip bed sheets are an excellent solution to this annoying problem.
Ultra-safe smart battery charger allows you to safely charge your car, RV, truck, boat & more! Safe spark-proof technology. Lightweight, compact, and easy to store. Holds a charge for up to 28 months! Ultra-safe smart battery charger makes for a great stocking stuffer even for those that don't own a camper.
Higher hangers are space-saving and lightweight camper accessories that increase practicality in existing functional spaces. There is only so much you can fit in your camper, and higher-hangers allow you to cram more camper related items into your RV's storage areas. Come in a 40-pack, heavy-duty & last forever!
Solar Powered Gifts For RV Lovers
A solar-powered tire pressure monitoring system (TPMS) comes with a high-efficiency solar-powered dashboard mounting panel with a USB charging cable. Double charging system to assure your solar-powered TPMS is continuously working. 6 alarm modes. Including fast leak alarm, slow leak alarm, and sensor low battery alarm. Installation in minutes and peace of mind forever. One of the more practical gifts for RV travelers on this list.
A solar-powered cell phone charger is simply a must-have camper accessory in today's world. Even if you don't live in an RV, a solar-powered cell phone charger comes in handy in all sorts of situations, but especially true for RV travelers. No worrying about turning on the generator or plugging into shore power. Never have to fumble around for car adapters or take up a USB port within your car's console. Give the gift of convenience and portability this Christmas with a solar-powered cell phone charger.
A solar-powered goal zero power bank is an essential modern-day camper accessory. Environmentally friendly, Powerful, portable, and highly convenient. No more trips to the gas station to simply turn on the lights. Never have to walk out to the generator and turn it on to charge up your laptop. No need to find the farthest location from your RV to keep the humming generator noise at bay. You can turn the goal zero power bank on inside your RV to charge laptops, cell phones, and other camper accessories. If you're looking for the ultimate gift for an RV owner, the solar-powered goal zero power bank is at the top of the list.
Solar-powered motion detectors offer security and peace of mind. Waterproof. Heavy-duty construction. Quick installation. Affordable. Three adjustable modes. Up to 25-foot range, and 12 hours of battery life. Suppose safety and security are your focal points this holiday season. In that case, a solar-powered motion detector is a thoughtful present to RV & camper owners.
Help the camper in your life get started in the world of RV solar energy. RV solar kits are more affordable than ever before. 100watt 12 volt monocrystalline solar starter kit from Renogy is becoming the gold standard for camper owners. Includes solar panel. 30 amp charge controller. Solar panel connections wires and connectors.
Along with mounting "Z" brackets for any RV or camper. Give the gift of freedom and convenience to the camper enthusiast in your life. With a 500w per day output, the Renogy starter solar kit gives you everything you need for your first solar experience and will generate positive reactions from RV travelers.
A solar-powered backup camera is one of the most essential camper accessories on this list. Avoid wrecking your RV or damaging campground property. See where you're going without yelling back and forth between travel partners—5-minute installation. Waterproof housing. 5-inch color monitor with guidelines. A fully charged battery will last for 2 months of average use. Safely park with night vision & low light conditions. 2.4G wireless technology of up to 150 feet. A solar-powered backup camera is a sure win under the Christmas tree.
Solar-powered walkway lights are waterproof, sturdy construction, and come in a 12 pack. Perfect for long term RV parking stays. Light up your walkway or entrance to the camper. Cast light for that middle of the night pet duty. Fully charged light will last 8-10 hours throughout the night. Sometimes stocking stuffer gifts can really light up the heart.
Solar-powered security cameras just add safety and peace of mind for when you're camping in the middle of nowhere. Even while staying at an RV park, it's nice to know what's going on outside without opening up your camper door. Complete with 2-way audio, night vision, PIR motion detection, and 128-hour battery life. Waterproof with a 128 GB memory card and additional memory card slots available. Peace of mind is always a well-received gift for RV owners.
A solar-powered driveway alarm is another simple way to secure your campsite, camper and RV. Driveway alarms can be set up as far away as a mile. These outdoor weather-resistant motion sensor detectors have a 1500 hour battery life. Know who's coming to the camper long before they ever arrive. Boondocking pro's travel the country with multiple security features, and their favorite by far is the solar-powered driveway alarm. If your shopping for an RV owner that has everything, I bet they don't have a solar-powered driveway alarm.
Solar-powered Christmas lights can be the icing on the cake this holiday season. The Albelt 2 pack comes with 200 LED solar powered Christmas lights on a 72-foot cord. Eight different modes to light up the campsite, and 10-12 hours of battery life from a fully charged battery. Memory mode, twinkle mode, star fire mode, and sequence mode are just a few options. Light up this year's holidays with some festive solar-powered Christmas lights for RV lovers.
Jackery portable solar panels are foldable. Lightweight. Heavy-duty construction and design. Choose from 100/160/240/500/1000 watt panels. Environmentally friendly. Quiet, clean power. Any long-term full-timer RVer will love portable solar panels as a gift.
GOSUN Fusion Solar Oven is the Cadillac of solar ovens, and for a good reason. High capacity. Indoor/Outdoor oven. Weighs only 14 pounds. Cook on sunny days, cloudy days, rainy days, and even cook food at night! Warm food is a perfect gift for the backcountry camper on your list.
Funny Gifts For RV owners
Suppose you're looking for a hilarious novelty practical joke gift for the RV owner on your shopping list who's always complaining about running out of water in his camper. In that case, this is the perfect gift for them. This silly over the top present will surely bring a smile to their face. A 16 oz can of dehydrated water is the perfect stocking stuffer if you're looking for a funny gift for RV owners who do a lot of off-grid camping. When the camper on your holiday shopping list is always afraid of running out of potable water, there's nothing like a can of dehydrated water to bring a smile to their face this Christmas.
Want to see your camper friends act like a paranoid schizophrenic? Watch them swat at the air like a flailing fish with an electric fly swatter. 4,000 volts of bug zapping fun. USB charging port. Lightweight and exhilarating campfire entertainment.
Funny gifts for RV owners don't get any better than the "Quitcherbitchin" placard sign. Made in the USA from original blackwater trading design print. 5 inches tall by 1/4 inch thick. Adds atmosphere and sets the tone of your campsite. Other campers will enjoy your "Happy Camper Only Zone."
A funny gift for RV owners who are getting up in age, this kitchen towel serves as a reminder of what could be. It will surely make them giggle and consider themselves lucky to be traveling the country in an RV. Perfect as a single holiday stocking gift, or give as a whole set for the RV kitchen, camper bathroom, and outdoor shower. These funny gift towels are sure to keep the wheels of laughter rolling a bit longer in your tiny home.
Coffee mugs are quirky by nature. They have cute sayings, vulgar slogans, double meanings, and a gambit of other variables. But when it comes to RV coffee mugs, all rules are thrown out the window. You can find classy woman drinking out of coffee mugs that say, "I sleep around," and distinguished guys drinking from cups that say," The Shitter's FULL." RVers have a sense of humor the rest of the world shoots weird glances at, but if you have a full-time RVer on your list to shop for…the more bizarre, the better when it comes to coffee mugs.
Just like coffee mugs, RV camping T-shirts are just as vulgar and cute. You can find women sporting shirts that say, "Quitcherbitchn and grab a beer." While men can be seen wearing" Sexy and I Tow It," T-shirts. Choose from the ones below that fit your RV lifestyle the best.
Looking for a funny gift for the younger RVer on your shopping list? This pop-culture savvy sweatshirt will be sure to bring a smile to their face. A soft and warm present that's still a little goofy is sure to be a hit this holiday season.
Funny camper personalized doormats make are thoughtful additions to any tiny home. You already live in a small space. That doesn't mean you can't put personal touches on it just like you could at home, but these camper doormats might get some weird looks shot in your direction. Some of my favorites are the Weekend forecast calls for day drinking or binge drinking.
These hilarious marshmallow cookers and hot dog roasting sticks are sure to win over an RV owner. As long as they have a sense of humor and possibly an "R" rated mind. Mirroring the female and male anatomy while roasting marshmallows and cooking hot dogs, your friends might wet themselves at the next campfire.
If you've ever wondered about an RVers sanity, or maybe even your own if your thinking of visiting a full-time RV traveler. Here is a great Christmas stocking stuffer for camper lovers. An award-winning book packed with information on how to go poop in the woods. A book that will have you laughing from page to page.
Manly beer steins come in all forms, but this one is perfect for those who like to drink too much while camping. With a silly slogan and easily recognizable camper, this is sure to win over your RV drinking friends. Bust this out at your next campfire, and you might have to share where you found it.
When frustration takes over and the heat of the moment lets words fly, you'll be thankful you purchased this gift for your RV travel partner. Putting it on a beer-coozy makes it a fun little reminder of the events that transpired before being able to relax with an alcoholic beverage around the campfire. Keep your drink cool and the atmosphere lite hearted with this funny gift for RV owners.
Entertainment Presents For RV Lovers
Campfires are a relaxing social gathering. They signal the end to the day and a new beginning starting tomorrow. Sometimes though, you can't always have a campfire because of fire bans, or the campground doesn't allow it. Other times you don't have any wood, or it's too difficult to start. Propane fire pits solve all of these problems. 19 inches in diameter. 58,000 BTUs. Perfect no mess campfires that don't even produce smoke. So you and your family don't have to smell like a campfire until you find the laundromat. Propane campfire pits from Camp Chef are world-class, heavy-duty construction and backed by industry-leading warranties.
A folding table with a sink is one of those "must have" camper accessories because the outdoors is considered an extension of your living room and RV kitchen. The cold creek outfitters outdoor washing table with sink is portable, foldable, and comes equipped with a large dual sink design. Allowing campers to wash dishes, clean fish, or setup dinner outside. Keeping the smell and the mess out of your camping trailer.
Bluetooth speakers are all the craze nowadays, and the JBL Charge 4 is a waterproof outdoor rugged, powerful Bluetooth speaker. That can bump the beats around the campfire for hours, and when it dies, just plug it in to recharge the batteries. JBL outdoor Bluetooth speakers come in 4 sizes. Small with a built-in carabiner. Medium or pocket-sized that fits in anywhere water bottle holder on most backpacks. Large, which is the size of a stretched out football, and then there's the audio king extra-large model. That can bump the beats for hours and hours. Keeping the party moving to their groove. Any of these will brighten Christmas Day for the music lover on your shopping list.
Every square inch surrounding your camper is just an extension of your RV. To meal prep, entertain, or just plain relax. A pop up portable gazebo lets you do any of those in style, and especially true in "bug country." Easy to store away when not in use, and lightweight enough to be portable for any camper. This stylish screened-walled hub designed shelter sets up in 60 seconds or less—sufficient room for 8 people and a table. Seven (7) feet tall at its center and provides refuge from biting insects, rain, and even the sun. You will love how easy it is to set up and transport your Gazelle portable gazebo.
Zero gravity camping chairs are some of the most comfortable camping chairs on the market today. Sturdy and durable. Able to support up to 600 pounds and made of durable polyester fabric. With a powder-coated steel tube frame. That is waterproof and rust-resistant. Enjoy your next campfire in style with a zero-gravity camping chair from Coastrail.
Believe it or not, in today's world, an Xbox or Playstation gaming console is another "must have" camper accessory. Both for kids and adults. Video games aren't what they used to be–high definition graphics with elaborate storylines and missions. Video games are fun for all ages. Rainy days in a camper can be a bit drab. Still, with a gaming console, there's opportunity for hours of entertainment for any RV traveler. The Xbox and Playstation are more than gaming consoles. You can watch live television, order movies, surf the internet, download apps, and much more. Xbox's and Playstation's are a complete entertainment center worthy of any camper. They would make an excellent gift for RV owners.
Birthday Gifts For RV Owners
A state sticker map is a bit nerdy but a whole lot of fun. Track your RV road trip. Earn new state stickers every time your adventure takes you to a new state. Track your overall travels and see if you can hit all 50 states and their territories. Proudly show off where you've visited to your guests. Great fun for kids and adults. How fast can you fill up your map? Wanna give a unique gift this Christmas? A state sticker map is more than a perfect stocking stuffer.
The NOCO boost lithium jump starter is a 12-volt ultra-safe portable lithium car battery booster pack. With the ability to jumpstart not just gas engines but also diesel engines. Safely jump start a dead battery in seconds with this compact yet powerful, 1000-amp portable lithium car battery jump starter pack. Up to 20 jumps from a single charge. Safe and easy to use. Guaranteed to not spark if connected wrong. Safely connect any 12-volt battery to the NOCO mistake-free spark-proof technology jump pack. Light, portable, and heavy-duty construction. Looking for a practical birthday gift for an RV owner this year? Look no further than the NOCO lithium jump starter.
Like your home, an RVers home on wheels can benefit from installing a WiFi Extender. Right now, the top brand on the market is a Linksys range extender that easily installs into any home or camper within seconds. Plug it in and turn it on. Run through a setup wizard and walla—more internet for everyone to enjoy. Eliminate WiFi dead zones, extend the range of up to 12 devices, compatible with all WiFi routers or ISP gateways. Give the gift of the internet when it's your RV travelers birthday.
RV GPS is different than the maps app on your cell phone. RV GPS navigation units take into account the size and weight of your RV. Then finds you the best route for your camper. Provides road warnings to keep you aware of steep grades, sharp curves, weight limits, tolls, and low hanging signs. Includes a directory of RV parks, resorts, campgrounds, and services. Integrated content from Ultimate Public Campgrounds, KOA, Overlander, PlanRV, Trip Advisor, Foursquare, and more. Pair with your compatible smartphone to gain access to hands-free calling and smart notifications. Also includes voice-activated navigation for convenience. Want to warm the heart of your fellow RVer? Put an RV GPS under the tree for them this year.
Personalized gifts are the best. This charming inscribed wood board comes with a motto any RVer will appreciate. Along with an option to personalize the cutting board with your family name or traveling nickname. The hardwood is sure to withstand even the bumpiest of dirt roads. While offering up the ability to cut veggies, cheese, fruits, fish, or meat with ease. Prep all your meals as you travel on this personalized cutting board. Sure to bring a smile to the face of anyone lucky enough to get this as a gift this holiday season.
This customized silly throw pillow references pop culture and brings a smile to those in the know. A perfect present for anyone who's camper needs a bit more flair and a cheeky personality. Inscribe your name or your rig's name. Get a set or deck out your entire motorhome with these goofy and charming throw pillows. They make great hammock pillows.
Birthday gifts are all about personalization, and this personalized funny camper sign is perfect for the binge drinking RV owner on your shopping list. This silly camping sign is for RV owners who may drink more than they should while exploring the great outdoors. Customize it with their names, and watch the face light up with a smile.
Gag Gifts For RV Owners
Truer words have never been uttered than those found on the RVers prayer sign. A goofy bit of wall art for the camper owner on your shopping list. This signage comes in black, brown, or gray to best match the interior of your RV. A bit of cheeky poetry to make any visitor chuckle. This placard sign offers silly protection from engine trouble, plumbing leaks, shady mechanics, and getting bored on the open road. A great addition to any camper, but especially one belonging to a religious person with a good sense of humor.
This bit of cheeky fun glassware is a big hit with RV travelers that don't do much of the driving. Insulated to keep your wine at the ideal temperature. Comes in red, rose, gold, stainless steel, and pink. Grab one of these fun wine glasses to keep you company on an extended vacation or a whole set to have a party at your next campfire.
Hot pads with a personality. These charming camper accessories come in red plaid with your choice of 4 silly quotes from the Happy Camper lineup. A great addition to the RV fan on your shopping list that also the chef of the camper. These pot holders add some charm and personality while keeping RV owners from burning their hands.
Tired of fighting for control on your vacations or RV travels? Put a stop to that with this RV Mom's gift. Which will let everyone in the camper know who is in charge of this RV. Offered in gray, black, white, and blue, you and your friends will be the cutest RVers on the open road.
Holiday gag gifts only work if your friend has a sense of humor and isn't afraid to poke fun at themselves. Here is another camper gift that manages to be both funny and practical. Knowing how quickly garbage piles up, you can never have too many trash cans in your RV, but it's always good to have one that lightens the mood. Give this goofy gag gift to the RV lover on your shopping list, and watch them smile from ear to ear.
When shopping for a camper who has it all and is in excellent shape, let me introduce you to the beer belly fanny pack. For campers that love to hike, climb, and adventure in the great outdoors, gifting them this hilarious fanny pack that looks likes a middle-aged man's beer belly will poke a little fun this Christmas.
RV Christmas gifts don't get any funnier than this personal hygiene gift. I just shit in the woods sanitizer is a classy gag gift for RV owners and camper enthusiasts! This silly gift will help keep their personal hygiene in check when camping off-grid.
If you have never heard of Mad Libs books, they are hilarious books offering solutions to nothing but will have readers in tears from laughing so hard. This Mad Libs handbook for worst-case scenarios is a fill bank response book that is sure to bring tons of entertainment around the next campfire in your life.
Some RVers like to get up in the middle of the night, and some can never seem to get warm. Check out this hilarious solution to both of those problems. If you know an RVer, who can't sleep and struggles to stay warm, give them this sleeping bag with pants. I can't even stop laughing while trying to write this. All I can picture is the kid in Christmas story waddling down the alley. This will go over disastrous with kids who whine and grown-ups who take themselves too seriously, but this is sure to be a riot around the Christmas tree for everyone else. There are so many great funny gift ideas on this list for RV owners it's hard to say which one is the best, but I am definitely voting for this one.
Campfire Gifts For RV Travelers
Campfire Recipe book seems like a simple gift for RV owners, but sometimes you don't know what you don't know. And other times, it's just fun to try new things. A campfire recipe book helps satisfy your appetite while providing hours of entertainment. Try recipes for skewers and kebabs, foil packets, pie irons, skillets, dutch ovens, grates, cast iron, and more. Whether you're heading out on a camping trip or simply enjoying the backyard bonfire campfire recipe books are a thoughtful gift for RV owners.
Camping chairs come in all sizes, shapes, and colors. The new crave is for a compact, lightweight, and ultra-portable camping chairs. Easier to store. Easier to use and engineered to be more rugged than your usual camping chair. Check out these 3 choices for your next ultralight camping chair.
Did you know there is a community called "Hammock Life?" Yes, it's a thing, and hammocks are fabulous with their ultralightweight, super sleek, tear-resistant, durable, and even quick-drying design. Every RVer desires a quality hammock, and these are made from parachute nylon materials. Supporting weights of 800-pounds and thousands of designs to choose from. Sets up in less than 30-seconds and great for both adults and children. Bring a smile to the RVer on your shopping list with a hammock present this year.
Marshmallow sticks? They roast, sear, burn, and flame. They extend, stretch, and some are "G" rated while others can be classified as "R" rated. Whatever you fancy, marshmallow sticks and hot dog sticks are part of every RVers arsenal. If your camping enthusiast doesn't own one, now is the time to give the gift of inclusion. Kids love them. Parents use them; they're super easy to clean and even easier to store away.
Campfire gifts don't always have to be about food and drinking. As shown in this bit of RV lawn art. Great for the outside of your camper, this little curio sports chimes in the shapes of little RVs. A bit of silly RV lawn art, but it's the small touches that make a home your own. Great to hang from your camper's awning, nearby tree, or even the picnic table for a bit of small humor. The gentle sounds of this RV wind chime will add to the atmosphere without overwhelming the audience.
Hammocks and campfires go hand-in-hand with RV traveling. Sometimes though, the hammock needs a pillow to really enjoy the moment. This log microbead pillow is the perfect hammock pillow for the outdoors. With its dark material, you don't have to worry about it getting stained. It's the ideal size for hammocks, and it screams outdoors. Just make sure you check twice before throwing that next log on the fire.
Gifts For New RV Owners
RVers are a creative bunch, and that goes for the engineers that make products for them too. No RV comes with a spare jack like your vehicle does. Instead, RVers carry around oversized modular versions of "adult legos." Also known as Lynx leveling blocks. These leveling blocks come in packs of 4, 6, and 10. With the ability to withstand tremendous weight, these modular levelers stack on one another to create a ramp-like structure. So that you can level out your RV for long-term stays or change a flat tire on the side of the road. If there was ever any camper accessory that is an absolute must-have, it's the Lynx leveler blocks. Multiple functionalities, real word practicality, and super heavy-duty construction. When you need them, they won't fail you.
When it comes to the bare bones essential for your new camper, not all accessories will be glamorous—case in point, a sewer tank hose kit. Trust me when I say this. You get what you pay for. Unless you like to clean up disasters, I strongly suggest you spend the extra money to purchase the highest quality RV sewer tank hose kit you can find. Like this Camco black rhino kit. Superior heavy-duty design. Engineered for the task at hand and won't fail you. Swivel fittings for ease of connection. Multiple adapters. 10-foot hose compacts down to 39 inches for easy storage. Quick clean up, and the most robust kit on the market.
Inline water filters are an absolute must for any new RV owner. Not all water tastes the same, and some water contains strong odors. Hinting at why you shouldn't consume the local water. Inline water filters protect against bacteria. Reduces awful taste, odors, chlorine, and sediment found in most campground drinking water. Without a Camco inline water filter, you're risking your own health when you don't have to. Inline RV water filters are cheap, affordable, and highly effective. When thinking of a gift for camper owners this year, take a serious look at an RV inline water filter. Want to take it one step further to secure safe drinking water for you and your family. Invest in a multi-stage filtration system. They are super simple to install. Attaches directly to your existing plumbing and water source. Reduces harmful drinking water by up to 98%. Get the taste and purity of drinking water without the cost of bottled water.
Everyone knows any RV owner needs a quality generator to live a life on the road. Especially if you're going to be doing a lot of boondocking or off-grid camping. If you've been a long time reader of this RV travel blog, you know I am a massive fan of my dual fuel Champion generator. Still, I'll be the first to admit that I would have selected the wireless start Champion generator if I had a choice when buying my RV generator.
Starting a generator nowadays isn't even remotely challenging. You push a button, and everything starts right up, but who wants to get out of bed in the middle of the night or go out in the sub-zero winter temps? No one wants to interrupt the activity they are doing to go out and start the generator. It's not on anyone's bucket list to put down their book, stop their video game or close up their laptop to go outside and start the generator.
With a wireless remote starting generator, no one ever has to go outside and start the generator again. Simply press a button on a key fob, and your generator starts right up. With a range of up to a mile, you can start your generator and get your camper toasty warm before you even get home. Convenient power you can start from anywhere. While doing anything. Start and stop your generator whenever it's convenient for you. If you're in the market for portable power, I strongly suggest the Champion 3400 watt remote starting generator. It's even powerful enough to run an A/C unit.
One of the most overlooked camper accessories by new camper owners are headlamps. It will surprise you how many activities you do after dark were a headlamp would make camping life more manageable.
Walking back from the campfire.
Running out to the truck for a cell phone cord.
Walking the dog.
Setting up camp, or even taking camp down.
Collecting firewood.
There are so many activities that require lighting after dark and don't forget the sun sets at 4pm during the winter months. A good headlamp is a camper's bests friend, and a lousy headlamp is a complete nightmare. You want a headlamp that has high lumens (brighter light). Rechargeable, adjustable, and comfortable. This is why I recommend the "Go For Wild" 2 pack of rechargeable headlamps. You can pay more if you like, but the "Go For Wild," headlamps will get the job done at half the price.
The RV dealer will never tell you the negatives of owning an RV, but let me tell you first hand there are more times than not that you wished you had disposable sanitation gloves. There's nothing pretty about them. Nor glamorous, but they get the job done. Every RVer needs a pack of disposable gloves, from taking down your sewer pipe to changing the oil in your truck. There are multiple activities where disposable gloves make the job easier and cleaner.
Every RV needs a welcome mat. Not just because it eliminates most of the dirt and grim that would make its way into your living room, bedroom, or RV kitchen. But because a welcome mat signifies a camper is more than just a tiny home. It's your home, and personal touches like a welcome mat make your motorhome much more comfortable. You can find welcome mats all over Amazon that are cute, quirky, vulgar, funny, sly, and even personalized. When you're ready to add the final touches to your camper, there's an RV welcome mat waiting for you.
It took me years to finally acknowledge that I needed a cast iron pan for my camper. Why? Because I was completely unaware of the benefits of cast iron pans. They are more durable and can last dozens of years longer than any other pot or pan you can buy. Cast iron kitchenware is more versatile, durable, and easier to clean than any other cookware on the planet. They may be a little bit heavier, but you will come to appreciate that heavy-duty design. Cooking with cast iron cookware is the ultimate blend between versatility and longevity. With the ability to cook directly over campfire coals, long bakes in a conventional oven, or even a makeshift off-grid dutch oven. Cooking with cast iron is legendary, requires a bit of skill, but ultimately gratifying.
A leveling gauge for your RV is one of the most simplest camper accessories you can purchase. By a pack of two so you can level your RV, camper, 5th wheel, or travel trailer in both directions. You can always use the old pop can trick, but why? Leveling gauges are easy to read with a brass ball riding in a damping fluid for smooth, accurate level readings.
How did our parents camp without walkie talkies? If you own an RV or even renting an RV for a family trip, you need a good pair of walkie talkies to make the trip run more smoothly. How else are you going to call back to the campsite from your picnic area when you forget something? Round up the kids when it's dinner time, or help your travel partner back up the motorhome into the campsite? Two-way radios are the simplest way to communicate to your camping partners while trying to coordinate activities, park the camper, or just talk back and forth when there is no cell phone service.
A national park pass is one of those camper accessories you won't find out about until you hit the open road. If you're looking for one of the most practical gifts for RV owners, you should set your sites on a National Park Pass. Extremely affordable for the benefits they offer. Valid for one year, but at $80, it covers all entrance and day-use fees at National parks, National Forests, Grasslands, and wildlife refuges. A National Park Pass can even waive the fee for BLM (Bureau of Land Management) lands and the Army Corps of Engineers entrance fees. With 423 National Parks in the United States park system, $80 is a smoking deal for the camper on your Christmas shopping list. Especially considering one entrance fee to a National Park can range between $35-$70 depending on the park.
Heat tape is a great stocking stuffer for RV owners. Install on it your drinking hose to keep your water line from freezing at night. Wrap it around your water tanks while winter camping to keep your water supply from freezing up in the mountains. Adhere it to your camper door to keep your RV locks from freezing while away. There are many practical uses for heat tape that an RV owner may encounter. While it may not be a life-changing gift, it's a useful and functional gift. Which is the motto of RV life.
After buying your new camper, you quickly find out there are so many ala carte camping accessories you need to purchase. From cords to power and water, the list just keeps going and going and going. One of those items you need to buy is a Camco 25 foot drinking hose. Thicker than standard drinking hoses. Lead, BPA, phthalate-free, and leaves no plastic taste behind in your drinking water. When it comes to your drinking water, I wouldn't recommend taking any chances, especially with campground water sources.
If you own a camper, at some point, you're going to open the RV door and get hit with a pungent odor that will knock you back. This is your blackwater tank, and the cause is created by not using enough water when using the bathroom. To eliminate black tank odor, there are several drop-in solutions to choose from. Concentrated deodorizing packets break down smelly odors fast and dissolve tissue paper equally as fast. Eliminating any unwanted odors from your blackwater tank. Simply toss in one deodorizing packet per 40 gallons, and do away with unwanted odors.
If you want to give the gift of functionality and practicality this Christmas, then buy an RV sewer tank rinser for the camper owner on your list this season. Not glamorous, and probably not even on their list. But I promise you they will use it just as much as they use their bank account. Keeps unwanted odors, mildew, and mold at bay. Easy to use. Even easier to clean. Direct jet allows the water stream to rinse and flush an RV sewer system simultaneously. Securely attaches to existing piping. Prevents backflow and made from unbreakable polyethylene plastic.
Practical Gifts For RV Travelers
An exceptionally well thought out stocking stuffer gift for an RV owner is a water pressure regulator for their camper. Which helps protect RV plumbing and hoses from high-pressure city water. Easy to read gauge, lead-free, and lasts forever! Installs as an inline gauge, so it screws on just like their RV drinking hose. Just put it in between the hose and their camper's water intake port. Simple as that, and it's a camper accessory that will actually fit in a Christmas stocking. Bonus!
Shopping for an RV owner is pretty challenging if you don't know anything about the RV world, but keep in mind simplicity is the golden rule of RV life. For example, a surge protector is a lot like getting socks and underwear for Christmas. No one wants to ask for them, but everyone secretly cherishes these gifts. Because they are a practical present that serves a daily purpose. Much like a surge protector.
An RV's electrical system is the heart and soul of any camper, and an extremely costly repair should it ever become damaged. RV surge protectors protect against dangerous high and low voltage levels. As well as power surges from campground electrical boxes. Premiere RV surge protectors like the one below automatically disconnect from dangerous electrical voltage conditions and reconnect after normal operating conditions have been restored within the power grid.
If you're shopping for a practical present that will still delight, camper LED lighting is always a welcomed gift: more energy-efficient, longer life expectancy, anti-corrosive, and no overheating issues. Upgrade your camper lighting with plug and play LED RV ceiling domes. Install is easy with a simple non-polarity 2-wire hookup. Easy on/off switch. Choose between single and double dome lighting mounts.
Another practical gift to consider for the RVer on your shopping list is the Carmtek camper leveling kit. Essential for any camper owner who desires fast and precise leveling. Avoid the hassle of setting-up leveling blocks or planks under your camper tires. Make camper leveling simple by using the Carmtek levelers, and be set up in less than 5 minutes. Adjust between 1/2″ and 4″ by only moving the position of your camper.
RV storage is somewhat questionable in most campers. Buying command hooks, adhesive strips, and wall mounting hangers are simple stocking stuffers that present incredible storage value to any RV owner. These creative storage accessories allow RVers to adjust their camper's functionality without destroying their travel budget. The Command adhesive lineup has something for every camper, from hooks to hangers and even shelves and rollers.
Practical gifts for RV travelers start and stop with increasing efficiency and simplifying life. Light blocking curtains check both of these boxes, with their ability to increase privacy and reduce energy costs. Modernize your RV bedroom with these thoughtful decor gifts.
Let's be honest camper engineers are asleep at the wheel when utilizing or creating countertop space. They have kitchen designs with crooked sinks, nonexistent counter space, and sometimes flimsy pop up small counter extensions. One solution to this annoying problem are stove top covers. These crafty little inventions keep your stove clean and increase countertop space. Easily one of the simplest camping trailer accessories you can purchase to improve your campers' kitchen functionality.
When you live in a tiny home on wheels, you need fridge bars to keep items in their proper place. Fridge bars are another simple camper accessory that makes RV life so much more enjoyable. Who wants to show up at the campsite with a camper fridge in complete disarray? RV fridge bars are super simple to install and highly effective. If you're looking for budget-friendly gifts for RV owners, I suggest RV fridge bars are the answer.
Reflectix is a campers' dream come true. Easy to install. Fiber free. Deters the growth of mold, mildew, and various other fungi. Resists condensation from building up. Non-toxic, and did I mention it's super easy to install? Whether you camp in the scorching desert sun or freezing mountain tops, Reflectix is a camper owner's best friend. Give the gift of energy efficiency this Christmas.
RVers with kids need to consider a lot when traveling by RV, but this is an easy decision. If you have kids in your RV, this campfire LED night light is perfect for them. It is not too bright, not too dim, and it brings the campfire ambiance to the bedroom—a practical, fun, and functional gift for RV owners.
Seriously, where are you going to set your beer? Camping tables are just as important as camping chairs. The Trekology aluminum camping tables are as efficient as they come. Setup in less than 30 seconds. Comes with its own carrying case, and I guarantee it can hold at least 4 margaritas. Super lightweight and highly functional, the Trekology camping tables are sure to win over the RVer on your shopping list.
Every RV owner has at least one camping chair, and most likely two or three compact folding camping chairs. But finding storage space for all of these in their tiny home can sometimes be a real struggle. I suggest going with a compact, lightweight design that can be found in the XGear 2 lineup. A complete folding and portable lounge camping chair with a detachable table. Cup holder, gear pouch, footrest, or accessory table. Sure to be a great hit around your next campfire.
Retirement Gifts For RVers
Crafty RV owners are utilizing driveway entrance alarms as efficient security systems. These simple motion alarms easily take on the duties by informing RV owners of approaching campsite visitors—super affordable, convenient, and straightforward installation. With ranges of up to a mile and solar-powered options, these camper accessories offer multiple functionalities. So whether you camp in the backcountry, off-grid, or an RV park, driveway alarms add peace of mind to camper owners and make fantastic gifts.
RV life is all about creating memories, which is why a digital photo display is a fabulous gift to give RV owners. Cherished keepsakes can be on full display for visitors and RV owners year-round. Easier to use. Irresistible extras. Rotating carousel and always on display options.
Dyson air multiplier fan is an excellent gift idea for RV owners. Campers can be stuffy—full of stagnant air, and sometimes inhospitable. Dyson air multiplier is a bladeless fan that provides a constant wind breeze. With a futuristic look and quiet operation, these fans are sure to win over any RV lover.
Quake hold is a remarkable gift for RV owners. Because it secures breakables from moving during an earthquake. So I'm sure it can keep your valuables in place while driving from campsite to campsite. This putty is removable and reusable, making it super convenient for RV owners, and the ideal unique gift for the RV owner on your shopping list!
Collapsable tub/basket. Pop it up when you're using it, or pop it down when it's time to store it away. Great for foot baths, laundry baskets, washing dishes, general cleaning, or bringing food and supplies out to the campfire.
Reusable absorbent cleaning cloths are a godsend for RV owners. Swedish dishcloths are an eco-friendly, odor-free towel that can be used again and again. Perfect the home, but a complete game-changer for the RV kitchen. These all-natural cloths are eco-friendly because they are reusable, biodegradable, and compostable. Swedish dishcloths are a superior cleaning cloth for use in the kitchen, bathroom, patio, and virtually anywhere else cleaning takes place. They can be used on windows, counters, floors, and anywhere else you traditionally use a paper towel but need more strength and absorption. Simplifying the cleaning life of a camper owner are Swedish dishcloths.
Funny gifts for RV owners need to provide sound advice and a good laugh. Making their owners appreciate the thought while bringing a smile to their face. This mug embraces all of these qualities for your grandfather or uncles who can't get enough of seeing the country. Coffee is an essential part of an RVers travel day, and long drive stretches. And with this holiday gift, any RV traveler will have a new favorite coffee mug.
A fun-loving sincere, and silly gift for RV travelers, or as a funny, ironic gag gift to the younger RV travelers of RV life, this T-shirt is sure to bring a smile around the Christmas tree. Offered in gray, black, white, and red, buy one or a whole set of this cheeky casual ware.
Safety gifts for RV Camper owners
RV life is challenging enough at times. There's no need to take extra risks. In fact, it's illegal in some states to travel in an RV without specific safety devices such as a carbon monoxide detector. Which provides early warnings of harmful exhaust fume levels or other increasing levels of carbon monoxide gases. Traveling without a carbon monoxide detector is just inviting disaster. So give the gift of safety this Christmas.
From electrical fires to engine fires, RVs are incredibly susceptible to self-igniting fires. Suppose you don't want to be caught in this situation without any options. In that case, I strongly suggest you purchase a fire extinguisher for your RV travels. They are not very expensive, have a long shelf life, and can be stored just about anywhere. Give yourself a safety net this Christmas.
Just like a home, you need a smoke detector to monitor the situation when your sleeping or not paying attention. Smoke detectors, like carbon monoxide detectors, save lives. In fact, they are the number one safety device in homes and RVs across the globe. Because they work, and they save lives. For a few dollars, give yourself peace of mind. You can even buy smoke detectors with batteries that will last 10 years. There's no reason not to own a smoke detector.
RV travelers spend more time outdoors in one month than the average person does in a whole year. Hiking, climbing, fishing, or even rock hounding all present situations that, at some point, could use a first aid kit. It's a crucial camper accessory to own. Even cutting veggies. The knife could slip while your boondocking off-grid and miles away from the nearest hospital. If you own a first aid kit, at least you can provide temporary bandages until you can get to a hospital for natural treatment. RVers that don't own a first-aid kit are taking unnecessary gambles. If you're looking for an affordable, functional gift, and can be stored anywhere, then purchase a first-aid kit today.
Campers breakdown. It's an aspect of RV life that happens every day. In fact, my buddy just had his RV engine blow up, and then his transmission went out two days after he got it back. Thats a nightmare scenario, but no one wants to be stranded on the side of the road without any options. A roadside assistance kit provides emergency safety measures. In the form of roadside reflectors to help other motorists see your broke down vehicle at night. Flares to help warn passing motorists they are approaching a breakdown. Jumper cables to recharge your battery. Air compressor to inflate flat tires. Tow straps, gloves, and flashlights are also all included in standard roadside assistance kits. Would you rather have one stored away, never use it, or need a roadside emergency kit and not have one on board? Be a travel angel and purchase a roadside assistance kit for the camper on your shopping list.
Camper owners are continually monitoring and maintaining their rigs, but sometimes things happen. Fix a flat spray is a miracle in a bottle. Fix a flat tire in seconds, or temporarily repair a flat tire well enough to limp it to safety. Fix-a-flat spray is safe to use on TPMS systems, requires no experience, and lasts forever. Every RV owner uses fix-a-flat spray at least one time in their life. So why not wrap it up and put it under the tree this Christmas?
Unique Gifts For RV Camper Owners
If you haven't noticed, the best gifts for RV owners are the ones that are practical and provide storage out of existing unused space within their camper. Because space is valuable real estate within a tiny home such as an RV, and storage space is even more coveted. This is why one of my favorite gifts for RV owners is the folding leather storage footrest. Use it for storage or a footrest. Let it act as a coffee table, padded seat, or snack station. When not in use, fold it up and store it under the bed or couch so that it's out of the way. This camper accessory is multi-functional, practical, and super affordable! There is no reason not to give this gift to any camper owner.
RV owners are crafty, creative, and inventive. This is why it is no surprise that a unique drawer organizer is one of the most popular RV gifts during Christmas. organizemydrawer.com allows RV owners to custom design and order drawer organizers specific to their camper. Extremely thoughtful. Practical. Affordable. Creates functional space out of existing unused or cluttered space. Give the gift of organization this holiday. Use this link and get a discount on your first order https://www.organizemydrawer.com/invite/AOWANDERS
Over half the planet has a morning ritual that includes coffee, but living in a tiny home that moves with limited counter space restricts some of the home appliances you like to own. One of which is an oversized coffee make. Hence, the Chemex coffee steeper! Simple & easy to use. Non-porous borosilicate glass that won't absorb stains or odors. You can even cover your coffee and store it in the fridge for later. The pour-over Chemex coffee steeper is the ultimate RV coffee maker on the planet. One of the most unique and modern gifts for RV owners is the Chemex coffee steeper. Give the gift of pure design and pure flavor this holiday season.
RV Travelers Adorable Christmas Ornament & Holiday Themed Gifts
These Christmas holiday-themed foot warmers come with a pattern any holiday loving RV fanatic is sure to love. Displaying a little RV topped with a bow and surrounded by Christmas trees, these festive camper socks will knock your RV owner sock's off.
Holiday centric gifts are seasonally appropriate and add a little combo of lite hearted fun to your gifts. Choose one of these camper orientated Christmas ornaments to liven up the festive holiday spirit in your RV this season. Add a bit of personal touch to these ornaments by having them engraved with your RV's name. Perfect for RV travelers celebrating the holidays on the open road.
National Lampoon Christmas Vacation ceramic figurine is an exact replica of cousin Eddie's RV in the Christmas Vacation movie. We've all seen this movie, and we all know an RVer that fills these shoes. What better way to bring holiday cheer this season than gifting a silly Christmas ornament that idolizes a movie we all love and adore.
Lessons & Services Gifts For RV Owners
When it comes to gift-giving, I like to give experiences or some type of gift that could turn into a hobby. I don't want to just wrap an item and watch it be neglected as the years pass by. This is why my favorite gifts for RV owners are services they will use or classes they can turn into a hobby or even a job.
Harvest Host is quickly becoming the most popular RV service in the country. Offering RV camping options at over 1,400 wineries, breweries, distilleries, farms, museums, and other unique area attractions that offer more than just a parking spot. For the cost of TWO nights at a campground, you can purchase a year-long Harvest Host Membership.
Thousandtrails camping pass is one of the largest RV networks or resorts and campgrounds available to RV owners. With over 190 Resorts and campgrounds sprinkled around the country, finding a campsite with the Thousandtrails camping pass is relatively easy. Stay up to 14 days for free at participating RV parks, resorts, and campgrounds. Get discounts at merchant stores, first choice campsites, and extended zone coverages with one annual membership.
Escapees Membership helps full-time, weekend warriors and snowbirds with everything to make RVing easier, more affordable, safer, and most importantly, FUN! Membership includes Escapees magazine, RV park discounts, event access, maps, Facebook community, hangouts, local chapters, rallies, and a host of various other benefits. From roadside assistance, mail service, boot camps to even an RV online university, Escapees is one of the most comprehensive RV memberships you can own as an RVer. If you're looking for the perfect gift for an RV owner, you can't go wrong with an Escapees membership!
When it comes to classes, lessons, and RV services, Skillshare is one of my all-time favorite websites. With thousands of courses to choose from for free and thousands more for a small monthly fee, Skillshare is a valuable resource for RVers. Explore classes in illustration, cooking, photography, design, language, and much more. Explore Skillshare's workshops packed with guidance, learning, and a hands-on community. Skillshare is an on-demand learning environment that even offers a free 14-day trial membership. You can't go wrong with a Skillshare gift card for the RV lover on your holiday shopping list. Use this link to get 14 days free of Skillshare.
Udemy is another on-demand learning environment that offers thousands of courses. No monthly membership fees. Lifetime access. Any topic, skill level, or language. Expert instructors. 30-day money-back guarantee. Find the right instructors for you, and join millions of learners from around the world already learning on Udemy. ***Pro tip*** use this link during Black Friday, Cyber Monday, or the Christmas Holiday to get 75% or more discounts on Udemy courses.
Home Chef is an outstanding service ever for RVers. I use it all the time to get gourmet meals delivered right to my RV door. No shopping. No checkout lines. No recipe book needed. Just logon and choose the meals you want to try. Simple, hassle-free, and easy to follow cooking instructions. Use this link to get $80 off of your first order.