Lessons From My First RV
Quick Reference Table of Contents
My first RV was a soul sucking money pit of a camper that stole my heart, and murdered my home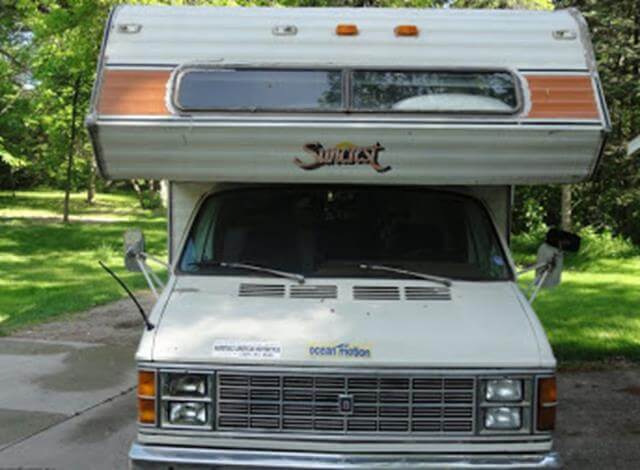 buying dreams. Singlehandedly, this weathered — Class C motorhome relic from 1978 courted me through misdirection and deceit. Showcasing its RV potential in the daylight, but hiding its flaws in the shadowy corners. The ones I never took the time to look in. Buying an RV for the first time was an exciting event, but something I didn't actually take all that serious. And how could I? The guy only wanted $500 for this scrappy orange and white tin wrapped motorhome called a Sunseeker.


With its sun faded hood mounted "Ocean Motion" sticker and excessive gaudy looking unprofessional caulking around every window that the previous owner didn't realize was a stupid idea. To its broken out running lights starting at the front and continuing all the way to the back. This beat up oversized camper mesmerized me with "The freedom to roam." She enticed me like the party girl from high school with colored hair; too many piercings; bad intentions & no future. I was a young twenty something hoping to discover the world one adventure at a time, and this was going to be my new RV adventure bound vessel of freedom. Or so was the plan, but this Class C RV camper had other intentions. My intro to RV life was riddled with booby traps, repairs outside of my skill set & surprises my wallet couldn't afford.
I made a crucial RV mistake with my first RV by buying a project camper because I was a first time RV buyer who didn't know what to look for when buying my first camper.

Who Buys Used RVs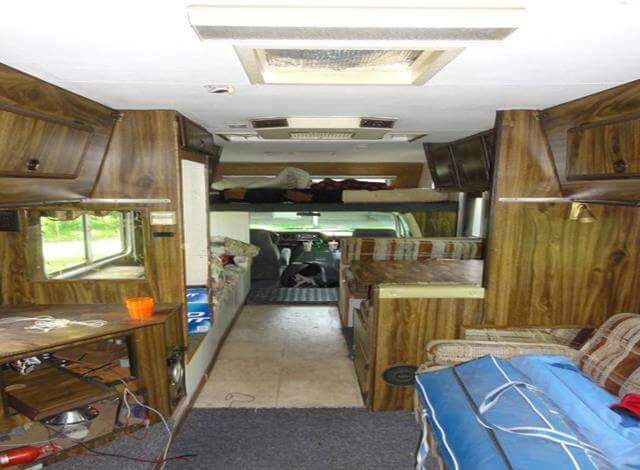 When buying an RV for the first time the last thing you want to do is buy a project RV. Which is exactly what my first RV was. A complete RV horror story from top to bottom. I purchased a 1978 Dodge Class C motorhome from a pudgy guy in rural Minnesota who clearly couldn't caulk a window sill if his life depended on it. The last thing you would think a rounded individual living on a farm would do……… also ripped out the kitchen in this punch drunk mutilated used RV, but "Elmer"- the name I gave this graveyard destined RV camper- had no kitchen. No counter. No stove. There wasn't even any drawers to hold my nonexistent camping utensils. No fridge, and believe it or not this RV camper located in Minnesota were the balmy winters can reach negative 50 degrees – like today as I write this "first time RV buyer article"– didn't even have a working heater! And as I am typing this I'm shaking my head and asking myself what the fuck was I thinking?
My RV Dreams
I don't really have an answer for you. I had a gleam in my eye. A dream of adventure travel. Which I'd hoped amounted to nothing more than turning a key and driving an RV. To see all the wonderful iconic vacation destinations of America. You know places like the secret Whitefish, Montana that's not so secret anymore. Or the self-proclaimed "Ski Town USA" Steamboat Springs with its patented "champagne powder." Even the snobby gateway town of Jackson Hole, who lost its ski bum heritage long ago, was on my radar with its majestic backdrop beauty of jagged granite mountain peaks called the Tetons. As well as the filthy dirt bag high desert mountain town called South Lake Tahoe, home to over 10 different ski resorts, which will never be mistaken for what I love about ski towns.
I was gullible, naïve and chasing an "RV pipedream" on a shoestring budget. My focus was on the potential this camper had rather than the RV horror story sitting in front me. My first motorhome was supposed to be a destination RV instead it turned out to be my first RV nightmare.
Buying an RV for the first time had me …
Full of excitement and anticipation. Buying an RV for the first time is like going on your first parent free trip with your new college friends. Neglecting the small logistical details, safety or even the destination. Priorities like music and alcohol take precedence over any type of relevant trip planning because when you're young the playlist that you drive to is more important than something as trivial as buying ice for the cooler. The same goes for first time camper owners. Whether you're buying a travel trailer, popup camper or a fully accessorized RV you'll make an enormous amount of RV mistakes when purchasing your first camper. Because you'll be more focused on future travel adventures instead of the functionality of your new camper.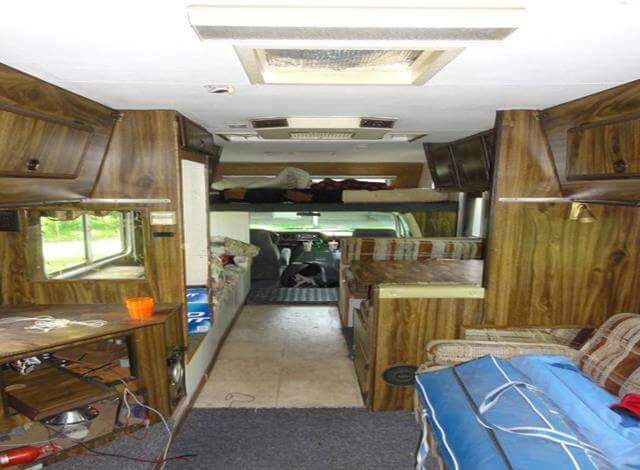 The attraction of more living space with an RV slide out will distract you from noticing concrete hard arm rests, useless roof vents, windows that don't open, furniture that pinches your limbs to sleep or an entire side of your RV with no electrical plugins. You'll brush over engine size, chassis and fuel consumption. But overlook the inefficient floor plan that competes against itself for space. You won't notice the lack of cupboards or that the size of the cupboards aren't even functional. The slanted RV sink taking up precious counter space real estate will go unnoticed because you've never prepared a meal on an 8 inch by 10 inch counter. Your focus will be on how many sleeping spots there are instead of how comfortable they actually are, or even how logistically challenging they will be to get in or out of. But what every first time RV buyer will overlook is the after purchase expenses that come with owning an RV. I'm not talking about things like camper insurance or RV storage. No, I'm talking about campground fees, RV accessories like generators, vehicle upgrades to tow your new camper more reliably and safely and the biggest surprise to new camper owners is the cost of fuel. Ever spent $50 to drive 150 miles? Thats $500 for every 30 hours of driving by the way! A first time RV buyer will be more focused on camping adventures instead of the functionality or hidden costs of their first camper.
My first camper turned into a series of RV horror stories because I didn't know the process to buying an RV for the first time.

What to look for when buying a used camper
Who buys used RV's? Well the simple answer is smart camper owners. Whether you are buying a travel trailer, camper or motorhome you should always buy a used a RV! The depreciation value from buying a new RV is astronomically absurd. Besides the money you will save buying a used RV usually includes free upgrades. Things like solar panels, wheel covers, flat screen TVs, Wifi Extenders and various other modifications. Although not everyone is a master carpenter or professional RV builder so some of these upgrades may be of questionable nature. When buying a used RV you should inspect everything!


How To Inspect A Used RV Before Buying Your New Camper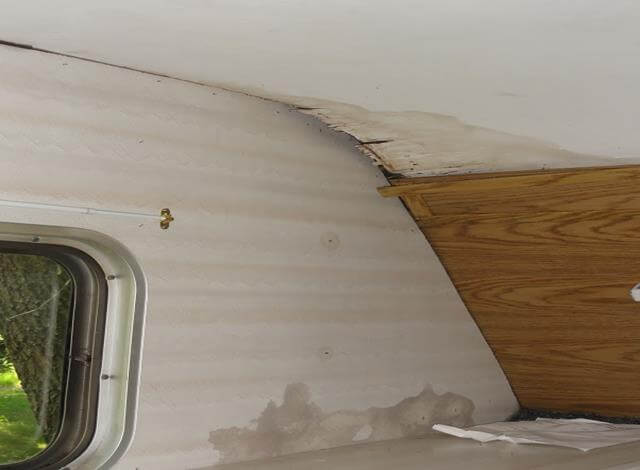 Press all the buttons. Open all the cupboards. Try all the drawers. Stand in the RV shower. Lay on the bed. Sit on the couch. Test out the chairs. Fold up the table. Turn the couch into a bed. Inspect all the storage compartments. Tap on the roof, walls & floor looking for soft spots from water damage. Turn on all the electronics, lights and water features. Light all the camper RV stove burners. Turn on the heater. Start up the generator. Fill the holding tank with water and turn on all the faucets including the shower. Flush the toilet. Try the A/C unit. Start the engine. Watch the gauges. Turn on the cab A/C & heater. Pull the dip stick and rub the oil from your RVs engine between your fingers. Are there any metal shavings in the oil? Spray down the entire camper with a hose to check for water leaks.
RV Camper Storage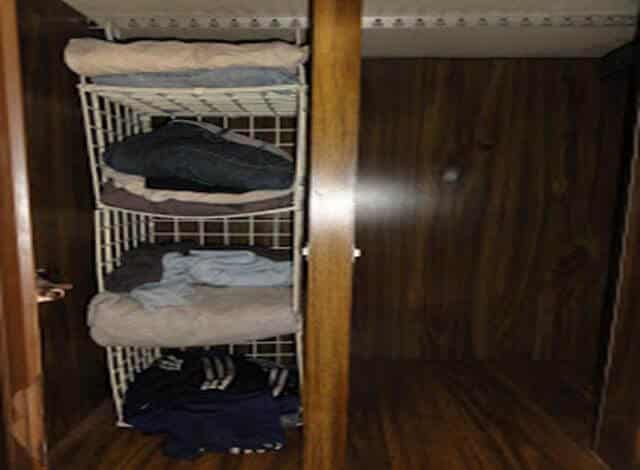 If the used camper you're thinking about buying passes all of these inspections now take a look at the functionality. How many people can be in the camper at the same time? Comfortably? Where will you put your gear, clothes, tools, coolers, camping chairs and anything else you think you will need? Where will the dog sleep? Is there a place to store the dog supplies? Where will the gas cans for the generator & chainsaw go? What about the oil for your engine, generator & chainsaw? Oh you want to pack water toys or a blow up mattress? They need space too along with a pump.
RV Kitchen Misconceptions & RV Life Frustrations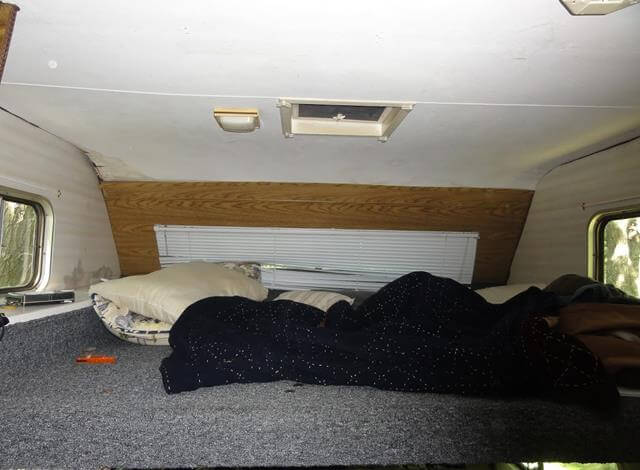 These are all "once in awhile" items, but what about your ever day items? Like pots, pans, tupperware, utensils and even glasses. After your first RV trip you're going to find out just how difficult it is to not only cook in an RV with its limited counter space, but how obnoxious it is to wash dishes in a tiny RV sink not made for full size kitchenware. Did you know that most RV sinks are not even deep enough to soak a standard size pint glass? I bet you didn't know most RV cupboards aren't big enough to house a box of cereal! Or that RV drawers aren't long enough to store spatulas and other necessary RV cooking utensils.
RV Pre Purchase Inspection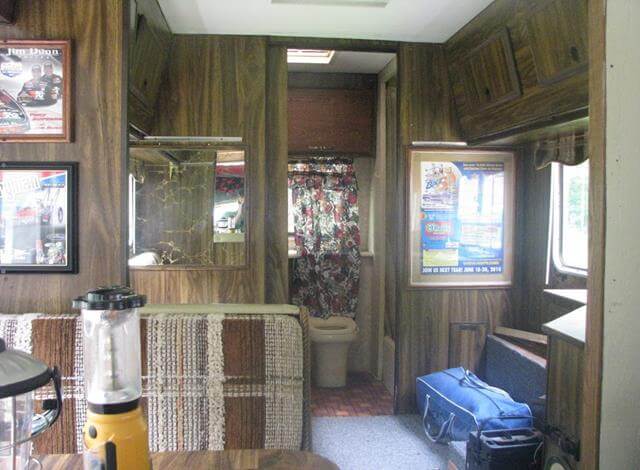 During your inspection did you notice there wasn't a trash can or even a place to put one? You'll have to buy a special RV trash can that will eat up valuable cupboard space because they usually hook on the inside of a cupboard.
I bet when you were inspecting your RV it was during day time hours. So you're unaware that trying to find seasonings in a pantry cupboard at night is next to impossible until you install an RV cupboard lighting system. Unless you like to go hunting for salt & pepper with a flashlight in hand. Did you look at the bathroom flooring? A lot of older campers used to carpet there bathrooms??!! How gross is that?


First time RV buyers make most of their RV mistakes on the inside of their RV because they don't know what to look for when buying a used camper.

Frustrations from Buying a Project RV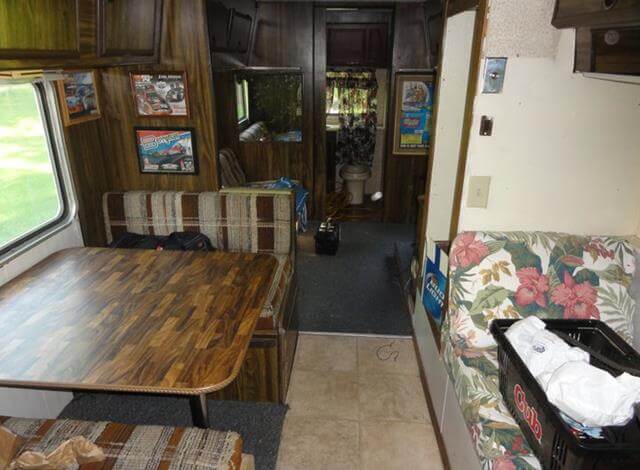 I was introduced to RV life out of desperation and by way of a relic of a motorhome. My first camper taught me some tuff lessons, but ultimately lessons I needed to know. As a first time RV buyer I wasn't aware on how to inspect a used camper or the process of buying an RV for the first time. Which lead me to replacing a transmission with skateboards, belts and blocks of wood in my driveway.
Instead of living the good life of RVing my first camper acted more like a melodramatic Nazi professor who liked to give the tests before the lessons. RV living was at my fingertips, but I never got to experience it because I didn't trust my cheap used Class C motorhome to deliver me in one piece. Or even return me without an "RV horror" story I didn't want to experience. Eventually I gave up on my project RV and turned it into a studio apartment in my parent's front yard. That they hated, but begrudgingly accepted out of love for their son. Thanks Mom & Dad.
Intro to Cheap RV Living
Since meeting the well fed farmer who sold me my first RV nightmare I've moved on from RV horror stories to all the wonderful aspects of RV life. Things like being able to travel whenever & wherever I want to set up my home with million dollar beach views without actually having a million dollars. Cheap RV living allows me the freedom to roam. My RV life allows me to call home to breathtaking mountainous landscapes without the bank account usually required to live in such remarkable destinations.
RV life is truly a dream come true lifestyle for those with a sense of curiosity and adventure looking to chase down their travel dreams after buying their first motorhome.
I found "Quality of Life" Through RV Life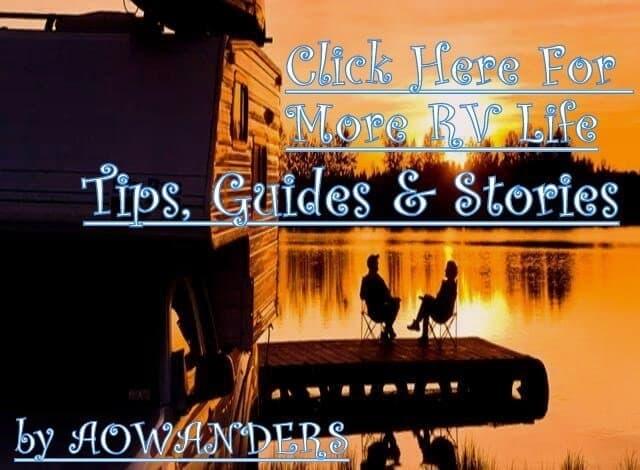 My intro to cheap RV living was through a delusional perspective of the American dream. A rebellious act to find more out of life than work, eat, sleep and buy things. Although my first RV turned into a complete nightmare. That junkyard camper presented a doorway of possibilities on how to live a life of fulfillment instead of survival.From the ability to travel on a shoestring budget. To being able to live, sleep, eat and work wherever I damn well felt. Which ultimately lead me down a road to a series of adventure jobs, and murdered my home buying dreams.
RV Adventure Jobs
That decrepit camper revealed a life of travel that taught me how to ski, kayak, mountain bike, hike, climb, kitesurf, zipline and even own a restaurant. My first RV was a banged up motorhome on life support that should have been sold for scrap metal, but in its own way that soul sucking money pit showed me a life of travel from the suburbs of America. One that I continue to enjoy 20 years later, and am currently trying to plot a route from the top of North America to the bottom of South America. I owe it all to that pile of junk motorhome I bought for $500 over twenty years ago because without it I wouldn't have realized the possibility of travel for someone like me.
FREE RV BUYING CHECKLIST
But you didn't come here to read about my RV adventures. You came here to research how to buy your first RV. So here is an RV BUYING CHECKLIST to help you avoid buying a nightmare RV of your own, and if you want some more entertaining reading check it this article about my First RV Trip. Its a doosy complete with drug sniffing dogs, trespassing on million dollar lawns and a 1,500 mile tow through the mountains so that I could chase down my ski bum dreams in South Lake Tahoe.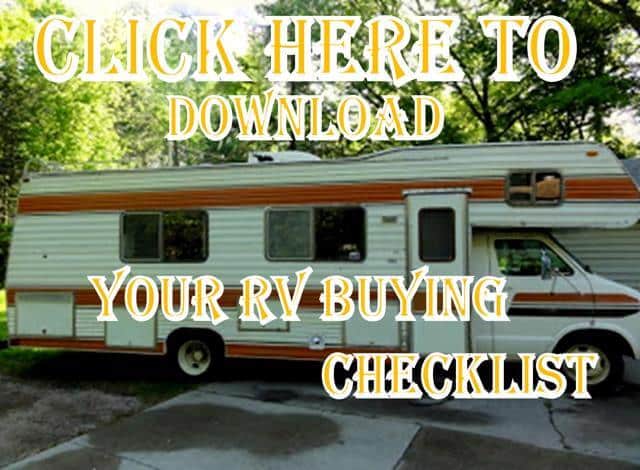 My Favorite Travel Booking Resources: Most Affordable & Efficient Travel Booking Tools I Use Everyday
Book Your Flight
Find a cheap flight by using Skyscanner or Momondo. These are my two favorite "flight" search engines because they search through websites and airlines around the globe and offer a calendar view to find even cheaper flights for flexible travelers.  Check out these UNIQUE destination deals or my favorite All Inclusive Booking Travel Tool!
Rent An RV
Find cheap RV rentals for your next adventure by using Outdoorsy or RVshare.  These are my two favorite "RV" search engines because they allow you to rent from private RV owners, and offer a wide variety of chooses at affordable rates.  Want to start making money by renting out your RV?  List it with Outdoorsy or RVshare.
Book Your Accommodation
You can book your hostel with Hostelworld. If you want to stay elsewhere, use Booking.com as they consistently return the cheapest rates for guesthouses and cheap hotels.  Get a $40 credit for booking with AirBnb.  Need to book a private campsite use my favorite RV booking site Hipcamp!
Looking For A Travel Community
Join the Escapees travel club to meet fellow travelers and talk about all things related to RVing and overland travel.
Travel Packages & Tours
Are you looking for worldwide tours and travel packages?  Check out my go-to source — IntrepidTravel!  Looking for more family related travel packages and tours book with GAdventures.
Don't Forget Travel Insurance
Travel insurance will protect you against illness, injury, theft, and cancellations. It's comprehensive protection in case anything goes wrong and will cover things like transport security, crisis response and medical transports such as Life Flight. Why go on any trip without a safety net that costs less than a case of beer? I've been using SafetyWings for years without any issues.
My favorite companies that offer the best service and value are:
SafetyWings (ONLY $35 & Covers USA Travelers)
World Nomads (for everyone below 70)
Insure My Trip (for those over 70)
Medjet (for additional travel insurance coverage like medical transport, travel security & crisis response)
Looking for the best companies to save money with?
Check out my resource page for the best companies to use when you travel! I list all the ones I use to save money when I travel – and I think will help you too!
Just Want To Support This Amazingly Resourceful Website
Websites incur constant fees!  From hosting costs to massive amounts of personal time creating beneficial content for readers to consume at their leisure.  To help offset those costs or just to say, Thank You.  You can help support this community by shopping through any of the links found on my resource page.  Shop on Amazon through this link and I'll get a small commission, or you can directly support this site through Paypal donations.  None of this is a requirement its just helpful and creates a better community for all of us.