Why Should Every RVer Know The Difference!
Quick Reference Table of Contents
You're smack dab in the middle of yet another fantastic RV adventure when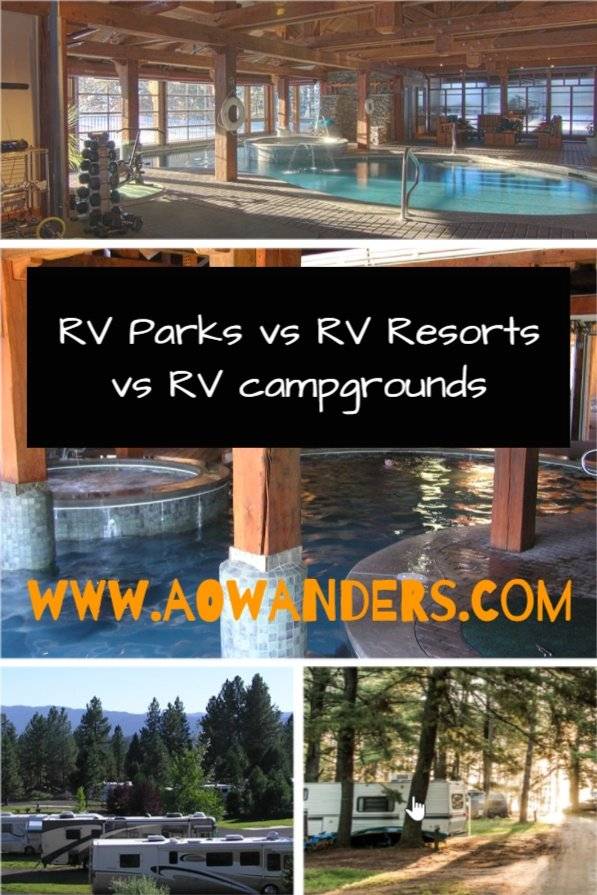 suddenly you and your traveling companions are hit by questions every RVer faces at some point along their travels: Where should we stay? What is the difference between an RV Park, RV Resort, and an RV Campground?
Deciding where to settle down is something everyone who lives the RV life must face at some point. And sure, while you can wing it and pay for the next available spot that shows up on your GPS, that's less than ideal. You want your time off the road to be fun, relaxed, and restful. It's much easier to have that happen if you're staying somewhere that is right for you.
Related Posts

The good news is that there are tons of resting spots out there for RVers, and most of them are relatively easy to access. Even better, almost all of these spots have some sort of information online. With even a limited amount of effort, you can successfully scout out both your path of travel and the places you'll stay in between your time on the road.
This article will discuss three of the most common choices facing RVers as they seek a place to land for the night, weekend, or an extended stay of up to a month or longer.
Parks, Resorts, and Campgrounds: What Are the Differences
If you're unsure of the differences between the three, you're not alone. Let's see if I can clear the air for you.
RV Resorts are luxurious modern-day campgrounds with paved roads, full RV-hookups, along with scheduled social & entertainment events for visiting guests for around $75 a night. RV Parks are high-end campgrounds providing modern accommodations and facilities. Such as full-RV-hookups, shower-house, laundromat, and sometimes even a pool for as little as $50 a night. RV campgrounds can range from modern facilities with paved parking pads and full RV-hookups. To a dispersed campground setting with dirt roads, pit toilets, no running water, and NO RV-hookups available. RV campgrounds can range from as little as $15/night to as much as $45/night.
In the end, each RV accommodation meets a particular need that RVers might have. Or they might just match up with that RVer's preference for the night.
If you're still unsure what the difference is between an RV Park, RV Resort, or an RV Campground, keep reading to discover what to expect at the three RV accommodations available to you. Some RVers have realized their next trip will include stops at all three of these settings if you don't plan ahead.
How Do You Define An RV resort
If you're like me, you usually associate the word "resort" with people and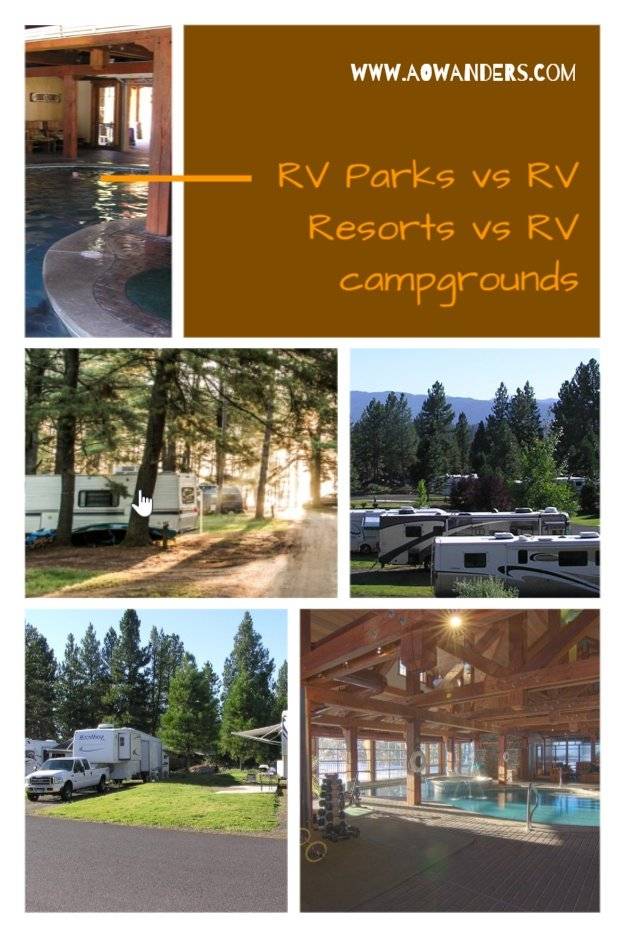 things that are on the fancier side.
Sure enough, as its name suggests, an RV resort is the most grandiose destination of the three RV accommodations available. Okay, perhaps "grandiose" is a bit extreme. Let's go with "deluxe" instead. Yes, RV resorts tend to be more deluxe than RV parks and campgrounds. They simply offer more amenities to RVers, and they're typically of a higher quality.
At an RV resort,like this one found in McCall Idaho, you'll find full hookups for any rigs that are on the larger side. You'll also encounter a whole lot of amenities. So much so that some RV resorts can sometimes resemble hotels. They feature clubhouses, eateries, fitness centers, and a host of other conveniences like laundromats and Wi-Fi that you simply will not find boondocking at a dispersed campsite in the middle of nowhere. But I'm sure you guessed that. Correct? If not, check out my popular Newbie RV Life Article.
In addition to the bare necessities, RV resorts also sometimes offer options for those seeking entertainment. You'll often find basketball courts, swimming pools, and tennis courts. This makes RV resorts a popular choice for RVers with children. Staying at an RV resort will virtually guarantee that every family member has something that keeps them busy.
RV resorts also tend to bunch people together in a way that parks and campgrounds do not. Privacy is most definitely not a priority at RV resorts. At least not to the extent that it is in the middle of the woods. Expect to encounter lots of people and your neighbor to be parked less than 10 feet away.
While I'm especially fond of the RV community, if you're not a people person or simply want a place where you can be left alone most of the time, an RV resort is probably not for you.
Many RV resorts appeal to RVers who are looking for an extended stay in a social atmosphere.
Be it a long-term or even seasonal visit, if you want a place where you can settle down and establish some roots, an RV resort just might be the place for you.
Some resorts even allow interested RVers to buy individual lots within the resort. They can be expensive, though, so make sure you truly love the resort before purchasing a permanent parking place for your RV.
What is an RV Resort?
RV resorts are a more expensive option for RVers who prefer convenience and companionship with other RVers over the scenery and solitude of the wilderness.
What to expect from an RV Park?
An RV park is widely considered by RVers to be the middle of the road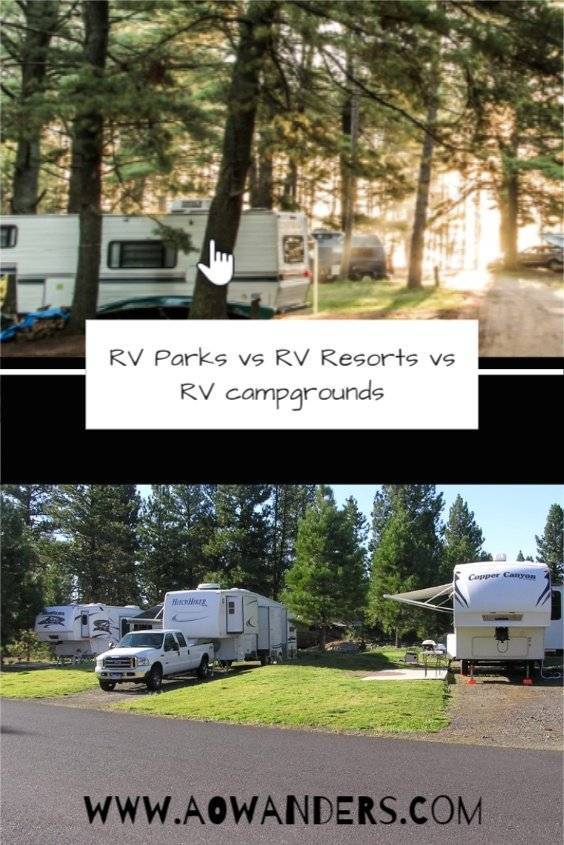 option. While they include some of the perks usually seen at RV resorts, they come with a significantly lower price tag. And since we all know that you get what you pay for, it's no surprise that the perks found at an RV park are of slightly less quality.
With that said, you'll still often find water, sewer access, and electric hookups at an RV park. The convenience of having those items often outweighs the fact that they're more primitive than the ones you'd find at an RV resort.
It's important to note that RV parks tend to have the most variance between each other. There's a wide range in the quality you'll find from park to park. Which makes it hard to lump all RV Parks into one category.
For example, one RV park might have a paved driveway, while the next one you visit might not. This is where doing research can really make or break your experience as an RVer.
Another more consequential way RV parks differ is in the amount of space they have for large rigs. If you have a particularly large rig, it'd be wise to call ahead to make sure they can fit it. Again, there is no one-size-fits-all for RV parks, so a bit of research will be needed to prevent any unwanted surprises.
While staying at an RV park is almost always cheaper than staying at an RV resort, the prices of RV parks vary just as greatly as the amenities they offer. The determining factor in how much it costs to stay at an RV park is often its proximity to local area attractions.
If you're looking to stay close to a beach or amusement park, for example, expect to pay more. The farther you get from the beaten path, the less money you'll pay to stay there.
If you're looking for a more outdoorsy experience than the one you'd find at an RV resort, definitely look into RV parks. You'll have much more access to trees and more seclusion from other people.
At the same time, you'll still have access to some of the perks found at an RV resort. It really is the best of both worlds for anyone who isn't intent on finding the extremes of resorts and campgrounds.
What Is An RV Park?
With their basic amenities, RV parks are the perfect middle ground between the convenient, yet less scenic, lifestyle of RV resorts and the wild, untamed nature of RV campgrounds.
What To Expect At An RV Campground
While it's difficult to generalize regarding which RVers like to stay where there definitely are some patterns that can help you figure out where you want to park your camper for the night.
For example, RVers who love to be out in the middle of nature and far from the madding crowd almost always prefer to stay at RV campgrounds. They tend to value the great outdoors' atmosphere and beauty more than the convenience they might find at an RV resort or park. For these RVers, roughing it is the only way to go.
RV campgrounds are usually located in more rural areas. Picture Smokey the Bear doing his thing in national parks and forests. There are plenty of trees, fresh air, and untouched ground. That's pretty much the setting of most RV campgrounds. Or at least it should be, in my opinion, but remember there's always an exception to the rule of what an RV campground will be like.
RVers prefer campgrounds not only for their increased exposure to the wild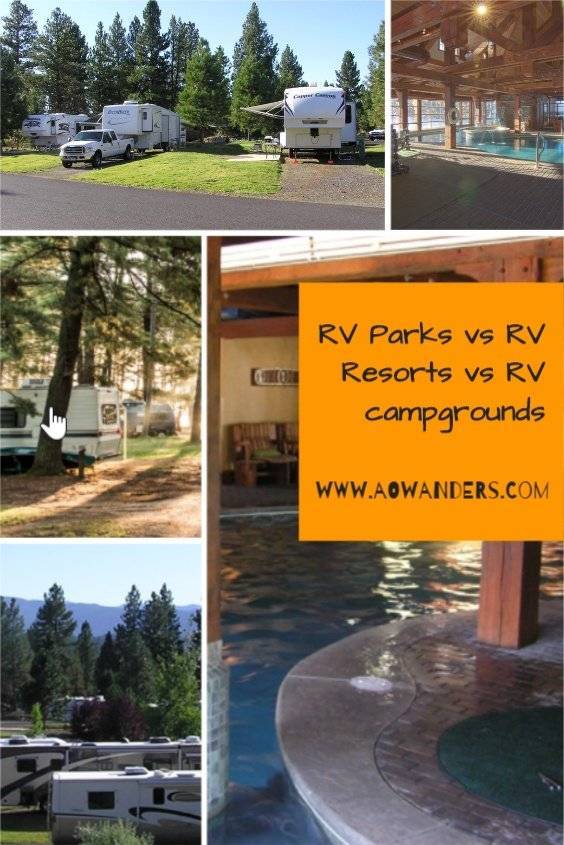 and wonderful wilderness but also for their substantially lower cost. It's not at all unusual for RVers to pay absolutely nothing to stay at a campground. Campgrounds are almost always priced lower than resorts and parks because they offer visitors few, if any, of the amenities found at those other places (RV Parks & RV Resorts). 
Case in point is the fact that most of the time, you'll find nothing more than a picnic table and fire-ring at an RV campground. Sometimes you'll stumble upon a toilet and showers, but don't rely on it.
A handful of campgrounds provide electric hookups and water, but you might have better odds playing the lottery. So, it's still in your best interest to show up at an RV campground with your own freshwater.
If you or your family are interested in having an authentically rough and rugged experience, you'll very much enjoy all that an RV campground has to offer. And if you prefer sharing your space with animals rather than other humans, you'll definitely feel at home at a campground.
What is an RV Campground?
In short, an RV campground is the perfect setting for RVers who want relaxing hiking trails, stunning scenery, and near-total seclusion from the rest of the world.
With their barebones and oftentimes scenic rustic setting, RV campgrounds are a paradise for RVers who want to experience the allure of the prototypical old-school camping experience.
What is the difference between an RV Park, RV Resort, and an RV Campground?
With fall now upon us, the weather in most places is absolutely perfect for the ultimate RV outing. If it's been a while since you hit the road with your RV, now is the time to do it.
Especially now that your armed with the knowledge of price and amenities are the difference between an RV Resort, RV Park and RV campground. You can plan your next RV road trip more efficiently and budget friendly.
Comparing the "big three" RV-camping options
And now that you know the difference between RV resorts, parks, and campgrounds, you're ready for the next leg of your RV adventure.
The only thing left to do now is to figure out which setting is perfect for you.
Now that you know what is the difference between an RV Park, RV Resort, and an RV Campground let me know if you agree in the comments below!
---
Here Are My Favorite Booking Resources:  Affordable & Efficient Travel Booking Tools I Use Everyday Along With My Favorite Gear Resources
Book Your Flight
Find a cheap flight by using Skyscanner or Momondo. These are my two favorite "flight" search engines because they search through websites and airlines around the globe and offer a calendar view to find even cheaper flights for flexible travelers.  Check out these UNIQUE destination deals or my favorite All Inclusive Booking Travel Tool!
Rent An RV
Find cheap RV rentals for your next adventure by using Outdoorsy or RVshare.  These are my two favorite "RV" search engines because they allow you to rent from private RV owners, and offer a wide variety of chooses at affordable rates.  Want to start making money by renting out your RV?  List it with Outdoorsy or RVshare.
Book Your Accommodation
You can book your hostel with Hostelworld. If you want to stay elsewhere, use Booking.com as they consistently return the cheapest rates for guesthouses and cheap hotels.  Get a $40 credit for booking with AirBnb.  Need to book a private campsite use my favorite RV booking site Hipcamp!
Need Gear
I use REI for all my gear needs because if it ever fails or gets damaged they will replace it for free!!! No questions!!! No hassles.
If REI doesn't have the gear I need.  I can always find it on Backcountry.com
Travel Community
Join the Escapees travel club to meet fellow travelers and talk about all things related to RVing and overland travel.
Travel Packages & Tours
Are you looking for worldwide tours and travel packages?  Check out my go-to source — IntrepidTravel!  Looking for more family related travel packages and tours book with GAdventures.
Don't Forget Travel Insurance
Travel insurance will protect you against illness, injury, theft, and cancellations. It's comprehensive protection in case anything goes wrong and will cover things like transport security, crisis response and medical transports such as Life Flight. Why go on any trip without a safety net that costs less than a case of beer? I've been using SafetyWings for years without any issues.
My favorite companies that offer the best service and value are:
Looking for the best companies to save money with?
Check out my resource page for the best companies to use when you travel! I list all the ones I use to save money when I travel – and I think will help you too!
Just Want To Support This Amazingly Resourceful Website
Websites incur constant fees!  From hosting costs to massive amounts of personal time creating beneficial content for readers to consume at their leisure.  To help offset those costs or just to say, Thank You.  You can help support this community by shopping through any of the links found on my resource page.  Shop on Amazon through this link and I'll get a small commission, or you can directly support this site through Paypal donations.  None of this is a requirement its just helpful and creates a better community for all of us.