Tiny Towable Campers With Full Bathrooms
Quick Reference Table of Contents
Deciding which small towable camper & camping trailer is the best on the market is a task I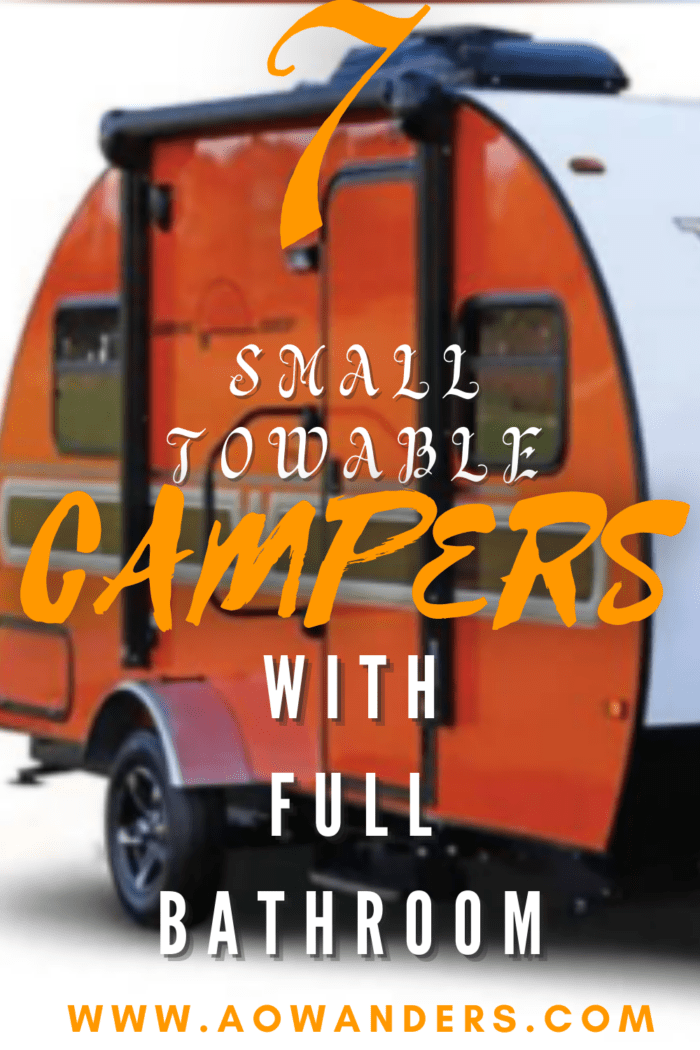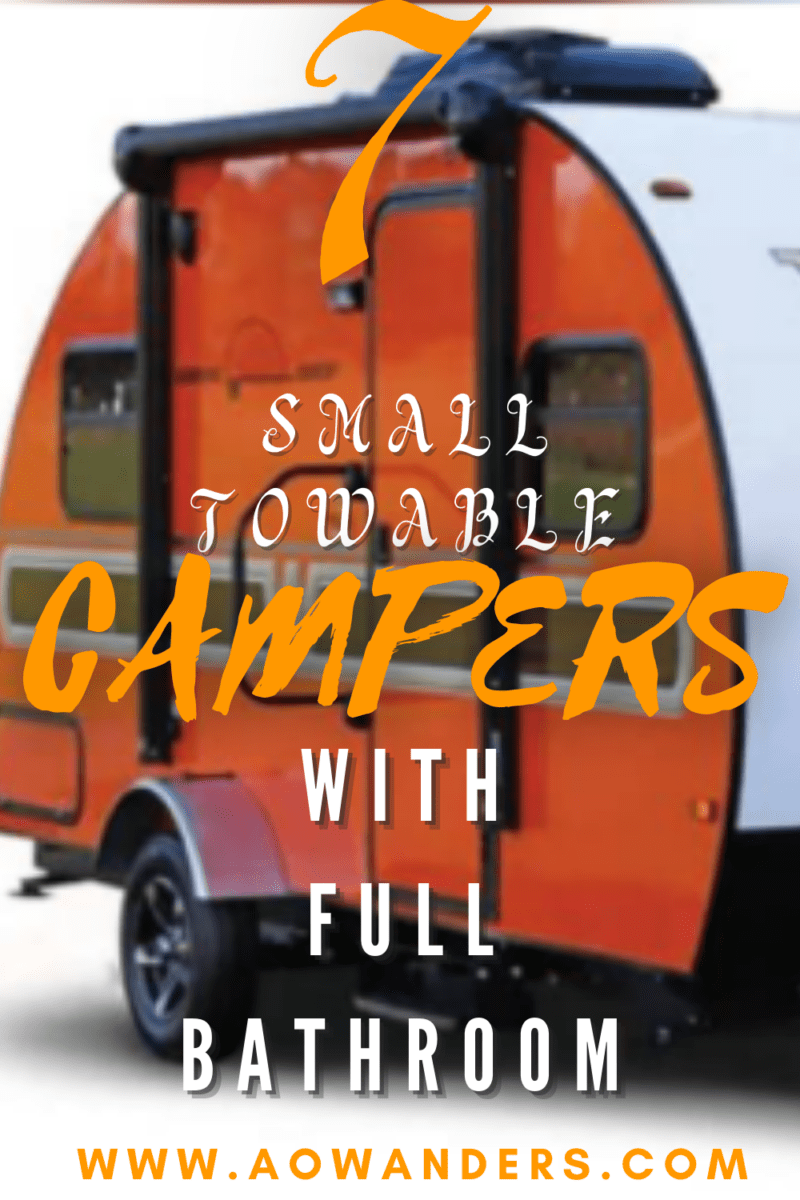 feel is too daunting because it's like saying, here are the best camper accessories; the best way to start a campfire, or best RV campfire recipes for your camper trailer. 
There are just too many variables in the equation. After all, there are so many different styles of camper trailers and so many various reasons for why people buy them. Not to mention all the different types of camping & cheap RV living styles.
RV/Camper Buying Reads

Truth Behind Small Towable Camper Lists
There is simply no accurate list of "best" campers that every RVer should go out and buy today. Instead of creating a top 10 list of small towable travel trailer campers and subjectively ranking them how I want, I've simply compiled a list of 7 great small towable campers with full-size bathrooms under 1,500 lbs that I think are truly exceptional in their own way.
There's no real rhyme or reason to my list, other than to say I think each of these small campers is worthy of being identified for what they offer. Some of them are going to hit every check box. While others will be a deal-breaker for missing your wants and needs in a small towable camper.
Benefits Of Small Towable Campers
Here's the deal though, a camper is supposed to enhance the outdoor camping experience. However, it does that, is more along the lines of beauty is in the eye of the beholder. Right?
Which makes this list's focal point, "How does a small towable camper with a full size bathroom enhance a camper experience through its design, functionality, and adaptiveness."
I love everything about RV life, so I'm simply excited to share some of these campers with you. It brings me back to the start of my boondocking days. Still, there's nothing I enjoy more than hitting the open road and spending the night beneath the stars. Any vehicle, or camper for that matter, that lets you do that is okay in my book. So let's get on with it, shall we?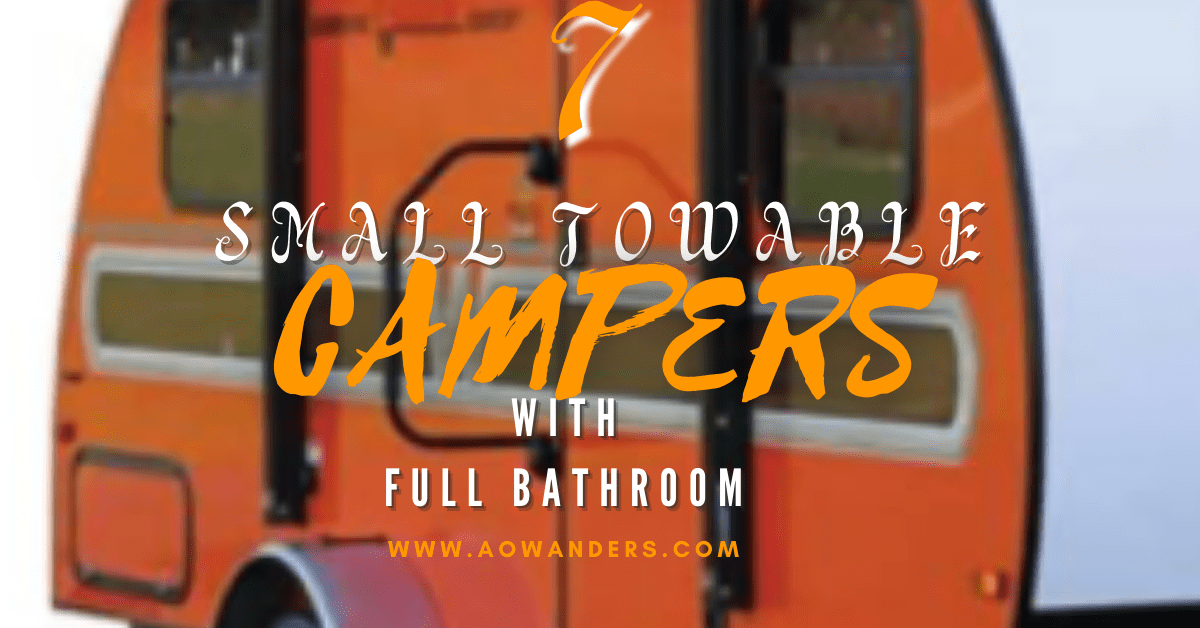 What Is A Small Towable Camper?
Small towable campers with full-sized bathrooms vary in length from 12 feet -19 feet. Range in price of $18,000 – $32,000 from an RV dealership, and $4,000 – $10,000 for a used camper model. These small towable campers can be towed with a small sedan, SUV, and mid-sized to full-sized trucks. Along with being versatile enough to accommodate the whole family or solo travelers for any camping adventure throughout the year. Including full-time living RVers!
On that note, here are 7 small towable campers with a full-size bathroom I'm entirely crazy about, and you should be too.
The 19 Foot Airstream Flying Cloud
When you think of, "luxury camper", one of the first things that should come to mind is the Airstream brand. They've come up with some of the most iconic sought after RVs in the industry. And as long as you're willing to fork over a decent chunk of change, you can find out why. It's worth it, though, as Airstream is known for the utmost quality and value. Even in today's highly competitive market.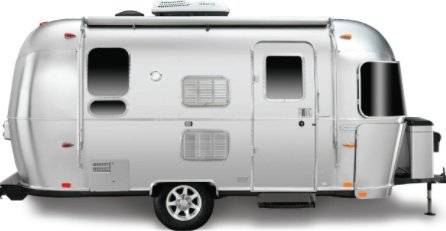 The Airstream model that I've chosen for this list is the lightweight 19-foot Flying Cloud towable travel trailer.
Although it comes with all the basics you'd expect from an Airstream, the Flying Cloud also offers several top-notch features, including:
Ultra-leather Seating,
Rear-view Monitoring System
Blackout Curtains.
Lightweight
Full-size bathroom with stand-up shower
Galley Kitchen
The Oliver Legacy Elite 2
One of the main reasons why the Oliver brand is so admired by campers is its unique build. With two fiberglass inner shells that are combined with two fiberglass outer shells. The result? A whole lot of fiberglass – and even more sturdiness and security. Because of its fiberglass shell, it is widely considered a "maintenance free" towable camper.
This little gem of a travel trailer is just as sought after as the elusive lightweight 5th wheel Scampi camper. Because of its lightweight design and long shelf life its as durable and functional as they come!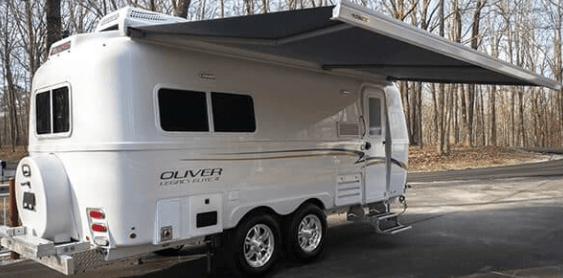 Another aspect of the Oliver travel trailer that distinguishes itself from other campers is its aircraft-grade aluminum. This takes the place of the traditional wood and carpet seen in so many other campers. That means that instead of mold and mildew, camper owners enjoy comfort and longevity. With this lightweight, small towable travel trailer with a full bathroom and shower facilities! Definitely makes it a camper worth owning.
If you like camping in extreme weather, the small towable Oliver travel trailer is the camper for you. Its insulation is second to none, thus providing protection from all the elements, no matter how harsh they may be.
As for why the Legacy Elite 2 is the Oliver model on this list, much of it has to do with its lightweight (4,600 pounds) and its two-floor plans. Oh, and take a look at it's list of features:
Fiberglass Housing Shell
4-Season Construction
Inside/Outside speaker system
Lightweight
Full-size bathroom & shower
Inclusive RV Kitchen Accessories
The Winnebago Minnie Drop
What would a "best of" small towable camper list be without a Winnebago on it? A household brand name that is perhaps the most recognized in the RV industry and has been for more than half a century.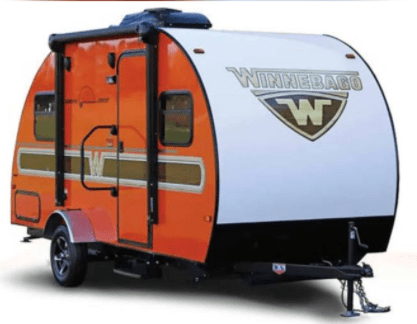 The Minnie Drop is widely considered Winnebago's most aerodynamic model of modern times. Making it exceptionally easy to tow. Even for the smallest of vehicles.
Another thing the Minnie Drop has going for it is its interior. Providing nearly 6 and a half feet of headroom. Full galley kitchen, and a full-sized bathroom. That includes a stand-up shower. Some versions even offer additional space via a slideout.
The Minnie Drop is available in multiple colors and features some of the industry's most aesthetically pleasing exterior graphics. Looks aren't everything, but I'd be lying if I said they didn't matter. Plus orange is my favorite color, and I don't know any other manufacturer that offers an orange RV/camper for sale!
As for its features, here are some of the most appealing:
Aluminum floor structure with plywood decking
Nightshades
AV system with AM/FM/CD/DVD/USB/SD/Bluetooth
Lightweight
Optional Living Room Slideout
Full-size Bathroom Facilities Including Shower
The Jayco Jay Flight
You have to go back 16 years if you're trying to find the last time the Jayco Jay Flight was not the #1 seller among small towable travel trailers.
Much of Jayco's prolonged success is due to its superior craftsmanship. RVers & travelers know this brand can handle any adventure you throw at it, and the Jayco Jay Flight is a lightweight towable camper constructed with numerous modern RV amenities generally found in high-end Class A RVs.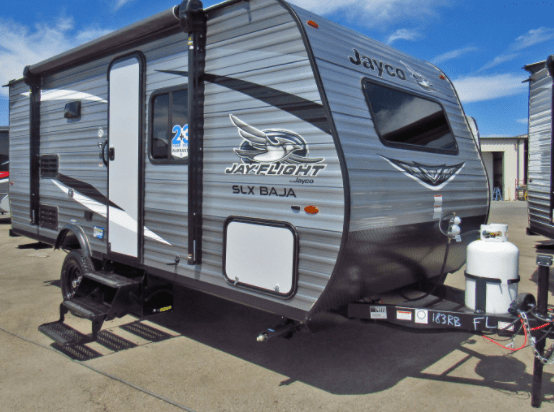 Also, the Jayco Jay Flight offers a plethora of floor plans and kitchen options. They provide straightforward kitchen designs, as well as more luxurious floor plans.
Some of the Jayco Jay Flight features include:
Aluminum Frame Construction
Full-Size Bathroom & Shower
Keyed-Alike entry and baggage doors
Optional Slideout Floorplans
The Happier Camper
It seems as though retro is always in, and that's certainly the case with The Happier Camper. Its vintage vibes and small, lightweight fiberglass build make it the most charming petite towable camper on my list.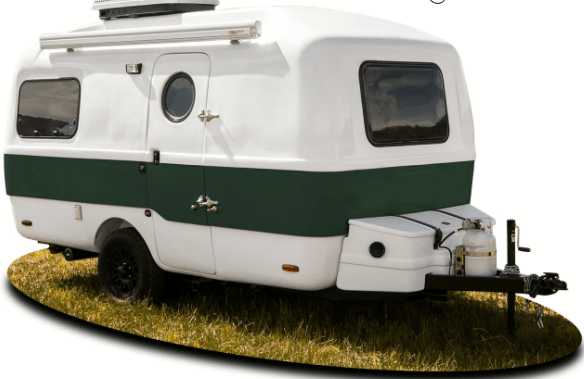 One of the most intriguing aspects of the Happier Camper is its modular seating. This allows you to customize your living space to meet all your camping needs.
Another thing that makes the small towable Happier Camper unique among the campers on our list is that it can be towed by standard cars. That's right. Something smaller than an SUV can actually pull the Happier Camper to and fro.
Some of the Happier Camper features include:
Fiberglass Shell
Panoramic Windows
Side Door Storage
Steel Reinforced Ribs
Full Size Kitchen & Bathroom
The Keystone Hideout
Are you a first-time camper? If so, Keystone proudly declares the Hideout the perfect small towable camper for you. It's touted as one of the most comfortable campers to navigate, thus making it a favorite among those with less "RV"experience. So if your afraid of making common RV mistakes this is the beginner camper for you.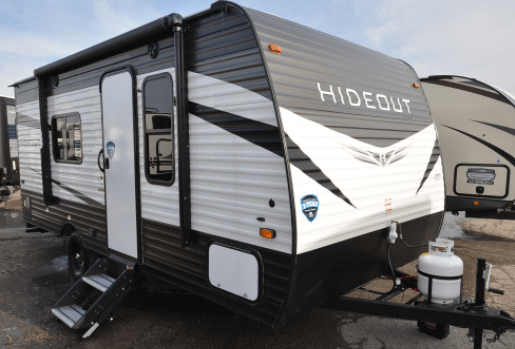 Freedom is another critical element of the Hideout. As its small enough to to park anywhere. Equipped enough to boondock in the harshest of landscapes, and modern enough to pass the eye candy test. This small lightweight travel trailer offers a detailed floor plan that allows you to camp wherever you want. When ever you want.
Finally, the Hideout has a crisp, clean look that proves substance triumphs over style when it comes to small towable travel trailer campers.
The Hideout's features include:
Pre-wired LTE and Wi-Fi hotspot,
Rugged Lightweight Construction
Full Size Bathroom With Shower
High-Quality Kitchen Appliances
Bluetooth Inside/Outside Entertainment System
The Grand Design Imagine
Few travel trailer brands have as loyal a fanbase as does the Grand Design RV. Fans and critics alike identify with this brand as among the best in the industry. As an elite camper manufacturer. The Grand Design Imagine is the top of the line when it comes to small towable travel trailer campers.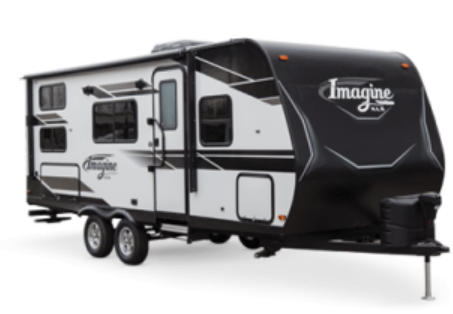 One central selling point of the Imagine trailer is its seemingly countless floor options. Which offer 11 unique floor plans. Including option slide out to create more interior living space.
Not only that, but each plan comes with a queen-sized bed. When you want to travel comfortably, you want to be glamping in the Grand Design Image travel trailer with full size bathroom and kitchen.
The Grand Design Imagine offers more than its share of features, some of which include:
State of the Art Construction
High End Material
Residential Caliber Counter Tops
Full Size Kitchen
Full Size Bathroom
Queen Bed
Solidifying The BEST Small Campers
All lists are subjective, including this one. Still, I think I picked some pretty stellar small towable campers with full-size bathrooms for you to consider.
Objectivity goes out the window when making up most lists. Especially when the topic of the list has so many variables in the equation. Which is why I am a big fan of whatever the question is. The answer or the solution needs to be something you can grow into and not out of. So make sure the camper you buy today is adequate for tomorrow.
And suppose you're still reading this article. You're obviously one of the growing number of people who genuinely care about all that RV life has to offer.
If so, I hope you'll enjoy checking out the campers I've placed on this list.
While they're all quite different, they're similar in one crucial way: I'd be thrilled to take each one of them out into the great outdoors and spend the night camping. So should you. Enjoy star gazing in your new small towable camper with full size bathroom and kitchen.
Happy Travels Everyone!!!
Here Are My Favorite Booking Resources:  Affordable & Efficient Travel Booking Tools I Use Everyday Along With My Favorite Gear Resources
Book Your Flight
Find a cheap flight by using Skyscanner or Momondo. These are my two favorite "flight" search engines because they search through websites and airlines around the globe and offer a calendar view to find even cheaper flights for flexible travelers.  Check out these UNIQUE destination deals or my favorite All Inclusive Booking Travel Tool!
Rent An RV
Find cheap RV rentals for your next adventure by using Outdoorsy or RVshare.  These are my two favorite "RV" search engines because they allow you to rent from private RV owners, and offer a wide variety of chooses at affordable rates.  Want to start making money by renting out your RV?  List it with Outdoorsy or RVshare.
Book Your Accommodation
You can book your hostel with Hostelworld. If you want to stay elsewhere, use Booking.com as they consistently return the cheapest rates for guesthouses and cheap hotels.  Get a $40 credit for booking with AirBnb.  Need to book a private campsite use my favorite RV booking site Hipcamp!
Need Gear
I use REI for all my gear needs because if it ever fails or gets damaged they will replace it for free!!! No questions!!! No hassles.
If REI doesn't have the gear I need.  I can always find it on Backcountry.com
Travel Community
Join the Escapees travel club to meet fellow travelers and talk about all things related to RVing and overland travel.
Travel Packages & Tours
Are you looking for worldwide tours and travel packages?  Check out my go-to source — IntrepidTravel!  Looking for more family related travel packages and tours book with GAdventures.
Don't Forget Travel Insurance
Travel insurance will protect you against illness, injury, theft, and cancellations. It's comprehensive protection in case anything goes wrong and will cover things like transport security, crisis response and medical transports such as Life Flight. Why go on any trip without a safety net that costs less than a case of beer? I've been using SafetyWings for years without any issues.
My favorite companies that offer the best service and value are:
SafetyWings (ONLY $35 & Covers USA Travelers)
World Nomads (for everyone below 70)
Insure My Trip (for those over 70)
Medjet (for additional travel insurance coverage like medical transport, travel security & crisis response)
Looking for the best companies to save money with?
Check out my resource page for the best companies to use when you travel! I list all the ones I use to save money when I travel – and I think will help you too!
Just Want To Support This Amazingly Resourceful Website
Websites incur constant fees!  From hosting costs to massive amounts of personal time creating beneficial content for readers to consume at their leisure.  To help offset those costs or just to say, Thank You.  You can help support this community by shopping through any of the links found on my resource page.  Shop on Amazon through this link and I'll get a small commission, or you can directly support this site through Paypal donations.  None of this is a requirement its just helpful and creates a better community for all of us.