WHITEFISH MONTANA
Quick Reference Table of Contents
Whitefish Montana is this vibrant little mountain town nestled between Glacier National Park, Flathead Lake & Big Mountain Ski Resort. Millions of people every year travel to this iconic vacation destination to see its magnificent beauty & mountainous landscape.  Surrounded by world class fishing in every creek, river, stream & lake fisherman flock from around the globe.  Thousands of miles of trails attract hikers, bikers, ATVs, snowmobiles & anybody else that wants to be in the great outdoors.
Within striking range to Banff, Yellowstone, Hood River, Mount Rushmore, Jasper, Sandpoint & Mount Rainier its perfect for an unforgettable summer road trip family vacation.  Along with all the outdoor activities Whitefish Montana is full of other adventurous activities for the whole family to enjoy.  From hockey games at the ice arena to eating crepes for breakfast on main street Whitefish has something for everybody.
FACTS OF WHITEFISH MONTANA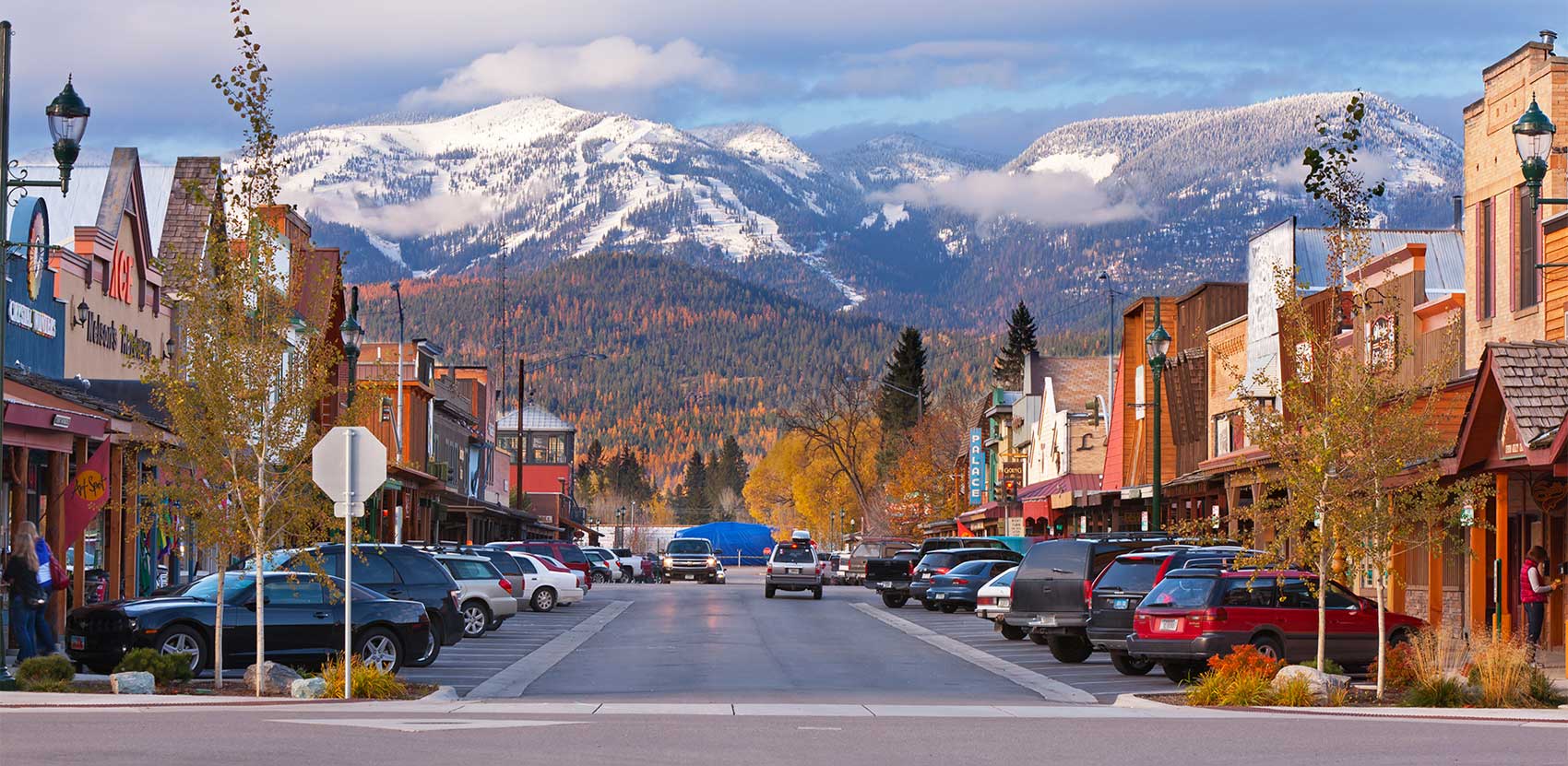 With a population of 7,200 in 2016, and hits every checkbox a tourist, traveler or local could ever want its one of the best kept secrets in America.  Accessible by plane, train, bus or car makes it even more confusing why its not on everyone's radar.  I've lived in the Whitefish area twice, and when my travels are done it will be my permanent home.  Unless I stumble across something even better on my trip around the AO LOOP.  A one bedroom apartment will run you about $750 and a two bedroom is under a $1000.
RV spots run around $500 a month unless you can get a spot at the private park at the entrance of town near the gold & antique store.  They only charge $230/month, but those spots are filled with long term residents who have been there for years.  Utilities combined will run you around $200/month, and Kalispell is a full service town 17 miles away for all you big box store supply needs.  Plus there are two nationwide grocery stores right in town so groceries for me (a single guy) was around $200/month.
Most  jobs pay around $12-15/hr, and a server or bartender can make around $4,000/month.  Montana has no sales tax, and the cost of alcohol is the cheapest in the nation.  A bud light goes for $2 at every bar on Main Street, and almost every bar has kino, slots or Texas Hold'em Poker.
ACTIVITIES OF WHITEFISH MONTANA
With my hobbies, interests & lifestyle its the perfect set up.  With an outdoor playground to ski, hike, camp, climb, fish, raft, mountain bike, snowmobile & ATV I couldn't ask for anything more.  After a long day in the backcountry to come back into town to grab dinner at a variety of restaurants from steakhouses to sushi, or take in a movie at the theater.  Meet up with friends for a round of golf on 1 of the 4 courses, or knock some pins over at the local bowling alley.  Whitefish Montana has it all.

From antiques to waterparks if you can't find it here you didn't look hard enough.  On Sundays & Mondays you can play No-Limit Poker at the Remington Bar, or you can play 2-5 Limit Poker any day of the week at the Bulldog Saloon.  Spend all day walking up & down mainstreet shopping for clothes, gear, souvenirs or art.  Visit the local ice arena to join an adult league, watch youth hockey or sign up for open skate. Inhale a yoga session at the Yoga Hive, or rent jet ski's and whip around the 25th largest lake in America.  There's two theater companies, and a brewery right downtown to give you even more options.
Make your way to Columbia Falls and spend the day at Montana's largest waterpark, or go ziplining right outside of Glacier.  Take a fly fishing lesson, or sign up for a whitewater raft tour.  Go dancing at Caseys on Main Street, or head up to their rooftop bar and sip martini's as you watch the sun set into the mountains.  The only thing Whitefish Montana doesn't have is indoor skydiving or surfing, but I'm sure its on the way.
WINTERS IN WHITEFISH MONTANA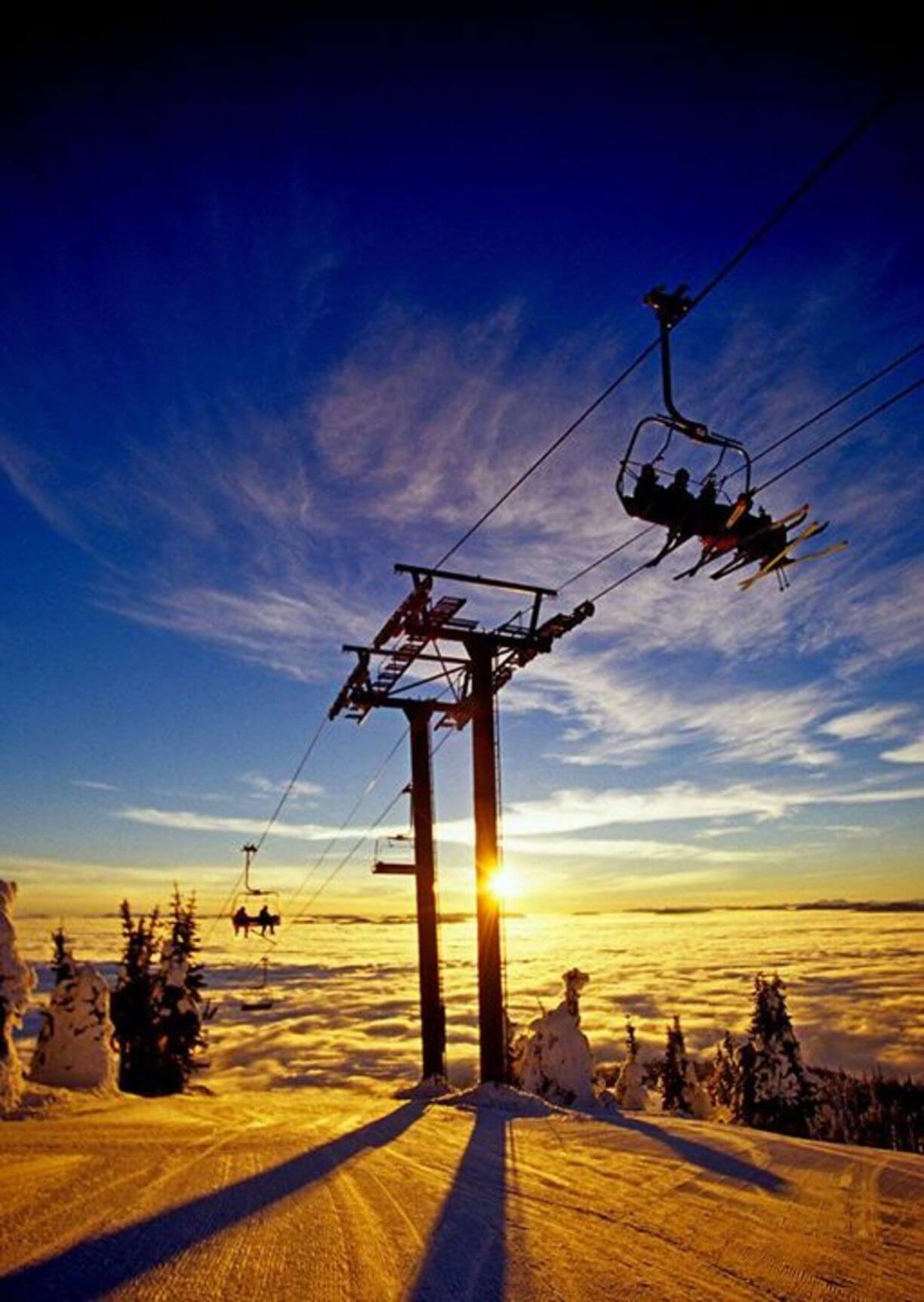 Winters are cold, but when you live in a mountain town at the base of a ski resort you'll take the cold over the heat any day of the week.  With 4 ski resorts within an hour of Whitefish, and 13 more within striking range skiing rocky mountain powder is magnificent.  The ice arena has leagues for all ages & skills to get you out of the house.  Snowshoeing, cross-country skiing, snowmobiling & ice fishing are all on the table as well.
Need a break from the snow take Amtrak to Seattle or Portland for a day trip or long weekend getaway.  All the bars in town have an open mic or karaoke night.  Learn jiu- jitsu, or get a membership at Waves.  The only health club with an indoor waterpark.  Whitefish is a four season town that has just as much to do in the winter as it does in the summer.  The off season is only October & April.
VIBE OF WHITEFISH MONTANA
The vibe and pulse of Whitefish Montana is active, modern, genuine & neighborly.  My first night there I was invited to house party. It wasn't a binge drinking puke on my shoes while I hold your hair back house party.  We played bocce ball, volleyball, monopoly & pictionary until the sun came up.  Then we then built a raft to get to the sand bar so we could build a rope swing, and hang out on all day.  It was good clean harmless fun with good people, and the town is full of good people.
If you get a DWI its because you ignored the 8 strangers offering to drive you home for free.  Neighbors will show up with homecooked food & donations when life knocks you off your feet. Whitefish isn't about sports cars, bling & bass.  Its about quality, family, friends, memories, experiences & the simplicity of a "good life".  The mentality is treat others how you want to be treated, and watch out for one another.  Its infectious & quite rare in today's America. It's towns like whitefish that become home to so many full time RVers in the summer.  With its outdoor beauty & endless supply of fun its no mystery.  Think you want to join in the RV life, check out my guide to buying your new RV.
Obviously there is a small "shady" community, but google the local newspaper and read the police blotter.  Its not uncommon to see: "An individual called 911 emergency services last night because there were raccoons in his neighbors garbage."  Tell me another city were that call would make the police blotter because there is so little crime they don't have any other option but to publish it!  That's Whitefish for you.  There may be some bad apples, but doors remain open.  Cars park with windows down, and money left in plane site.  Its a way of life I hope stays in Whitefish Montana forever.
Use Trover to find even more discoveries, and leave a comment below about what you think of Whitefish Montana.