Benefits Of Stationary RV Living
Quick Reference Table of Contents
Those who dream of permanent full-time RV living envision themselves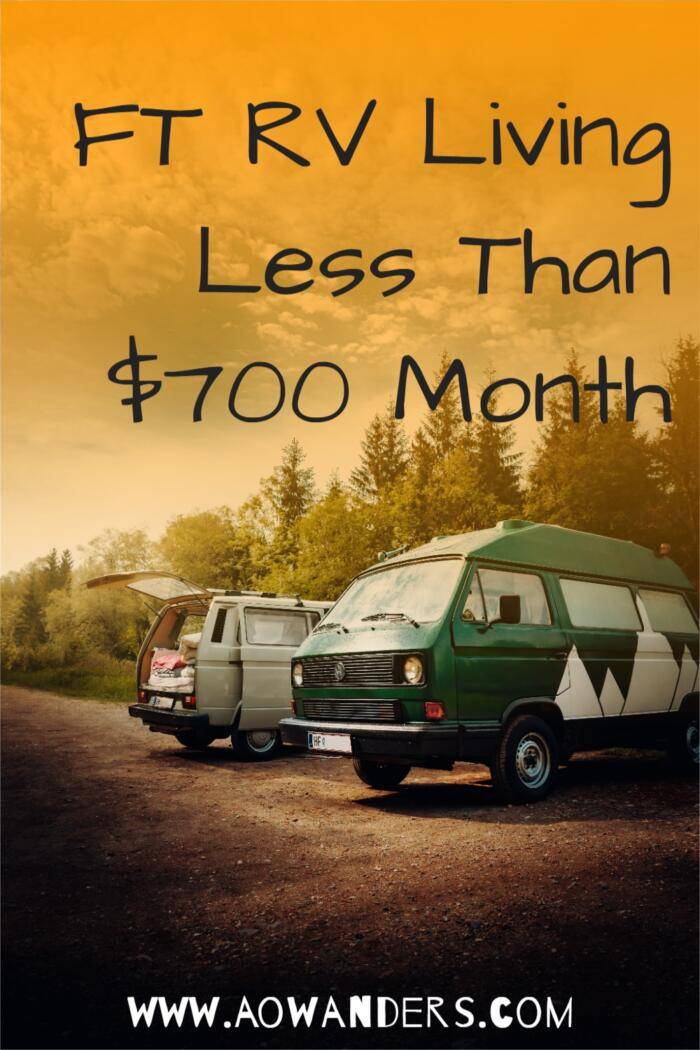 traveling around the country while visiting 1 of 63 National Parks or any number of various other adventurous activities. From the Grand Canyon to our newest National Park, The New River Gorge. 
At some point, though, travel will take its toll, and you will find yourself secretly desiring to stay put for an extended period of time. Some call this "slow travel," while others have labeled it Stationary RV living.  
Whatever label you choose to claim, and for whatever reason, all full-time RVers will inevitably find themselves permanently parked. Whether that is for maintenance, work, budgets, or plain exhaustion, stationary RV living is real.  
What Is Stationary RV Living
Permanently residing in your RV full-time within the confines of an RV park, campground, or private RV lot for an extended period of time for a flat monthly rate with no plans to leave is considered stationary RV living.
You can find these opportunities at RV parks worldwide, and I've written about this several times on finding long-term RV lots for rent. In fact, almost every campground offers a monthly rate that is drastically lower than its nightly rate. 
For example, I am currently staying at the Bridgeview RV Park in Corpus Christi for $195 a month instead of paying their nightly rate of $34 per night.  
What Are The Benefits of Stationary RV Living
There's plenty of perks for permanently staying at an RV park. Like not having to pack or unpack your camper at each new destination. All the people you get to meet, and all the money you will save from not having to refuel every couple of hours. Plus, you get to battle with the incredibly unreliable wifi. All kidding aside, let's dive into the benefits of stationary RV living.  
10 Benefits To Stationary RV Living
Friendly Community

Abundant Outdoor Activities

Cleaning Isn't A Chore

Outdoor Community Cookouts

Lower Cost of Living

No Property Taxes

No Deposit

No Longterm Lease

No Yard Work

Free Amenities
Friendly Active Community
Camping is a social experience. RVers are a friendly bunch who go out of their way to be inclusive by inviting their neighbors over for dinner or sharing adult beverages around the campfire to swap stories and RV advice. 
It's a nightly tradition to hear music in the background and laughter flowing from a gathering around a crackling fire. Pet owners walking their dog embark on one detour after another to stop and chat with their RV neighbors. Theirs a social pulse in an RV park you just don't find living in an apartment or house, and it's this constant social interaction that makes stationary RV living so enjoyable.  
Outdoor Activities Are Prefered
Besides being social, RVers are inherently active. Hiking, biking, fishing, and pretty much anything outdoors is on the radar. One of my good friends who is stationary RV living on South Padre Island likes to round up her RV neighbors to walk the beach and collect seashells just before sunset. A prime example of how the RV community loves absorbing nature instead of babysitting a TV for hours on end.  
Living in an RV park long-term will expose you to a wide array of outdoor activities. From sunset beach walks to zip-lining through a rainforest living in an RV park delivers a plethora of daily outdoor activities to choose from. Which is one of the main reasons full-time RVers choose to permanently live in an RV park.   
Cleaning Your RV
One undeniable byproduct of living full-time in your RV is discovering just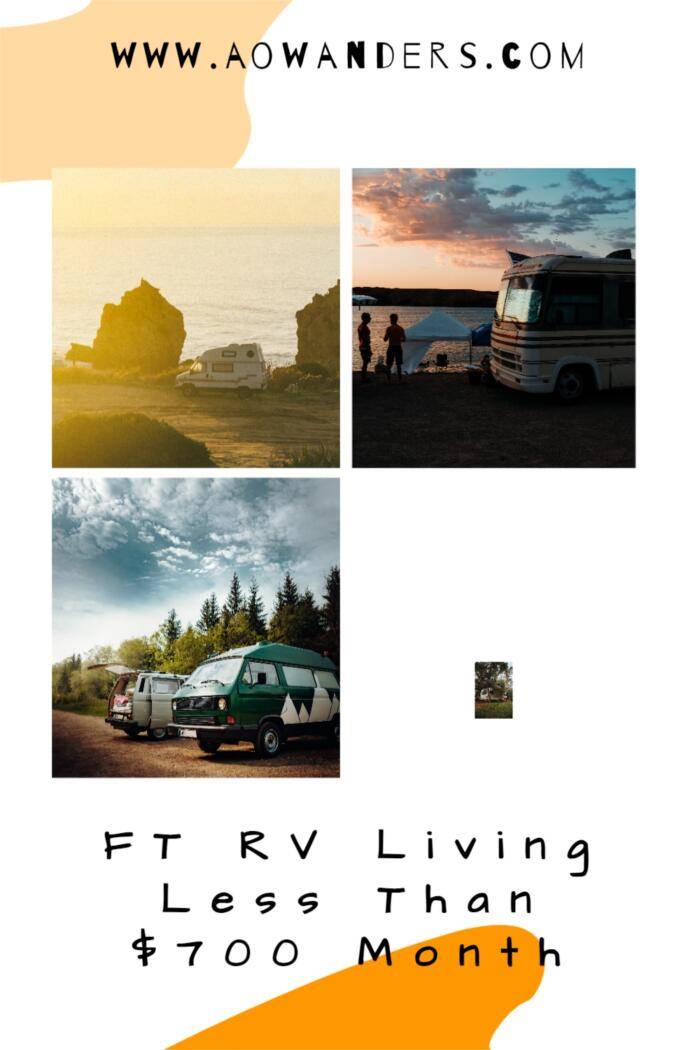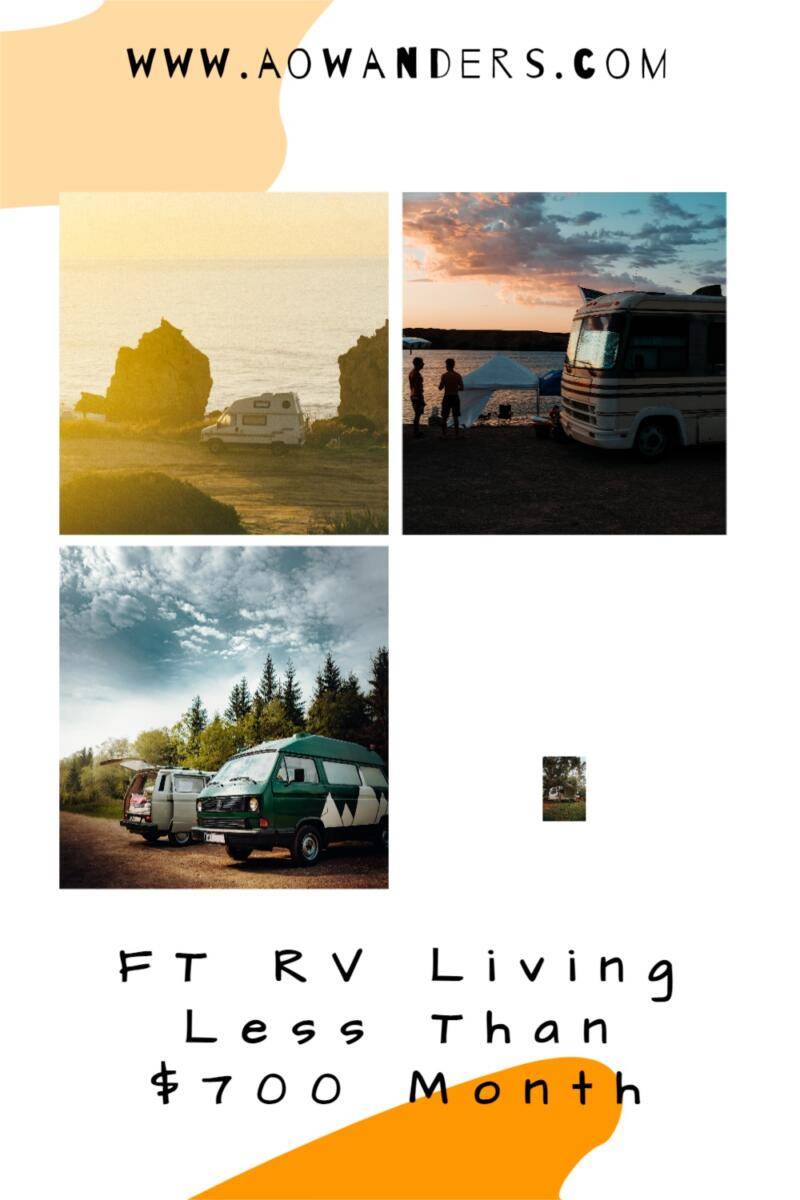 how easy it is to clean. Everything's an easy clean surface. That takes no more than a half-hour to clean your entire rig from top to bottom and front to back.  
Who can say that about their apartment or home? Heck, it takes my mom a half hour just to vacuum the living room in her house. 
Cleaning pet hair out of an RV couldn't be easier. Everything's leather or hard surfaces, making it super easy to clean by simply sweeping it up. 
The most crucial aspect of stationary RV living that I would miss the most is how efficiently easy it is to clean my camper.  
Outdoor Community Cookouts
One of my favorite aspects of living in an RV park full-time are the outdoor cookouts & community potluck dinners. Most of the time, these gatherings are coordinated by the camper's themselves, but many RV parks will host a monthly potluck dinner to allow people an opportunity to meet one another.  
There's nothing I enjoy more than BBQing outdoors around a campfire with friends as we chat the night away or the monthly pot luck dinners that allow me to meet my new neighbors and begin the start of a friendship.
Living In Iconic Towns
For over a decade, I have been traveling to a new ski town every winter to work at the local ski resort and then traveling to a new high volume tourist town to work at a local restaurant. 
Related Resources

None of that would have been possible if I didn't own an RV. Not because it's a tiny home on wheels, but because the cost of living in these highly sought after towns is incredibly high.  
Towns like Jackson Hole, Steamboat Springs, Vail, Telluride, Whitefish, Lake Tahoe, Park City all live by a local's tag line, "You either have 3 jobs or 3 houses."
Because these iconic vacation towns don't really offer any affordable housing. They are playgrounds for the rich and famous. Where the average apartment runs close to $2,000 a month, but an RV park charges less than $500 a month.  
Stationary RV living at a local RV park within these luxurious tourist towns allowed me to reside and explore what someone with my bank account generally isn't able to do. Because I wouldn't have been able to afford the lodging to visit these remarkable destinations.  
Stationary RV living cancels the high cost of living found throughout towns across America, and next time your planning a trip, I strongly urge you to stay for an extended period of time.  
Flatrate for your utiliites
Not only do RV parks offer an incredibly affordable monthly rate most RV parks included all of your utilities in that cheap monthly rate.  
When I first got to Sandpoint, Idaho, I was amazed by its beauty. Mountains were coming right down to the water's edge of Lake Pend O'reille. A quaint, charming little town complete with a ski resort. Mom and pop shops lined main street. While big-box stores skirted the city limits boundaries.  
I assumed rentals were sky high from previous travels, and the only RV park I was going to be able to afford would be some dump out in the boonies. 
Pleasantly surprised, the Travel America RV Park in Sagle offered a monthly rate of $450 that included all utilities. It was nothing more than an open field in front of a mobile home park with 30-40 RV sites but was within a couple minute drive to the beaches and all that the town had to offer.  
Not all RV Parks offer this all-inclusive monthly flat rate, but when your stationary RV living, it sure does make life more affordable.  
No property taxes
One added bonus of stationary RV living is no property taxes.  
Have you ever met a homeowner that brags about paying their property taxes? Ever met a renter who loves paying property tax on a building they don't even own? Property taxes can be expensive.  
There's an entire thread on RV.net of people trying to scheme out of paying $8,000 in Texas's property taxes by living full-time out of their RV.
It's on no one's bucket list to pay property taxes or any taxes, for the matter. 
And the beauty of stationary RV living relieves you from the responsibility of paying any form of property tax.
Whether it's because I live in a tiny mobile home or because I'm always traveling, I've never paid a property tax bill.  
No security deposit
When you rent a home, apartment, condo, or townhome, it's common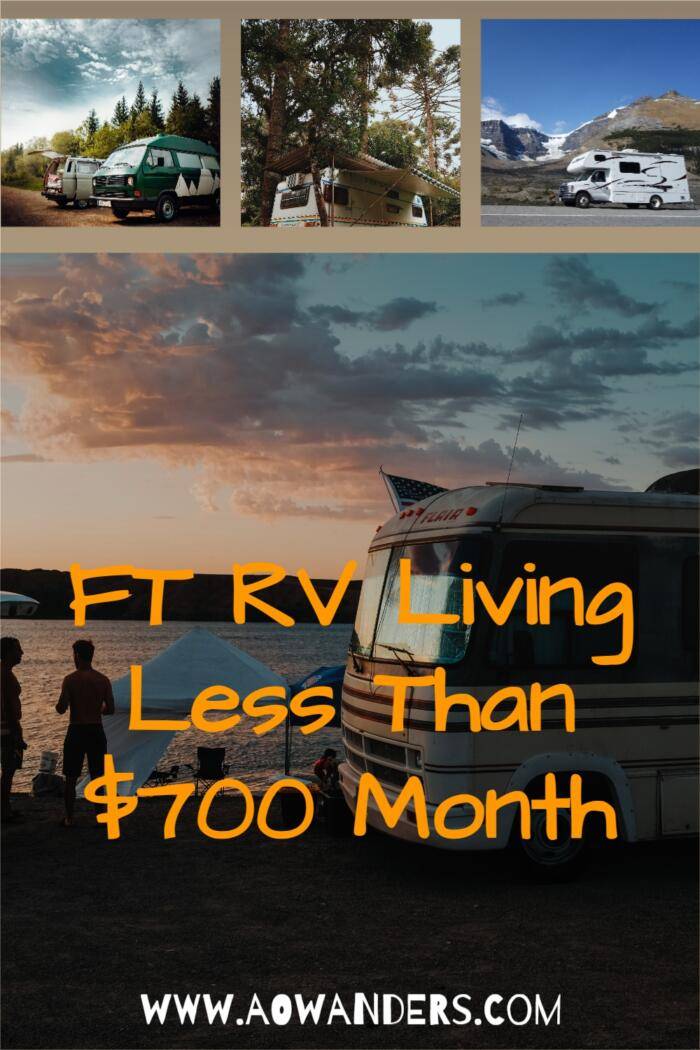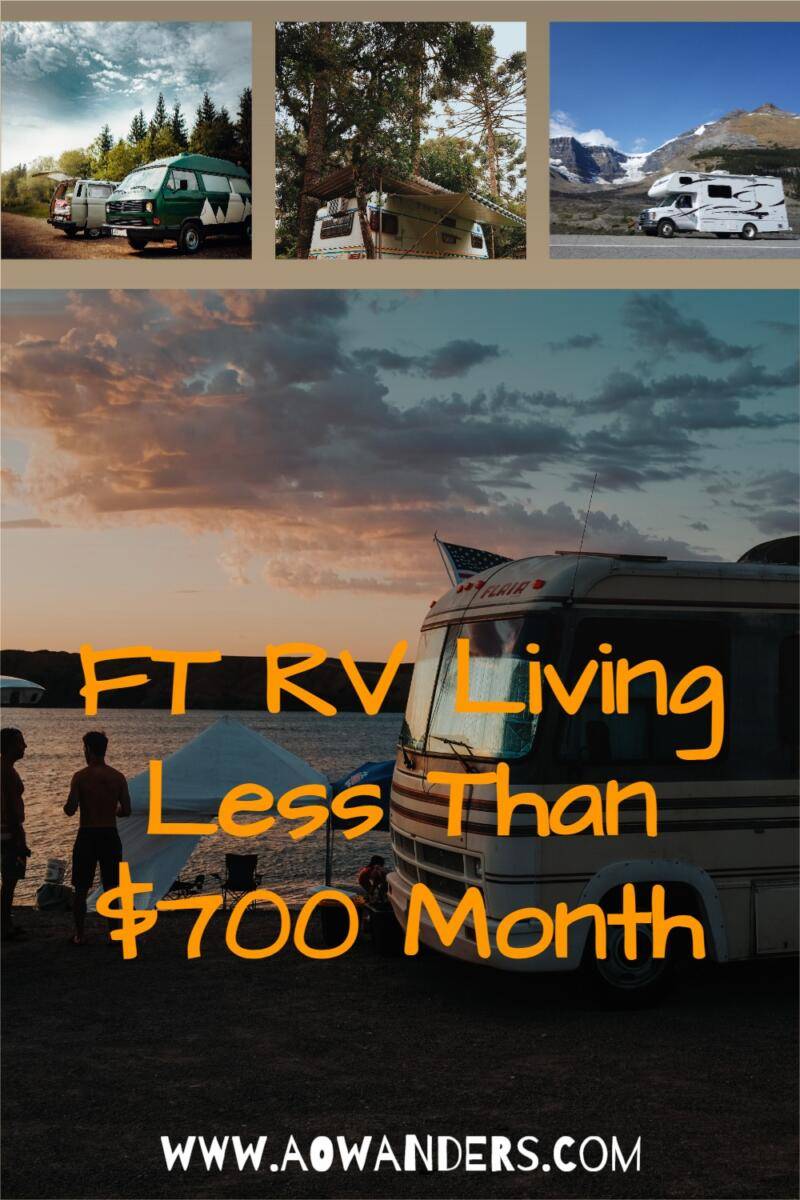 knowledge that you need to pay first, last and security deposit upfront. A simple $700 apartment will cost you $2,100 to get the keys, and that's before factoring in any application fees.  
RV Parks & Campgrounds work much like a hotel. There is no application fee. No security deposit, and no first or last month's obligations to pay upfront.  
There's no reason for it because you are providing the housing, and there would be so much push back from the RV community that most RV parks would probably go out of business if they charged such ridiculous fee schedules.   
I have never stayed at an RV park that required a security deposit. I have heard campgrounds in the south require a $100-$150 security deposit for monthly RVers. Because some RVers in the past have packed up and left in the middle of the night without paying their electrical bill.  
I have never come across an RV park that charges a security deposit, and if I did, I would look elsewhere.  
No longterm lease
RV life comes with all kinds of freedoms, and one of the main allures is being able to come and go as you please. Most stationary RV living people have no desire to pack up and hit the road, but they do appreciate not having to sign a long-term lease.  
I have never even heard of a campground or RV park requiring RVers to sign a long-term lease in over 10 years of travel until last year. 
When I tried stationary RV living in Whitefish, Montana. The park owner wanted me to sign a long-term lease that included emergency contact information, social security number, and last 4 addresses. 
To be fair, it was someone's backyard with only 4 RV spaces to rent out, and this was their first season trying to rent out their private RV park. I kindly declined to stay there just out of principle, but kindly let them know about the "norms" of the RV world. 
RVers are a mobile bunch who like to come and go as they please, and no one wants to sign a long-term lease. 
No Yard Work
This last year my brother bought a piece of land, and it made me realize I hadn't done yardwork in over 20 years.  
I hadn't shoveled out my driveway. Hadn't mowed or watered my lawn. I don't even own a shovel, rake, or yard work gloves. 
In twenty years of RV travel, I haven't done one minute of yardwork until this last summer, and only that was to help my brother out while I was staying on his property. 
If you choose the right RV park, you won't have to do any yard work while stationary RV living.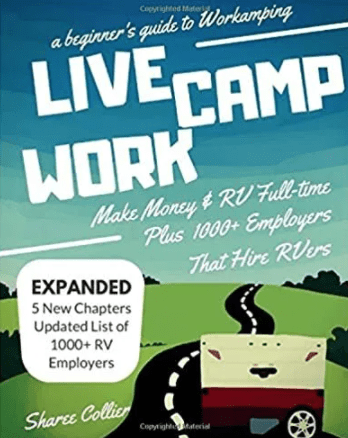 Check out these resources
RVJobs: How to Make Money While Living in an RV Travel Full-Time
1000+ Employers Who Hire RVers (A Beginner's Guide to Workamping)
Costs Of Stationary RV Living
So what are the costs of living permanently out of your camper long-term at an RV park? The simple answer, less than $700 a month!
Related Resources

The more complicated answer is it depends on the RV Park you choose to live at permanently. Monthly campground rates are all over the board, but you can pretty much assume to pay between $200-$500 a month at a local RV park. The cheaper the monthly rate, the less glamorous the RV park will be.  
For example, The Creekside RV Park just outside McCall, Idaho, where I stayed last ski season, only charges $180/month. It was only 3.3 miles from the ski resort. Offered laundry and showers, but that was it for its perks. 
While the McCall RV park on the other side of town charged $550/month; but also had a list of amenities. Like an indoor pool, sauna, workout room, reliable wifi, free cable, game nights, monthly pot luck dinners, convenience store, community room, and a daily shuttle.  
So in this example, the cost of stationary RV living equaled $430 a month. My monthly RV park rate of $180, and my essential monthly expenses. Propane was around $100 a month. Electricity averaged out to be about $50 a month, and groceries fluctuated at an average of $100/month.
Note my groceries were less than average because I worked at 2 restaurants that provided a free shift meal. So I ate out a lot, and it cost me nothing. Still, even if my groceries were closer to $300 a month, my stationary RV living cost would have been less than $700 a month for permanently living at the Creekside RV Park in New Meadows, Idaho. Located 5 minutes away from the ski resort and 10 minutes away from the iconic tourist town of McCall, Idaho.  
Negatives of Stationary Permanent RV Living
Absurd Local Laws
Let me pause while I roll my eyes and shake my head. Because believe it or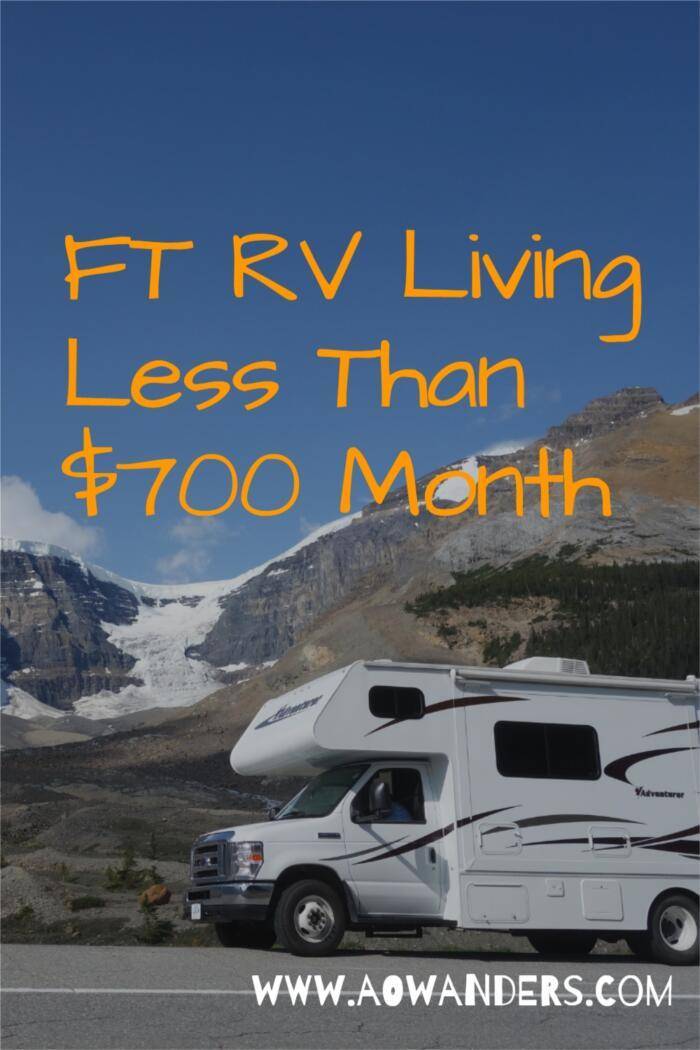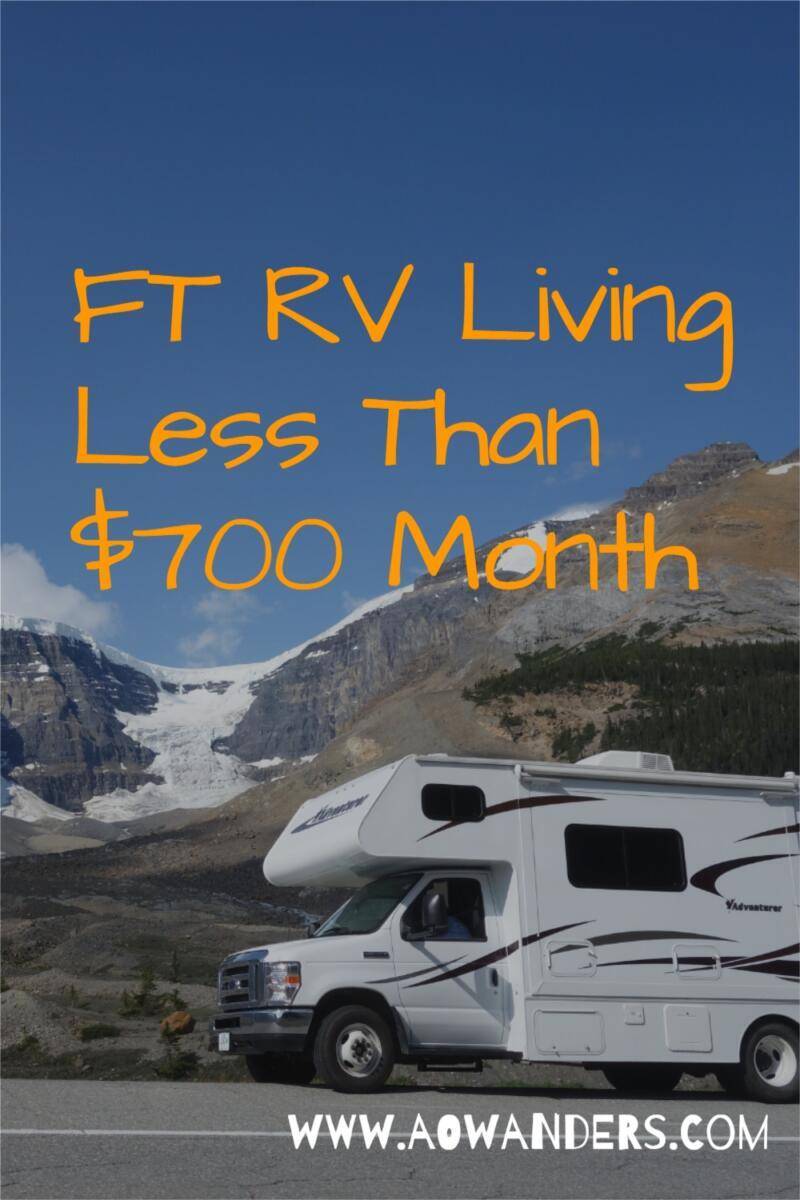 not, there are actual laws in cities around the country that prohibit living in your RV full-time.  
When RVs used to be manufactured with tin siding and cost less than a weekend ski trip, I could sympathize with some of the arguments that support these town ordinances and outdated laws.  
Nowadays though, some campers can cost more than a house. Most modern-day RVs are nothing more than mobile penthouses that are cozier to live in than any brick and mortar dwelling.  
How many apartments have you viewed with a fireplace, central vacuum system, or even a washer and dryer for that matter? How many houses do you know come equipped with two kitchens? Indoor/outdoor entertainment centers?  
I could go down this rabbit hole for hours, but to legally live in your RV full-time without suffering any punishments from local governments, your only option for stationary RV living is to reside within the property limits of a licensed RV park or campground.  
You could always purchase land outside of the city limits, known as "the township," to legally engage in stationary RV living, but the cheapest option is to choose a licensed RV park or campground that offers monthly rates to permanently reside in.  
Insurance Companies Hate Full-Time RVers
Insurance companies frown upon full-time RVing. The second you tell them you're living out of your RV full-time, your insurance quote instantly garners a price hike.  
This is why I insure my travel trailer for recreational use out of an island in Alaska. So that I get the best rate possible from every insurance company.  
Insurance companies are not in business to save you money. It's why you have to answer a hundred questions about your personal life. So that they can get you for the most amount of money possible. It's why I lie to them regularly because if I didn't, I'd probably be paying double for something I never use.  
If I ever had an accident or a reason to make a claim, I would simply say I was on vacation, but thats a bridge to cross when I get there.  
Short Showers
If you're like some of my family members, stationary RV living would be a challenge for no other reason than the limited amount of hot water. For women with long hair or people that like to wash away the day in an hour long shower, you're going to have to adapt.  
Because even the most luxurious big rig RVs only offer 10-minute showers. They simply do not have massive hot water tanks that can be found in homes across the country. Most RVs come equipped with a 6, 8, or 10-gallon hot water tank. 
Sufficient enough to wash a load of dishes or take a quick shower. They're not designed to be used for a personal spa day. 
Limited Storage
Depending on the RVer you talk to, RV storage is a touchy subject, and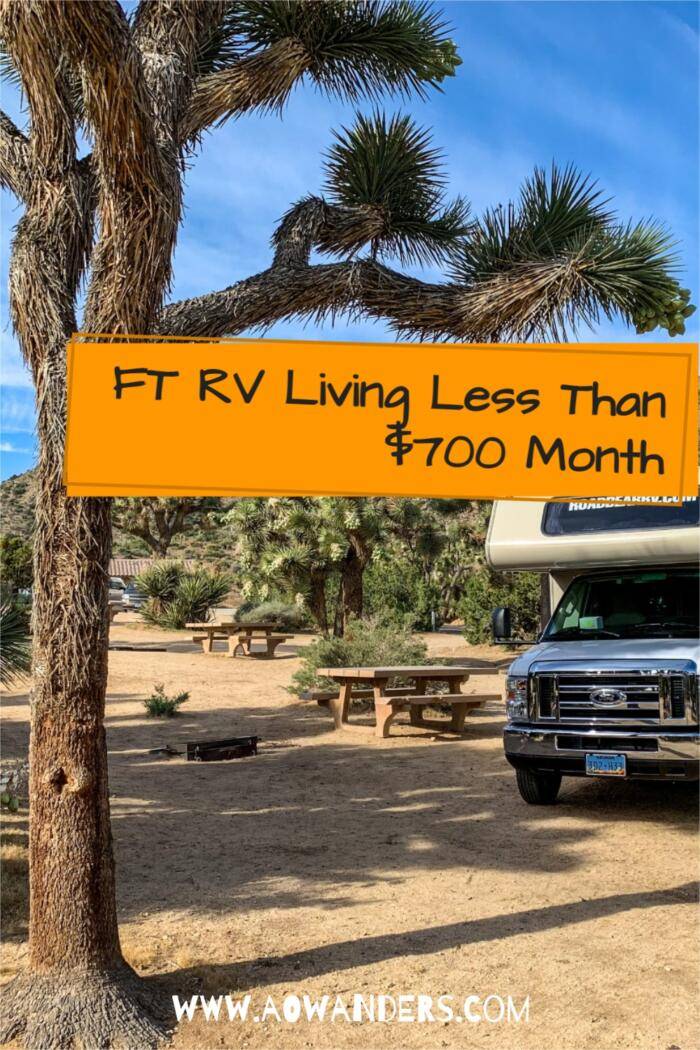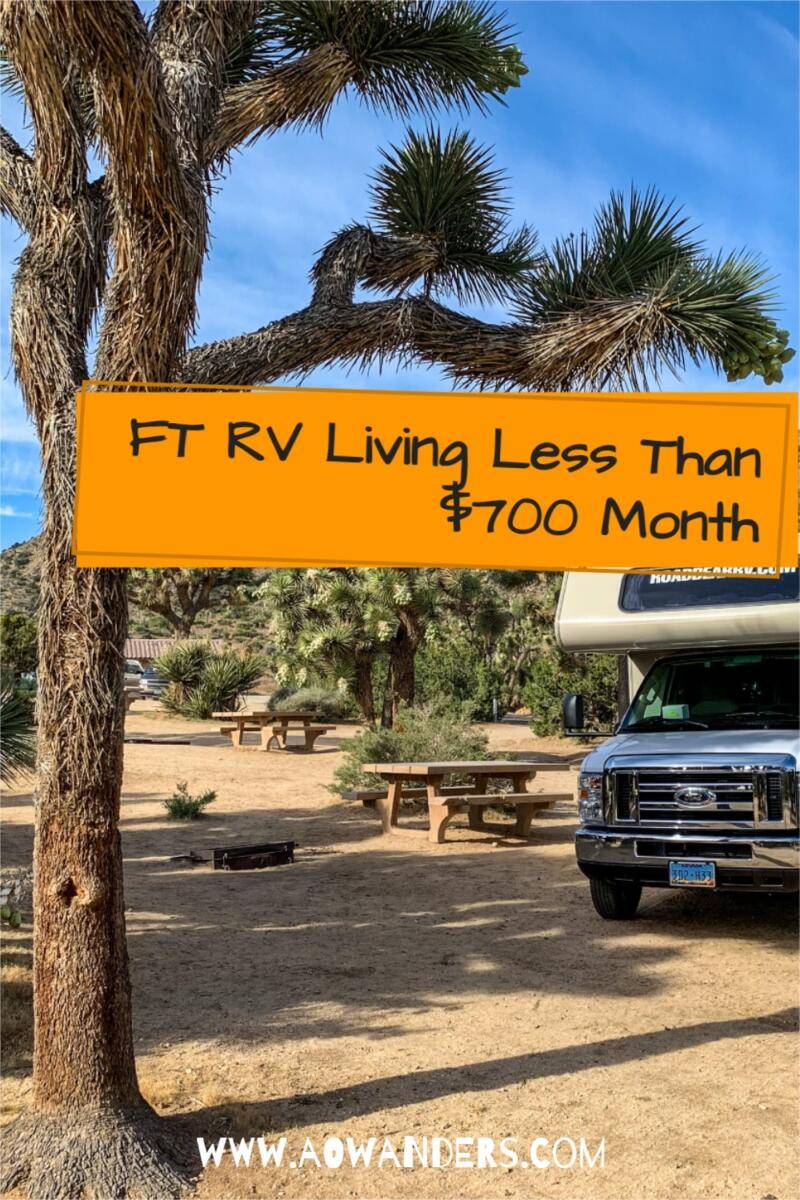 depending on the make and model of their rig either highlights their frustrations or makes them oblivious to other RVer's gripes.  
RVs were first constructed as a temporary option for families and travelers to see the great outdoors. No one ever envisioned families of 5 with 2 large dogs trying to live out of an RV full time.  
However, technology is rapidly improving the comfort level of the modern-day motorhome. 
You can now find wine storage cellars in the floor of a luxurious fifth wheel. 
Beds now open up to massive storage compartments below. Cabinets are now big enough to hold cereal boxes, and drawers can now house regular size utensils.  
Unfortunately, RVs will never compete with houses and apartments when it comes to storage options. They simply don't have the square footage for walk-in closets, garages, or a spare room turned into an office.  
With the help of transformer furniture, RV storage has come a long way, but there will always be limited storage options within an RV.  
Restrictions On Outdoor Space
One of the biggest gripes from the stationary RV living community is RV parks' restrictions on outdoor living spaces. This is where it pays to thoroughly research an RV before choosing to live there permanently.  
Most RV parks won't allow you to build a storage shed, deck, or any other type of structure on the property where your residing. You can set out camping chairs and fire rings, but nothing permanent.  
This is why I say choose your RV park carefully. Because if you're permanently going to live there, eventually, you're going to want to upgrade your outdoor living space to be more inviting, cozy, and social. If you're stationary RV living in a park that doesn't allow that, there can be severe consequences.  
If you're considering stationary RV living, you will want to find an RV park that will allow you to build outdoor living space enhancements. From decks to sheds or even elaborate firepits all add to the benefits of living full time in your RV. It would be a shame to live in an RV park that doesn't allow for property upgrades.
Keep in mind, though, you can't simply just go off of their website. Because depending on the park, these rules are either strictly enforced like a maximum-security prison, or at others, the only effort to enforce them was the time it took to write them down. You may have to actually visit the RV park to talk to other RVers or see if there are any exterior structures built for fellow campers.
Struggles Of Climate Control
Fifth Wheels, campers, motorhomes, travel trailers, truck campers, and RVs were built to be lightweight mobile tiny homes. This means during construction, some corners were inevitably cut, and since most people don't camp during the cold winter months, insulation is the most popular victim of this trade-off. 
Because of this, it's challenging to keep a camper warm on a cold day and cool on a hot day. You may find yourself shivering in the morning and sweating mid-afternoon.  
There are plenty of solutions as long as you're aware, but just keep in mind it's a constant struggle to maintain a comfortable indoor climate.  
17 Variables To Consider When Thinking Of Stationary RV Living
Costs Of Living

RV Park Rules & Amenities

Community Members

Outdoor Activities

Planned Events & Engagements

Utilities

Lease Agreements

Security Deposits

Property Taxes

Yardwork

Local Laws

Insurance Rates

Storage

Outdoor Space Options

Climate Control

Hot Water Supply

Pet Ownership Rules
More Research Equals A Better Full-Time RV Life
Just like buying a house or renting an apartment, you'd research the surrounding area, neighborhood, and school district. You'd inquire about the amenities and what's included in your rent or mortgage. You'd want to know how much your property taxes will be. How much insurance is going to cost.  
You will want to do the same research when thinking about living in an RV park full-time so that there are no surprises later on. The more research you do now, the more comfortable your stationary RV living situation will be.  
Let me know if I missed anything in the comments below. Also, check out these NINE resources on permanent full-time RVing.
Great Destinations for RV Rentals
RV Rentals By City

RV Rentals in Anchorage AL
RV Rentals in Phoenix, AZ
RV Rentals Tuscon, AZ
RV Rentals in Los Angeles, CA
RV Rentals in Sacramento, CA
RV Rentals in San Diego, CA
RV Rentals in San Francisco, CA
RV Rentals in Colorado Springs, CO
RV Rentals in Denver, CO
RV Rentals in Jacksonville, FL
RV Rentals in Miami, FL
RV Rentals in Orlando, FL
RV Rentals in Tampa, FL
RV Rentals in Atlanta, GA
RV Rentals in Chicago, IL
RV Rentals in Kansas City, MO
RV Rentals In Las Vegas, NV
RV Rentals in Charlotte, NC
RV Rentals in Columbus, OH
RV Rentals in Portland, OR
RV Rentals in Austin, TX
RV Rentals in Dallas, TX
RV Rentals in Houston, TX
RV Rentals in San Antonio, TX
RV Rentals in Salt Lake City, UT

RV Rentals By State

RV Rentals in Alaska
RV Rentals in Arizona
RV Rentals in California
RV Rentals in Colorado
RV Rentals in Connecticut
RV Rentals in Florida
RV Rentals in Georgia
RV Rentals in Maine
RV Rentals in Maryland 
RV Rentals in Massachusetts
RV Rentals in Michigan
RV Rentals in Minnesota
RV Rentals in Montana
RV Rentals in New Hampshire
RV Rentals in North Carolina
RV Rentals in New York
RV Rentals in Ohio
RV Rentals in Oregon
RV Rentals in Pennsylvania
RV Rentals inTexas
RV Rentals in Utah
RV Rentals in Vermont
RV Rentals in Virginia
RV Rentals in Wisconsin
All Other RV Rentals
RV Rentals by Type