RVers Holiday Season
Quick Reference Table of Contents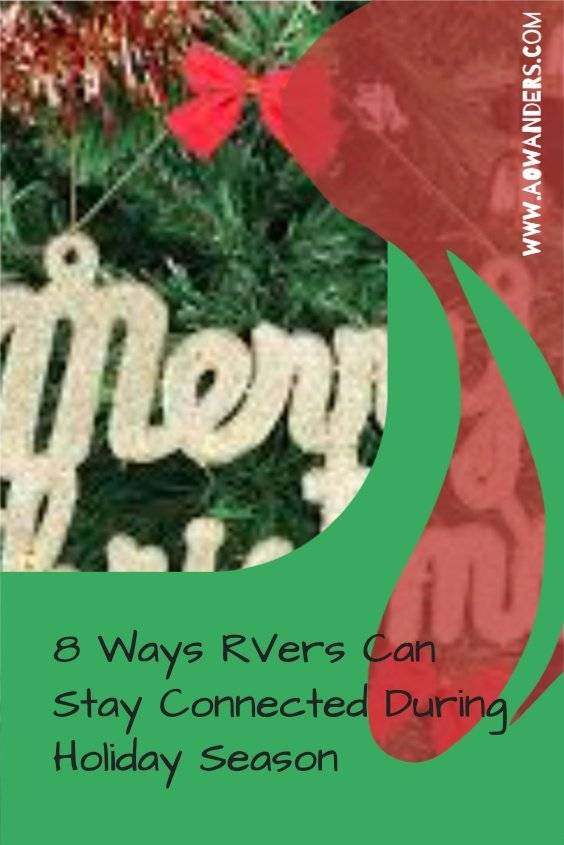 The holiday season is monopolized by gift giving and conjuring up relevant gift ideas for those special people in your life. RVers holiday season is even more challenging because of lifestyle we lead.
If you're an RVer, the holidays can leave you feeling as though your family and friends are more distant than ever. Good thing there are products like meetup.  Sure, I absolutely adore the RV life and wouldn't trade it for anything, but feeling connected to the ones we love this time of year seems nearly impossible.
The good news?
It's not as difficult as it seems.
Even better news?
There are several things you can do to stay connected with your loved ones during the holiday season. From innovative communication technologies to new and exciting creative activities, there are specific things you can do to break down the walls that separate you and your favorite folks.
On that note, here are 8 ways RVers holiday season can stay connected with loved ones during Thanksgiving, Christmas and New Years.
How To Create More Unique Holiday Greeting Cards
Aren't you tired of the same old holiday cards? Seems as though everyone does the whole "posing in front of a Christmas tree" thing, and they do it year after year. I know I'm ready for something new.
Something fresh.
Something fun.
Something that involves a bit of imagination and creativity.
How about, for example, we write holiday letters this year? Like actual hand-written letters? With pens. Or pencils.
RECOMMENDED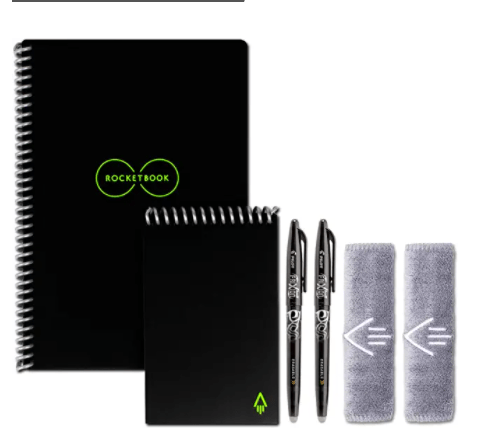 RocketBook

Durable
Reuseable
Last Notebook You'll Ever Buy
At a time when nearly all communication is digital, I think it'd be pretty incredible to give (and receive) a carefully crafted hand-written letter. Remember when you were young and you received a letter in the mailbox? Remember the anticipation as you tore open the envelope and unfolded the paper?
I do. And because I'm a sucker for nostalgia, getting something like that in the mail would kinda, sorta blow my mind.
Who knows? Maybe communicating through more personalized holiday cards or letters will be the start of a new tradition. That's always a good thing.
RVers Holiday Season Loves Video
Okay. I know that a certain pandemic might have some of us a bit tired of meeting online, but sometimes we have to take what we can get.
Plus, don't forget that a mere two decades ago we didn't even have the option of seeing our loved ones online. If we couldn't hang out with them in person, we didn't see them at all. I remember having to find a payphone just to call home from a foreign country to talk with my family. How much better is it now – especially considering the many technological advances we've made?
From Skype to FaceTime to Zoom, there are several free video chat services that we can take advantage of this holiday season. Better yet, these services allow us to talk with people from multiple locations at the same time.
Reunions have traditionally been a pain in the butt to organize. But now, simply by organizing a video chat with your distant family and friends, you can have a legit family reunion that is easy to plan and even easier to pull off.
Most definitely a win-win for all involved. Heck, Uncle George can attend this year without pants and not get made fun of.
Best Gift Ideas For RV Owners
Forget about giving things. Give shared activities instead.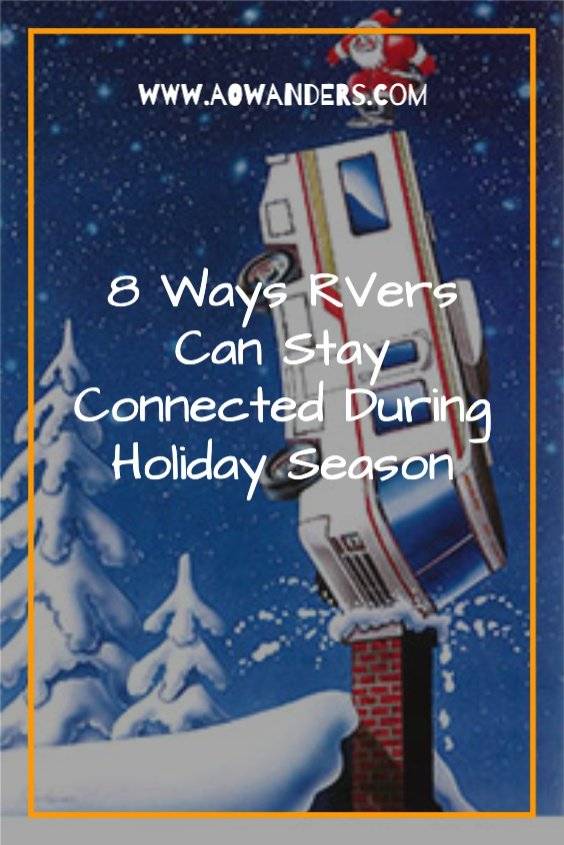 All kidding aside, if you're like me, you're more than ready for a holiday season that doesn't involve gifting items.
Things tend to break.
And fade away.
And lose value.
Experiences, on the other hand, can lead to memories that last a lifetime. That's why I am much more excited to give experiences instead of things.
One of the best experiences you can give is a shared activity.
Find something that your entire family can do together and make it happen. It can be something as simple as an online class, or as elaborate as a multi-player game of online Monopoly or Clue.
One interesting gift idea this holiday season that you can combine with the first item I mentioned on this list is to sign up for calligraphy lessons on Udemy, or check out thousands of lessons to choose from on Skillshare . That way you and yours can send each other creative and eye-catching letters.
No matter what you choose, an activity gift will enable you to both connect now and stay connected in the future.
One of the reasons RV life
Technology RV Gift Ideas
Another option is to make this whole staying connected thing easier by giving the gift of communication.
If, for example, you're having difficulty keeping in touch with the older folks in your life, you might want to consider buying them a laptop or tablet. This'll make communicating with them infinitely easier.
RECOMMENDED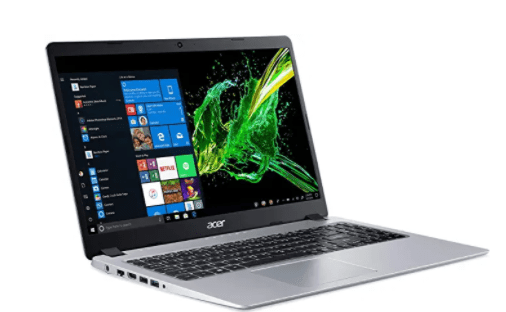 RV Laptops

Namebrands
Affordable
Modern
Once you've given someone a technology tool, you can then spend some quality time with them trying to teach them how to use it.
This might not apply as much to the younger people in your life, but you just might find that they have a secret wishlist that includes some sort of communication item.
If so, perhaps you can buy it for them and then have them teach you how to use it.
There are more ways than ever before to stay technologically connected. Take advantage of them by giving your loved ones something that keeps everyone feeling as though they're really not that far apart. Remember it wasn't long ago that I was celebrating an RVers holiday season in a pay phone booth.
RVers Holiday Season Is Better With Gourmet Food
Keep in touch with your family this holiday season over a gourmet meal.
One of my absolute favorite ways to stay connected with my distant loved ones while I'm RVing throughout the country is by sharing a traditional gourmet meal. Food is always an effective way to strengthen relationships with those we care for, and during the holidays, this is especially true.
Let's say Uncle George from Boston hasn't been able to make it to any of your recent family gatherings. He's been AWOL, and you miss him dearly.
Rather than merely letting Uncle George know how much you miss him, why not send him a an exotic meal that shows him how much you care? Like a gourmet meal from HomeChef. Who will deliver a five star gourmet delight right to Uncle George's front door for as little as $7/meal. Use this link to get $80 off your first order from HomeChef.
Did you know USPS allows you to mail food, as long as the items are properly packaged and clearly marked as perishable.
As for holiday foods that are more likely to survive the trip, you obviously want to avoid dairy and meat-filled items. The best things to make are typically those you can bake, but there are other types of foods that'll convince Uncle George you really do care.
Here are some of my favorite foods to send during the holidays: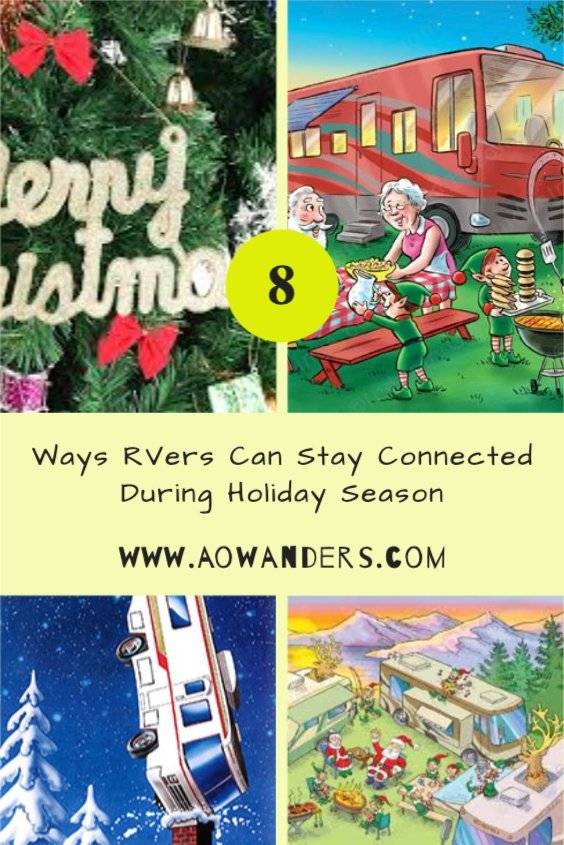 cookies
pound cakes
loaf breads
brownies
fudge
cakes
candies
oils or vinegars
sauces
jam
Be sure to always pack food items in a shipping box that's lined with plastic wrap and filled with newspaper, bubble wrap, or that airy popcorn stuff. Make sure you pack the heavier items at the bottom of the box, with plenty of cushion between each item.
You want Uncle George to be able to enjoy whatever food item you send him this holiday season. Right?
Photo Sharing Programs That Dont Require A Social Media Account
Bring Your Family Closer This Christmas With A Photo-Sharing App.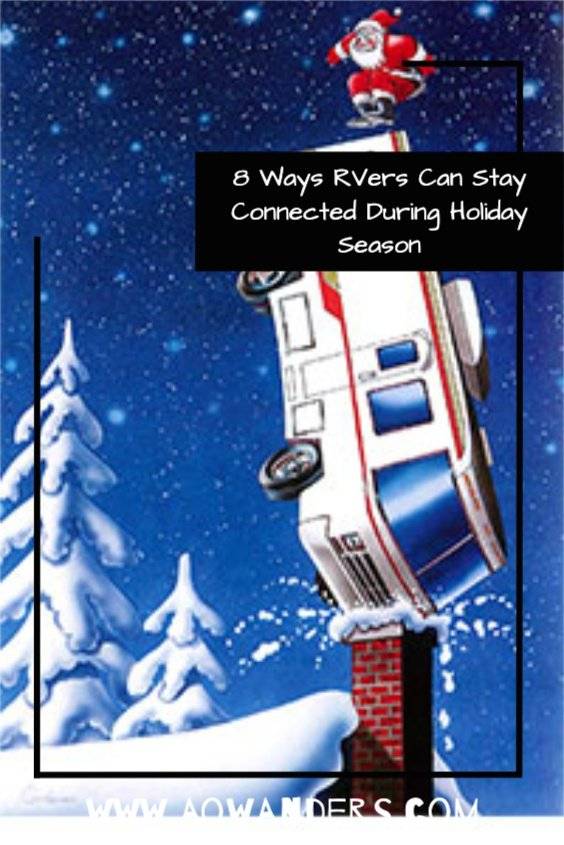 Nowadays technology can be a real life-saver. This is especially true during the holidays. Some of the photo-sharing apps that have been developed over the past few years are becoming legends in the marketspace.
Apps like Lifecake and Karoo are wonderful tools for sharing those magic moments that you're fortunate enough to capture on film.
There are two major advantages to these apps, as far as I can see.
First, they enable you to share images of your favorite holiday moments with your closest family and friends without putting them on full blast on social media. Three cheers for increased privacy while using modern technology!
Next, some of these apps allow you to automatically upload pics the second you take them. This makes sharing your photos and videos infinitely easier.
In fact, you don't even have to share them. At all.
It just happens. Your favorite folks get to experience these memorable moments the moment they happen.
If you're a visual person like me, you'll get a major kick out of staying connected via photo-sharing apps like the ones described above.
Host An RV Holiday Season Movie Night
Throw a Teleparty and watch your favorite holiday films together.
I know my family is not the only one that has traditionally taken great joy in joining together around the TV to watch our favorite holiday films. Movies like Home Alone and National Lampoon's Christmas Vacation have the ability to unite folks in a way that few other mediums can.
Since you and your fellow movie fanatics won't be able to unite this year, there's no reason why you can't still watch your favorite holiday classics together.
In fact, by having a Teleparty (formerly called a Netflix Party), it can be ridiculously easy. You can watch movies in real-time by using a Chrome extension. A Teleparty also offers a live chat feature that allows everyone to comment whenever they'd like.
It might not be exactly like crowding together on a big comfy couch in your living room, but it can be a ton of fun.
Plus, a really great holiday movie is the same no matter where or how you watch it. Added bonus, chatty katty can't talk the whole time.
RVers Holiday Season Traditions
Why not make up a brand new holiday tradition.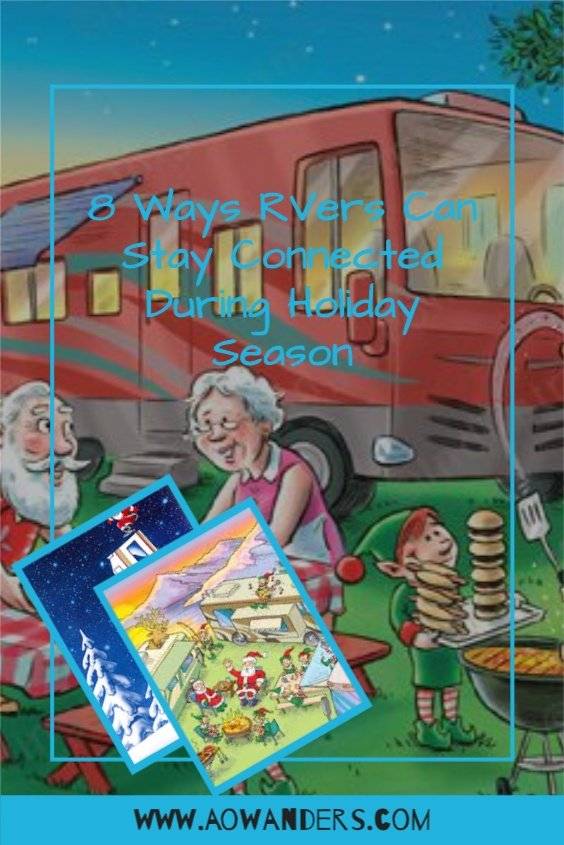 It is entirely possible that none of the items on this list so far are feasible for you. Or maybe you're intrigued enough that you want to try them all.
Either way, I want to encourage you to exercise your creativity for the purpose of building a brand new holiday tradition.
If you're a sucker for family traditions like I am, not participating in the typical holiday activities can be difficult. Perhaps even downright depressing.
But part of living the RV life is finding new ways to be flexible. Making the best of what we have. Doing things in an unconventional manner.
The holidays should be no different. View them as an excellent opportunity to do something new and exciting with the family and friends you love and miss the most.
Maybe this year will be your first ever Thanksgiving Olympics, or Christmas talent show. A bake off between mom and son, or pie eating contest between sisters.
Enjoy The Holiday Season With Or Without The RV
If this is your first year experiencing the holidays while separated from your loved ones, you're probably feeling a bit down in the dumps right about now. You might even be somewhat resentful of RV life.
I want to remind you, however, that this time of year doesn't have to be all gloom and doom just because you and your favorite folks are unable to be physically together.
In fact, my experience has proven that the space between you can actually allow you to communicate in ways that strengthen your bonds.
That's right.
A holiday season spent away from your family and friends can force you to connect in new and exciting ways.
And because discovering something new together is a tried and true way to enhance relationships, connecting with your loved ones during the holiday season is something you'll appreciate before the calendar even flips to the new year.
So let me say sincerely ~Happy holidays to you and yours!
Have Something To Say? Add? Respond To?
Say it on my facebook page, Twitter feed or leave it in the comments below.
Here Are My Favorite Booking Resources:  Affordable & Efficient Travel Booking Tools I Use Everyday Along With My Favorite Gear Resources
Book Your Flight
Find a cheap flight by using Skyscanner or Momondo. These are my two favorite "flight" search engines because they search through websites and airlines around the globe and offer a calendar view to find even cheaper flights for flexible travelers.  Check out these UNIQUE destination deals or my favorite All Inclusive Booking Travel Tool!
Rent An RV
Find cheap RV rentals for your next adventure by using Outdoorsy or RVshare.  These are my two favorite "RV" search engines because they allow you to rent from private RV owners, and offer a wide variety of chooses at affordable rates.  Want to start making money by renting out your RV?  List it with Outdoorsy or RVshare.
Book Your Accommodation
You can book your hostel with Hostelworld. If you want to stay elsewhere, use Booking.com as they consistently return the cheapest rates for guesthouses and cheap hotels.  Get a $40 credit for booking with AirBnb.  Need to book a private campsite use my favorite RV booking site Hipcamp!
Need Gear
I use REI for all my gear needs because if it ever fails or gets damaged they will replace it for free!!! No questions!!! No hassles.
If REI doesn't have the gear I need.  I can always find it on Backcountry.com
Travel Community
Join the Escapees travel club to meet fellow travelers and talk about all things related to RVing and overland travel.
Travel Packages & Tours
Are you looking for worldwide tours and travel packages?  Check out my go-to source — IntrepidTravel!  Looking for more family related travel packages and tours book with GAdventures.
Don't Forget Travel Insurance
Travel insurance will protect you against illness, injury, theft, and cancellations. It's comprehensive protection in case anything goes wrong and will cover things like transport security, crisis response and medical transports such as Life Flight. Why go on any trip without a safety net that costs less than a case of beer? I've been using SafetyWings for years without any issues.
My favorite companies that offer the best service and value are:
SafetyWings (ONLY $35 & Covers USA Travelers)
World Nomads (for everyone below 70)
Insure My Trip (for those over 70)
Medjet (for additional travel insurance coverage like medical transport, travel security & crisis response)
Looking for the best companies to save money with?
Check out my resource page for the best companies to use when you travel! I list all the ones I use to save money when I travel – and I think will help you too!
Just Want To Support This Amazingly Resourceful Website
Websites incur constant fees!  From hosting costs to massive amounts of personal time creating beneficial content for readers to consume at their leisure.  To help offset those costs or just to say, Thank You.  You can help support this community by shopping through any of the links found on my resource page.  Shop on Amazon through this link and I'll get a small commission, or you can directly support this site through Paypal donations.  None of this is a requirement its just helpful and creates a better community for all of us.